How do you stay in contact with your customers? Do you have a phone number or contact form on your website? I honestly can't remember the last time I called a company for help because I can't stand waiting on the phone in those long support queues. As for email, I might send out a few on occasion, but I am always willing and ready to ask a company questions if they offer live chat support. Email is best left to building a list and marketing in the future.
That's why it's so important to incorporate a WordPress live chat plugin on your website if you are selling a product or service. Live chat is so much easier than talking to someone on the phone, since as a customer you can keep working on other stuff, browse the internet or even get up and walk around your house without having a phone glued to your ear.
Best Chat Plugin Options
We all know that when you send in an email to a support team there is a good chance it will take a day or two for them to respond. So, why don't all companies have a live chat support tab on their websites?
It's even easier for the the business owner, because a WordPress live chat plugin sends you messages wherever you are, so you don't have to hire a huge staff of support reps or sit at your computer all day. It also creates a personal connection with your customers and just makes them happier overall.
Let's take a look at the best WordPress live chat plugin options to boost your customer support and reel in more loyal customers.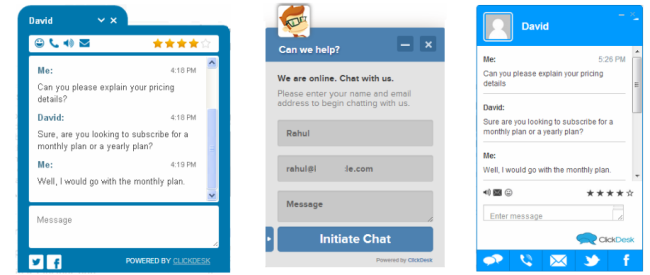 The ClickDesk Live Support plugin is one of my favorite options because it combines multiple different required facets for developing a quality customer support system. To start, you get a sleek live chat module that sits at the bottom of your website, and you also receive a help desk for fielding questions from your customers.
The voice chat is a rather unique feature, eliminating the need for some telephones, and the social toolbar integrates your customer support efforts with things like Facebook and Twitter. The system is remarkably fast, with chat transcripts, live chat conferences, and even a 99.95% uptime guarantee. That comes in handy during your busy months.

Formilla Live Chat has an extremely clean interface that makes it quite easy for beginners to get setup with a professional looking live chat system. The chat popup is not all that distracting so you don't tick off customers when they are simply trying to buy something on your website.
I really enjoy how easy this plugin is to install, and there isn't much setup involved either. You can quickly chat with a customer while on your phone, so it doesn't matter if you've left the office. They also have a pro-active chat feature that brings up a chat box whenever someone visits your site. Then it gives you a notification when the user decides to ask a question.

Tidio Live Chat is a strong option for live chat since the users don't have to login or sign up for anything when they get onto your site. Quickly check who visits your site, making it easier to track return visitors or people who may be unsure about their purchases.
The plugin comes with a dedicated app for your mobile device, so you can always chat with customers while on the go. You receive two designs for the chat boxes, giving you a little customization to match the look of your brand. The big plus here is the 140 languages supported. You shouldn't have any problem working with the plugin no matter where your company is located.

Live Chat by Flyzoo requires a payment plan, but you can also try out the 14-day free trial to see if it's the right system for your business. The plugin offers multiple chat rooms so you can speak with a group of people or even hold a little conference chat if you need to.
The plugin also lets you embed your chat rooms in any page on your website, allowing for further customization throughout your pages. Greeting messages are always customizable and you can even change the colors you use for certain modules and users.
Along with multilingual support and a chat history feature that saves all of your past interactions, this plugin is a fairly nice premium option.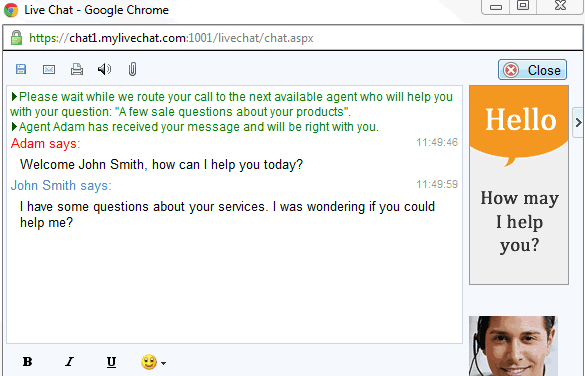 MyLiveChat is a separate application designed specifically for live chat, but it includes this plugin to integrate your WordPress site and the software. The primary benefits of using this plugin are the tracking features, which tell you what people are searching for in the search engines to find your site and what they do when they arrive at your site.
It's kind of like a watered down Google Analytics mixed in with your live chat program. The free plugin lets you invite customers to chat in a private conversation, leading to more sales down the road. You can really customize the chat windows with this plugin, so play around with the colors and sizes to make it fit your branding.

Casengo Live Chat Support competes well with the numerous live chat options out there, and it does so with a flawless design and fairly easy setup process. The WordPress live chat plugin has a Twitter search integration so you can provide support to those who are mentioning certain keywords on your feeds.
It also has a feature that automatically pops up a chat box after a person has been on the site for more than five seconds. The main advantage of using the Casengo Live Chat Support plugin is to bring together the other support channels you currently use. You can integrate your email and social support channels along with the live chat module so that you don't have to keep opening up a bunch of different tabs in your browser.

Zopim Live Chat provides a rather sleek interface with mobile optimization so that your customers can chat with you on their phones or devices and you can reply if you are away from the office. The proactive chat feature is a little different from other plugins because you can actually modify which triggers bring a new chat box up when someone visits your site.
The usage patterns in the reports are essential for jumping in to chat with someone whenever they need help. Think about how many customers come to your site right on the edge of purchasing, and a simple nudge would convince them to reach into their pockets.
Not to mention, the Zopim Live Chat plugin is available in over 40 languages, so anyone around the world can use it.

FlexyTalk – Live Chat is one of the higher rated WordPress chat plugins, and rightfully so. It integrates into your Facebook page so that you can respond to questions that people have on the social site. I particularly enjoy the fact that you can transfer a live chat to another agent in case someone in your organization needs to leave or if another person knows more about the topic than you.
You can group agents into departments so that every customer gets the perfect person to speak with every time. Finally, the translation feature is probably one of the most powerful features I have seen in any of these plugins, since you can talk to someone who doesn't know your language and understand them pretty well.

The ActiveHelper LiveHelp Live Chat plugin is primarily designed for smaller and medium-sized sites. It includes desktop and mobile interfaces so that your responses are available no matter where you are. You can also track your customers, and anyone who speaks with your customer support reps can rate their experience so you can go back and see if any of your employees are doing better or worse than others.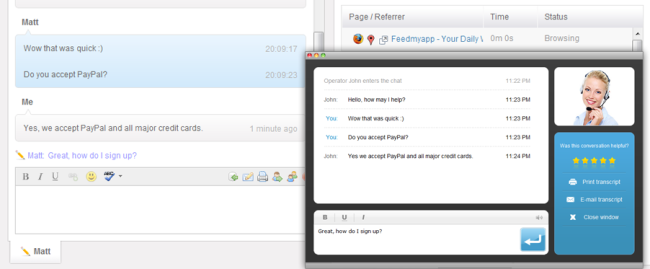 Live Chat Software by HelpOnClick is a decent WordPress live chat plugin, but it's rather lightweight. The main reason I included it is because I understand that some people find it easier to work with widgets as opposed to full plugins, so this just gives you a little widget to drop in your site and start chatting with customers.
It's probably the easiest plugin to implement on this list, and it's great for smaller sites and people who just want to test the waters by offering customer support to people who come to the site.
If you have any questions about these WordPress live chat plugin options please let us know by placing a comment in the section below. Feel free to voice your opinion about other live chat plugins you have stumbled upon in the past, and share how you feel about the plugins I talked about if you currently have them implemented on your website.