If you want to make it easier for your readers to get in touch with you then the Ninja Kick Sidebar: Contact Form plugin could be just what you are looking for. There are many benefits to making it as easy as possible for your visitors to send you a message. These benefits include increasing the likelihood of your audience connecting with you, generating more sales, and landing more clients.
While a regular 'contact' page and suitable form will allow your site visitors to send you a message, the Ninja Contact Form plugin aims to increase the chances of someone making contact while visiting your site. Whether that is to ask you a question about your content, reach out for advice, or make an inquiry as to your availability for a job. If one of the purposes of your website it so make yourself of your business more available, or promoting a service or product, then this plugin might be for you.
Download Ninja Kick Sidebar: Contact Form
What Does Ninja Kick Contact Form Do?
As the name suggest this plugin's core functionality is to add a contact form to your site. However, the way it implements this form is something you might not have seen before. Instead of just adding a link to your contact page on your site's menu, this plugin adds a floating button to your site that is always visible but can easily be disabled to setup your own text or graphic button.
The benefit of this is that at any moment during their visit, a reader can instantly click the button to view the contact form, which can also include links to your social profiles, and then send you a message. The always-visible floating contact button also serves as a constant reminder to your visitors that you are available to respond to their queries, and therefore increasing the chances of them getting in touch and starting a conversation which could lead to any number of outcomes.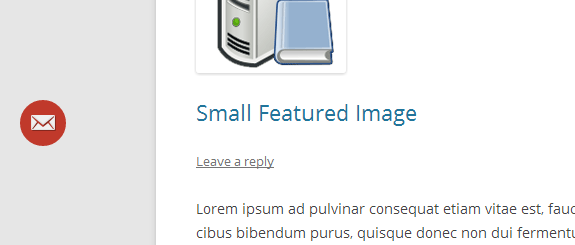 Instead of forcing your readers to try and find the link to your contact details, then load a new page, before sending you a message, this plugin makes it as easy for them to get in touch by removing all the superfluous steps that traditionally make up the process.
Customising the Contact Form
Once the plugin has been installed and activated, the floating button will be displayed on your site and will move down the page as your visitors scroll down through a post or page. When something catches their attention, such as an item on your services page or portfolio, they can then instantly click on the floating icon to open the contact form and send you a message.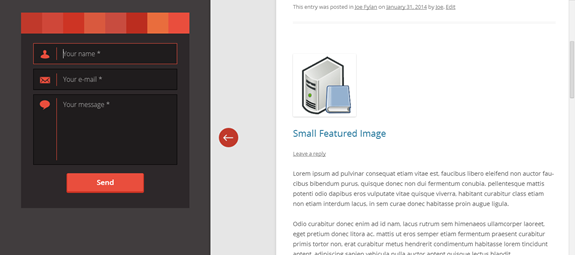 Once the user clicks on the floating button, the contact form slides out from the side of the page to reveal the form. Although there are multiple options for selecting how the form is displayed. There are also three different themes for changing the appearance of the form, however, the colours of the form elements can all be customised to suit your own preferences.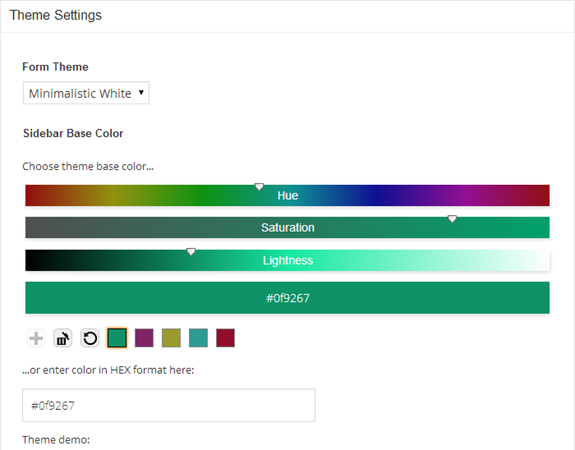 As you are making your adjustments to the form, you can preview your changes in real time on the settings page. When designing the appearance of your fly out contact form, you can choose a background image from the many options that come bundled with the plugin.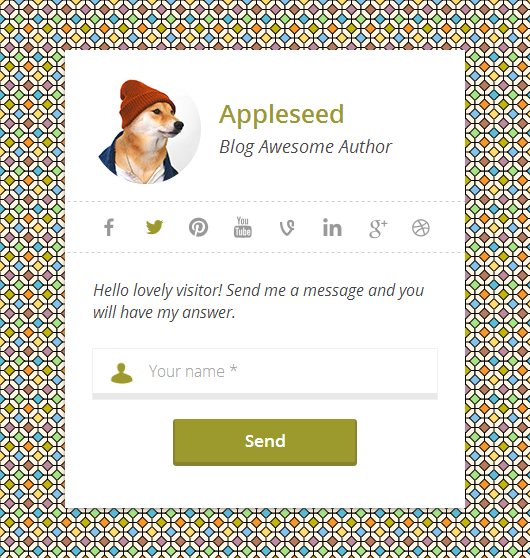 Another option for the form is the ability to add a 'human test' field that must be completed before a form is submitted. This is described as a 'simple test (math question) to help prevent spam' and when enabled, displays a simple question such as 4 + 3 = which must be correctly answered before the message is sent to you. To see the full contents of the Ninja Contact Form settings page click here for a screenshot.
As you can see, you have a lot of control over how the form looks, including changing the colors, setting a background image or pattern, including a profile image, and adding your own text.
Social Profiles
As well as displaying a contact form to your visitors, you can also display links to your profiles on the popular social media networks. At the time of writing, the plugin supports eight of the most popular social networks, including Twitter, Facebook, Google Plus and YouTube.
Entering the URL of your profile displays that network's icon on your form, giving your readers another way to get in touch with you.
Conclusion
This plugin offers a great way for the visitors to your site to get in touch with you. The many options and settings for customising the appearance of the form and the way it works, ensures that you can produce something that meets your requirements and blends in nicely with your chosen WordPress theme.
If you like the idea of a floating button that the when clicked reveals a hidden sidebar area but don't want to only be able to display a contact form, the developers of this plugin have created another plugin that may be of interest to you. That plugin is Ninja Kick Sidebar: Custom Content which allows you to insert any content into the fly out sidebar area giving your plenty of options for using this feature to your site.
Overall the Ninja Kick Sidebar: Contact Form plugin is a great choice for anyone who wants to make it easier to for their readers to get in touch or find your social media profiles.