WordPress is incredibly easy to install, but if you want to move an already setup WordPress site to another server, it can be a bit of a headache.
There are several reasons why you might need to migrate your WordPress site. If you started development on a local server and you're now ready to launch the site, you'll have to copy it to the live server. Likewise if you work on client sites you'll frequently need to copy across sites from your own server onto the client server. Or if you're changing webhosts for whatever reason, you'll also need to move your site over to the new host.
Moving your WordPress site manually is one option but it can be quite time consuming and there are several steps that need to be completed to ensure a successful migration. If you make a mistake at any stage, you can easily end up with a site that looks messed up or is missing content.
For a less stressful option, simply turn to one of the many WordPress migration plugins that are now available. These plugins take out the hard work of moving your WordPress site and ensure that all the steps are completed properly for a flawless migration without any data loss.
There are several options of both free and premium plugins and these plugins can all also be used to backup your site.
1. WordPress Duplicator

Duplicator is my personal favorite migration plugin as I find it straightforward to use and I rarely have any problems with it. You can find a full step-by-step guide on how to use it here.
Duplicator has an impressive 4.9 out of 5 stars rating on the WordPress repository and has been downloaded and installed over 900,000 times
However there is a little technical knowledge needed to set it up and get it working properly so if you prefer more of a visual step-by-step interface to walk you through the whole process, you might get along better with a different plugin.
Duplicator requires you to manually enter details about your host and database and runs several checks before building the archive of the site. If you have a very large database or large files on your site, you may need to do some fiddling before the site will backup properly.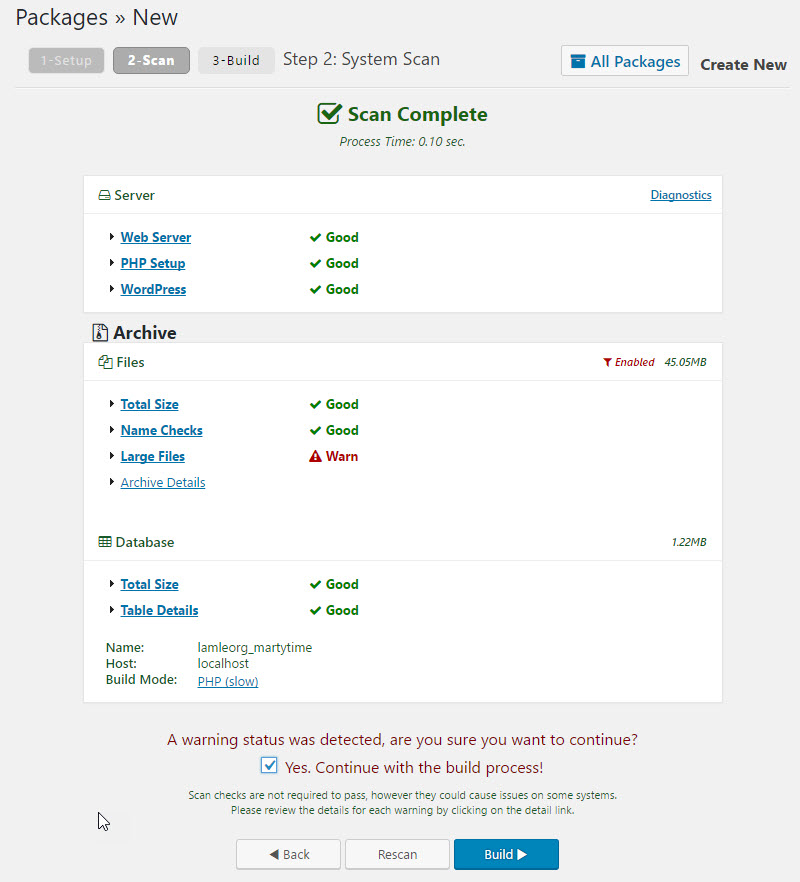 Duplicator is a free plugin, although there is also a pro version available. You'll need the pro version of the plugin if you want to move a WordPress multisite installation and it also has several additional features that make it more flexible and easy to use including:
Scheduled backups
Integrated transfer to cloud storage services such as Dropbox, Google Drive, and Amazon S3
Multithreaded for better functionality with large websites and databases
Database creation built into installer
Connect to cPanel directly from installer
Additional developer support.
👉 You can learn more in our step by step Duplicator plugin guide here.
2. BackupBuddy

BackupBuddy is a premium WordPress plugin that is very easy to use and has a lot of fans in the WordPress community. It has been around since 2010 and is used on around half a million WordPress sites.
As you may have guessed from the name, BackupBuddy was designed primarily as a WordPress backup service but it works just as well for site migration. Built-in functionality easily allows you to change hosts or servers, change your domain, and automatically change URLs when migrating to a new domain.
The developer license also includes additional features including built-in WordPress migration functionality, WordPress clone, and staging & deployment feature to easily update changes to existing sites from a staging environment.
One of the main advantages of choosing a premium plugin is the extra support and guidance you'll receive. With a free plugin, if you run into problems you'll need to search around and experiment yourself until you can get your issue sorted out. With a premium plugin like Backup Buddy, you'll have the reassurance that the support and development team will walk you through any problems you might have.
Other features of the plugin include:
Scheduled backups
Easy restore from backup
Real-time cloud-based backup with1GB of Backup Buddy Stash storage included
Individual file restore
Database rollback
Enhanced security features
BackupBuddy licenses start from $80 for one year of updates and support, or $297 for lifetime updates and licenses for unlimited sites.
👉 You can learn more in our step by step BackBuddy plugin guide here.
3. All-in-One WP Migration

The All-in-One WP Migration plugin is designed specifically to enable easy exportation of your WordPress database, media files, plugins, and themes. There is also a find/replace database feature that makes it easy to repair broken files and links after you've moved your site.
The plugin is designed to bypass webserver upload size restrictions up to 512MB (5GB in the pro version) and supports most popular WordPress hosting providers such as Bluehost, WP Engine, and many more.
There is also built-in capability to migrate WordPress to cloud services including Box, Dropbox, OneDrive, Google Drive, Amazon S3 and others.
Another useful feature that makes this plugin stand out from other options is that it is fully optimized for mobile, making it easy to backup and migrate WordPress if you need to do so when you're away from home or the office.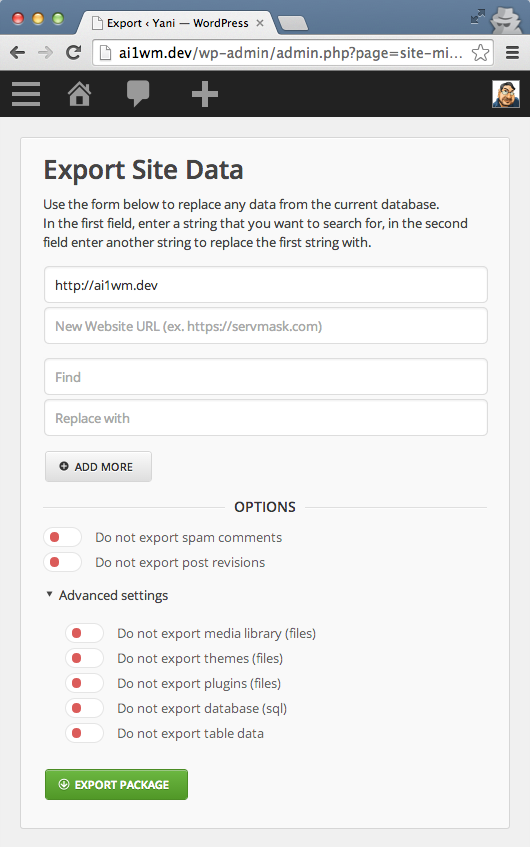 The plugin is currently being used on over 300,000 sites and has a rating of 4.8 out of 5 stars in the WordPress repository.
The pro version of the plugin costs $59 for a lifetime license with unlimited updates.
Get All-in-One WP Migration Plugin
4. UpdraftPlus WordPress Backup Plugin (UpdraftPlus Migrator)

UpdraftPlus is designed to simplify backup and restoration of WordPress sites. Sites can be easily restored, and backed up to the cloud. To make use of the migrate and clone feature, you'll need to upgrade to the premium version of the plugin or purchase the separate Updraft Plus Migrator plugin.

This plugin has over one million active installs and an average rating of 4.8 out of 5 stars on the official WordPress repository.
There is both a free and a premium version of the plugin available. The premium version allows cloud backup to some additional services (Microsoft OneDrive, Microsoft Azure, Google Cloud Storage, SFTP, SCP, and WebDAV).
UpdraftPremium offers additional support and free upgrades for a year, along with 1GB of UpdraftVault cloud storage for backups. Other premium features include:
Backup extra files and databases
Migrate and clone websites
Advanced reporting features
Automatic backup when upgrading WordPress core code, plugins, and themes.
Send backups to multiple locations
Restore backups from other plugins
Multisite support
Database tools to remove mentions of old website from database
The premium plugin costs between $70 and $145, depending on the license you choose. The Migrator plugin is also available separately for $30 for one or two websites or $49 for multiple websites.
Get UpdraftPlus Migrator Plugin
5. WP Migrate DB

WP Migrate DB works by exporting your WordPress database as a MySQL data dump, running a find and replace function on URLs and file paths, and handles serialized data before saving as an SQL file. You'll then need to manually import this SQL file using a database management tool such as phpMyAdmin
Because using this plugin is more technical and "hands-on" than some other migration plugins, it's best suited to developers and those that are comfortable working in the backend of WordPress. It's a good option for those who want finer control over migration and backups, rather than just creating an exact clone of the original site.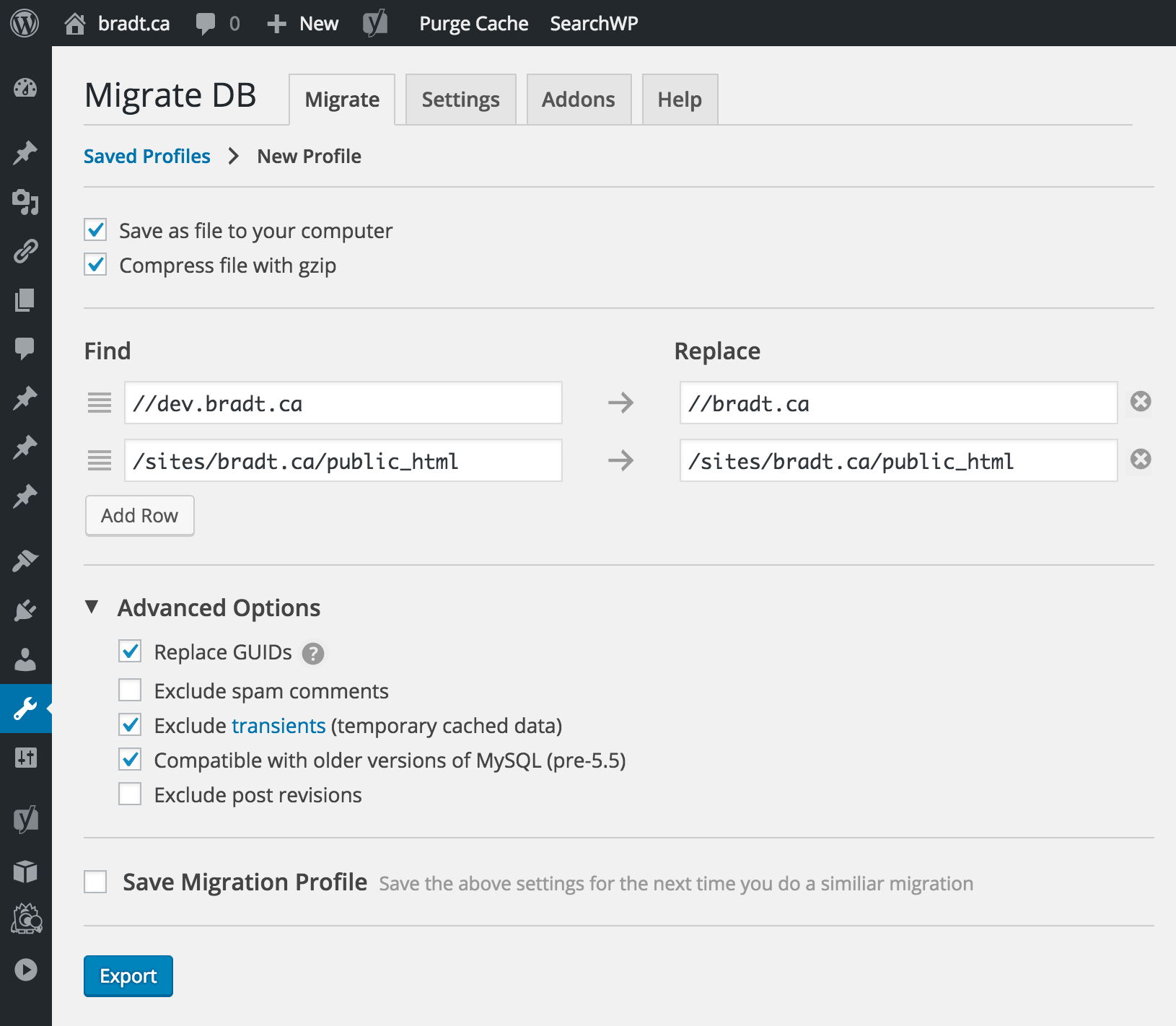 There is also a pro version of the plugin available that has additional features such as the ability to push and pull databases for staging and deployment, database backup prior to migration, the ability to pause and resume migration, and filtering out of tables, post types, and other unneeded data.
The pro plugin can be purchased for $89 for a personal license supporting up to 12 installs, up to $999 for an agency license with unlimited sites and users supported.
👉 You can learn more in our full WP Migrate DB review.
💰 Don't forget to use our WP Migrate DB coupon code wpkube20 to get 20% off.
6. JetPack Backups (formerly VaultPress)

VaultPress is a premium backup and migration plugin with a free version that supports basic backup and security scanning.
VaultPress is available on a subscription basis from $3.50 monthly or $39 per year for a personal licence. The features include automated daily backups with unlimited storage, real-time security monitoring, brute force attack protection, and spam prevention.
You'll also need the premium version of the plugin to utilize the migration and 1-click restore features. The interface allows you to easily browse different backup versions and migrate multiple versions of the site including database, theme, and plugins.
This is a good choice of plugin if you want the combination of migration and backup functionality, alongside superior security features.
7. Migrate Guru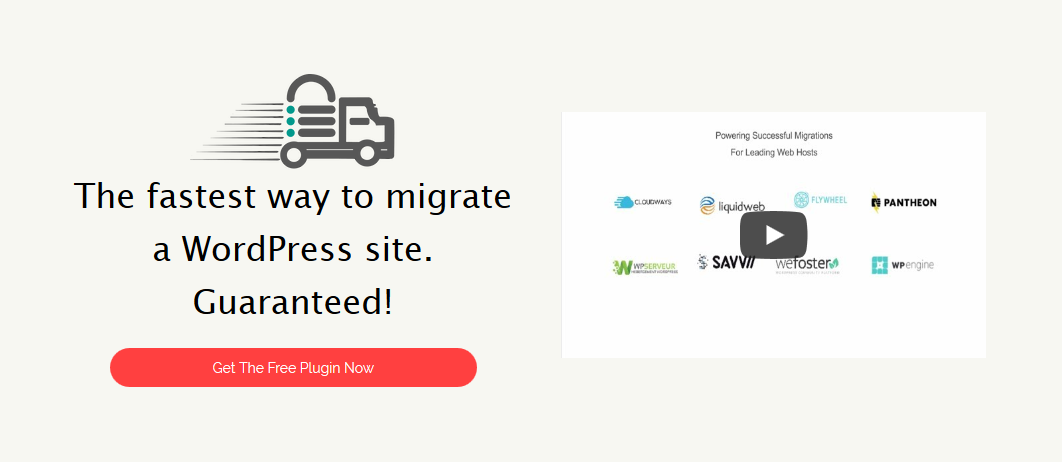 Migrate Guru is the new kid on the block, having being launched in August 2017. It was created by the BlogVault team (but works on any host) and claims to be the fastest plugin available for migrating your WordPress site, completing migration up to 80% faster than other plugins.
The plugin is totally free with no "premium" version or paid add-ons and is suitable for any type of WordPress site up to 200GB in size.
Migrate Guru is also designed to be very easy to use so it's a case of simply clicking the migrate button once you've entered the details, without any time-consuming export and import processes.
There's built-in instant migration for sites hosted on Bluehost, Siteground, Hostgator, GoDaddy, WPEngine, and Flywheel, and you can migrate to other hosts using cPanel or FTP.
Features include:
One-click migration
Compatible with any host
Multisite support
Migration is processed on the BlogVault servers so there's no risk to your live site and even very large sites can be migrated without timeouts
No storage space required
Real-time progress reports and email alerts.
In only a short period of time, Migrate Guru has racked up over 1,000 downloads from the official WordPress repository and has been used to migrate over 400,000 sites. It's well worth a look, particularly if you have a big site and have had problems with some of the other plugins or you just want a free and easy plugin that works well.
In Conclusion
If you're looking for a free plugin to migrate your site and you don't have any issues with doing a little technical setup yourself, Duplicator still gets my vote for performing WordPress site migrations quickly and easily.
If you'd prefer a more hands-off solution and you don't mind paying for premium support, BackupBuddy is a very popular option that has many satisfied customers.
For those who are also looking for an integrated security solution and don't mind paying a monthly subscription fee, VaultPress is a good option.
It's also worth considering using specialist WordPress host with built-in migration functionality, such as WP Engine, particularly if you're working on a lot of client sites and need an environment for staging and deployment.