Need to create a custom registration form for your WordPress site?
While WordPress does include its own native registration form, it's super basic and not a great option for a site that allows public user registration. Using a WordPress registration form plugin will give you a lot more flexibility for creating user-friendly, custom forms.
You'll be able to add custom fields, display the form anywhere on your site, and, depending on the plugin, even accept payments and integrate with other tools.
In this post, I've collected the six best plugins for WordPress registration forms, including both free and premium options. Let's get started!
Six Best WordPress Registration Form Plugins
1. RegistrationMagic
RegistrationMagic is a popular freemium option that's 100% focused on helping you create custom WordPress registration forms.
At a basic level, it helps you create your own custom registration forms that you can add anywhere on your WordPress site (or even on non-WordPress parts of your site via an HTML embed code). You can…
add as many custom fields as needed
assign users to a specific WordPress role
allow file attachments.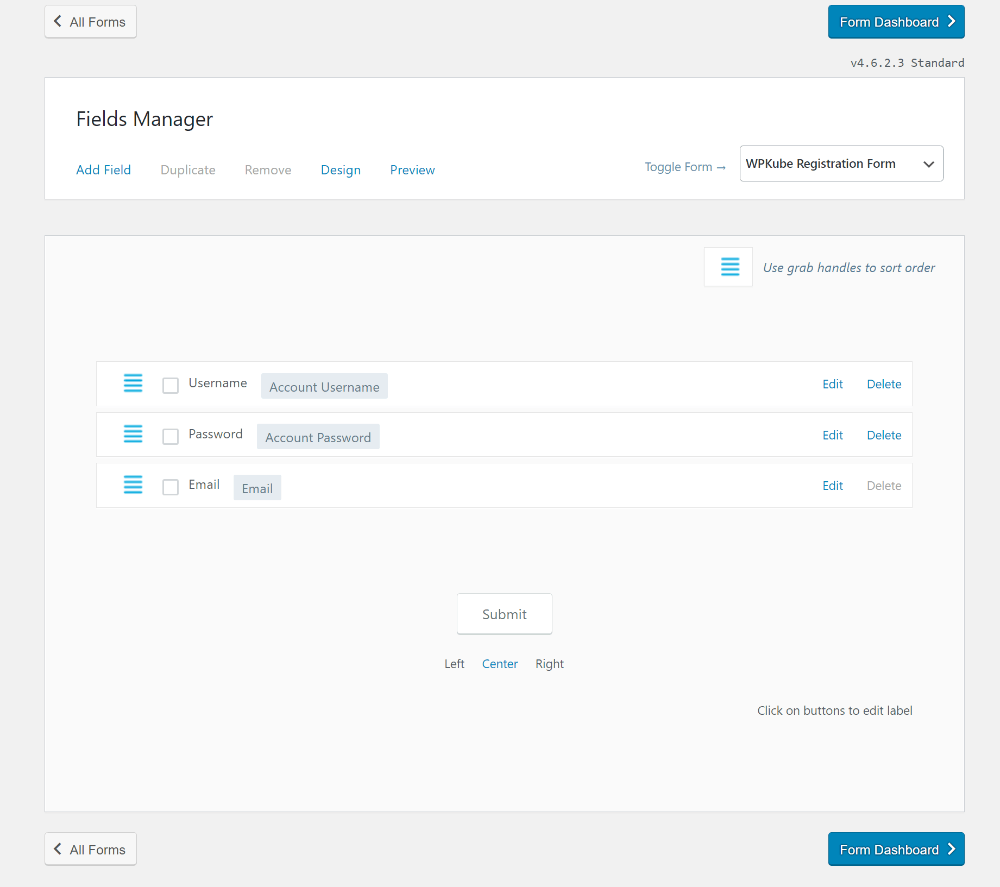 You also get other useful features/settings such as:
Option to auto-generate a password or send the username/password to a user's email
Custom notification emails
Facebook login
Form analytics to see your registration conversion rate, including individual field analysis
Option to hold new registrations for manual admin approval
For more advanced registration forms, you can also charge for registration, including creating multiple different payment plans. There's also a neat option that lets you create one-off registration forms for specific events (including limited registration numbers). For example, you could create a registration form for a specific webinar that you're planning to run.
Finally, RegistrationMagic also includes tools to help you and your users after registration:
You can view/manage all of your users via a custom backend user management area that gives you a lot more options than the default WordPress tool.
Users can get a front-end area to manage their profile information.
You can create front-end user views, like creating a public member directory of people who registered via your form.
All in all, this is a great one for both simple and advanced WordPress registration forms.
Price: Starts free at WordPress.org. Premium version from $89.
2. User Registration

As the name suggests, User Registration is a free WordPress plugin that's focused on – you guessed it – user registration.
It gives you a drag-and-drop form builder that you can use to create unlimited custom registration forms. It comes from the same developer as the Everest Forms plugin, so the form builder feels quite fleshed-out.
Once you create your form, you can embed it anywhere on your site using a shortcode and you can also send notification emails upon new user registration.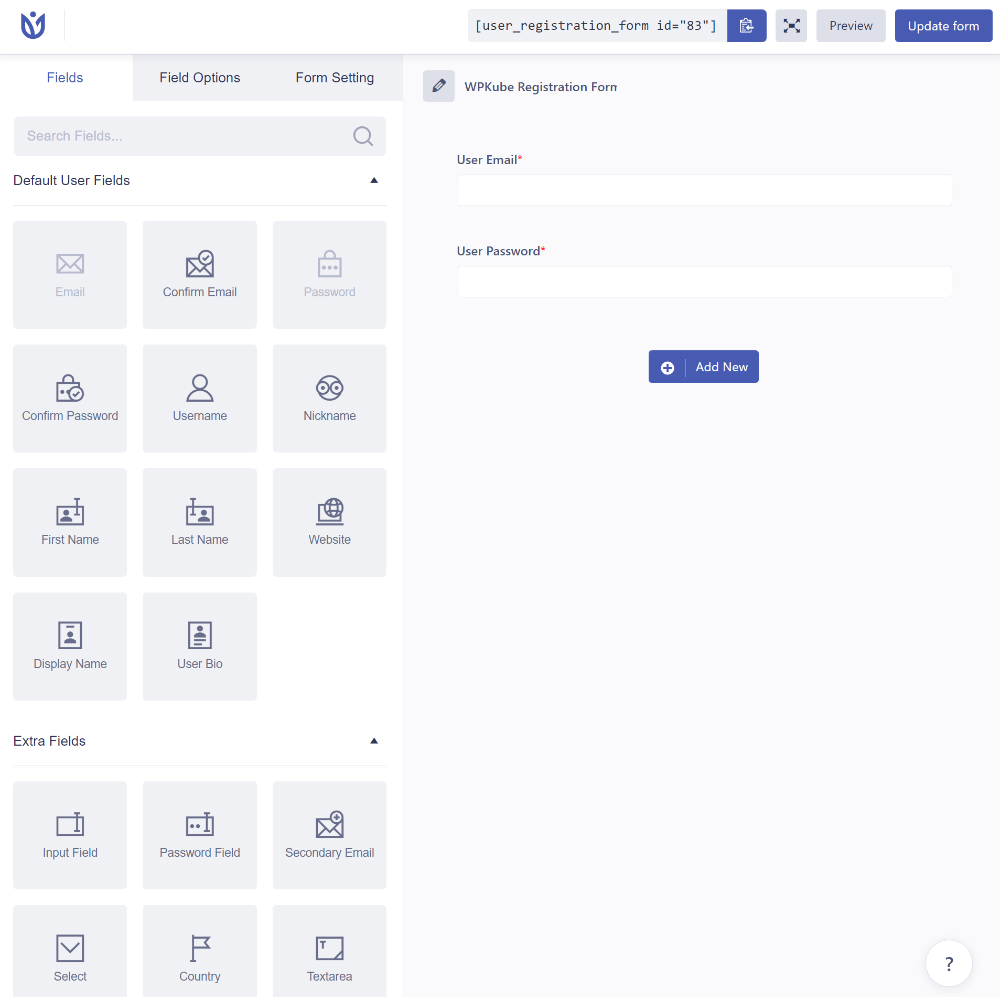 Some other notable features include:
Auto-login users after registration
Force strong passwords
Let users register without entering a user name
Create a front-end account profile page
There are also tons of premium extensions that add the following features:
More custom field types for your form.
WooCommerce integration that lets you add shipping/billing fields to your registration form.
Social login/connect for Facebook, Twitter, Google, or LinkedIn.
Multi-part forms for complex registration forms.
Mailchimp integration to automatically add subscribers to Mailchimp.
File uploads/attachments on registration forms.
Export registration form information as a PDF.
Conditional logic.
Integrate payments in your form via PayPal or Stripe.
Collect geo information from users.
Create invite codes to restrict registration – only users with an invite code can register.
Overall, the free version is good for basic registration forms while the premium version gives you a ton of flexibility.
Price: Starts free at WordPress.org. Premium extensions bundle from $69.
3. Ultimate Member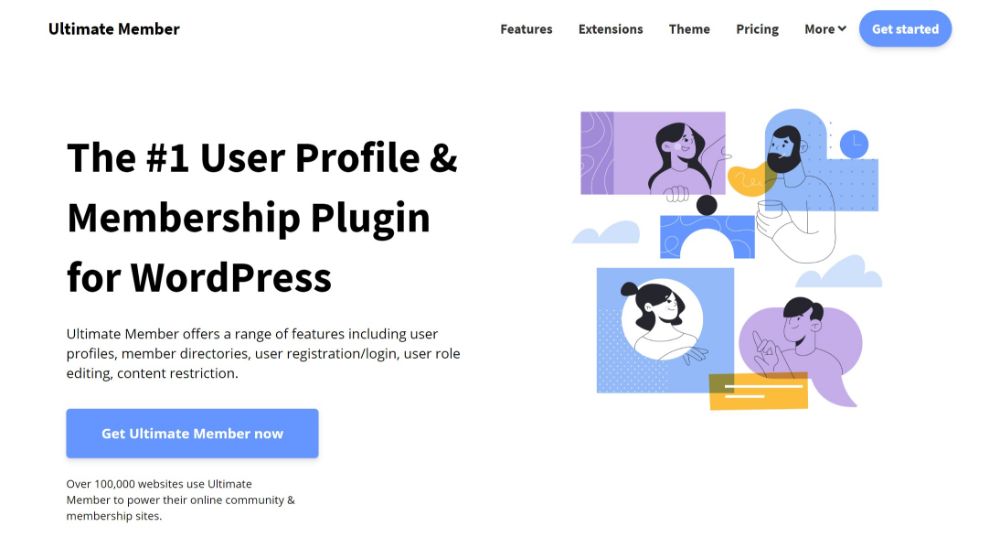 Ultimate Member is a popular free plugin that helps you both create custom WordPress registration forms and also let users manage their profiles from the front-end of your site. With the premium add-ons, it also includes some social networking-type features.
To create your custom registration form, you'll get a drag-and-drop builder that lets you include custom fields if needed. You can choose whether or not those custom fields should also show up in a user's profile or just stay internal for your use.
You can also assign people who use the form to a specific WordPress role. Then, you can add your form anywhere on your site using a shortcode.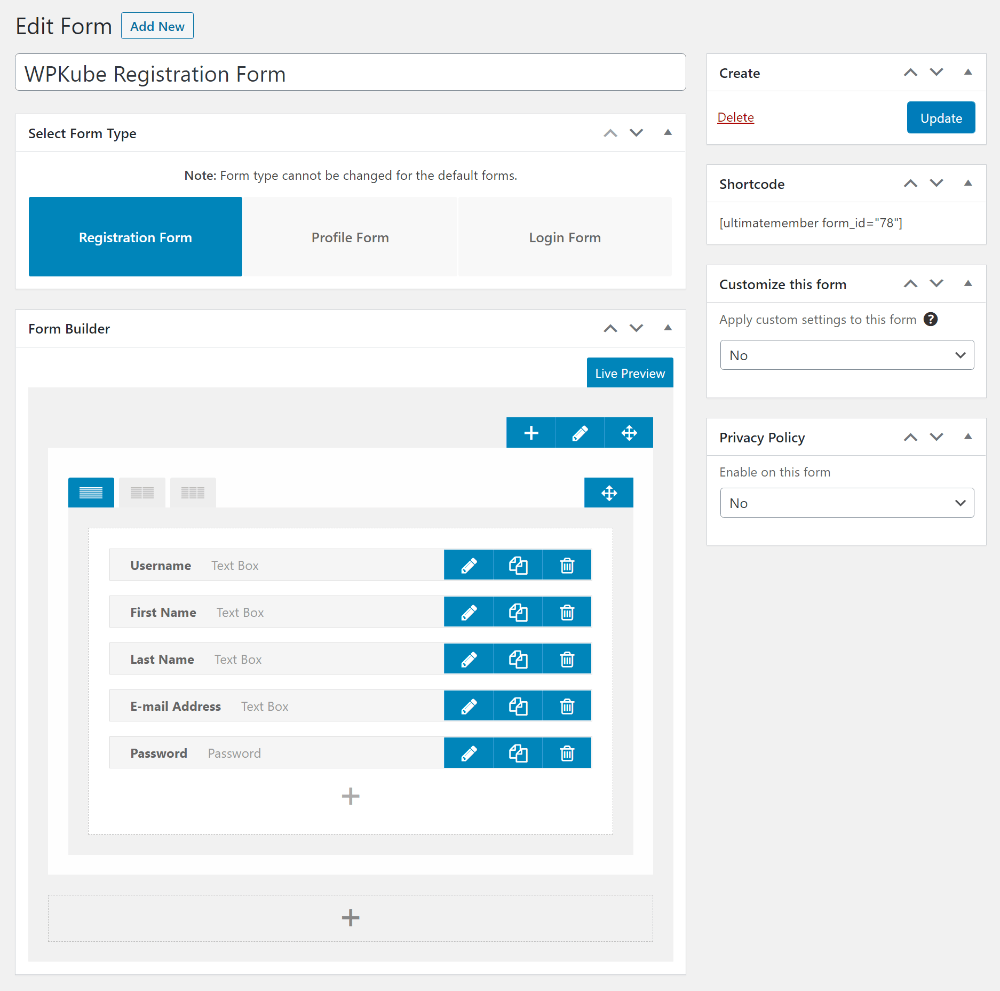 There are also lots of free and premium add-ons. However, most of the add-ons are more focused on the user profile/social community features than the custom registration form. There is an add-on that lets you require user verification as part of the registration process, but the other addons deal with features such as private messages, followers, friends, etc.
All in all, this is a good one if you need those more advanced profile/community features. However, it might be overkill if literally all you want to do is create a custom registration form.
Price: Free core plugin. Purchase individual extensions or a bundle of all extensions for $249.
4. Profile Builder

Like Ultimate Member, Profile Builder is another popular free plugin that blends custom WordPress registration forms with custom user profiles.
You can add unlimited custom fields to your registration form and map them to the default WordPress profile fields. You get a good number of options in the free version and even more in the premium version.
With the premium version, you can also use conditional logic to control when certain fields appear. You can then add your custom registration forms anywhere on your site using a shortcode.
You also get some other options to control user registration. For example, you can:
Enable/disable email confirmation.
Enforce strict passwords.
Assign users to different user roles.
Redirect users to a custom page after registration.
Require admin approval for new users.
Beyond registration forms, Profile Builder also lets you create:
A front-end user profile area where users can edit their profile information.
A user listing feature to create a front-end member directory.
Maps of user locations (if you add a location field to your custom registration form).
Profile Builder also offers some content restriction features, which lets you create a lightweight membership site. Or, it also pairs well with the Paid Member Subscriptions membership plugin from the same developer.
Price: Starts free at WordPress.org. Premium version from $69.
5. Gravity Forms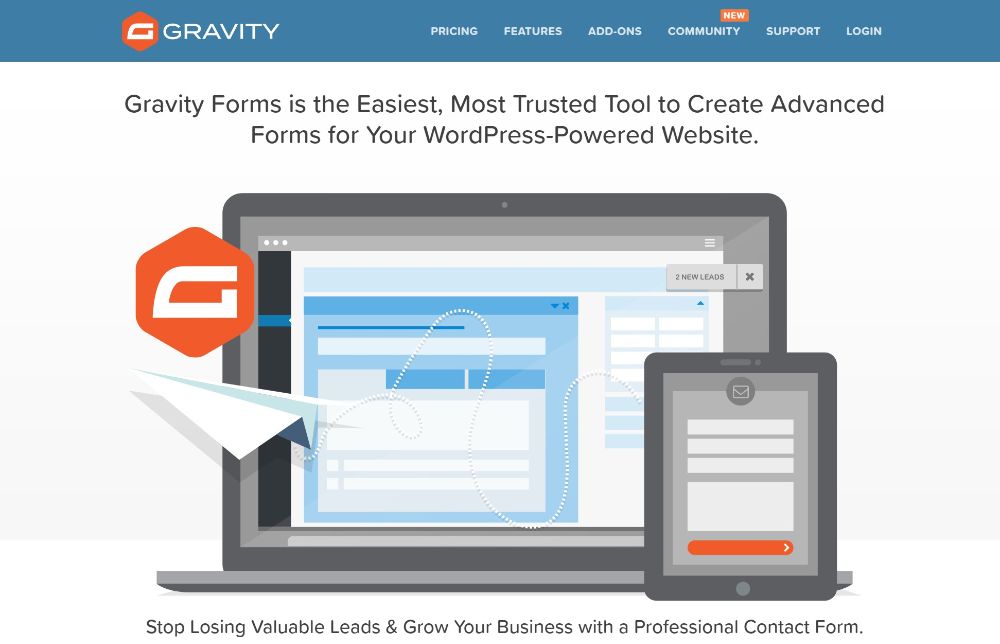 Gravity Forms is a popular premium WordPress form plugin that can help you create literally any type of form, including custom registration forms. Your forms can include as many custom fields as needed and you'll be able to map all of the information to WordPress profile fields.
One of the most unique things about Gravity Forms is that it lets you tie various after-submission actions to your registration form. For example, you could automatically add new registrants to your email marketing service or CRM.
Another unique thing is the ability to integrate payment processing into your forms. For example, you could charge users to register for your site. You can also use conditional logic so you could offer both free and paid registration in the same form (and assign users different WordPress roles based on their choices).
For a basic registration form, I don't think there's really any need to pay for Gravity Forms. However, if you want to charge for registration or connect your registration forms to external services (like your email marketing tool), then Gravity Forms is definitely one of your best options.
To see if it can do what you need it to, you can play around with the Gravity Forms demo. Or, check out our full Gravity Forms review to learn more.
Price: To access the user registration feature, you need the $259 Elite license.
6. WPForms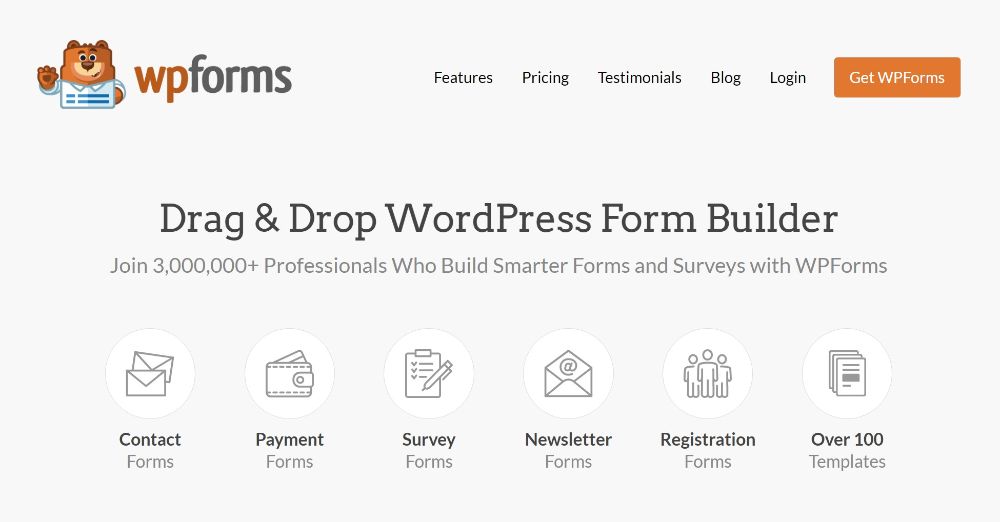 WPForms is another popular form plugin that, like Gravity Forms, helps you create pretty much any type of WordPress form, including registration forms.
It has pretty much the same features and pros/cons as Gravity Forms. That is, it lets you create your own custom registration forms with form fields that map to WordPress profile fields.
However, where it really excels is when it comes to its integrations with third-party services (like email marketing providers and CRMs) and its built-in payment features that let you charge for registration. It also has the same conditional logic features that let you route users in different ways depending on how they fill out your registration form.
For example, you could add users who registered for a free plan to one user role and send users who paid to another user role.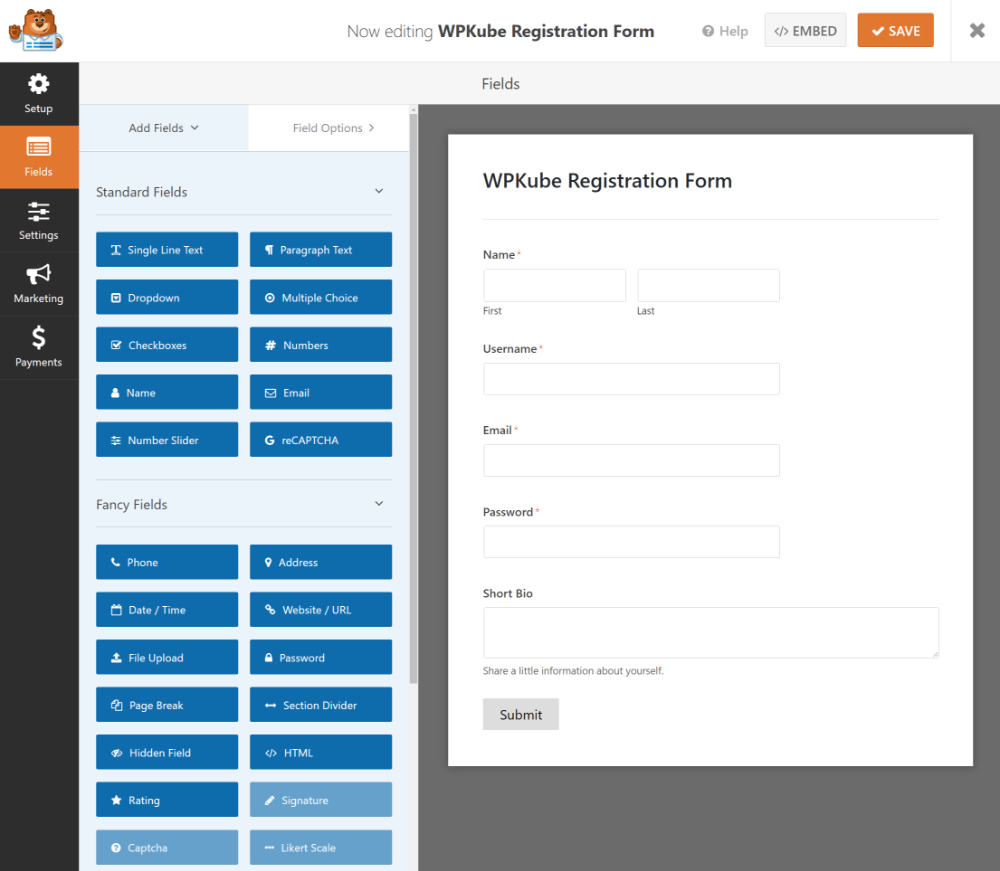 Should you use Gravity Forms or WPForms? Well, that really just depends on your preference. Gravity Forms has a more vibrant third-party extension marketplace, so it's a bit more flexible. However, WPForms is slightly cheaper and still has plenty of advanced features.
👉 You can learn more in our full WPForms review.
Price: While WPForms is available for free at WordPress.org, you need the $199 Pro license to access the user registration feature.
Which Is the Best WordPress Registration Form Plugin?
Now that we've reached the end of this post, you're probably wondering which is the best WordPress registration form plugin for your needs.
Well, that obviously depends.
If you're looking for a good place to start, consider RegistrationMagic or User Registration, as both are pretty much 100% focused on registration forms.
On the other hand, if you also want user profile features to go along with your registration forms, you might want to consider Ultimate Member or Profile Builder.
Finally, if you want payments and/or advanced integrations with other tools (like email marketing services and CRMs), then you might want to use Gravity Forms or WPForms. While they're definitely more expensive than the others, they're also incredibly flexible and you can use them for a lot more than just registration.
Still have any questions about the best WordPress user registration form plugins? Ask in the comments!