Have you ever felt overwhelmed by the sheer number of WordPress contact form plugins on the market today?
For instance, you can pick a free options such as Simple Basic Contact Form or premium contact form plugins such as the highly recommended Gravity Forms or Ninja Forms.
 In addition, have you ever felt that many of the options available are simply too complicated for your basic form needs?
Well, today that is going to change.
In this review, I will be sharing with you the ins and outs behind a WordPress plugin masterpiece called WPForms. Brought to you by the same talented team that launched WPBeginner and created the popular lead generation plugin OptinMonster and analytics plugin MonsterInsights, WPForms promises to deliver.
What is WPForms?
WPForms is a plugin that was designed in response to the slow, buggy, and complex form plugins that website owners had to pick from for their websites. Essentially, the goal was to create a form builder plugin that not only produced beautiful forms, but was powerful and user-friendly as well.
This plugin is extremely easy to use and offers WordPress website owners a multitude of advanced features for the perfect form-building experience. With its intuitive drag & drop building ability, website owners of all levels can create beautiful looking forms and place them on their website seamlessly.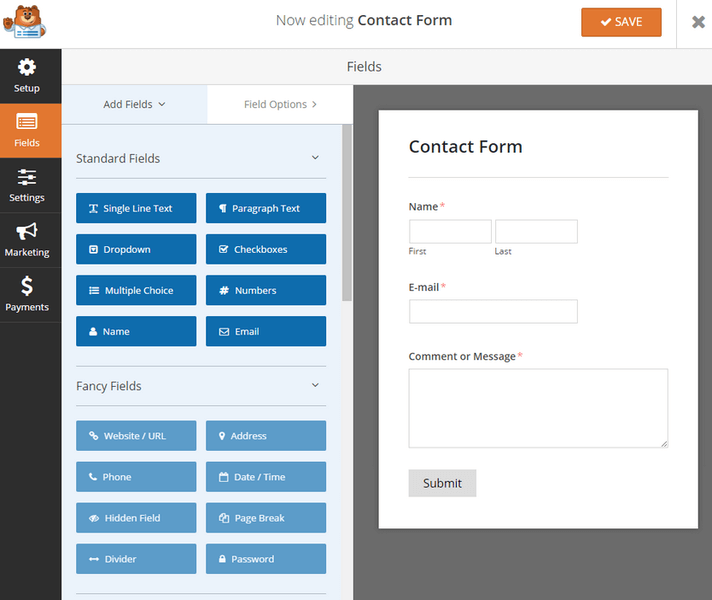 Using any number of pre-made templates, or choosing to create from scratch, all it takes is a few clicks here and there for you to get a functioning form up and running on your website. And to top it off, there are no coding skills required for you to get the perfectly designed form for your blog, business, or online shop.
WPForms Features: Usability Meets Powerhouse Functionality
There is a reason why WPForms is quickly becoming one of the leading form building plugins in the WordPress community. See for yourself why over 100,000 website owners have downloaded WPForms to use on their WordPress websites.
Drag & Drop Form Builder
WPForms' drag & drop interface gives you a simple yet robust way to create great looking forms in minutes. Choose one of their pre-designed templates or start from scratch, whichever suits you best. Then, add customized fields and rearrange them as you see fit, all without writing any code.

Create contact forms, design online surveys, set up donation forms, and even generate subscription forms to communicate with your readers, see what customers want from you, build your email lists, and boost sales. Lastly, embed your form in places such as posts, pages, widgets, sidebars, and even footer areas.
Responsiveness
This form plugin is extremely responsive so that all of your site visitors can view and interact with each form you have on your website easily. Regardless of device or screen size, all fields are readily visible and in working order. Desktops, tablets, and mobile phones render your forms perfectly and without the hassle of scrolling, re-sizing, or zooming.
Smart Conditional Logic
Collecting relevant information about your site visitors is the key to building a successful following or business. With WPForms' smart conditional logic feature, your WordPress forms dynamically change based on the selections your viewers make while filling out your form. In a sense, you control how your form works as a viewer answers each field.

Creating smart and powerful forms, this advanced feature lets you do things such as:
Send subscribers to an email list only if they check the subscribe box.
Show a customer the next form in a multi-page form if their budget meets a specific threshold.
Hide the next page in a long form survey if a reader fails to select a certain option.
Upsell your products and increase revenue by revealing exclusive offers to customers who make high priced purchases.
Entry Management
Data entry management can be difficult with some form plugins.  With WPForms, it doesn't have to be. All of your form entries are stored in your WordPress database upon completion and are easily accessible via your WordPress dashboard. In fact, you can view your favorite leads, mark entries as read, and even print, resend, and export entries.
In addition, if you have multiple forms on your website, you can easily sort through entries one by one according to the form type. Streamlining your entry management process saves time and effort so you can concentrate on other important things.
Instant Notifications
Exceptional customer service is crucial to building a reputable business. When customers have inquiries, they expect thorough and timely responses. Luckily, with WPForms you and your team are instantly notified via email that a form has been submitted. This way, you or your team can automatically respond to urgent questions or concerns, process billing matters in a timely fashion, and manage donations once they are submitted.
If you prefer not to receive email notifications, that's no problem.  WPForms lets you toggle this feature on and off to your liking.
Form Confirmations
Once a site visitor completes a form on your website, it is important that they experience something unique after the fact depending on the type of form they submit. With WPForms' form confirmation feature you control what happens after a reader selects "submit".

Display a thank you message and inform your visitor what happens next.  Redirect readers to existing pages on your website. Even show customers your upsells on a third-party website after a successful submission.
Security
If you have been a website owner for any length of time, surely you know that online forms are susceptible to the horrors of spam. This is why WPForms implements several security measures to help reduce spam and protect not only your website's information, but that of your site visitors as well.

WPForms outfits their plugin with the honeypot technique so you can ward off automated spam bots without sacrificing user experience. In addition, they add Google's own reCAPTCHA service to help battle spam left by bots who cannot answer the required field.
The great thing is, if you don't want the reCAPTCHA feature included on your forms (many do not like the frustration captchas create for their site visitors) you can choose not to add this feature to your form and just stick with the honeypot technique.
Other Notable Features
WPForms comes packed with great features despite being such a simple to use online form creator. Let's look at what else you get when you decide to invest in this exceptional plugin:
Easily collect file uploads through your online forms such as images, videos, Word Docs, and PDFs.
Break long online forms into multiple pages to improve user engagement.
Create custom user registration forms.
Collect secure payments and donations using the PayPal or Stripe Addons.
Learn more about your site visitors using Geolocation Data.
Connect with over 500 web apps with the Zapier Addon.
Documentation, Support, and Pricing
WPForms provides extensive documentation with a variety of articles and videos walking you through each feature available with the plugin. Learn how to get started, about the plugin's functionality, how to manage your account, and much more. And, for those who are still having issues with WPForms, you can login to your WPForms account and submit a ticket request.
In the end, it is clear the team at WPForms has taken every necessary step to make sure their customers know and understand the product they have purchased.
WPForms comes with four different price points suitable for website owners of all kinds: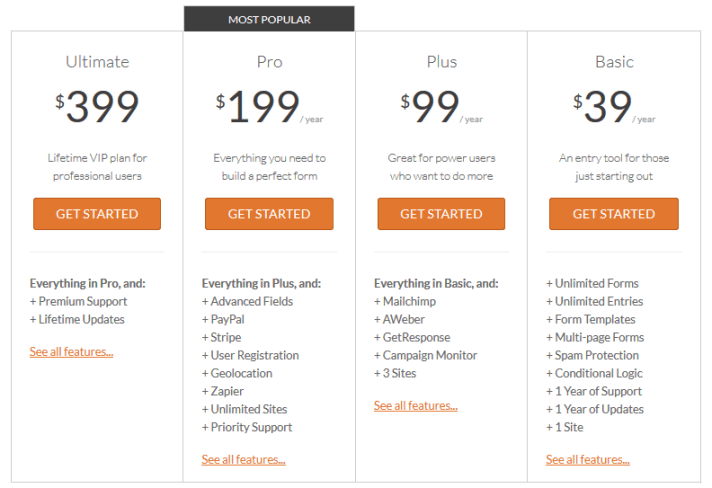 WPForms also comes with a 100% no-risk money back guarantee in case you don't like the plugin for any reason within the first 14 days of having it.
Final Recommendations
In the end, you have many options when it comes to adding online forms to your WordPress website. And, while the options are numerous, it can be tough to wade through which ones have the features you need and which ones are not bogged down with complex functions you don't need.
WPForms caters to WordPress website owners of all levels and does not disappoint when it comes to added features. They definitely mastered the perfect balance of user friendliness and advanced functionality. If you are looking for a beginner friendly form plugin to use on your WordPress website and want a little extra pizzazz when it comes to functionality, I definitely recommend giving WPForms a spin. And with a fully protected money back guarantee, you really have nothing to lose!