At some point during the natural lifecycle of a company, cultivating customers takes priority. As such, your support services become a key battleground.
Live chat plugins are one way to offer your customers practically instant access to your support team. They let users talk to either a real person there and then, or a smart 'bot' that redirects them to the right place.
In this post, we'll look at a number of live chat plugins, and offer some advice about which one would potentially suit you. Before that, let's talk about why live chat is a great customer service channel.
An Introduction to Live Chat (And Why You Should Implement It)
For the uninitiated, live chat does what it says on the tin. In other words, a customer accesses your site – usually looking for support – and can connect with a representative through a button on the page: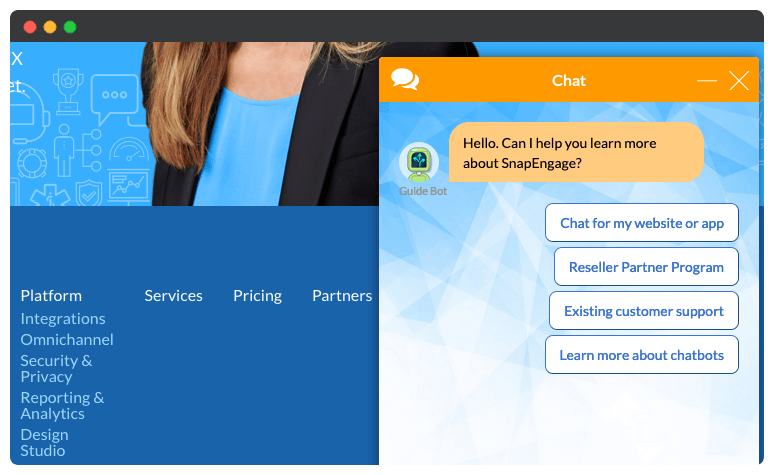 While live chat was initially 'manned' by a real person, gains in Artificial Intelligence (AI) means that tailored bots are more common now. This brings about a number of benefits:
The initial heavy lifting when uncovering a user's support needs can be handled in a routine way by sophisticated tech.
Users are essentially self-solving their issue, which means you can treat aspects of the live chat experience as an extension of your knowledge base.
You can 'qualify' the user for more advanced support. This lets you create dedicated 'tracks' and processes for your support chain, and makes them more efficient.
Given these reasons, implementing live chat on your website is a great way to bring users through your support funnel in a refined way.
How We Chose Our 7 Live Chat Plugins
WordPress wouldn't be the platform it is without plugins. While you can implement practically any functionality using them, this post will look at live chat specifically.
To narrow down our list, we've used the following criteria:
All plugins must have been updated within the last six months to work with a modern version of WordPress.
Where recorded, a plugin must have a rating of at least 80% – for example, four stars on either WordPress.org or CodeCanyon.
Finally, a plugin must have a relatively substantial number of active installs. For example, plugins hosted on WordPress.org usually need a minimum of 1,000 installs.
Because of the above criteria, you'll notice that popular solutions such as Zendesk Chat and Intercom aren't included. In a nutshell, their WordPress plugins didn't meet the standard we set, although the services themselves are stellar.
Summarizing the 7 Top Live Chat Plugins for Your WordPress Website
7 Top Live Chat Plugins for Your WordPress Website
Without further ado, let's take a look at the plugins. The seven here are in no particular order, although we encourage you to compare them all against your own requirements.

First up, we have WordPress Live Chat Plugin by LiveChat – we'll simply call it "LiveChat" here. The plugin has a number of esteemed customers, such as McDonalds, Adobe, and PayPal. As such, the live chat plugin is great for larger organizations.
LiveChat also develops the WooCommerce Live Chat plugin for WordPress too, so they have a number of solutions regardless of your specific need.
Under the hood, LiveChat offers a number of efficiency features, such as canned responses. You're able to send personalized messages to users automatically, and also send them files through the chat window.
However, the biggest plus point of LiveChat is also its greatest drawback. It's an expansive live chat platform with practically everything you'll need to support your customers. As such, it could be overkill for a smaller site.
Overall, LiveChat is great for businesses with heavy support needs, especially if a personal approach to your support provision is important.
Pricing: LiveChat starts at $16 per month, per agent. There are a number of tiers depending on your needs, although you could see costs quickly shoot into three-figures per month.

Next up, Tidio is a company offering a well-supported live chat plugin with solid user feedback. It's designed for WordPress site owners in mind, and also integrates email marketing services and a chatbot into the package.
Installation is rapid, and once you're ready, you're able to set up multiple chat windows across different pages. The plugin supports nearly 200 languages out of the box, and offers a number of customization options to help you match Tidio's chat windows to your branding.
Because of the integrated email marketing, you're able to follow up with users once they leave your website, turning your support channels into a sales funnel entry point. What's more, there are a number of third-party integrations available.
We'd argue that if you're running a WordPress website, Tidio is going to be a front-runner for your live chat needs. It's a modern solution, with a thoughtful feature set. What's more, our research indicates it's one of the more well-maintained plugins available.
Pricing: Tidio offers a stacked free tier, which could be enough for many site owners. However, there are three other tiers that cater to different needs. Each one works out around $200–225 per year, which could become pricey if you're looking for an all-in-one support solution.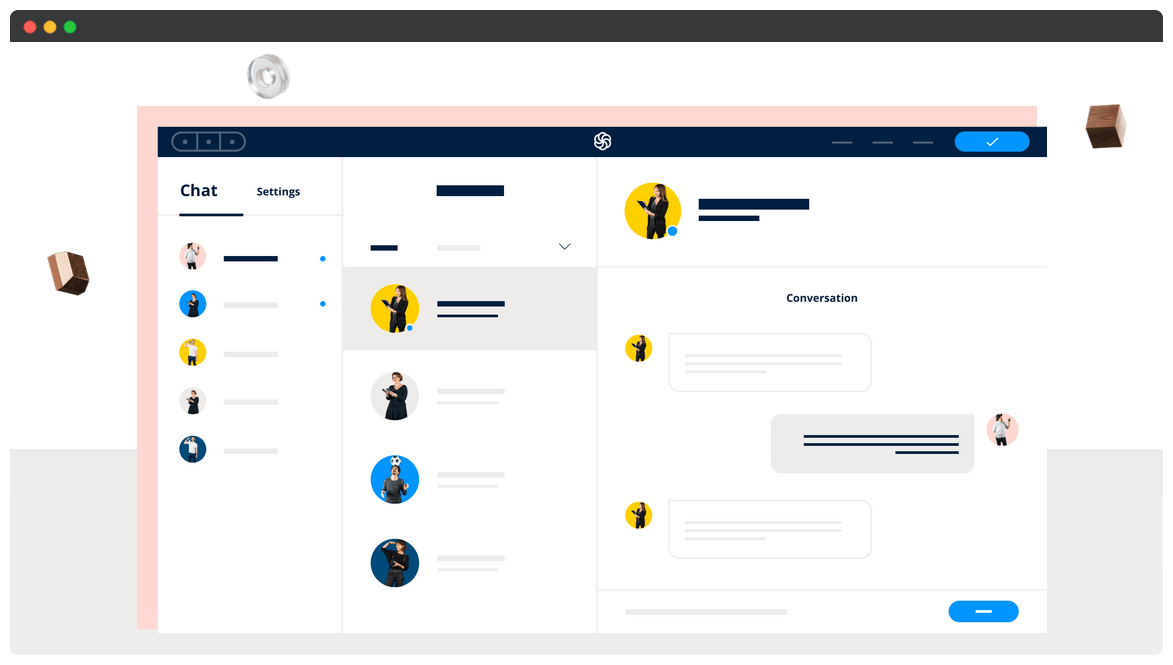 Sendinblue is better known for its stellar email marketing services, although the live chat functionality more than pulls its weight.
You're able to leverage built-in design tools to create a custom chat box tailored to your brand; this organization and care bleeds into agent-user interactions too. For example, you can track the page a user accessed support on, and also assign conversations to various agents. This means you can keep users engaged with your team while you resolve their query.
Arguably the biggest positive to using Sendinblue is the wealth of integrations available. WordPress users are catered for in a number of ways. You're able to install a dedicated plugin, integrate live chat through the Elementor Page Builder plugin, add it through WooCommerce, and myriad other options.
Of course, you're going to get the most benefit if you're already within the Sendinblue ecosystem. Given this, existing users are going to be the most suited to using Sendinblue. However, the functionality is great for all users, especially given the price compared to other freemium tools.
Pricing: Sendinblue's live chat functionality is available on a free tier that also includes email and SMS marketing platforms. Premium tiers begin at a pre-tax price of $25 for 10,000 emails.

Crisp Live Chat is one arm of a full-fledged marketing and support solution. The company offers a Customer Relationship Manager (CRM), email marketing, and more. On the surface, it's similar to Tidio and Sendinblue. However, there are some notable differences.
For example, Crisp positions its service as a 'shared inbox' solution. This means regardless of the support channel, a user is handled from one central location. This is going to help teams that need to escalate support among themselves. You're also able to integrate a knowledge base, so that users can solve queries themselves.
It's clear that Crisp Live Chat is centered around connecting users with support teams, and trying to 'humanize' the often sterile digital experience. In our opinion, it largely succeeds thanks to great features such as 'MagicBrowse' – a way for a support agent to co-browse a site with a user.
As such, Crisp is going to suit teams that like to hold the hand of a user, or offer complex products with an organic need for support.
Pricing: Basic chat functionality is available on a free tier, although the premium tiers are uncomplicated – either $30–35 per month or $130 per month depending on your requirements.

For the uninitiated – although it's tough to find anyone unaware – HubSpot is a giant among marketing. They offer a Content Management System (CMS), CRM, and live chat functionality.
The Service Hub package includes live chat, support ticketing, automated bots, and much more all for free – and found within the dedicated WordPress plugin. You're able to scale your support provision and bring together all of your channels to ensure your process is refined and successful.
Much like other large-scale offerings, HubSpot suffers only if you don't need the full feature set. Of course, if you're already using HubSpot's other services, keeping within the ecosystem may make sense.
Pricing: An offering like this commands a price to match. Starter plans can be yours for around $540 per year on an annual plan.

Olark is a solution that's often mentioned, and for good reason. It's one of the more slicker-looking live chat plugins on the market, and has functionality to match.
It lets you take the information you've gleaned from your users and organize them either within Olark itself or your chosen CRM. You can even create 'pre-chat' forms that help to qualify the user, and give you a head start in assigning them to the right agent.
We particularly like how you're able to use the insight from your interactions to make your support service better going forward. Building complete profiles for users could benefit you with regards to better targeted support, future sales opportunities, and more.
Given what's in the box, Olark is going to be great for teams that rely on support interactions to bolster their sales strategy. Small teams looking to completely maximize their support provision, or medium businesses wanting to scale, will also appreciate Olark's services.
Pricing: Compared to other premium tools on this list, Olark is a relative steal. Plans begin at $12 per per month per agent based on a two-year subscription. However, there are other tiers to consider, including Olark Pro.

Our final entry on this list is unique in that they're offering completely free live chat functionality, with no obligation to become a premium member. Tawk.to offers a wealth of features and functionality based on a 'no-charge' business model.
The great news is that Tawk.to is one of the better featured live chat plugins around. While you're able to add a line of JavaScript to your website to get things up and running, the WordPress plugin is easy to install and use. There are a number of customizations you can make, and the content of the live chat window can also be localized.
Overall, if you need a 'kitchen-sink' level of features in your live chat plugin, yet have little in the way of budget, Tawk.to is going to be ideal. It's also top-notch if you have a small budget but no support team, given the premium services offered.
Pricing: While Tawk.to is completely free to use, there are two premium options you may consider. To simply remove the "Powered by…" link at the bottom of the chat window, you can pay $15 per month. Also, if you'd like your chats answered by Tawk.to's agents, this will cost you $1 per hour.
How to Choose the Best Live Chat Plugin for Your WordPress Website
Much like adding any functionality to your website, the best solution for one business won't be the same for others. As such, selecting the best live chat plugin is more down to your specific needs, budget, and resources.
For those needing a simple way to dip their feet into the water, you'll want a non-nonsense solution – ideally free – that offers a broad range of features. A premium upgrade option could also be welcome if you enjoy using the plugin. Tawk.to is our pick here.
In contrast, if you want to enhance an already existing support team, a solution such as Tidio could be the (literal) ticket. You'll likely already have the budget in place, and your team will have already made it clear where your support needs bolstering. As such, slotting this type of plugin into your setup isn't going to be a large upheaval.
Wrapping Up
Live chat is seemingly ubiquitous, for many reasons. It's a great way to engage customers who are looking for support, offer a way to self-solve issues, and enable entry into your support funnel in a way you can control.
When it comes to choosing a suitable solution, a good all-around option is Tawk.to or Tidio – the latter especially for WordPress site owners. However, Sendinblue, LiveChat, and HubSpot's Live Chat all offer something unique.
Are you contemplating introducing live chat on your website, and if so, what features are you looking for? Let us know in the comments section below!