Whether you realize it or not, food is central to our lives. Some use it for fuel, while others present recipes as an art form. If you're in the latter group, and you want to create a food blog to share your passion, WordPress is a top platform.
With the number one Content Management System (CMS) at your side, you're able to work on your site and publish it in no time. What's more, it's extendable using themes and plugins.
In this article, we'll show you how to create a food blog with WordPress. Before this, we're going to give you all the context you need to get started.
What a Food Blog Is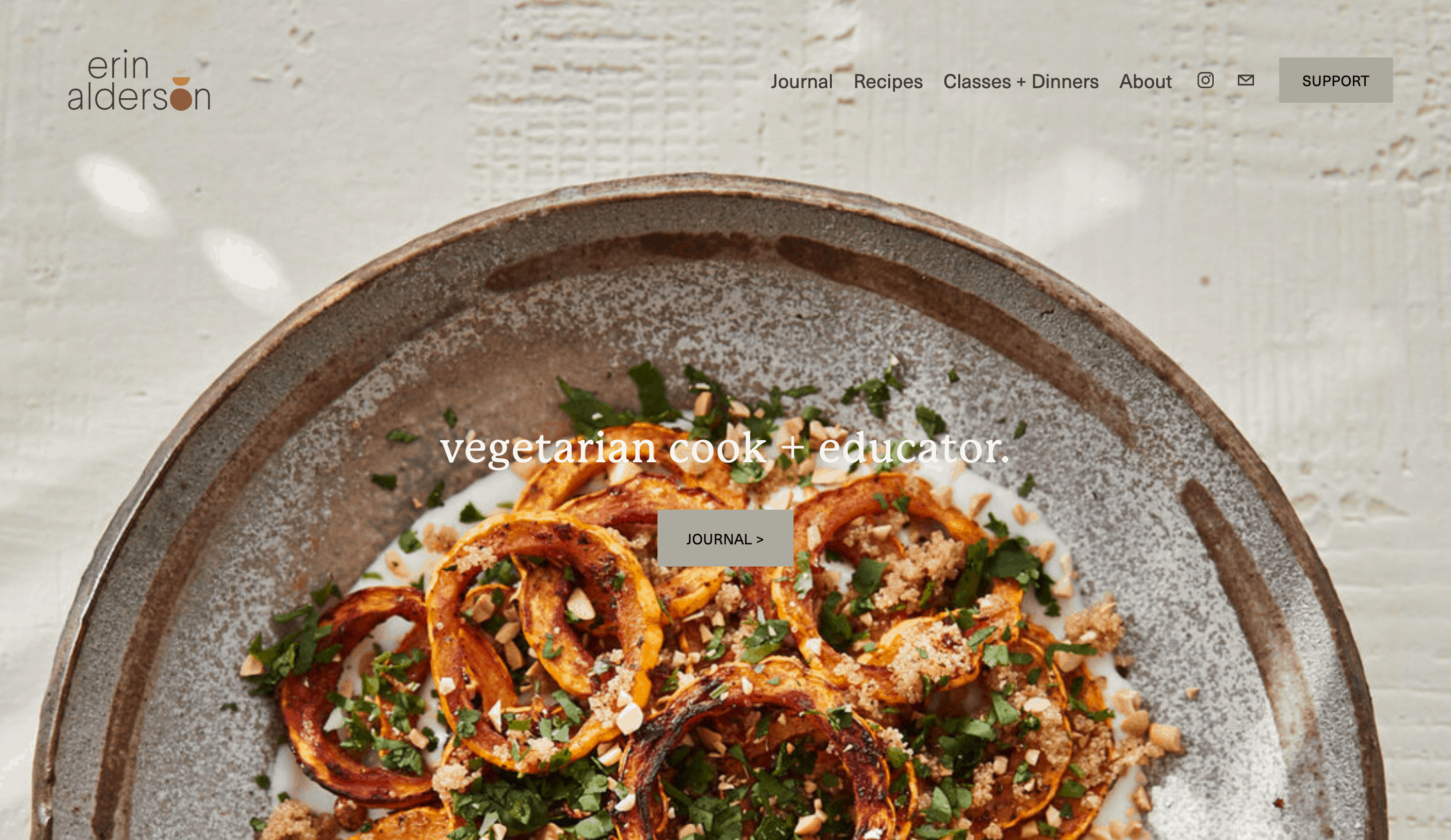 On paper, the concept seems simple. A food blog does what it says on the tin. You'll post regular content about food, although there are a few different ways you could go here:
The blog could be all about cooking. Recipes are going to be a big part of your content.
You could review restaurants and other establishments. This isn't going to feature recipes so much, and it will be heavy on text and media.
The blog could review kitchen gadgets. This will use affiliate links to monetize your blog in most cases.
There are lots of other types of food blog too, but we'll focus on cooking-based blogs for this post. Though, once you have the fundamentals down, you'll be able to apply them to any type of site you wish.
Why You'd Want to Start a Food Blog
In short, you'll want to start a food blog because it interests you. This seems obvious, but you should have a passion for food-related subjects first and foremost.
If you're looking to make some money from your blog, or otherwise share your knowledge with the public, there are a few good reasons for doing so:
Spinning up a WordPress site is straightforward, and quick.
Expanding on this, it's simple to add monetizing functionality if needed.
You can build a massive following, because food blogging is popular.
By extension, you can influence the industry if you have a lot of followers.
If you like the sound of these points, using WordPress to create a food blog is going to suit you. In fact, let's dig into this further next.
What Makes Up a Stellar Food Blog
If you look at some of the top blogs in the space, they all have a number of elements in common. Of course, there are different niches when it comes to food blogs, but for recipe-based sites, there are a few consistent elements:
Readable text and good typography choices.
Gorgeous images, often taken by a professional (or even a passionate hobbyist).
Dedicated recipe formats, often as part of a theme or plugin (more on this later).
This is a bare-bones tick-list, but if you have these in place, it's enough to get started. Depending on your exact requirements, you might want to add aspects such as related posts sections, and social media feeds.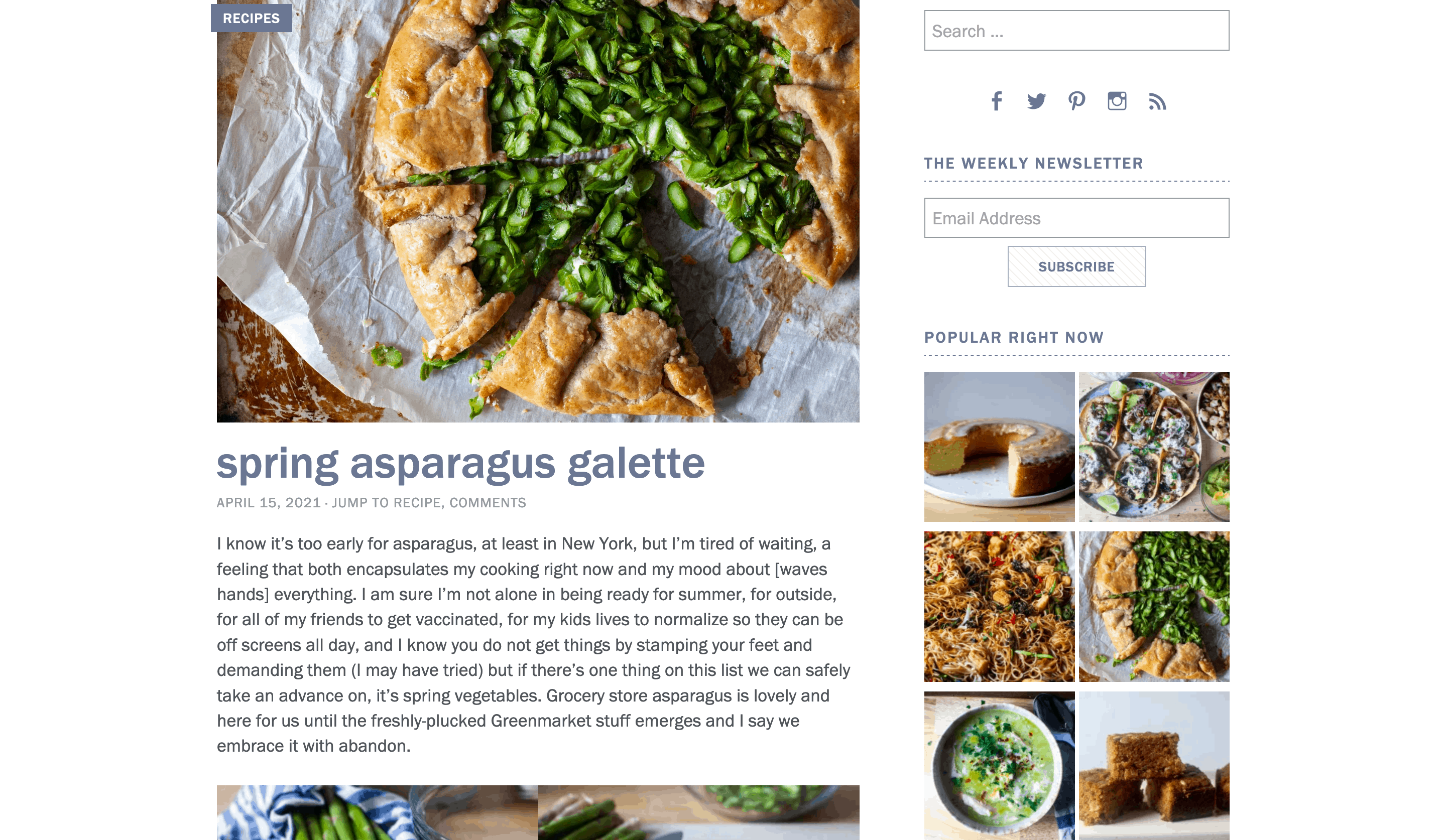 Though, a food blog is a simple concept, with the complexities covered in your content and media. When it comes to some of these core elements, WordPress is ideal.
Why WordPress Should Be Your Platform Of Choice
Before we get onto how to create a food blog, we should chat about your choice of website builder.
We've covered lots of other platforms on the WPKube blog, such as Wix and Squarespace. Though, WordPress is by far our preferred choice. Here's why:
It's the most popular CMS on the market.
WordPress is open-source and free (as in both speech and beer).
You can extend the platform in whatever way you choose given the right skills, themes, and plugins.
WordPress is secure and stable.
The community of developers, users, and volunteers is rich.
We could wax lyrical on why WordPress is amazing for the next 10,000 words. Instead, you should check out our article looking at the ins and outs of WordPress itself.
What You'll Need in Place to Create a Food Blog
At this point, we're beginning to get into the 'nitty-gritty'. Now you're aware of the scope of a food blog, you can begin to gather the necessary tools and services. Consider this mise en place for your site.
Most of the following will be essential, but we'll give you a heads-up if one element is optional. Of course, if you need something specific for your vision, feel free to add it onto the list.
Still, to create a food blog with WordPress, you'll need the following:
A domain name.
Suitable web hosting.
WordPress.
A theme that's right for your goals.
Some almost essential plugins to cover security and contacting you.
Further plugins to help you build your site and add functionality based on your needs.
For this last one, there could be any number of aspects you'd like to add to your blog. For example, you might want to enhance comments, or add social media feeds. You're even able to connect email marketing services to your blog.
Though food-related functionality should be a prime concern. Recipe post formats and sections are going to be a big deal on your site, so you could argue that something like this is also essential, if it's not covered by your theme.
During the next few sections, we'll outline some of the more popular and worthy choices when it comes to each of these, although our blog has lots of articles on each of these aspects.
How to Create a Food Blog With WordPress (In 5 Steps)
Once you have an idea of what type of food blog you want to create, it's time to get up and running. We'll cover the following steps next:
Though, without a host and a domain name, you're site is as good as non-existent. Let's tackle this step first.
1. Choose Hosting and a Domain Name
Our first step contains two tasks, but you'll often sort them together. This is because hosting is akin to your house, while the domain name is the address. One without the other isn't ideal.
We've covered WordPress hosting in many forms on the WPKube blog in the past. Even so, if this is your first time owning a site, you might not know what to pick, even with the guidance.
In these cases, we'd opt for Bluehost.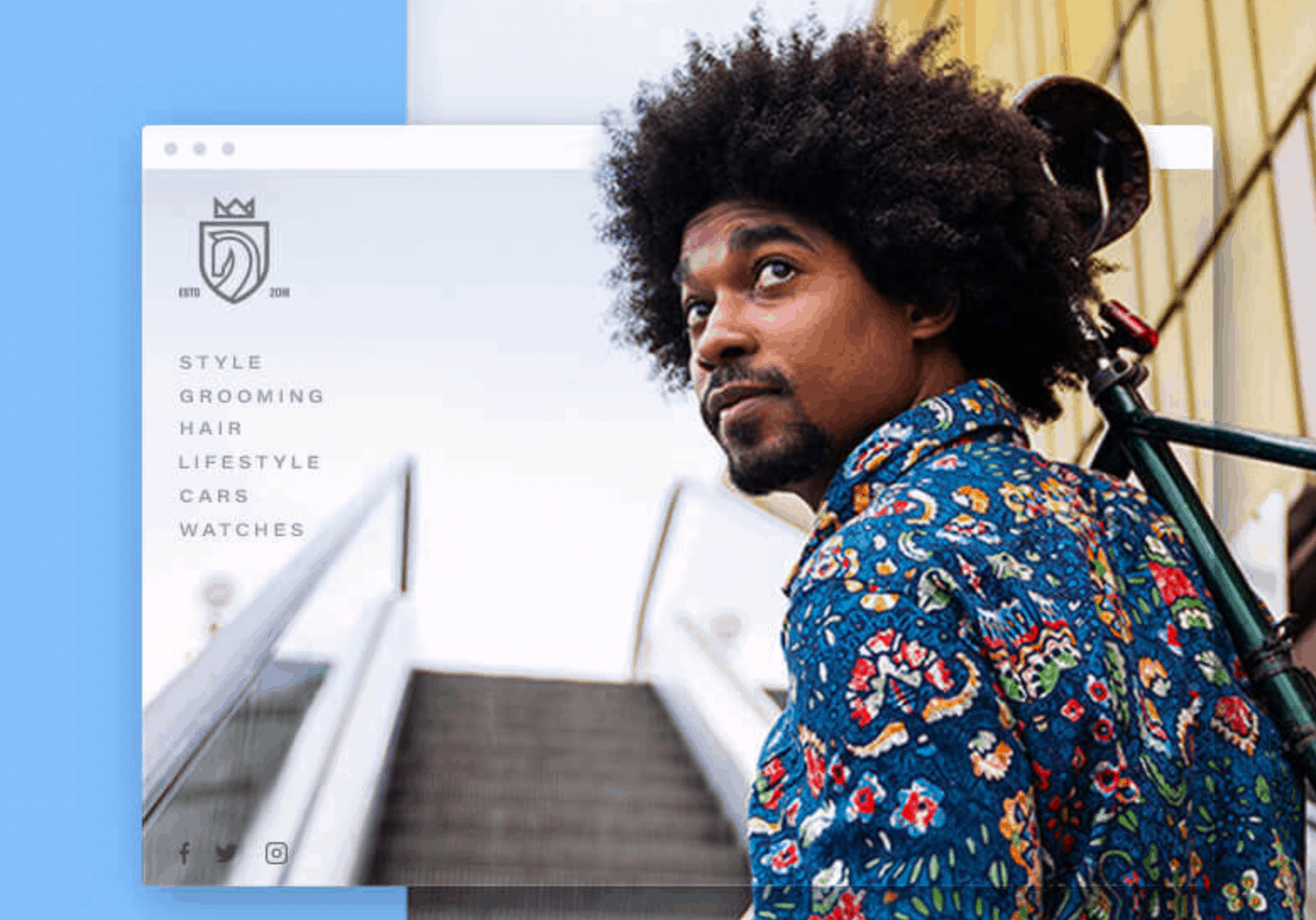 It's a hosting provider we've covered before on the blog, so we won't need to sell it to you here. In short, it's a recommended WordPress.org host, with dirt-cheap plans. It's a great entry point into your first time with self-hosted WordPress.
Signing up with Bluehost is as simple as clicking the right buttons and running through the signup steps. Though, the first choice you'll need to make is focused on your domain name.
Choosing Your Domain Name
Bluehost asks you early on whether you have your own domain, or want to purchase one from its registrar.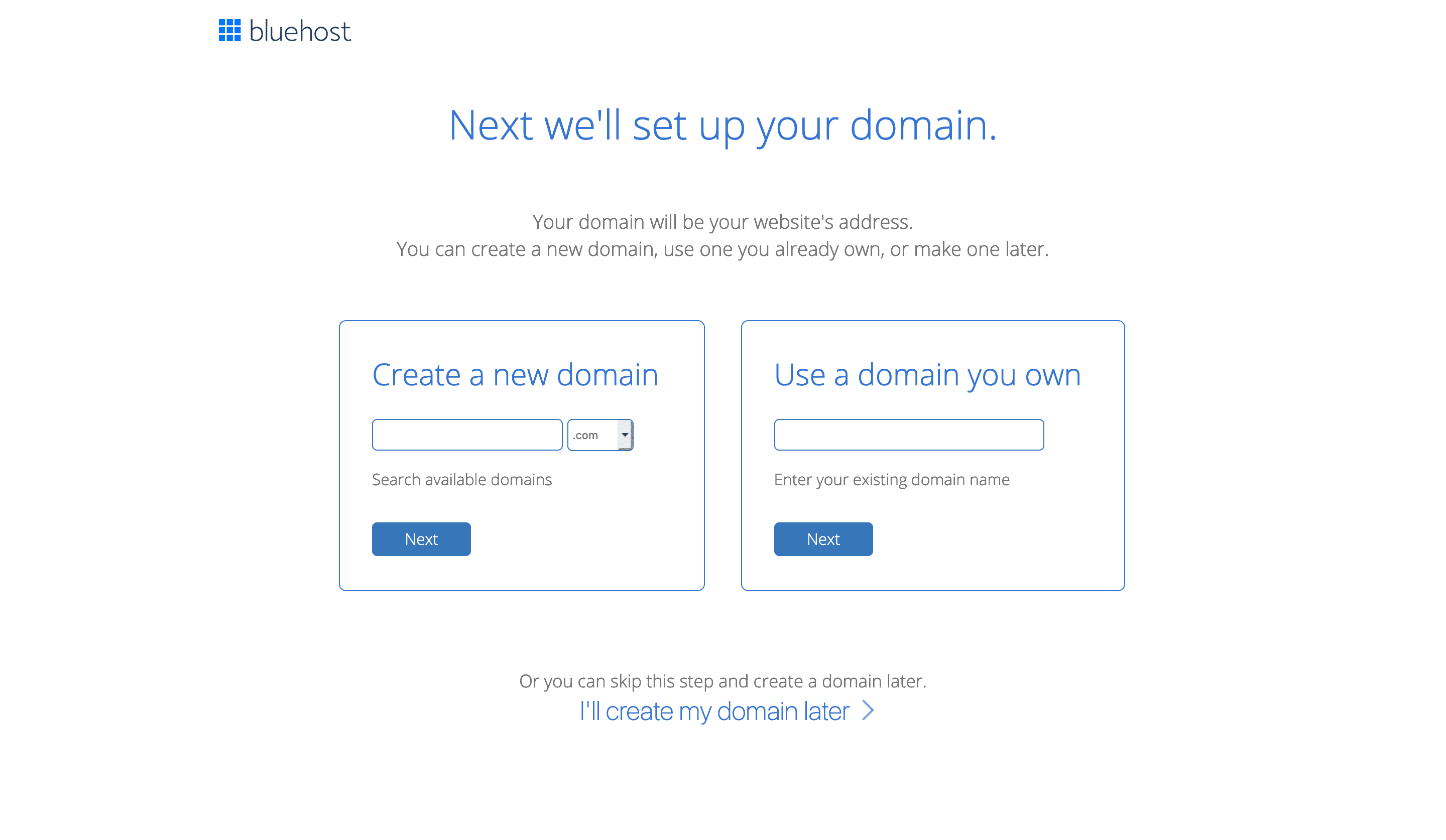 In our opinion, using a third-party registrar is a good idea, because if your host goes down, your domain is still live. Even so, the choice at this stage is up to you, and using Bluehost's registrar is simpler.
If you want to go down the third-party route, Namecheap is our choice based on price and ease of use:

Again, with our advice in hand, the process takes a matter of minutes to register a domain, although third-party registrars require you to carry out some extra setup.
2. Install WordPress and Set It Up
Once you've set up your host, registered your domain, and connected them together, you're ready to install WordPress.
Because WordPress is so popular, most hosts have quick ways to install and set the platform up. Bluehost lets you do so through its dashboard – specifically the My Sites > Add Site page: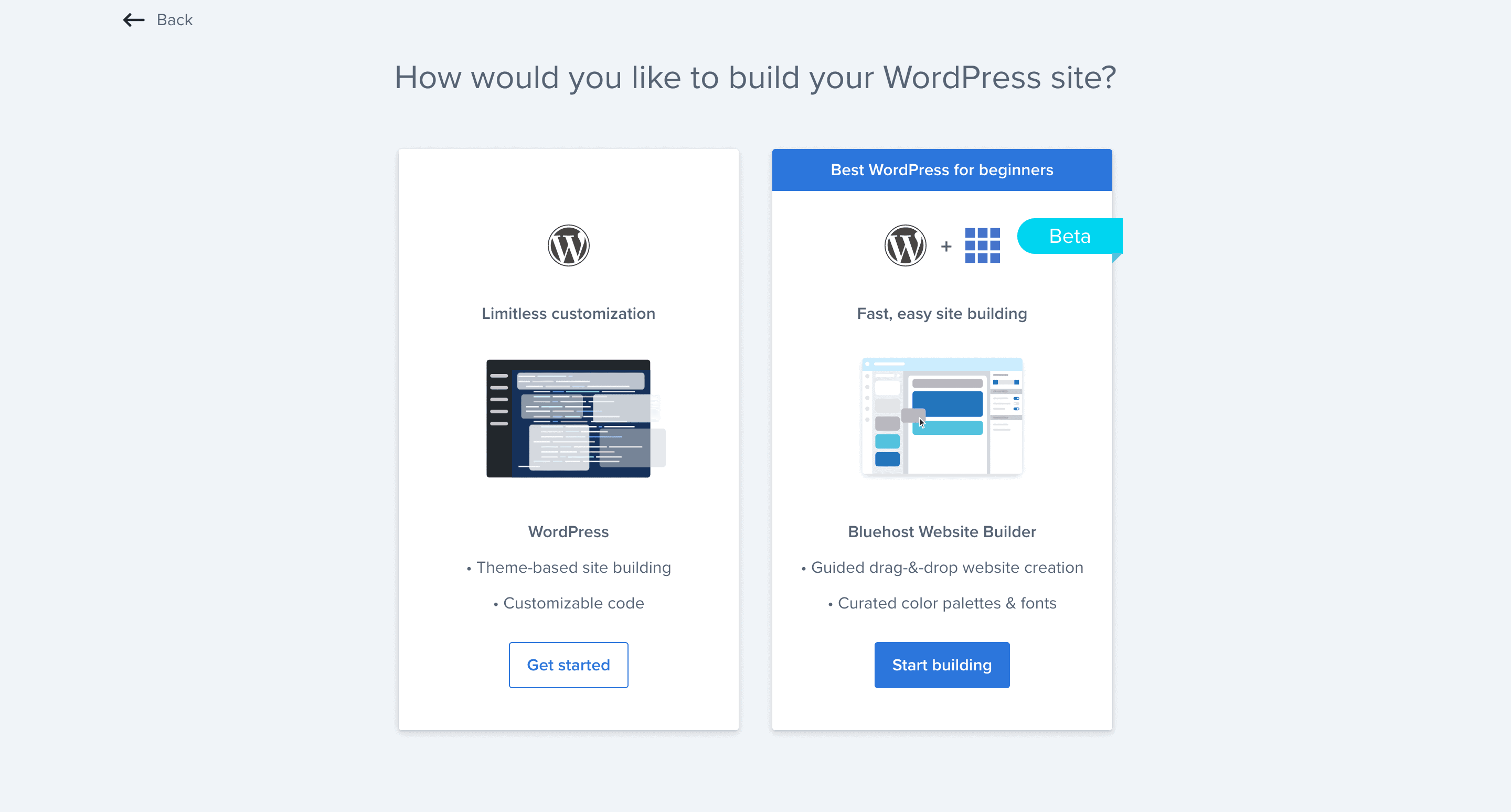 Once you've clicked the option to install WordPress, you'll run through a few steps, such as choosing an administrative username and password. As an aside, we recommend choosing something other than admin as your username, as this will make it harder to crack.
Once you confirm the settings, you'll have a shiny new WordPress site ready to roll. To test it out, head to your WordPress admin screen. You can access this from the My Sites screen, by clicking the Manage site button:

The next screen will give you a number of options, but the Log in to WordPress button will take you to your admin screen:

At the log in screen, enter your credentials and you'll come to the WordPress dashboard.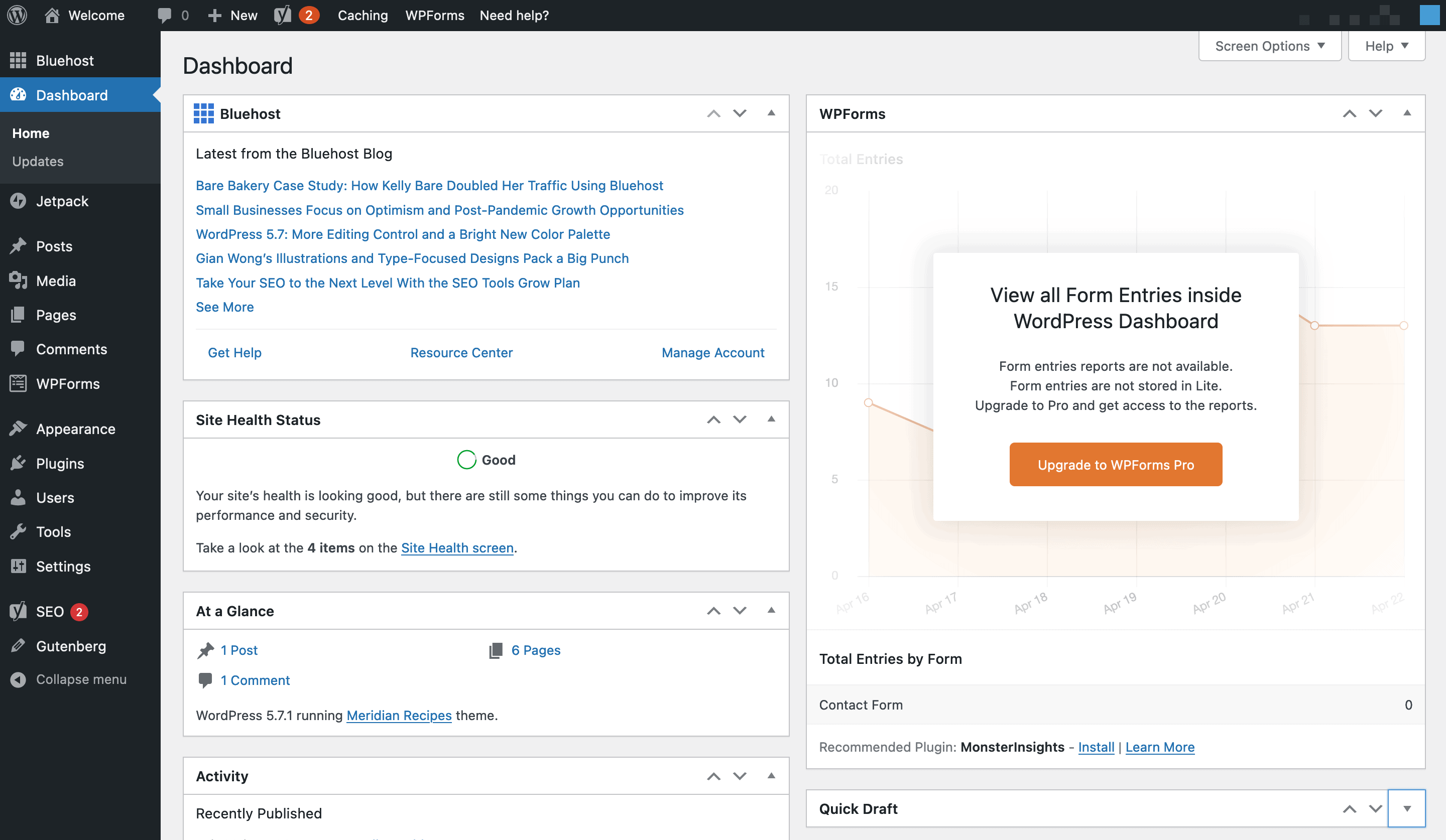 You'll work on your site here in almost every way on day-to-day basis. Though, one of your first tasks is to choose the right theme for your food blog.
3. Choose a Suitable Theme
WordPress' default setup is a bare-bones operation. The idea is to boost the functionality and features with themes and plugins. We'll get onto plugin later, but themes dictate how your site looks, while sometimes offering functionality too.
Choosing the right theme can lead you down the proverbial 'rabbit hole'. For example, you could trawl lists of themes to find the right one, or hone in on those specific to your needs.
Though, if you're overwhelmed, short on time, or want a recommendation, our sister site MeridianThemes has the ideal option for you – Florentine: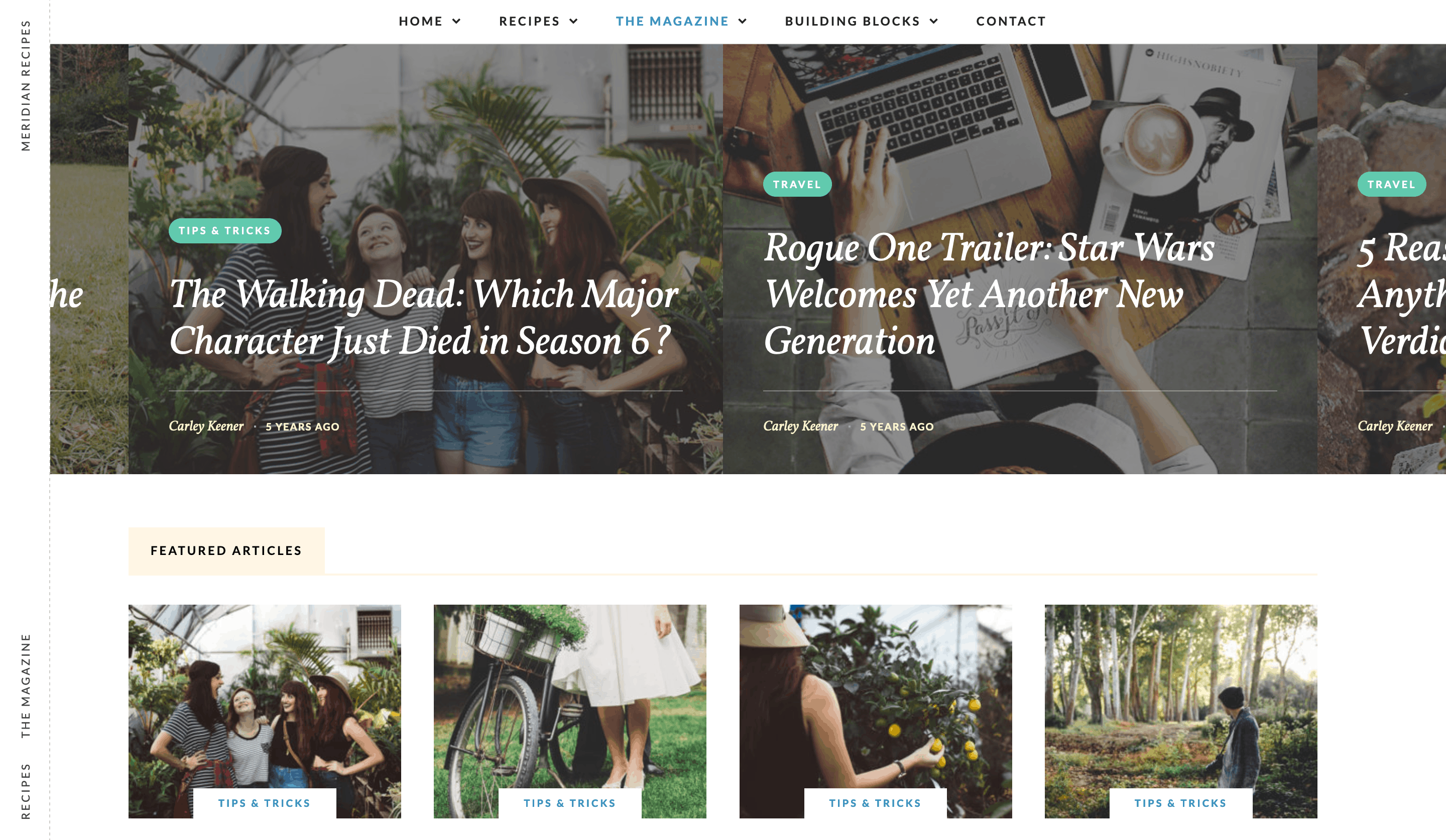 It's $59 and great for recipe-based blogs. It's got a few tricks up its sleeve to help you create something your readers will savor:
Recipe formatting, to help display yours in the best way.
A distraction-free mode, so your visitors can follow along without losing focus.
A built-in newsletter module to help you collect email addresses from visitors.
Once you've purchased the theme, installing it is a breeze. In fact, we've covered this on the blog in the past, so check that article out if you're unsure of the process.
Setting Up Your Theme
Once you've installed your theme, you'll need to set it up. Lots of premium themes ask you to enter the license key found within a welcome email. In the case of Florentine, you can enter it into the relevant field on the Appearance > Theme Welcome screen: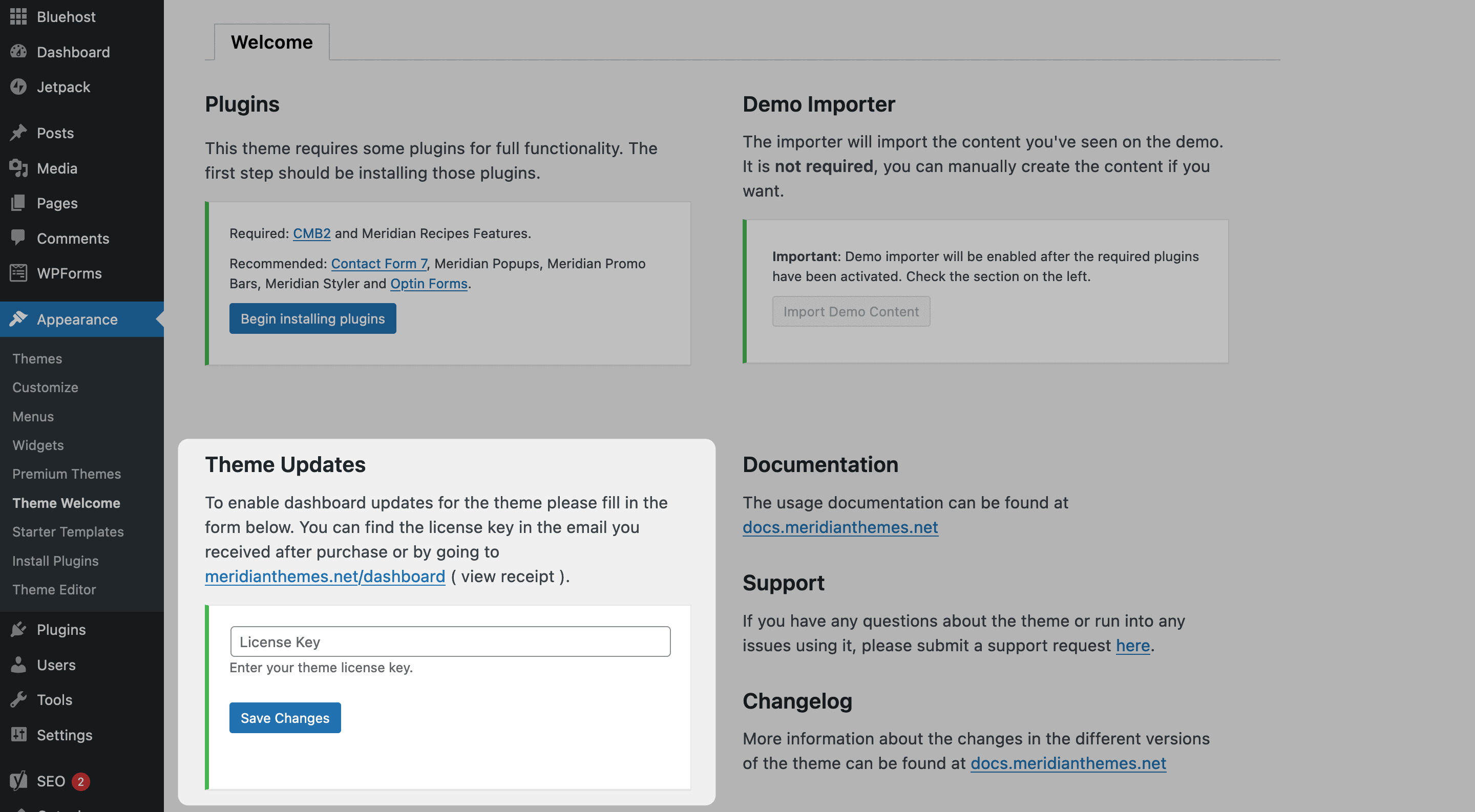 This will give you access to updates and support, so it's a recommended step.
Next, you'll want to design the layout to your liking. This takes place in an admin panel, but depending on the theme you choose, it could be custom.
By default, themes will use the Customizer – a dedicated screen in WordPress found at Appearance > Customize.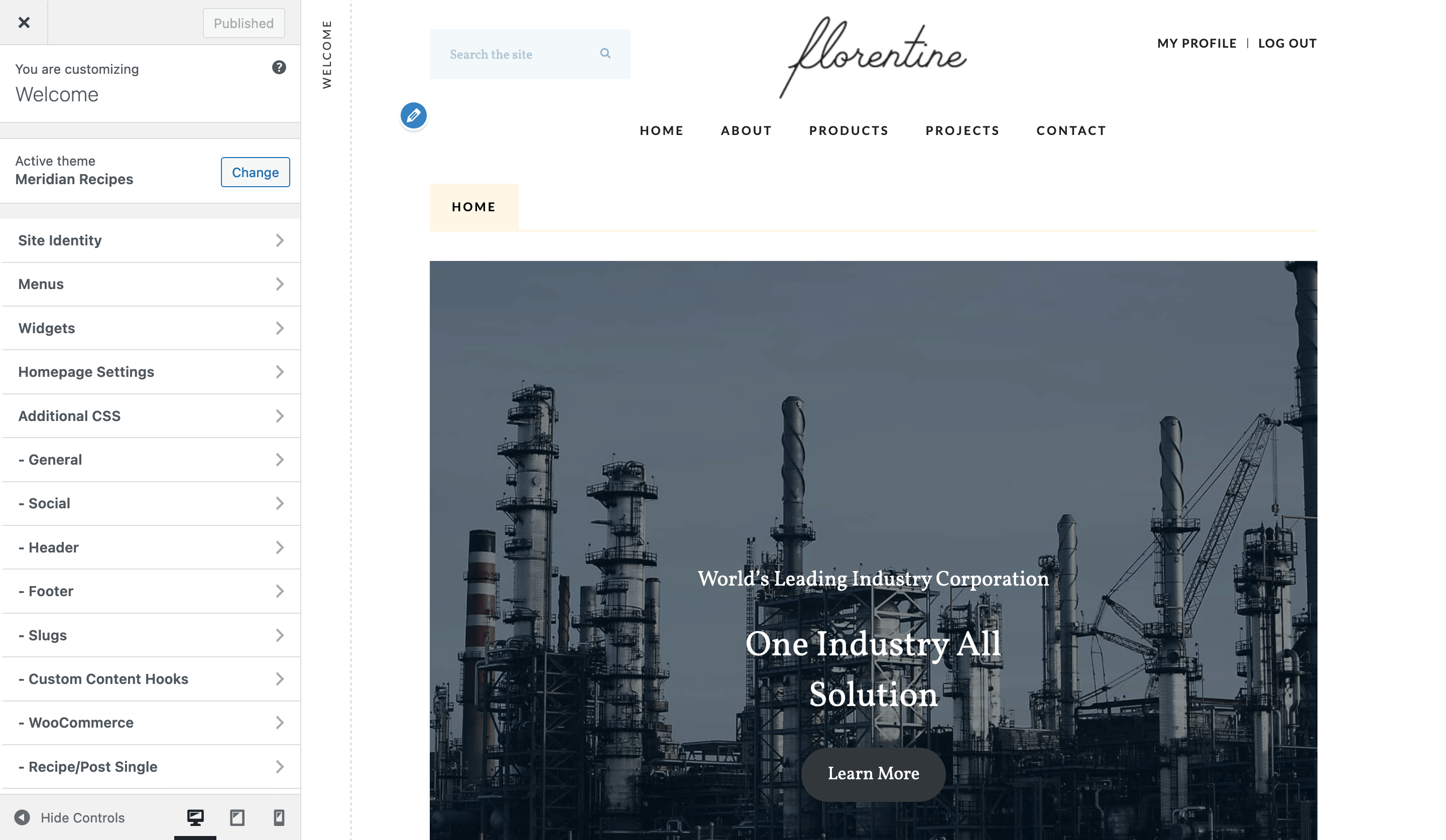 In the case of Florentine, there are a wealth of options here relating to lots of aspects of your site. We recommend going through each one to see what they do. While you're using the Customizer, no changes are saved, so you can play around until your heart's content.
Though, once you're ready, you can publish your changes, and look to your plugins.
4. Implement Essential Functionality Using Plugins
As we noted, plugins bolt additional functionality onto your site. As such, you'll need them to fill your feature set out.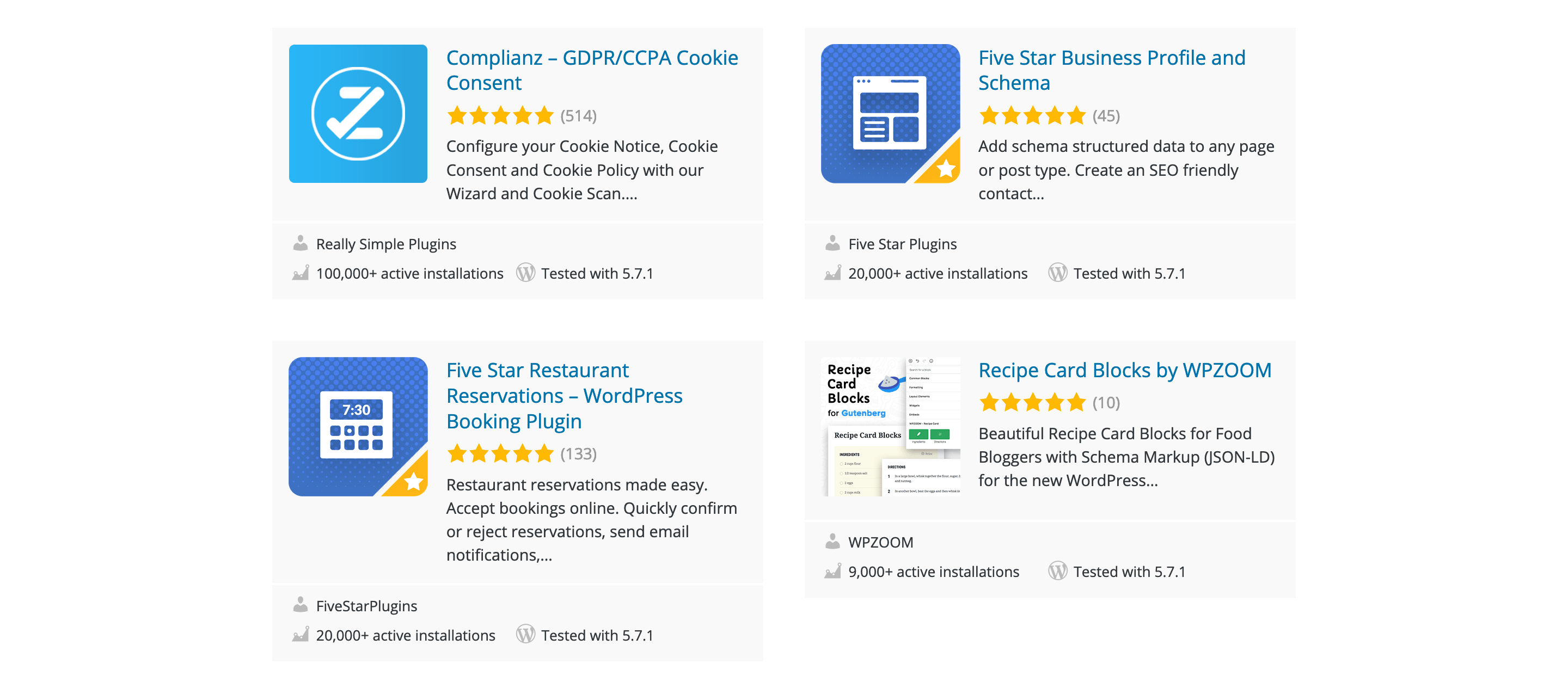 You can find thousands in the WordPress.org Plugin Directory for free, and there are lots of premium solutions too. You'll be able to find a plugin for almost every use case.
In fact, some WordPress plugins are almost essential. Here's what you should go for when creating a food blog:
Before you go searching for additional plugins, head back to the Appearance > Theme Welcome screen in WordPress for Florentine, and look at the Plugins section:

Lots of premium themes will also have some dependent plugins, and for Florentine, these handle some custom metaboxes, contact forms, optin forms, and more. Before you move on, you should install these as per the Theme Welcome screen.
It's hard to recommend further plugins when we're unsure of your exact needs. Though, we'd recommend looking at one of our roundup guides to help you see the scope of what you can achieve.
If you're unsure how to get plugins onto your site, there's a guide for that! We've looked at this subject before, so head there first before you begin to panic.
5. Launch Your Site
By now, you should have hosting and domain set up, WordPress and a theme installed, the right plugins in place, and your design to where it needs to be.
The final step is to launch your site! This can be as unique as you like, although we recommend having some aspects in place regardless of your goals:
Set up social media channels on sites that fit your target user base. Don't be frightened of skipping over a social media site if it doesn't fit your vision.
Use social media to promote your new site, and have a regular posting schedule in place.
Collect email addresses from users to send out regular newsletters. This will give you a direct way of engaging with users, and hopefully sell to them down the line.
Above all, make sure you're publishing new posts on a regular basis. There's no substitute for great content, so make this a priority.
Also, remember to engage with visitors within your post's comments. This is another area where you can meet users in a direct way, so cultivating a community on your site, within your comments, could be a winner strategy.
Summing Up
Blogging is at the core of WordPress, and as such, you're able to share your thoughts, opinions, and passions with others in a snap. The platform is ideal for almost any type of site you can think of. Food blogging is big business, and you can get onboard the bandwagon in no time.
This post has covered how to create a food blog with WordPress in five steps. Let's recap them:
Purchase hosting (we recommend Bluehost in this case) and a domain name.
Go through the WordPress install process and set up the site.
Choose a solid food theme, such as Florentine, and develop your layout.
Choose and install plugins to help further secure your site, and add essential functionality and features.
When you're ready, launch your site and promote it using social media.
Do you want to create a food blog, and has our article helped you to take the plunge? Share your thoughts with us in the comments section below!