If you run a site where traffic is a priority, or you value engagement and community, a commenting system is the way to go. You can give your user base a direct voice on whatever content you produce. While the strategy is not plain sailing, selecting one of the available WordPress comments plugins can help.
A dedicated plugin can give you extra features and functionality that the native WordPress experience doesn't provide. What's more, you may find that performance sees a benefit, as does your moderation and administration workflows.
For this post, we're going to look at a few WordPress comments plugins, and talk about what makes them special. First though, we're going to chat about some of the pros and cons of comments as a whole.
The Upsides and Downsides of Enabling Comments Within WordPress
Choosing whether to enable comments on your WordPress site is a perennial hot topic. Some can't get past the negatives of the practice, while others love the positives too much. Let's take a quick look at each
 👍 The Pros of Using WordPress Comments
There are are a number of great reasons to use comments, and they all interconnect:
First, you can interact with your user base in a direct way. They can also do so with each other. This fosters a community around your blog, products, services, and site.
Through this interaction, you can get valuable feedback on what you offer and how you present it. From there, you can apply this to everything you do, and create a better experience for your visitors.
You're also able to find new topic ideas for blog posts within those comments. After all, users will have their own ideas about what they'd like to see, and you can choose to create them.
Search Engine Optimization (SEO) will always benefit from a high-traffic comments section. In lots of cases, this will be free, user-generated content that's keyword-rich. Search engines will crawl this, which could improve your rankings.
However, there's no hiding away from the negatives of enabling comments on your blog. We'll discuss these next.
👎 The Negatives of Using WordPress Comments
First off is the time and effort you need to put into moderating comments. This is a necessary evil, and you need to make sure your comments section is a good place to be.
Speaking of which, comments sections get a bad rap for the negativity they can generate. You'll need to figure out where the line is between a free opinion and straight-up trolling, and make sure your moderation strategy matches.
Spam is also going to be a problem. You can mitigate this to some extent using WordPress built-in tools, but in lots of other ways, you'll need a dedicated plugin to help you manage. In the next section, we'll talk about what a good WordPress comments plugin should offer you.
What to Look For in a WordPress Comments Plugin
Much like other WordPress plugins, you'll want to make sure that it meets your quality standards. If you don't know what this should entail, there are a few we can recommend:
Make sure the plugin has good reviews and rating from other users. This is one of the best ways you can ensure a plugin will do the job you need. However, in some cases (as you'll see) the ratings will be poor, but the plugin will still be a viable addition.
Speaking of which, take a closer look at the one-star reviews. This should tell you more about what the plugin can do than five-star reviews, as you'll see if there are any bugs that will affect your experience.
Check that the plugin in question receives regular updates. Any longer than six months, and you'll want to tread carefully. In an ideal world, you'll find another plugin with better developer support.
Tied into this, see what the support provision is like. You'll want to make sure you have ample opportunity to ask questions about and receive help with your plugin. This is especially true if you purchase a premium version.
Other than this, you'll also have some subjective considerations. For example, you may want better performance from your comments section. You might want to let users sign in with social accounts. As such, ensure a plugin can offer you the features and functionality you need to implement.
5 World-Class WordPress Comments Plugins to Help Your Site's Engagement
We're going to look at five different WordPress comments plugins over the rest of this post. Here's a quick rundown of which options we'll cover:
These plugins aren't in any order, so we encourage you to jump around to those you like the look of, but read through them all too. You may find your next plugin lying in wait here!
1. Yoast Comment Hacks
Team Yoast is one of the most popular WordPress developers ever. This is down to the Yoast SEO plugin that has a monumental number of downloads worldwide. However, there's a plugin that flies under the radar that could help you with your comments section.

Yoast Comment Hacks helps to turn the default comments section into something supercharged. It does this through a few tweaks under the hood, such as the ability to set a comment maximum length, redirection options for first-time commenters, and a way to email commenters on a thread.
There are a few things we like about Yoast Comment Hacks:
First, it comes from Team Yoast, which is a big plus point.
The hacks the plugin implements are all super-useful, and will help you without filler features.
The mass emailing options are fantastic, and will be a big addition for some.
There are drawbacks to this plugin though:
The plugin doesn't have many installations, which means longevity of the plugin could be in question.
There are poor ratings and reviews for the plugin, which brings down its overall rating. We'd usually skip over a plugin like this, but some of the lower-rated comments are years old and likely fixed in later releases.
Because Yoast Comment Hacks is free, there's no reason to give it a miss. If you use the default WordPress comments and want more from them, this plugin could fit the bill.
2. Subscribe to Comments Reloaded
WordPress has a rudimentary way to notify administrators and commenters of a reply within a thread. However, it often needs more to be usable. In the past, the Subscribe to Comments plugin was WordPress developer Mark Jaquith's way to bolster that functionality.
However, WPKube also offers Subscribe to Comments Reloaded. A plugin that brings the quality of the older plugin into the modern age.

The plugin gives your commenters a way to subscribe to notifications. It also provides a full-featured subscription manager to help users unsubscribe, or better manage the notifications they get.
There are a few positives that come with Subscribe to Comments Reloaded:
You're able to customize the notifications using a visual editor, without the need for code.
You can implement privacy functionality such as double opt-ins.
Commenters get an all-around better experience, complete with a notification and subscription manager.
The plugin is free, and always will be!
However, this plugin doesn't do anything for the experience of commenting for the end user. As such, you'd need another solution if you want a good-looking front end. The next plugin can help!
3. ReplyBox
Lots of users will turn to Disqus as an alternative WordPress comments plugin, but this is a poor decision. Not only does the official plugin have terrible ratings and reviews, there are a lack of updates, and the Disqus platform has privacy concerns. What's more, the performance is sketchy at times.
Instead, you might want to turn to a slick WordPress comments plugin such as ReplyBox.

You're able to import all of your current WordPress comments to ReplyBox, so there's a seamless transition. What's more, if you disable ReplyBox, all of your existing comments sync to WordPress. This means there's no tie to the plugin.
Here's what we like about ReplyBox:
It ties into Akismet to help eradicate spam. There's also instant moderation options that can give a drastic cut to your administration time.
The plugin adds Markdown formatting into your comments fields. This gives users a way to create more engaging comments, with better structure and expression.
There are social login option too, to help commenters leave a reply with ease.
Some users might find that ReplyBox is redundant. After all, native WordPress comments have privacy too, and there are other plugins that can add some of these features. However, we like the whole package, and would recommend it – especially given the price.
You'll look to pay from $5 per month on an annual subscription, which is dirt-cheap for the functionality you get.
4. Jetpack Comments
The Jetpack plugin has its detractors, but it does have lots of great functionality to offer. While we won't cover all of what it offers, the commenting options can deliver.

This is a simple implementation that replaces the default WordPress comments section with something that looks more focused. It also adds in social login options for WordPress.com, Twitter, and Facebook.
There is a basic notification functionality, and the ability to use Gravatars for each comment. If you want users to access Markdown formatting, you can do this. For some extra engagement, you can also enable 'likes' for each comment.
The pros of Jetpack's comments center around simplicity and longevity:
You have almost no set up to see this in action, which is fantastic.
Jetpack uses Akismet spam filtering by default too.
What's more, the plugin will be around as long as WordPress, so you'll be able to stick with it over the long term.
The big drawback though is that you'll need to use Jetpack! This might not be suitable for those who don't use the plugin. While the plugin is free, and does offer lots in the box, you may want to find another option if the negatives ring true.
5. Thrive Comments
Thrive Comments looks to do something different with user engagement. Most WordPress comments plugins don't give back to the user for their comment. This plugin does.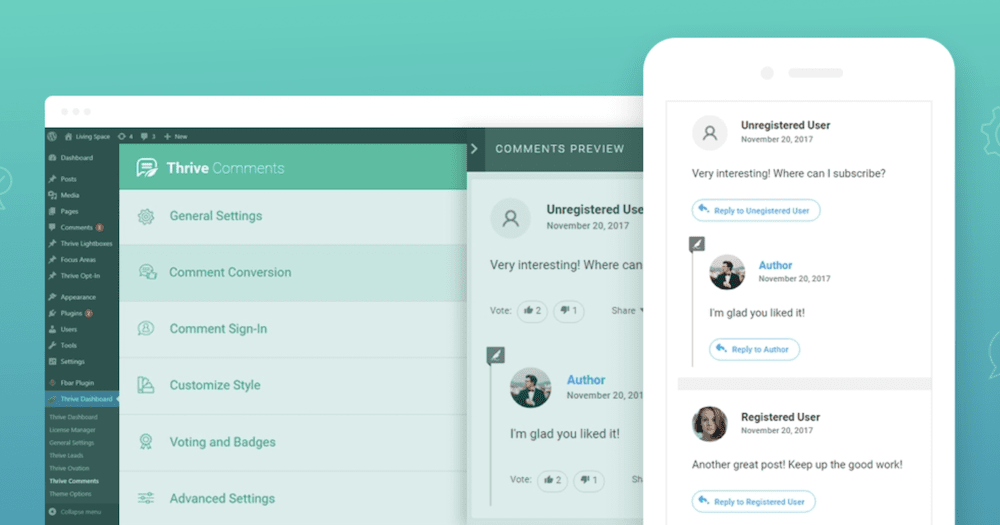 Thrive Comments adds in a number of typical engagement features to your comments section, in lots of different ways:
You can enable voting on comments.
There is the opportunity to share comments to social media.
The plugin introduces gamification options, such as badges.
You have advanced reporting options to help you measure engagement.
There is lots to like about Thrive Comments. For starters, not many plugins offer the same suite of engagement tools at such a high quality. The conversion-focused approach can bolster your site in a number of areas, and it starts with your comments.
However, because this is focus of the plugin, it does lack in other areas such as design options. Though, you'd come to Thrive Comments for its boost to your comments section's functionality, rather than design options. Regardless, for $47 per year, Thrive Comments offers plenty to like.
Wrapping Up
Comments sections come with a poor reputation among some internet users, but despite this, there are lots of positives. When it comes to interaction with (and feedback from) users, a lively comments section can net you fantastic gains.
We've rounded up a number of WordPress comments plugins for this post, and each do different things. If you want a slick, no-nonsense comments plugin, ReplyBox is fantastic. Jetpack users will gravitate towards that plugins comments functionality. Those who want to beef up their comment notifications will turn to plugins such as Subscribe to Comments Reloaded.
Do you think WordPress comments plugins are vital, and if so, which of our picks do you like? Let us know in the comments section below!