As website owners we all know we should be working to create and maintain a presence on social media. However, how much of us really have the time to dedicate to connecting with our peers and reaching out to our target audience on Facebook, Twitter, and whatever the latest social network happens to be?
Furthermore, if you're trying to be as productive as possible during your working hours, you're probably aiming to stay off social media as much as possible in order to maximize how much actual work you can get done each day.
However, there's now some good news for those of us who aren't putting enough effort as we should into promoting our content on social media. That is that there's now a great selection of tools out there that can automate much of the work that goes to sharing your content on the top social networks.
The Best Social Media Automation Plugins for WordPress  
In this article we will highlight some of the best of those social media marketing automation tools so you can do what you do best and work on your business, rather than running the risk of losing hours spent down a Facebook rabbit hole. Not only will you save time, but you'll also be able to apply a consistent approach to social media that should increase engagement and traffic to your site.
Revive Old Post Pro

Revive Old Post Pro doesn't just save you time when it comes to promoting your content on social media, but it also prevents you from having to write new content quite so often in order to maintain a presence on the top social networks.
This WordPress plugin, that was previously known as Tweet Old Post, searches through your archives and automatically shares your old posts on your social media channels, be it Twitter, Facebook, LinkedIn or another. This means your old but still great content is continually promoted helping to build a strong following and presence on the top social media platforms.
Although there is a free version of this plugin, Revive Old Post, it is more than worth upgrading to Revive Old Post Pro, as all the little extras added to this premium plugin make it a solution well worth using.
Impressive features of this plugin include:
Manage multiple social network accounts

Create posts with images

Custom posting schedule

Category exclusion

Generate hashtags from tags/categories

Integrated URL shorteners
When it comes to pricing, other than the free option, there are three choices. This pricing plans cover the number of sites you plan to manage. The 'Personal' package is for just one site and costs a one off payment of $75. However, it is worth noting that a key reason to choose the premium version of this plugin is the option of custom scheduling your posts and this isn't available in the 'Personal' Package.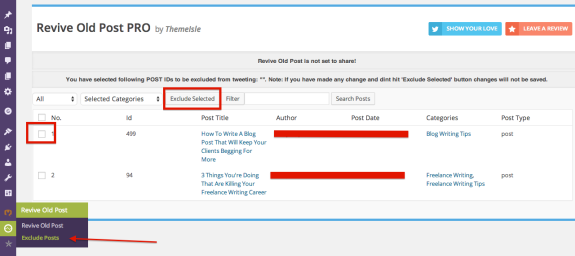 The next step up is the 'Business' package, which does offer custom scheduling and allows you to use the plugin on up to three sites. This package is currently reduced to $149. The top 'Marketer' package sells for £299 and supports unlimited sites. All packages include a 30 day money back guarantee and one year of updates and support.
Pros: This is an extremely popular plugin with a great reputation. It enables you to share old and new posts, and control what type of posts are sent out, how often and to which social platforms. The main attraction of the premium version of this plugin is the customization of post schedules. There's also the fact that your content is shared along with an image and that you can work with a number of different social media channels.
Cons: Articles can only be posted with pictures to Facebook and Twitter – no other social platforms. As well as this, the customized scheduling option is only available on the 'Business' package, which may be too pricey for some.
Price: Free or from $75 for pro version.
Review: Revive Old Post Plugin Review: Drive Traffic to Your Old Blog Posts
Get Revive Old Post Pro Version for $24.99
CoSchedule

CoSchedule is an editorial calendar that allows you to organize both your blog and social media posts all in one place. Once you have inputted the information the posts are automatically sent out to the social media platforms of your choice, on the days and times that you select. This saves you countless hours and means you can organise all your social media in one go. It can also all be organised from your WordPress dashboard.
Highlights of CoSchedule include:
Lightweight WordPress plugin that integrates with their online platform

All in one content scheduling and social media publishing solution

Drag and drop social calendar

Automated social publishing

Schedule social media while you blog

Team workflow management

Two minute installation
There are nine different Coschedule pricing packages to choose from, depending on how many people you have working on your website and now many social networks you want to link to. The most basic package starts from just $15 a month, if you pay annually. All plans come with a 14 day risk free trial and can be cancelled at any time.
Pros: Easy to install, setup, and use. Saves you time whilst organises and increases your social media sharing.
Cons: To link to more than 5 social profiles you will need to upgrade to at least the $30 a month plan.
Price: From £15 a month.
WP to Twitter

If your customers mainly hang out on Twitter, then the WP to Twitter plugin might be a good solution for you. This WordPress plugin enables you to automate the sharing of your posts on Twitter after you have published an article on your site.
Features of the free version of WP to Twitter include:
Post tags used as Twitter hashtags

Alternative URLs used in place of post permalinks

Display recent Tweets on your site

Support for Google Analytics
A premium version of this plugin is also offered, WP Tweets Pro. Added extras include:
Time delayed tweeting

Scheduled Tweet management

Upload images to Twitter

Filter Tweets by category, tags or taxonomies

Automatically schedule tweets of old posts
If you are serious about automating social media marketing on Twitter then it is worth upgrading to the pro version. The main draw here is the ability to post images to Twitter, as images attract more interaction and are therefore more likely to be clicked on or shared. WP Tweets Pro is just $39 for a single year's license, or $99 for a permanent license, which will entitle you to all future updates of the plugin.
Pros: A serious option for sharing posts on Twitter that will save you time and hopefully increase your traffic from this popular social media network.
Cons: You need to upgrade to WP Tweets Pro if you want to share images, a must for most people.
Price: From just $39 for a year's licence.
Pinterest Automatic Pin WordPress Plugin

If your website is heavily image based and you are spending much of your time pinning your images on Pinterest then look no further than the Pinterest Automatic Pin WordPress Plugin. This plugin automatically pins images from your posts to Pinterest once they are published. It can also pin images from old posts too, keeping your images and posts alive whilst also saving you time.
Related Reading: 20+ Beautiful Pinterest-Like WordPress Themes
Highlights of Pinterest Automatic Pin WordPress Plugin include:
Pin unlimited number of images

Post featured image as pin

Pin full sized images from thumbnails

Schedule pins to be posted

Random pin time intervals

Auto link pins to your posts
This plugin can be purchased from Codecanyon for $16, which includes free updates and six months support.
Pros: Can automatically share an unlimited number of images from your site on Pinterest, including after each time you publish a new post.
Cons: If you'd like to share your images to Instagram as well then you will need to look for another plugin that will take care of that for you.
Price: A one off payment of $16 to download and install this plugin.  
Get Pinterest Automatic Pin Plugin
HYPESocial Buffer Pro
HYPESocial Buffer Pro by HYPEStudio is one of the best plugins out there that enables users to automate their social media sharing. The plugin sets up a panel from where users can manage all of their post shares – from within WordPress. After connecting your WordPress site to Buffer APP, the HYPESocial plugin lets you schedule your posts and enables you to tweak them if you'd like.
Users can save a ton of time and effort on social media promotions by installing the HYPESocial plugin. Not only can you share posts, it also lets you promote pages and custom post types. The plugin integrates seamlessly with all of the major social media platforms including Facebook, Twitter, Google+, LinkedIn, and Pinterest.
Here's a list of some of the top-notch features you'll get with HYPESocial:
Promote posts on all major social media networks.
Posts both new and existing content.
Supports posts, pages, and custom post types (CPTs).
Custom scheduling available for individual posts.
Allows personal messages, hashtags, and message structure options.
Built-in URL shortener options.
Those of you who are looking for an all-rounder solution for social media promotions and marketing can stop their search. HYPESocial is an affordable plugin with premium features that will get the job done without breaking your bank or stressing you out. Site's that attract a ton of traffic from social media networks should definitely opt for this automated social media sharing plugin.
The Personal license will cost you $49 per year and is good for 1 site. However, if you've got up to three sites that you'd like to promote posts for then the $99 per year Small Business license is more cost efficient. And if none of these options tickle your fancy, you can always go for the $199 per year Agency license for an unlimited number of sites. A pretty fair trade for the features you'll get!
Pros: This feature-packed plugin is one of the simplest options out there that enables you to automate post sharing and social media promotions. Set it up once and never worry about social media management again! The standout features on offer here are that HYPESocial enables users to share three different types of content and comes with several built-in options for URL shorteners.
Cons: This plugin doesn't support social media promotions for Instagram – you'll have to find another plugin for that.
Price: $49 per year for a Personal license.
Get HypeSocial Buffer for WordPress
Juicer

Juicer is a WordPress plugin that, once installed, will aggregate all of your social media posts in one feed for display on your website. Once setup it will automatically update your social media feed on your site with new comments and posts. This helps integrate your website with your social media channels and encourages the visitors to your site to engage with your social media accounts.
Top features of Juicer include:
One beautiful feed with posts from all social media accounts

Filters to eliminate and approve content

Responsive

Custom CSS so can be styled to fit your brand

Advanced analytics
There is a free version of Juicer but this will display their branding on your site and will only allow you to integrate one social media channel. For just $19 a month you get no Juicer branding and you can stream content from five different social media platforms.
On this plan your feed is updated every hour. However, if you want new posts pulled from social media and added to your website's feed every 10 minutes then you will need to opt for the premium offer, costing $99 a month. This plan supports up to 15 social media profiles and will allow you to embed 3 feeds. You'll also get access to the analytics data so that you can analyze your social media engagement in detail.
Pros: Keeps your website automatically updated with news, posts and comments from your social media accounts. Increases social engagement and interaction between website and social media platforms.
Cons: If you want to include more than 5 social media sites on your feed or to access analytics data then you will need to opt for the top plan, which is expensive.
Price: Free or from $19 a month.
Final Thoughts
With more and more social media plugins being created, it's time to take advantage of some of these tools in order to automate your social sharing and promotion. While the plugins covered in this article cover only a small sample of what's out there, these are great examples of solutions that you can start with today and begin automating the social media marketing of your website.
If you aren't sure which ones would best suit your site, trial a couple of free versions first to help you get an idea of how an automated service works. Once you see how much time it saves and traffic it generates I'm sure you'll be hooked!
Do you currently use any WordPress plugins to automate your social media? What would you recommend? Please share your thoughts in the comments below.