Regular readers of the WPKube blog will know that we're fans of WordPress. The Content Management System (CMS) ticks all of the essential boxes for what a modern website needs. Despite this, WordPress isn't the only platform in town. Wix vs Squarespace is also a common comparison.
It's a good idea to pit platforms against each other. This gives you an idea of how they work in a real-world setting. You can also find out what features and functionality are vital to you, and which solutions can provide them.
In a departure from our usual approach, this article is going to compare Wix vs Squarespace. Don't worry though – we'll also talk about whether each platform can also stand tall next to WordPress.
Wix vs Squarespace: An Overview
When it comes to CMS usage across the web, both of our featured solutions are in the top five most prevalent. We'll show you why this is throughout the article.
For now, let's introduce each platform and give you an overview of what they can do.
Wix
Our first platform, Wix, has been around since 2006 and is known as a 'website builder platform'. It offers an all-in-one solution for building, publishing, and managing your website.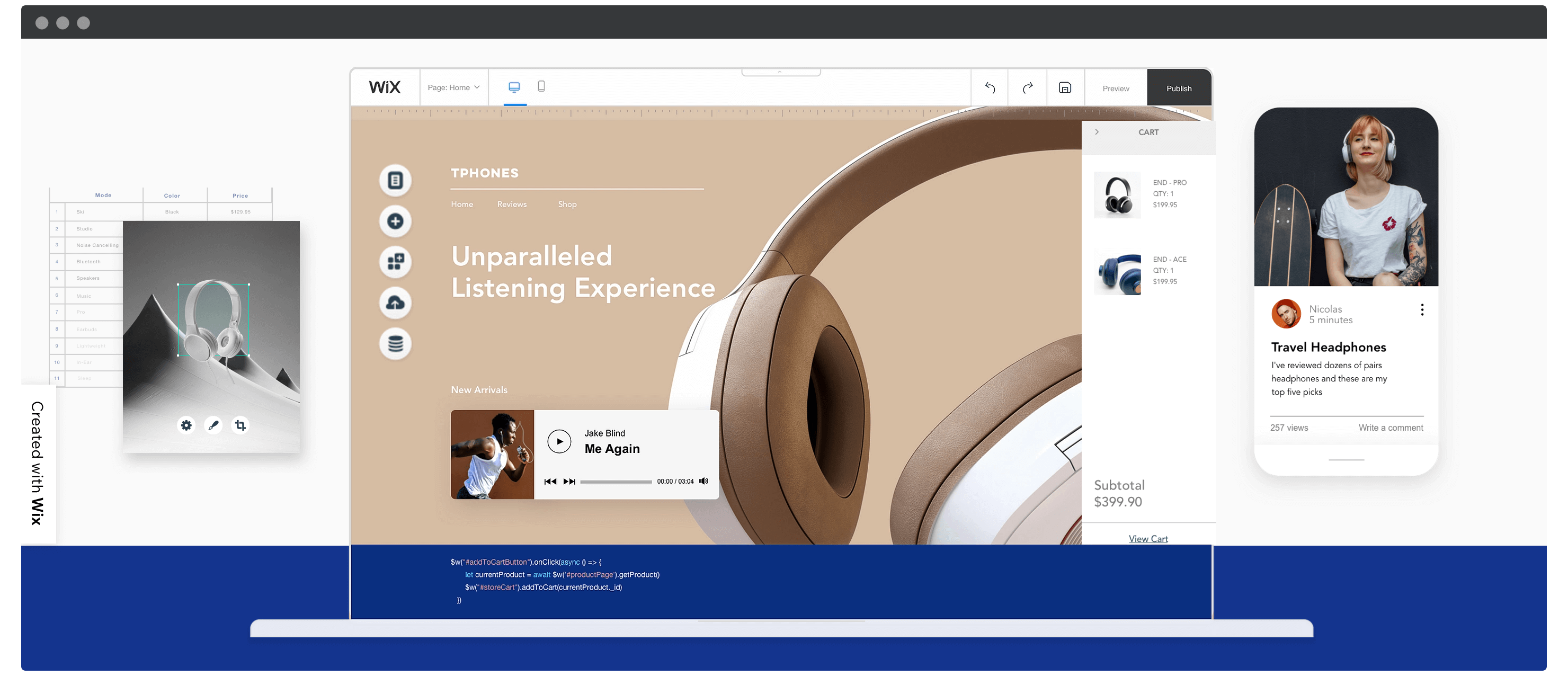 It's centered around an easy-to-use drag-and-drop editor, and looks to offer everything you'll need in one package. Despite this, there's also the dedicated App Market.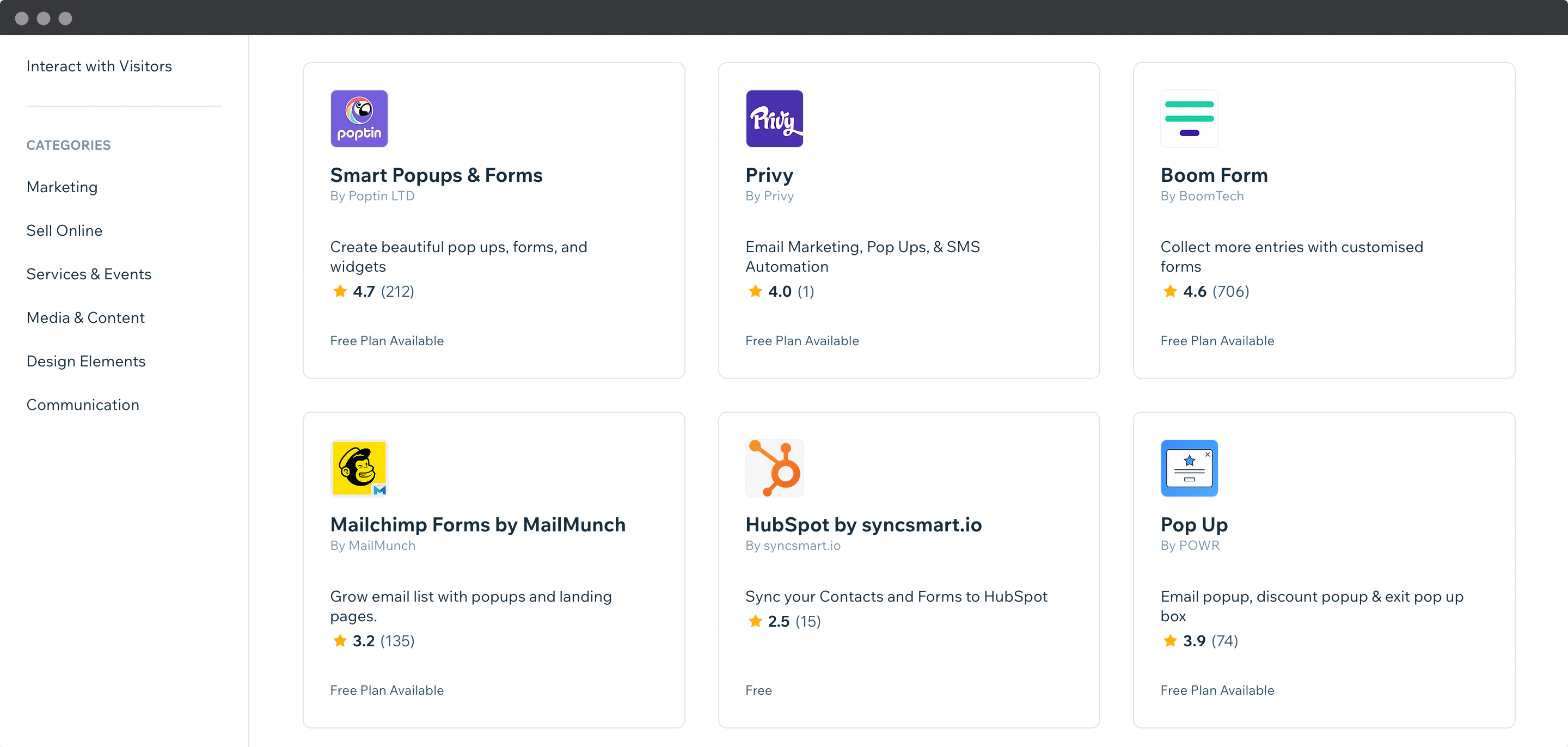 This lets you extend the platform if you need something not provided out of the box.
Unlike WordPress, Wix is a closed-source, proprietary platform. This means you're locked into the website builder, and this will have a bigger focus later in the article.
Squarespace
It might seem like we're repeating ourselves, but Squarespace is also a website builder platform. Like Wix, the package is billed as an all-in-one solution. In other words, you're able to handle the entire process of creating and managing your site without the need for third-party solutions.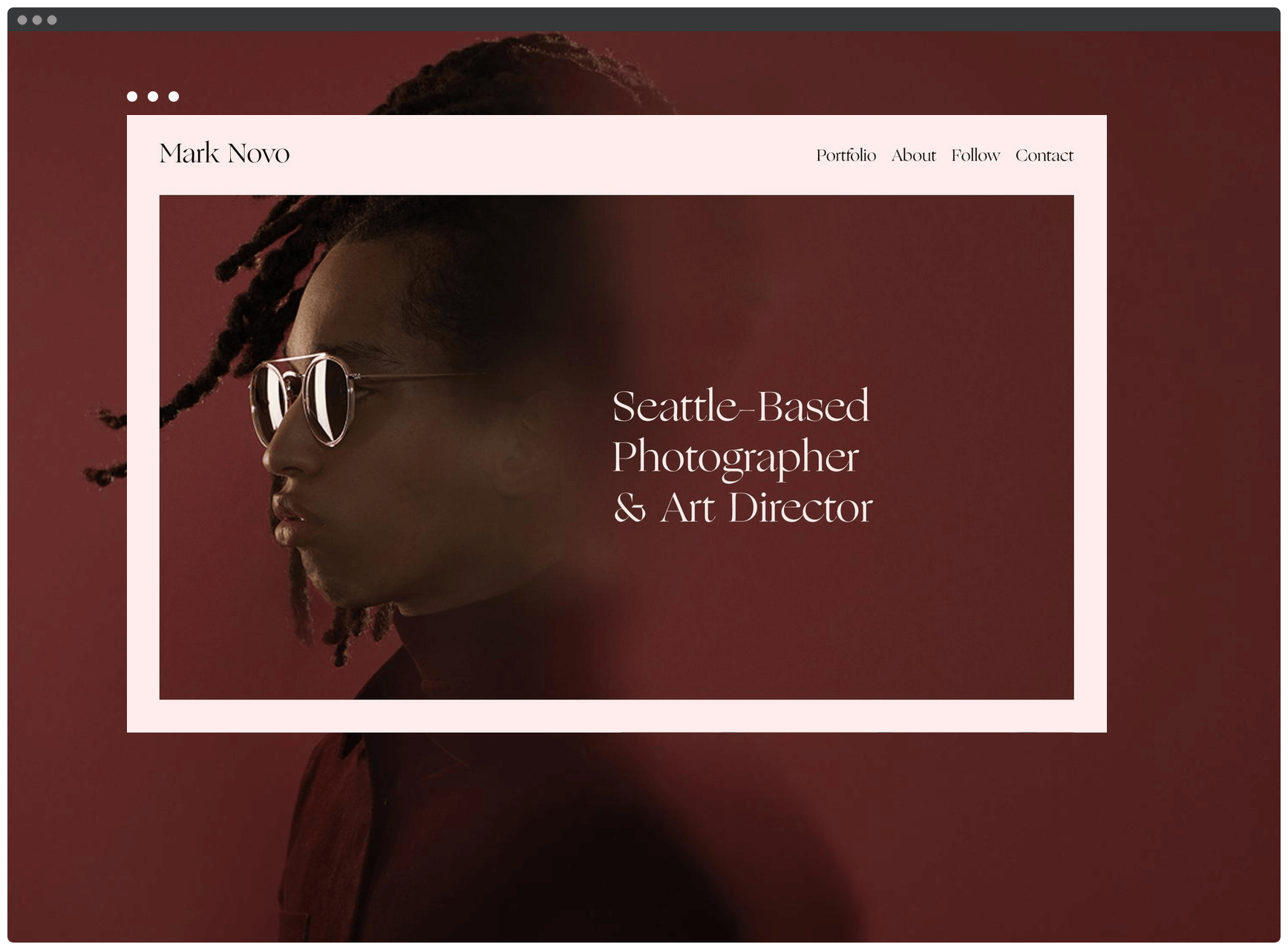 You'll have seen Squarespace advertised a lot. It has a huge presence across YouTube marketing, and has been a frequent feature in Super Bowl ads over the past few years.
Even so, Squarespace isn't a lightweight tool that needs heavy ad rotation to succeed. It also has a stellar page editor, and a gorgeous modern look that packs a punch compared to its rivals.
How to Compare Wix vs Squarespace for Your Needs
Unlike comparing a website builder to WordPress, the battle here is on familiar turf. Each solution has a similar philosophy to site building, and offers many of the same elements.
Given this, there are a few considerations you'll need to bear in mind when running the rule over each one:
At this point, you'll also want to bring in user reviews, and read up on what other sites think of your potential platform. Once you've almost narrowed down a choice, take a few days to mull over your decision.
At that point, you'll have a solid decision based on your needs and budget, rather than a knee-jerk reaction.
Wix vs Squarespace: WordPress' 2 Main Rivals Compared
In the next four sections, we'll break each website builder apart to find out whether it's right for you. We're going to look at the following areas:
When we're done with this, you'll have an idea of which website builder is a good match for you. To finish off, we'll look at how choosing between Wix and Squarespace should also include a comparison with WordPress too.
Wix vs Squarespace: Ease of Use
When it comes to a ease of use, both featured website builders are trying to offer the best experience possible. As such, a comparison like this will be subjective for you, especially when the platforms are so similar.
Wix has always been a champion of easy-to-use functionality, and this can be seen in the layout of the built-in editor: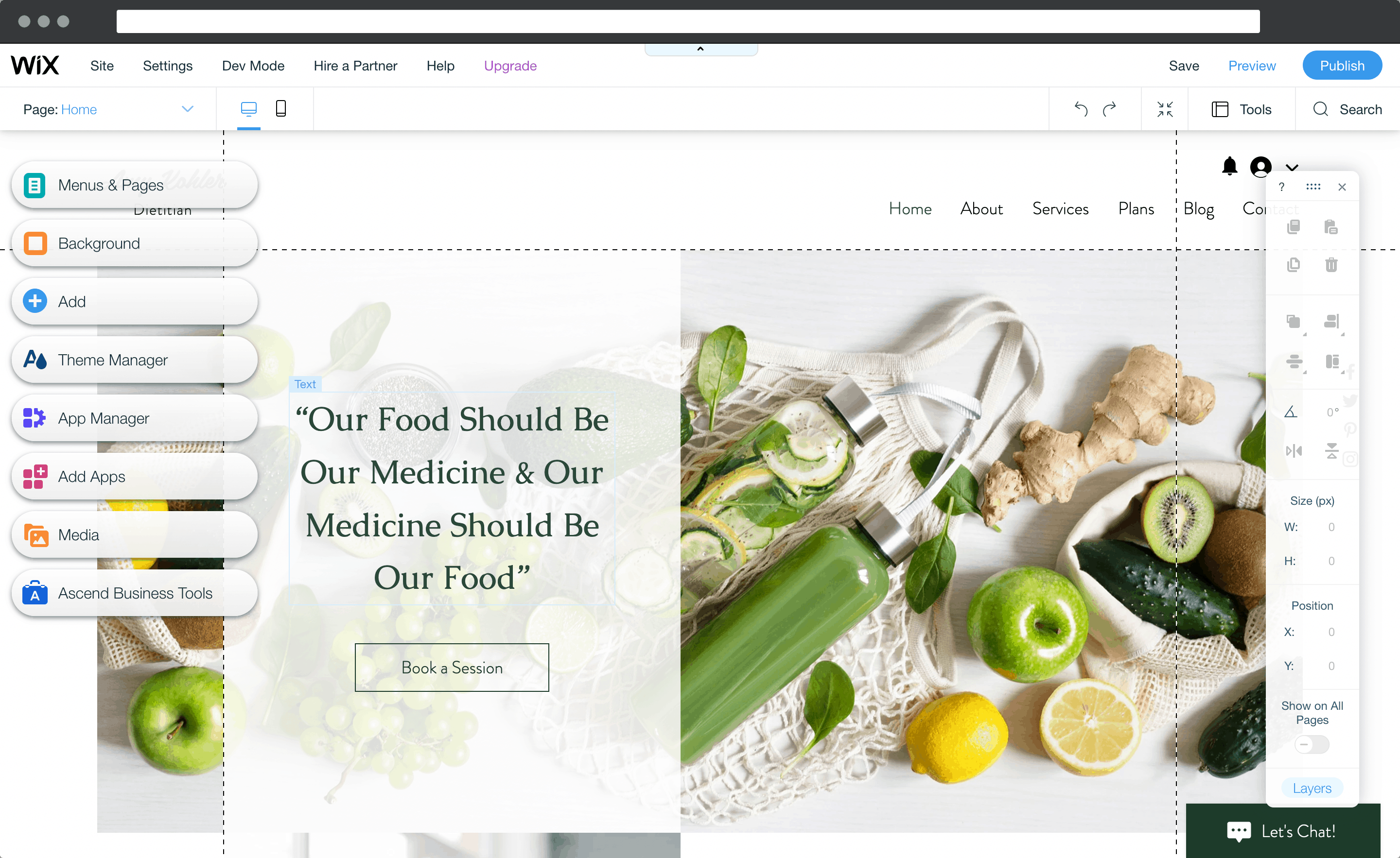 There's a lot packed onto the screen, but it's laid out well and never seems overwhelming.
Squarespace also has a nice, intuitive layout: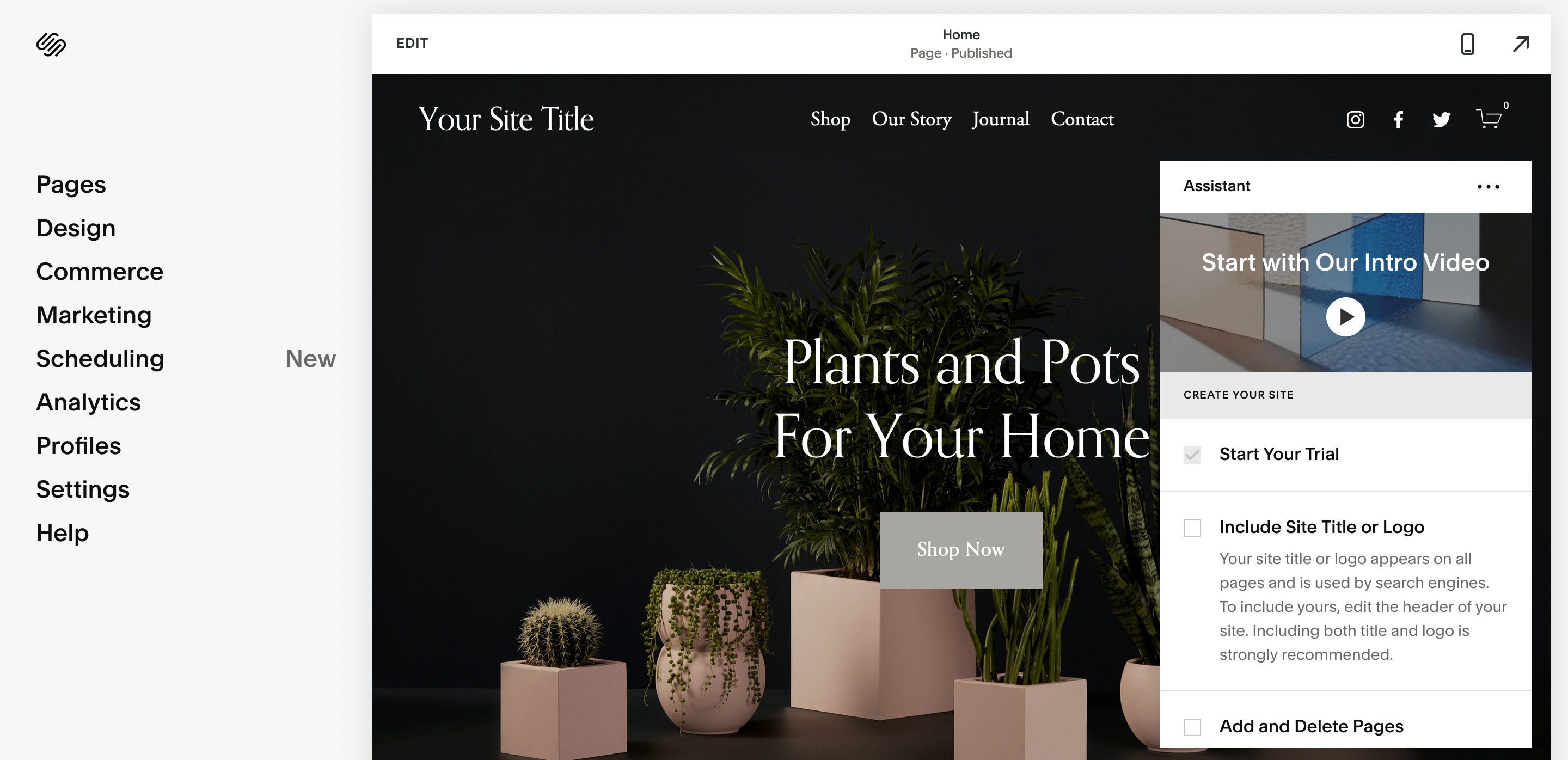 While it's not the prime focus of this section, Squarespace looks better in our opinion than Wix. Despite this, it's easier to find settings in Wix, although you may find the opposite is true.
After working in both platforms for a while, you'll find comparing them results in a wash. Regardless, we found Squarespace had the better editing experience, while Wix let us find what we needed quicker.
Winner: Wix pulls ahead, but it's by a nose. Squarespace is just as great to use day-to-day.
Wix vs Squarespace: Functionality and Features
The essential features and functionality you'll need in place boil down to the following:
Both Wix and Squarespace include these, although they tackle each one from a different angle. We've already noted how they both have a drag-and-drop editor in place, and that Wix is a touch easier to navigate.
This shows in how you customize your content. With Wix, the options at your disposal are right there in the editor. For Squarespace – which is going for a cleaner look to its presentation – you'll need to click on the small paintbrush icon: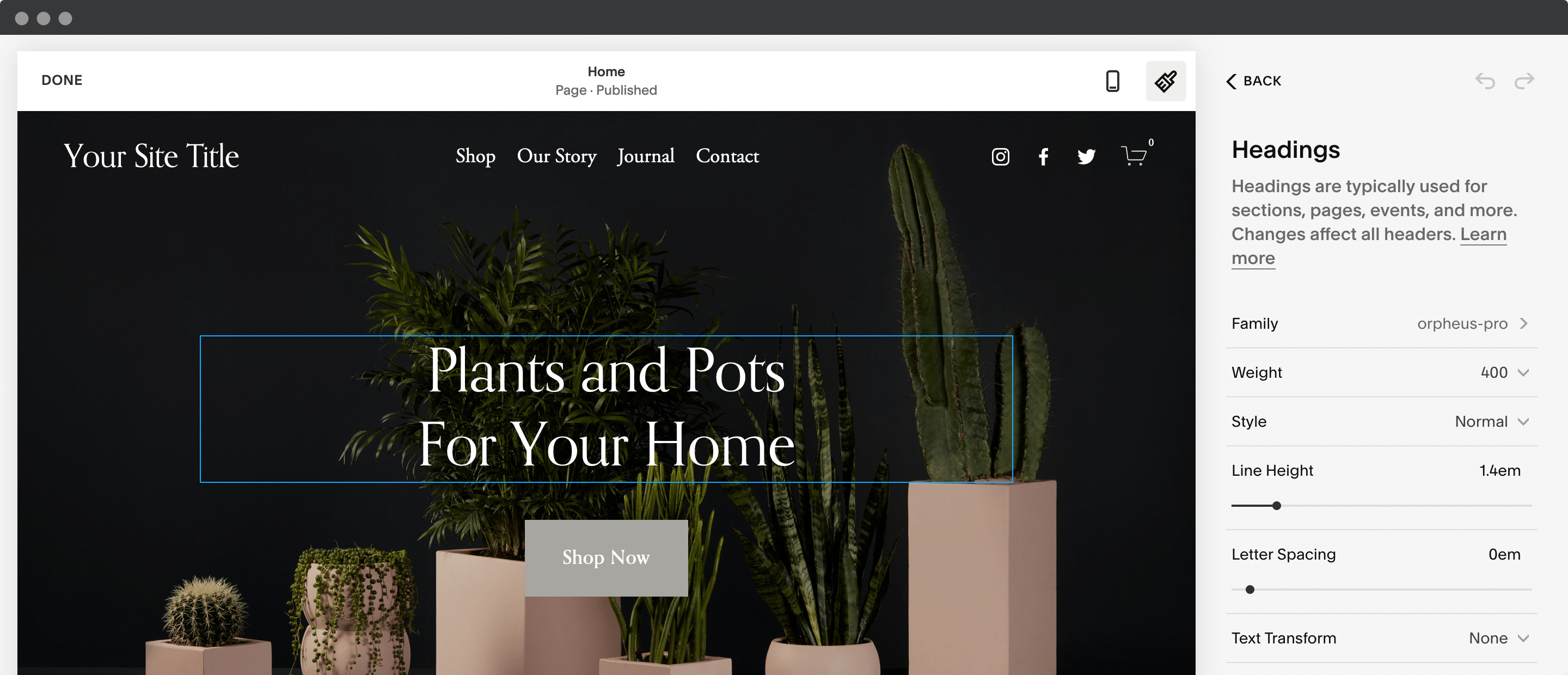 It's not as intuitive, but at least the features compare well with Wix. In contrast, some of the more advanced options such as Search Engine Optimization (SEO) are buried away in Wix' sub-menus: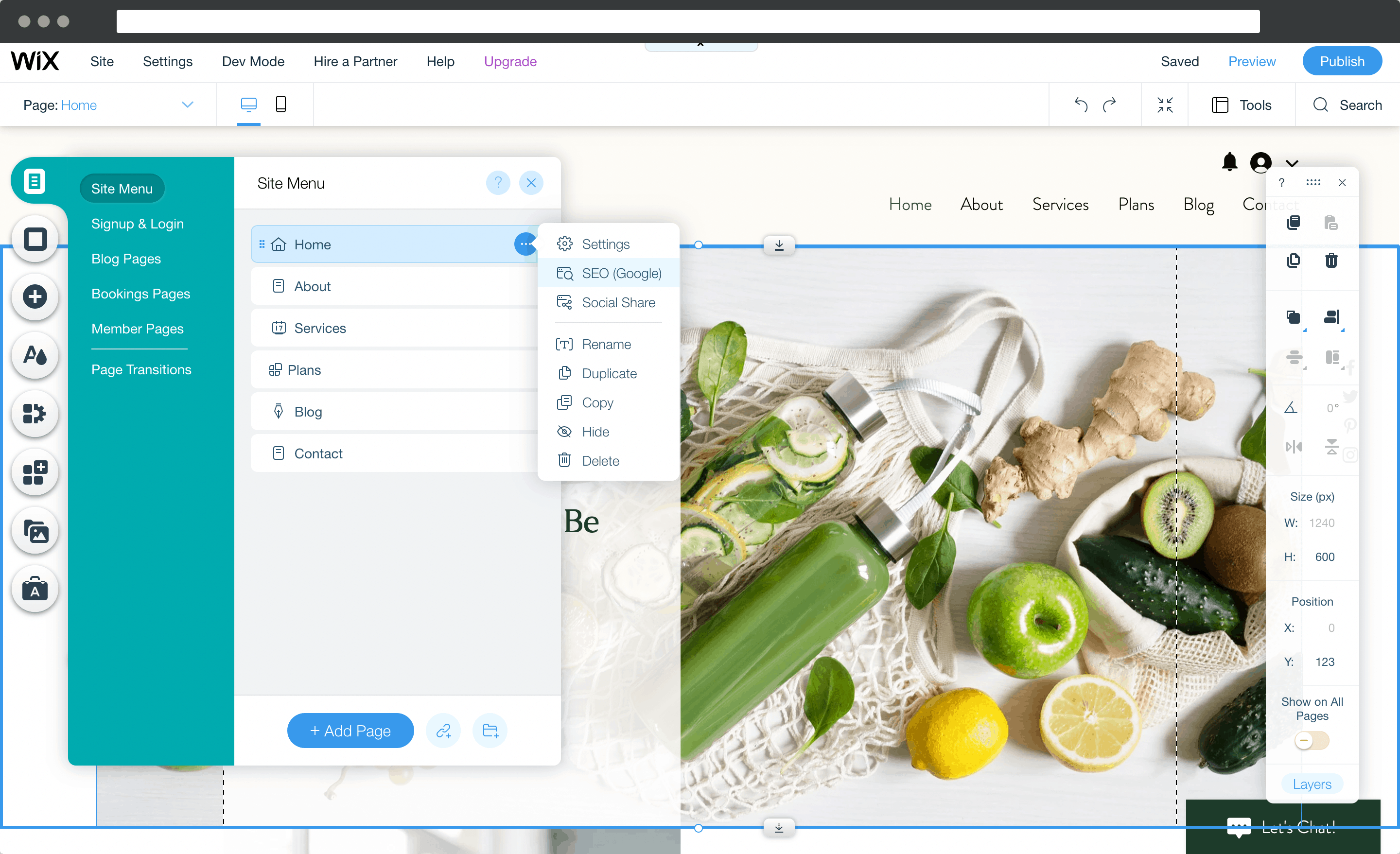 Creating a site isn't often a solo project if you're running a business. With this in mind, Wix doesn't have any restrictions on users, and offers a robust set of user management pages: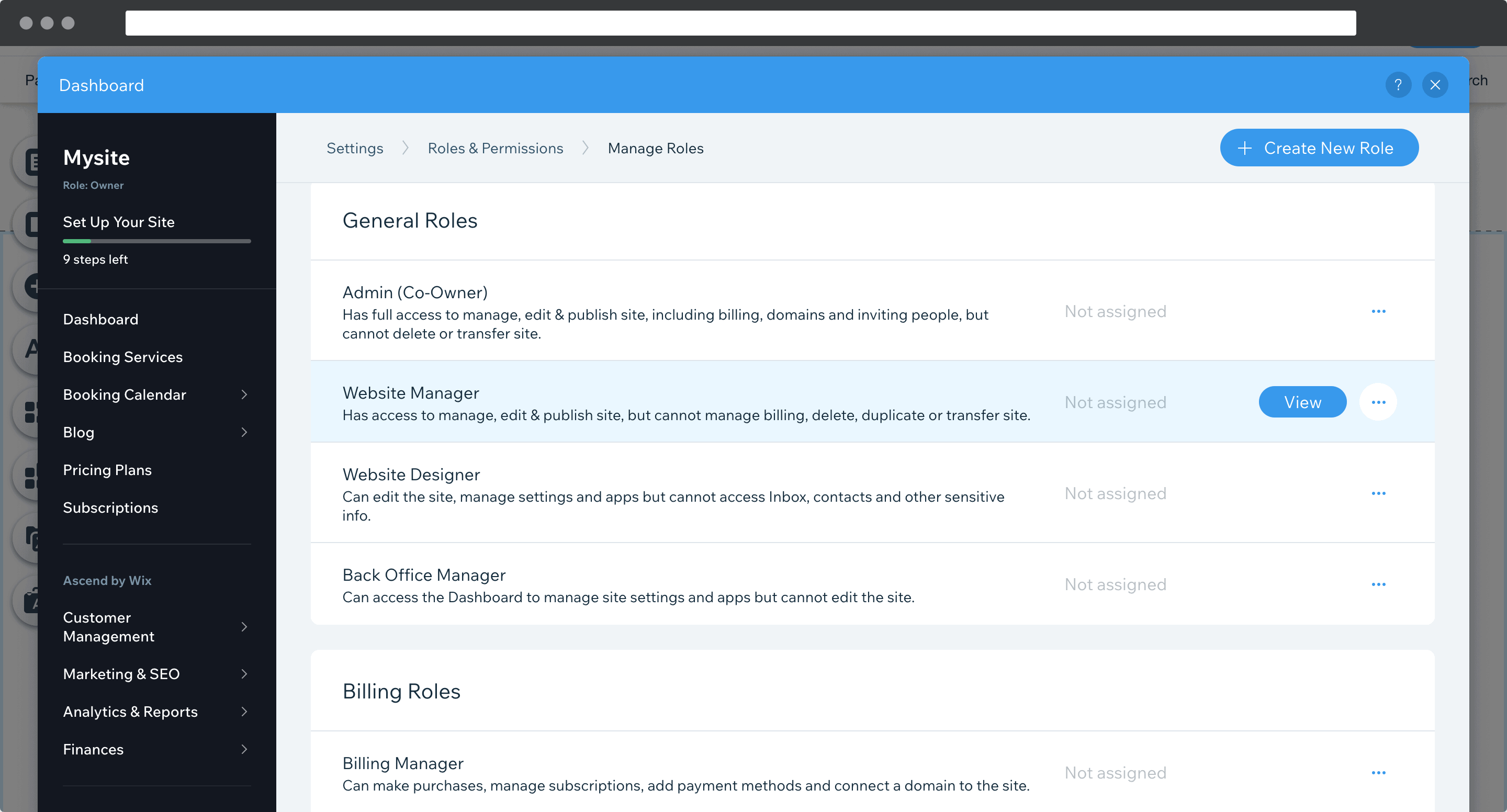 In comparison, Squarespace comes across as frugal. It restricts your user count based on your chosen tier, which could impact your budget (more of which later).
Winner: This goes down as a draw. Both platforms have a similar set of features and functionality, although ease of use will determine how (and if) you find them.
Wix vs Squarespace: Extending the Platforms
One of the goals of a website builder platform is to keep you within its ecosystem forever. This makes sense if its offering a full suite of tools to run your site. As such, you'll find that website builders have a weaker set of extensibility features than a CMS like WordPress.
When it comes to the look of your site, both Wix and Squarespace have a lot of choice. Each platform uses design templates, and Wix offers around 800 different layouts: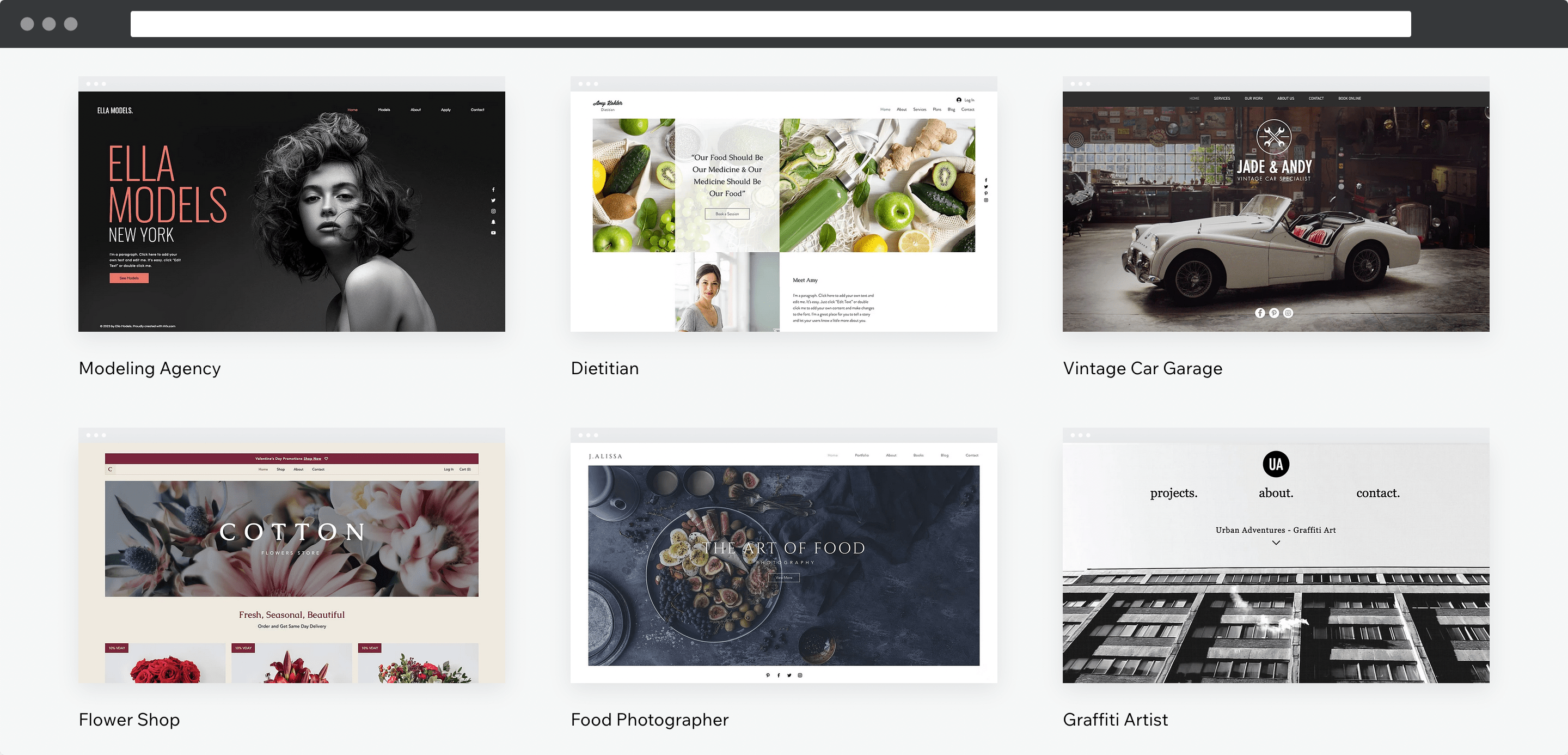 We liked the array of available templates, and we're confident you'll find something to suit your site's goals in its library.
As for Squarespace, it also offers a rich pool of templates to choose from, and eyeballing its library, it compares well to Wix' offerings:

Given the look of the Squarespace back end, it's clear the design team are experienced and talented.
We're not sure of how many templates are available with Squarespace, but we don't think it matters. Being honest, you won't trawl through hundreds of templates. Instead, you'll use the variety on offer to find something that's almost right, and tweak it with the page editors. Both platforms have a good range on offer.
As for your site's functionality, Wix and Squarespace are like chalk and cheese. Squarespace's offering is 'mean', and doesn't cover as much ground as you'd expect: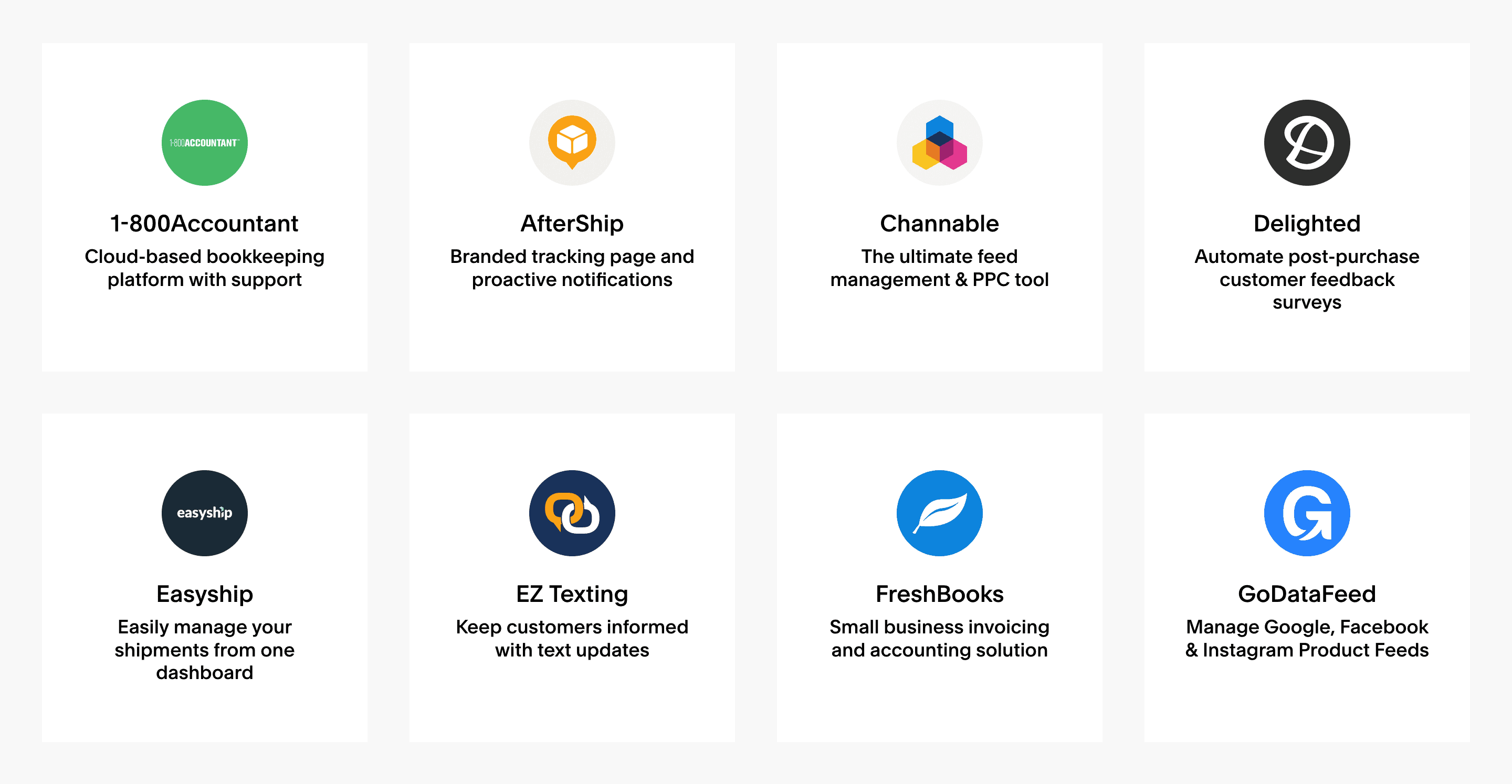 In contrast, Wix' App Market gives you plenty of diverse extra functionality for boosting what your site can offer: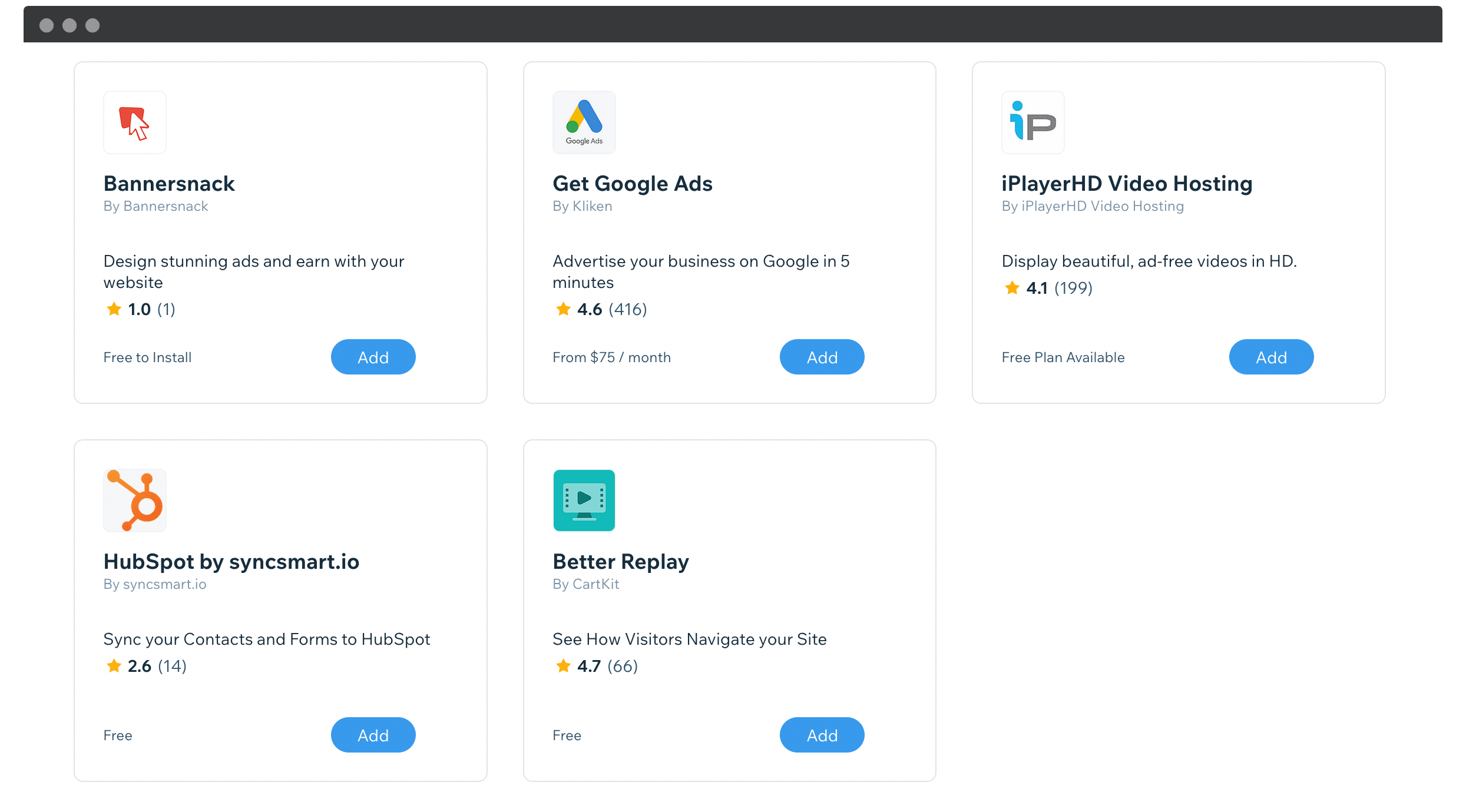 Browsing the App Market is more like what you'd expect from an extensions library. It doesn't have as much depth as WordPress' Plugin Directory, but there's a lot here to get your teeth into.
Winner: For templates, it's a wash. For extending the platform though, Wix is miles ahead. In our opinion, it's the only library that can rival the depth of WordPress.
Wix vs Squarespace: Pricing
When everything else is equal, your decision is often going to come down to price. Both Wix and Squarespace know this, and as such, each solution has competitive plans covering a wide range of prices.
Starting with Wix, it offers a free tier that is more like a trial. Even the lowest tier has a pared back set of features. For example, you'll have to display ads on your site, and there's a small storage allocation.
For the 'real' Wix experience, you'll want to go with the Unlimited plan (around $10-12 per month). This gives you SEO and analytics tools, but stops short of e-commerce functionality.
In comparison, Squarespace has a simpler set of plans that offer more value on a per-tier basis. There's only a 14-day free trial rather than a free tier, and the lowest Personal plan costs around the same as Wix' Unlimited tier.
Though, we think Wix offers more out of the box than Squarespace at this level. At higher price points, Squarespace is a better offering, so it could be a more suitable pick than Wix for e-commerce. Even so, it's tight at the top, and Wix has a lot to offer even on higher plans.
Winner: Wix edges it, but you're still going to get immense value from any of the Squarespace price points.
Whether You Should Choose Between Wix vs Squarespace
When you compare both Wix and Squarespace on the four areas we've covered, Wix is a surprising winner. It's more usable, extendable, and cheaper. It's only by inches though. Squarespace has lots to offer, and your road-testing is going to be crucial for your final decision.
Regardless, we still think WordPress is the best solution for your website. Here's why:
We admit that WordPress does cost more when you factor in all of the extra services and tools you'll need. Regardless, this is a good price to pay for full control over your website's content and information. What's more, you get to decide how well your site runs, how secure it is, and almost every other facet of running an online business.
In our opinion, a WordPress site is something suitable for beginner bloggers and enterprise-level business.
Wrapping Up
At WPKube, we consider WordPress to be the best way to publish your website. Even so, a website builder can be a good fit too. While there are lots of platforms to choose from, Wix and Squarespace are two of the most popular.
In this post, we've given Wix the win over Squarespace, but not by much. While neither platform can compete with what WordPress offers, both can do a job while you're just beginning your journey. Even so, given how website builders want to keep you within the ecosystem, it would be a better idea to stick with an open-source platform from the off.
Are you considering a website builder for your site, and does Wix vs Squarespace help you make the decision? Let us know in the comments section below!