One of the first times I chose a WordPress theme I ended up spending $50 and the theme hardly worked for me. I needed a WordPress theme for a client. This client requested that the theme had fonts and designs that represent their company well, that being a law firm.
It needed a space to capture emails at the top, along with a visible and attention-grabbing blogroll to feature some of the long-form content they were already paying their bloggers to provide to customers. The firm also requested a responsive design for clients to access legal information and contact forms from phones and tablets.
Well, back in the day I thought grabbing a template was as simple as choosing a toothbrush. Look for an affordable option with fancy bristles and I can work with it if it isn't exactly perfect down the road.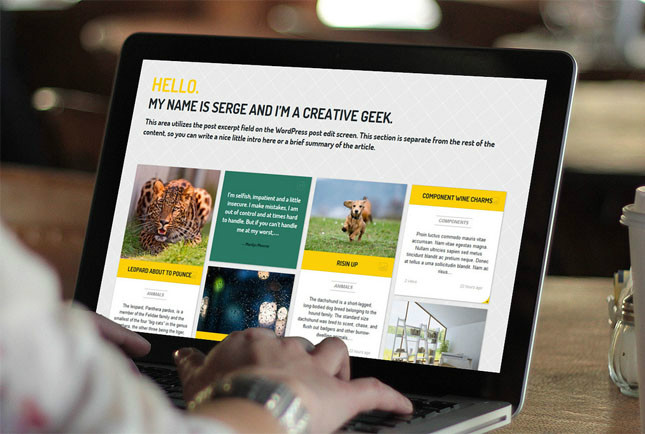 Well, I wasted my money because the template I chose wasn't responsive (even though it claimed to be), it lacked the ability to modify fonts, and the blogroll was permanently stuck underneath this giant slider that only showed photos and didn't even link to anything. Yup, the highly-priced legal content wasn't even prevalent on the homepage, and the email sign-up form was crammed in right below the slider. Not good at all.
Although responsive technology has improved, and theme maker credibility is more transparent nowadays, it's essential to take some time to hone in on the right choice for your WordPress theme and make a checklist to ensure the one you choose has all the necessary components.
Keep reading to follow along with our ultimate guide for choosing a WordPress theme.
Do You Need a Free or Premium WordPress Theme?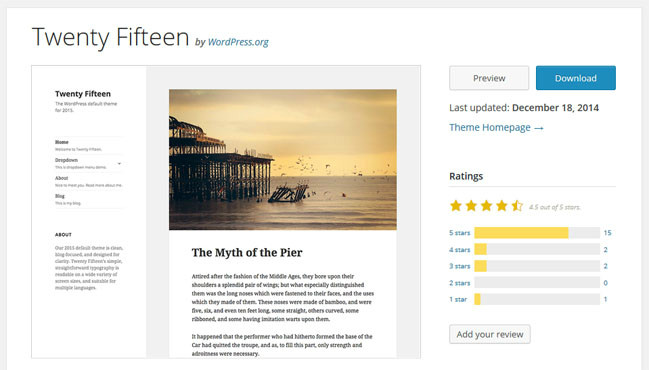 The first thing many people think about when considering a WordPress theme is the price. Do you have the funds available to opt for a premium theme? Are you confident that a free theme gives you the flexibility and support you may need for your website.
To start, let's outline the differences between standard free and premium themes:
Free WordPress Themes
Simple designs.
You obviously don't have to pay anything.
Limited options and settings to make changes to the look of your website.
The theme creator might stop supporting updates.
You generally don't get support.
Although many free themes are great, you'll find plenty that are poorly coded and clunky.
Your website security decreases if the creator doesn't update much.
You can always check ratings for free themes. Even though I don't recommend free themes for serious sites, personal blogs should still look for quality theme authors.
Premium WordPress Themes
The themes are relatively cheap.
The quality is generally high, since theme authors must check bugs to prevent theme returns and unsatisfied customers.
Premium themes are typically sold by companies, so they provide wonderful support outlets, whereas free themes are frequently built by individuals who might skip town any day.
The customization options are always well-organized and plentiful with premium themes. It's easier for beginners to walk through the design interface.
Most premium theme sites have seller ratings, reviews from past customers and even pre-sale forums to help you out.
Premium themes are more complex in design and when you start looking at them you'll see how beautiful some of the designs are.
Should you buy a premium theme or go for a free one?
If you don't have many plans for customizing your website, and you simply want to post your ramblings about your trip to Portugal, go for a free theme. I'm not saying free WordPress themes are bad, but you take a higher risk when you put one on your site. Most don't offer support or updates, while free themes are often extremely hard to customize and hack into the code.
If you are building a website for a business or you plan on making any serious money with your website, I can't state how important it is to buy a premium theme. You might be saying, "$60 for theme? Why would I do that when I can get one for free?" Well, you don't know how lucky you've got it.
Years ago these $60 beauties didn't exist. You had to call up a programmer to develop a website from scratch and end up spending thousands of dollars. Themes usually run from $50 to $100, and the theme creators often provide wonderful support for when you have problems. It's your livelihood, so make a WordPress theme part of your budget. It'll end up being a small part of it anyways.
The Best Places to Find WordPress Themes
Fortunately, you have loads of companies to choose from during your WordPress theme search. I've compiled a few of my favorites. These premium WordPress theme creators have been around for quite some time and they have their business infrastructures built around offering quality support and stable themes for just about every industry.
ThemeForest — ThemeForest is the top dog in the WordPress theme business. The website is flawless for finding something that fits your site, and they have a few other company sections for items like stock photos, audio clips, animations and more. All of these categories are under the overarching company called Envato, which is a booming marketplace for verified sellers to upload and sell their best stuff.
Mojo Themes — You might notice some Mojo Themes ads if you install WordPress through Bluehost. Bluehost realizes that the Mojo Themes options are some of the best on the market, with choices for landing pages, eCommerce, BuddyPress, photography and more.
I've used Mojo Themes a few times in the past, and the support is wonderful. I had problems with one of my templates so they credited me back and let me choose any theme I wanted from their database.
MeridianThemes — MeridianThemes has some great themes for food and lifestyle bloggers. They currently have 9 premium themes in their portfolio.
StudioPress — StudioPress, famous for its Genesis Framework, is lauded by the top bloggers in the world, and I even use it on my personal blog. The framework comes with child themes for the ultimate customization and stability. In short, the Genesis Framework is so popular because it's secure, super fast, great with SEO and simply beautiful. WPKube is powered by Genesis framework, you can read our full review here.
Elegant Themes — The folks at Elegant Themes knew what they were doing when they named the company. The themes sold here are, well, rather elegant. If you want to grab the attention of your viewers go with one of the striking themes from Elegant Themes.
You will also be happy to know that they have a number of powerful WordPress plugins such as Bloom and Monarch. The company blog is always active and they're known for offering top-notch support. If you decide to with Elegant themes, don't forget to use our 20% off coupon code.
Themify — I've personally never used Themify, but a few blogger buddies rave about the company's solid prices. Themify packages all of its themes and sells them for only $79 (at the time of this post). You can find unique and stylish themes for things like eCommerce, magazines, portfolios, and more. Use our exclusive Themify coupon "wpkube" to get 20% off.
Points to Consider When Selecting a WordPress Theme

If you have all the money in the world you can just start buying themes and not really caring about wasting your money, but for most of us, this isn't the wisest from a business standpoint.
Unfortunately, features and functionality aren't always completely transparent, so it's important to use the following checklist to consider all the most important aspects when choosing a WordPress theme.
Do You Want a Theme or a Framework?
To make things a little more complicated for you, themes are not the only option. There's a little thing called frameworks, which basically use things called child themes to improve customization on the frontend.
What are the differences between a standalone theme and a framework?
Standalone WordPress Themes
A standalone theme is built to work off of the core WordPress technology.
The settings are typically quite plentiful, but many people can download a theme, meaning it isn't completely unique.
You can make changes with many of the options, but some items are hard-coded, so you are stuck with what the designer implemented.
Support and communities are always helpful for regular themes.
You can find standalone themes at places like ThemeForest, MeridianThemes, and Elegant Themes.
Theme Frameworks
Frameworks work off parent themes to control child themes. (So you have to technically install two themes.)
You typically don't need to know much coding language since the frameworks are built for you to make advanced modifications with just a few clicks. Many of them have frontend drag-and-drop editors.
Support and communities are always helpful for frameworks.
Some of the more popular theme frameworks includes Genesis, Thesis, WooFramework (Canvas), and Gantry.
Is It Going to Look Awesome Right After You Upload the Theme?
Many times you'll buy a theme, upload it and realize that your website looks nothing like what the theme demo showed. Everyone wants their themes to work well right out of the box, but this usually isn't the case. Some themes are better than others, but your best bet is to look at reviews and ask people who have used the theme before.
Ask people whether the theme looks the way it should right out of the box. The one thing you can look for in the features list is dummy content. This is basically content the developer provides to upload on your site and construct your site the way it's supposed to look.

Frequently referred to as "demo content," it places menus, images and text on your website so you have something to work off of. It's typically the easiest way to make your site look like the developer examples right out of the box. I never buy a theme without demo content, because this content is a great first step for seeing which items must be changed.
Obviously you are going to remove the demo content, but it's like a road map pointing you in the right direction.
Are The Settings Organized and Easy to Use?
Try to figure out if the settings are organized for the theme. Some goofy theme developers scatter their settings throughout WordPress, making it a pain to customize your site and manage it down the road.

Your settings should all sit nicely in a single tab on the left hand side of your WordPress dashboard. The best themes use accordion-style tabs and buttons on a single settings page so you don't have to navigate much around your dashboard.
Is the Theme Responsive?
Smartphones and tablets are quickly becoming the most popular ways for people to browse the internet. Mobile is the way of the present and the future, meaning that you're losing tons of business if your WordPress theme isn't responsive for all devices.

When you shop for a theme the features list should state whether or not the theme is responsive. If it's not responsive, run away. Choosing a non-responsive theme is like investing in the the rotary phone business. Ok, maybe that's a little drastic, but you get my point. You need to keep up with technology changes.
Don't always trust what the theme developers tell you. After you buy a theme, test it out on all your mobile devices, laptops, desktops, and whatever you have laying around. If your theme doesn't look decent on even one of the devices, ask for a refund.
Is the WordPress Theme Ready for SEO?
With WordPress you can install plugins like SEO by Yoast, but what if your theme doesn't support this plugin or it doesn't have a basic SEO framework? Keep your eyes peeled for SEO mentions in the feature list, but work out some tests on your own to make sure.

Check the theme demos and see if it loads quickly. Slow page loads are no good for SEO. See if the theme has <h> tags and if it supports SEO plugins. You may have to talk to the developer or ask questions to previous users for these.
What About Social Media?
You don't want to clutter your WordPress site with too many plugins, so it's nice to have built-in social media widgets and integrations for sharing your posts and leading people to your own social pages. This is usually standard on the better themes, but make sure you check to see if social media buttons are included.
I like buying themes with social media buttons because then I don't have to download a plugin and the included social buttons typically brand well with the theme I just bought.
Are the Fonts and Colors Highly Customizable?
This is a big one. You might stumble upon a theme that looks perfect for your urban gardening blog, but the fonts look too professional. Can you change the fonts after you buy the theme? How many fonts are available? The best themes provide unlimited font changes with Google Fonts, and they offer unlimited color changes as well.
Four color schemes might sound like a lot, but that number is extremely limiting.
How is the Premium Theme Author With Support?
Take a look at the theme page and see if the developer responds to forum questions if there's a forum included on the site. Complete a quick Google search to find reviews of the company, and even send an email with your own questions to see how well the developer responds to your queries.

A theme without quality support is always a red flag.
Does the WordPress Theme Work on All Browsers?
This generally isn't a huge problem anymore, but similar to responsiveness, check your theme in all browsers. Take the time to download browsers like Internet Explorer, Chrome, Firefox, Opera and all the other ones.
Test the theme out, because although you might think everyone uses Chrome, this is not the case. A significant amount of people still work off the Internet Explorer browser.
What Are People Saying About the Theme?

This is fairly simple, but it's worth noting to scan through the ratings and reviews for the themes. Some companies don't offer ratings and reviews, but a quick Google search can fix this. The best rating and review system is on ThemeForest, so try to stick with themes with over four stars and an active user-base.
Does the Theme Fit Your Brand?
Do you sell shoes for kids? Are you running a law firm? Are you building a magazine publication about Android phones? Your company strategy is one of the key factors in choosing a theme.
Obviously, most premium theme sites have themes categorized by industry, but it's worth writing down the things that are most important to you for selling in the future and using that checklist while looking through theme features.
How Much Do You Want to Pay?
This is your last concern. Like I stated before, if you want to make money with your website, $50 to $100 for a theme should not affect your decision. That said, I understand some people are bootstrapping their business, so the only solution is to find a price range and test as many themes as you can in that price range. Don't just choose the first one you stumble upon.
Choosing a WordPress Theme for an eCommerce Website

The eCommerce site is one of the more intricate websites, with products, coupons, shipping details, SKUs, return policies, tracking and autoresponder emails. Creating a checklist of points for finding general WordPress themes is fine, but various niche industry themes require a little extra thought.
We'll outline a few niche themes, but lets start with some points to consider for eCommerce themes:
Can you mass import products from external sources?
Does the theme work with different eCommerce platforms and plugins like WooCommerce or Cart66?
Does the branding work for the products you sell?
Do the products show up well with the responsive setup?
Are social sharing buttons included on every product page?
Is there a powerful slider to showcase specials and popular products?
Is an email sign-up form included?
If you plan on selling internationally are various languages supported?
Do you receive unlimited colors for the best branding?
Does it come with demo content? (This is huge for eCommerce sites since the products are hard to setup.)
Is the design cluttered or clean?
Are the settings nicely consolidated on the WordPress dashboard?
Does it come with forum integration. (Something like bbPress)
Wishlists? Reviews? A quick and clean shopping cart?
Choosing a WordPress Theme for a Membership Site

The membership site is all about creating a welcoming and exclusive environment for your VIPs. Here are a few points to keep in mind when looking for a membership site theme:
Does it integrate well with membership plugins?
Is it bbPress ready? Or is it BuddyPress ready?
Does it have a pay wall feature?
Does the theme come with a rewards or ratings system for members?
Can you display featured content in a clean manner? (Stuff like videos and books.)
Does it come with email list integration, like GetResponse?
Is the design modern?
Are there areas on the frontend for people to quickly login with their own credentials or through Facebook?
What Are Some Other WordPress Theme Niches That You Can Choose From?
It's a little tricky to cover just about every industry and theme category in a blog post, but you can always go to the WPKube Theme page to view a huge list of blog posts that outline some of the nicer themes for everything from weddings to musicians. Here's a few lists to get started:
Conclusion
That's it for our rather extensive guide on choosing a WordPress theme for your next website! Let us know in the comments if you have any questions about selecting a WordPress theme.
Are there any other criteria you use when searching for themes?