We all know that choosing a theme is an important consideration for any WordPress website. Though, just as crucial is how much you spend on the theme itself. Of course, while free and premium solutions exist, it's tempting to use either 'flavor' without understanding why. Choosing WordPress themes for free download is good decision in lots of cases.
Even among free WordPress themes, you can find sub-categories. For example, you have freemium themes designed to make you upgrade. There are also free themes with big scopes and plenty of integrations. Of course, there are also simplistic, one-trick pony themes that are great for small blogs and niche sites. Selecting the right one will take some thought, although it's not a complex task.
As such, this post will discuss how to choose WordPress themes for free download, and what to look for. Before this, we're going to talk about why a free theme could work for your website.
Why Themes for Free Download Can Be Ideal for Your Site
Free WordPress themes get a bit of a bad rap. This is, in part, due to design choices for the WordPress Theme Directory. It's not intuitive, and the previews don't give you the true scope of a theme. You can understand why every theme uses a default layout set by WordPress, but a number of themes can suffer.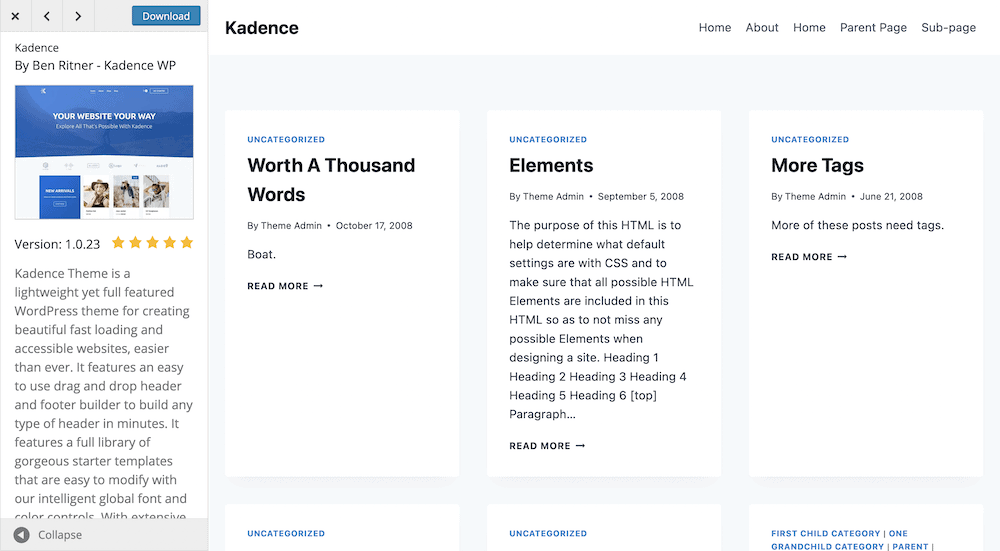 In other words, the presentation of free themes isn't optimal, and it's hard as a result to see the benefits of them compared to premium solutions. In our opinion, there are a few positives for using themes for free download:
They cost nothing to use, which is the ultimate in a budget-friendly solution.
A free theme could perform better than a premium version because it's often presenting a stripped back feature set. Less elements to load means a faster site all around.
Because a free theme can be more basic, you're able to better customize your site using code and plugins.
For some of these points, we're offering a generalization to some extent. In fact, this is a good opportunity to talk about the differences between WordPress themes when it comes to cost.
The Difference Between Free and Premium WordPress Themes
Of course, the main difference between free and premium themes is the cost. Though, even here there are a few caveats to consider based on the type of theme you're looking at.
First though, let's give you a quick rundown of how these themes differ in a broad sense:
Free themes often give you no customer support. What's more, there's no update guarantee. It's the classic 'as-is' warranty. With premium themes, the price you pay goes towards dedicated support, regular updates, and more customer-facing features.
A premium theme means that a developer can dedicate more time and effort to the project as a whole. Because of this, you often get new features on a regular basis. There's also more longevity.
Within the broad scope of free and premium themes, you also get freemium solutions. These are often WordPress themes for free download, but with some kind of reduced feature set. The idea is that more desirable features require a payment to use. It's fair to say that the majority of 'useful' themes within the WordPress Theme Directory are freemium, but there are great 'free forever' options too.
Where to Find Free WordPress Themes for Free Download
Speaking of the Theme Directory, this is a good time to discuss where to find WordPress themes for free download.
Of course, the first place we recommend is the WordPress Theme Directory: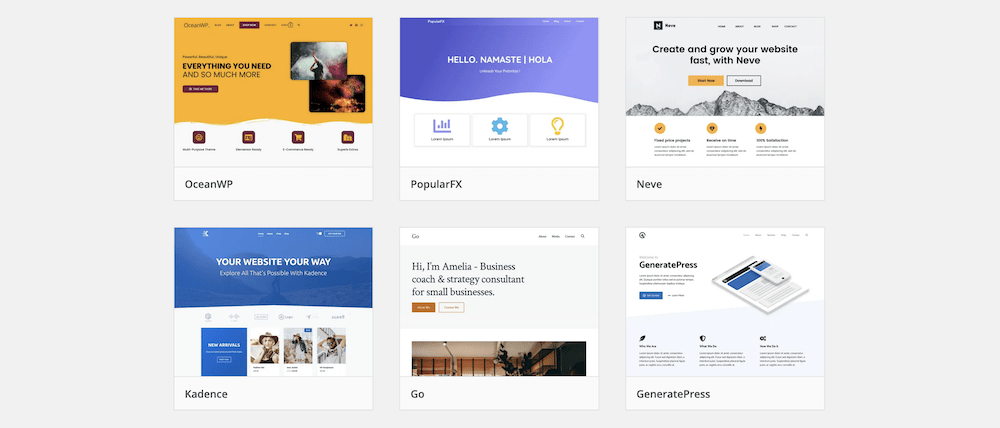 This is the largest and most-focused collection of themes for free download around, so it makes sense to begin here. Each theme will show the same information: The developer, a version number, when the theme had an update, how many active installations the theme has, and a set of user ratings: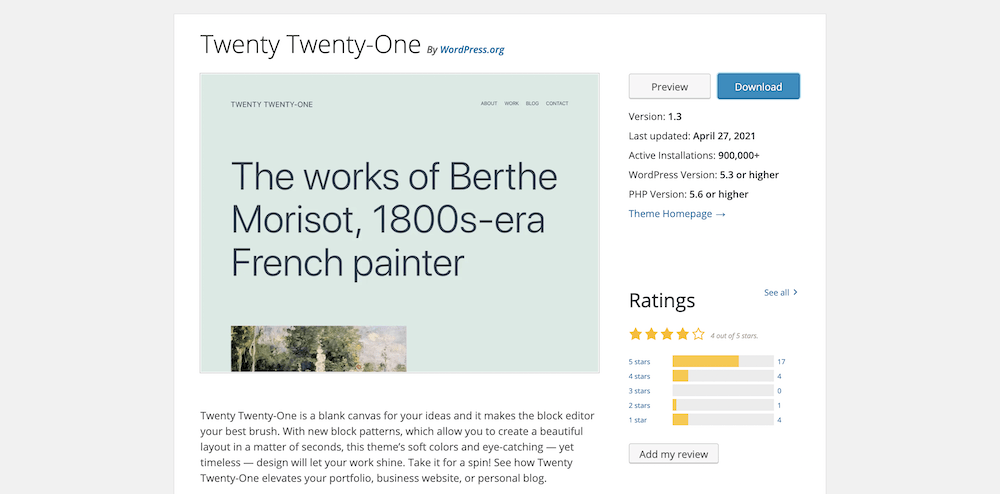 There's also a blurb for the theme, and some other details relating to translations, the number of downloads a theme has per day, and more. The point here is that each theme sits on a level playing field (which has pros and cons as we discussed).
Elsewhere, you could also trawl theme developer websites for free solutions. We would recommend targeting those developers with good premium themes and reputations. It's likely that a company will put a comparable amount of effort into all of its products, as it could impact user trust.
For example, our sister site MeridanThemes has Meridian One: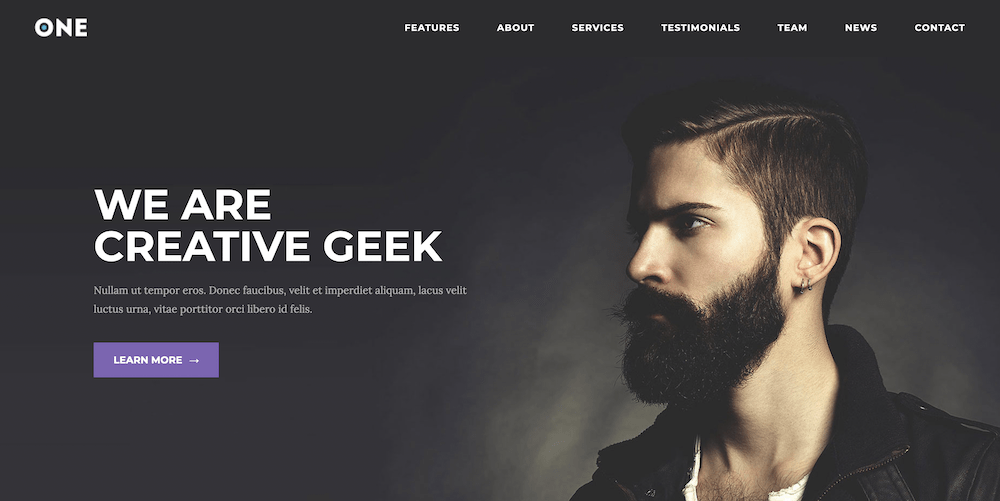 Though, hoping to stumble across a stellar free theme isn't a viable strategy, especially if you're short on time. Reading trustworthy WordPress blogs can help you here. Of course, WPKube offers lots of roundups on free themes, as do a number of other blogs.
Though, you have to assess whether a blog has affiliations or other biases that may promote themes for reasons other than that they're good. This isn't always a red flag, but it helps to know this information before you opt for a theme.
How to Choose WordPress Themes for Free Download (Without Compromising Your Site)
While you may think choosing a WordPress theme for free download takes less effort than a premium solution, this isn't true. In fact, it's harder to see the relative merits and drawbacks of a free theme in lots of cases. This means you need to carry out more in-depth research for each one you consider.
To do this, we have a four-point checklist for you:
There's lots to get through here, so let's go!
1. Decide On What Your Theme Needs to Do For You (And Check It Can Do Them)
First off, you'll want to grab and pen and paper (or tablet and stylus, if you prefer). Your initial job is to discover what you need your theme to do.
Start by listing everything you need your site to do. For example, you might need to integrate social media feeds, add sign-up forms, or collect email addresses.
While lots of these ideas might not be the job of your theme, it's good to give yourself some focus. Once you have the list in hand, begin to separate out the items into the following rough piles:
Add functionality-related desires to one column.
Move design or visual entries to another list.
Everything that doesn't fit in these lists goes into a third column.
At this point, you'll know what you want your theme to do by looking at the list of design elements. The basic WordPress rule of thumb is that themes dictate how your site looks, and plugins determine functionality. There's cross-over of course, so when you begin to judge a theme, all of your list is worth considering. The third list could be third-party services, plugins, or theme-specific inclusions.
Though, we'd say that if a theme can't deliver on one of the design-related elements in particular, to throw it onto the discard pile.
2. Consider How Customizable the Theme Is From Its Default
Much like window dressers or fashion photographers, part of the job of a developer is to make their WordPress theme stand out. This means the previews you see and the information you get about its functionality might not be accurate enough.
To put it another way, WordPress themes for free download often show you everything it can do, with nothing in reserve. As a result, you may hit a brick wall if you wish to customize the theme away from the default. Lots of Automattic-designed themes employ limited color palettes. For example, the Twenty Twenty-One theme only lets you choose a background color: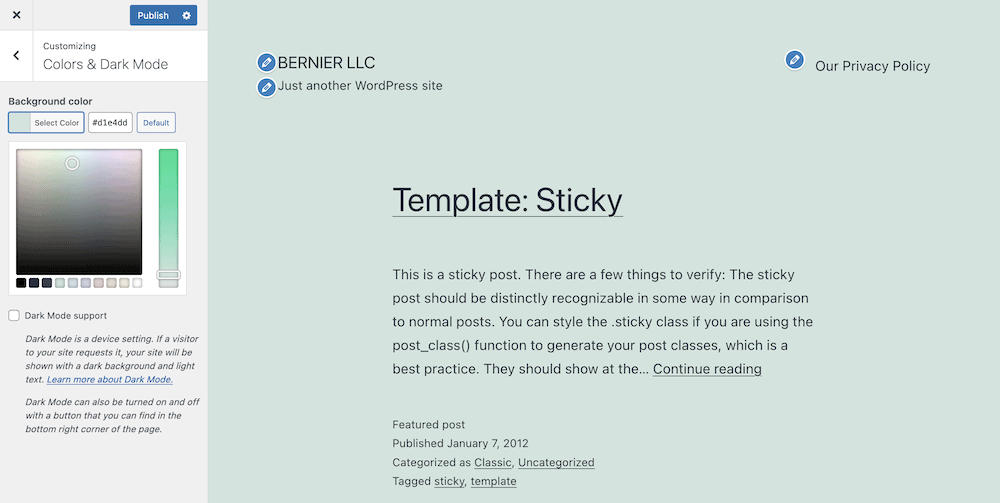 You're able to change any aspect with code, but if you don't have that knowledge, it's not helpful. Some themes come with a mountain of options, although they tend to be freemium products.
In short, if you need heavy customization options, check whether the theme can assist you. If not, you might want to consider the next tip.
3. Figure Out Whether the Theme Integrates With Other WordPress Plugins
While themes are a great aspect of WordPress, plugins are just as vital to the whole experience. One of the pros of a stripped back theme for free download is that it's almost modular. In other words, you can bolt on additional functionality through plugins, which mitigates any drawback in the theme itself.
For example, GeneratePress has a stellar reputation as a top-notch premium theme. Though, there's also a free version that offers much less functionality out of the box: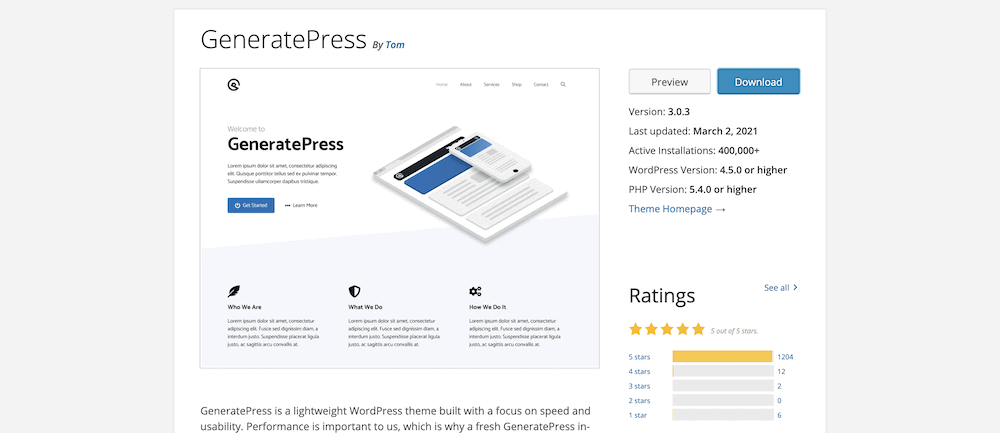 Even so, the free version lets you integrate the Elementor (our review) and Beaver Builder (our review) page builder plugins with the theme. This ramps up the flexibility and power of the theme, and might mean you won't need to stump up for the premium subscription.
This can go for other plugins too. You'll find your list from earlier to give you the functionality you need to look for, but we encourage you to try out combinations. After all, not every theme will offer an explicit list of what works with it and what doesn't.
4. Take a Look at Some of the Relevant Information for Your Theme
For our final tip, we have almost the ultimate judge of a WordPress theme for free download: User feedback. This is vital for any product or service, but is especially important for free themes because there are so many to choose from.
For us, there are three elements to look for:
How many active downloads a theme has.
The general rating of the theme, and also the number ratings there are.
The 'makeup' of the one-star ratings.
While you might think the first two are more important than the last, it's the other way around. One-star reviews can enlighten you, especially if they uncover a serious issue with the theme, the customer support, or something else that's a deal-breaker.
In addition, it's not a user-focused metric, but you also want to check out the last update for your potential theme: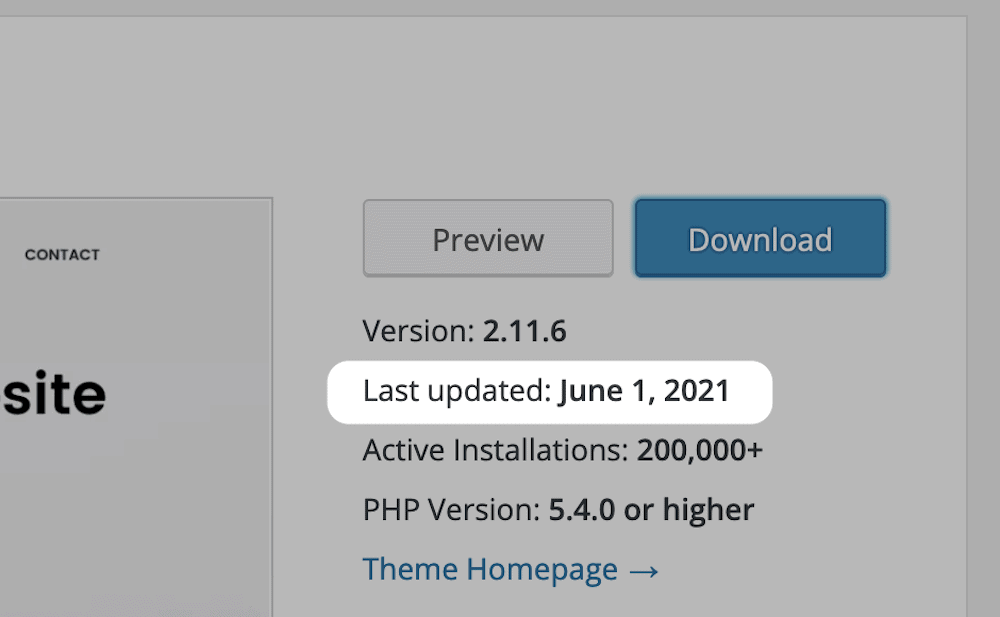 If this date is within the last six months, it tells you a developer is keen to keep it current. It can't tell you whether the process happens on a regular basis, but it's a useful metric nonetheless.
In Summary
One of the key decisions you need to make for your site is on which theme to opt for. Getting this choice right from the off is important to help the rest of the design process run as smooth as possible. As such, you want to consider a lot of factors, specifically cost and whether you need to shell out.
In this post, we've offered six aspects to consider when choosing WordPress themes for free download. Let's go over them again:
Figure out what a theme needs to have with regards to features and functionality to help you design your site.
Check on the level of customization within your theme, and whether there's enough flexibility there.
See if your themes lets you integrate other plugins by default. For example, lots of themes will offer page builder or form integrations.
Pore over user reviews and ratings, and also check that the theme gets updates on a regular basis.
Will you consider WordPress themes for free download over premium options for your next project? Share your opinions with us in the comments section below!