Have you ever wondered why some people have a nice photo next to their name when they comment on various websites? In some cases, it's an actual photo of the individual and sometimes it's a piece of clipart most commonly known as an avatar. And in some cases, the image that appears is a white icon of a person against a gray background often referred to as the "mystery man."
Whatever the case may be, they follow users across all the sites they visit and leave comments on, and even appear when those users publish blog posts on their own websites. These images are called Gravatars, and the good news is that anyone with an email address can easily create one for free.
In today's article, we'll explain the benefits of having a Gravatar and how you can get one.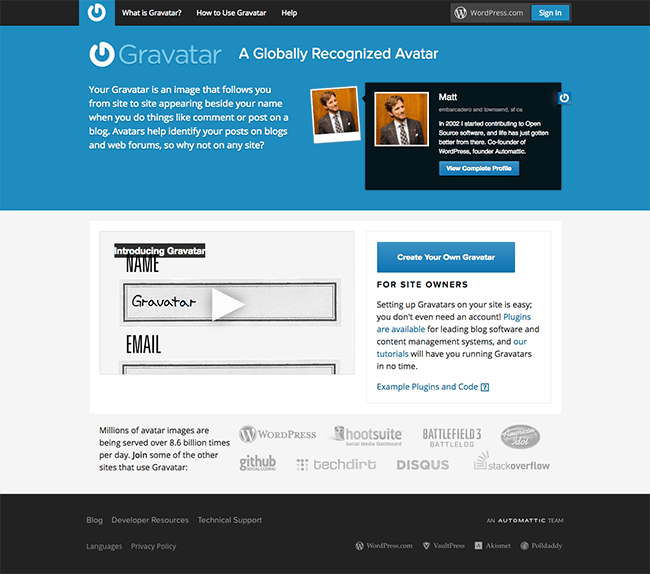 What is a Gravatar and Why You Should Get One
Before Gravatars were created, Internet users used avatars to identify themselves on forums and other websites. Usually, they had to register for each site if they wanted a unique avatar associated with their username. But, not all websites required or allowed registrations which made it difficult to identify users who made an effort of commenting on a site.
That's why Gravatars were created. Gravatar stands for a Globally Recognized Avatar, and it is used to associate your email address with a unique photo of you. In a nutshell, it's the same thing as an avatar. The difference is that Gravatars are hosted on a single server and are served across the web through the use of the email associated with it.
The best part about a Gravatar is that you can use a single image for it which makes it a lot easier for people to recognize you no matter which site you're active on. The designated image will appear on all websites supporting Gravatars whether you prefer to comment on blogs, forums, or use different commenting systems.
Keep in mind that you can assign only one image for a particular email address. However, you can use that same image with a different email address. There is no limit on the number of email addresses you can associate with your Gravatar account or the number of images you can add. If at any point in time you want to change the photo associated with your email address, the changes will instantly reflect everywhere your Gravatar is used.
Why Should You Use a Gravatar?
A Gravatar is easy to set up, and it's also completely free. As such, there are a couple of reasons why you should set one up and use it as your online identity.
You can use the same Gravatar on any website you actively participate on
You can easily change or update your Gravatar in a single location
It also helps build your authority on multiple platforms and helps you establish your personal brand. If you decide to use your Gravatar photo on other social media accounts such as Twitter, Facebook, Google+, and others; people will start to recognize you across the Internet. And if they recognize you, they will be more inclined to follow you which helps grow your fan base.
It can drive traffic to your website. It's not unheard of people coming to your site by clicking on your username when you leave a comment on someone's blog. If you use an image that shows you are a real person, they will be more likely to see what else you have to say on your website. Using a Gravatar quickly identifies you and shows who is behind the name
Now that we've covered the what and the why of Gravatars let's walk through the steps of setting it up.
How to Set Up a Gravatar
1. Sign Up For an Account
To sign up for Gravatar, go to Gravatar's website. Click on the Sign In button and on the following screen; you will see a notification that you need to sign in with your WordPress.com account.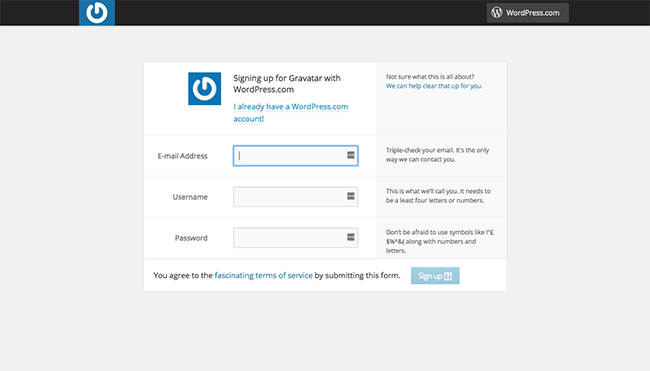 If you already use WordPress.com, then all you need to do is enter the username and password that you normally use to login to your WordPress account.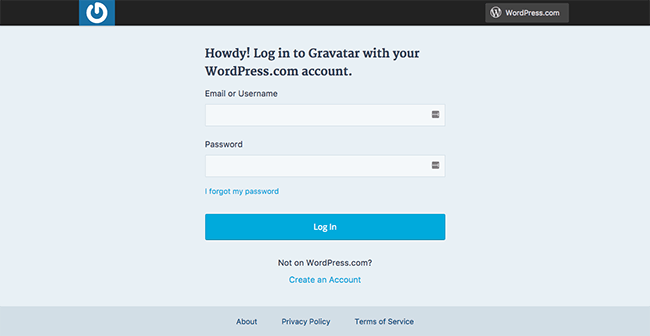 If you have never created an account for the hosted version of WordPress (see the difference between hosted WordPress.org vs WordPress.com), then you need to click on Create an account below. Enter the email address you use for your regular website, the desired username, and a password before clicking on the Sign up button.
You'll receive an email containing a link to verify your email account after which you can safely go back to Gravatar and click on Sign In. Enter the email account you used to create your WordPress account, along with the password, and you'll be inside your Gravatar account.
2. Manage Gravatars
The next step is to add an image that will accompany your email account and serve as your online identity. Click on Add one by clicking here.
On the next screen, you can choose an image from your computer, from the Internet, upload a picture from your webcam, or use one of your previously uploaded images. Select the appropriate location where your image is stored and click Next.

You'll be able to crop your image and then you will need to choose the rating for your avatar. Keep in mind that most websites won't allow a gravatar that's been rated R or X so be careful here.

Once you're done, your email address will be associated with the image you just uploaded. From here, you can add another email address or upload another picture.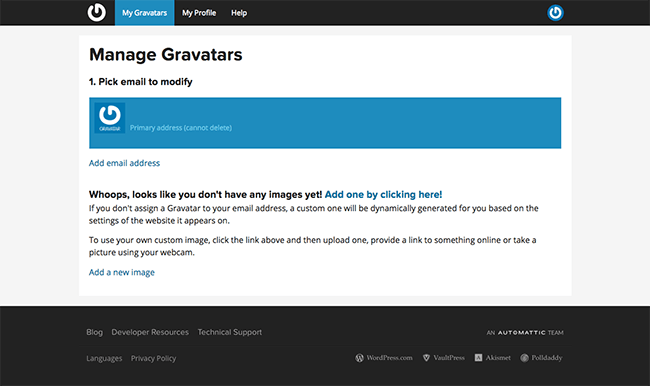 There is just one more step we need to complete, and that is filling out your Gravatar profile.
3. Create a Gravatar Profile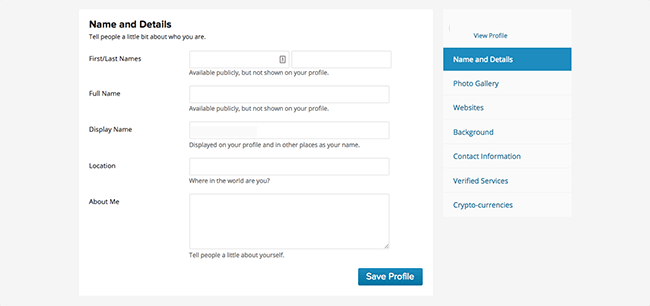 Whenever someone clicks on your Gravatar image, they can see brief information about you and click to access more information on your Gravatar profile. It's a handy way of sharing the links to your other profiles and a brief biography.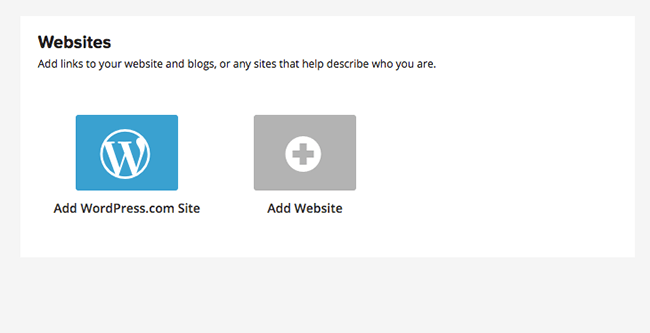 To edit your profile, click on the My Profile link at the top. Start by filling out your basic contact details such as your full name, location, and add a short description of yourself.
You can then add links to your website as well as connect your Gravatar account with additional services such as Blogger, FourSquare, Twitter, Facebook, and more. If you're trying to grow your website's traffic or grow your business, this is a nice way of keeping all the information in one place so people can easily follow you elsewhere.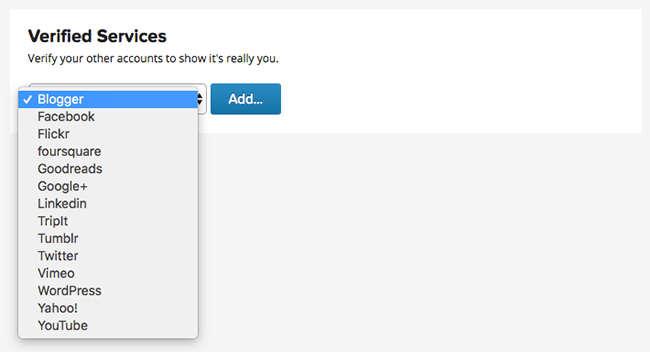 When you're done entering all the information, click on Save Profile. And that's it! You've now successfully created a Gravatar.
Final Thoughts
All things considered, a Gravatar is useful for adding a unique visual image of yourself that makes it possible for others to recognize you across the Internet. If you're trying to build a personal brand, adding your photo goes a long way to building your credibility instantly. And if you're a business owner looking to establish a brand online, using a company logo will do the same thing for associating a product with your business.
Given the fact that more and more services and websites support the use of Gravatars, there is no reason to sign up and start using one yourself. On top of helping you build brand recognition and the possibility of driving traffic to your website, they are also simple and free to use.
Do you use a Gravatar? Leave a comment and show us what your Gravatar looks like!