Once you start approaching the $100 mark, WordPress themes can be considered expensive. I'm going to cover ten of the most expensive WordPress themes across a variety of niches. I've skipped a few of the premium themes in this price range just so one niche didn't dominate the roundup. WordPress founder, Matt Mullenweg's Automattic is leading the chase here. As the developer of seven of the themes in our list, Automattic is doing rather well in the premium WordPress theme market.
Each of these themes is responsive, as would be expected, so they'll all look great on mobile devices and tablets.
The first 7 themes are for WordPress.com and the remaining 4 are for WordPress.org.
What's the difference?
If speed of deployment and being 100% free is important, WordPress.com is the answer. With free hosting services and thousands of free themes to pick from, the only caveat is that you domain URL will resemble domainname.wordpress.com. There are also various upgrade plans, but if you expect your website to be mainly used for blogging, and you're not concerned with the fact that you domain will be a subdomain of wordpress.com, then this is an option.
WordPress.com also offers some upgrade options. For a small annual fee ($24), you can drop the "WordPress" from your blog's URL. WordPress manages hosting, security and all the other maintenance for all WordPress hosted sites.
If you need to launch a full-fledged and self-hosted website where you have ultimate control, WordPress.org is the solution you're looking for.  The software itself is free to use and you can choose from thousands of themes and plugins, both, free and paid. The drawback is that you'll be responsible for your site's hosting and maintenance, and on occasion security, customizations and fixing what's broken. Creating a site with WordPress.org gives you absolute control over all the aspects of your site in exchange for having to perform a little more work.
To summarize:
WordPress.com is more like a free hosting service for WordPress blogs while WordPress.org is a powerful, free, and open source software that's capable of forming the foundation of almost any website you can imagine.
You'll find lots of people advocating WordPress.org, but ti really comes down to your personal requirements. WordPress.com is equally impressive and you can check out some stats here.
Premium Themes for WordPress.com Users:
1. Blog Simple ($88)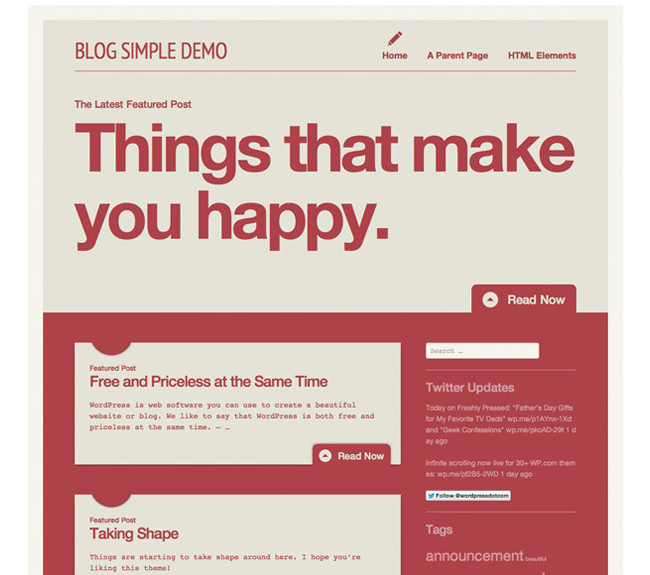 Blog Simple is a beautiful blogging theme from Automattic. As of now, its also the most expensive blogging theme in the premium WordPress store. Blog Simple comes packed with 4 default color schemes, but you may use any color of your choice. It is designed exclusively for bloggers – restricting the design to a simple 2 column and 2 color style.
Also, your latest post is displayed as the featured post, in case you haven't set up a sticky post.
2. Just Desserts ($125)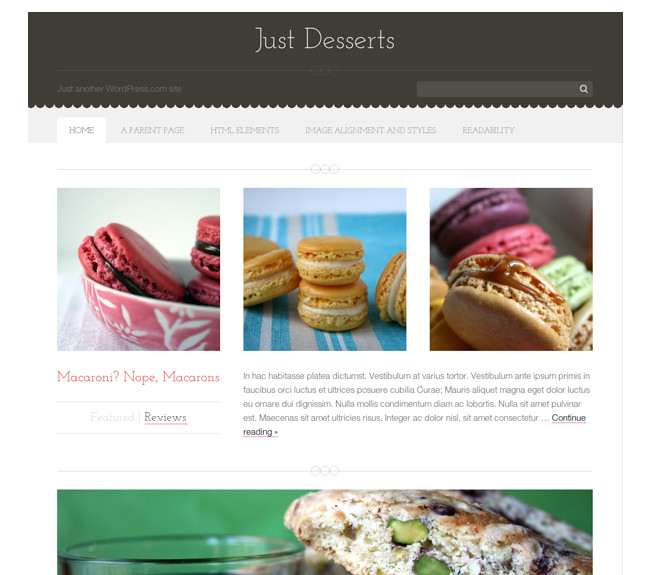 This theme is yummy with its single column layout and delicious display. Aimed at food bloggers, Just Desserts can bring your food blog to life. It has a convenient search bar placed in the top right so your readers won't waste any time searching for their favorite recipes. Also, along with Facebook, Twitter, and Google+, Just Desserts also has a default button for Pinterest – something that's essential to any food blogger. Pinterest is known for its massive female audience as well as being a hangout for food bloggers and lovers. The demo displays the use of this feature quite nicely.
There is also a dedicated excerpt module where you can place the content that you wish to have featured on the front page. If a cooking blog is something you're looking for, this theme is worth checking out.
3. Business Identity ($175)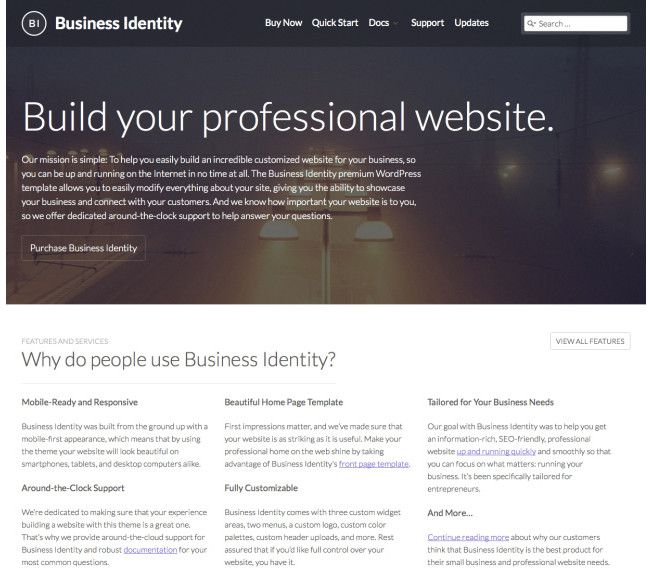 This is another premium corporate theme from Automattic – your business can't go wrong with a homepage like this. There are a lot of great features with this theme but here's some of what really stands out:
Business Identity has a feature-rich, critical information packed homepage template that will help your business build a brand. Additional key feature include introducing your team, a location map in the footer area, and the ability to share client testimonials. Whatever you need, Business Identity has you covered. While the price may be a little less than impressive, the easy customizations and flexible layouts are sleek and easy to set-up and you'll be able to produce impressive results with this theme. On the demo page, you can find customer raving about how easy setting up a business website can be with the Business Identity theme.
4. Elemin ($125)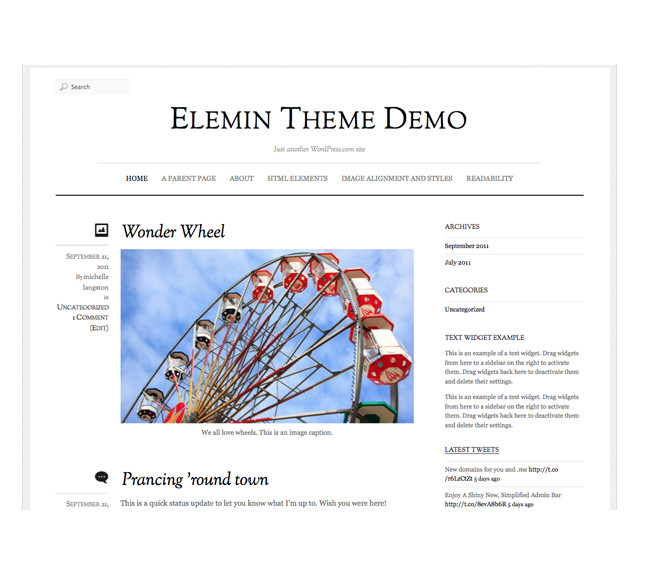 Here's a minimalist theme with a not so minimalist price. Elemin comes from Automattic (again) and offers a beautiful minimalist design. Even as the demo loads, you can't miss the elegant typography and awesome use of white spaces. Elemin comes in 9 beautiful color schemes and provides two options for displaying your posts. You can either choose a single column layout or the two column option plus you'll have the option of adding sidebars. Elemin offers two custom menu areas placed within the header and the footer. As well, the footer contains 3 convenient widget areas.
As with most minimalist themes, you're paying primarily for a well-designed layout, effective use of white space and beautiful typography.
This theme is ideal for photography, travel, and portfolio blogs – its simple design keeps the spotlight on your work.
5. Poly ($125)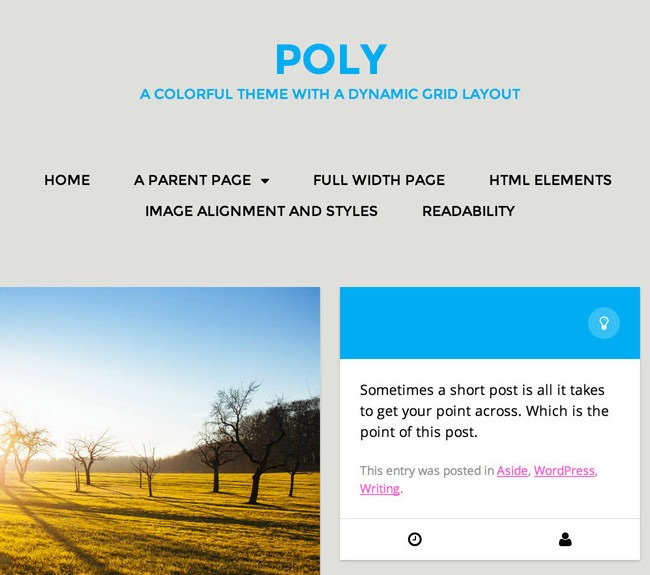 Branded as being a colorful WordPress theme with a dynamic grid layout, Poly is another theme from Automattic. You'll be able to create a visually appealing website using the dynamic grid feature. This theme is a great upgrade option for those looking to create photography or portfolio sites. Poly, by default, sports social media buttons and search functionality within its header. It also comes with a single full-page-width layout and supports multiple post formats. Each post format comes with a different identifier icon.
What I like best about Poly is that it filters your posts based on their type.If a user clicks on the top right icon on any post, he is directed to a page with all the posts of that type. This is a really neat feature. A user who's a fan of your image posts can view all of them at once. This is possible for each type of post – audio, video, image, quote, link, and others.
The Poly theme also features a custom background, custom header, and colors.
6. Forefront ($100)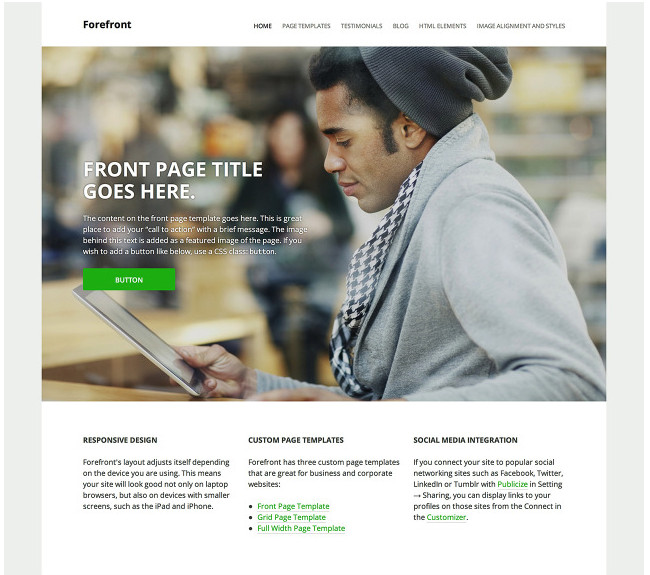 Forefront is another premium business theme from Automattic. With 3 custom page templates, Forefront can be used to set up a high-impact corporate site quickly and efficiently. The front page template can gracefully accommodate a full leading image, 3 widgets, testimonials and a call to action. Forefront comes with 4 widget areas. These are present within the sidebar, footer, and within the front page template.  To see what I'm talking about just check out the demo. Forefront features a custom CTA on the homepage. To introduce your team members, services or product information,  Forefront offers a simple grid layout template. And if that doesn't suit your needs, there's also a full-width page layout that lets you add images or maps along with nay other content you desire.
7.Espresso ($125)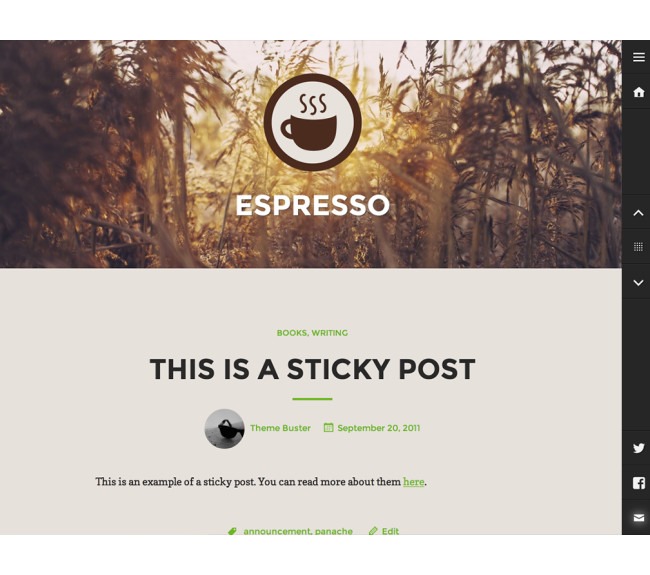 Automattic's Espresso has been around since 2014 but it still offers a bold look and an impressive slide-out sidebar. You can scroll through the site using the navigation buttons in the right sidebar which also offer a place for your social links directly under the navigation buttons. Readers can decide how they prefer to navigate through your site since the menu provides two options for viewing the posts. Your readers can opt in to the grid or the list style depending on their personal preferences. A custom background, header, menu and colors are all part of the package.
Premium Themes for WordPress.org Users:
8. Foundation ($99 subscription)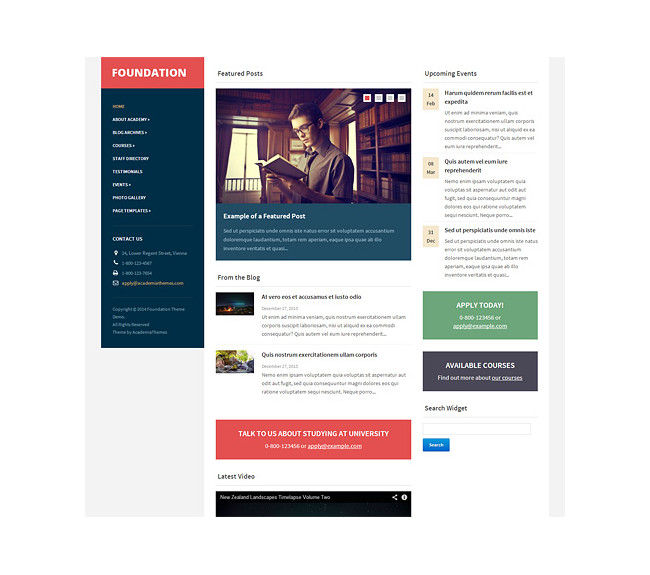 Foundation comes from Academia Themes. It's a flexible theme used for creating academic and institutional sites. With Foundation's pre-built templates, you can share information about your teachers, courses, events and campus very conveniently. For obvious reasons, a search bar has been included in the top section – this template can pack a ton of information. Students will be able to search for programs and courses quickly and easily. Foundation comes with 4 color schemes plus you can pick your own colors if you're not happy with the pre-built options. Foundation has a fast loading 3-column layout that help improve your search engine rankings.
Academic or organizational websites should ideally support multiple languages and Foundation is up to the task. You can also use Foundation in your own language as a default option since it's translation ready.
With Foundation, you can offer rich content without the fear of cluttering your site's appearance.
If you head over to Hermes themes, you'll find a bunch of 9 of the most expensive WordPress themes. They are all within the hotel niche. I'm listing out one of them here. But if you are looking to create a hotel website with WordPress, do stop by these wonderful themes.
9. Belafonte ($99)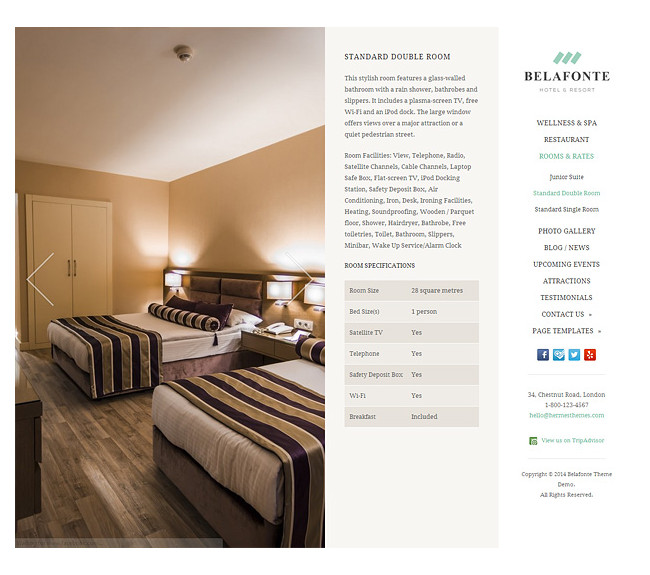 Belafonte from Hermes Themes is a powerful themes that you can use to create an amazing hotel site. This theme uses beautiful images to captivate visitors and includes a huge slider on the homepage that displays some of your best shots – guaranteed to get your readers excited about travel. Belafonte comes with attractive sidebar navigation that includes social media icons within the sidebar as well as the all-important contact information and address. Widgets places in your right sidebar are optional in case you feel the need to add something else. This theme has multiple pre-designed layouts for both posts and pages. Just add your content and details to them and you are ready to go.
We need to include a special mention for the events module.  You can use this to feature upcoming events on your site.  Belafonte supports multiple languages and is translation ready. It has a dedicated SEO section as well, where you can fill in the relevant tags and keywords.
10. Elementary ($99 subscription)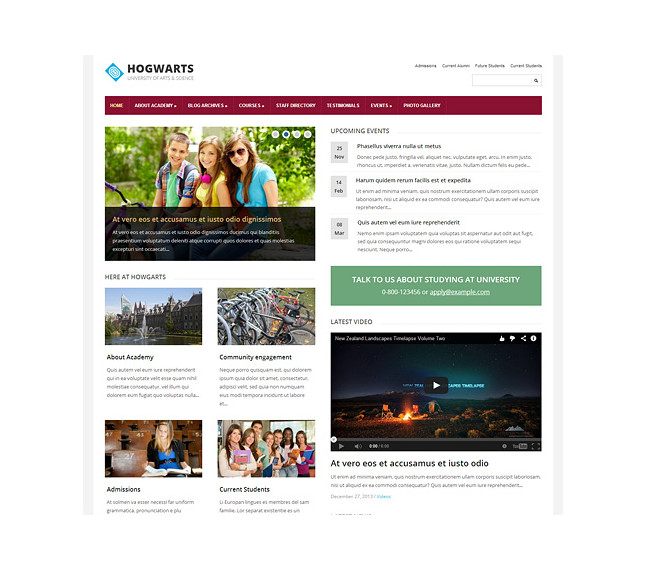 Elementary again comes from Academia Themes. It sports a simple 2-column layout and is ideal for school and college websites. Elementary takes care of all the information that a school's visitors would expect. Its templates have been designed keeping in mind the typical audience for a school or college. You can fill in information about both your staff and courses in the ready-to-use templates. You can also provide prospective students with a real feel for your campus by using Elementary's image based gallery template. Since student testimonials are so important, there's a built-in testimonials layout as well.
Testimonials, photo galleries and upcoming events can also be conveniently added by using widgets.
11. Startup Framework for WordPress ($249)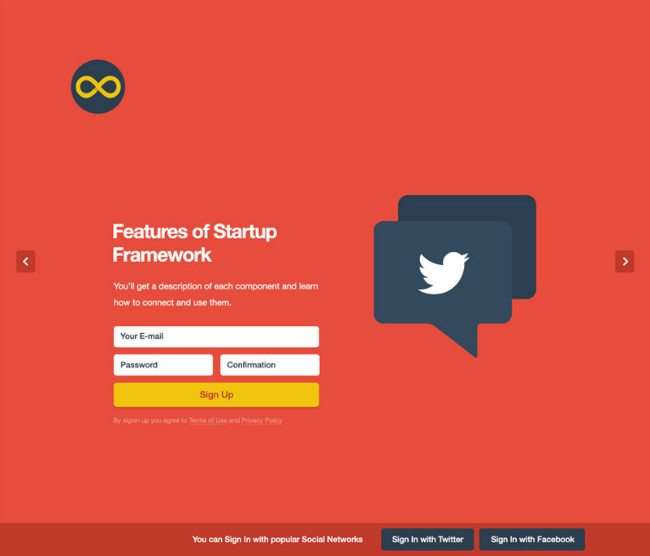 Startup Framework is a drag and drop framework, which comes with a ton of different pre-designed HTML elements that can be used to create a custom website. By stacking together different blocks, you can create just any type of website to suit your needs and configurations using DesignModo's startup framework.
This theme is best suited for those who want to be able to easily create a wide range of different sites without having to worry about the cost.
View Demo More Details (see the deal)
If you visit these DesignModo, their videos and demos do a great job highlighting the features that make this framework so great. The Startup Framework is flexible and allows you to achieve a variety of amazing results with relative ease – coding and design skills are not required which means rapid deployment are is possible.