When you run a website on Blogger you may start to realize that it doesn't have all the customization options that you can find on WordPress. Sure, Blogger has some nice widgets and addons, but in the long run, you don't actually own the website on Blogger.
Blogger owns your site, hosts it on their servers and maintains it for you. In short, if you truly want to make money with your site and drastically increase the amount of customization options, you should move your site to WordPress.org.
Besides being able to choose your own domain name and backup your own website, WordPress.org provides various other options that we won't talk about in this tutorial. However, this comparison is a nice place to start if you are interested in learning more.
Using the One Click Migration Tool
Yes, WordPress offers a simple one-click tool that lets you move all of your posts and comments from Blogger to the new WordPress blog, but it leaves a few things out:
If you currently have a readership following, none of these readers will know about your new website. In fact, you might end up losing them all if you plan on making the move.
Since the one-click migration doesn't make any changes to your old site, any links that lead people to your old site are useless. So, if you had a guest post on a credible blog then people who click-through will end up at your old site.
Since the permalinks change when you make the move from Blogger to WordPress.org you lose all the SEO juice you had before. Why? If you added some nice keywords and worked on improving your SEO for some of your posts and pages the search engines will simply start over with the new site, thinking it is brand new and not transferred.
Move from Blogger.com to WordPress.org
Since all of these points raise valid concerns for people who want to migrate from Blogger to WordPress.org, this tutorial walks you through a process that helps you maintain users, SEO and links back to your site.
Step 1: Grab a Quality Web Host
The first part of moving your site over is to choose a web hosting company that holds the database and content from your site. Bluehost is a nice option, but you can check out our guide on how to choose the best web host for your needs.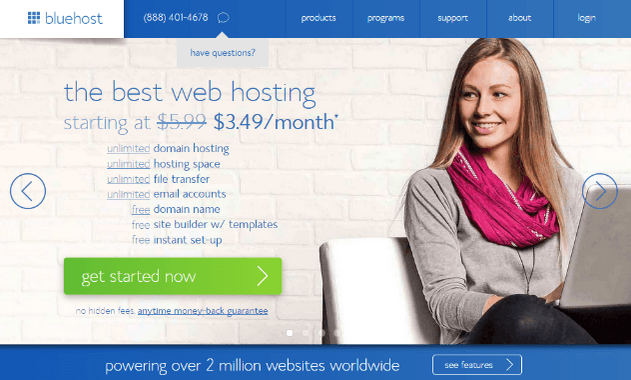 Web hosts give the option to put a few domains on each plan and to manage the databases on these websites. They typically charge a monthly or yearly rate and you can always check in with the support teams in case you have any questions.
Step 2: Install WordPress on That Host
To install WordPress on that hosting account, you basically just signup for your hosting plan, make the payment and most of the web hosting companies offer one-click installation buttons to put WordPress.org on the servers. You also choose a domain name during this process or move a previously purchased domain to the hosting account.
Use our WordPress installation guide to get this process done in a matter of minutes.
Step 3: Import Your Blogger Site Into the New WordPress Site
It's now time to bring all the content you previously had on your Blogger site and move it to the WordPress site. Everything in this step is managed through the WordPress dashboard, so you don't even need to have your Blogger backend open.
Start by logging into your WordPress.org dashboard and clicking on the Tools tab on the left hand side. This brings up a few options to choose from. Select the Import tab to move forward.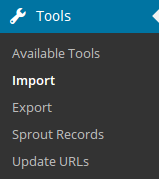 This brings you to the Import page where you can select the very first option on the page. Click on the Blogger link.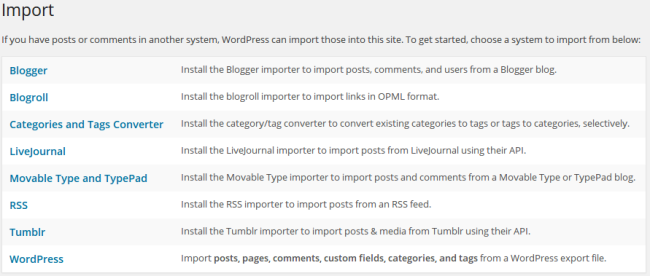 This makes you install and activate a plugin called Blogger Importer. Click on the Install Now button and hit the Activate Plugin and Run Importer link when it shows up on the next page.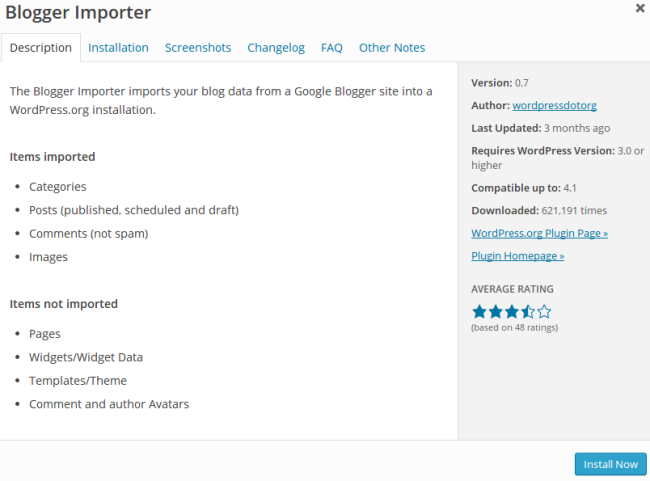 Click on the Authorize button to indicate that you are about to tell WordPress which Blogger website you want to import. This sends you to a page that asks you to connect with the Google account that is connected to your Blogger page. Login to the proper Google account and click on the Allow Access button on the following page.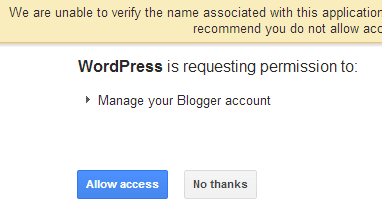 You will then see a list of all the Blogger sites associated with this Google account. Find the one that you want to move over to WordPress.org and see if the comments, images, posts and links look right in terms of numbers.
Click on the Import button 

After this process is complete you can assign a user to this content that comes into your site. Feel free to create a brand new user or choose one that you already created on your WordPress site. I would recommend making a user that you plan on remembering.
Now that you have most of your content transferred over we need to ensure that the SEO is not affected and that your users see that you have a new site.
Step 4: Make Sure Your Permalinks Are Set
Take a look at your old Blogger website and click on one of the pages or posts. Look at the URL of that page or post and take note of what it looks like.
A permalink is basically the way your URLs are setup, so some website have dates in the URLs, while others just pull the name of the post. Regardless, a wise course of action is to make the new permalinks look similar to what you had on your old Blogger site, since this can help search engines realize that you just transferred over your content.
Go to the Settings tab on the left hand side of your WordPress dashboard, and click on the Permalinks option.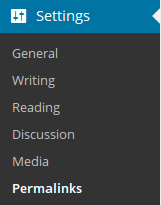 Although I'm not a huge fan of this practice, Blogger typically makes its URLs in the Month and Name format, so if this is the case for your Blogger website, choose the Month and Name Option in your WordPress dashboard.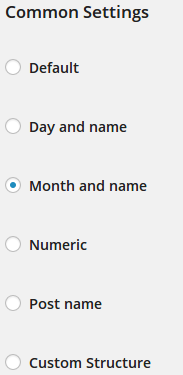 Step 5: Keep SEO and Users Around with a Redirect
Unfortunately, when you move a website from Blogger to WordPress.org, it leaves your old users in the dust. If someone goes to your old site they won't be able to find your new site. The same goes for the search engines. Google simply thinks that you stopped using your old site and the WordPress site is a completely new one, so it doesn't correlate the old SEO with the new site.
This is no good, since you probably tried to improve your SEO a little bit with your old site. How do you solve this problem? With a redirect from your old site. There are two types of redirects you want to complete with this step:
One that sends people to the new site from your old one
Another that sends people to the correct page if they click on a certain page on your old site (ie. If they click on the About page, you want them to land on the new About page and not just the new Homepage)
To start, let's setup the first redirection from your Blogger website. Login to your old Blogger website, and click on the Template option on the left hand side of the interface.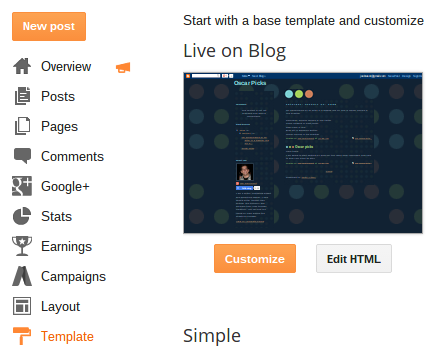 Scroll down to the very bottom of the page and click on the Revert to Classic Templates link.

Find the Edit Template HTML area. This is where you need to modify a little code.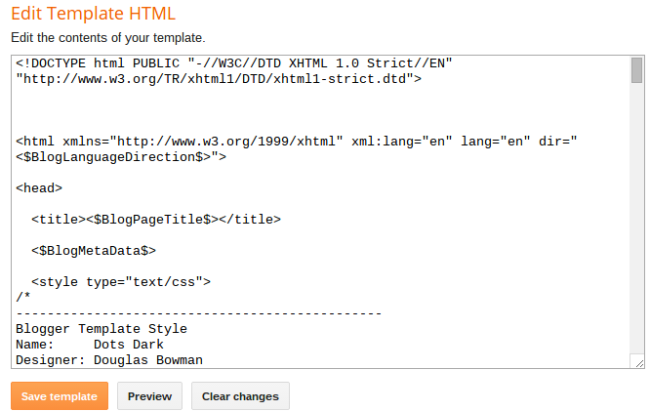 Select all the code you see in this area and replace it with the code you see below:
<!DOCTYPE html PUBLIC "-//W3C//DTD XHTML 1.0 Strict//EN" "http://www.w3.org/TR/xhtml1/DTD/xhtml1-strict.dtd">
<html xmlns="http://www.w3.org/1999/xhtml" xml:lang="en" lang="en" dir="<$BlogLanguageDirection$>">
<head>
<title><$BlogPageTitle$></title>
<script type="text/javascript">
<MainOrArchivePage>
window.location.href='http://www.mysite.com/'
</MainOrArchivePage>
<Blogger><ItemPage>
window.location.href='http://www.mysite.com/blogger/?q=<$BlogItemPermalinkURL$>'
</ItemPage></Blogger>
</script>
<MainPage><link rel="canonical" href="http://www.mysite.com/" /></MainPage>
<Blogger><ItemPage>
<link rel="canonical" href="http://www.mysite.com/<$BlogItemPermalinkURL$>" />
</ItemPage></Blogger>
</head><body>
<div style="border:#ccc 1px solid; background:#eee; padding:20px; margin:80px;">
<p>This page has moved to a new address.</p>
<h1>
<MainOrArchivePage><a href="http://www.mysite.com"><$BlogTitle$></a></MainOrArchivePage>
<Blogger><ItemPage>
<a href="http://www.mysite.com/<$BlogItemPermalinkURL$>"><$BlogItemTitle$></a>
</ItemPage></Blogger>
</h1>
</div> </body></html>
<!– replace mysite.com with your WordPress site URL —>
You'll notice that this code includes a few instances of "mysite.com." Replace all of these with the URL of your new WordPress website. After you do this it ensures that the search engines and users are sent to your new site when they land on the old site. Make sure you click on the Save Template button after copying in the code.
That's all fine and dandy, but what about when someone clicks on a certain page? We don't want everyone to end up on the Homepage when they aren't looking for it.
In order for this to work you need to create a brand new text file on your computer. Use a program like Notepad to complete this. Name the file something like wpkube-blogger.php, or something you can remember.
Take the following code and paste it into this new file (Feel free to change the Template Name):

<!DOCTYPE html PUBLIC "-//W3C//DTD XHTML 1.0 Strict//EN" "http://www.w3.org/TR/xhtml1/DTD/xhtml1-strict.dtd">
<html xmlns="http://www.w3.org/1999/xhtml" xml:lang="en" lang="en" dir="<$BlogLanguageDirection$>">
<head>
<title><$BlogPageTitle$></title>
<script type="text/javascript">
<MainOrArchivePage>
window.location.href='http://www.mysite.com/'
</MainOrArchivePage>
<Blogger><ItemPage>
window.location.href='http://www.mysite.com/blogger/?q=<$BlogItemPermalinkURL$>'
</ItemPage></Blogger>
</script>
<MainPage><link rel="canonical" href="http://www.mysite.com/" /></MainPage>
<Blogger><ItemPage>
<link rel="canonical" href="http://www.mysite.com/<$BlogItemPermalinkURL$>" />
</ItemPage></Blogger>
</head><body>
<div style="border:#ccc 1px solid; background:#eee; padding:20px; margin:80px;">
<p>This page has moved to a new address.</p>
<h1>
<MainOrArchivePage><a href="http://www.mysite.com"><$BlogTitle$></a></MainOrArchivePage>
<Blogger><ItemPage>
<a href="http://www.mysite.com/<$BlogItemPermalinkURL$>"><$BlogItemTitle$></a>
</ItemPage></Blogger>
</h1>
</div> </body></html>
<!– replace mysite.com with your WordPress site URL —>

Save this file to your computer and find an FTP client like FileZilla. This is a program you can use to upload files to your theme directory.
Locate the theme directory and upload the file there. Once FileZilla is done doing its work, go to your WordPress dashboard and create a new page. Name the page "blogger." By this I mean type in "blogger" in the title field, without the quotes.
Look to the right side of the page, under Page Attributes, to find the Templates dropdown menu. Click on the dropdown menu to find the name of the file you created and uploaded. For example, it would be called WPKube Blogger or something else if you opted to change the name from before.
Select that template and click on the Publish button to finish this process. Now the search engines and old users will land on the right pages when redirected from the old site!
Step 6: Move Your Feeds to a Redirect as Well
On Blogger people can opt to subscribe to a feed, meaning they receive emails whenever you publish a new blog post. Unfortunately, many of these people don't actually visit your site since they get the content in their email inboxes.
This means that none of these readers see that you moved your blog to another site. There are two options for this. First, you could send everyone an email to warn them about the change.
The second, more foolproof option, is to simply redirect your feed so these subscribers get the content from the new site sent to their email inboxes.
Login to your Blogger account again, and go to the site you migrated. Click on the Settings tab. Under Settings, click on the Other link. This reveals an area called Site Feed, where you can paste in the URL to your WordPress site feed. Click the Save Settings button after that so that all your feed subscribers now get the new site content.

Step 7: Move Your Images from Blogger to WordPress.org
Although some of your images get transferred over in the previous steps, some of them may stick behind on your Blogger website. Why? Some images are hosted on Blogger, so you need to make it so they are hosted on your new site. Otherwise you will just get a bunch of broken images.
Login to your WordPress site. Download and activate the Import External Images plugin. Once the plugin is activated, go to Media > Import images on the left hand side of your dashboard.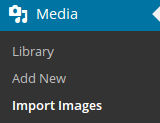 Make sure you select All Images.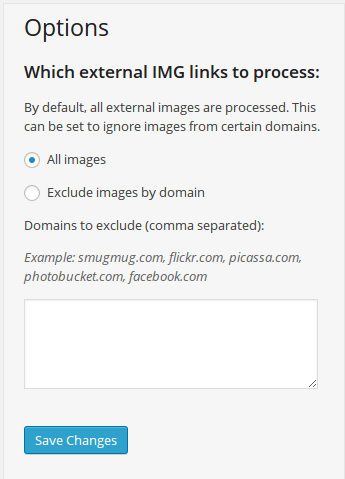 By default the plugin looks at the links on each image in your current posts and makes local copies of them. If they are not hosted on the new site then it will make a copy and save it on your computer. Then, it converts them for your current site.
It tells you how many images are available for import. After that just click on the Import Images Now button and you are good to go. The plugin is pretty powerful so you can exclude images if you want or do them one by one, just in case there are some images you don't need.
That's it! We hope this tutorial helped you switch from blogging to WordPress the right way. Take a look at our beginner's guide section, WordPress tutorials, and our free WordPress themes to learn more about WordPress.
If you have any questions about how to move from Blogger.com to WordPress.org let us know in the comments section below. If you are having any problems with the migration, don't hesitate to contact us.