RSS feeds are a great way to simplify and congregate all of the great content that can be found on the internet today. And, since most successful website owners aim to provide their loyal followers highly valuable content related to their industry, RSS feeds offer an excellent opportunity to do just that.
Maybe you don't have enough time to craft as much killer content as you want on a regular basis, but still want to keep your loyal followers in the know. Or, maybe you run an aggregate website where all you do is provide site visitors the best of the best when it comes to content related to their favorite topics.
Better yet, maybe you just want to boost your authority and establish yourself as a reputable brand that gives not only unique content of your own, but that of other reputable authorities in the industry as well.
In the end, it doesn't matter why you want to share content from other parts of the web directly on your WordPress website. The point is, there are some exceptional RSS feed WordPress plugins that give you all the features and tools needed to create beautiful, highly functioning feeds on your website.
Today, we are going to look at 4 of the best WordPress RSS feed plugins on the market.

WP RSS Aggregator is one of the most widely used RSS feed plugins on the market today. It provides website owners an easy way to set up feeds on your website. Simply configure the settings, add your feed sources, and click Publish. As a result, your website is now a well-rounded hub giving site visitors access to the best content around.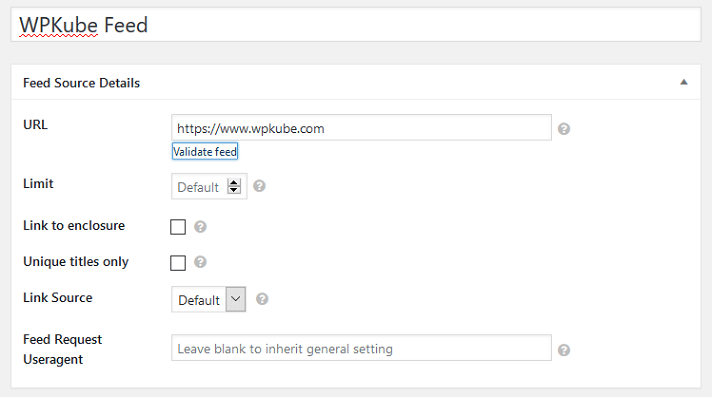 After creating a new feed, you see all of your website's feed sources, along with information like when the next update will occur, when it was last updated, and how many items were imported on the last update.

Next, to display your feeds to site visitors, simply navigate to a post or page and use the built-in shortcode generator. Select which feeds you want to exclude, if any, and select Add Shortcode.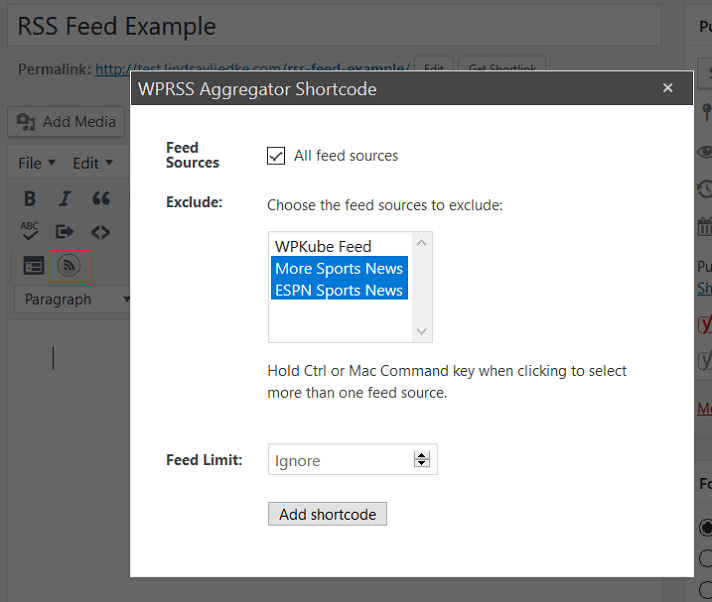 This is what your site will look like after publishing you page or post: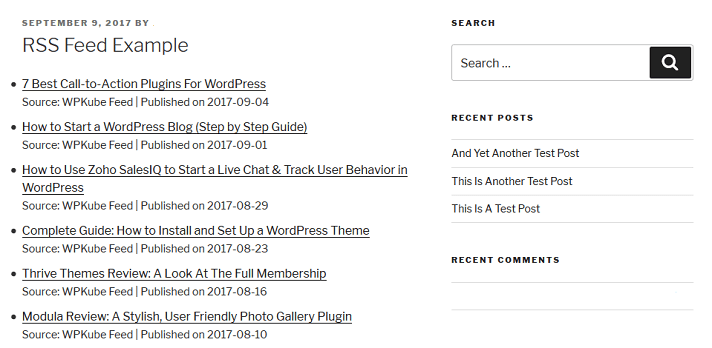 Additional features of WP RSS Aggregator include:
Import unique titles only
Limit feed items per feed source
Style the feed display
Create a custom RSS feed
Multilingual ready
Blacklist selected feed items
Show original author's name
Set all feed items as no follow
Price: FREE

FEEDZY RSS Feeds Lite is a lightweight RSS aggregator plugin designed to give you an easy way to integrate multiple RSS feeds in your WordPress website. Using customizable shortcodes and widgets, you will be sharing news stories from all over in a few simple clicks.
After installing the plugin, all you have to do is open the post or page you want to display feeds on. Then, click on the built-in FEEDZY icon located in the WordPress editor.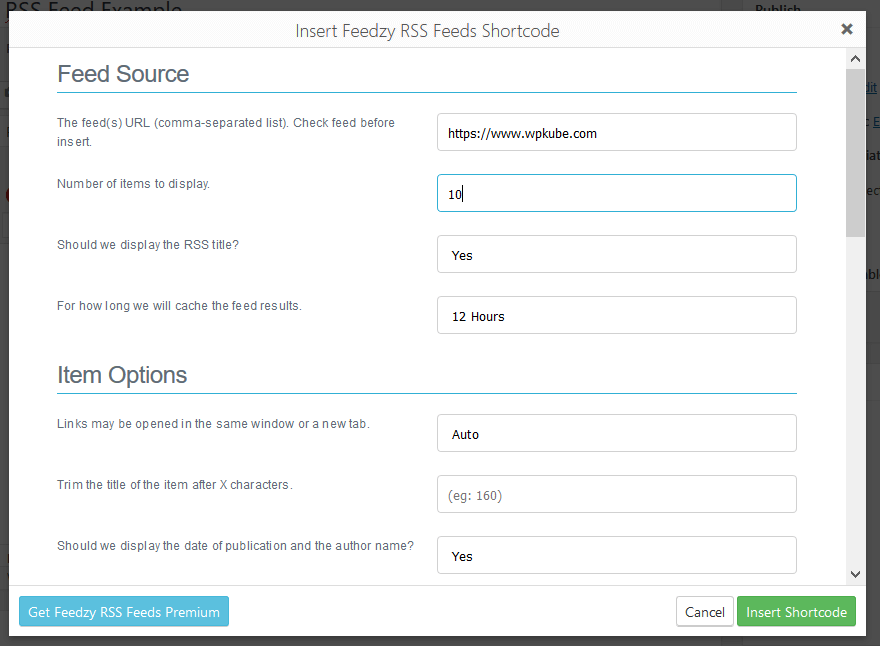 Insert the feed source URLs you want to include, configure a few settings such as number of items to display, the RSS title, how long to cache feed results, and whether to include the publication date and author. Then select Insert Shortcode.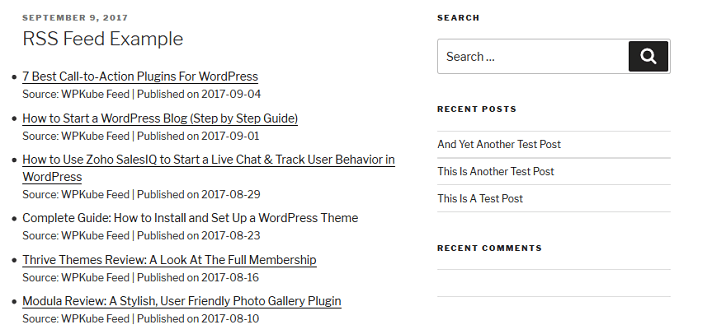 Additional features of FEEDZY RSS Feeds Lite include:
Full cache control
Category groupings
Full widget support
Cover pictures insert into feeds for easy image grabs
Full customization including thumbnail images, article length, and summaries
Aggregate multiple feeds together
Price: FREE

RSSImport lets you display RSS feeds using PHP, a widget, or a shortcode. This straightforward WordPress RSS feed plugin is hassle free, runs efficiently, and shares other content with your site visitors in a few simple clicks.
To add an RSS feed to your post or page, use this shortcode:

Unlike the other RSS feed plugins, there is no shortcode generator with this plugin. However, all you have to do is simply enter the RSS feed URL in the appropriate section and publish your post or page.

Additional features of RSSImport include:
Additional shortcode parameters for customizations
Translation into several languages
Simple drag & drop of RSSImport button to widget areas and configure sections
Simplicity makes for a lightweight, hassle free plugin
Price: FREE

FeedWordPress syndicates content from external feed sources and integrates them onto your WordPress website as a series of special posts.  This easy to use plugin comes with flexibility, functionality, and the ability to create cron jobs on your web host if you prefer (though it is not required).
To start, syndicate the sites you want to include on your website by adding one URL per line.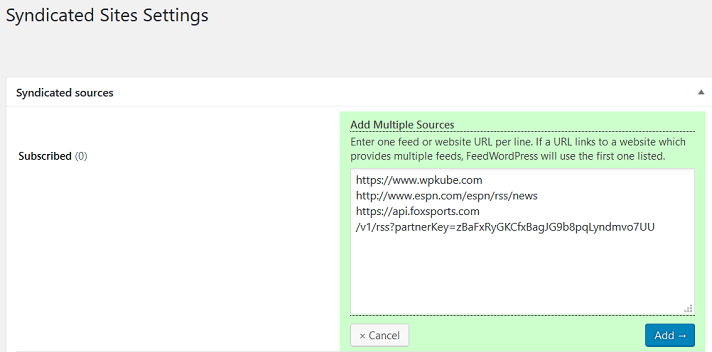 You can also configure multiple settings such as:
Feeds. Define titles, descriptions, and homepages when changes occur. In addition, set time limits on updates, fetch updates, and whether feeds will delete posts or not.
Posts. Determine whether you want feed sources to post automatically or if you'd like to review them, whether to point permalinks to the original source, and whether you want to allow comments or pings.
Authors. Decide how you want to handle syndication authors, old and new.
Categories. Create categories and tags to match syndicated sources to for an improved user experience.
In addition, you can define how to cache your feed sources and configure diagnostics, as well as run diagnostic tests if need be.
Once you have everything configured, you will see in your post's queue all of the sources that have been published as separate, special posts.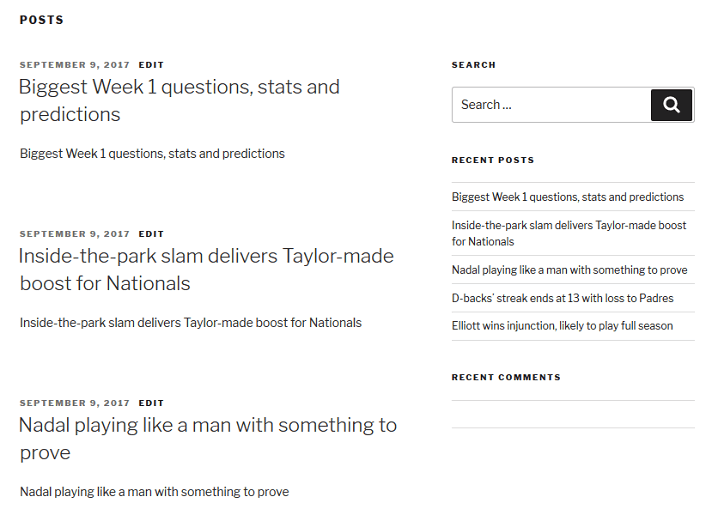 Additional features of FeedWordPress include:
Utilize the WordPress template system to display feed sources
Assign categories, tags, and SEO meta data as you would any other post
Add attribution to syndicated posts
Limit posts by date
Limit size of posts
Automatically strip HTML tags from the body of posts
Open links in new pages
Price: FREE
Final Thoughts
In the end, there are several exceptional options available to you, free of charge, for implementing RSS feeds onto your WordPress website. And, since all of the most popular WP RSS Feed pluigns have different, and helpful, features for sharing content from multiple sources on your website, there is sure to be an RSS solution for you.
If you are looking for a way to supplement your existing website's content, run a syndicated website with the best feed sources in your industry, or simply want to add some more value to your blog so site visitors continue to come back for more, consider using on the above-mentioned RSS feed plugins and start importing feed sources right away.
Have you ever used any of the above WordPress RSS feed plugins? Do you feel adding an RSS feed to your website enhances it? I would love to hear all about it I the comments below!