Good hosting doesn't have to cost the earth. We're happy to offer WPKube readers up to 77% off GreenGeeks eco-friendly shared web hosting plans with our GreenGeeks coupon.
If you're ready to get the discount and sign up for your cheap and green hosting package, click here to go to GreenGeeks. The discount should be automatically applied.
If you want to find out more about GreenGeeks and their web hosting packages, keep reading to get all the details.
What is GreenGeeks?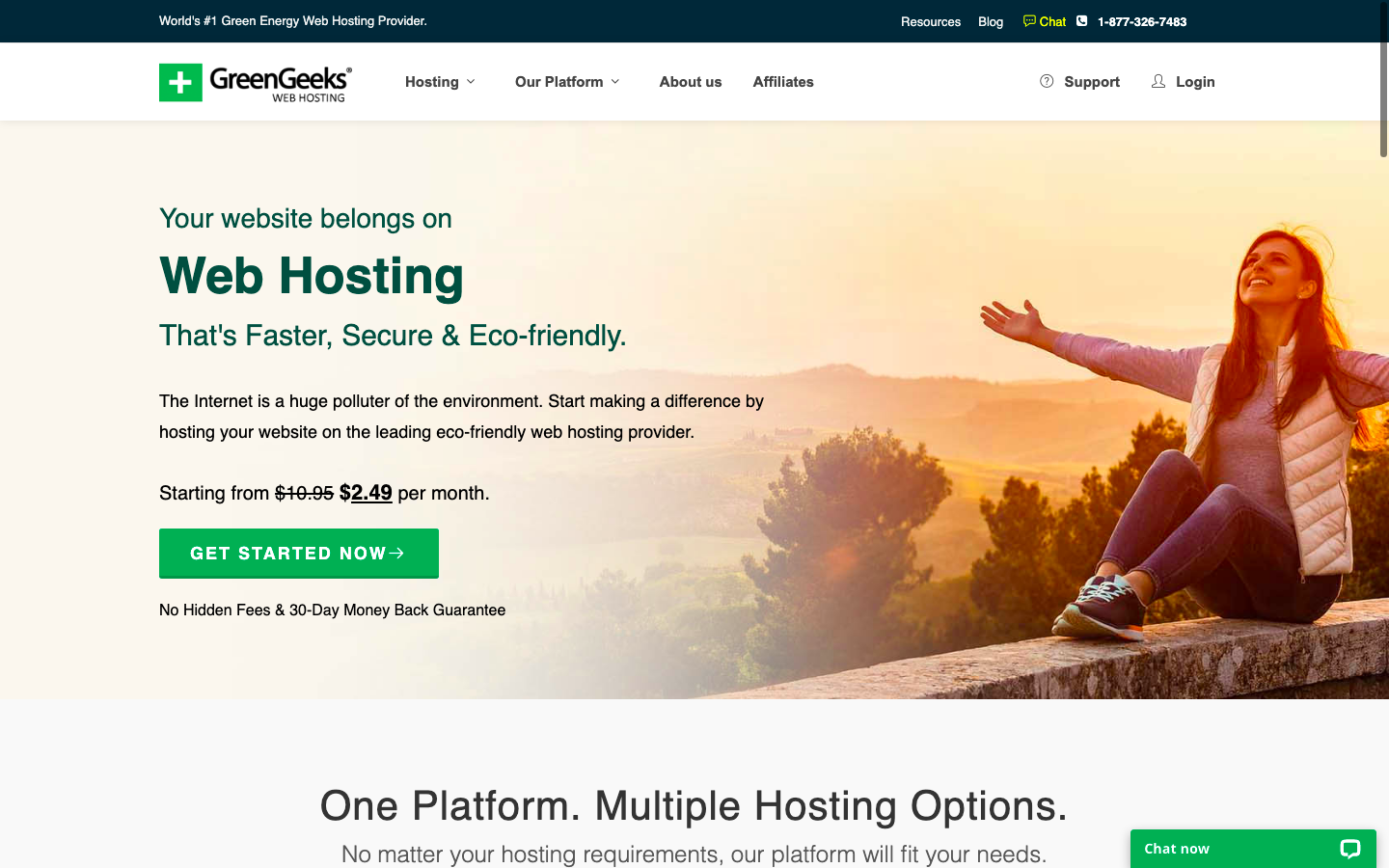 GreenGeeks was one of the first web hosting companies to offer eco-friendly "green" hosting.
Web hosting and internet technologies, in general, have a high impact on the environment because it takes a lot of energy to keep servers and data centers running.
As well as the huge amounts of electricity needed to power these servers, even more energy goes into keeping them cool.
Data centers currently account for around 2% of the world's carbon emissions, which is as much as the airline industry.
When the founder of GreenGeeks heard about the damaging effect of web hosting on the environment, he pledged to come up with a solution.
GreenGeeks was created to be the world's most eco-friendly hosting company. It uses energy-efficient technology in its data centers
The company also calculates its yearly energy expenditure and carbon footprint and then putting back this energy into the grid, plus extra, in the form of sustainable, green energy from wind farms and other renewable sources.
When you buy web hosting from GreenGeeks, you are guaranteed a 300% green energy match. This means that the amount of energy used in keeping your website running is matched 3 x with renewable energy credits.
But GreenGeeks is not just a host for eco-warriors who value "green" credentials over the quality of the service. It consistently receives great user reviews for its customer service and value for money and scores highly in performance tests.
You can read our full review of GreenGeeks hosting here and see how it compares to other hosts in our rundown of the Best WordPress Hosting providers.
GreenGeeks Eco-Friendly Web Hosting Features
There are hundreds of web hosting companies to choose from but GreenGeeks has done a great job of offering a feature-rich hosting service at a very affordable price.
In fact, GreenGeeks made it into our list of the best WordPress hosting providers this year, an accomplishment shared by only 8 other hosting companies.
Some of the features that make their hosting plans such an attractive choice include:
Multiple hosting types
Wherever you are with your website, GreenGeeks has hosting plans for everyone. Hosting options include:
WordPress hosting
WooCommerce hosting
Reseller web hosting
Virtual private servers
Secure and reliable hosting platform with built-in scalability
GreenGeeks uses SSD storage arrays for fast loading with servers built on the latest technologies including LiteSpeed, LSCache, MariaDB, HTTP/2, and PHP7.
The hosting platform is built for security with account isolation, pro-active monitoring, daily backups, custom security rules, and zero-day vulnerability fixes.
24/7 expert support
GreenGeeks is well known for its excellent customer support service. Whatever problem you may be having, help is available 24/7 by chat, email ticket, or phone.
The company also offers all customers a no-questions-asked 30-day money-back guarantee so if you're unhappy with the service for any reason you can get a full refund.
5 Energy-efficient data centers
GreenGeeks has four US data centers and one in Europe. You can choose where your website is hosted.
All the data centers use energy-efficient technology, are environmentally responsible, and the energy they use in running your site will be matched 3x in renewable energy.
GreenGeeks Plans & Pricing
GreenGeeks offers four shared hosting plans. These plans are ideal for WordPress accounts and include free WordPress install and site migration, automatic updates, built-in caching, and free backups.
Every hosting plan also comes with a free domain name for the first year, free CDN, and free SSL certificate.
You can see what you get with each hosting plan in the table below:
Lite
Pro
Premium
Monthly price from
$10.95 ($2.49 with our coupon)
$15.95 ($4.95 with our coupon)
$25.95 ($8.95 with our coupon)
Websites
1
Unlimited
Unlimited
Web space
50GB
Unlimited
Unlimited
Email accounts
50
Unlimited
Unlimited
Extra features
All standard hosting features
Multi-user access
WordPress repair tool
Multi-user access
WordPress repair tool
Dedicated IP
AlphaSSL
Object caching
GreenGeeks also offers managed VPS hosting plans from $39.95 a month and reseller hosting plans starting from $19.95 a month.
GreenGeeks Coupon FAQ
Which hosting plans is the GreenGeeks coupon valid for?
You can use our link to get a discount of up to 77% on all GreenGeeks shared and WordPress hosting plans. This includes the Lite, Pro, and Premium plan. You'll get the biggest discount by signing up for the Lite plan for 36 months.
When does the coupon expire?
There's no expiry on this discount but we can't guarantee it will last forever! If you want to make sure you get the discount, click here to visit GreenGeeks and sign up for your hosting plan today.
Does GreenGeeks hosting include a free domain?
Yes, all shared and WordPress hosting plans include free domain registration for the first year.
Is GreenGeeks hosting really eco-friendly?
GreenGeeks is the only company we know of that will match the energy consumption of your website 3x with renewable energy, making it "carbon-reducing". GreenGeeks also invests in energy-efficient technology to reduce the environmental impact of their data centers.
Does GreenGeeks have monthly billing?
Yes, you can opt to pay for your hosting monthly at checkout. However, our coupon is only valid if you pay for at least a year upfront so you'll end up paying more if you choose the monthly payment option.
Is GreenGeeks hosting any good?
Yes, GreenGeeks gets excellent reviews for its hosting and offers great support, reliability, and performance. In fact, we recommend them as one of the best WordPress hosting companies.
How to Use the GreenGeeks Coupon
Step 1: No coupon code is needed to take advantage of this offer. Just click our link to go to GreenGeeks and you should see the discounted price displayed on the hosting plans page.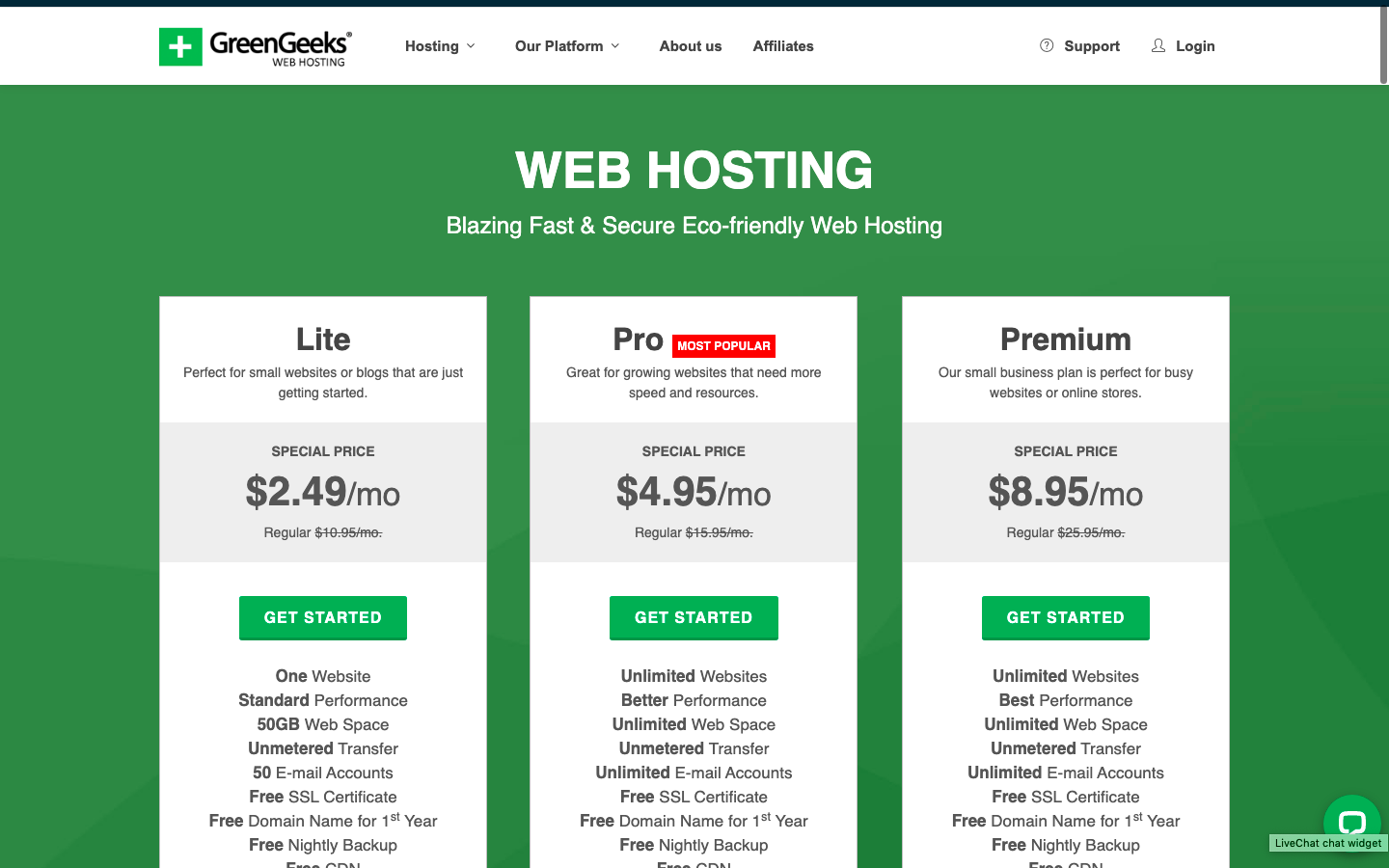 Step 2: Choose your hosting package and click the "Get Started" button.
Step3: Enter the domain name you want to set up or one you already own and click the Next button. This will take you to checkout where you can see your total and the amount you've saved by using our GreenGeeks coupon.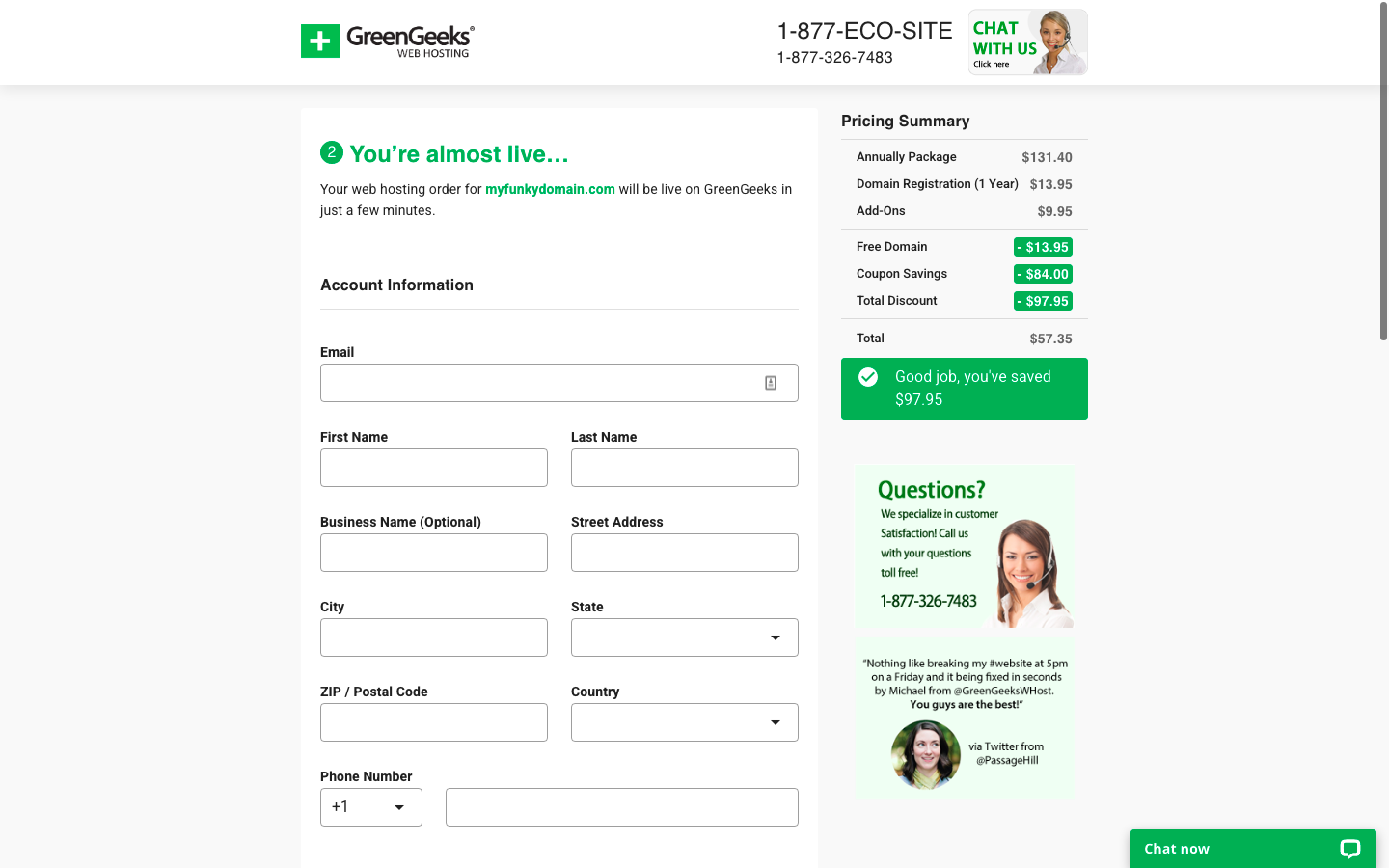 You can change your payment plan at this point if you wish to pay monthly, manually, or biennially. However, you'll get the biggest discount if you pay for 3 years of hosting upfront.
You can also change your data center location and add or remove extras like domain locking and WHOIS protection. complete your details and payment information and click the "Create Account" button to complete your order.