I'd like to tell you a little story, if you could bear with me for a minute.
A couple years ago, I was playing around in the FTP client in my cPanel trying out some new stuff I had read on some blog or the other. I was trying to accomplish a certain task (I don't remember what), but what I ended up doing was deleting the WordPress installation for my blog.
Yes. I deleted my blog. The blog into which I had poured blood, sweat, and tears (minus the blood). The blog in which I had invested hundreds of hours and a tidy sum of money.
The one thing that saved the whole affair from becoming a more significant setback was my foresight in installing a backup plugin. The plugin backed up my database once every week and then sent the backup file to my email.
With the file from the most recent backup in hand, I quickly hopped onto a live chat with one my hosting company's support technicians (at that time I was using HostGator) and my blog was back up and running in no time at all.
That experience was a significant lesson for me: ever since then, the first thing I've always done on any new WordPress installation is install, activate, and configure a backup plugin. Priority numero uno. I highly recommend that you do the same.
The Best Backup plugins for WordPress
If you're not yet sure which backup plugin is right for you, then read on. I've collected a list of the top seven backup plugins for WordPress; there's a solution here for every budget, need, and tech level.

Jetpack Backups is a premium backup & security plugin from WordPress's own parent company, Automattic. It's also the backup plugin we use here at WP Kube, so you know it's good!
To use Jetpack Backups, you'll have to first subscribe to one of the offered plans. The plans start at only $5/month (lite) or $55/year if you go for annual payments, so the plugin is really quite budget-friendly. The highest-priced plan (security bundle) will set you back $29/month or $299/year.
Features:
complete file + database backups
daily backups (real-time backups available for higher-priced plans)
30-day backup archive
restore backups with one click
daily website security scans for malware and hidden threats
one-click repairs for all security issues
premium support
Pros:
very user-friendly interface
view backup statistics (e.g. number of posts, pages, comments, themes, plugins, etc.)
browse backups in color-coded calendar
made by Automattic (so you know its code follows all best practices)
Cons:
no free plan (free trial available through Jetpack)

BackupBuddy is another popular premium backup plugin, this time from the popular WordPress development studio iThemes.
The cheapest BackupBuddy pricing plan starts at $80 for the plugin + a year of ticketed support and updates. In that plan, you also get up to 1 GB of BackupBuddy storage space and 10 iThemes sync sites (more info on the latter here).
Upfront, BackupBuddy is more expensive than VaultPress. But in the long run this plugin is much more cost-efficient because it doesn't require an ongoing subscription (at the same time, however, you don't get the same security features VaultPress offers).
Features:
complete file + database backups
custom automated backup schedules
restore backups
backup file hosting at the BackupBuddy stash (up to 1 GB free—see pricing for additional storage here)
send backups to FTP, an email account, Amazon S3, Rackspace, or Dropbox
manual backups possible
see backup status logs as they run in real-time
custom backup profiles with specially configured options and exclusions
built-in migration tool
Pros:
BackupBuddy's UI has a "Quick Start" feature that guides you through the backup process
email notifications let you know when backups are finished or timed out
limit sizes of stored backups so you don't overflow a file hosting account (e.g. if you send backups to Dropbox)
malware scans
Cons:
no free plan or free trial
some users will find the upfront $80 fee out of their budget

UpdraftPlus is a highly popular free backup plugin. The plugin has over half a million active installs, and it even boasts a near-perfect 4.9 star rating. It's been ranked several times on other websites and blogs as the #1 free backup plugin available today.
I'm inclined to agree.
Features:
complete file + database backups
custom backup schedules (automated)
quick restore for backups
send backups to UpdraftPlus Vault, Amazon S3, Dropbox, Rackspace, Google Drive, Google Cloud Storage, DreamHost, DreamObjects, FTP, OpenStack, and email (premium add-ons also unlock additional storage sites to send backups to)
separate schedules for file & database backups
failed uploads will be automatically retried
split up large sites into multiple archives
Pros:
translator-ready
UI is relatively easy to follow and navigate
extra configuration options for developers and expert users
Cons:
several users have complained of poor support in a few of the 1-star reviews

BackUpWordPress is yet another top-quality backup plugin, albeit somewhat less functional than UpdraftPlus. It's also one of the most popular free tools on this list, with over 200,000 downloads and a very respectable 4.7 star rating.
BackUpWordPress is an ideal plugin if you just want something you can set and forget. There aren't all that many features here—the major focus appears to be ease of use and simplicity.
Features:
complete file + database backups
supposed to work well in shared hosting environments
multiple backup schedules possible
send backups to email
custom backup profiles for file/folder exclusions
works on Linux & Windows servers
Pros:
13 translations available
simple UI
Cons:
users have complained of poor support (only 5 of last 24 support threads in two months have been solved)
to send backups to Dropbox, Google Drive, Amazon S3, FTP, Rackspace, DreamHost, Windows Azure, etc. you'll have to shell out $99 for the developer bundle.
no quick restore

BackWPup was the plugin I first used for my website backups, and it was the solution I had in place at the time when I accidentally deleted my blog content. Although I've moved on to another solution since (read till the end to find out which one), I still recommend it quite highly if you're in the market for a free plugin.
BackWPup is very widely used as well; it's been downloaded nearly 2,000,000 times, although WordPress.org shows just over 300,000 active installs and a 3.8 star rating.
Features:
complete file + database backups
one-click instant manual backup
custom automated backup schedules (called 'jobs')
send backups to FTP, email, Dropbox, Amazon S3, Microsoft Azure, Rackspace, or SugarSync
send backup logs to email
choose from zip, tar, tar gzip, and tar bzip2 archive formats
Pros:
intuitive interface (it really guides you through the process)
multiple archive formats
Cons:
6. blogVault Real-time Backup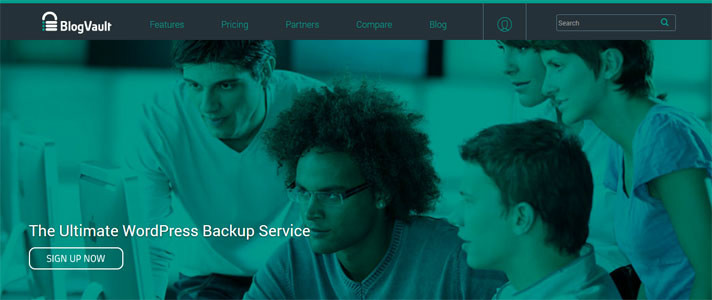 blogVault is surprisingly the least-popular plugin on this list with only 9,000+ active installs. But don't let that relatively low figure fool you—blogVault is a very functional plugin and has some neat capabilities.
blogVault isn't free, though—once you download the plugin you'll be prompted to purchase a subscription. This isn't very clear on the plugin description page at WordPress.org, so make sure you're aware that there is no lite option.
Prices start at $9/month or $89/year (basic plan). Unlike BackupBuddy, blogVault does require an ongoing subscription, making it the plugin with the most expensive entry-level pricing on this list.
Features:
complete file + database backups
real-time backups
quick restore for backups with auto-restore options
test backups before your restore them
30-day backup history
Pros:
the plugin stores 9 copies of each encrypted backup across multiple independent data-centers to ensure the file's availability and security are never compromised
Cons:
backup dashboard is not in WP admin, but rather in blogVault's own webapp
dashboard UI can be a little confusing and is not as clear and easy to manage as it would probably be if it was in WP admin
Read our review to learn more about blogvault.
Wrapping Up
Of all these plugins, UpdraftPlus is the one that fits my needs the best (and consequentially it's the one that I currently use across my websites). The many options it comes with and the backup customization abilities are simply too good for me to pass up. Additionally, I don't need the migration tools that the premium ones offer, so I don't personally have a reason to opt for a paid solution.
Though, if I did need a premium option, I'd probably go with Jetpack Backups. You can't go wrong when you're choosing Automattic's own product!
However, your needs may be different from mine. Which of these plugins is your favorite, and are you currently using it on your site? Do you have any other recommendations to add? Please voice your thoughts in the comments below!