Just the other day, one of my clients and a close friend had a nasty run in with hackers. They threw DDOS attacks at his website, and as a security precaution, his web host shut him down for a couple days. From the emails we exchanged, I could tell it was a frustrating and horrifying experience for him.
Luckily for him, he always has a backup of his website tucked away safely somewhere, so after working tirelessly to seal off the security hole, he hit the restore button and just like that, he was back in business. Nevertheless, his website was down for a number of days, which resulted in losses.
His experience got me thinking. What if the same happened to any of my online properties? What if it happened to you my friend? If you lost your website(s) to hackers, how would you come back? I've been hacked before, and since I didn't have a reliable backup solution, I had to rebuild my website from scratch. I was lucky the hacker did not break into my main site, because, well, I had iThemes security going on for me.
That aside, you can lose your website to hackers at the drop of a hat. Everyday, I get notifications of hackers who try to force their way into my site. Other than losing your site to hackers, you can break your own site when migrating your site, installing a new plugin or performing any other administrative task.
Whether you lose your site to the bad guys or break something due to human error, you can only count on a reliable backup solution to recover and reinstate your website to its former glory. This is where blogVault, the subject of this long review, comes in.
In this post, we will review the popular blogVault service, and then show you how to setup the same, so you can protect and enhance your online investment. Enjoy to the very end!
Features
Migration with Zero Downtimes
As a site owner, there comes a time when you have to migrate your website. Perhaps your current web host does not meet all your needs. Perhaps you just want to change your domain name because of a recent business merger. There are many reasons why you would want to migrate your website, but that's a topic for another day.
What most people won't tell you is that migrating a website is daunting and frustrating a task, especially if it's your first time. Oh wait, it can be challenging even if it's your fifth time, ask me I know. If you have a huge website, the challenges of migrating are multiplied ten fold.
This, of course, leads to loss in revenue and customer trust, degradation of brand value and a great deal of stress for you. This is especially true if migrating leaves you dead at the center of a long and unprecedented downtime.
You want to avoid downtimes at all costs. For that, you want a trustworthy partner who will make the process of migrating as easy as pie. No downtimes; no stress; no losses. From my experience, no one does it better than blogVault.
They provide a hassle-free migration service that takes care of everything from moving your databases, themes, plugins and content. They also set up your URLs and whatnot, so you can just concentrate on the stuff that matters – making money.
I migrated my website to a new web host once, and from the experience, you definitely don't want to do it manually. Trust me, it's not as easy as just copying your site to the new server; you have to configure and, as it was in my case, reconfigure your wp-config.php file, set up domain names, and change name servers among other things.
Were it not for the awesome support I got from my new web host, I wouldn't have migrated my site successfully. Put into consideration that I had read multiple tutorials on migrating WordPress sites. Reading is one thing, doing it practically is a totally different animal.
Whether you're changing you domain or moving to a new web host, blogVault offers the best WordPress migration service. Don't be like another friend of mine who had to rebuild his site from scratch because migrating to a different account on the same web host proved a challenge!
Automatic Backups & Restore
blogVault is primarily a WordPress backup service, and a great one at that. This is their stronghold; the area they've invested most of their resources. As such, they are able to provide an easy-to-use and robust WordPress backup service that meets you needs whether you have a small or big website.
Once you sign up, you're immediately presented with an intuitive dashboard to manage your site(s). Backing up any of your websites is a matter of point and click. If that isn't the definition of easy-to-use, I don't know what is.
blogVault schedules automatic daily backups of you complete site, which are kept safe on an offsite server, saving you a great deal of storage space on your server. All backups run in the background, and continue whether or not you're logged into blogVault.
The blogVault service is unique in the sense that is use an incremental approach to back up your site. Therefore, instead of backing up your entire site every time, which exerts strain on your resources, blogVault compares old backups to your site, and "…backup only those parts that have changed since the last backup." This not only makes backing up easy and cheap, it also makes restoring smooth and flawless.
Speaking of restoring, blogVault provides an auto-restore feature that automatically restores your site without manual intervention. That's right, kiss goodbye to manually uploading your files and importing your database via FTP; the auto-restore happens from blogVault's servers to your servers behind the curtains. This saves you a great deal of time, effort and, oh-so precious bandwidth.
With the auto-restore feature by your side, you don't need to cry foul at your hour of need. You can recover from a site crash as easily as you can non-recoverable failures, allowing you to get back to your customers in time.
Oh, by the way, once your auto-restore is complete, the good guys at blogVault will immediately notify you via email. You don't have to wait around; initiate your restore, and go to that meeting you have been putting off for a century.
That's not the end of it. Every website you add to blogVault gets 5GB of storage. If you go with the Plus plan that supports three websites for instance, you get 15GB of storage! If you have a simple website, it will take time to exhaust this space.
Don't sweat it if you own a mammoth website, blogVault provides support for extremely large websites that are more than 35GB. What a convenience for a small fee of about $9/month or $89 per year? Scalability baby. Scalability.
Additionally, you can test-restore your backups temporarily on blogVault's servers to validate the integrity of your backup. How suave? This saves you a lot of time and keeps stress at bay. If you're wondering how this feature saves time, just imagine what would happen if you wished to restore a previous version of your site, but ended up restoring the wrong version.
Site Security
Seeing we just touched on security, it's only appropriate to mention another feature blogVault is best known for: site security. blogVault goes far and beyond backing up your site; they make it extremely hard for hackers to penetrate your defenses.
How?
With a click of a button, you can limit the number of failed login attempts to protect your WordPress website against brute force attacks, which make up a majority of threats facing site owners. This is just one of the security features blogVault provides. Other sweet features include:
You can block PHP execution in untrusted folders (think of plugin-related attacks)
You can disable files editor to stop hackers from editing your files
Ability to change database prefixes, which makes SQL injection impossible
Block plugins or theme installation to stop hackers long before they install malicious scripts
Make files or folders read-only to keep malicious code away
Change security keys
Reset all passwords
You can easily access and activate these features from the blogVault dashboard. It's just a matter of ticking away checkboxes, which is as simple as A, B, C.
Web Host Compatibility
blogVault, just like all other service-oriented solutions, must gain access to your server in order to work. There is no other way a service such as blogVault would work.
For this very reason, you need a backup solution that will work with your web host. Services such as BackupBuddy does not work with GoDaddy or even premier hosts such as WPEngine. What a bummer.
On the other hand, blogVault is compatible with all hosting providers. Oh yeah, that's one more thing you don't have to worry about.
Can't figure out if blogVault will work with your favorite web host? Well, blogVault offers a 7-day free trial that lets you test drive all the features before making a decision. If you don't like the service, which is highly unlikely, you can always ask for a full refund. No questions asked, because, well, that would suck big time.
Personalized Support
Let's imagine an hypothetical day out with the family or loved ones. You're out having fun on a Sunday afternoon, when a notification from Google flashes on your phone. You excuse yourself to check, and notice you've been hacked.
In a matter of seconds, your afternoon is ruined and stress sets in. You don't have a reliable backup solution in place, and your web host can't offer much in terms of support because, firstly, it's Sunday and support reps take an eternity (or never) to respond, and secondly, you don't have a backup plan set up.
The backups provided by your web host are not enough either, so you're on your own. Your business, your livelihood, just took a major hit and there's nothing you can do. It's depressing.  You pack your picnic baskets and head for home.
Enters blogVault and your Sunday afternoon with the fam goes uninterrupted. Your business is safe and secure, and should a hacker break in by chance, you have thirty (30) backups and a great team of specialists at your disposal.
This is how the situation would probably go down with blogVault by your side:
The hacker works really hard (for days with the help of his cronies) and goes through your defenses. Google sends you the notification. You excuse yourself to check and notice you've been hacked. You know, just like Sony.
blogVault is known for great and personalized support that's just an email or a chat away. 24/7, 365 days. This is one of their key strengths, based on what other customers say.
How to Backup Your Site with blogVault
Now that we've reviewed blogVault features, how about we show you how to setup your account to make the sign up process easier? Alright, here we go:
Step 1: Signing up
Go to blogVault and click the green "signup for free trial now" button.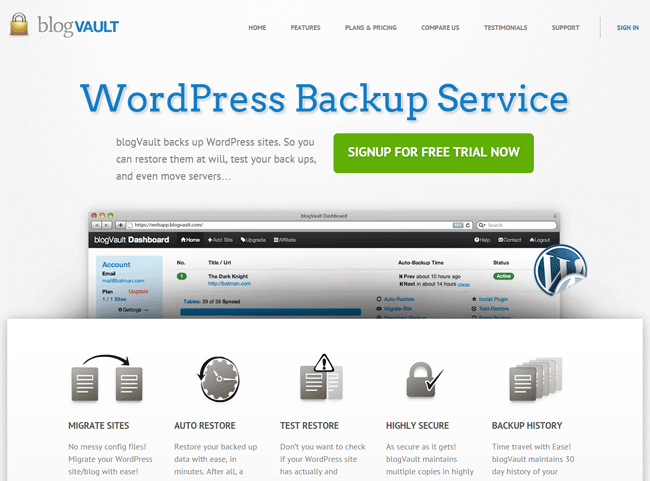 Step 2: Choosing Your Plan
On the next page, you have the opportunity to select your desired plan. Currently, there three plans: Basic at $9 per month, Plus at $19 per month and Pro at $39/month.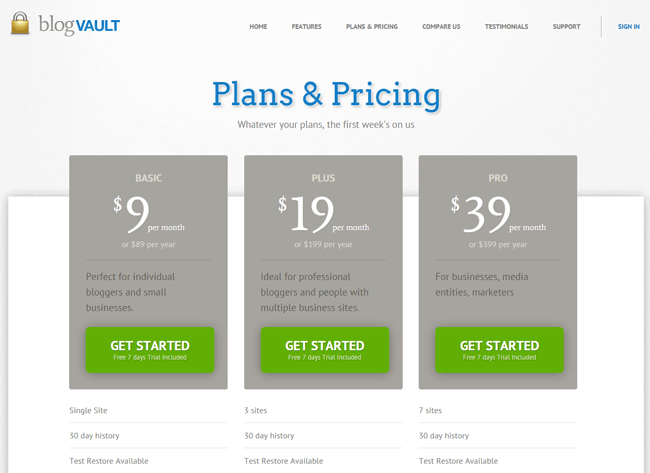 They also offer three other unlimited plans that are designed with busy developers in mind. Choose one that's ideal for your business.
Step 3: Enter Personal Details
On the next page, fill out the short form with your email, password and site URL and click register.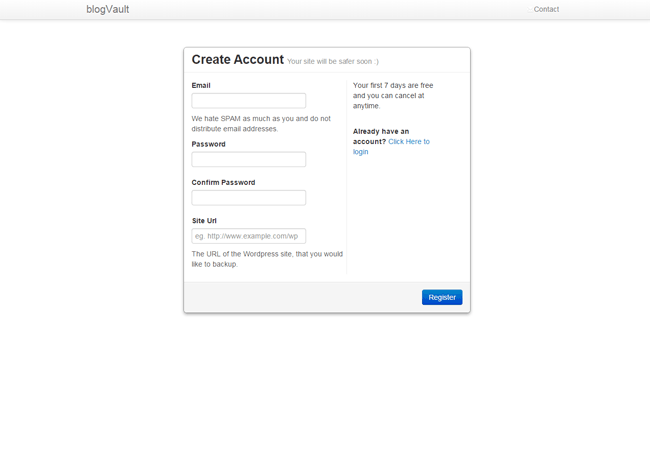 Step 4: Billing Info
Enter your billing details and hit the update button.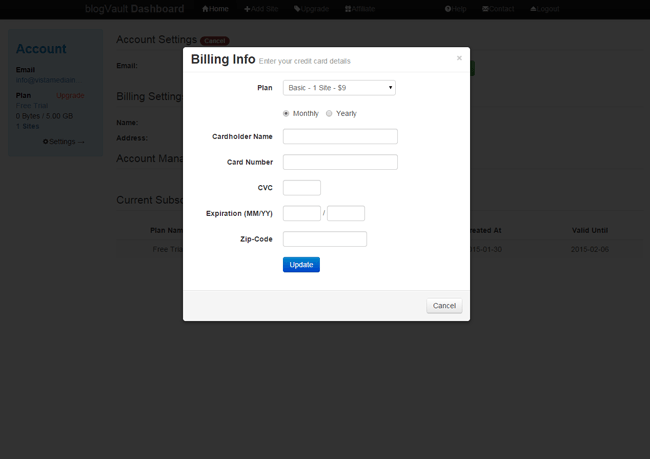 Step 5: Install the blogVault plugin
You can install the plugin automatically or manually.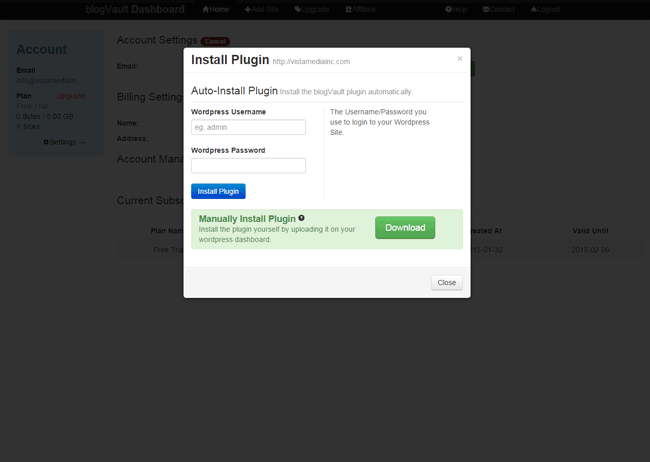 I chose to install mine manually. It's easy peasy work; just click the download button, then login to your WordPress site and navigate to Plugins –> Add New to upload. Activate the plugin once it's uploaded to your site.
Annnd that's it! The blogVault service takes over from there, and you can go back to business as usual. It took me less than five minutes to sign up and install the plugin, and it was my first time. You don't even have to confirm emails and whatnot, just start backing up your site from the blogVault dashboard.
Oh, by the way, this here is the video you'll see when you click the blogVault menu item on your WordPress admin menu:
And here are some of the testimonials from satisfied blogVault clients:
Just upgraded to developer plan on http://t.co/x2jpYdqoye @blogVault. Unlimited sites within a 50GB limit… gotta love that! #greatservice

— René Sejling (@ReneSejling) September 24, 2013
Once again @blogVault completely saved my corrupted WordPress site that my web host could not fix. Thanks!

— Noble Smith (@ShireWisdom) December 20, 2013
@OhHelloDesigns I like to use @blogvault Great for site migrations too

— Jo Waltham (@JoWaltham) November 9, 2013
Just upgraded to Unlimited websites on @blogVault, great product for securing your WP websites

— Travis Buck (@sunmaistudios) September 30, 2013
Now You…
Have you been looking for the ultimate backup solution for your WordPress-based business?
blogVault has your back covered. Sign up today, test the service and enjoy a WordPress backup service like no other. Guaranteed. After all you have nothing to lose; if you don't like blogVault, you can cancel the free trial without risking any money.
If you're still unsure about which backup service to go with. See our comparison on top 7 backup plugins for your WordPress site.
See you around!