Hosting is a perennial topic among site owners. The conversation can get fanatic and fervent at times too. GoDaddy is one of the more popular hosts on the market. Even so, it's not the only option. In fact, there are a lot of GoDaddy alternatives available that may suit you better.
For example, you may not need GoDaddy's collaboration tools. It could be that you need more when it comes to server specifications. Regardless, each provider has a different approach – and one could be better for your needs.
Given this, we'll look at some of the best GoDaddy alternatives, and discuss why they could do a more effective job. First, let's give you some background on GoDaddy.
A Quick Introduction to GoDaddy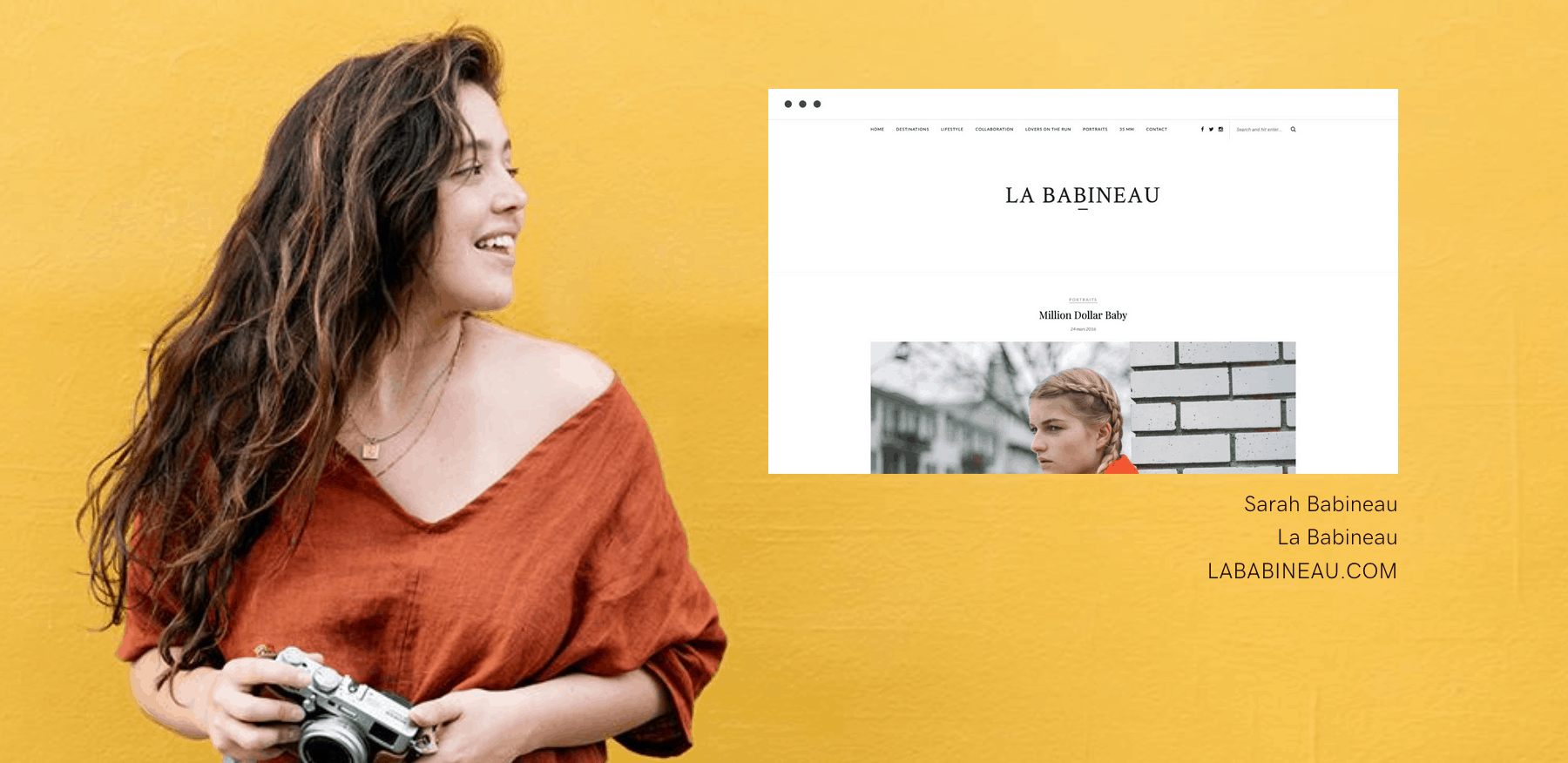 In short, GoDaddy is a monster-sized hosting provider. In fact, it covers many bases with its services, but hosting is a primary offering.
The target user is small and medium business owners, which is why you've likely come across GoDaddy in the past. As such, the product lines and feature sets are all geared around running a business. Team-based solutions are also front and center too.
GoDaddy is also a domain registrar, which means you can buy your domain and hosting from the same place. While this isn't always recommended, it is convenient and in some cases can save you money.
On paper, GoDaddy can cater to lots of different users and business. Even so, some users are looking elsewhere for hosting. Let's take some time to find out why.
Why You'd Want to Find GoDaddy Alternatives to Host Your Website
Of course, GoDaddy is not the only host on the market. As the saying goes, "variety is the spice of life". As such, there are lots of general reasons why you might want a GoDaddy alternative:
The feature set doesn't align with your site's goals.
There are too many features you're not using.
You've found third-party solutions for some of the built-in offerings.
It could even be that none of the above is true. If you take a look at a site such as Review Signal, you'll notice that GoDaddy is not in the top ten for any category. In fact, it's struggling to remain in the top 20 hosting providers: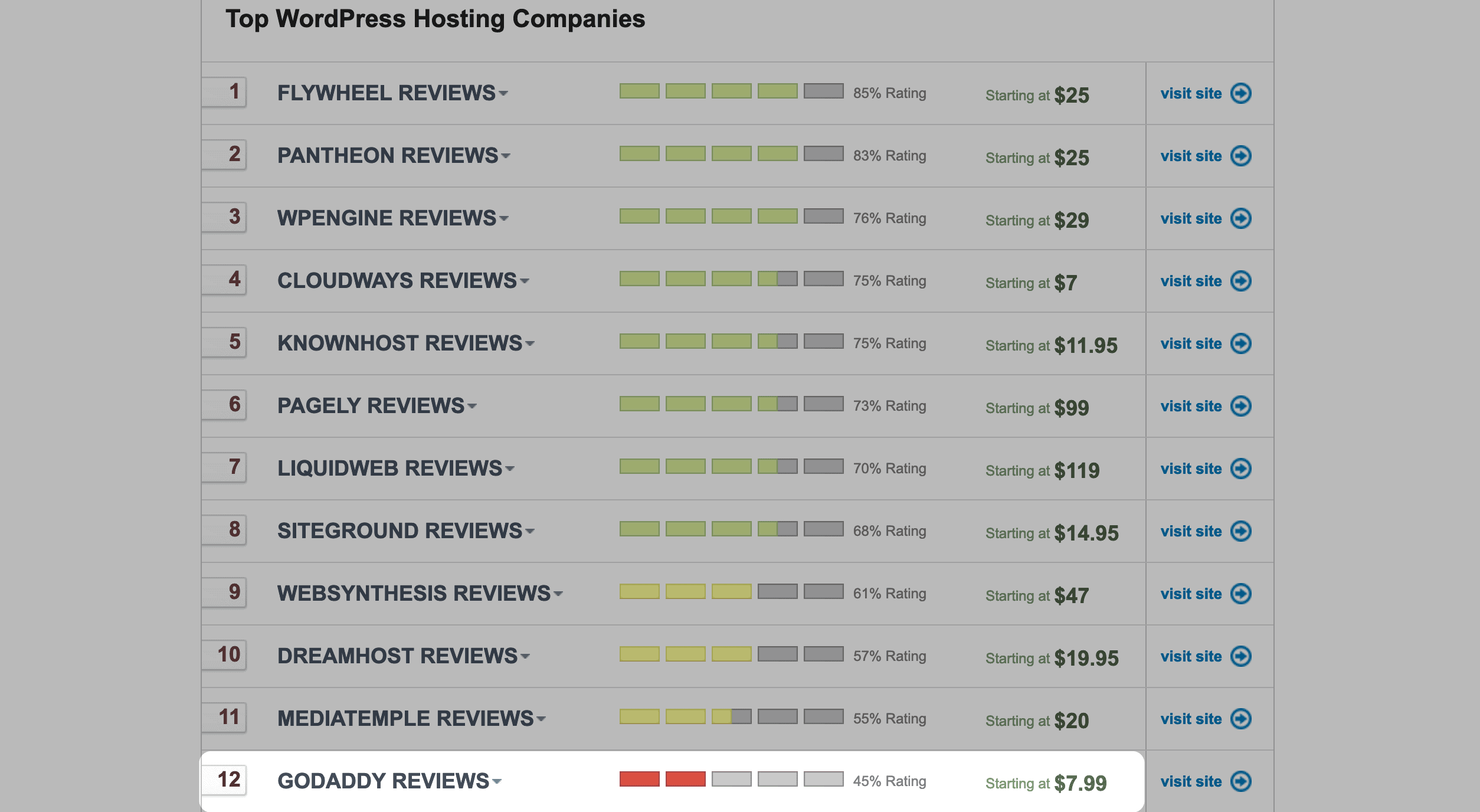 This is down to a few reasons:
Customer support can be poor, and the process to resolve simple queries is made into a complex number of steps.
There have been user reports of poor server stability and speed over the years.
The price can be cheap if you're only using hosting. Though, if you're buying more services from GoDaddy, the cost could spiral out of control.
Despite this, GoDaddy can be a solid host for you, if everything hits the mark. More often than not though, you can find higher quality at a cheaper price point.
4 Top GoDaddy Alternatives and Competitors
Let's get down to the 'nitty-gritty', and look at some top-quality GoDaddy alternatives. Here are the providers we'll feature:
First off, we'll look at the cheapest option on our list. Though, it's not the worst performer by a long shot.
1. A2 Hosting

First off, we have A2 Hosting. This provider has grown to become one of the major players over the past few years, and for good reason. It provides a number of plans for hosting your site, such as shared and dedicated plans, and a Virtual Private Server (VPS) if you need one. It also offers shared and managed WordPress hosting, which might have pricked up your ears.
From the four dedicated plans, all but the lowest tier offers an unlimited number of websites. While all plans offer at least Solid State Drive storage, higher tiers give you Non-Volatile Memory Express (NVMe) drives for blazing speed and reliability.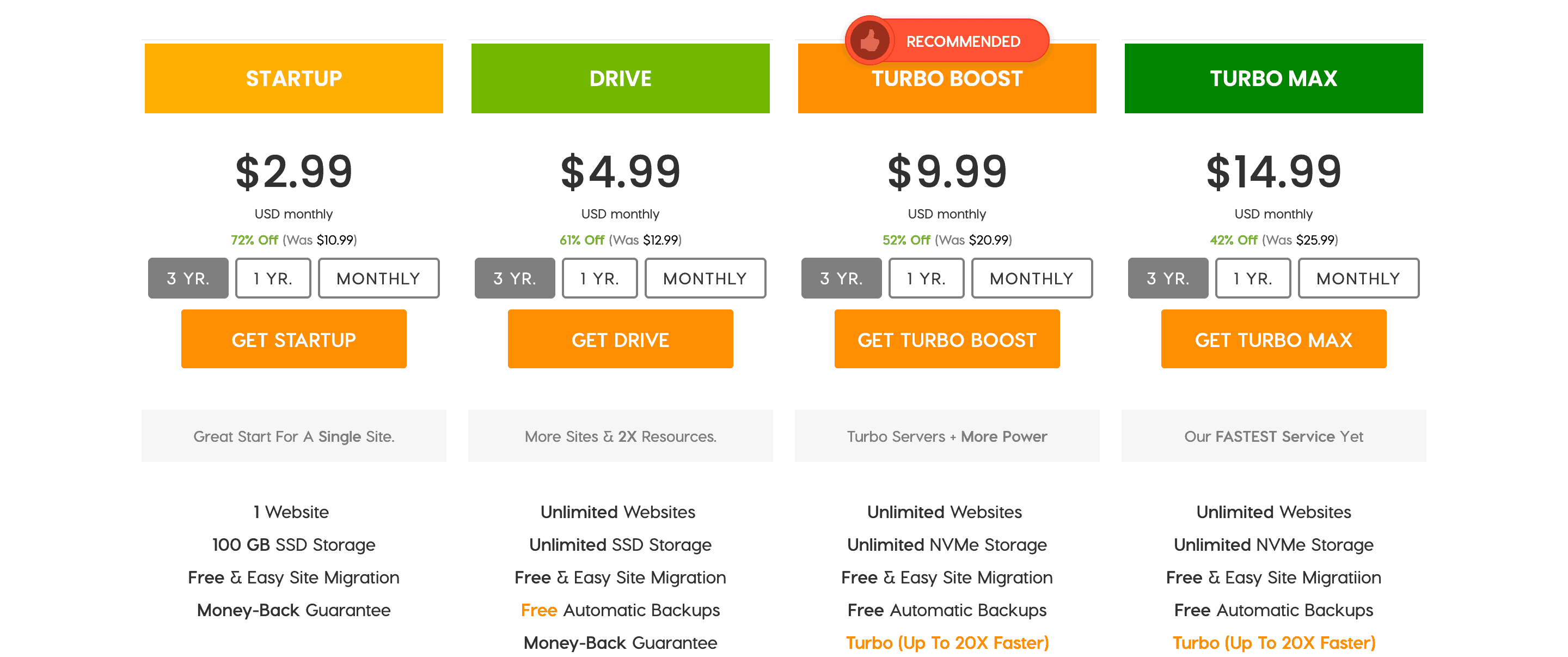 The more expensive plans also give you A2 Hosting's 'Turbo Boost' servers. This lets you handle more traffic, reduce your page load speeds, work with a higher-powered processor, and get access to stellar caching.
As for support, there's a comprehensive knowledge base for all types of hosting. If you're after a more personal experience, A2 Hosting also as a wealth of options to access the support team.
Compared to GoDaddy, A2 Hosting offers less on the whole. Though, this isn't a knock on the latter. What's here is focused on solid, stable hosting – especially if you're a WordPress user.
If you're after good all-around hosting without the bells and whistle that come attached to GoDaddy, this is a top-notch option.
💲 Use our A2Hosting Coupon to get up to 51 % off
2. WP Engine
Next up, WP Engine is a perennial host within any discussion on the topic. Even so, it more than matches up to GoDaddy in a number of ways.

WP Engine bills itself as a 'Digital Experience Platform (DXP)'. Rather than focus only on hosting, WP Engine looks to provide an all-around solution for managing your online presence. The idea behind a DXP is that your brand can be where your users are, through homogenized social media and other branding channels. This is in contrast to the traditional passive approach.
Given this, its no surprise that WP Engine offers solutions catered to marketers and developers. It's a fully-managed host with three different options for your site. Each of these has five tiers.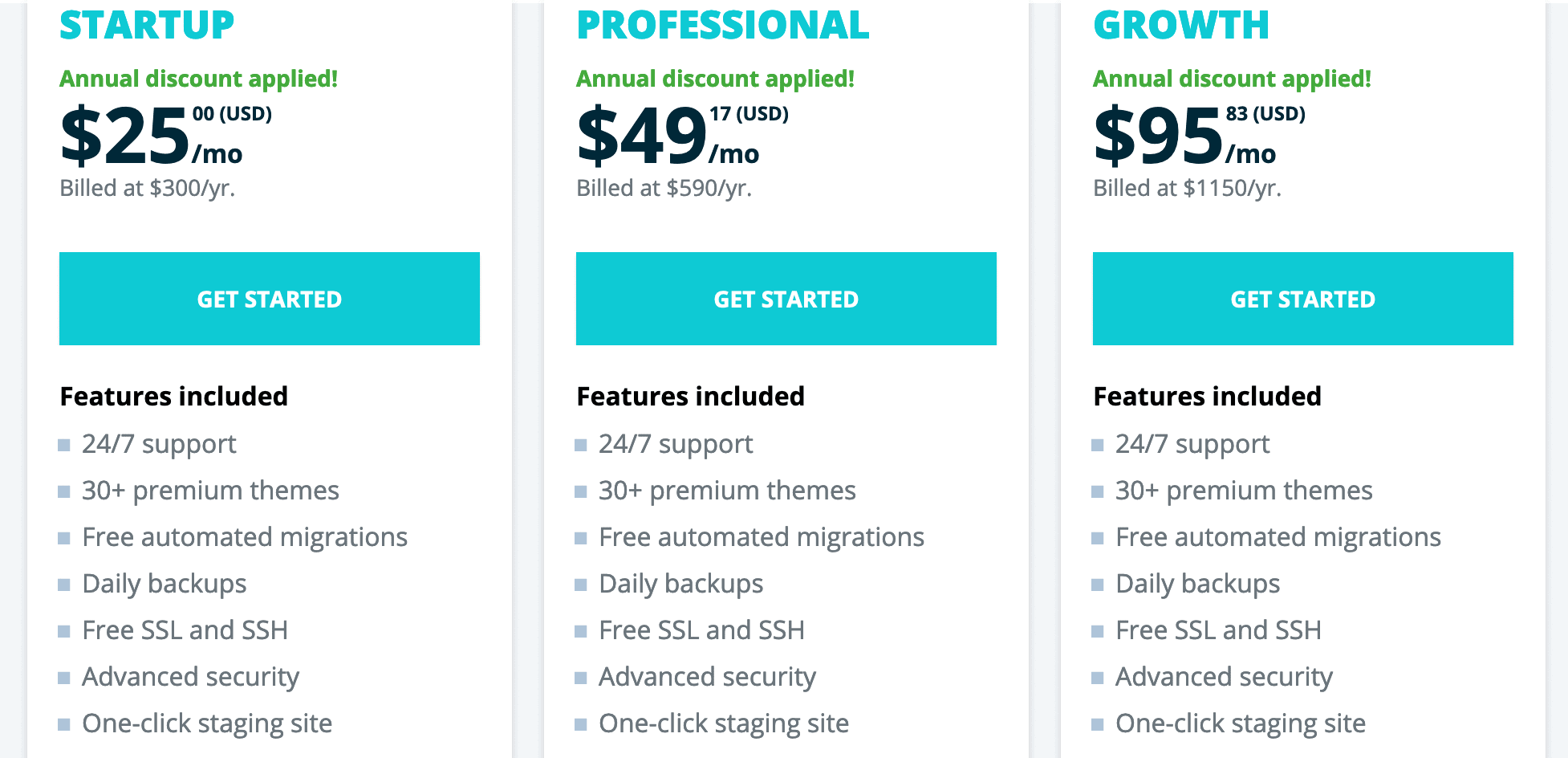 It can be confusing, but no more so than other hosts. Though, the price for using WP Engine is clear. It's more expensive than most other competitors, including GoDaddy.
This isn't always a negative, though. There's a lot packed into each tier. If you have everything you need to run your site, it's money well spent.
For example, you have access to staging, so you can work changes without affecting your live site. You also have a bunch of stellar security options too. Because WP Engine is a WordPress-specific host, its servers are catered to the platform. This is going to give you greater speed than GoDaddy, and a better infrastructure to work with.
Support-wise, WP Engine is a standout performer. It has technicians available around the clock, every day of the year to help you if needed. We like the knowledge base and resources the most though. There are article covering almost every topic, and it's updated every week. There are even resources for topics unrelated to WP Engine's offerings.
On the whole, WP Engine is offering something different to GoDaddy. While the latter is concerned with collaboration and enhancing the performance of teams, WP Engine is focused on brand visibility. Both are valid goals, although if you're looking for better equipped hosting for your WordPress site (and have the budget), WP Engine wins the battle.
👉 Read our full WPEngine review
💲 Use our WPEngine Coupon to get 20% off
3. Kinsta
There's an argument to say that Kinsta is much like WP Engine. For example, it's a dedicated and managed WordPress host, and provides super-stable hosting based on Google Cloud's infrastructure. What's more, it's the hosting equivalent of Fort Knox, which means there's a primary focus on security.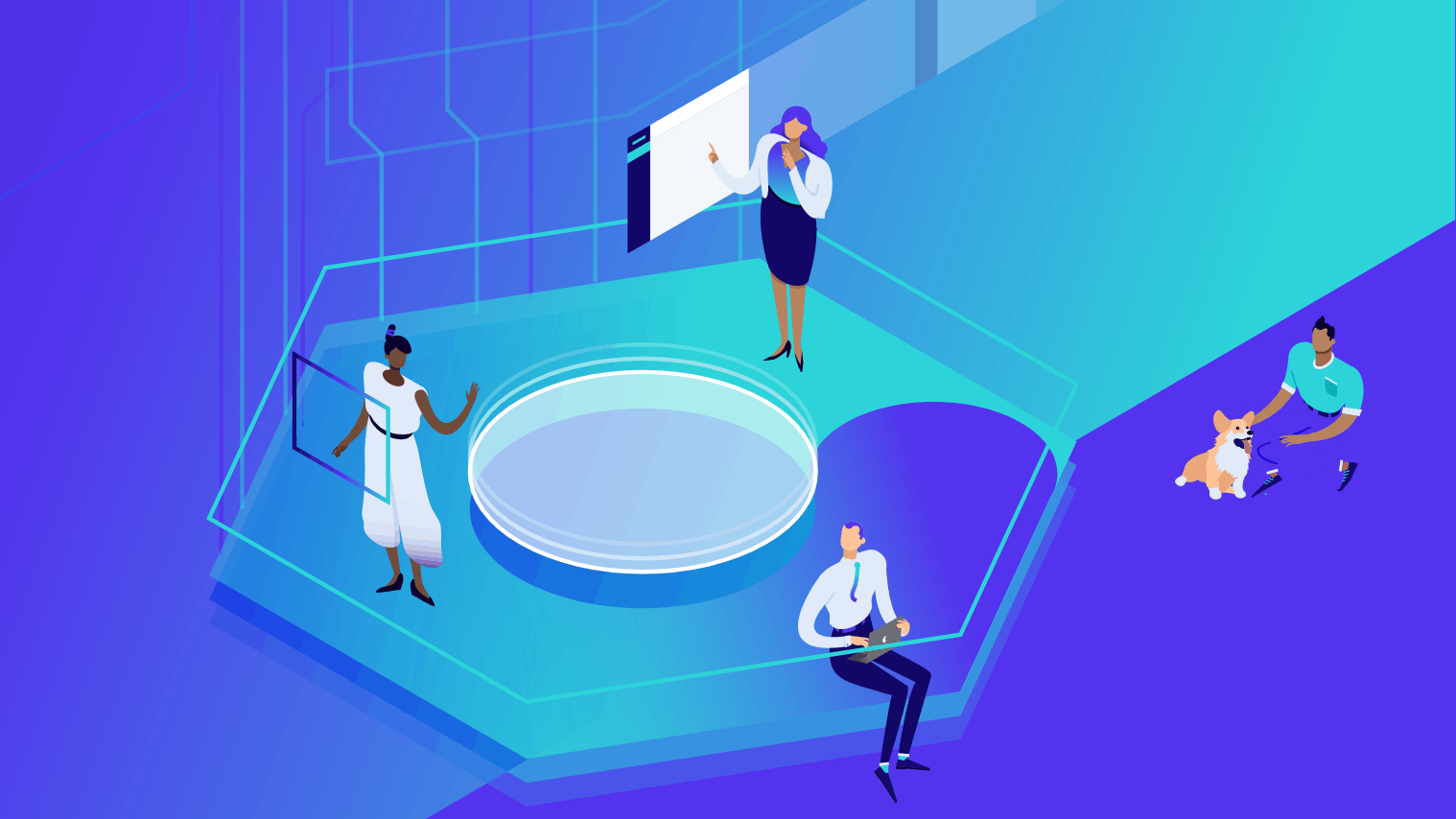 Even so, Kinsta differs to GoDaddy and the competition in a few ways:
There are ten different tiers to choose from, focused mainly on businesses and enterprises.
Kinsta is known for scale, and can handle millions of traffic hits per month without breaking a sweat.
There are 25 locations for your site based on the Google Cloud Platform. Coupled with the bundled KeyCDN, your site will be visible and quick no matter where your visitors are.
More than any other host we've seen, Kinsta works around the clock to make sure its servers are up and running, and in peak condition.
In our opinion, Kinsta is like having a concierge service for your website. It has an Application Performance Monitor (APM) that helps you keep tabs on how the server and your site is holding up: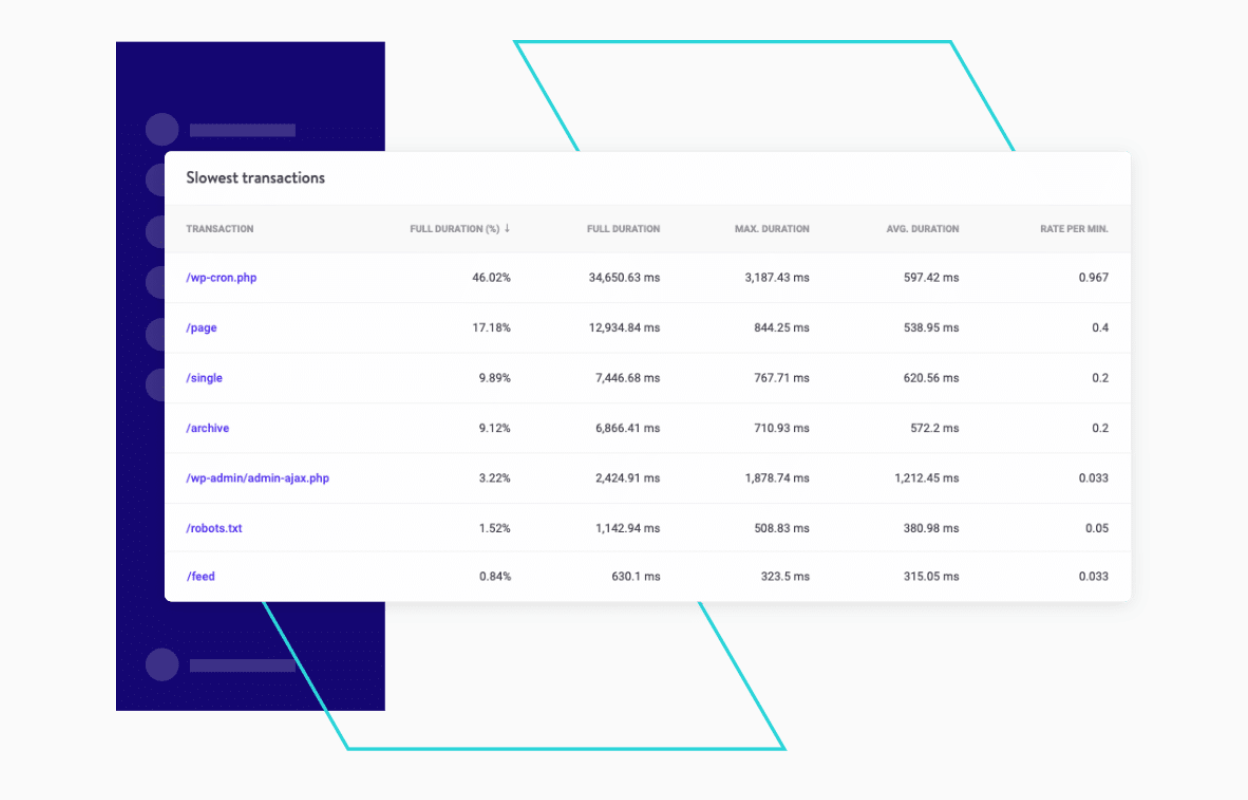 It also offers server-side caching, along with an in-house developed plugin. In other words, your site should be blazing given the caching, CDN, and cloud-based server infrastructure.
Though, all of this depth of service comes with a price. As we noted, there are ten plans to choose from, and the cheapest is around $35 per month. If you're looking to start an eCommerce or business website, some of the higher tiers are going to be a better fit. You could be looking at $100–200 per month just for your hosting.
We'd suggest that if you want the best in server management and performance, Kinsta is the gold standard. It's focused on server grunt, while GoDaddy offers a service based around tools for running a business. As such, your choice here will be related to what's more important to you.
4. DreamHost
Our final of the GoDaddy alternatives in this list is DreamHost. It's the only provider that has a seal of approval from WordPress itself. As such, opting for one its plans is a good move that should give you some peace of mind.

Much like a lot of WordPress-centric hosts, DreamHost has a custom dashboard for managing your sites, and it's intuitive to use too: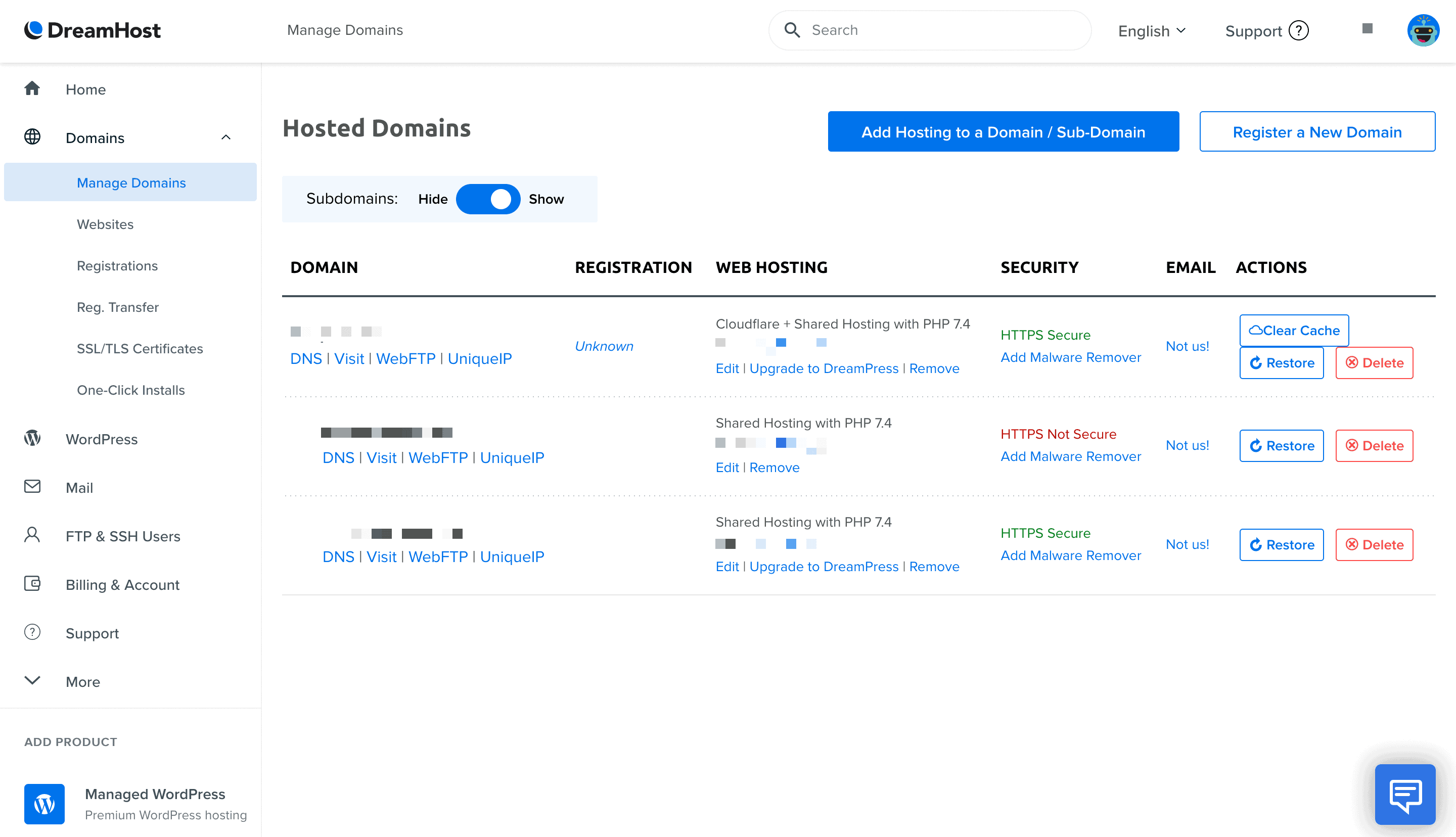 It's here you can administer to your domains, websites, email, and even MySQL databases. It's also here you can access support if you need it. There's a well-stocked knowledge base, and dedicated support for your queries from a button in the bottom right-hand corner: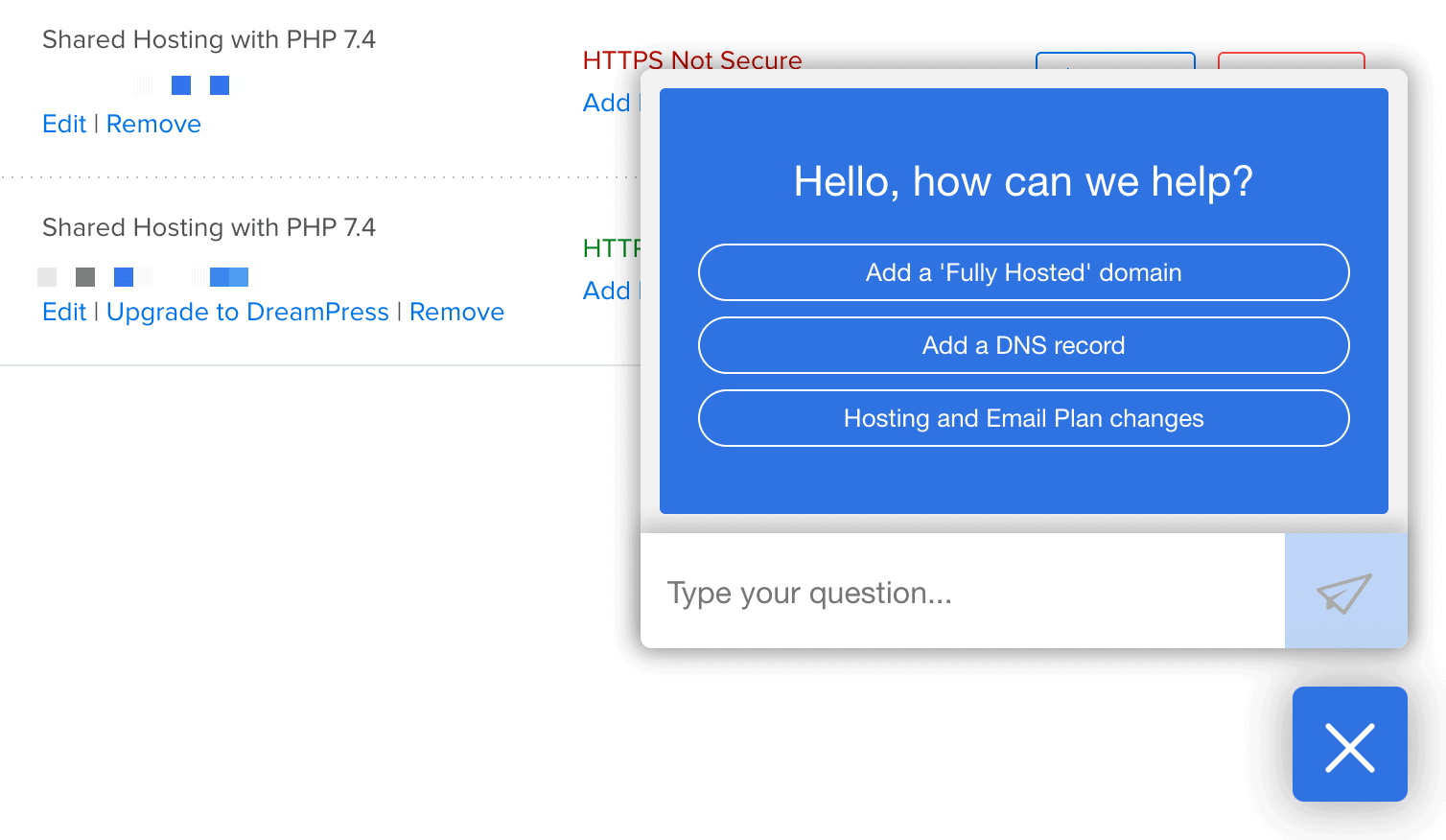 DreamHost provides a few different plans, although you can boil them down to the following:
Shared WordPress hosting.
Managed WordPress hosting.
Cloud hosting.
Virtual Private Server (VPS) hosting.
Dedicated hosting.
The managed offering is branded as DreamPress, and offers better caching and other functionality and features. We'd suggest that this plan is pound-for-pound the best on offer here. Still, regardless of your choice, you'll be in safe hands.
While we're on the subject, pricing is competitive. The cost of shared hosting in particular is low, and you'd be hard-pressed to find a more value-driven hosting tier available. There's quite a steep jump up to dedicated hosting, and you should expect to spend around three figures per month. Even so, scaling your plan shouldn't hit your wallet too hard.
In some ways, DreamHost can be considered as a budget Kinsta. For example, it focuses on server performance and specs, rather than on tools to run a site. Despite this, the prices are dirt-cheap. If you compare it to a host such as GoDaddy, it's a clear winner.
Wrapping Up
Hosting is a common topic of discussion. This is because it's an important factor in how your site runs. For lots of users, GoDaddy provides the necessary speed, stability, security, and features they need. Even so, it can't offer everything. As such, site owners do look elsewhere for a hosting provider that's a better fit.
In this post, we've looked at four top GoDaddy alternatives. Let's give them a brief recap:
Are you considering any of these GoDaddy alternatives, or do you have your eye on something else? Let us know in the comments section below!