WordPress is the content management system of choice for many small business owners, and for good reason. Whether you're running an online business or a brick and mortar shop, WordPress has the potential to be a valuable asset — adding efficiency, improving customer communication and boosting your marketing efforts with relative ease.
What's surprising is that very few business owners actually use WordPress to it's fullest potential. Once they have a decent looking website up and running, they're happy to maintain the status quo. Giving little thought to what they could be doing differently on their website to help grow their business.
Does this sound like you?
If so, all you've essentially done is build yourself a pretty looking billboard. It's kind of like buying a Porsche and then just driving it back and forth to the grocery store a few times per week — it works perfectly well, but it's not really living up to it's potential.
One of the most important things you can do as a small business owner is to focus on new ways to attract and retain customers. But does this really have anything to do with WordPress? Great question.
In this post, we're going to take a closer work at how you can use WordPress to market your business — attracting and retaining customers more effectively and efficiently.
WordPress is More Than a Website
Before we jump into specifics, there is one thing that's important to do as a business owner: Stop thinking of your website as a website and start thinking of it as a marketing platform.
This is the number one mistake that many small business owners make. They want their hours, their bio, their services and maybe a few testimonials on their website. When their website is done,  it's time to sit back and wait for the sales and customers to begin rolling in. This is the wrong approach.
Related Reading: What is WordPress? Why is it Free and Should You Use WordPress?
If you own a small business, you should commit to looking at your website (and your entire online presence) as a way to market your business. I'm not suggesting you need to head down the path of high-pressure sales tactics or pitches, but let's be honest, the purpose of your online presence is to help you grow your business.
With that out of the way, let's look at some of the more concrete steps you can take.
Pick an Appropriate & Unique Theme
A common mistake that small businesses make is building the website that they want. I get that, really, I do. You business is your baby and you've put a lot of hard work into creating it.
But here's the thing: Your website isn't built for you — it's not designed to showcase your personal tastes, favorite color or photograph.
Your website is designed for your customers. It's designed to show and explain why your business should be their first choice. That means your website needs to not only communicate exceptionally well, it also needs to be visually appealing & easy to navigate and contain the information your customers are most likely to be looking for. There's a pretty good chance that if you don't answer most of their questions quickly and efficiently, they'll look somewhere else.
Related Reading: Choosing a WordPress Theme – The Ultimate Guide
Part of this process comes down to picking a WordPress theme that is consistent with your branding and is also capable of communicating your message in an effective manner.
For example, if your business involves providing legal or accounting services, you might want a clean, professional and easy to navigate theme. Something like Deploy (below) is a great example. While on Themeforest you'll find dozens of other themes that might be exactly what you're looking for.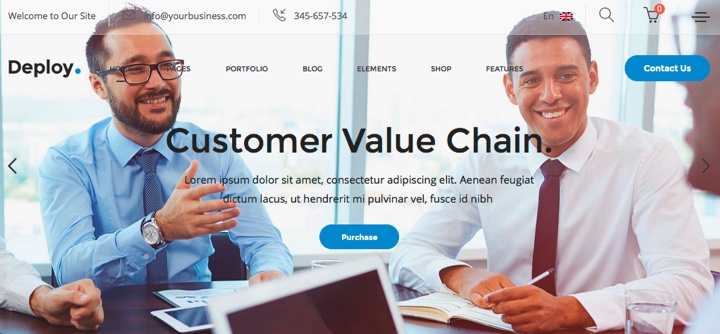 But what if you running a restaurant? A theme specifically built for restaurants is a good place to start. Take a look at Cafe Pro from StudioPress. It's a clean, visually appealing and easy to navigate theme from one the leading theme shops around. And if Cafe Pro isn't suitable, there are dozens more to pick from. You may also want check out our collection of best Restaurant WordPress themes.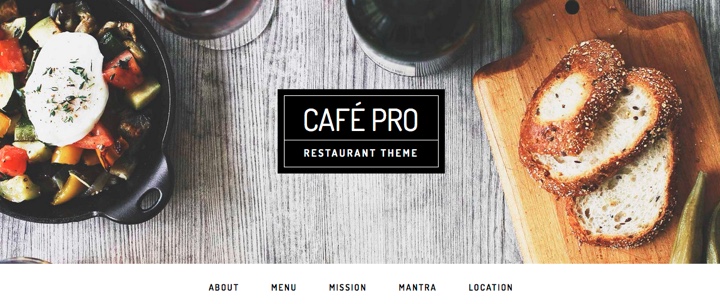 Attract More Customers With a Unique Selling Proposition
Once you've picked out an appropriate WordPress theme, one of your first steps is figuring out which information should you include on the home page? If you perform a quick search of the small businesses in your local community, you'll find that many of them give little thought to this step.
One of the first things you should do is identify your USP, or unique selling proposition (sometimes called a unique value proposition).
But what does that mean?
Essentially, your unique value proposition tells your prospects and customers what your business does that separates you from the competition – more accurately, what makes your business unique? If your business provides a unique benefit(s) to customers, this is where you'd want to make that clear.
If you can properly identify and communicate these things on your homepage, you'll be miles ahead of many of your competitors and the process of attracting new customers will become much easier. All that's left for you to do is make sure you're delivering on your promise.
Here's a great example:
Every Page of Your Website Should Have a Purpose
While this might seem like an overwhelming or senseless task, let me explain. We already talked about the idea that your website should be more than just a fancy online brochure. It should have an overarching purpose — be it attracting more clients, selling more widgets or growing your email list.
Once you're clear about the results you're trying to achieve, all that's left is making sure that each page on your site contributes to your objective. If you're a sports fan, think of your website as the team, with each individual page representing a player. If all the pages work together, and contribute towards the greater purpose, it's much easier to come out a winner.
Enough about sports. How exactly might this look in the real world? It's actually not as challenging as it might seem. Here an example of how different pages on your WordPress site can contribute towards your overall purpose:
Attracting new customers can be made easier with WordPress. You can easily customize your homepage, individual page templates and posts so that each one contributes towards the growth of your business.
Email Marketing is the Holy Grail
We eluded to this in the section above but it bears repeating. If you haven't made email marketing part of your big-picture plan, what are you waiting for? Email marketing provides a simple way to remain in contact with both prospective and current customers. Here are a few stats that might help to convince you:
60% of marketers claim that email is a critical enabler of products and services
43% of businesses have email teams of 2-3 people
74% of marketers believe email produces or will produce ROI in the future
In 2015, 59% of marketers had plans to increase their email marketing budgets.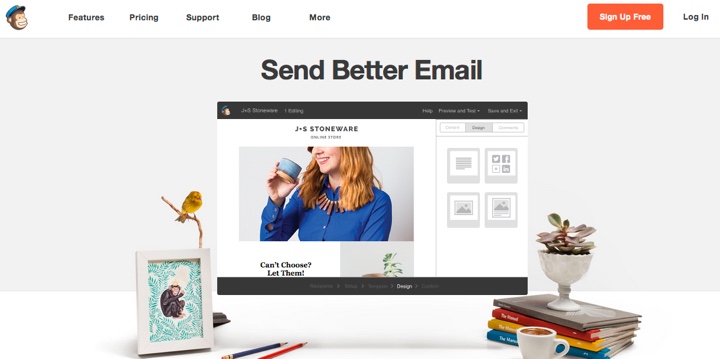 Despite all those positive statistics, very few small business owners effectively take advantage of the power of email marketing. Considering the ease of implementation, there is really no reason to wait a day longer. Here at WPKube, we use MailChimp, but there are plenty of other options available.
Create Valuable Content
The final topic we should really touch on is that of content marketing. The irony here is that WordPress is the world's leading content management platform. Yet, despite this, the majority of marketers (70% according to Curata) lack a consistent or integrated content strategy.
"But wait," you say, "I'm a small business owner, not a marketer."
I would argue that point of view. As a small business owner, you're responsible for the effective marketing of your business. You need to do everything in your power to grow your business and that includes becoming a top-notch marketer.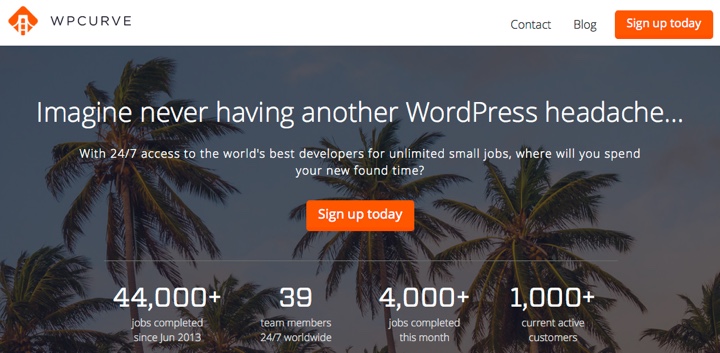 One of the best tactics available to market your business in 2016 and for the foreseeable future, is to produce and promote content that helps or informs your target audience. WPKube itself is built on content as are many other successful businesses. Elegant Themes is building one of the leading resources for WordPress users and growing a thriving business in the process. WPCurve is a service business that has done the same — helpful content, a great service, and a thriving business.
Build a Platform Not a Website
The point of this post was to help you, a small business owner, to realize that your website can (and should be) so much more than just a fancy brochure.
WordPress is a platform that offers unprecedented flexibility and extensibility. When used properly, as a marketing platform, it can help you attract and retain customers with greater ease that you probably imagined possible. Most of the ideas we covered in this post are easy to implement, but they still require thought, planning and hard work. So what are you waiting for?
We hope this article helped you learn how you can attract and retain more customers with the power of WordPress. Here is a great guide explaining the history of WordPress and how it has evolved over the years.
If you're a small business owner who is struggling to maximize the efficient use of WordPress, please share your challenges in the comments below.