Membership websites are an excellent way to reward your loyal readers and offer them exclusive content when they sign up for your member's area. But, they can also be a nice way of earning additional income if you choose to offer your products or services to those who opt into a monthly subscription.
WordPress makes it easy to create a membership site thanks to numerous membership plugins available. Membership plugins range from free to paid, and each of them comes with its set of pros and cons.
In today's post, I'll take a look at Restrict Content Pro, cover the main features of the plugin, and go over its advantages and disadvantages.
What Does Restrict Content Pro Offer?
Restrict Content Pro is a premium plugin developed by Pippin Williams, author of Easy Digital Downloads and AffiliateWP. The plugin allows you to manage membership levels and premium content subscriptions on your WordPress website.
You can create unlimited membership levels, both free and premium, and you can also offer a trial membership. Once you've created all the membership levels you want, you can then manage members and their subscriptions, track payments, offer discount codes as well as provide paid-members-only content to your subscribers.
Here's a brief overview of the main features of the plugin:
Offers a customer dashboard so users can easily keep track of their subscription
Unlimited subscription levels with prorated upgrades and downgrades
Integration with WooCommerce
The ability to restrict content according to different membership levels
The ability to accept and process payments via PayPal, Stripe, 2Checkout, as well as other payment options
The ability to send emails to members such as welcome emails or payment/membership renewal emails, and more
Complete set of reporting tools
Various free and paid add-ons to add more features such as integration with MailChimp, sending drip-content, integration with WP Job Manager, and more
Download the Restrict Content Pro plugin
Now that you have a good idea of what the plugin is capable of let's examine some of those features more in-depth.
Subscription Levels
To get started with the plugin and configure the subscription levels, you'll need to install the plugin first. The process is rather straightforward – just upload the zip file of the plugin in Plugins > Add New > Upload Plugin. Then, click on Activate and enter your license details.
Once the plugin is active, click on Restrict > Subscription Levels. On this page, you can enter the name and the description for the subscription level as well as configure the pricing and the subscription duration.
You'll notice that most of the options have a little question mark icon next to them which gives you an explanation of what the option does. This is extremely helpful as you go along and configure different settings.
It's worth mentioning that all the necessary pages are created when the plugin is installed, but you can easily create a new registration page by inserting the [register_form] shortcode into any page on your website.
You can also add existing users to any of subscription levels you create, however, you cannot add the same user to multiple subscription levels.
Restricting Content
You can limit the content of any page or post by placing it within the [restrict] and [/restrict] shortcodes. There is also an option to restrict the entire post or page by checking off the Paid Only checkbox in the Restrict this content box below the post editor.
Checking this option will allow you to restrict the content to all or selected subscription levels, show excerpts to non-subscribers, and finally, to hide this excerpt from RSS feeds.
Keep in mind that you can define different access levels which correspond to different membership packages. This gives you even more control over the ability to restrict content and you can also use WordPress user roles to fine-tune the restriction options further.
You can also restrict content for categories. To do this click on Posts > Categories > Edit Category. This means you can put all of your premium content under one category and restrict it to paid subscribers only.
Discount Codes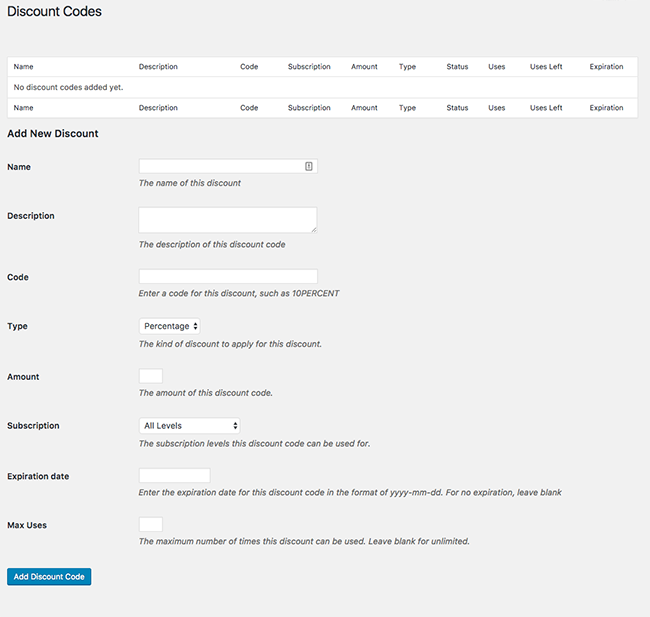 Discount codes are incredibly useful when it comes to promoting your digital content. And Restrict Content Pro has nifty tools that allow you to offer both fixed and percentage discounts to any subscription level. Furthermore, you can set an expiration date for each discount, and even restrict the use of the discount code.
Payments and Reports
The plugin allows you to track the payments made by your members and you can see various reports of your earnings, refunds, and signups for different time periods.
Reports can be filtered by weeks, months, quarters, or years. There is also an option to create a custom filter where you can enter a date range and filter across subscription levels.
Ease of Use
Overall, the plugin is easy to use even for beginners. This is accompanied by helpful popups throughout the plugin area as well as a detailed help page with video tutorials and additional shortcodes. You can use the shortcodes to restrict content in various ways, display custom messages to paid members and regular users, and more.
The settings page is straightforward too, with options to configure payment processors, customize the emails and the invoices.
Pricing
Restrict Content Pro is available in four pricing tiers:
Personal License for $49/year for use on one site with 13 free official add-ons
Plus License for $99/year for use on five sites and 13 free official add-ons
Professional License for $199/year for use on unlimited sites with 13 free official add-ons and 11 pro add-ons
Ultimate License for a one-time payment of $499 which gives you lifetime access to the plugin, add-ons, support, and updates.
It's worth mentioning that a basic version of the plugin is available in the official repository but it is extremely limited in features. The only feature available is to restrict content based on user levels.
Add-Ons
When it comes to add-ons, the official website offers access to free and paid add-ons, as well as a list of third-party add-ons developed by other WordPress developers. They range from free to paid and offer additional functionality such as integration with WP Job Manager, BuddyPress, AWeber Pro, Active Campaign, the ability to restrict past content, the option to allow users to create sites in a multisite installation, and more.
Is Restrict Content Pro the Right Choice For You?
Restrict Content Pro is a beginner and user-friendly membership plugin. Although it's easy to use and offers a lot of functionality, it still lacks some of the features found in other membership plugins. Let's briefly cover its pros and cons to help you determine whether it's the right choice for you.
Plugin's Pros
On the plus side, Restrict Content Pro is:
Easy to use
Flexible enough to offer unlimited membership levels and content protection on single pages as well as categories
Comes with thorough documentation
Offers integration with various payment gateways
Affordable pricing
Plugin's Cons
The cons include:
No native ability to block access to digital files to those who have purchased a particular subscription plan
Some of the features in other membership plugins are available only through add-ons (for example, an affiliate program for existing members)
Having said that, keep in mind that not everyone needs those additional features. So, if you're looking for an easy way to make your content available to paid members only based on their subscription level, Restrict Content Pro is worth every penny.
Bear in mind that you can get additional features with their Professional license which comes with a significantly lower price tag than other membership plugins.
However, if you need advanced functionality such as the ability to offer digital files to paid members, protected audio and video streams, or advanced profile control for your members, then a different plugin would be a better choice.