There are plenty of email marketing tools that are capable of sending great newsletters.
But MailPoet is a little different in that it's designed specifically for WordPress. This means you can expect what is literally seamless integration with WordPress.
MailPoet is a freemium plugin that lets you create and deliver newsletters and post notifications from within the WordPress dashboard. Their free plan supports sending emails to 2000 subscribers. Beyond this figure and if you require more advanced features, you'll have to consider one of their premium plans.
The Free and Blogger Versions
The free version is limited to serving 2000 subscribers which more than enough to get you started.
You'll be able to access basic statistics that will tell you how your newsletters are performing and you'll also love the great autoresponder feature. The free plan is very similar to what MailChimp offers and I found the interface for creating the emails to be very similar as well.
MailPoet offers advanced segmentation too – even in its free version, you'll be able to segment your list based upon factors like opens, clicks etc.
With the Blogger version, there's no limit to the number of subscribers. Depending upon your plan, you can use it on a single or multiple domains. Also, you get access to lots of advanced features like integration with Google Analytics, checking your spam score, accessing advanced statistics, cleaning your email lists for the bounced emails, premium support, and many more.
While other email marketing tools too can achieve similar results, none of them can be managed from within your site. This is exclusive to MailPoet.
Here's a short tutorial that describes how to send newsletters right from within your WordPress dashboard.
You can begin by simply naming the campaign and adding a subject line. Once that's done, you can then move to your email's main body text.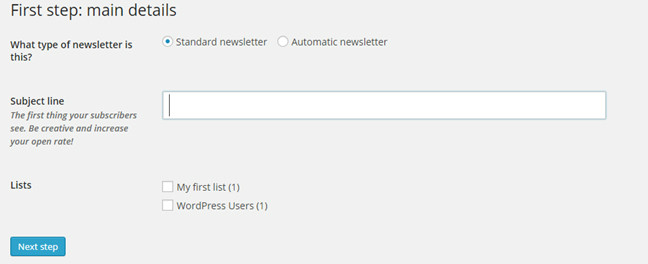 Sending the automatic newsletter is an interesting and convenient feature.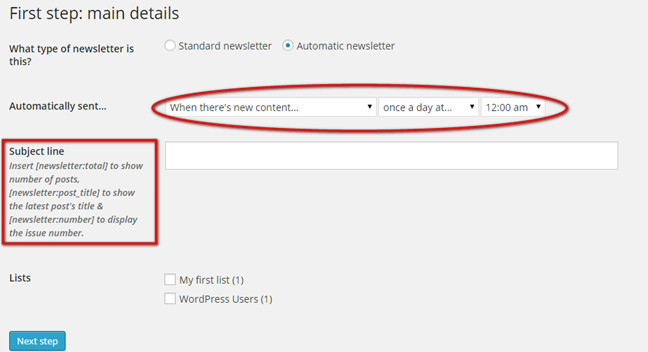 There are a couple of things that you can specify under this "type option" including:
You can decide what action will trigger sending the newsletter.
You can choose to deliver a newsletter whenever there's a new post.
You can send an email when a new user is registered.
You can send an email when a subscriber joins your list.
You'll also have full control over the frequency – making your newsletter a daily, weekly or monthly event. You can also schedule it to be delivered immediately.
There's also a provision to select what time of the day you want your letters to be sent.
MailPoet allows you to use simple shortcodes for adding the name of your latest posts, the newsletter's issue number as well as the total number of posts within the subject line. If you maintain multiple lists, you can select all the lists that you want to deliver each particular newsletter to.
MailPoet's interface is clean. You can view all the major statistics across your campaigns at a glance. Data for the open rate, click rate, and a total number of unsubscribes is available here as well.

The first thing that you'll notice while creating your email copy is that MailPoet features easy-to-use drag and drop functionality.

You'll have all the major email design elements like the content and images conveniently located in the right side menu. All you have to do is drag them into your email area.
As you can see,  each element is customizable.

MailPoet, by default, comes with a single theme. If you want more themes, you can download them from their repository. You'll find both free and premium themes in there. Don't be discouraged if all you can afford are the free themes – they're still great.  You can view the themes here.
MailPoet's drag and drop functionality make creating emails quick and easy – you can create a great looking email in just a few with MailPoet.
Configuring the Global Settings
The global settings tab will let you manage several things including setting the sender's name and email id on the email for which responses should be collected.
Under the sign up confirmation tab, you can edit the default message that is delivered when someone subscribes to your site. You can choose either option – single or double opt-in, although the double opt-in is recommended. By selecting the "enable sign up confirmation", you'll activate the double opt-in.
Adding a Sign Up Form
MailPoet lets you add an email sign up form to your widget areas. You'll be able to find MailPoet's subscription form widget in the widgets under the appearance tab.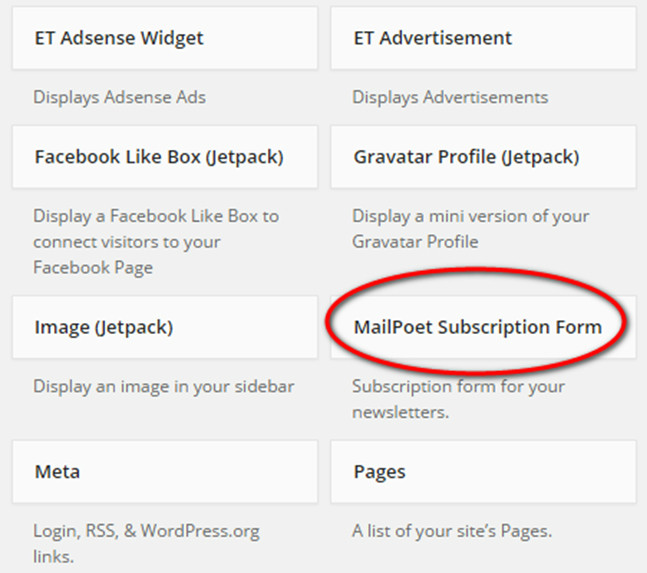 You can place this widget, like other regular widgets, anywhere within a widget area. Integration with popular list building plugins is only possible through add-ons.
If you haven't created a form, then the default MailPoet's signup form will be added, although you can create one at this point too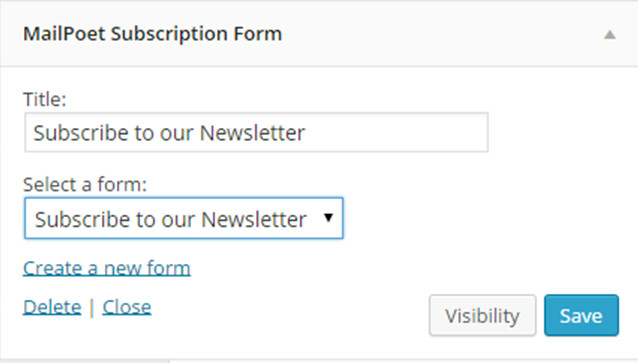 From here you can also specify the list to which a user should be added upon filling out a particular form.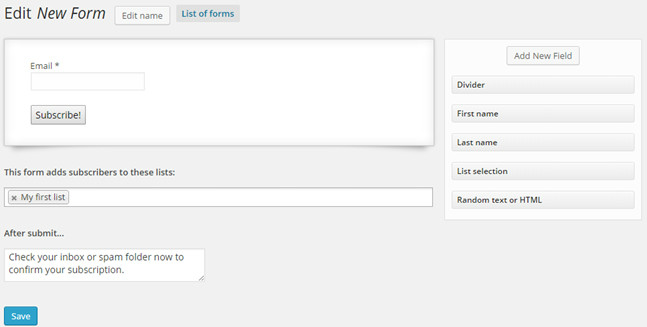 I added the default MailPoet form to my site. Here's how it shows up in the primary sidebar:

Concerns
Many people within the WordPress community are opposed to sending newsletters  directly from a WordPress site.  All sorts of concerns have been raised. From emails landing in the spam folder to unfairly consuming server resources. These concerns seem valid to an extent.
A hosting provider generally has a restriction over the number of emails that can be sent over a given timeframe. Sending out emails to thousands of subscribers will frequently cause problems with your hosting provider.
If you have a shared hosting plan, then you share the same server IP address as all the other sites in your network. If the SPAM detecting tools recognize any previoust problems from a website on the same server, your emails will be affected and there is the potential for many of them to land in a spam folder.
Using a dedicated email marketing service like GetResponse or Campaign Monitor certainly does not guarantee 100% inbox delivery. But they do go a long way in ensuring that your emails are delivered where they're meant to be – in your subscribers inboxes.
As part of the standard email delivery mechanism, email providers check an incoming email's SPF (Sender Policy Framework) to determine if the sender is a legitimate source and is authorized to send the mail. With hosted email marketing providers, verifying your identity is easy and that improves deliverability.
Google or Yahoo may tag your emails as SPAM if their spam filtering tests find a missing SPF record.
If your emails look like junk to the servers receiving them (even if you send them through a premium email marketing tool), there's little that you can do to rectify the situation.
But, you must not forget that MailPoet's premium version does offer a spam score. As far as delivering emails is concerned, MailPoet supports third party SMTP services. The one downside being that they charge separately for this service.
Sending Restrictions
MailPoet offers 3 options for sharing your newsletters. Let's go through them one by one.
1. Using your own website:
This is not recommended mainly for the reasons that I just mentioned. You could still choose this option if you have a small list, but there are a lot of risks to consider. Hosting companies often limit the number of emails that can be sent within a day. MailPoet recommends sending about 70 emails per hour. This means that your emails will be delivered at different times. You can decide on the final interval, but the recommended period is 60 minutes.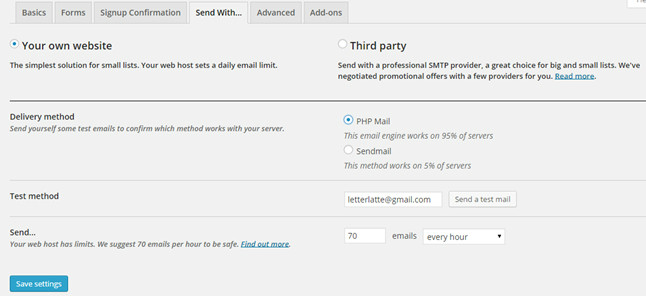 2. Using Gmail
Again, there is a limitation here. Gmail generally allows a maximum of 500 emails per day and not more than 70 an hour. I selected this option and sent a test mail which I did receive it in my inbox.
I also tried sending a test mail with the PHP Mail option. This test mail also landed right in my inbox. MailPoet mentions that the PHP Mail works with about 95% of servers. While the Sendmail option works well only for about 5% of the servers.
3. Using Third Party SMTP providers
If you have huge email lists, then you will have to resort to a third party solution for delivering your newsletters using MailPoet. Sendinblue, Sendgrid, and Mandrill are popular choices.
Sendineblue charges $25 per month for 40k emails.
Sendgrid, has lots of plans starting at $9.95 per month for sending about 40k emails.
Mandrill comes with many pricing plans. You get up to 12k emails free per month.
A Few Other Features
Newsletters designed with MailPoet are responsive meaning they'll adapt themselves to a readers mobile and tablet screens. Emails will also look great in most email providers interfaces like Gmail, Yahoo, Hotmail, and Outlook.
MailPoet also supports multiple languages. You can find the full list of the supported languages here.
MailPoet is also WordPress multisite compatible.
Something That You'll Miss
As a website owner, you're constantly trying to grow your email lists by investing in list building plugins. Unfortunately, MailPoet doesn't offer direct integration with all of them yet although some email services can be integrated with the help of add-ons. Jut keep in mind that these add-ons are not free.
Conclusion
If you want to the ease of managing your email marketing from within your WordPress dashboard, then you don't have to look any further than MailPoet. It's easy to use, convenient, and works well.
However eventually, you will require third part support as your list grows in size. This may be in the form of premium add-ons or third party email delivery services. You will find their premium plans somewhat frustrating since you're paying a premium price that still requires the use of add-ons. Even still, MailPoet is a very affordable option if you're looking for an email marketing platform with basic functionality.