There is no shortage of good quality WordPress themes out there. In fact, there are numerous multipurpose WordPress themes that you can use to create diverse range of websites, be it a blog or an eCommerce store.
However, what about niche WordPress themes? Are there any theme shops that cater to a specific niche to specialization? You bet!
In this article, we will be taking a look at some of the best niche WordPress theme shops.
Niche: Themes for Church Websites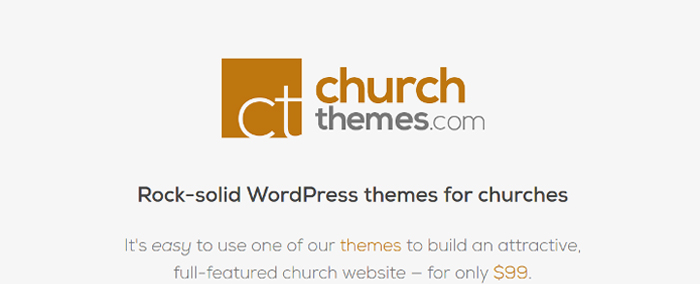 churchthemes.com, as the name suggests, offers themes catering to the needs of church websites. Sites for religious institutions have long been there, but this has remained a niche relatively unexplored by many WordPress theme providers.
churchthemes.com offer quite a good number of themes and plugins. There are several built-in that can prove useful for churches and other related institutions. For instance, what good is a religious gathering without a sermon? As such, all products of churchthemes.com come with native support for podcasts so that you can post the sermons online within minutes. Beyond that, there are also related widgets, ability to have sections for donations and mass info, etc.
Pricing: $99 per theme (45-day money back guarantee)
Niche: Themes for musicians and music artists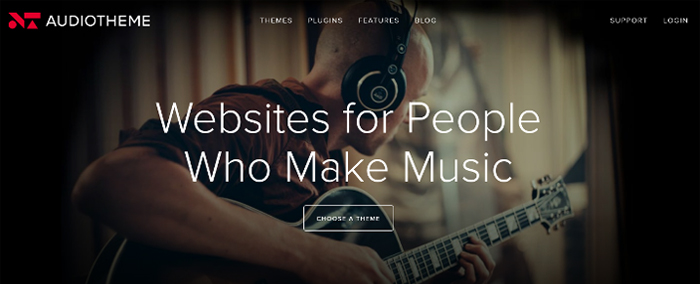 AudioTheme claims to offer themes for "people who make music". Obviously, this particular WordPress theme shop caters to the needs of musicians, music artists and others who might post audio content.
AudioTheme do not have a very large collection, but the themes in themselves seem custom-made for any creative artist. Every single WordPress theme by AudioTheme is minimal and elegant as well as mobile-friendly. You can post your music samples and other content, as well as have sections for biography of your band and upcoming events, photos, etc.
Pricing: $99 per year (includes access to all present and future themes and plugins)
Niche: Specialized Magazine Themes

Meridian Themes do not operate via their own theme shop but instead sell on ThemeForest. Now, ThemeForest has long earned a reputation for multipurpose WordPress theme. You will easily find hundreds of WP themes here that can act well for portfolio, corporate and blogging sites. In other words, niche WordPress themes are rather unheard of in the world of ThemeForest.
Meridian Themes are attempting to combat this stereotype. Their small but ever increasing portfolio consists of specialized WordPress themes with a magazine-centric ideology. Now, "magazine" is surely a broad term, but Meridian Themes are using magazine design to cater to specialized magazines — you will find sports magazine themes, news magazine themes, and so on.
Meridian Themes sales are governed by Envato licenses, so be sure to select the appropriate license for your usage.
Niche: Adsense Optimized Themes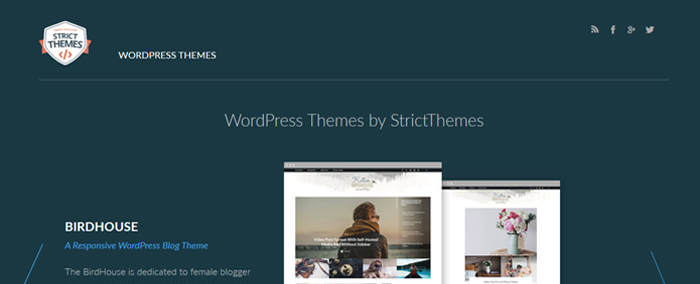 StrictThemes offers minimal and clean niche WordPress themes for creative artists, portfolio, and bloggers alike. StrictThemes have bee in the market for a long time and have a nice collection of adsense optimized themes.
If your site relies on advertisements for revenue, StrictThemes might be the ideal theme shop for you. Since the themes are extremely minimal, you will not have a hard time showcasing your images and other creative works using them.
Niche: Minimal Masonry Themes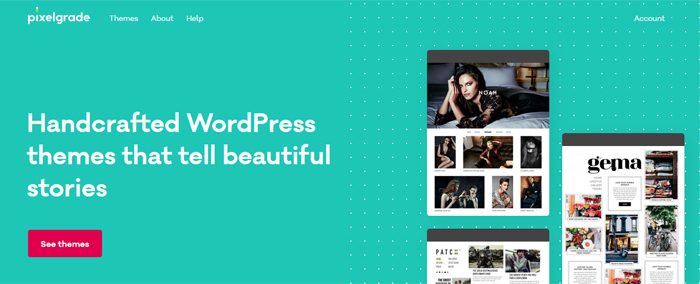 If you are fond of grid and masonry layouts in WordPress themes, look no further than PixelGrade. You will find clean and minimal niche WordPress themes with a focus on masonry layouts — content arranged in the form of a grid with or without equal sized thumbnails.
As such, PixelGrade WP themes tend to play well for specific niche websites — lifestyle blogs, fashion blogs, cultural magazines, etc. You probably will not find much use for such themes on a sports or political site, nor on an eCommerce store, but for lifestyle and other related fields, PixelGrade are an awesome fit.
PixelGrade themes appear to be slightly costlier as compared to the other theme shops. In fact, they seem to be bit overpriced, with a single theme costing above $100 and beyond. This, clearly, is way more than even the price target of some of the biggest WP theme shops. That said, the WordPress themes offered by PixelGrade sure look good and are a treat for any website.
Niche: Magazine Themes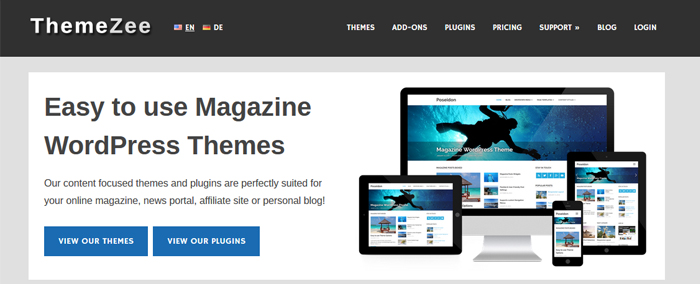 ThemeZee offer sophisticated magazine WordPress themes for a wide variety of websites. You can pick from a large array of magazine niche WordPress themes, each with a separate magazine as well as blogging layout.
The interesting part about ThemeZee is their business model. Almost every single WP theme that they have to offer is available for free. You can download it and start using it as per your needs. There are, in essence, no "premium" themes at all! However, if you need added features, you can buy the addon plugin and unlock all the awesomeness of your theme.
Pro features offered by ThemeZee tend to include specialized magazine widgets, footer widget areas, the ability to tweak the typography and color options, and so on. In other words, with ThemeZee, you get the niche WordPress themes for free. You purchase not the theme but the ability to customize your theme easily.
Niche: Photography and Portfolio Themes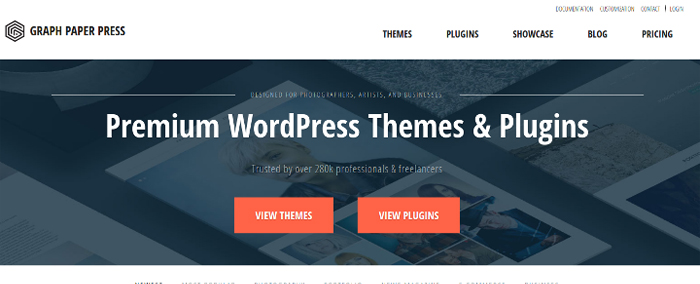 Graph Paper Press is a shop for niche WordPress themes catering to photographers and other artists who work with images. In fact, their every major offering revolves around digital images and photos. The themes here support and play well with stuff such as EXIF metadata, and allow you to feature your images in any manner you wish to.
Graph Paper Press also offer plugins for photographers and artists, such as the Sell Media plugin that allows you to sell images and other digital products on your website.
Graph Paper Press also have a good range of free WP themes that you can download without having to pay anything.
Niche: Magazine Themes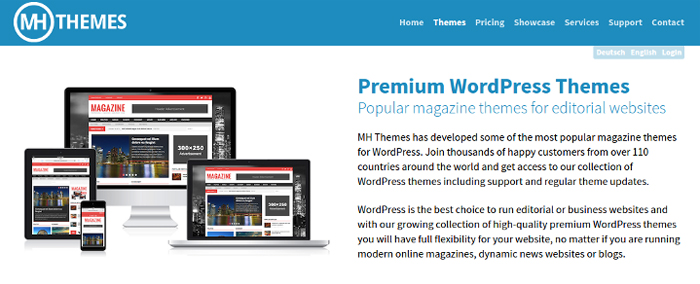 MH Themes offer niche WordPress themes for folks who might need magazine themes. Every WP themes that you will find with MH Themes has a clear magazine layout.
The flagship theme of MH Themes, MH Magazine, has enjoyed immense popularity. Thereafter, MH Themes have repeatedly released child themes of their flagship product. Each child theme is a magazine theme in its own right, with the appearance tweaked to suit specific genres, such as sports, food, technology, etc.
MH Magazine and most of its child themes are free to download, albeit you can extend their features and do more by opting for premium versions. Considering the fact that you might have to pay for child theme plus the parent theme when buying individually, it would be wiser to go for a club membership and gain access to all the child themes of MH Magazine.
Also, MH Themes have other themes as well that are unrelated to their flagship theme.
Niche: Themes for Creatives and Artists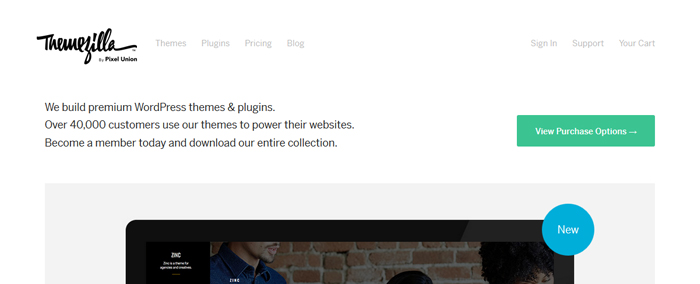 Themezilla, the last entry on our list, offers niche WordPress themes for designers, creative artists, and other folks who wish to create an online portfolio.
Themezilla themes tend to have a distinct design appeal to them, but you cannot use them for every other nature of website. If your portfolio is such that it requires emphasis on a given set of projects, or if you wish to highlight your work samples above the other content on your site, Themezilla have the right themes for your needs.
Themezilla were acquired by Pixel Union some time ago, but they have since retained the original flavor of Themezilla designs. There are themes for other usages too, such as blog and magazine, but Themezilla are best known for their portfolio WP themes.
Don't forget to use our ThemeZilla Coupon code "wpkube30" to get 30% off.
Niche: Blogging Themes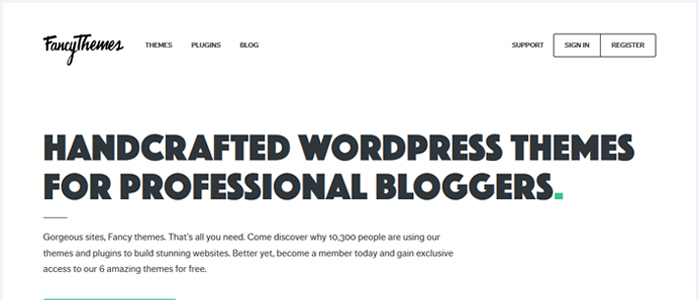 Fancy Themes is a WordPress theme shop with a focus on bloggers. Fancy Themes offers specialized niche WordPress themes that are responsive, clean, minimal and catered to suit the needs and requirements of blogging gurus.
Essentially, every single Fancy Themes' offering relies on putting your blog posts and content to the fore. You would find nifty integration with newsletter widgets and plugins as well as native support for related post suggestions, ad spaces and superb typography.
Fancy Themes offers both premium and free themes. There are various plugins as well which are, again, meant mostly for bloggers to maximize their revenue. For instance, you have the Optin Forms plugin that lets you create attractive signup forms and landing fields for your users.
Over To You
And that brings us to the end of this roundup of niche WordPress themes and theme shops. You might be wondering at this point, why would you prefer not going for a multipurpose theme?
Well, there is nothing negative in a multipurpose theme. But niche WordPress themes tend to cater to the needs of a special niche. A theme for writers might have cleaner typography, whereas a photography theme will focus more on images. Similarly, a feminine niche theme might do differently in terms of color and design whereas a sports niche theme will handle things still differently.
But if the above list does not cut for you, have no worries. We have a special list of portfolio and photography WordPress themes and even another list of one-page WP themes. Still need more? Check out some more awesome WordPress themes.
Which WP theme shop do you prefer and why? Share your views in the comments below!