With WordPress powering nearly 20% of the top 10 million websites, it's getting tougher to make your site stand out from the crowd. Even though there are countless premium and free WordPress themes available to give your site a professional look, for many sites, the fact they are using WordPress is almost instantly recognizable. While there is nothing wrong with this, it can make conveying your individuality to the world a little more difficult.
Those unfamiliar with WordPress sometimes dismiss the platform by proclaiming that all sites look the same, with a boxy design and predictable sidebars. While this isn't the case for all sites, there is an element of truth to this. However, it doesn't have to be this way. To give you some inspiration when creating or choosing your next WordPress theme, here are some sites that break out of the traditional constraints, while still retaining the excellent features and functionality that has made this platform so popular.

Yeti Spotter
The homepage of this site does very little to giveaway the fact that it has been built using WordPress. Nothing above the fold gives any indication that this is a WordPress site and even when you scroll down to the end of the homepage, there is no widgetized footer to give the game away. The developers of this site have create a true one-page theme for WordPress that uses very little of the functionality of this popular CMS to great effect.
Visit Site
Westwerk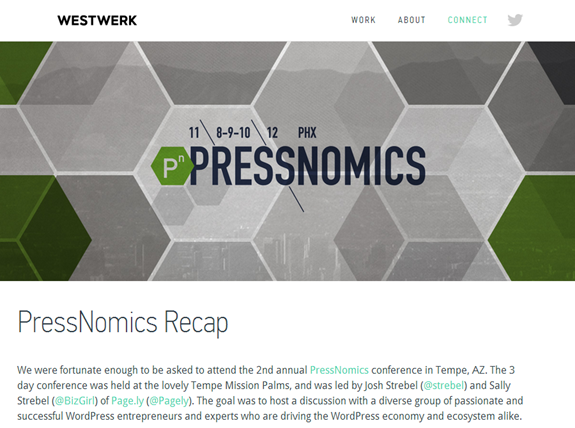 This design agency were actually the creators of the Yeti Spotter site, so it's no surprise to learn that they have built their own website using WordPress, while ensuring it looks nothing like a standard WordPress site.
The homepage does little to give away what is powering this website, and the same can be said of the individual posts. There are no comments, sidebars or widgets in use here, just great design and well-presented content.
UpperCup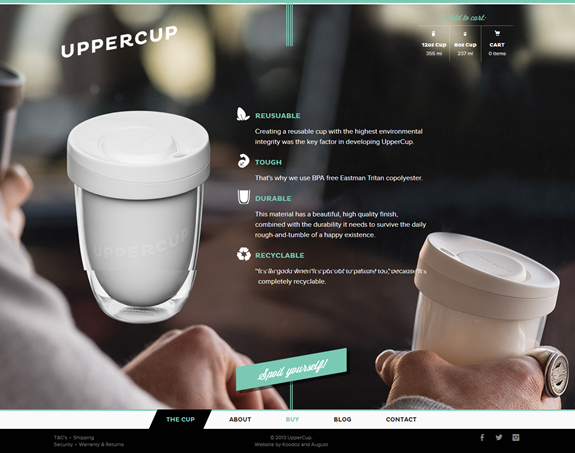 This site has been built to promote and market an innovative reusable coffee cup and the web designers responsible have crafted a custom WordPress theme which perfectly matches the product. Even clicking through to the blog does little to give the impression this is a WordPress site.
The blog features a grid layout of the latest posts which when clicked, displays the post content below the menu. This is a very non-standard approach to display blog posts in WordPress and it works very well. There are no sidebars, widgets, categories or tags on display at the blog, but the content is still easy enough to navigate and make sense of.
The site also features a shopping cart to purchase the UpperCup and as you'd expect, this procedure bears little resemblance to checking out on an eCommerce store powered by an off the shelf WordPress theme.
Protest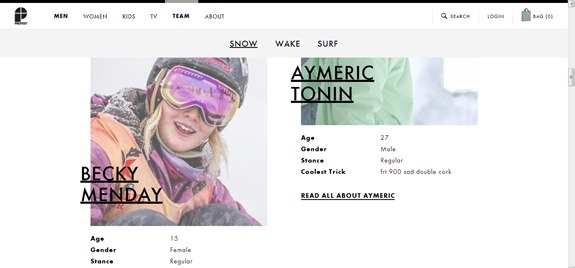 This eCommerce site is a great example of an online store powered by WordPress that doesn't look like a WordPress site. The store is for a board wear company and the design fits really well with the purpose and target market of the site.
The homepage looks nothing like a WordPress page and the inner pages also do nothing to give away this fact. If you scroll down the end of the long form content you will find some footer widgets. However there is little else of the standard WordPress functionality on display.
Films de Weil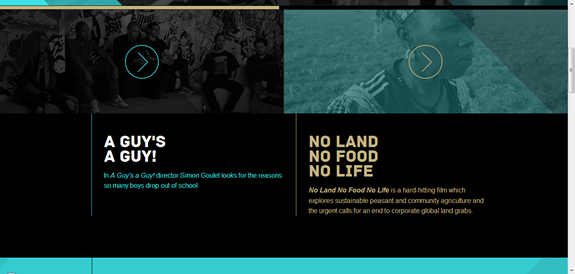 This is another great example of a site that pushes the boundaries of what a WordPress theme can look like. Although it's a fairly traditional website in terms of the type of content displayed, it's all been done in a way that hardly resembles a typical WordPress website at all.
The site features full width background videos, bold typography and an eye-catching colour scheme, all used to great effect. There are no sidebars and widgets here, but plenty of good design with the content taking centre stage.
Visit Site
Write for Rights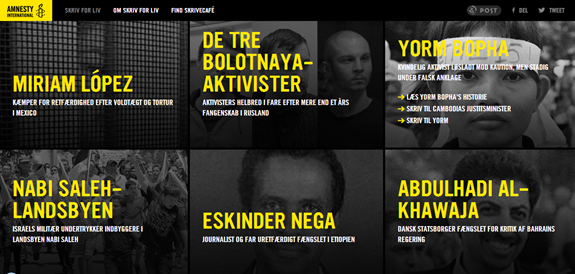 This site for an Amnesty International project uses WordPress for its backend but makes little use of its more popular front end elements. The design is responsive and makes hardly any use of scroll bars where possible, opting instead to resize the content to fit the screen it is being viewed on.
Sometimes it feels as though the lack of sidebar menus makes it a bit tricky to navigate, but overall the user experience isn't really negatively effectively by the unconventional design.
Healthy Enough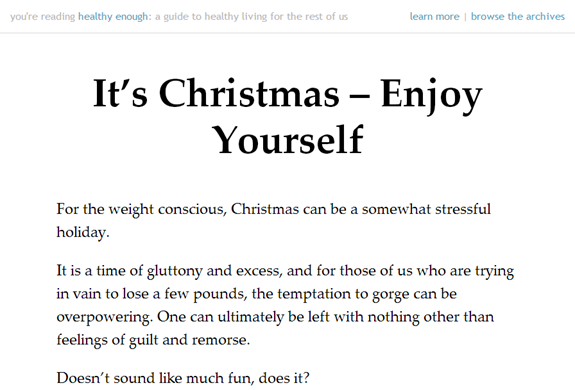 While the other sites so far have been built as more traditional websites, despite their unconventional use of WordPress, this site is a blog. Unlike the other sites here, the design of Healthy Enough has gone in totally the other direction and embraced the ultra-pared back style, favored by minimalist bloggers like Leo Babauta and his Zen Habits blog.
The Healthy Enough blog does away with sidebars, elaborate menus and simply lets the content be the main focus of the site. As what must be a first for a site that occasionally covers food and cookery, there are no images in use here. A fair amount of screen space has been devoted to capturing email addresses, but there is no place for comments on this site, which is a bold move for such a blog.
Will this minimal design be the next trend to sweep through WordPress web design as bloggers looks to stand out from the crowd and let their content be the main focus of their readers' attention?
Ghosthorses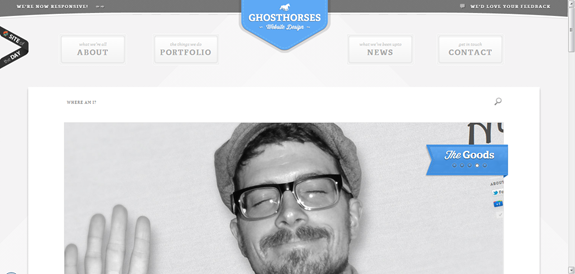 The website for UK design firm Ghosthorses makes a big impact and despite not looking totally unconventional in appearance, it doesn't look like any of the WordPress themes available to buy off the shelf.
A bit more exploration of the site does reveal a few WordPress staples, such as footer widgets and an image slider, but the site deserves a mention here at is eschews many of the stereotypes of this platform, doing away with boxy design and hefty sidebars.
Voile Blanche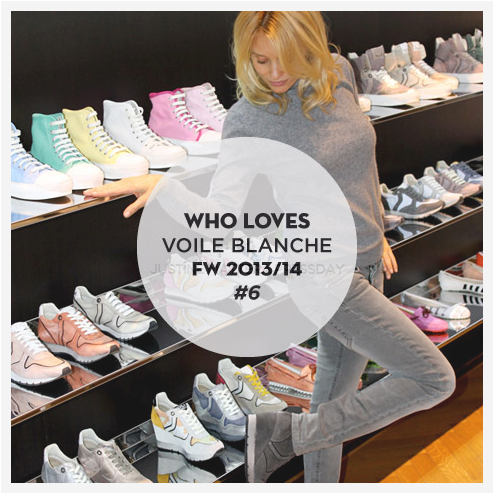 This site for the Italian Voile Blanche fashion brand features a strong image-grid homepage layout, which itself isn't an uncommon design amongst WordPress themes. However, this site does it in a way that removes many of the standard WordPress distractions such as sidebars and footer widgets to create a site that you would have no reason to believe was built using this platform.
Guerrilla Web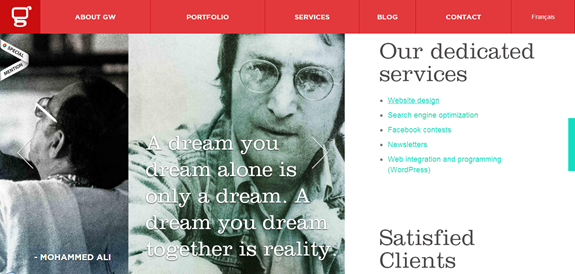 This website for the Canadian digital agency Guerrilla Web uses a WordPress theme that offers something new while still retaining lots of the features that make this platform so great. So while you won't be surprised to discover that this site does in fact use WordPress, you should be pretty impressed with the design vision required to create it. With a fully responsive layout and menus, the bold use of colours and images helps create a memorable impression that will help ingratiate the agency to potential clients.
Conclusion
What do you think about the growing popularity of WordPress and the potential homogenization of the internet? With one in five sites powered by WordPress, a growing sense of familiarity is going to be hard to avoid when creating a website.
Do you think there are enough different styles of themes available and are individual designers doing enough to break the mould in terms of page layouts and theme design?
What sites do you like that use WordPress but don't look like a typical WordPress site?