WordPress is a great portfolio solution for artists, illustrators, photographers, designers and other creative professionals who wish to present their work online in a way that looks great, with minimal effort required.
If you're looking for a WordPress portfolio theme, the designs that work best are simple, minimalist styles that don't compete with your work. The last thing you want is for prospective clients to be oohing and ahing over the design of your portfolio site, rather than your actual creative work.
As well as a simple but stylish design, it's important to consider clear navigation, an easy and intuitive way of browsing images and to ensure sure you choose a theme that is optimized for speed. As loading large images can really slow down the load time of your site, you'll want to make sure that your WordPress theme is as speedy as possible.
Quite a challenge! But luckily we've done all the hard work for you and found the following themes, all of which are an excellent choice for any creative professional:
1. Snapshot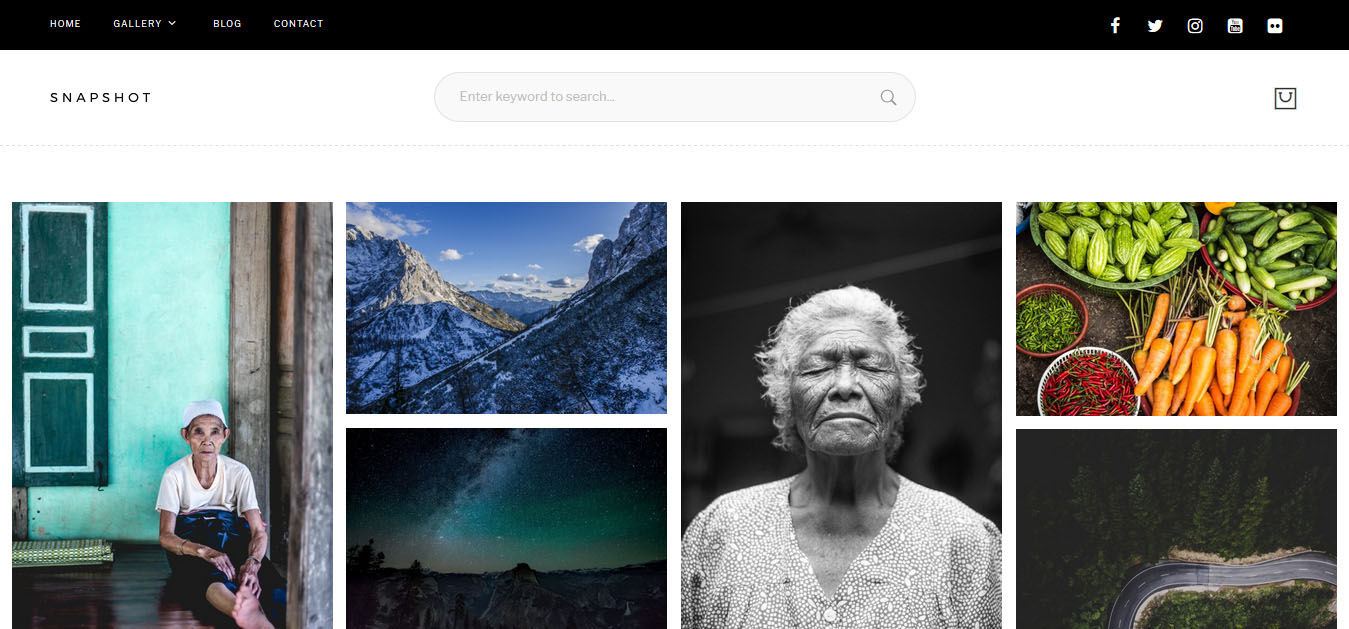 Want to use your photography portfolio to leave a lasting impression on your site's visitors and keep them coming back for more? Snapshot by MeridianThemes is an eCommerce focused stock photography theme for WordPress that's designed to help you begin selling your digital collection online.
Whether you're looking for a neat and clean theme that leverages white space to give your photography an elegant look and feel or a classic layout with a post grid format or homepage slider, Snapshot has something for everyone.
With built-in support for selling photography with different resolutions and sizes, you won't have to look for a plugin or third-party solution to make your site look professional. Snapshot's pricing options let you set multiple image sizes and sell them at different prices – similar to what you see in popular stock photo sites. On top of this, you can also enable multi-option purchase mode to let visitors buy different sized images in one go. Talk about delivering good user experience!
And in addition to all these neat configuration options, the Snapshot theme is compatible with Easy Digital Downloads giving you a fully immersive online selling experience. All you have to do is add your products to your site and you can start selling just like that.
Price: $59
View Demo Download & More Info
2. PILE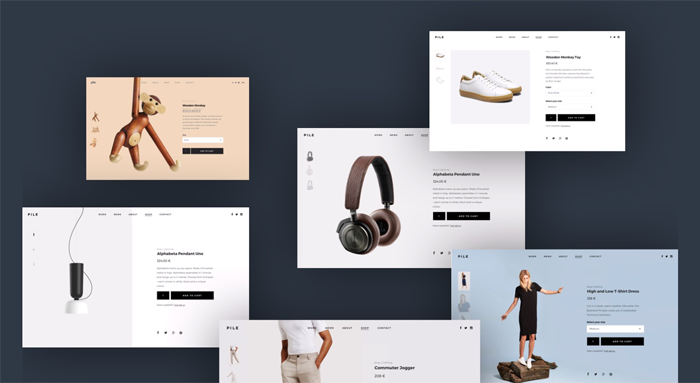 Looking for something different to spice up your portfolio? PILE by PixelGrade is a great portfolio theme for your WordPress site that lets you leave a bold and artistic impression on your audience with confidence. Making statements without stepping out of line and being too flashy and subtle details added in with amazing transitions and a smart layout builder to arrange your content to your liking can help achieve a visual masterpiece for a portfolio display.
Showcase your project the way you want to without writing a single line of code. Tinker around with the colors, fonts, and layouts to provide the efficient content delivery experience that promotes your WordPress website and, in turn, your project.
On top of customization options, the theme is also compatible with WooCommerce so your online business will not only look great but also function smooth. Speaking of smooth, the theme also supports parallax scrolling and is fully responsive on devices of all screen sizes.
There is ample amount of documentation available for the theme and the developers offer support if you find yourself facing any issues with their product. The great number of positive reviews PILE has received over the years are a testimony to it reliability and solid performance.
Price: $225
View Demo Download & More Info
3. Chromatic
Graph Paper Press specializes in minimalist WordPress themes for creatives, so they definitely know what they're doing when it comes to creating great portfolio designs. Chromatic is self-described as "the ultimate WordPress portfolio theme" and once you've tried it out, you may be inclined to agree.
Chromatic offers a choice of around two dozen layout combinations, allowing you to customize the theme in terms of page template, number of columns, color, custom headers, background images and fonts.
Your portfolio images can be displayed in horizontal, vertical, or square image layouts in two, three or four columns. View can be toggled between list and grid and gallery slideshows can be displayed in fullscreen.
Parallax special effects added to the slideshow and navigation give this simple theme a bit of extra pizazz. It's also fully responsive for viewing on mobile devices
When combined with the Sell Media plugin, sold separately, Chromatic becomes a fully functional e-commerce site, allowing photographers and illustrators to sell stock images directly from their own website.
Price: $79
View Demo Download & More Info
4. Photolux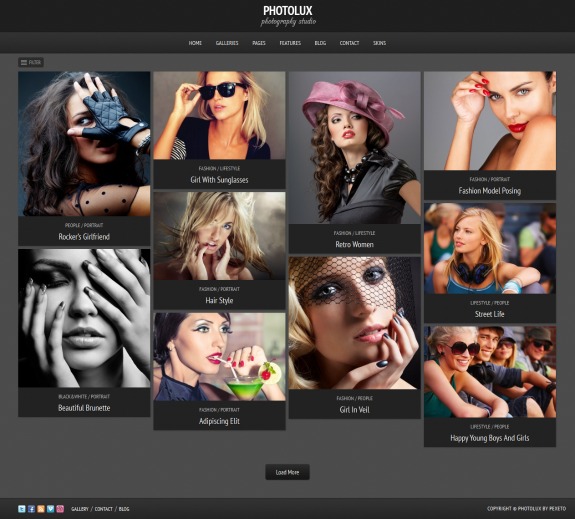 Photolux is one of the most popular photography portfolio WordPress themes and is powered by its own custom control panel – the Pexeto Panel, making it easy for WordPress beginners to edit and change the look of the theme with no code knowledge required.
The theme comes with three skins: dark, light, and transparent, which can further be customized with a handy color picker via the control panel.
The AJAX Image galleries look amazing on this theme and can be displayed in a number of different ways including fullscreen slideshow, Pinterest-style grids, and with a number of animated and color effects to choose from.
One of the nicest features of Photolux is its gallery filtering function which allows you to organize your photos into categories (such as portraits, landscapes, macro etc.). These categories can then be displayed as a normal gallery or as a "showcase" featuring your best images with supportive text.
Price: $49
View Demo Download & More Info
5. LENS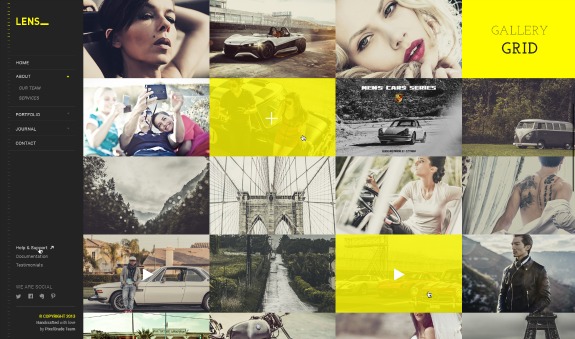 Lens is another fully-responsive fullscreen WordPress theme, aimed at photographers. The simple design keeps the focus on your images, with a basic sidebar for easy navigation (becoming an animated slide-in menu on smaller resolutions).
The grid gallery looks fantastic on large screens and mobile devices alike. There's also the option of using a Tumblr-style "masonry" gallery layout and fullscreen display. Unlike fullscreen galleries on many themes, the image loads behind the site navigation rather than as a popup, creating a really integrated look and feel.
The backend of LENS is just as well designed as the frontend and is really simple to use, even for newcomers to WordPress. The control panel makes organising your portfolio and image galleries, changing fonts and colors and social network integration a breeze. There's also a handy visual shortcodes plugin included which allows you to easily create text columns, buttons, icons and more.
Fast-loading and ultra-smooth scrolling make this theme a real pleasure to use for viewing either on a computer or mobile device.
Check out our in-depth review to know more about this theme.
Price: $59
View Demo Download & More Info
6. Cartel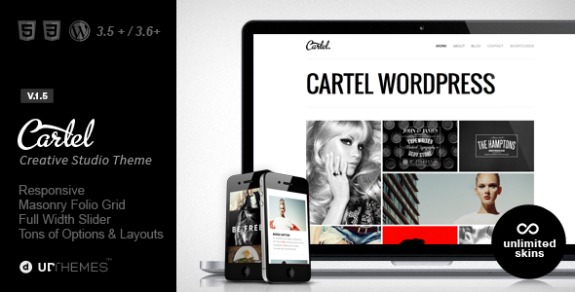 Cartel is a fully responsive HTML5 minimal WordPress theme that is ideal for creative freelancers and agencies to showcase their images.
Features include full-width swipeable image sliders, a masonry-style grid gallery, fullscreen background images, hover effects, and a filterable portfolio.
A variety of styling and layout options can be edited from the control panel and the included shortcode assistant makes it easy to add automatically-styled blockquotes, lists and buttons to your content.
Two skins are included for a choice of either a black or white website and an unlimited number of color and font combinations can be created from the options panel.
Price: $44
View Demo Download & More Info
7. Gridstack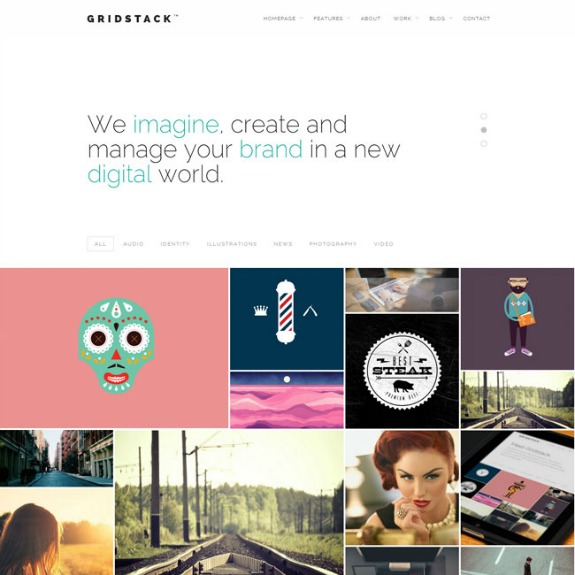 Gridstack is a clean and modern portfolio theme with fullscreen viewing options and parallax scrolling effects, making it ideal for displaying photographs, illustrations, videos and other creative media.
Gallery grids are full-width, ensuring that your WordPress site will take full advantage of valuable screen real estate, no matter what size screen it is viewed on. The image grid effortlessly rearranges itself when the viewing resolution is changed with smooth animated effects.
This theme works great for long homepages and creative blogs, loading new content on the fly. A fixed-position horizontal menu means that navigation is easily accessible, no matter how far you've scrolled down the page.
Price: $49
View Demo Download & More Info
8. 907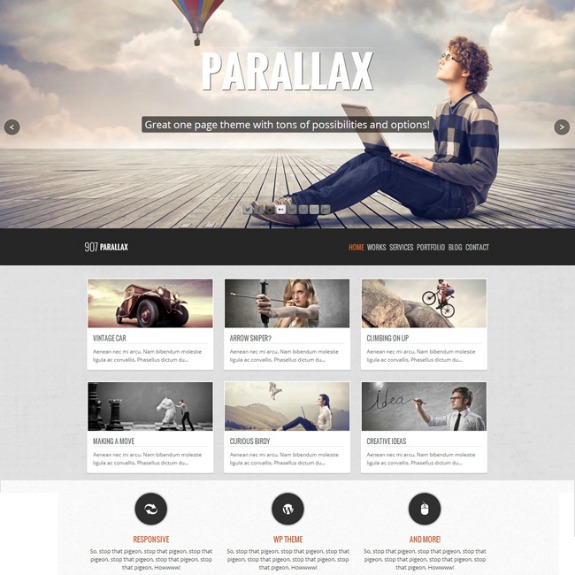 907 is a single-page WordPress theme with unlimited parallax sections and sidebars. Lots of header options make it easy to create your own look and feel within this ultra-modern slick theme.
Choose from fullscreen slider, fullscreen parallax, 3D slider, revolution slider, video header or flex slider to create the initial look of your WordPress site and customize further by changing the colors and background images.
A drag and drop image gallery makes it easy to manage and update your portfolio.
Price: $49
View Demo Download & More Info
9. Artiste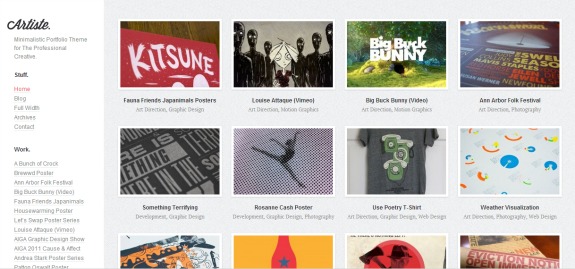 If you're after a clean, functional theme that will firmly place the emphasis on your work, without any bells and whistles, Artiste definitely fits the bill.
This simple and minimal theme places your images front and centre with a basic menu and minimal effects to avoid distracting from your portfolio.
There's not much else to say about this theme – it's beautiful, basic and does its job perfectly.
Price: $53
View Demo Download & More Info
10. Modern Portfolio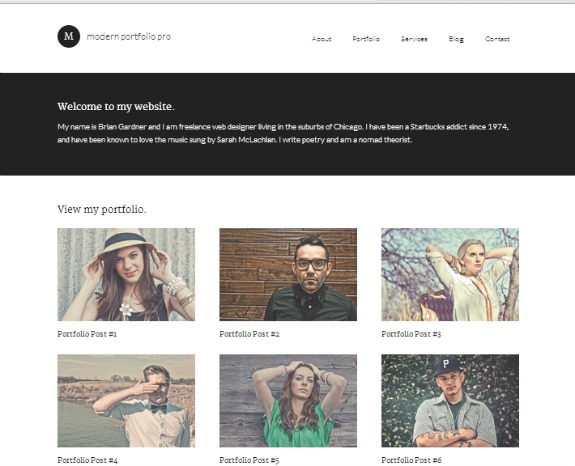 Modern Portfolio is a theme built on the Genesis WordPress framework that does what it says on the tin! If you're looking for a simple, flexible, responsive portfolio theme, you can't go wrong with Modern Portfolio.
One of the best aspects of Modern Portfolio is that the homepage is structured to include all your important information and maximize your chances of being hired through your website. Your portfolio, About page, services, blog and contact information are all available at a glance for potential clients.
Modern Portfolio is fully responsive and offers a choice of three page layouts, four page templates and unlimited customization options from within the control panel.
Price: $99.95 (includes Genesis framework)
View Demo Download & More Info
11. Vertex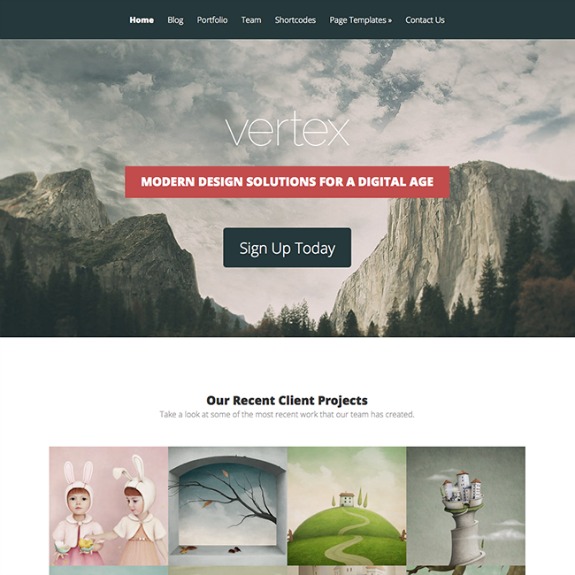 Vertex is a beautiful, responsive modern theme that's ideal for any individual or design business to showcase their portfolio. Parallax scrolling effects and subtle but slick animations make this long-form theme really leap off the page.
Image gallery thumbnails can be displayed at a number of different sizes and layout options, with or without descriptive text and a sidebar. Users have the option to view the image larger as a lightbox-style pop-up, or as a full-width image with supportive text, which also works great for blog posts.
The backend customization allows you to really make this theme your own by mixing up the color scheme, fonts, layouts, advertisements and more. A large collection of shortcodes makes it easy to add buttons, boxes, text columns, styled lists and other content features without needing to get your hands dirty in the code.
As this theme is part of the Elegant Themes bundle, currently $69 for over 80 themes, it's great value for money.
Don't forget to use our exclusive ElegantThemes coupon to get 20% off discount on their developer license.
Price: $69
View Demo Download & More Info
12. ePix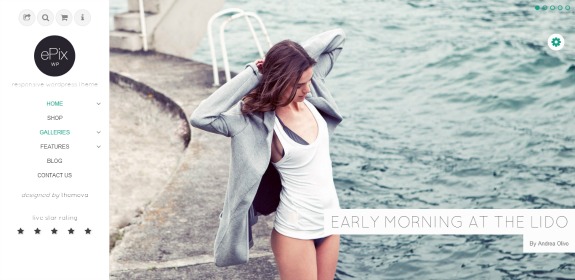 This fullscreen photography WordPress theme is built in responsive HTML5 code and features high resolution graphics that look amazing on retina displays.
ePix is compatible with WooCommerce, making it a great choice of theme for artists and photographers who wish to sell prints or stock images through their website.
There are five image gallery layouts to choose from, all with customizable sizes and effects. Display your images as a fullscreen slideshow, carousel slider, stage gallery, group slider, or grid, or a combination of two or more that suit your purposes.
The ePix WordPress theme boasts unlimited skins which are simple to customize, and an easy to use drag-and-drop gallery media manager.
This highly powerful theme is sure to become a fast favorite with creatives in 2014.
Price: $59
View Demo Download & More Info
Do you use any of these themes to present your online portfolio? Or have you found a better one that we haven't listed? Please let us know by sharing your favorite portfolio themes in the comments.