WordPress was officially launched in 2003 as a personal publishing platform. And despite the fact the WordPress is now used by millions of businesses as a platform on which to develop their website, there remains a significant number of people who continue to use WordPress as a simple yet sophisticated publishing platform.
Sometimes it's easy to get wrapped up in the increasingly complex nature of WordPress as new features are added, new plugins are released and new themes come available. Sure, these newly added features often make launching your website easier and less time-intensive. But they can also distract you from your objective which is publishing great content.
If sharing words and images are at the core of what you do, we've put together a solid list of the top of the top WordPress blogging themes designed to help you do just that. We've placed an emphasis on themes that offer the following:
Ease-of-Use – The last thing you need is a theme that's difficult to use. Either because it's poorly designed or has too many features for its intended use.
Support – Most WordPress themes, whether they're premium or free, offer some kind of support. The last thing you want to do is get stuck sorting out technical issues or have an unresolved security vulnerability that nobody is attending to.
SEO Friendly – If you're going to spend a lot of time creating great content, it only makes sense that you want search engines to find it.
Great Visuals – While great content is always important, so too is the way in which you present it. We placed a strong emphasis on themes that first and foremost, have great typography. Next up in terms of importance are images and having an overall great looking layout.
Now that we've got some basic criteria outlined, it's time to jump into the details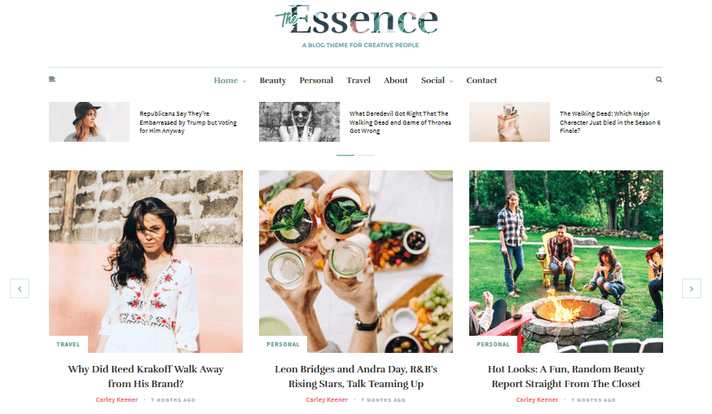 The Essence is a beautiful blogging theme that comes with a feminine touch. Whether you want to simply share your thoughts, or start a full blown magazine website, this responsive WordPress theme presents your content in a stunning way that entices readers to continue exploring as they navigate your website.
With over 17 different blog layouts to choose from, The Essence assures you that your blog will stand out from all the rest. In addition, the featured header and footer slider, translation ability, and customizable color options make sharing your content with your readers a cinch.
Use the included custom widgets to provide your site visitors more information. And, don't forget to integrate the exclusive social media elements such as the mobile sharing bar or end post reminder to encourage your readers to click and share their favorite blog posts. Altogether, this theme is great for those looking to display a website with plenty of content, a soft color palette, and girly elements for their loyal readers to enjoy.
Here are some more standard features The Essence provides website owners:
Top notch support – replies within 24 hours on weekdays
MeridianStyler editor for changing all site elements
Featured posts area
100% mobile-friendly
You can get The Essence for $54 from Meridian Themes and start spreading your ideas to the world in a simple fashion that will delight every site visitor both visually and intellectually.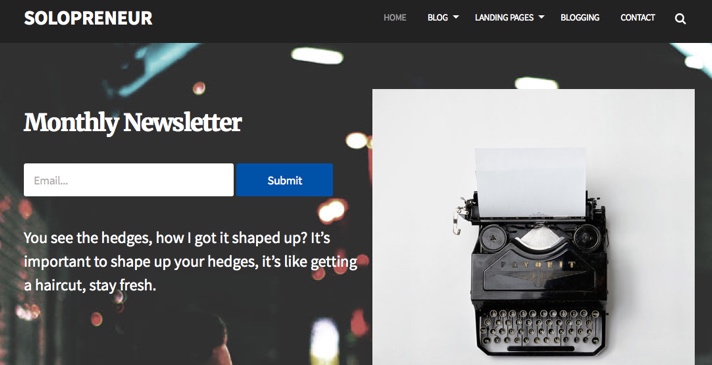 Solopreneur from Fancy Themes is a ready-out-of-the-box personal blogging theme that includes everything you need to build your audience. There are a lot of reasons why Solopreneur is a great blogging theme. Not only is it compatible with popular plugins like Optin Forms, JetPack, Contact Form 7, Yoast SEO and W3 Total Cache, it also comes bundled with two custom landing page templates and multiple layout options. As the end-user, this translates to the ability to get you site up and running in less time and with less effort.
With three standard layout options — blog with sidebar, full-width and full-width-slim — Solopreneur offers simple, yet effective layout choices. Typography is straightforward. Relying on two popular Google fonts that include Merriweather for headlines and Source Sans Pro for the body text. As a fully responsive theme, Solopreneur is lightweight and offers super-fast load times. It's compatible with all major browsers and includes a wide variety of features including:
Widgetized sidebar
Easy localization means you can easily translate your theme to any language
SEO optimized and best practices ensure that your content will be found
Updates are pushed out regularly and automatically
Solopreneur is available directly from the Fancy Themes website for $59 and requires WordPress 4.3 and Option Forms. If you're looking for a simple, easy to use theme that will be up and running in no time flat, Solopreneur is worth your consideration.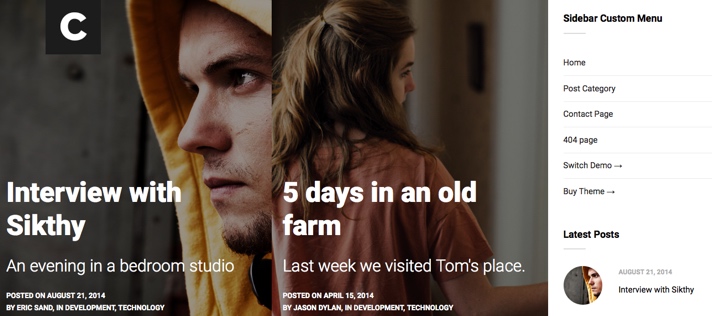 Codestag consistently manages to develop some of the most visually appealing themes available and their latest release, Carbon, is no exception to that rule. It's a flexible theme that truly allows you to spend your time creating and promoting content. With just the right amount of options and flexibility, Carbon has many of the features you want without excessive bloat.
Standard features include:
Use of the default WordPress Live Customizer
Child theme ready
Solid, best practices coding throughout
Translation ready
Not only does Carbon include all the default features you'd expect it also comes packed with 4 grid layout options, the ability to enable or disable the sidebar and includes 2 menu styles. As with other Codestag themes, setup is a breeze and in case you happen to run into troubles, they offer personalized one-on-one support and an extensive knowledge base with documentation. Another area where Carbon shines is in the typography department. Of course, you have access to over 600+ Google fonts but why bother? Out of the box, this theme has awesome typography — it's one of my favorite features.
Carbon is available on the Codestag website for $55 and if you're looking for a theme that will instantly help you to stand out, this is where you should start your search.
Extra by Elegant Themes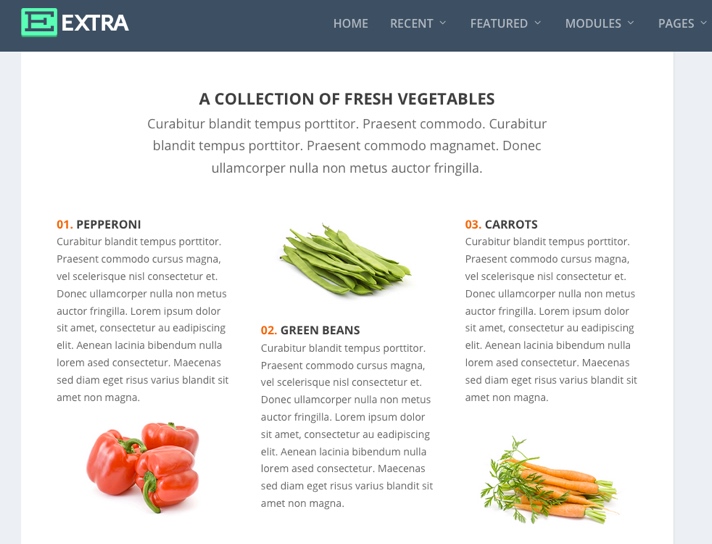 Extra is a theme that will have you asking yourself "how much is too much?" If you're someone who has trouble taking action when presented with too many options, this might not be the ideal theme for you. However, if you're looking for a blogging theme that is highly customizable, has the potential for amazing visual presentation and is backed up by industry- leading support, look no further.
Everything you'd expect from a premium theme is included in Extra: A fully responsive layout, automatic updates and premium support. But where Extra really shines is in its ability to be endlessly customized. Extra is built on top of the Divi Builder Plugin. This means that creating a unique look for your blog can be done with relative ease. One particularly unique feature of the Extra theme is the category builder which allows you to create custom category based layouts for your blog. Just a few of the features to take note of with this theme include:
Drag and drop post, page and category builder
Integrated reviews allow your readers to rate individual articles
If you ever decide to sell anything on your blog, Extra is eCommerce ready
Over 40 customizable content modules — galleries, bar counters, portfolios, contact forms, sliders, tabs and video to name just a few
The greatest strength of Extra is the fact that virtually every element can be customized. If you're a blogger who thrives on that kind of flexibility, then this might be the right theme for you. Extra is available from Elegant themes as part of their annual subscription — $69, $89 and $249 for personal, developer and lifetime access respectively.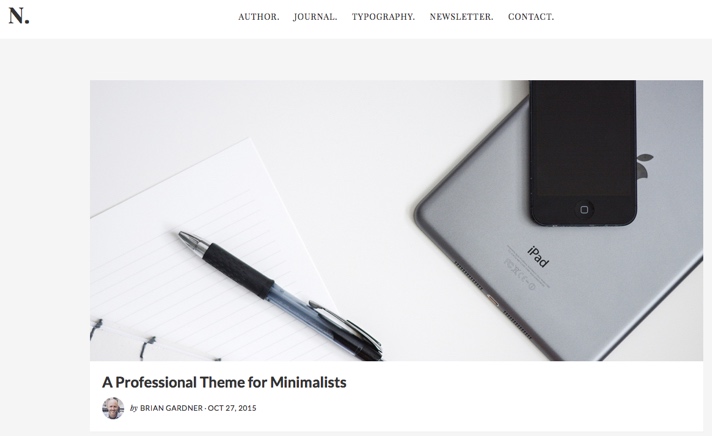 By default, there shouldn't be a lot to say about No Sidebar Pro. It's designed to bring the ultimate minimalist experience to your blog — giving your visitors very little to digest other than your content. While a theme like Extra is all about flash and features, No Sidebar Pro is about removing clutter and providing only what really matter.
Being built on the Genesis Framework means this theme has a solid foundation including:
Custom page templates including default, archives, blog and landing page
A responsive HTML5 design
Optimized for SEO means your content is easy to find
Top-notch security
Automatic updates & unlimited support
Despite its simplicity, No Sidebar Pro includes plenty of important features — none of which will prevent you from having your site up and running in just a few minutes. Using the default WordPress Customizer means you can easily update your logo, favicon, theme colors and widget areas.
No Sidebar Pro is an ideal theme if you're looking for a great balance of typography, featured image use and simplicity all rolled into a well designed and well-supported framework.
Versed by Themezilla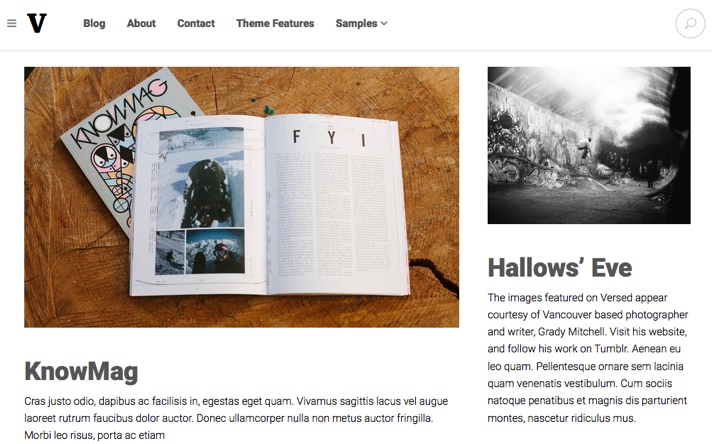 Billed as "a theme built for a better reading experience" Versed was specifically developed with the solo-blogger in mind. The homepage starts things off with custom bio area just above your content and then offers options to display posts in either a grid or list format. In keeping with popular trends, Versed is a simple theme that place a strong emphasis on featured images and good typography as well as:
Retina-ready and fully responsive
Single column or three-column masonry layouts are possible
Built-in SEO
Full localization support
Plenty of useful shortcodes
Included with this theme are a variety of unique options that will help set your blog apart from others. These include two navigation options — a standard top menu and an off-canvas side menu that is also widgetized. Relying on the default WordPress customizer, Versed allows for changing the logo, accent and overlay colors in addition to offering 6 potential post layout formats.
If you're looking for a theme that provides some unique differentiating features along with good use of images and beautiful typography, Versed is available from Themezilla for $59 for a single-site license with 12-months of support and updates.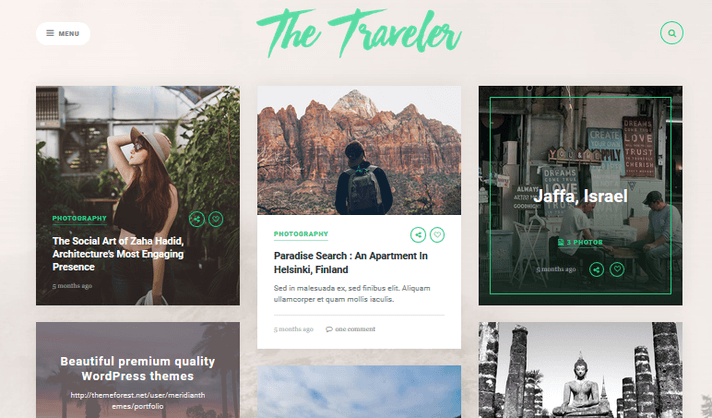 The Traveler is a light and modern looking theme designed to highlight your content in an organized fashion that stays front-and-center. And, just as the name implies, The Traveler is perfect for those who love adventure, documenting their journeys, and sharing it with a large audience. In the end, you can share your thoughts, photos, or portfolio of work without sacrificing design or function.
In addition, The Traveler has a clean and contemporary blogging design complete with custom widgets such as the About Me, Instagram, and Social Media Profiles widgets. More so, this theme comes in a grid-based layout so your readers can experience all you have to offer.
With beautiful featured images, post titles and excerpts, and a "load more" button to encourage better site engagement, your website will be one your readers will want to enjoy time and time again. However, where The Traveler really shines is with its inclusive MeridianStyler, a front-end editor for changing everything from color to fonts, and backgrounds to spacings.
Here are some of The Traveler's standard features:
Responsive design
Contact Form 7 compatibility
Post formats including standard posts, quotes, and gallery posts
Translation ready
You can get The Traveler for just $49 and will be the perfect fit for those who are not lost, but are simply wandering, and want to share their experiences with those that have the same sentiment.
Ink by Codestag
Ink is the second theme from the team at Codestag to be featured in our list and for good reason. From a strictly blogging perspective, it has everything you need to help your blog stand out from the competition. Plus, it's compatible with Restrict Content Pro from Pippins Plugins which makes it an ideal solution for any blogger looking to develop premium content for their readers. A few of the standard features included with this theme are:
Easy to setup and maintain
Fully responsive and retina ready
Personalized Codestag support and extensive knowledge base
Frequent updates
Like many of the themes in this roundup, one of Ink's primary strengths is its ability to provide just the right balance of features and usability. It uses the default WordPress customizer to make instant layout and design changes including six grid layout options, widgetized page templates and Google fonts.
Ink is an ideal theme for any blogger who would like to offer premium content as part of a membership site without having to deal with a lot of customizations. And as with other Codestag themes, the imagery and typography are exceptional.
How to Choose the Right Theme for Your Blog
Choosing the ideal theme for you blog is no different that choosing any other theme. Your final decision will depend on your specific needs and requirements. If getting your site up and running as quickly as possible while allowing for some customization is at the top of your priority list, then we've covered a few themes that will meet your needs — No Sidebar Pro and Solopreneur to be specific.
If you're looking for a little more flexibility with a stronger emphasis on imagery, either of the two blogging themes from Codestag should be more than adequate. And if the ultimate in flexibility and control over your design are what's important, Extra from the team at Elegant Themes is tough to beat.
If you've got a favorite blogging theme, please share in the comments below.