Imagine walking into a restaurant and hearing the chatter, smelling the grills in the kitchen and watching people clink their glasses in joy. This is what you're trying to show off if you own a restaurant, prompting customers to think about that wonderful experience and how they want to bring their friends and family in for a fun time.
Restaurants require websites with style and functionality, displaying the best meals, along with providing a way for people to make reservations. All of these components are sure to bring more patrons into your restaurant, while cutting down on the time you spend talking to customers on the phone. Consider opting for a restaurant WordPress theme to keep costs low and to make your presence noticed. Keep reading to learn about your top options.
You may also be interested in these articles:
Best Restaurant Themes
Rosa 2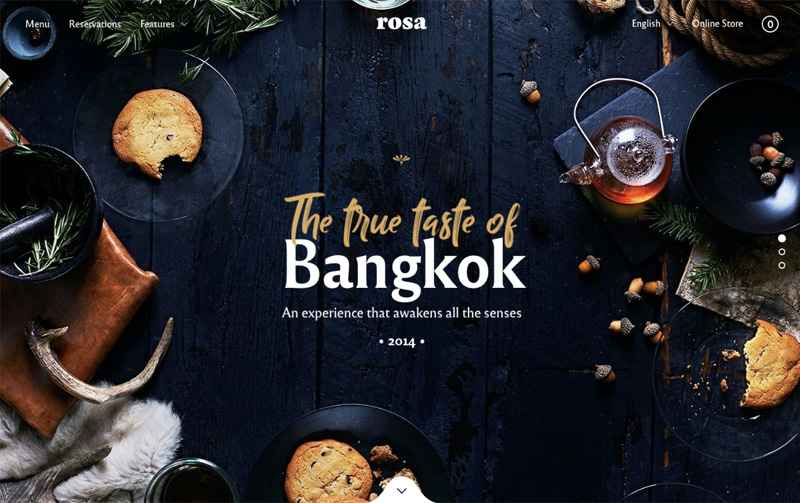 Rosa 2 comes as a reimagined version of Rosa 1, which is one of best selling restaurant WordPress theme in the market. With over 13,000 customers who use this theme to build beautiful websites for fine-dine venues, bistros, taverns, coffee shops of all kinds.
The experience you have while putting your site together with this product is seamless. You can easily create pages, posts, articles in an engaging yet flexible way thanks to Nova Blocks, a free plugin made by Pixelgrade and available on WordPress.org.
On top of that, due to Style Manager, their customization tool, you get visual consistency across the website in no time.
View Demo Download & More Info
Epicurean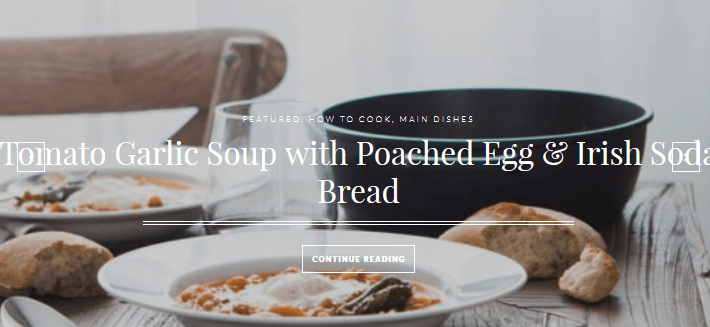 Epicurean is the perfect blend for those looking to start a restaurant website. Built on the solid Bootstrap 3 framework, this restaurant theme comes with three distinct homepage layouts – standard, grid, and full-width – for presenting your content, and bold imagery as you wish. You can enable a full-width slideshow on any homepage layout making your site standout from the moment someone clicks on it. In addition, this theme comes with plenty of custom widgets for adding functionality like Recent Posts, Instagram Feeds, and social media integration.
With 10 custom post layouts you can embed things like audio and video content to your site for added visual appeal and increased user engagement. Plus, you can utilize the Custom Recipe Index and share all your best dishes with fellow chefs, or those looking to learn something new. Build an online shop using WooCommerce, change all of your site's elements to match your brand, and get people coming to see your next best thing day in and day out using Epicurean.
View Demo Download & More Info
Food Blog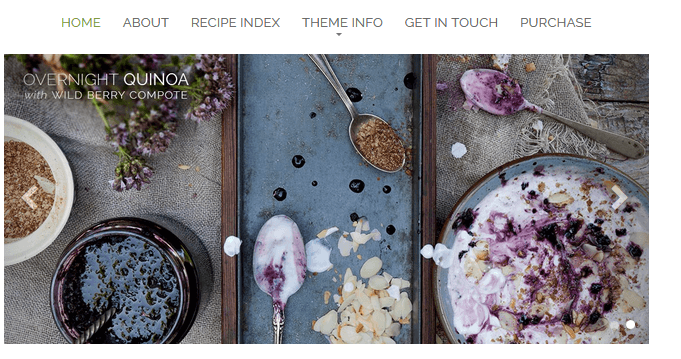 Food Blog brings power and functionality to your restaurant website with beautiful layouts, built-in tools, and of course, mobile-friendly design. To start, Food Blog is minimalistic when it comes to visual appeal so you can focus on your content and imagery front-and-center. Next, use the exclusive options panel and change things like fonts, sizes, layouts, and color schemes to match the overall look and feel you are aiming for. Lastly, choose from multiple post and page layouts, translate your content for your global readers, and utilize the built-in contact form for keeping in touch with site visitors.
Built-in SEO tools and SEO optimization at its core, Food Blog will get your content found by those searching for your type of content. Additionally, share classic recipes with readers using the included Recipe Card plugin, implement shortcodes from the Nimbus Shortcode Library for added functionality, and even integrate your social media to encourage readers to like, follow, and share. Altogether, this restaurant style food theme comes feature-packed and ready for you to create the yummiest website on the block.
View Demo Download & More Info
Cafe Pro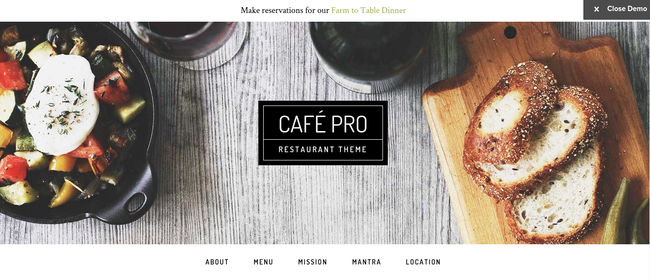 The Cafe Pro theme is a beautiful starting point, since it is a child theme for the Genesis Framework. This is a WordPress framework for making the ultimate customization down the road. The goal is for restaurants to display the essential information for bringing more people through their doors, such as contact information, address and hours of operation.
The color styles are easy to manage for branding, and the custom backgrounds and headers work well for placing pictures of your interior or food options. The mobile responsiveness allows for viewing on tablets and phones, and the theme customizer works wonders for those who don't know much about code.
View Demo Download & More Info
Capella Parallax Cafe and Restaurant Theme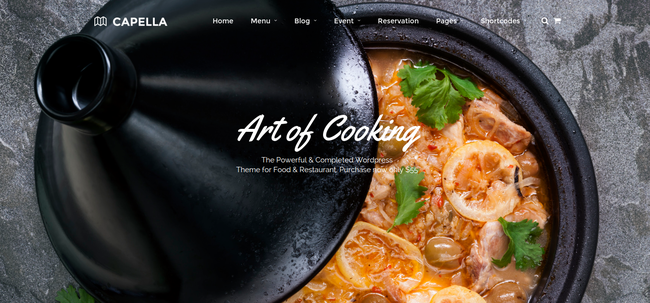 The Capella theme offers a parallax scrolling effect, similar to the theme we talked about above. This is one of the hottest design trends, so take advantage of it to help standout from your competition. The responsive theme has reservation and contact forms, meaning that you rarely have to pick up the phone again.
The searchable documentation is nice for creating your design, while the events feature is essential for displaying upcoming events on your website and providing a way for people to filter through these events.
View Demo Download & More Info
Downtown Restaurant Theme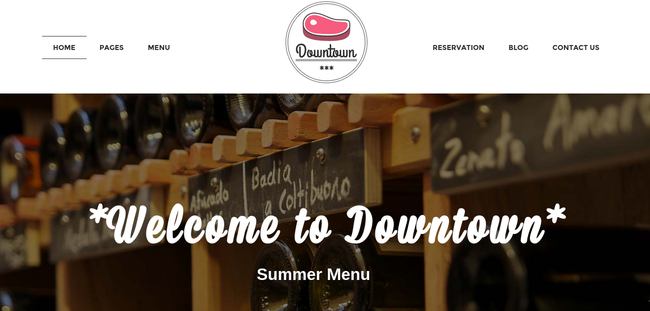 The Downtown Restaurant Theme is from the folks at TeslaThemes, and they always seem to come up with elegant and functional options for your businesses. To start, the theme works on the Tesla framework, so the customization options range from custom backgrounds to social sharing integration.
The Google Maps integration works well for getting people to your restaurant, and responsive design is ideal for those people coming home from work looking for a place to eat on their phone.
View Demo Download & More Info
LemonChili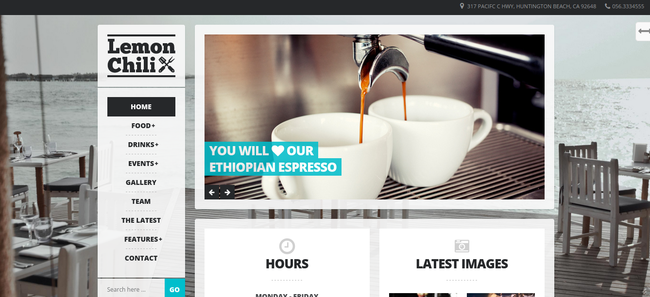 The LemonChili restaurant WordPress theme is a solid choice for restaurants, bars, lounges and more. Choose to create an unlimited amount of food and drink menus. The theme includes various page modifications for things like events, galleries and even a team page to show off the people on your crew.
Select the light or dark theme version for the best branding, and play around with the seven custom widgets, which allow for you to post business hours, featured dishes, upcoming events and more.
View Demo Download & More Info
Nosh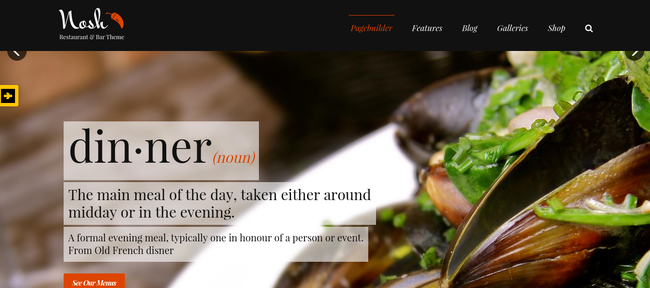 The Nosh WordPress theme is a sophisticated choice for restaurants and bars. The sleek and responsive design has a color control module on the backend, which can be modified at any time. The over 600 Google Fonts and 350 Font Awesome icons ensure that your site always looks the way you intend.
The header builder is completely drag and drop, meaning you'll never have to dip into the theme code. So, drop logos, banners, menus, phone numbers or whatever you want in the header. Along with custom widgets, color coding and advanced plugins like the Revolution Slider, you can't go wrong with the Nosh theme.
View Demo Download & More Info
Plate Up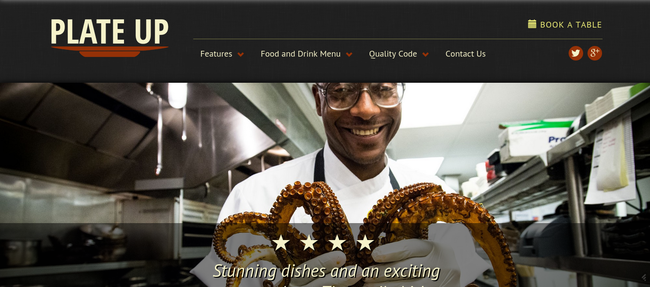 Go for Plate Up if you like making a bold statement whenever someone lands on your website. The huge header image slider is the perfect opportunity to give people an inside look at the way your business is run. The theme allows quick online reservations, cutting down your time on the phone, and you receive various other extended feature like Google Maps, contact forms and opening hours.
A standout feature is the simple food and drink menu. Create as many menus as you want, and place icons throughout the menu for things like dietary restrictions, pricing discounts and more.
View Demo Download & More Info
Elixir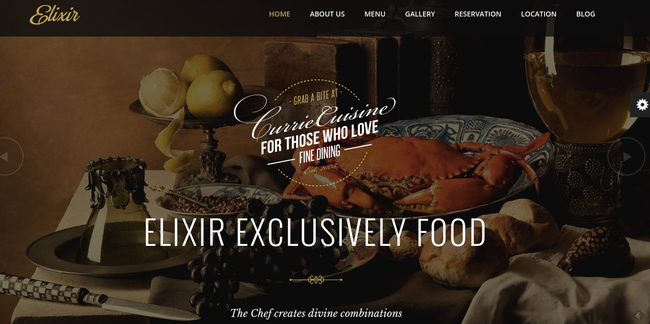 Elixir serves as a wise choice if you can't exactly decide what type of restaurant you plan on opening. The theme comes with four homepage layouts: A fine dining layout, classic American grill layout, Italian style layout and creative Asian food layout.
The responsive theme includes a video background slider for showcasing your best foods in an interactive manner. Use the Visual Composer to quickly drag and drop all your components on your website, keeping you far away from the website code.
View Demo Download & More Info
Plate

Plate is an amazing theme for WordPress that helps you make a name for your restaurant, café or any type of eatery business. The theme if fully responsive which plays a significant role in attracting more customers to your site. Plate's features a retina ready display that enhances the overall user experience of your website and makes it visually appealing.
The theme is SEO optimizedfrom the get-go which ensures that it'll be found be all of the major search engines.The theme performs absolutely perfect when it comes to speed thanks to the professionally written, clean code that the theme runs on. Other than offering rock solid performance, the theme featuresa plethora of customization optionswhich users can mess around with to changethe overall look and feel of their site.
Everything from color schemes to background images and logos to headers can be customized with the built-in theme customizer. Plate ships with all of the design files, templates, and sources a web developer might require for fine tuning the theme's layout to fit their company's brand. Best of all, the theme is translation ready so you won't have to worry about language barriers when you want to reach a global audience – you can change it at any time using the translations files included.
View Demo Download & More Info
Luigi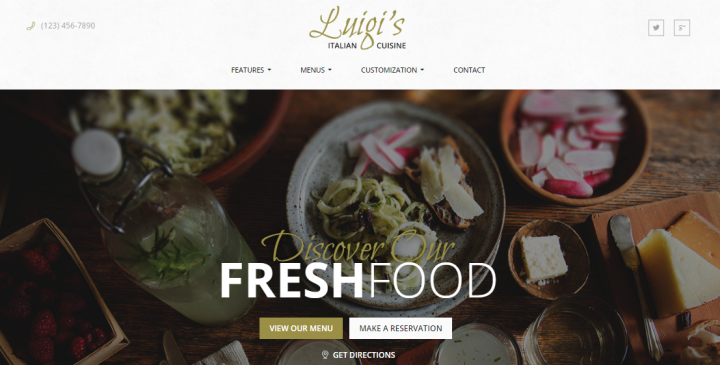 Luigi is a restaurant theme for WordPress which makes your site look deliciously appealing. The fully responsive theme helps to captivate visitors' attention with big imagery that's look great on devices with varying screen sizes. The theme features a unique homepage editor which allows you to easily build complex, custom homepages in minutes without having to use a single line of code or hire a developer.
Your site will be on top of relevant searches thanks to the theme SEO optimization which helps to generate more traffic on your site.Luigi ships with a full-on reservation module which empowers your visitors to reserve seats early on.If you're looking for a way to showcase all of your tasty delights in a way that it will leave your customers tempted then this theme is the right choice for you.
Another major plus point of this powerful theme is that it allows users to fully customize their site's appearance. Restaurant owners can make their website reflect the dining experience guests will get which can significantly improve your revenue.
View Demo Download & More Info
Amici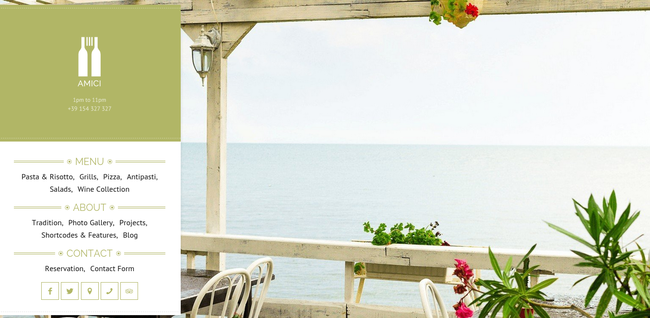 The Amici theme is one of the simplest themes on this list, since the primary focus is a huge picture of your restaurant. The navigational menu sits to the left, with a few mentions about your food menu and contact information. The theme integrates with OpenTable, giving you the best reservation system, and you can use the Contact Form 7 plugin for people to send you emails.
The theme works on mobile devices, and it has a simple menu manager so you can spend time managing your restaurant and not playing around with the websites.
View Demo Download & More Info
The Spot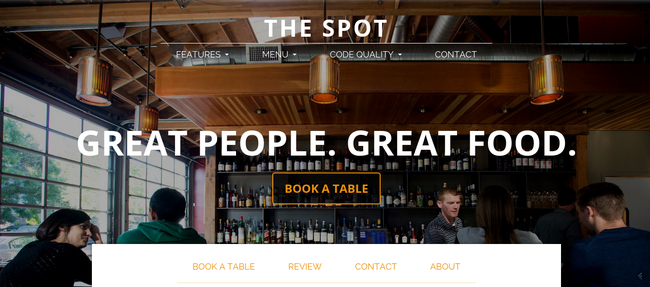 Many restaurants choose The Spot theme, because it's all about first impressions. The full screen background image is the first chance you have at pitching your restaurant. Not only that, but the Book a Table button sits right in the middle of the page, pushing people to complete the only real action you want, as a business owner.
Online reservations are available, and the restaurant menu tool is one of the highest rated out there.
View Demo Download & More Info
Unami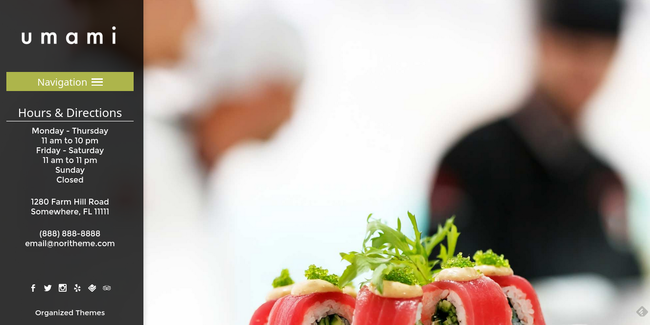 The Unami theme has a look suitable for an Asian cuisine restaurant, but I would argue that you could customize this for just about any food establishment. The eye-catching full screen design is ideal for bringing in new customers, and WooCommerce support works nicely for selling your own merchandise.
Not to mention, the theme is extremely easy to customize, so drop in your logo, choose from hundreds of Google Fonts and play around with branding colors with the easy to use theme customizer.
View Demo Download & More Info
Munch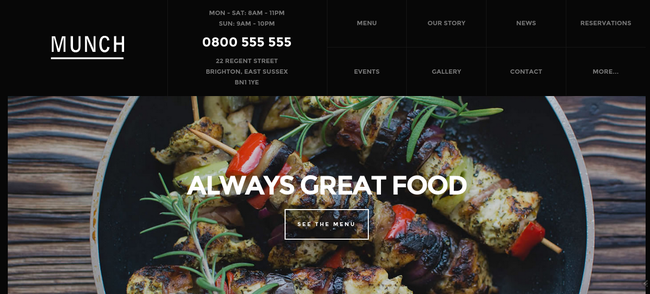 The Munch theme is one of my favorites, because it has a simple, square navigational menu, clearly stating what each button is for, while also putting some solid focus on the large background image. The Menu call to action sits right in the middle of the page, enticing customers to explore when they land on your website.
The responsive theme has extensive color and typography options for when you try branding your website, and the shortcodes are perfect for those who don't have a clue about coding a website. The Parallax scrolling is a nice way to grab attention on the homepage, and the reservation forms are customizable. You can also link up to a third-party reservation system like OpenTable or Bookatable.
View Demo Download & More Info
That's it for the best restaurant WordPress themes on the market! Let us know in the comments section if you have any questions about installing these themes or choosing from the lot we just talked about.
We hope this article helped you find the best restaurant / hotel WordPress theme for your website. You may also want to see our guide on choosing the right WordPress theme for your site.