Working in the law business is more about managing people. In many cases, you need to put your clients at ease during a fraught time, and project the ultimate and trust and reliability. Therefore, your website also need to convey these traits and much more. You'll find these traits and more among the best WordPress themes for lawyers, but narrowing down the options is akin to doing har time.
This post will look at the best WordPress themes for layers, law firms, and anyone who works in a legal field. First, let's discuss what the most important aspects are when you look for a law theme.
What to Look for When Choosing Among the Best WordPress Themes for Lawyers and Law Firms
There are hundreds of different themes available for any particular niche, and law is no exception. You'll also likely have a minimum of time to install the theme, design your site, and push it live. As such, you'll need to narrow the available themes down to a small selection, then prune even further.
A good place to start is with the technical basics. Here's a quick list of non-negotiables that you'll want to look for:
Make sure the theme has regular updates. You can often check this on the main sales page for the theme. If the last update is longer than six months, you can chop it off the list.
Take a look at user ratings and reviews too. Any average rating lower than around 4–4.5 can wave goodbye.
Also, read one-star reviews, as this will give you a handle on how well the developer supports its customers. If you feel as though this isn't thorough enough, it's another reason to cull your list further.
From there, you'll have the very best WordPress themes for lawyers on your hands. With this small selection, you can begin to deduce whether it offers a look you like, provides extra functionality you might need (such as built-in forms,) and more.
This part is subjective, as your needs will determine what features and functionality you need. However, you'll likely want to understand how straightforward it is to design and customize your site to match your vision.
Best WordPress Themes for Lawyers: 10 Top Picks for 2023
We have a wide range of law themes to cover here. Some only focus on the the niche, while others are multipurpose options. Here is the list of ten best WordPress themes for lawyers in this post:
Elementor. A perennial page builder plugin for any list, you can create an ideal theme using Elementor for practically any application, but suits law sites down to a tee.
Digital Law. The theme gives you all of the functionality you need, and none you don't. It also offers lots of customization.
Brizy. This isn't a theme per-se, as it's a similar option to Elementor – a page builder plugin that includes nice lawyer site templates.
Astra. This is another multipurpose theme that rules the roost in many different niches. It also performs well as one of the best WordPress themes for lawyers.
Lawyer Base. The theme gives you helpful ways to list your practice's focus and legal team, suitable for a law website. You'll also find some choice third-party premium plugins in the box.
Mai Achieve Pro. The Genesis Framework is solid, dependable, and trustworthy. As such, this child theme is ideal for your law website.
Krystal Lawyer. It's amazing that you get so much functionality from a free WordPress theme, but you'll see it's possible with Krystal Lawyer.
Law Office. You'll also find some specialist third-party premium plugins with Law Office, along with functionality to book appointments and receive correspondence from visitors.
Lawyers. This theme gives you lots of options for customization, and you can do so using your favorite page builder plugin too.
PowerLegal. We love how PowerLegal looks and performs. You can use your choice of page builder plugin, have plenty of home page options, and much more in the box.
First off, we'll look at our top pick – a theme that doesn't just cater to law.
01. Elementor – Our Top Pick (From $59 per year)
Whatever the niche you build for, Elementor will often be in the mix. This is a theme we rave about at WPKube, and our review tells the full story. It provides a supreme level of customization and design choice. What's more, you can tweak each to suit your needs.
On top of that, you get some built-in functionality that you'd otherwise need third-party plugins for. There's an option to add forms, for example, and connecting everything up is a breeze. Elementor is as close to an all-in-one site builder as you can get with WordPress.
Why Elementor Is Our Top Pick
You can do so much with Elementor, but we like that there are multiple demo templates and elements available that take seconds to import and use. You're also able to customize these further using the editor and section templates.
You don't have to pay through the nose either – you can have the full feature set of Elementor for under $100. However, many of the themes on this list support Elementor too. In these cases, you can use the free version to work on your site, without the need for a premium subscription.
👉 Read our full Elementor Review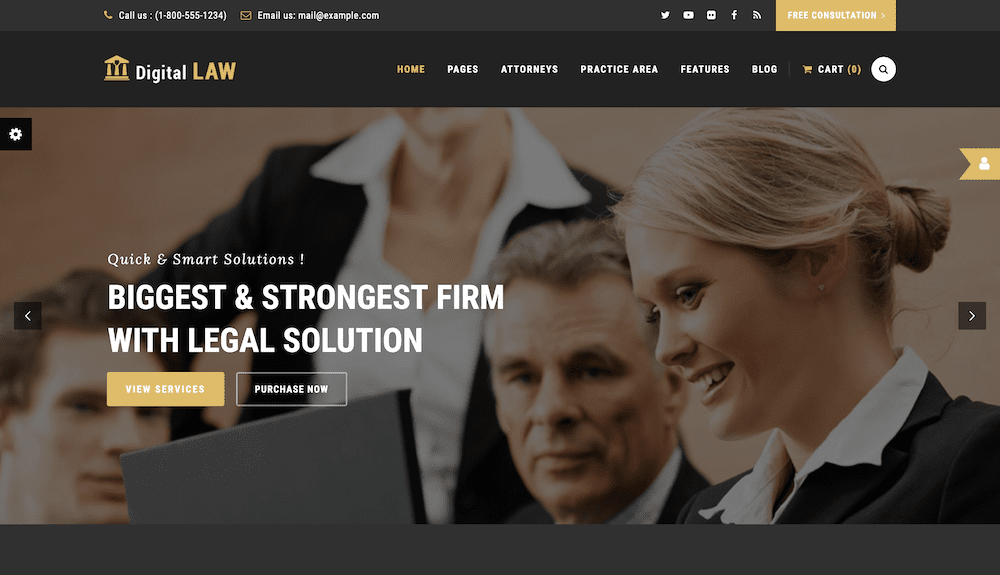 The Digital Law theme dedicates itself to the industry, and provides a lot of customization options for your site. You can customize almost every aspect of the site – for example, you get to choose from a number of header styles. While the default color scheme looks good, you can customize this to your exact needs from within the options.
You'll also find some premium plugins in the box, such as the WPBakery Page Builder plugin, and Slider Revolution. This makes Digital Law a functional and dependable theme for all manner of lawyer sites.
03. Brizy (From $39 Per Year)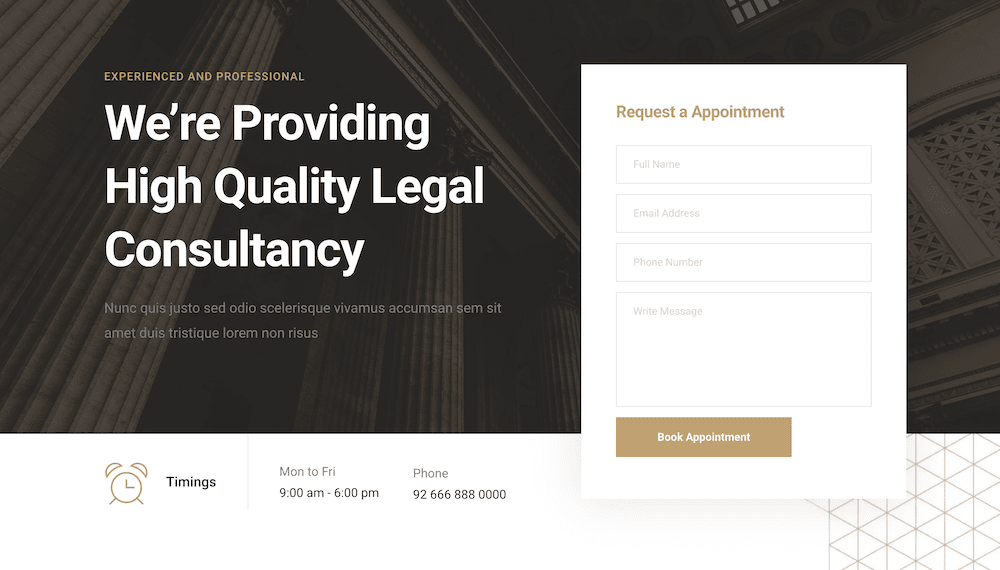 Much like Elementor, Brizy is a page builder plugin. However, also like Elementor, you have the ability to create your own theme. Even better, you can take advantage of the theme's legal website template to kick-start your site's design. The Atorno template looks fantastic, with a great color scheme to boot.
We have a review on Brizy that you'll want to read too. The short detail is that we love this page builder, especially its inline editing options, pop-up builder, and form functionality.
04. Astra (From $59 Per Year)

Speaking of flexibility, Astra is the practical contortionist of WordPress themes. For a multipurpose theme, it doesn't need to offer more than a single template for legal sites. However, there are a number on offer, and each one looks professional.
If you want to learn about what Astra can do for you, check out our in-depth review. Once you decide that the theme is for you, there's even a chance to save some money. With our Astra coupon code, you can net ten percent off of the typical price!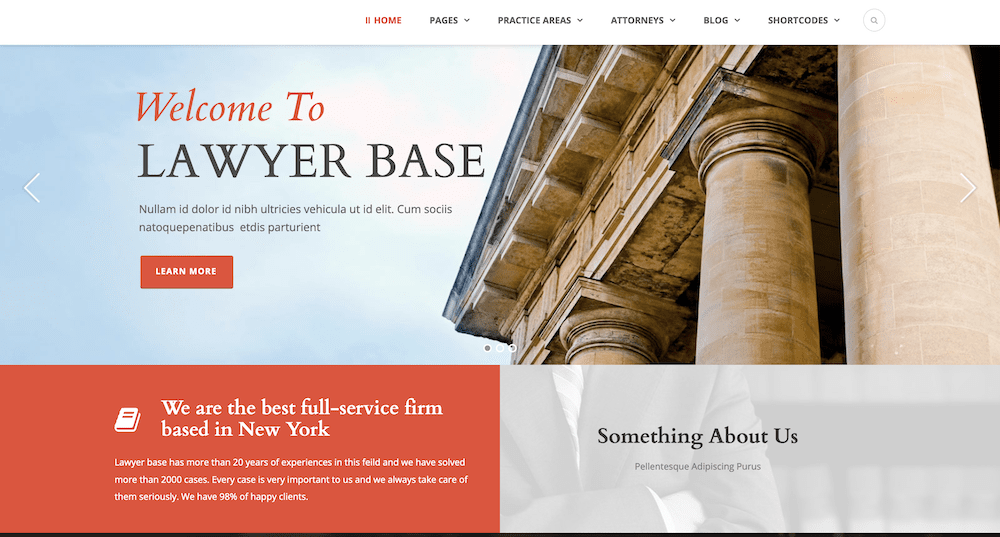 Lawyer Base is another theme that can perform well for a variety of different law websites. You have all of the basic functionality you need to set up your site. For example, there's an Attorney post type for your team, and a Practice post type to showcase the areas you cover.
When it comes to design, you don't have too many one-click options at your disposal. However, with the GoodLayers page builder you have an excellent way to tweak your site's design to your requirements. This theme is a sturdy option for your law firm's website.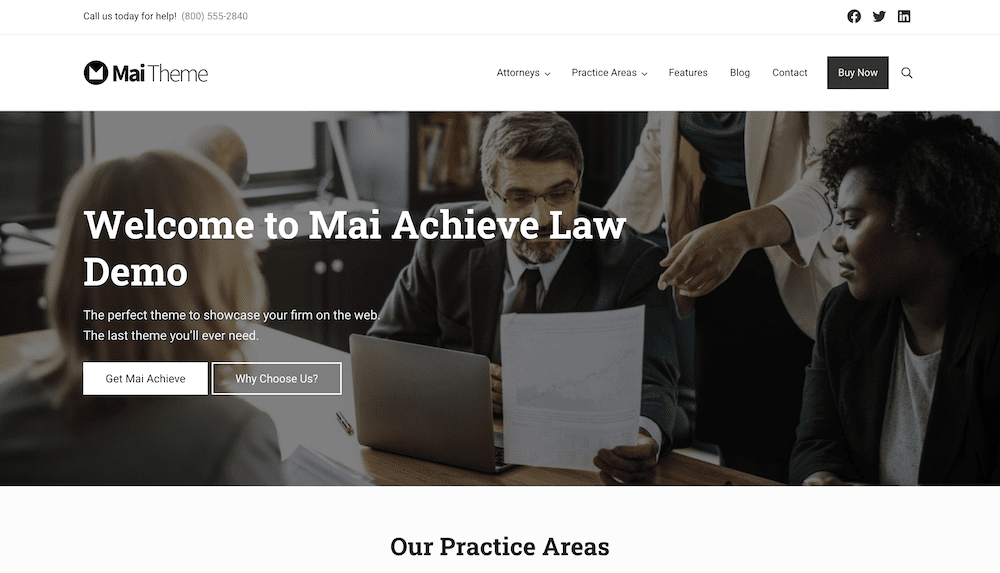 If StudioPress have a reputation for anything, it's for quality, professional themes. Mai Achieve Pro child theme for the Genesis Framework covers a lot of site types within its feature set, but it's objectively one of the best WordPress themes for lawyers we can find. In fact, the WPKube blog uses the Genesis Framework too, so you know it's good!
As with many of the StudioPress first- and third-party themes, you use the native WordPress Customizer to tweak your layouts and settings. There are nine different layouts to choose from that you can hone to perfection. There are also a lot of other options to customize your site further.
One element we do like is how you won't need to take out a full StudioPress subscription. You can own Mai Achieve Pro for only $99, which gives you a year of support and updates. Regardless of which subscription you take our though, you'll get a stellar theme to stick by.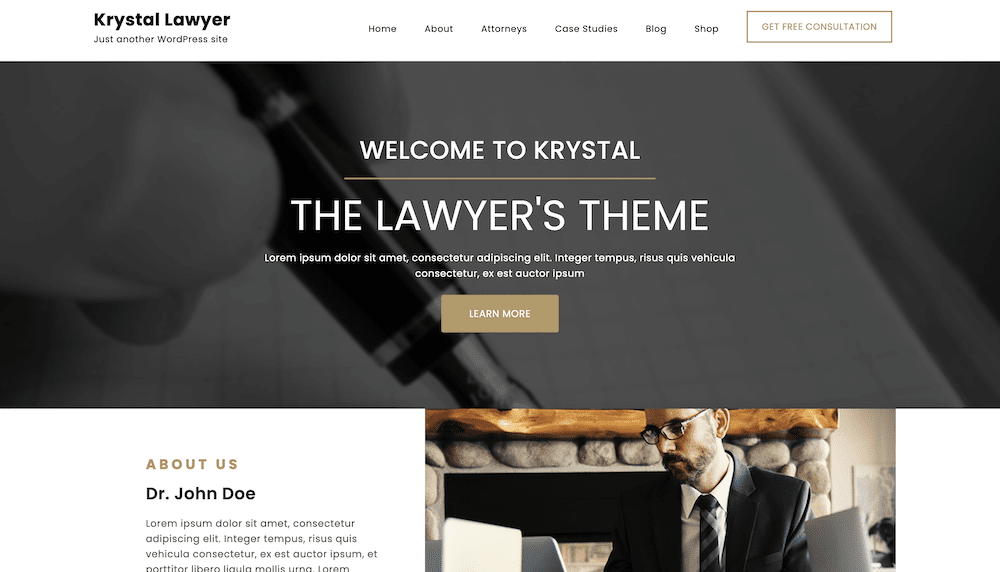 You might need a website, but can't yet dedicate even a small budget to it. For these cases, you can turn to Krystal Lawyer. It's actually a child theme to the Krystal multipurpose theme, but you won't need to spend to leverage what it offers.
Other than the price, you have the benefit of using the native Customizer to design your site. This means you'll have an always compatible way to make changes, without third-party plugins. Couple that with a clear upgrade path and support from the developers, and you might want to choose Krystal Lawyer to start your journey.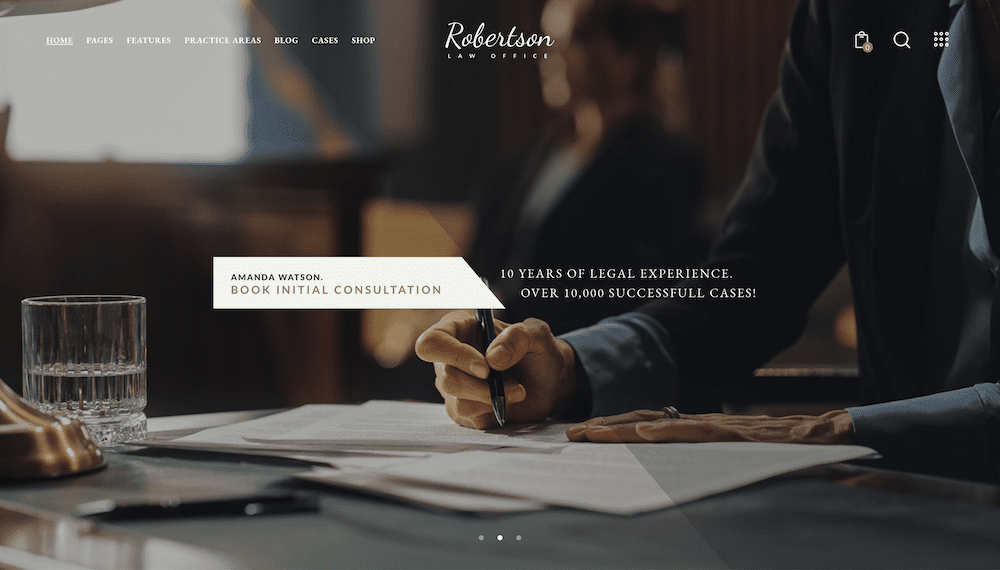 Law Office is one of many themes that supports Elementor, and this makes it flexible and adaptable to your needs. It also means you'll need to spend less on third-party plugins, even with the free version of the page builder.
Because of the page builder support, you can edit more of your site than you could with other solutions. For instance, you can create your own custom header and footer. However, you can also access the Elementor template library to add in your own site-specific elements. All in all, Law Office will suit you if need customization options aplenty.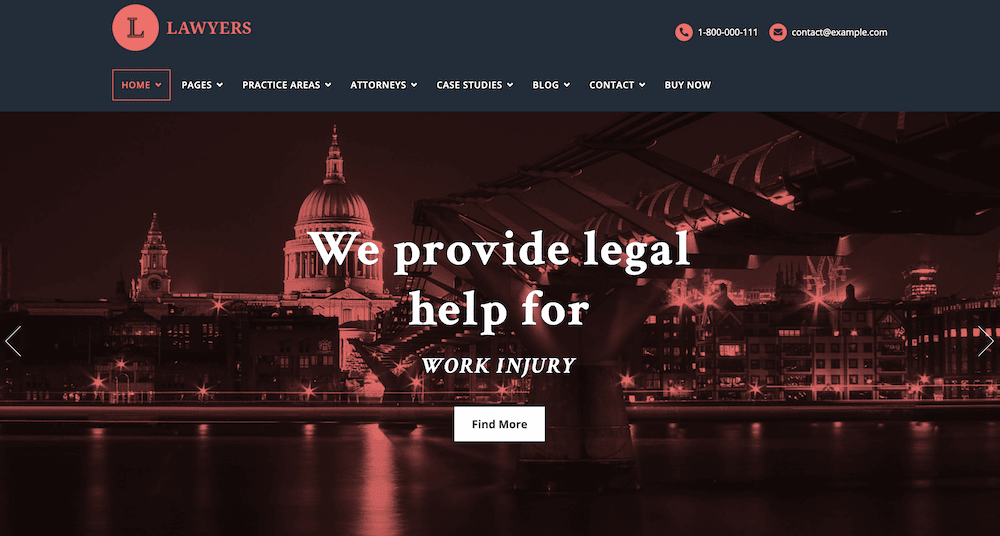 Lawyers also ticks some of the same boxes of other themes on this list. It supports Elementor as a primary page builder plugin, you can grab your copy for a reasonable price, and it lets you display practice areas using post types. However, that's not all.
You have a wealth of home page layouts, header types, contact pages, and footer display options to ensure that you create a unique site before you open Elementor. It could be that you never need to use the page builder editing options, but you have the flexibility if you need it.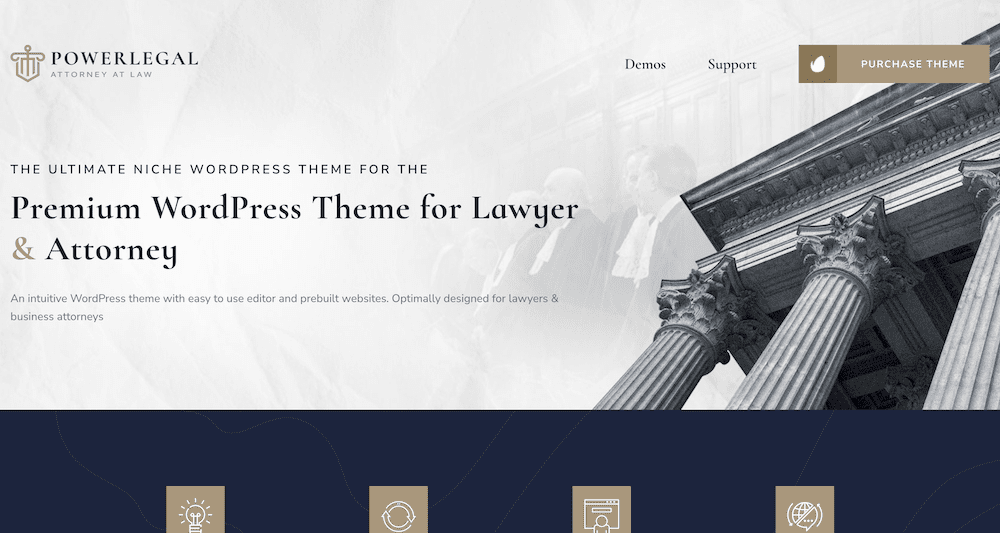 With Elementor support, seven home page designs, and a batch of 'inner' page layouts, PowerLegal is a powerful option, and one of the best WordPress themes for lawyers.
You get lots of the same core functionality you'll find in other WordPress themes. However, there's a few thoughtful touches. For example, you can add a Google Map to show your office location, and you also get support for Mailchimp using a WordPress plugin. This makes is straightforward to make connections with potential clients, then 'wow' them with professional and 'on point' design.
In Summary
Your law website has to nail a number of facets in order to get those who need your services to call. At a core level, the site has to look professional. From there, you need the features and functionality to help convey that you can win a case without fuss.
Our list of best WordPress themes for lawyers, law firms, and legal teams cover a wide array of bases. However, Elementor is fantastic as an all-around building tool for WordPress. It includes templates that look good, functionality to help clients get in touch, and comes at a price that's friendly to your wallet. Even so, all of the themes here could do the right job depending on your needs.
Which of our best WordPress themes for lawyers do you like the look of? Let us know in the comments section below!