In today's fast-paced world your site's speed can make all the difference. Caching ensures your readers can view blogs without any unnecessary delays causing them to turn back. I'm going to show you how you can increase your site's traffic, search engine ranking, and its overall potential.
That said, selecting a caching solution can be quite a daunting task – especially if you're not sure what all those settings pages full of tech terms actually mean.
In this article, we'll cover one of the best, free caching solutions for WordPress, Cache Enabler, which guarantees a faster website and evaluate its performance. We'll wrap up by comparing it to two of the most popular caching plugins available in the WordPress plugin repository to see which one is the best.
Let's quickly take a look at Cache Enabler's origin before we move on.
The Origin of Cache Enabler

KeyCDN released its Cache Enabler plugin earlier this year which is centered on the new HTTP/2 protocol. According to the developers behind this powerful plugin,
While other third-party caching plugins are sometimes overly complex or cost money, we wanted something lightweight and free. A good caching plugin shouldn't have to cost you money.
When you migrate to the new HTTP/2 protocol, most of the features and options available in your current caching solution become outdated. This is because the new protocol works to reduce the marginal overhead of new requests. The standard optimization techniques adopted by the new protocol makes everything significantly faster and simpler.
That said, it also means it's time to switch to a caching solution that adheres to the new protocol. Enter Cache Enabler. KeyCDN's Cache Enabler is a lightweight, feature-rich caching plugin for WordPress that makes your website considerably faster by generating static HTML files, minification, and its support for WebP.
Another major advantage of the Cache Enabler plugin is that it leverages Google's WebP format. The WebP image format is relatively new and it provides both lossless and lossy compression for images that are optimized for the web. As of this writing, the Cache Enabler caching solution is the only one out there that offers WebP support without the use of JavaScript.
With that little origin story out of the way, let's take a look at the key features Cache Enabler has on offer.
Why You Need a Caching Plugin
WordPress sites get slower as you upload more and more content. Caching plugins reuse the data that has already been generated instead of re-loading all of the PHP scripts every time the site is accessed. If you want your visitors to actually be able to view your site you're going to need a caching plugin sooner or later.
So, with all those caching plugins out there, how do you know which one to go with?
Ultimately, you're concerned with how fast your site loads which make speed the top priority when it comes to selecting a caching plugin. Unlike its competitors, Cache Enabler is new to the WordPress plugin repository. Before we get on with the speed tests, let's take a look at some of the features Cache Enabler has on offer and how they improve your WordPress site's performance.
Cache Enabler's Features
Although the Cache Enabler plugin is a new entrant in the WordPress caching space, its distinct set of features and powerful functionality set it apart from its contenders and give it potential to be the best, free caching solution for WordPress. The developers behind this plugin introduced it to support the latest HTTP/2 protocol which already gives it a competitive advantage over the others not to mention its support for Google's WebP image format.
The plugin works by creating static HTML files and storing them on your site's server's disk. This process speeds up the content delivery process as the files do not have to go through the resource intensive back-end processes. The Cache Enabler plugin's efficient and fast disk cache engine improves your WordPress site's page load times dramatically by storing static HTML files.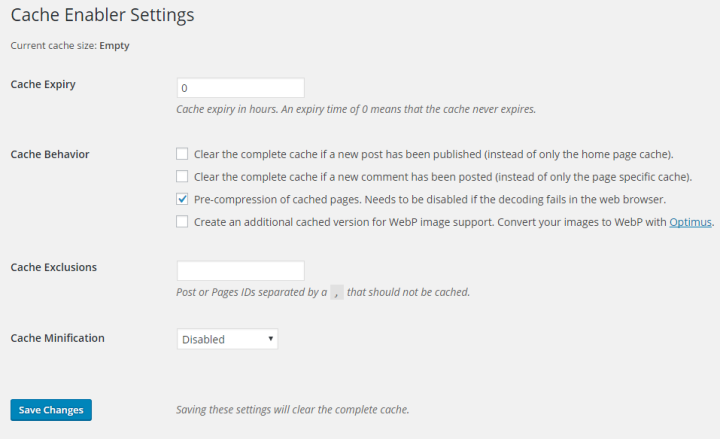 Setting up the plugin is simple and it has some easy to configure options available which allow users to make the most of its powerful set of features. For instance, users can select to clear the cache manually or set it to be cleared automatically after a given interval of time. Cache Enabler also displays the actual size of the cache in your WordPress site's dashboard so you always know how loaded it is and when it's time to clear it out.
The Cache Enabler plugin also features minification of HTML and inline JavaScript. The plugin works great on WordPress multisite as well and supports custom post types. And if you combine it with KeyCDN's Optimus plugin, you can also get support for WebP images.
Speed Tests
I tested out the Cache Enabler plugin on WPKube's demo site which didn't have any caching plugins installed on it previously. Here's a look at the plugin's Settings screen prior to testing. Let's check out the speed test results!
Testing Strategy
With the Cache Enabler plugin installed and configured, I set out to run the page loading speed tests on the test site, WPKube's demo site. The test site ran the Palmas theme and had a handful of blog posts uploaded to it with images. There were no other caching plugins installed on the site during the tests.

Test 1: Pingdom
Pingdom is a server monitoring service that enables users to test out their website's loading speed online. I started out by testing the test site on Pingdom with the test server region set to Amsterdam, Netherlands – first without the caching plugin activated and then with Cache Enabler activated.
Without Caching
Without any caching plugin activated the test site with a total size of 1.2 MB loaded in 833 ms.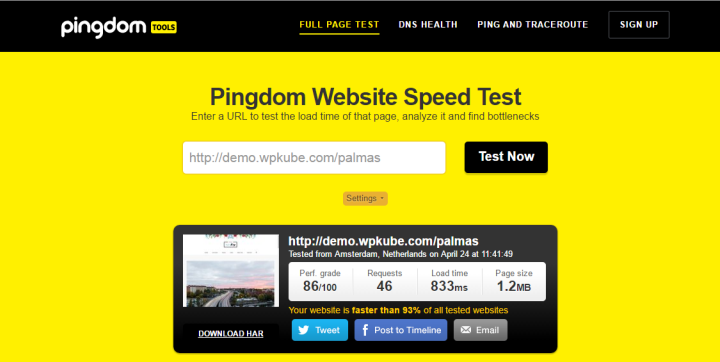 With Cache Enabler
After I activated the Cache Enabler plugin, the 1.2 MB sized test site loaded in an impressive 496 ms!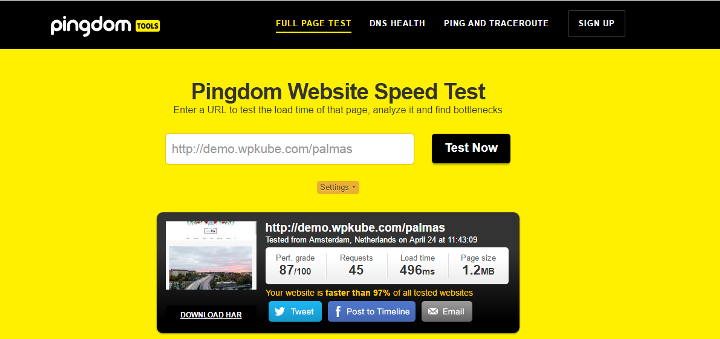 Test 2: GTMetrix
In the second test, I checked for the test site's page load times on the GTMetrix tool – an online page speed testing tool. Same as before, I deactivated the Cache Enabler plugin and tested it out for page load times in the first round and then activated it for the second round of testing. The test server region was set to Vancouver, Canada for the GTMetrix tests.
Without Caching
Without the caching plugin activated, GTMetrix reported that the test site loaded in 1.6 seconds.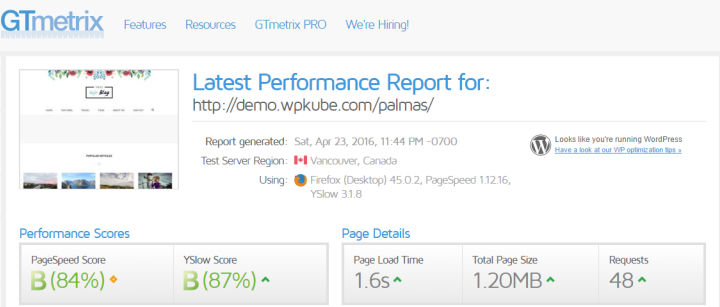 With Cache Enabler
After activating the Cache Enabler plugin, I found that the test site loaded in 0.8 seconds. Pretty neat, right?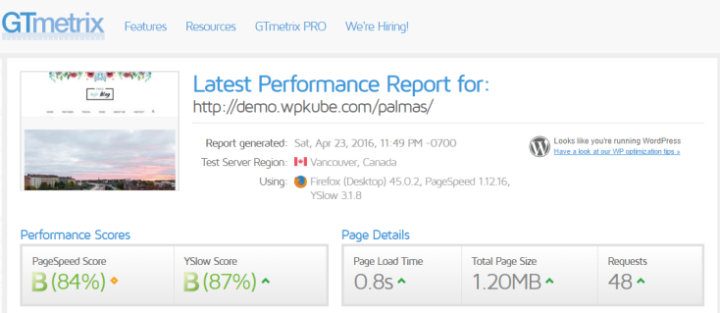 After performing the test results, it's evident that the Cache Enabler plugin delivers on its promise and dramatically reduces your site's page load times.
Cache Enabler vs. W3 Total Cache vs. WP Super Cache
We tested out the cache enabler plugin for page load times and found that it performed incredibly well. However, to find out if it is truly the best free caching solution out there, we'll compare it to W3 Total Cache and WP Super Cache to see how it ranks with the most popular caching plugins for WordPress based on the features it offers.
Features. The W3 Total Cache does pretty well in the features department. It offers everything from GZIP compression to support for minification and content delivery networks. However, W3 Total Cache doesn't offer support for the latest HTTP/2 web protocol or WebP image formats.
Settings. W3 Total Cache has 16 pages of settings which can be overwhelming for webmasters who aren't tech savvy. However, users who want full control over their caching solution to tailor it to fit their site's needs might even find this to be a plus point. The Cache Enabler plugin has a simple settings screen which is ideal for non-techy webmasters.
Related Reading: How to Install and Setup W3 Total Cache Plugin and MaxCDN

Features. Similar to Cache Enabler, WP Super Cache also creates static HTML files to serve to visitors. The plugin doesn't support HTTP/2 web protocol or support for WebP images like the Cache Enabler plugin.
Settings. Both WP Super Cache and Cache Enabler are easy to configure and set up. Their settings screens include the bare necessities a caching solution should have to get rolling. That said, WP Super Cache's users have reported that they encountered compatibility issues with the plugin.
Related Reading: How to Setup the WP Super Cache Plugin and MaxCDN in WordPress
Wrapping It Up
Cache Enabler is, evidently, one of the best caching solutions for WordPress sites. With its support for the latest web protocol and Google's image formats, it's sure to make a name for itself in the WordPress caching space.
When compared with W3 Total Cache and WP Super Cache, we found that the Cache Enabler plugin was the easiest to configure and it had the latest set of features on offer.
Those of you who are in search for a modern-day caching solution for your contemporary site should definitely give the Cache Enabler plugin a try.
Which caching plugins have you tried out on your WordPress site? Do you agree that it's important to have a caching solution that supports HTTP/2 web protocol and Google's WebP image formats? We'd love to hear from you so let us know by commenting below!