Forget music being the food of love, WordPress has a love for food. You can see this from some of the stock images within default themes of the past. There are also lots of tools to help you showcase food-related content on your site. In fact, there are lots of WordPress recipe plugins on the market, so many that you may struggle to choose the right one.
While you'll find some cookie-cutter varieties of plugin, lots will have a specific focus. This means you'll want to consider the quality of a plugin and what it can do before you install it on your site. Some plugins will also offer extra functionality to help you achieve a few different goals.
In this post, we're going to look at a few different WordPress recipe plugins, and talk about why you'd want to use them. By the end, you'll have almost everything you need to pick the most suitable option for you.
Why You'd Want to Use a WordPress Recipe Plugin
Food bloggers' currency is the recipes they create. The goal is to show off a suitable meal, and inspire the reader to not only create their own version, but to 'riff' on a recipe and turn it into something else.
A WordPress recipe plugin is a stellar way to present recipes for a number of reasons:
You have a consistent design for each recipe on your site.
By extension, that layout won't need much input from you to look great, especially with the right theme.
You can manage your list of recipes from the WordPress dashboard.
There could be other functionality too, such as ingredient lists and measurement converters.
There's lots more here we could mention, but the crux is that a recipe plugin takes away the strain of design. This leaves you with the task of creating and writing up your recipe. As such, there are a few elements you'll want to look for to make the process of using a WordPress recipe plugin optimal for you.
What to Look For in a WordPress Recipe Plugin
In fact, much of what you'll want from a WordPress recipe plugin will be the general standard markers of quality. We're thinking aspects such as:
Good ratings and reviews from other users.
Regular updates (at least six months or compatible your current version of WordPress).
A reputable developer that looks after the project.
On top of this, you'll also want to look for specifics. In lots of cases, a plugin will provide these elements of functionality as part of its focus. However, you do want to note whether a solution will offer the following:
Intuitive design options to help you create a style that fits your site.
The right blend of functionality to offer you options in the design process.
A pricing model that won't hit your budget too hard – a sustainable price for you will make your choice a long-term solution.
You'll notice that some solutions will offer more than others, and that some plugins will fit your needs better. This is where healthy comparison will help you make the right decision, which is something we'll cover over the rest of the article.
5 Superb WordPress Recipe Plugins Compared
You'll find that there are a lot of WordPress recipe plugins on the market, but they won't all provide the experience you need. As such, we'll cover a few options here. Let's round them up in summary:
Although we're going to feature plugins across various price ranges in this post, let's start with an arguable front-runner from the WordPress Plugin Directory.
1. Recipe Card Blocks
The developer of Recipe Card Blocks – WPZOOM – has more visibility for its themes. However, you can also find plugins within its product lines. Recipe Card Blocks is a fantastic solution with a glut of great reviews from satisfied users:
In fact, the plugin takes its design inspiration from one of the developer's themes. It will add a new Block to your editor, and you can include ingredient lists, recipe details, nutritional information, and more fundamental items.
You're able to bulk add items to your recipe for quick setup, and also integrate video. This is handy if you also want to offer a visual aid and increase engagement. You'll find a number of designs in the box to help you tailor the look to your own branding. In addition, those recipes will look fantastic on any device, thanks to its responsive functionality and Google AMP support.
For a simple plugin, Recipe Card Blocks is ideal, and could also see you take the upgrade option if it becomes central to your workflow.
Pricing: The free plugin could be enough for your needs. However, for $69 per year for a single site, you can add some other great functionality. For example, you can add inline image galleries, adjust servings and ingredients values, tailor the Pinterest Pin, and more.
If you like the look of Recipe Card Blocks, you'll also want to take advantage of our 15 percent off coupon! You can double-up with a suitable theme and have a full-featured food blog ready to roll!
2. WP Recipe Maker
Next, we have WP Recipe Maker. This plugin has a huge number of active installations compared to the competition, and coupled with an average rating of five stars, it means the plugin is a leading contender for your site:

A core feature for WP Recipe Maker is that it offers JSON metadata for each of your recipes. If this is a new term for you, know that this will make sure your recipe posts have improved Search Engine Optimization (SEO) and could net you more visitors from organic search.
Speaking of which, the plugin supports the Guided Recipes feature for Google Assistant, which can open up a world of delivery for your recipes and content. A user can also perform a full text search on recipes too, which further helps your SEO.
The plugin itself is flexible, and lets you use it with Elementor, the Block Editor, and the Classic Editor. This makes it a superb choice if you want to change how you work with your site's content in the future.
There are a few other features worth a mention too:
You can structure your recipes into related sections, such as preparation, and split instructions off to help collate sub-steps.
There's also a way to associate ingredients with instructions, so it's perfect for a user to follow along however they need.
You'll use a template editor to create the look of your recipes, which you access from the WordPress dashboard.
There's plenty in the box when it comes to WP Recipe Maker, which makes it a superb choice regardless of your exact requirements.
Pricing: While the core plugin is free, there's also a premium version of WP Recipe Maker that provides links to ingredients and other recipes, adjustable servings, nutritional labels, and more. You can pick this up starting at €49 for a single site.
3. Tasty Recipes
Unlike some of the other plugins on this list, Tasty Recipes is a premium-only solution. It comes with a cache of fantastic features that will help you create exciting recipe designs and layouts for your site:

You'll find Tasty Recipes is the backbone of many top food blogs, such as Pinch of Yum. One of the reasons for this is down to the clean and sleek recipe editor. This offers a few different fields that feel nice to navigate around.
There is a whole wealth of features to help make your recipes stand out and offer value. For example, you can add preparation and cook time values, yield figures, and much more.
The great thing about the plugin is how you can throw up a recipe fast, or take your time and create a layout and design that suits your needs. This is in part down to the default template styles, which all look great and simple to navigate. We also like the following:
You can offer a set of custom share and save buttons, for those readers who want to come back to a recipe again.
There's a handy 'jump to recipe' shortcut option, for those who like to offer exposition before the core recipe instructions (a commonality of food blogging).
You can add nutritional data without the need for another add-on or plugin.
There's also recipe scaling, for times when a reader needs to cater to more hungry mouths.
Coupled with flexible page builder support and a method to integrate video into your recipes, there's a lot of mileage in the Tasty Recipes plugin.
Pricing: There's no free version of Tasty Recipes, but you have a 15-day risk-free trial. After that, the plugin will be $79 per year, for a single site.
4. Delicious Recipes
Back to the free WordPress recipe plugins, and Delicious Recipes is another market leader. It provides lots of helpful ways for readers to find your recipes, and make them:
You'll find a lot of functionality under the hood, such as a way to add nutritional data to recipes. In fact, you'll find a lot of options that will support a good User Experience (UX):
There's a recipe index list, so readers can find what they're looking for in a flash.
Readers can sign up to your site using a User Dashboard, which lets them save recipes for later.
You have a rating system in place so that others can see which recipes hit the taste buds just right.
You can increase your 'time on site' metrics through the Surprise Me feature. This loads a random recipe when a reader clicks it, and makes it simple to consume more of your content.
You can tell that this plugin focuses on UX more than others on the list. However, it still includes some of the key functionality other plugins have. For example, you can add instructions fast, and customize your recipe cards to match your requirements. If you want to involve the user in a deep way, Delicious Recipes could fit the bill.
Pricing: The core Delicious Recipes plugin is free, but there's also a premium version starting a $49 per year. A standout feature here is the front-end recipe submission form. This lets users submit recipes, and makes for a fantastic base for a community of cooks.
5. Total Recipe Generator
Next up we have Total Recipe Generator. This isn't a standalone plugin, rather an add-on for Elementor. If you use the popular page builder, this solution will be one of the first to consider: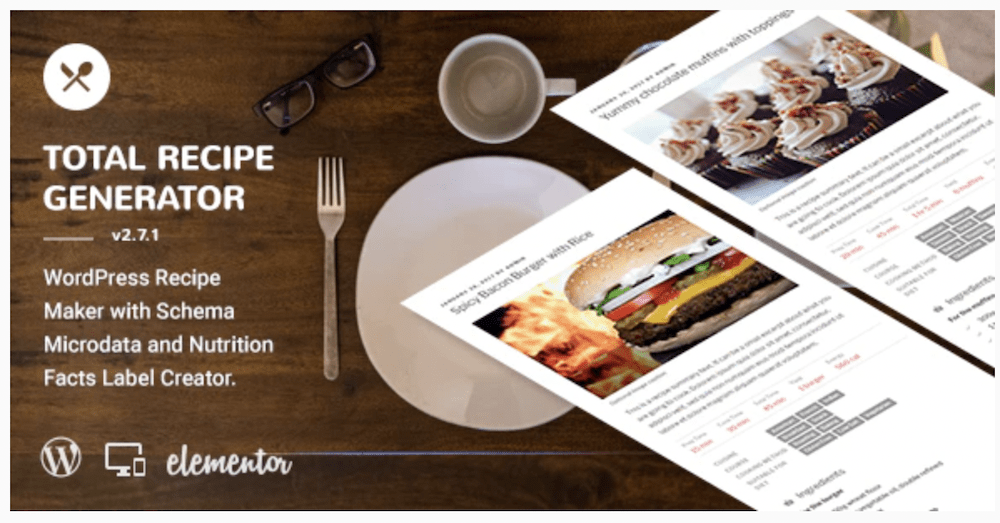 The good news is this works with the free and premium versions of Elementor, so you may only need to make the one purchase. It includes a number of pre-built design templates, and formatted metadata such as the yield, time (with splits for cooking, preparation, and more), serving size, and cost per serving.
There are swathes of other features with this plugin that increase the value:
There's a built-in nutritional label generator.
You can add ingredients in a dynamic way, either on an individual basis or in batches.
Total Recipe Generator supports Scheme markup in JSON format, for optimal SEO.
This plugin is a functional way to add recipes to your site, and although it's a premium solution, you will get value for money if you also use Elementor.
Pricing: Total Recipe Generator is a premium only plugin. It's $29 and comes with six months support from the developer.
6. Zip Recipes
The final plugin in this list is Zip Recipes. It's a free plugin that delivers through a robust template editor and thoughtful functionality:

Out of the box, the plugin offers some of the similar features and functionality you'll find across the board:
A template editor to help you create a design you like.
'Microdata' optimization through JSON, so that search engines can rank for your recipes better.
You can include nutritional information and other data such as cooking and 'prep' time.
So far, so good. However, this isn't a standout set of features. What Zip Recipes does offer is the ability to show great-looking recipes on mobile. This happens through a responsive framework that incorporates AMP compatibility. Also, recipes will appear as Pinterest 'Rich Recipe Pins', so there's an extra way to capture new users.
On the surface, Zip Recipes doesn't appear to stand out from other plugins, but there's plenty here to help you look great on mobile. We'd recommend this one if you know users browse your site through mobile (your analytics can tell you this).
Pricing: Zip Recipes is free, but also has a further premium upgrade. This starts at $39 for one site, and includes automatic nutrition calculation and a metric to imperial converter (among other additions).
In Summary
Food blogging is tailor-made for WordPress. The platform itself is straightforward to use, powerful, and scalable. What's more, you'll find a number of WordPress recipe plugins to help you display your creations with ease.
This post has given you a number of WordPress recipe plugins to choose from. For most people, a plugin such as WP Recipe Maker will do everything you need. Solutions such as Delicious Recipes offer focus on the user, and you'll want to decide whether this is your focus too. Regardless, all of the plugins in this list can serve your needs, and we'd recommend them all in a number of situations.
Do you need to display recipes on your site, and if so, which of the WordPress recipe plugins in this roundup do you like? Let us know in the comments section below!