How would you rate your WordPress knowledge? Are you a beginner? Intermediate? Jedi Knight?
It turns out everyone has to start somewhere with WordPress, and luckily there are tons of options to choose from if you are interested in WordPress courses.
I started my WordPress journey back in college, playing around with some random websites I created while jumping back and forth between certain video tutorials online. Now I can discuss more advanced topics like how to backup a website or how to SEO audit a site.
15 Best Courses to Learn about WordPress
Courses are often the easiest way to learn about WordPress since you typically get the visual and audio aspects of learning that come in handy for remembering things. Online courses also give you documentation to play around with or files that you can download and place on your own WordPress site.
Maybe you need to learn how to upload a plugin. Courses give you a detailed walk through, and they might even offer you a premium plugin for free that you can put on your own site. Maybe you want to modify some code to change the way your header looks. Online courses may give you a file to download so you can play around with the code on your own time.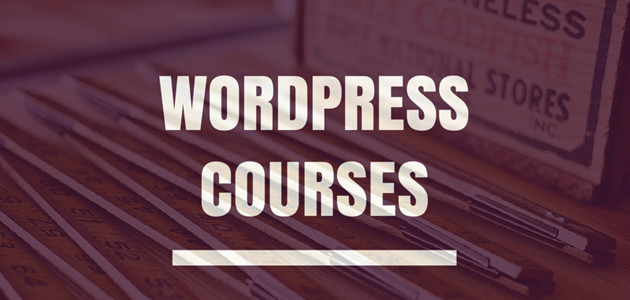 Regardless, courses are a way to go back to school and really get a detailed look at the WordPress platform. Not only that, but you can learn from the courses on your own time and even find some options that are free or relatively inexpensive.
Since so many WordPress tutorials flood the internet we wanted to give you a solid list of the best WordPress courses to hone your skills.
1. WP 101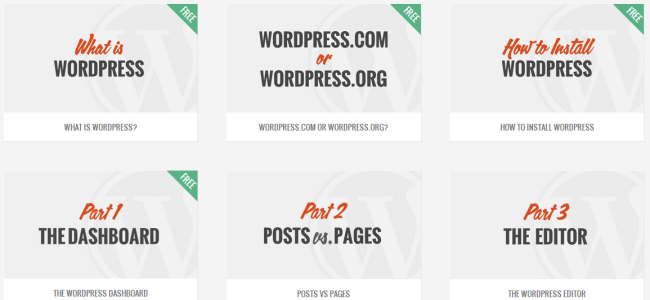 WP 101 is one of my favorite WordPress courses, because it comes with a forum so you can chat with other people and ask questions if you can't get through a certain lesson. The video library offers a few free lessons so you can view them to see if this is the right class for you.
You can learn anything from managing comments to getting started with custom fields. The courses are designed in video format, and they occasional give you some downloads if needed. It's a fairly simple interface, so you won't get confused with where you are in the course, and they even send you email reminders to keep you on track.
What are the price options for this WordPress course?
Some free videos
$19 per month for 30 days
$39 per year for 12 months
$79 one-time fee for unlimited access for life
2. WP Applied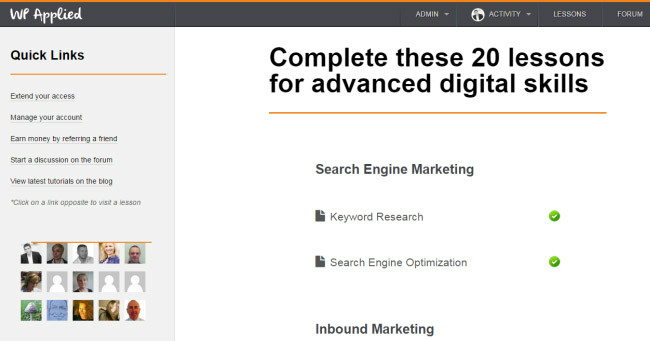 WP Applied provides powerful WordPress course options for those who not only want to learn but want to reach out to others and form a little community. You get to create a profile in the course and chat with other people, similar to the way you would in Twitter. Just tag someone and send them a message or comment and you can start a conversation.
The first course is all about installing WordPress, and it goes all the way to options like improving site performance, building a restaurant site, and affiliate marketing. Whenever you complete a lesson you receive a little check mark to show your status, and each lesson has its own comments section to chat with other people.
Along with article-based lessons, you also get access to video-based lessons, so if you are more of a video learner, this course can be very helpful. The thing that makes this course different is that users gets a free WordPress installation to practice on and the course teaches website owners how to manage and market their website via short interactive exercises.  The course takes about 12 hours to complete and includes modules on managing content, getting traffic, capturing leads, building relationships, and making sales.
What's the price for this WordPress course?
The entire class is 299 Euros or $345.
Visit WP Applied »
3. Lynda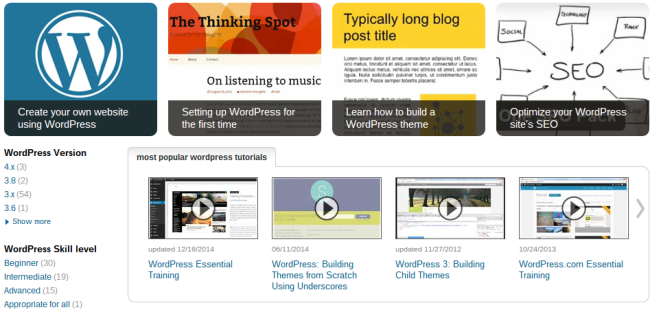 Lynda is actually the way I learned WordPress is college, but keep in mind that my college gave all students a free pass for Lynda, so I didn't end up spending any money on it.
That said, it's still one of the most comprehensive resources out there, with sleek videos, a huge database of other videos to choose from on just about every topic you can think of and downloads to help you along you way.
What are the price options for this WordPress course?
$25 per month for a basic month-to-month package.
$250 per year so you can save some money by paying upfront.
$37.50 per month gives you access to downloadable files as well.
$375 per year is the yearly option for the premium package that gives you downloadable files.
4. WP Apprentice

This option has three course choices ranging from beginner to advanced WordPress user. The courses all offer videos and training materials to hone your skills. This one is unique because they suggest plugins along every step of the way, intertwining the plugins with the courses.
Why does WP Apprentice standout from the other options online? You get to learn how to manage your own WordPress website building website with tutorials on how to maintain the websites after you complete them. You also have access to a nice forum and you receive downloadable worksheets and planning resources.
What's the pricing for this WordPress course?
You get a free beginners course.
$47 for intermediate lifetime access.
$158 for advanced lifetime access.
Visit WP Apprentice » (20% off coupon)
5. WordPress.tv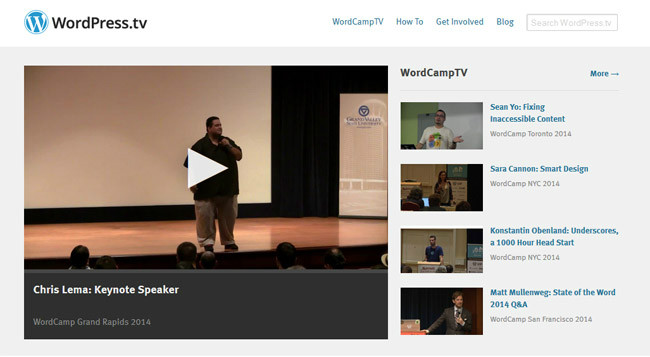 WordPress.tv has a less professional-looking website, but it's filled with hundreds of free videos that come from classes that happened in physical settings. You don't get the community you would find with other options on this list, but it's a great place for free videos.
Once you start getting a hang of the WordPress interface you can even start contributing to the site. They are always looking for new people to submit high-quality videos. This is a wonderful way to keep your skills sharp and to help others along the way.
What's the price for this WordPress course?
Free
6. Udemy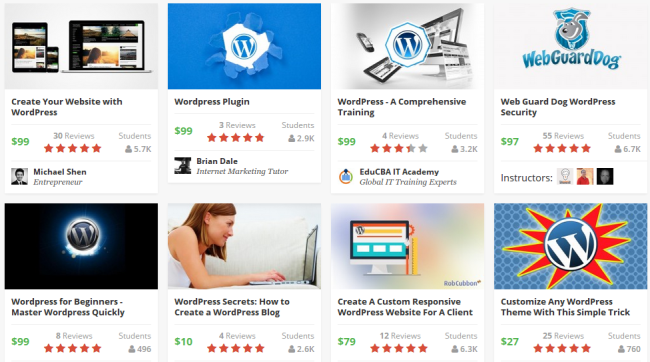 Udemy is a hodge-podge of courses uploaded by various users, so some of them are better than others. The cool thing is that you can browse through to find the options with the best ratings. This way you don't waste your money.
All course are different, but you can see how many students use each one and how much the class is. You can also see how many students are enrolled in each class to help filter out the courses that don't really help all that much.
What's the price for this WordPress course?
Some classes are free, but some of them are as much as $99.
7. WP Training Courses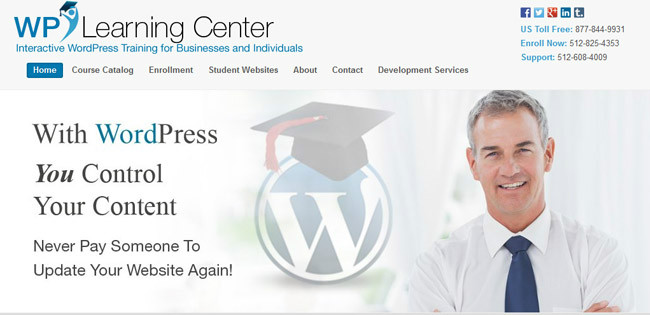 This is a unique take on WordPress training, because you get paired with a certified instructor who works with you one-on-one to ensure that you learn everything in an appropriate time. All classes are recorded so you can refer back to them, but keep in mind that you have to schedule for the classes since you are working with another person.
This is a nice option for those who want immediate answers to their questions. The support team and staff is always around to help you out, and you actually get to build a website as you train. Hands on experience is always the best experience.
What's the price for this WordPress course?
8. WordPress Training by iThemes

The WordPress Training by iThemes program offers everything you need for a fulfilling class experience. It's the closet thing to a real classroom that you can find online.
They hold live FAQ sessions, and they also offer hundreds of recorded classes that you can browse through at your own pace. The website also has a members only area where you can chat with other developers on the forums and ask them all questions.
I also like that the instructors are not just a bunch of nobodies. You learn from experienced professionals like Benjamin Bradley and iThemes founder Cory Miller.
What's the price for this WordPress course?
$197
9. Mike Little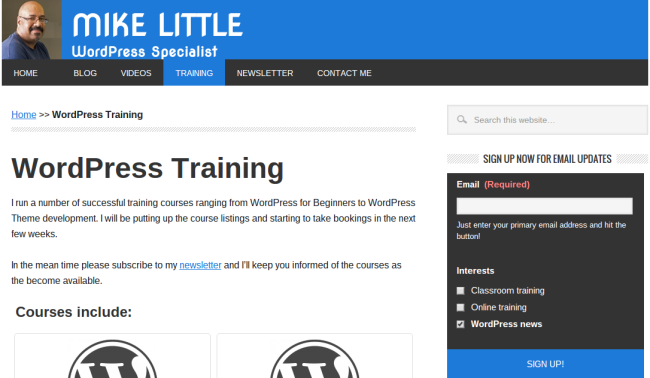 Mike Little is a WordPress specialist who works directly with his students to help them excel at WordPress. He has a few videos on the site, but the true value comes from his in-person classes, which you can signup for on his site. The cool thing is that you get all the teaching materials for the class and one month free for hosting your site.
Most of his in-person courses are held in Manchester, England, but you can also schedule a phone call course with him. Check out his upcoming dates on the website. This is not exactly the best option for some people, but if you're nearby and really want an expert to help you out, Mike is a wonderful option.
What's the price for this WordPress course?
Contact Mike for an accurate quote.
10. OS Training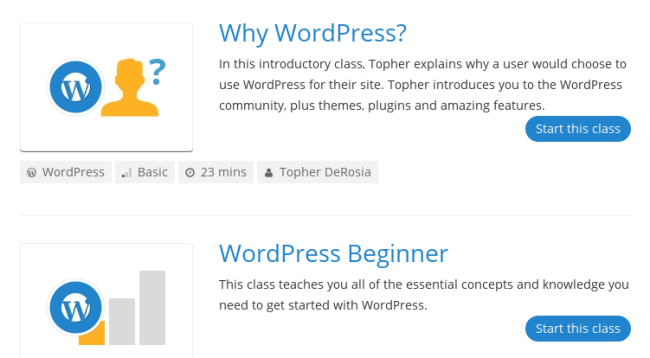 OS Training provides courses for a wide range of tech topics, but the WordPress lessons are rather detailed and easy to navigate through. They have live training and courses that include downloadable materials and a designated teacher for each class.
OS Training works well for people who like earning certificates for their accomplishments. Every time you complete a video class you receive a printable certificate that you can post on your refrigerator with pride.
What's the price for this WordPress course?
Ranging from $15 to $39 per month.
Visit OS Training » (our 70% OFF Coupon)
11. Team Treehouse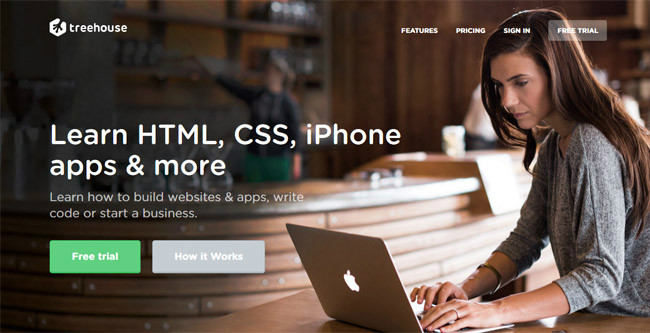 Team Treehouse is the ultimate resource for those who want to learn WordPress then move onto other topics after that. Start with the WordPress guides then go onto topics like CSS, iPhone apps, and more.
The cool thing about this site is that you can learn at your own pace, since the library is filled with videos and tutorials, so you don't have to check in with an instructor. The site also includes quizzes and code challenges to see how much you have learned.
What's the price for this WordPress course?
From $25 to $49 per month.
12. WP Sessions

WP Sessions includes a few free courses, and you can move onto VIP status to get access to everything. I like how they tell you how long each course is going to last so you can plan before you sit down and start learning.
The website has a nice Discounts page (similar to our exclusive deals page) for certain tutorials and guides, and you can even find some nice rates on things like WordPress hosting and themes. I like checking in with the WP Sessions blog on occasion to see if any new courses popup, since they are always coming out with great new content.
What's the price for this WordPress course?
$247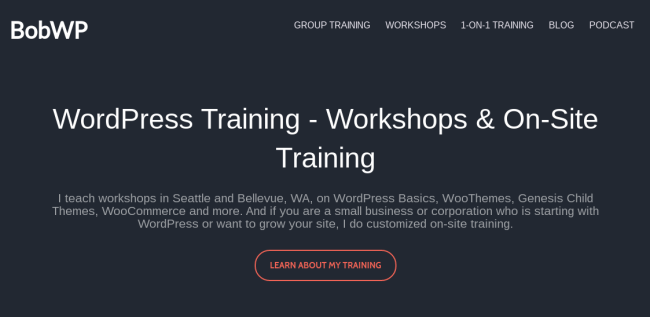 BobWP is run by an individual WordPress trainer, who provides a 10-point checkup, WordPress site setup services,  and one-on-one training online. His topics range from using the Genesis framework to understanding the basics of WooCommerce.
The thing I like about BobWP, is you can pretty much choose whatever topic you are having trouble with and he will help you out.
What's the price for this WordPress course?
$125 to $300
14. WordPress Lessons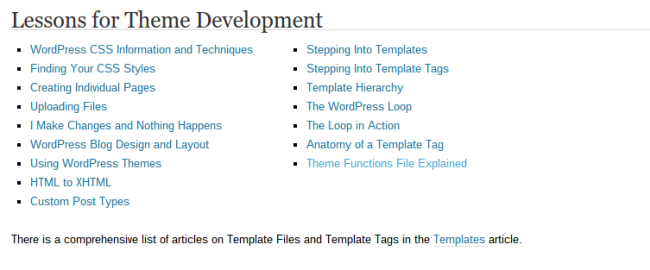 This isn't exactly a course, but it's a nice list of written tutorials from the folks at WordPress. They obviously know what they are talking about, so you can checkout topics like customizing feeds and dynamic menu highlighting.
The WordPress Lessons website is fairly easy to navigate, since it's the classic WordPress white, along with a bunch of links with clear labels. Start with WordPress for Beginners and work your way all the way up to Website Development.
In between includes categories like Lessons for Theme Development and Designing Your WordPress Site.
What's the price for this WordPress course?
Free
15. WP Shout
WPShout is a site run by WordPress enthusiasts who produce regular in depth tutorials and courses, teaching what they learn in their day jobs as WordPress developers to would-be WordPress developers like you, who are just getting started, need a bit of extra guidance, or need a refresher.
This is an introduction to the core concepts of WordPress theme development and covers the three most important concepts of WordPress theme development; The Template Hierarchy, Processing Posts with The Loop, and Adding Functionality with functions.php. This has been taken from Second Edition of their "learn WordPress development" course Up and Running, which is available now.
Share your thoughts in the comments section if you have any questions about finding the best WordPress courses online.
Have you used any of these WordPress courses to sharpen your skills? What is your most recommended WordPress course for those who really want to learn fast so they can apply the skills to a professional setting?