[Update: September 16] Since writing this post, BlueHost support went completely downhill, customers have to wait at least 30 / 40 minutes just to hear from someone on live chat, on the top of that most of their staff isn't helpful (source). Here are some better WordPress hosting options. 
It's not always easy finding the right hosting package for a new website. If you're unfamiliar with how web hosting works, it can seem like a different language. Even if you've been self-hosting your websites for a while, there are many reasons why you might want to switch to a new provider. Finding a good deal relative to your needs can be tricky if you don't know where to look.
A good hosting provider should make it easy for you to get up and running. It should be affordable, with great support and instructions. Most of all it should have a reputation that precedes itself.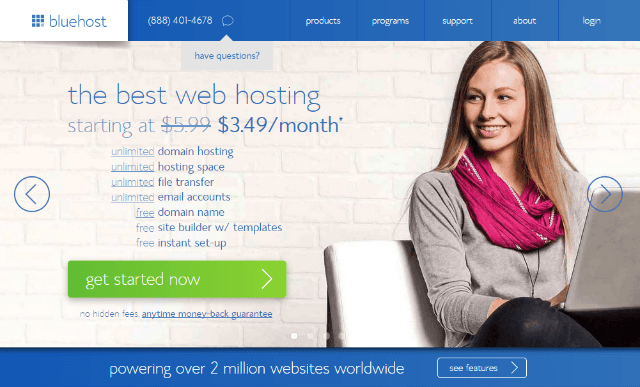 Today I want to introduce you to Bluehost, a hosting provider that's celebrated by many bloggers as their hosting of choice. Read on to discover Bluehost's best features. This will include how to create your own account and to see how easy it is to setup a WordPress website with Bluehost.
Bluehost Review
Bluehost prides itself on providing the very best hosting to its users. As a hosting provider that powers over 2 million websites across the globe, it's fair to say they can back that claim up.
Founded in 2003 Bluehost began with one aim in mind – "to build a better hosting company". Since then their team has grown to over 700 strong and has become one of the worlds leaders in providing cloud-based online solutions. Situated in Utah, the company which was built on open source technology, is continuously pushing the boundaries to bring the best possible internet to people all over the world.
One of their most popular plans is their Plus Shared Hosting package. This package grants users unlimited bandwidth, subdomains, storage and email accounts to name a few. However that's not all Bluehost offer.
Other hosting plans include:
VPS (Virtual Private Server) hosting
Dedicated hosting
Reseller hosting
Bluehost also offer tailored plans for Students, Faculties, Institutions and Nonprofits. For example a verified faculty can obtain a free education account while nonprofit organizations can take advantage of Bluehost's free hosting plan which was built in partnership with grassroots.org. This demonstrates their great desire to make their hosting accessible to as many people as possible, even if there's little profit in it for themselves.
ALSO READ: How to Choose the Best WordPress Hosting For Your New Website
Further to their range of hosting packages, Bluehost allow a full money-back guarantee, 24/7 support and plenty of extras to sweeten the deal.
Creating An Account On Bluehost
Creating a Bluehost account is simple and it will take you a matter of minutes to get your website up and running. Lets look at the steps needed to do this.
First you'll need to select your hosting package. For this walkthrough I've chosen the popular unlimited shared hosting plan. Once you've clicked the plan that best suits your needs, you'll see the following page.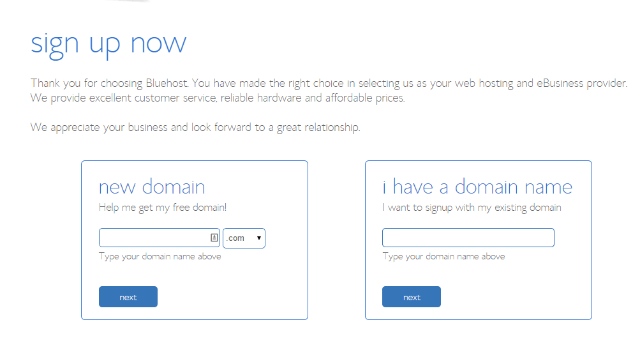 If don't already have a domain name, type in your desired URL into the first box. If you already have a domain name you'd like to use, enter it into the second box and click "Next".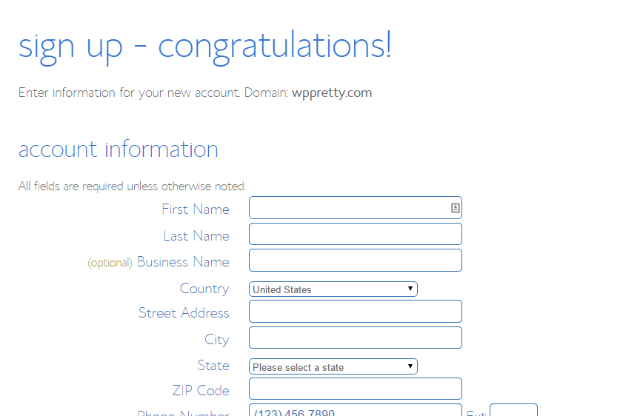 Your next step is to enter your account details. This will be information such as your address, business name (if you have one), phone number and payment details.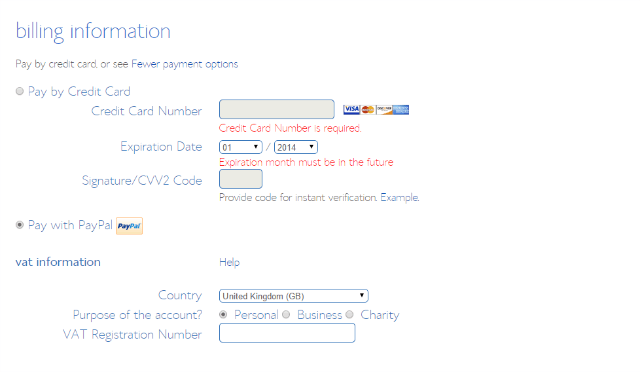 When adding your preferred payment method, you have a choice between using a credit card or PayPal. My suggestion would be to use your credit card to make the transaction smoother. It also allows Bluehost to complete your setup without any extra security checks.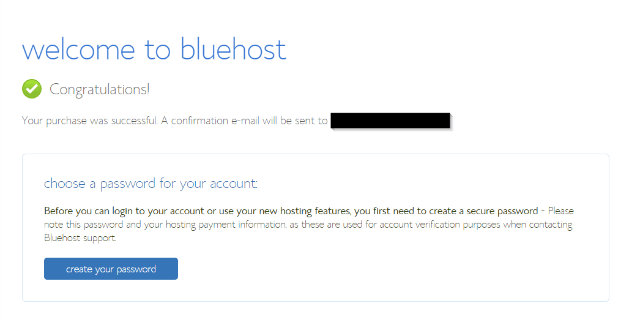 After submitting your information, you'll meet the confirmation screen. This will let you know that an email confirming your account info will be sent to your inbox. You'll then be prompted to create a password for your account.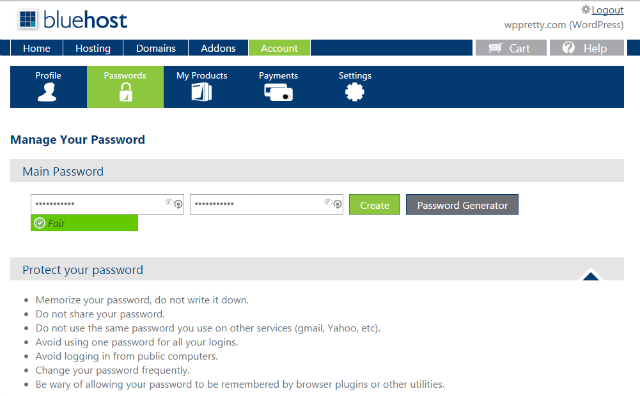 After hitting next, you'll see a screen similar to the one above. Here you can create a password yourself, or use the built-in password generator to create a safe and secure one automatically. This is particularly useful if you use an app like LastPass to manage your passwords, as you'll be able to save it for future reference.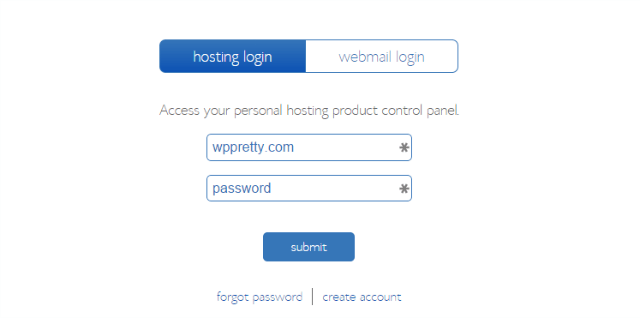 Your last step in this part of the process is to go ahead and login to your account. To do so, enter your domain name and the password you just created and click "Submit".
Setting Up A WordPress Site With Bluehost
Now that you've created an account with Bluehost, you can finally get a look at what your Control Panel (cPanel) will look like.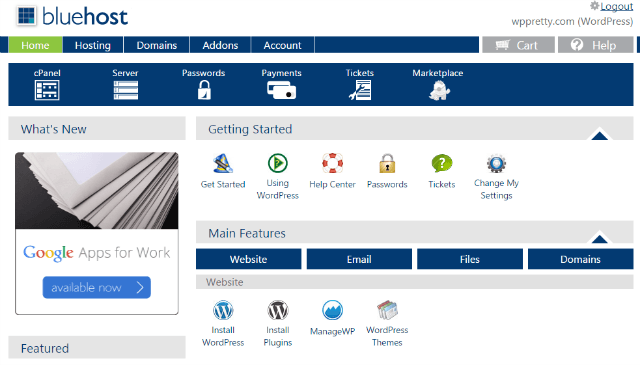 As you can see your cPanel is divided into sections for clarity. Since you might be unfamiliar with Bluehost, your best starting point will be the top section labelled "Getting Started". Here's you'll find useful guides to help you maintain and run your website.
The main features section is what we're going to look at next. Here is where you can install WordPress to the domain name you registered with. Under the "Websites" heading click the "Install WordPress" icon to get started.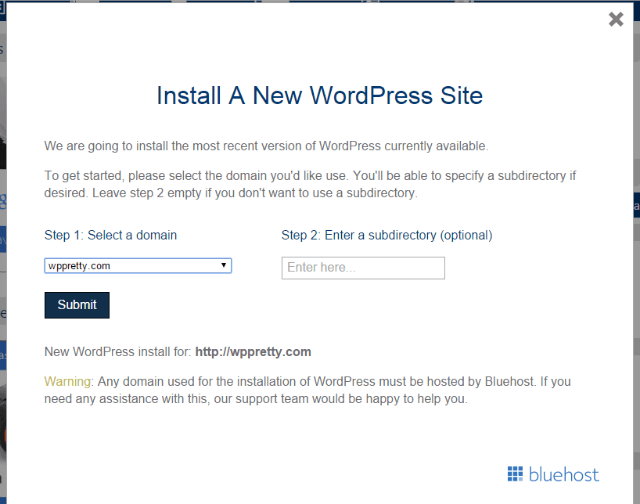 A window will appear with the above options. First select the domain name you wish to use from the dropdown list. If you want to add a subdomain, fill this information in the second box, otherwise ignore it and click submit.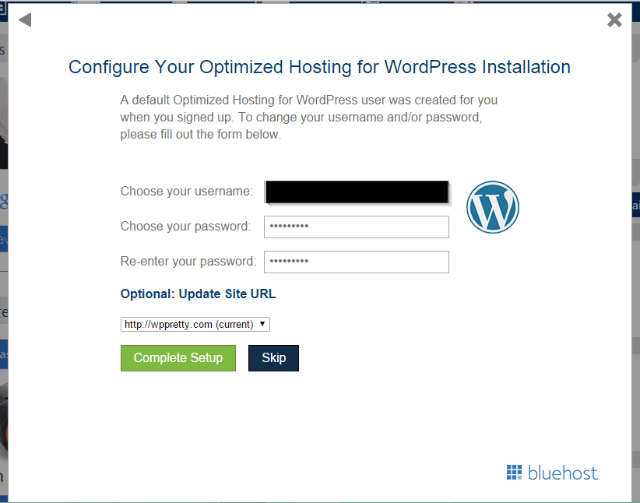 The next window gives you the opportunity to change the default user details you signed up to Bluehost with. To keep your website login separate from your hosting login details, go ahead and add in your desired username and password. When you're finished, click "Submit" or "Skip" if you don't want to change anything.
That's it you're done! You'll now see a screen with all of your login details and a link to click which will take you straight to your new website. WordPress will be fully installed and ready for you to customize. It will probably look similar to the image below.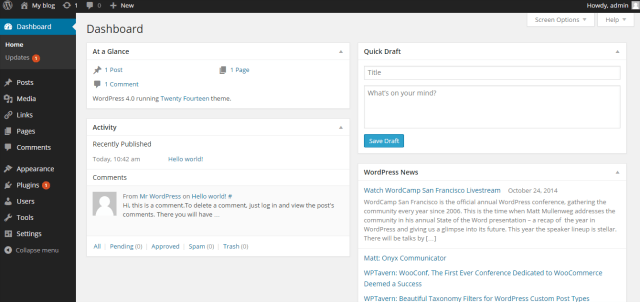 Given that nothing has been added to your site just yet, it's good practice to gauge the speed of your site before changing things around. A quick submission on Pingdom's site speed test, will give you an overview of how fast your new setup is running.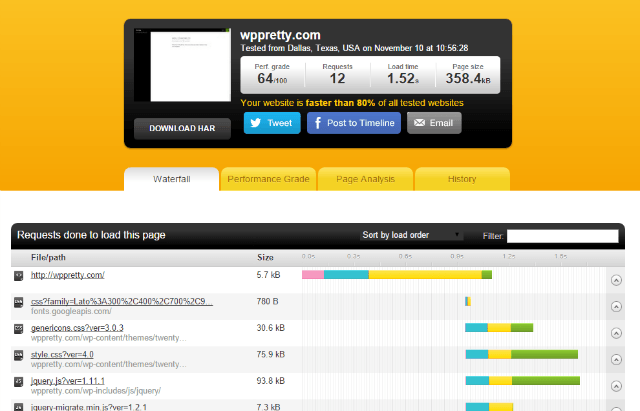 This will enable you to compare any future tests, to see how your site performs in the future.
Key Bluehost Benefits
The main selling point of Bluehost to me is the ease with which you can get your site off the ground. From creating an account to setting up your WordPress website, it literally takes only a few minutes.
This is great news if all you want to do is get access to your blog. Not everyone wants to get bogged down with the technical side of a website and Bluehost makes it easy to avoid this. They make the setup process simple and intuitive for the least technical among us.
Something else that really impressed me was the wealth of information they have available to help users get setup. From written step-by-step guides, to video tutorials, Bluehost seem to have every step of the way covered. There's even a guide to your billing information if you get stuck!
Further clear benefits include:
Email accounts and webmail for having a professional email address linked to your domain.
Complete file management, enabling you to access your site files without the need for ftp access.
Effortless backup options to prevent you from losing your entire site should something go wrong with a plugin or theme.
Multiple upgrade options to services such as Google Apps, ManageWP and SiteLock.
Free credits for Google and Bing Ads and Twitter and Facebook advertising should you wish to do a bit of promotion.
The ability to transfer to a different package should you outgrow your hosting.
Pricing & Support
Bluehost's help center is packed full of resources to help solve any issues you might come across. There are helpful links directing you to the most common questions asked and you can enter your query into the search box for an answer that matches your problem.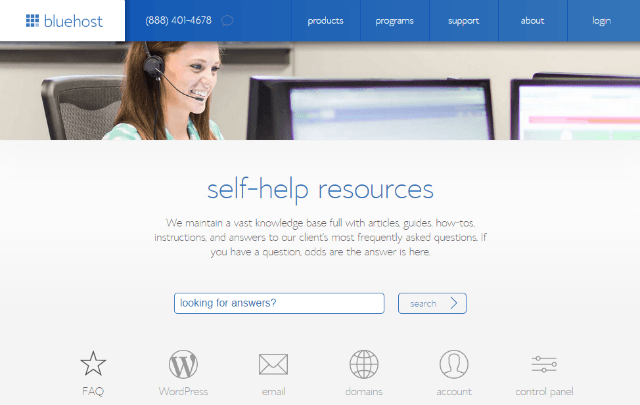 There's also a community forum that's a great place to find answers to problems that don't link directly to your hosting package. While these aren't monitored by Bluehost staff, they're still useful for putting heads together and asking general questions.
For more direct support, you can always submit a ticket to the support staff, or have a discussion via live chat. You'll need to have your account details available when you get in touch this way, in order to help support verify who you are.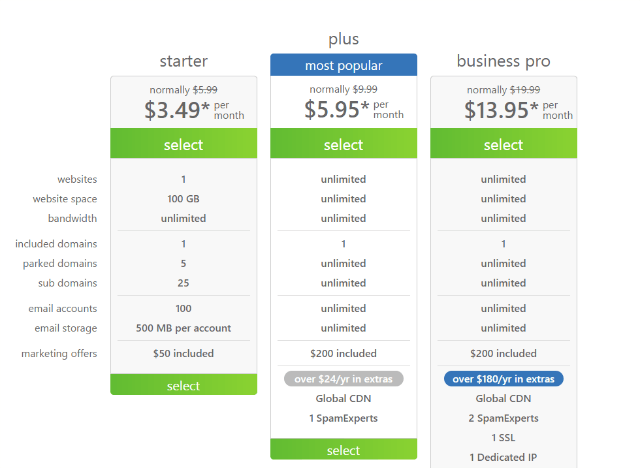 Pricing for the Plus Shared Hosting plan begins at $9.99 per month. There is a however a cheaper plan for around $5.99 per month, but you'll be limited in terms of space, which will mean you'll have to upgrade anyway when you outgrow it.
At the other end of the spectrum, the Business Pro plan beings at $19.99 per month and includes everything the plus plan offers. In addition you'll also get:
1 SSL
1 Dedicated IP
1 Domain Privacy
SiteBackup Pro
High Performance
Other hosting options such as VPS begin at $29.99 per month, while dedicated hosting starts at $149.99 per month.
For a hassle free solution, you might want to consider Bluehost's optimized hosting for WordPress. This starts at $24.99 per month and includes up to 5 managed WordPress websites on a single domain. Perfect for bloggers looking to get their feet through the door, with scope to upgrade to larger packages as your blog grows and expands.
Final Thoughts
My first thoughts about Bluehost, having judged it without fully exploring it, was that it was a hosting provider people used just because everyone else did. While this isn't entirely false, there's a reason why Bluehost has the reputation it does and why bloggers and website owners continue to choose it as their host of choice.
Bluehost offers great, competitive prices, combined with the quality of a host that cares for its customers. It's easy to use, inexpensive on the pocket and has plans to suit almost any type of website you can think of.
Navigating the control panel is a breeze – everything's laid out and labelled clearly. The support section has a wealth of information to help solve common problems and having had the pleasure of talking to some of the support staff, I can vouch that they're as helpful and as professional as their homepage claims.
I'm not in need of a new host right now, however when my renewal comes around, I'd have no problem switching over. Bluehost provides exactly what it says it will and then goes beyond that for a hosting services that's truly valuable.