It's no secret that building an email list is one of the best ways to grow your blog or business online. This is why many bloggers and business owners alike use as many tools as they can to boost the number of their email subscribers.
And if you want to grow your email list in the most efficient way, using pop-up optin forms has been proven to be the best method. Despite the fact that pop-ups are not the most user-friendly way to grow your email list, they are quite effective at grabbing the user's attention – and that's why they work so well.
There are plenty of pop-up optin form plugins available for WordPress today, but one plugin has continuously risen to the top: OptinMonster.
OptinMonster comes highly praised as the best lead generation software on the market. It offers an impressive set of features and comes with several different options. What's more, OptinMonster forms have attractive designs out of the box which make it easy to get your optin form ready to go in a matter of minutes.
In this post, we'll take a look at everything OptinMonster has to offer and see what sets it apart from the competition.
What is OptinMonster?
OptinMonster is a premium plugin designed to create highly-converting attractive opt-in forms and make it easy to grow your email list fast.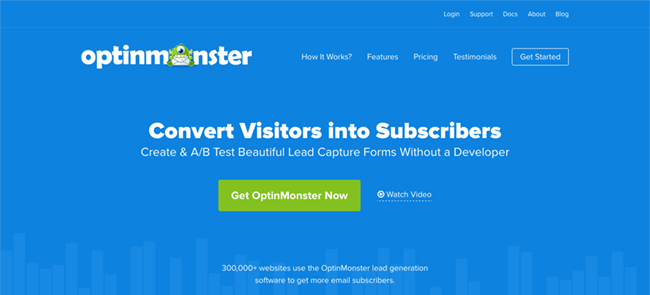 As mentioned before, OptinMonster has an impressive set of features which are spread out across three different price points.
Some of the features include:
Beautiful form designs
A/B testing
Page level targeting
Exit-intent technology
Built-in analytics and reporting
Integration with all major email providers as well as custom HTML forms.
Ease of Use
Unlimited forms for use on your site
Before diving into features, let's review the setup and the design of the plugin.
OptinMonster Setup and Design
To get started with OptinMonster, you will need to sign up for an account and pick your desired pricing plan. It's worth mentioning that all plans come with 14-day 100% no-risk money back guarantee. Once you're signed up for the plan, you can log in to your account and create your first optin.
Creating a form is easy and there are several pre-designed templates to start you off. On top of that, there are several optin form types to choose from, depending on the plan you selected.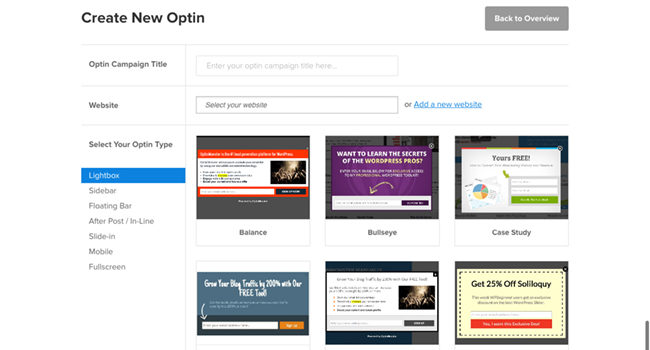 The optin types include:
Lightbox
Sidebar
Slide-In
Floating Bar
After Post / In-Line
Mobile
Fullscreen
As far as the templates go, the number of templates depend on the type of optin form you selected, with Lightbox (or the popup optin form) having the most templates available. Each of the templates can be customized to your liking – you can change the colors throughout the template, add your own image or a video, and there is a limited amount of Google Fonts to choose from for the text.
The most interesting option here is the Canvas template which allows you to change the dimensions of the popup form and enter custom HTML and CSS which means you can have a completely custom form design if you are familiar with the code.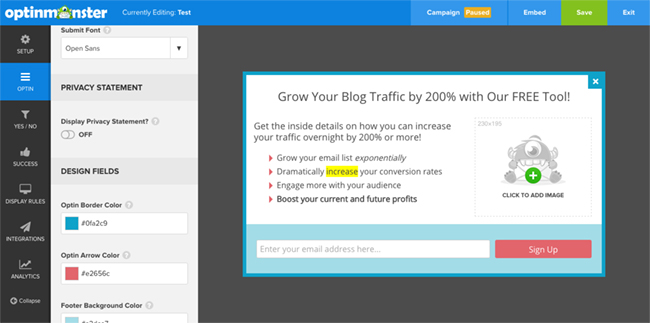 Aside from the design customization, this is where you can configure additional display rules for the form, setup Google Analytics, connect OptinMonster with your email provider and setup the optin form with YES/NO options which seem to be gaining in popularity.
When it comes to integrating the plugin with your chosen email service provider, OptinMonster integrates with all the major players such as MailChimp, Aweber, ConstantContact, ConvertKit, Mad Mimi, Emma, InfusionSoft, and many more.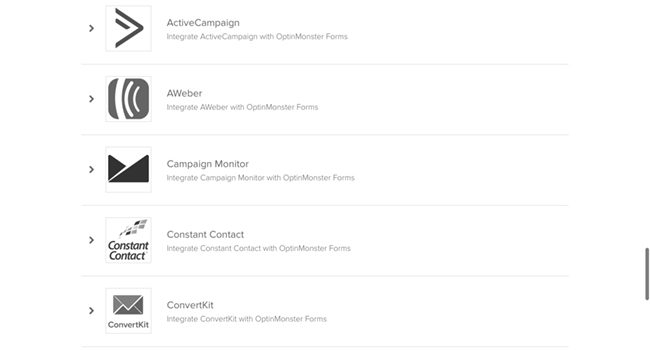 Once your form is configured to your liking, you can proceed to embed it into your site. WordPress users will have to download the plugin and continue with the usual process of installing and activating the plugin. Once it's activated, you will need to generate an API key in your OptinMonster account's dashboard and the plugin will then enable you to use your optin on your website.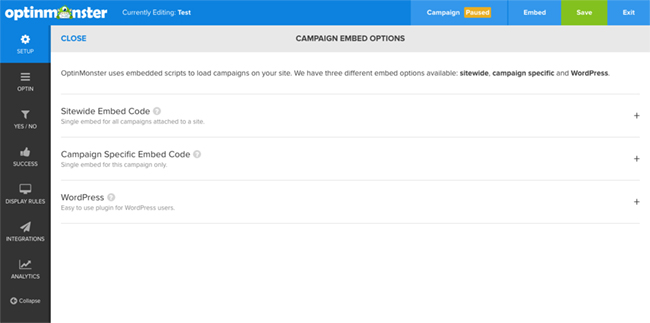 All the options are easy to use and straightforward, however, it's worth mentioning that the plugin comes with extensive documentation should you need any help along the way.
While the setup seems slightly more involved because you have to create a separate account, the benefit of this approach is that you can manage all your optin forms from one central place and have an at-a-glance overview of how your optin forms are performing.
OptinMonster Features
Here's an overview of some of the features you can expect:
Exit Intent Technology
The most notable feature of OptinMonster is the exit-intent technology. According to OptinMonster "70% of site visitors who abandon your site never return," which is why OptinMonster detects when a user is about to leave your site and then launches a popup optin window.
What makes this a great feature, is the fact that people who are interested in your content can keep browsing your site without being annoyed with a pop-up. Those who are about to leave your site will get a pop-up, giving them a chance to change their mind.
Even though it sounds complicated, in reality, the plugin detects when your mouse cursor leaves the page area of the browser and then fires up the popup.
A/B Testing
Another interesting and crucial feature for any email marketing campaign is the ability to perform A/B split testing. With OptinMonster, this is very easy as setting up an A/B test is done with a click of a button. Once you've named your split test, you can then edit the design to see which optin form converts better.

Once your secondary version of the optin form is ready, you can enable it on your website and then use the built-in analytics to see the conversion rate and top 10 highest converting pages – all of which are insanely useful when trying to optimize your optin conversion rate.
On top of that, OptinMonster integrates with Google Analytics for even more in-depth analytics such as the referral page for each conversion as well as the user-agent data for each optin.
Page-Level Targeting
Another useful feature of OptinMonster, the page-level targeting module allows you to display unique offers and campaigns based on visitor's location and interaction on your website.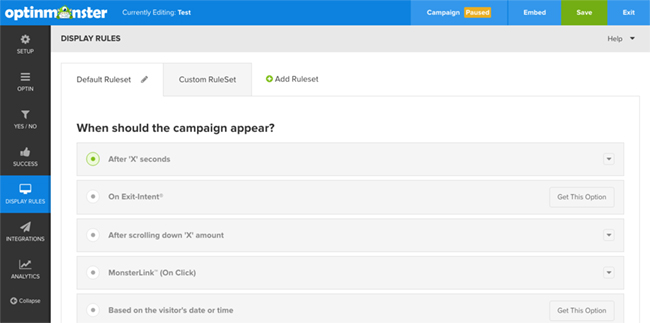 This feature allows you to segment your email list and group your subscribers based on their interest and interaction with your website which means you can send more relevant emails to your subscribers. This results in higher open rates, higher click-through rate, increased sales, greater revenue, greater customer retention, and lower unsubscribe rate. You can choose to show the optin form globally on all pages of your website, you can show it only on certain pages, and you can even exclude certain posts, pages or categories from ever showing the optin form.
MonsterLinks
Ever wanted to turn an image or a link on your website into an optin form? Well, with OptinMonster you can do that too. MonsterLinks is the plugin's signature 2-step opt-in technology that enables users to join your email list with a single-click. It simply turns any link or image into a 2-step opt-in process which triggers a popup asking users to subscribe when they click on the link or an image.
This technology is based on a psychology principle known as Zeigarnik Effect which states those who initiate are more likely to finish the process. Essentially, this means that every page on your website has the potential to become a "squeeze page" offering a lead magnet that is directly related to the content the user has already been reading.
Pricing
OptinMonster comes with three different pricing plans, each of them available as a monthly or a yearly fee.
The most basic plan is available for $9/month or $49/year and allows you to use OptinMonster on one website. This plan includes only the Lightbox optin form type, unlimited forms, A/B testing, MonsterLinks, Page Level Targeting, and List Segmentation. It's a great way to test OptinMonster and see if it's the right option for you, although it's worth mentioning that this option does not include the exit-intent technology.
The Plus package is available for $19/month or $99/year and allows you to use OptinMonster on three websites and comes with Lightbox, Floating Sidebar, After-Post, and Slide-In optin types as well as some additional features such as the ability to lock certain content until a user subscribes but still excludes the exit-intent technology.
Finally, the Pro package is available for $29/month or $199/year and allows you to use OptinMonster on an unlimited number of websites, includes all optin form types as well as all the features to include exit-intent technology.
Conclusion
OptinMonster is extremely easy to use and it can be up and running on a WordPress site in next to no time. All of the options are self-explanatory and most of them have a question mark which gives a brief explanation of the feature when you click on it. Integrating the plugin with Google Analytics is just as easy as the rest of the plugin setup.
Connecting to your chosen email provider is rather straightforward too – depending on your email provider you will either need to click the Register button or enter the API key.
While the basic version of the plugin is rather limited with options, it's a great start for those who are just starting to build their email list. And if you are looking to grow your existing mailing list even more, the Pro version is an excellent choice due to the exit-intent technology which is the key selling point of OptinMonster.
When it comes to A/B testing, OptinMonster allows you to test different options such as title, text, images, and colors while maintaining a simple and clear user-interface. The analytics tab is nicely laid out, with all the important statistics available at a glance.
The downside of OptinMonster is the lack of support for mobile devices in Basic and Plus plans. Mobile option form support is only available as a separate optin type on the Pro plan and as such any other optin form will not display on your website if it detects a user visiting on a mobile device.
All things considered, if you value quality, innovative technology like exit intent, and a great user experience then OptinMonster is definitely an investment worth making, especially considering building your email list is the best investment you can make for your business.