An engaging website needs a rock-solid theme. While there are thousands of available WordPress themes, OceanWP is one of the leading solutions in the field. With millions of satisfied users, this theme is not one to miss out on.
The great news is that OceanWP can be yours for a knockdown price. WPKube has teamed with OceanWP to provide 25 percent off of any annual or lifetime premium tier!
Introducing OceanWP

If you're after a theme that can deliver regardless of whether you're new to WordPress or a seasoned developer, >OceanWP could be ideal. We'll have more on the theme itself in the next section, but it looks to provide the features and functionality site owners need.
From its beginnings in 2016, OceanWP as a theme and company sees continued growth. Not only is the theme a front-runner on the WordPress Theme Directory, the premium version also has over 700,000 active installs.
So many users can't be wrong, so let's take a quick look at what OceanWP can provide you, your site, and your traffic.
What OceanWP Offers
For the unaware, the core product is the OceanWP theme. Even as a free solution, it's jam-packed with features and functionality that you'd often need to pay for.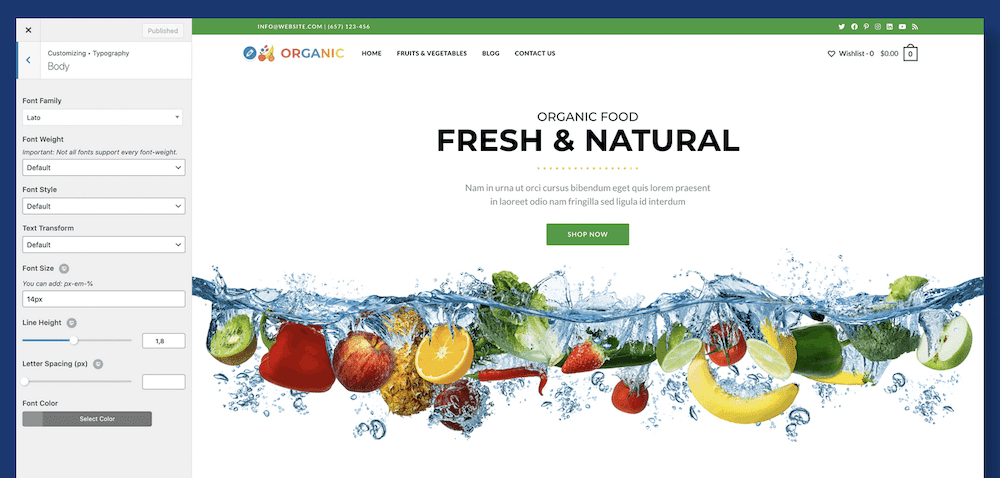 While you can use the global typography and styling settings to make basic branding tweaks, there's much more under the hood. For example, there are a multitude of header styles, logo options, mobile menu styles, and more.
You also get a full-featured footer editor that lets you adjust the visibility, menu options, styling, and even remove and edit the copyright notice at the bottom of the page. The same sort of flexibility applies to other areas of your site too, such as your blog posts, site pages, and practically every other element.
Speaking of elements, you can also use OceanWP with a number of different page builder options. Elementor is included, which makes sense given that it's the leading website building plugin on the market. However, there are others such as Beaver Builder, SiteOrigin Page Builder, the native Block Editor, and plenty more.
If you want more out of OceanWP, there's also a premium option available to you. This keeps the core functionality intact, and enhances it with 20 extensions giving you stellar ways to bolster your site's experience.
For example, you can add cookie notices, Instagram feeds, pop-up login forms, sticky footers, and much more. We especially like the white-labelling extension, as this lets developers remove the OceanWP branding for something unique to their offering. It's great alongside one of the premium lifetime plans.
How You Can Use Your OceanWP Coupon
Speaking of which, you'll want to know how to use your 25 percent OceanWP coupon. There are three core tiers to choose from, and each offers 12 months of support and updates, all of the extensions on offer, and over 170 demo sites you can install with one click:
Personal. This is $39 per year, and lets you use OceanWPs premium solution on one site.
Business. At $79 per year, this gives you premium access for three sites.
Agency. For $129 per year, you can run up to 25 sites using OceanWPs premium products.
What's more, these annual fees can be upgraded to a lifetime plan. One time fees of $159, $319, and $519 respectively are fantastic prices, and that's without the discount. With our coupon, you can take 25 percent of off any of these figures, and get the full experience of OceanWP for the sites you need.
Pick Up Your 25 Percent Discount on OceanWP!
In case we need to remind you, OceanWP is 25 percent off all tiers and plan types – but only with our unique coupon code. Simply enter "OWPKUBE25" at the checkout and get 25 percent of your total order. This applies whether you opt for a premium tier solution, a premium extension, or both!