Here at WP Kube we're big on providing you with the best WordPress resources, tutorials, guides, how-to's, and more. It's all about delivering value to our awesome WordPress community and in particular, to you, our loyal reader.
Today we're excited to offer something completely new – a free WordPress theme designed to help to kick-off your next website, product or service.
Introducing Launch. It's really good.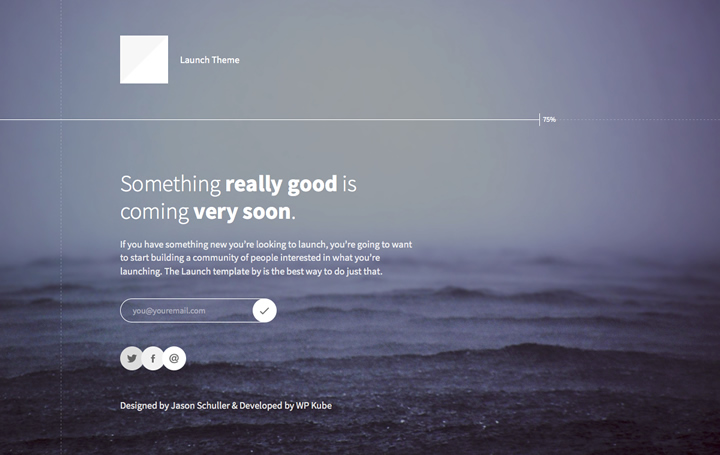 Designed by Jason Schuller and developed right here at WP Kube, Launch is a single-page WordPress theme built with intention and purpose. Although simple, Launch brings a lot to the table with it's modern design, clean code and perfect responsiveness. You can check out the demo here.
As soon as you're ready to start building your community, just download the free template, add your details, and start collecting subscribers.
Key Features of our Launch Theme include:
Clean, simple, and focused design
Compatible with MailChimp
Perfectly responsive
Compatible with all modern browsers
Easily customized
Beautifully Simple & Completely Customizable

Launch doesn't just look great – it's easy to set up too. All theme features are easily managed through the customizer, giving you full control over everything that's important – favicon, logo, headline and sub-head, it's all there. A default 1280x960px image is included with the theme but can easily be changed to anything you desire and as your project progresses, you can update the % complete indicator to keep your visitors up to date.
The whole purpose of Launch is, of course, to build your audience during the development phase, and all you'll need to get started is a MailChimp account. Simply drop your API key and List ID into the appropriate fields and you're ready to roll. In case email just isn't your thing, there's a check box to disable the form. Social links and email are optional and the footer text can be updated to anything you desire (although we'd love the credit).
Download the Launch Theme
Grab your free copy of our Launch WordPress theme today (for personal or commercial use) – all we ask is to give us a follow on Twitter – @wpkube :).  
Download the Launch Theme Or Download the plugin version (Recommended)
Interested in the HTML template? Head over to Leeflets.com.