There are currently around 200 million active websites. This huge number is testament to how much the web is central to our lives. What's more, website builders such as Squarespace offer unparalleled functionality to get your business online. However, there are many Squarespace alternatives available too.
For example, Wix and Weebly have both been popular solutions for starting a website. In addition, WordPress is the Content Management System (CMS) king, with around a 40 percent market share of the web.
In this post, we'll first outline what makes Squarespace an attractive platform for building a website. Then, we'll dig into a number of Squarespace alternatives, and outline why they're also great options.
A Quick Primer On Squarespace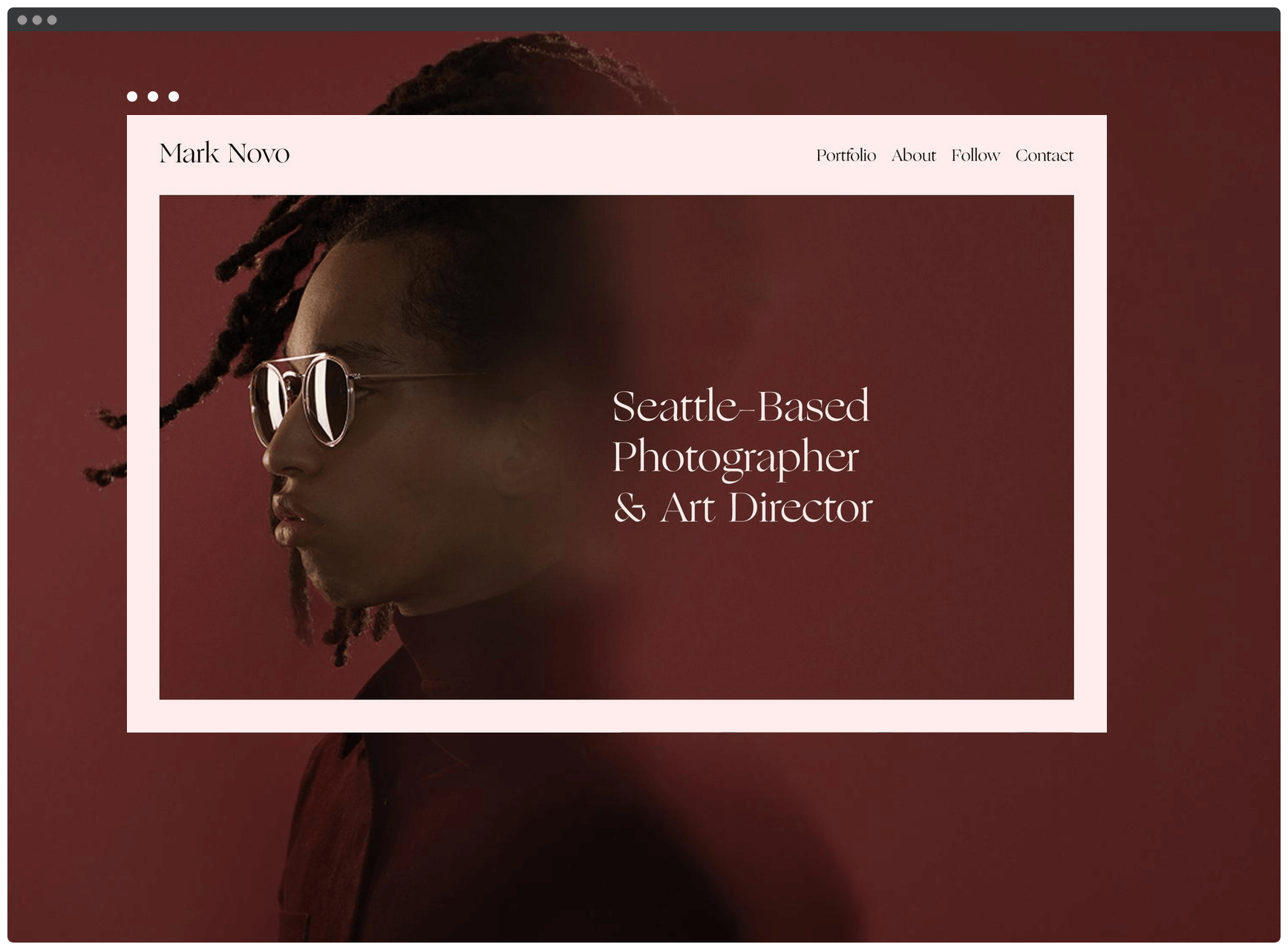 For the uninitiated, Squarespace is a website builder platform. It looks to provide a 'turnkey' service for creating your website. As such, you'll be able to find design templates, add-on functionality, eCommerce options, and much more within the whole package:

One of the major draws of Squarespace is that you need almost zero coding knowledge to get up and running. This is going to be ideal for lots of business owners without tech-savviness.
What's more, Squarespace's pricing is tempting. It's run on a subscription-based model, and for around $200–400 per year, you can have a professional-looking website with almost none of the administrative hassle.
Why You'd Want to Consider Squarespace Alternatives to Create Your Site
However, despite the prominent advertising and marketing for Squarespace, it's not the only solution available. In fact, many companies have thrown their hats into the ring, and come up with some Squarespace alternatives of their own.
For example, Wix and Weebly have competing platforms, and WordPress.com is arguably everyone's biggest competitor: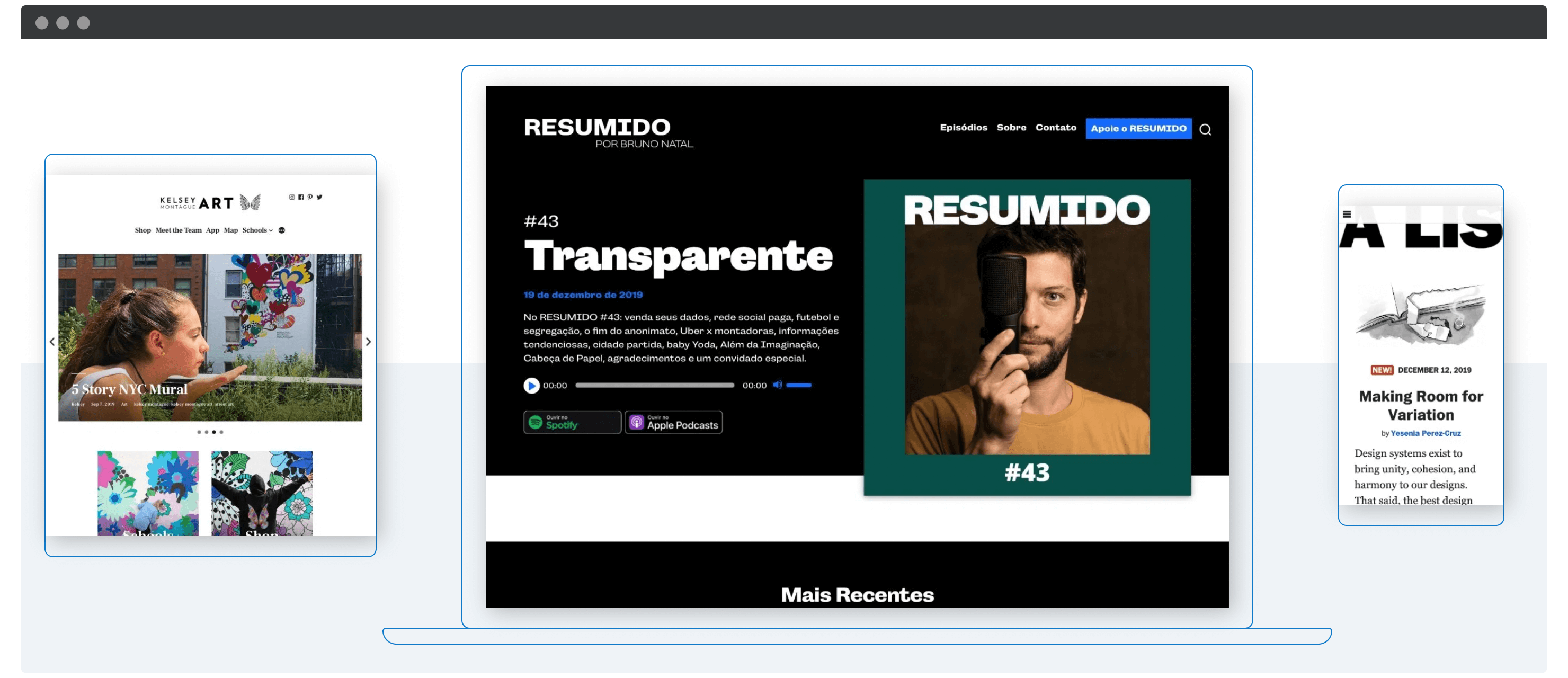 We'll discuss WordPress itself later, but for now, consider these reasons for choosing one of the many Squarespace alternatives:
You may find that an alternative has a feature set more in tune with your own requirements.
The pricing for an alternative could be more suited to your budget.
You might not 'get on' with the Squarespace platform, yet slot right into one of the alternatives.
These are all valid reasons, although features and ease-of-use are going to be more of a deal-breaker, given that pricing between solutions is arguably similar.
6 Squarespace Alternatives to Help You Create Your Own Website
Let's finally take a look at six Squarespace alternatives. We've not presented them in any particular order, but we did want to feature our favorite platform first. Here's a quick summary of what we'll feature:
However, feel free to jump around the article to compare the different Squarespace alternatives, and find the right option for you.
1. WordPress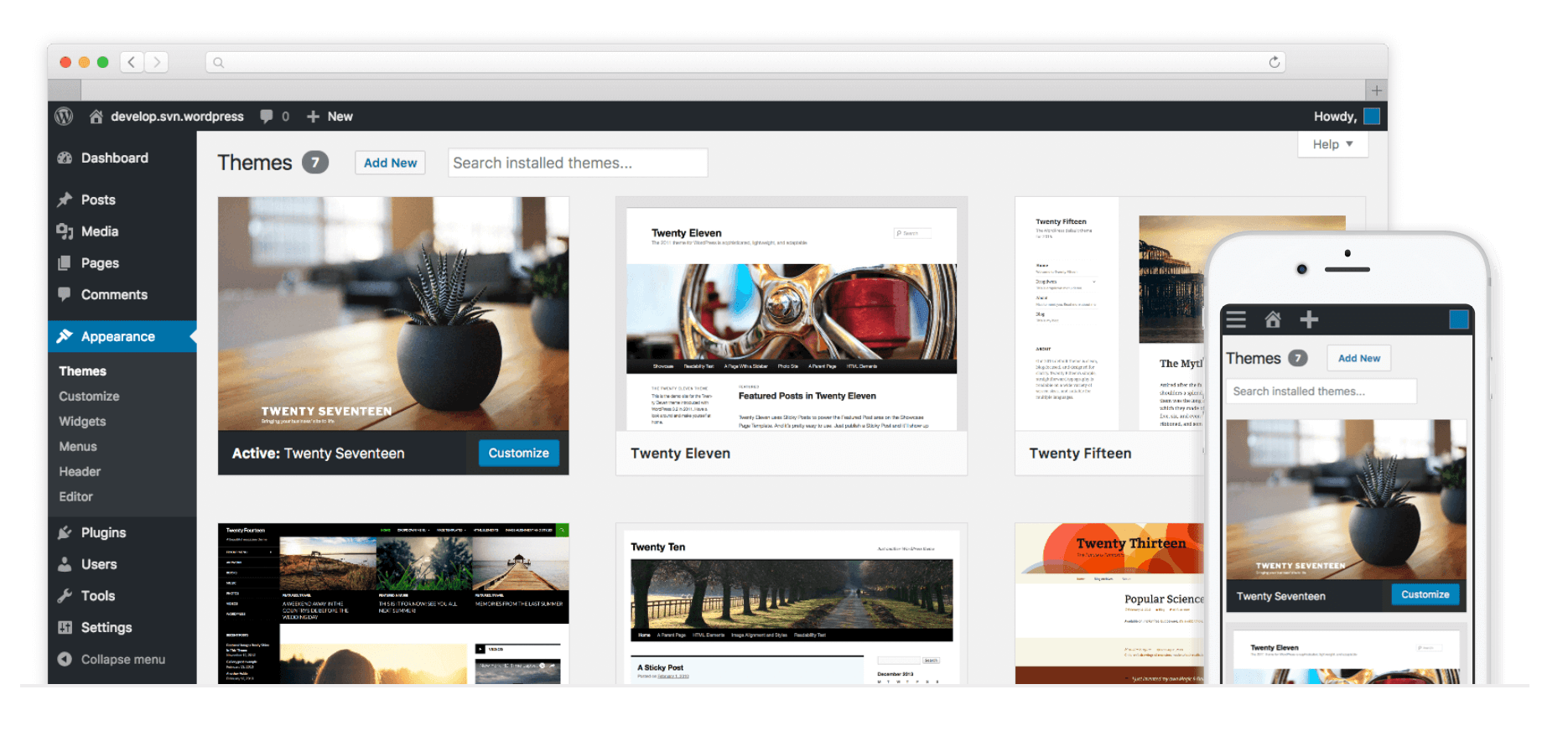 First off, we have our recommended platform for creating your website. It's more accurate to say that Squarespace is a WordPress alternative, than the other way around. This is because WordPress is currently found on nearly 40 percent of all websites.
WordPress is a Content Management System (CMS). It offers a way to create pages for your site, design them, and publish your site. What's more, you can set up a blog for content marketing purposes, and carry out administration on user comments, navigation, and much more:
It's worth pointing out that WordPress comes in two flavors – the self-hosted, open-source version, and the WordPress.com subscription platform. While the .com version is more like other website builders, self-hosted WordPress offers more 'grunt', yet retains the same ease of use.
For example, the core software is bare compared to other solutions. However, you can create a site to your exact specifications using themes and plugins. There are thousands of each to choose from, and many are completely free.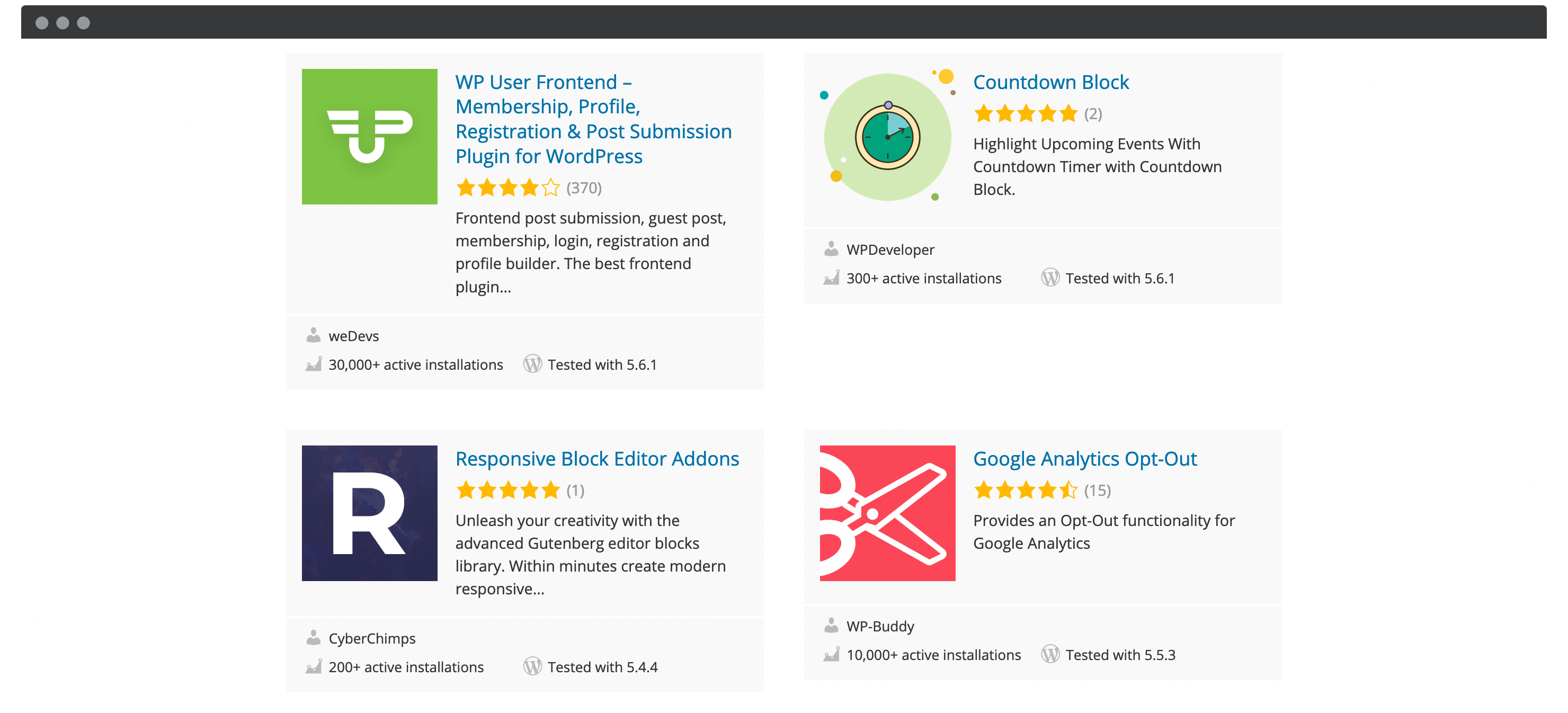 Though, compared to Squarespace, WordPress requires you to have your own hosting package, and will need you to buy a separate domain name. Still, there are many hosting providers available with 'one-click' installs and domain registrars. This keeps ease-of-use high, while giving you much more flexibility in return.
What's more, the cost of a WordPress website can be cheaper than a comparative Squarespace website. Even factoring in a domain, hosting, and a premium theme, you'll likely pay around $50–100 per year for your site – much cheaper than Squarespace.
Create Website with WordPress.org
2. Wix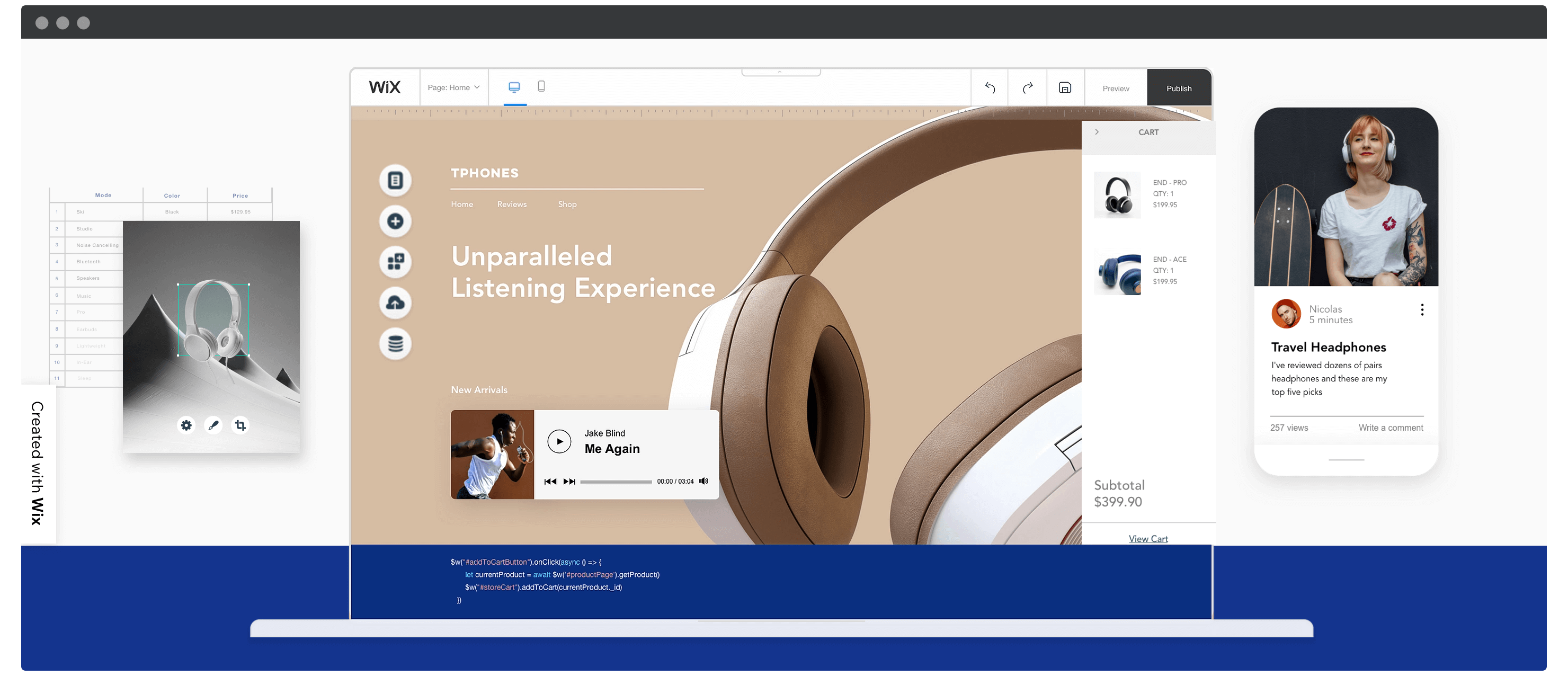 Next, Wix is another WordPress alternative that users also consider as one of the Squarespace alternatives. As such, you'll often compare this to a number of other platforms.
On the surface, Wix seems like a less powerful option than Squarespace. However, it has a few things going for it. First, ease of use is marginally better for first-time site designers.
The drag-and-drop functionality of the Wix editor is smooth and straightforward. However, there are many more restrictions in place, such as the lack of a HTML and CSS editor. What's more, you're locked into a template once your site is live – and although there are more templates than Squarespace, none are fully responsive.
Even so, Wix offers greater integration with its stellar App Market: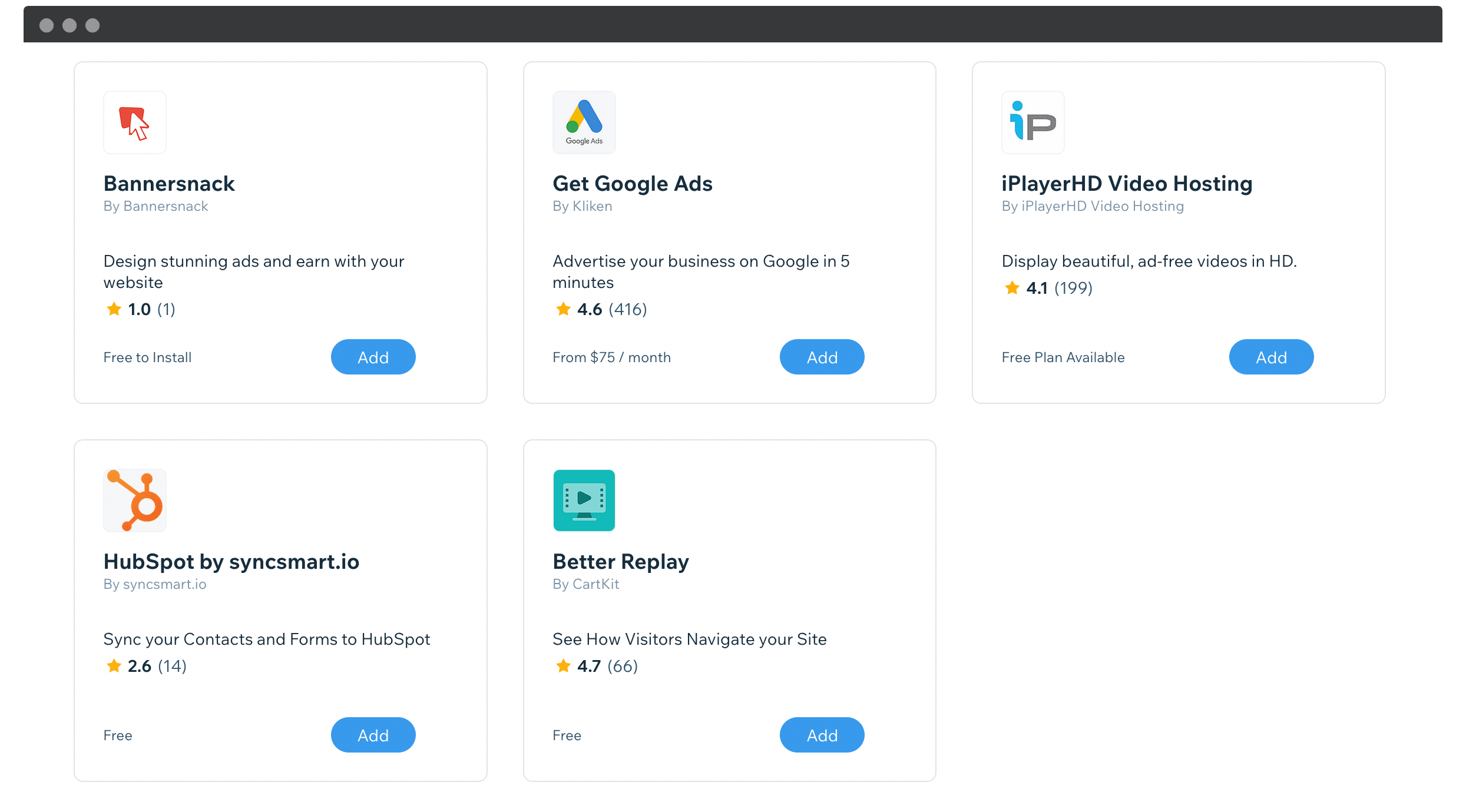 It's more comprehensive than Squarespace, although that gap is closing. However, Squarespace is a better platform for blogging. If you're looking to carry out some content marketing – and you're not choosing WordPress – Wix is solid.
Finally, one of the major factors in choosing Wix is arguably the price – it's dirt cheap compared to Squarespace. There's a free tier available, although for around $4–5 per month you get practically the same functionality.
In reality, you'd likely have to spend the same money on a Wix site as you would a Squarespace one.
3. Shopify
Shopify is often compared to WordPress – specifically WooCommerce. However, it's one of the Squarespace alternatives that can stand completely on its own.

It's primarily an e-commerce platform rather than something for general business websites. As such, you'll definitely want to look elsewhere if you're not selling products.
In our opinion, Shopify is one of the only Squarespace alternatives that can be used at scale. In other words, it will serve you well regardless of whether you're a one-person operation or a multinational organization.
There are a number of free and premium themes to choose from, and we'd bet you'll find something suitable for your own store:

What's more, Shopify is going to be better for developers than Squarespace due to the powerful API. This is great if you have a development budget in place.
Overall, Squarespace is going to suit sites with a modest store. However, Shopify is a relative king when it comes to e-commerce, so the comparison here would really be between WooCommerce and Shopify.
4. HostGator Website Builder
HostGator is well-known within WordPress hosting circle. While it's had mixed reviews for its hosting in the past, recent performance has been impressive. Even so, you wouldn't immediately consider HostGator to be on this list of Squarespace alternatives.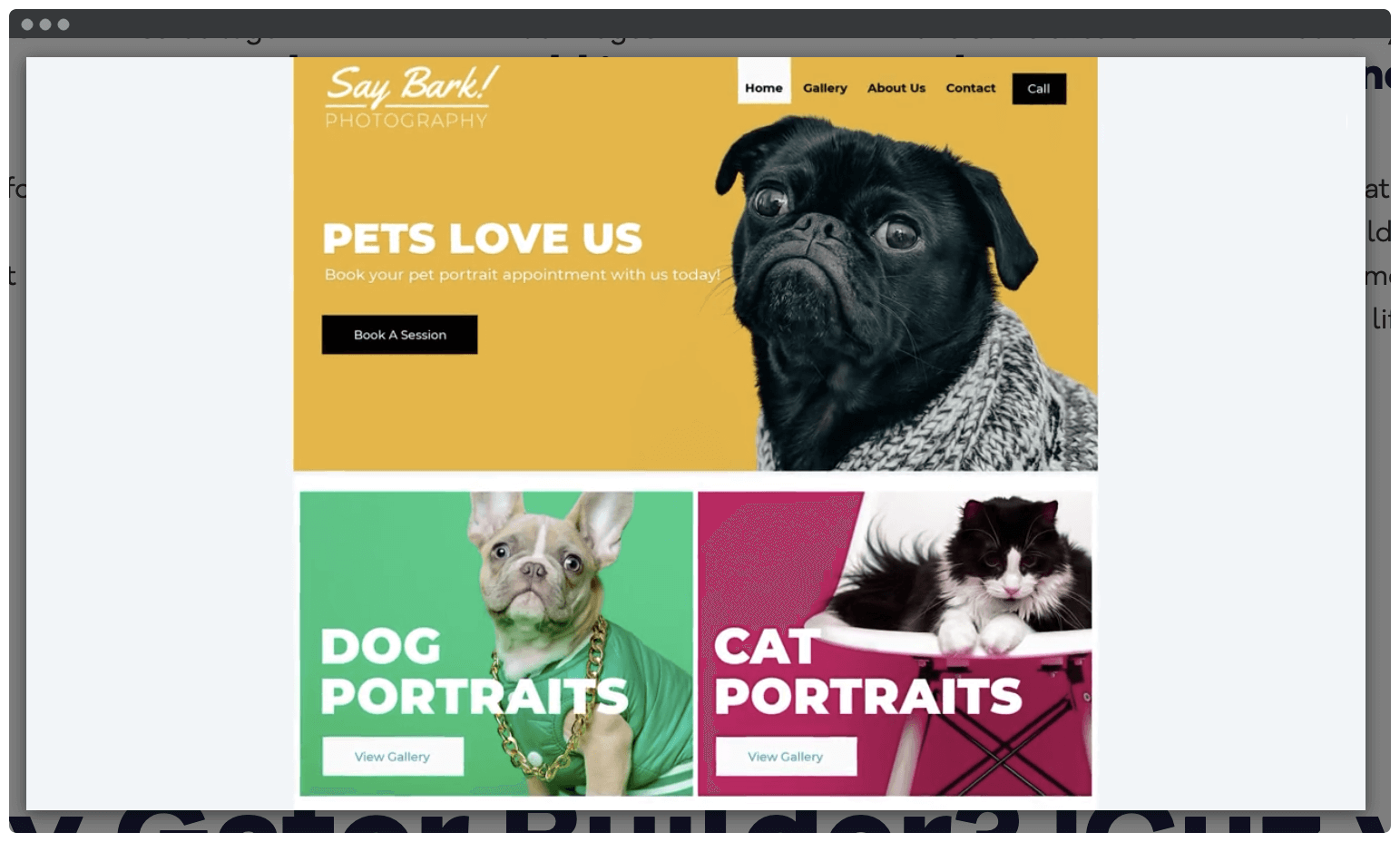 However, with its dedicated website builder platform, it offers a comprehensive package to get your site off the ground. Here are some of the features and functionality:
An "intelligent" builder that responds to a few questions about your requirements.
Royalty-free images for use on your site, courtesy of Unsplash.
Email marketing functionality, including a Customer Relationship Manager (CRM), landing pages, and lead capture forms.
A scheduling tool, with integrated calendar.
While Squarespace markets itself as an all-in-one solution, HostGator's website builder ramps this claim up a notch. The introductory pricing is tempting too, with 50 percent off. Even at full price, $7–20 per month for the entire package is good value.
We'd say HostGator beats out Squarespace on the wealth of features available. It's going to suit those who want a full-featured package that includes vital tools to administrate their business, as well as design the website.
5. Weebly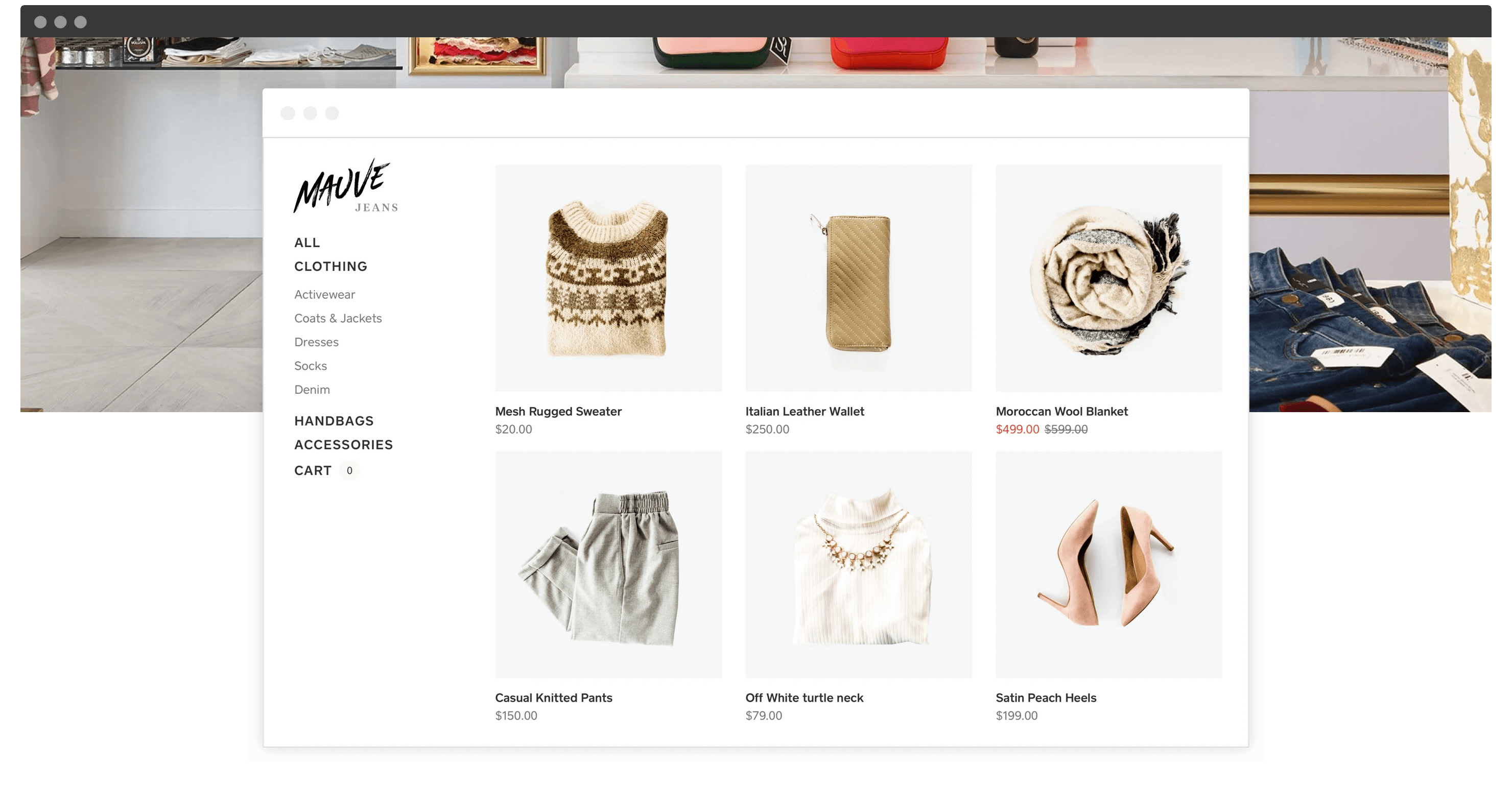 When it first launched, Weebly was simply another website builder platform. It had nothing to make it stand out, and compared to Wix, didn't offer any enhanced functionality.
However, over time, it's developed into one of the more competitive Squarespace alternatives – especially for eCommerce sites. This is down to the acquisition by finance company Square in 2018. As such, it's more of a competitor to Shopify than Squarespace, although the platforms both achieve different goals.
Weebly offers much of the same e-commerce functionality as Squarespace, such as a drag-and-drop page builder. It's got an 'Elementor vibe' to our eye, and you can also use HTML and CSS if necessary to perfect your designs.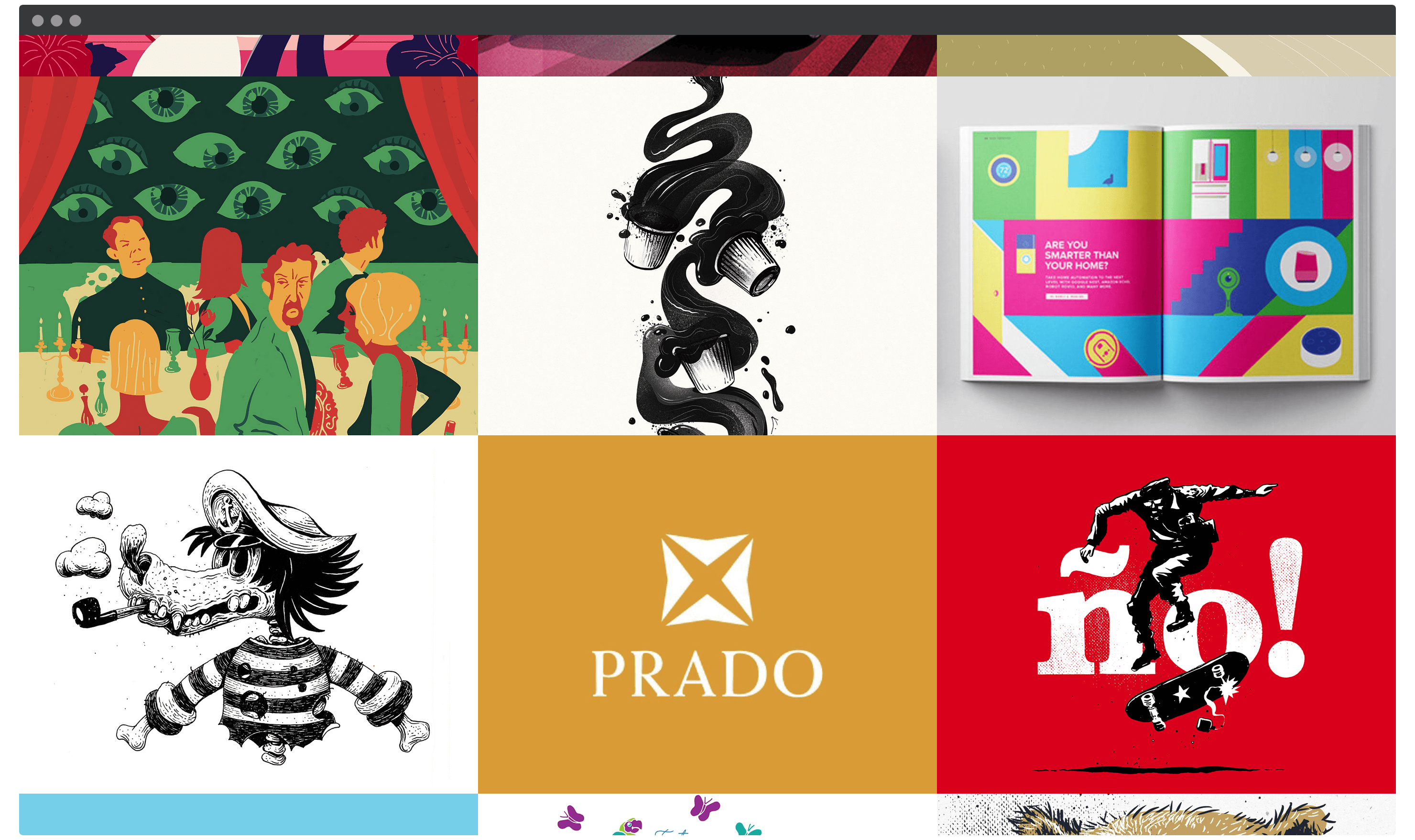 Because it's focused on e-commerce, you'll find more in Weebly's toolkit than Squarespace. There's an inventory tracker built-in, along with an integrated checkout and payment gateway (powered by Square, naturally).
When it comes to pricing, Weebly is competitive. However, to get the full range of features, you'll want to purchase the highest-tiered plan at around $20 per month.
Our opinion here is that e-commerce sites are going to be better served by Weebly than Squarespace, all else being equal.
6. Webflow
The final entry in this list of Squarespace alternatives is Webflow. Just from browsing the website, you get the feeling that it's a slick, professional offering that is a tier above the likes of Wix, Weebly, and even Squarespace.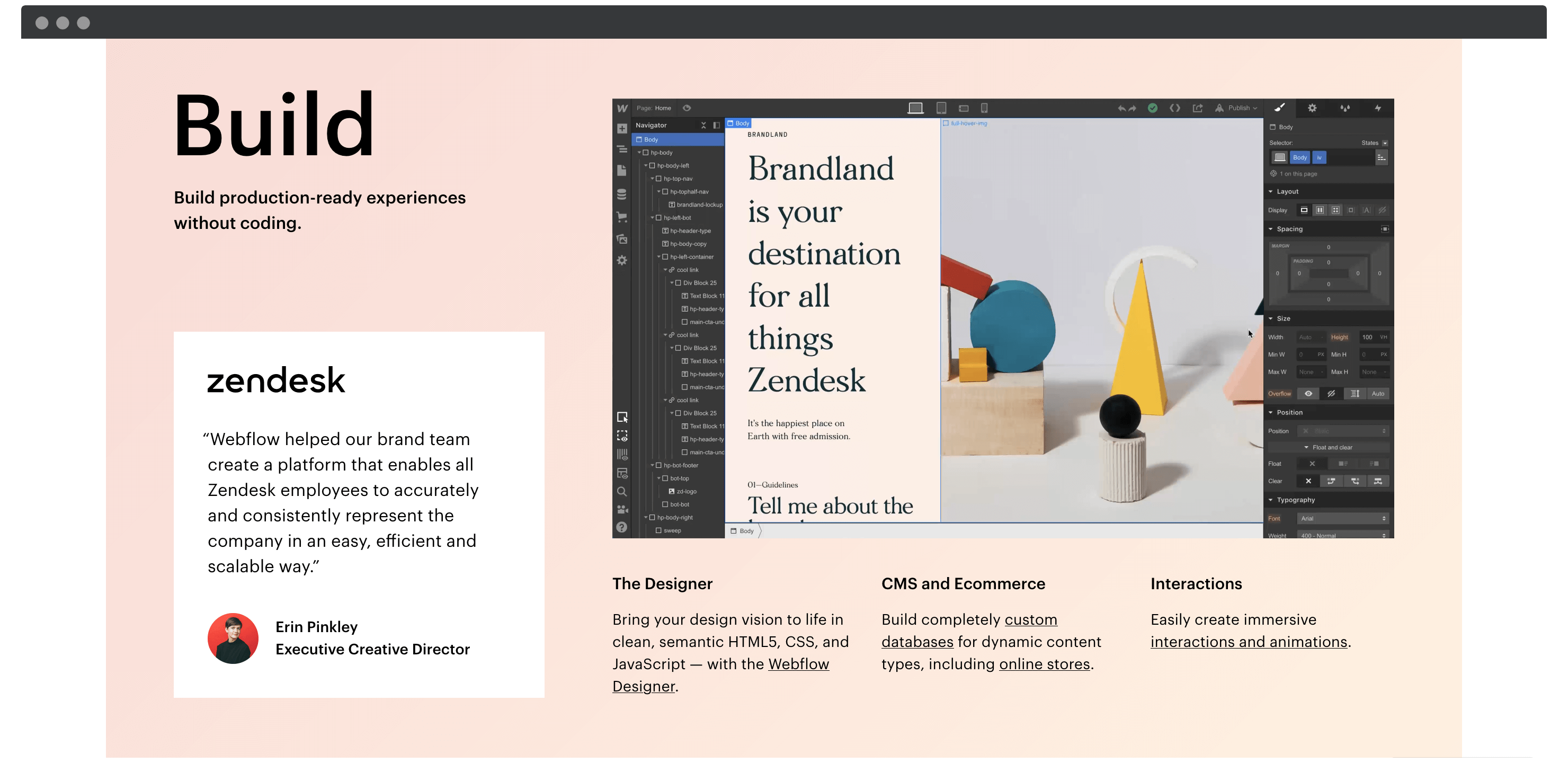 Compared to the other options here, Webflow is design-driven. For creative agencies – or even just those with a primary eye on its brand – Webflow is a cut above what you'd find in other solutions.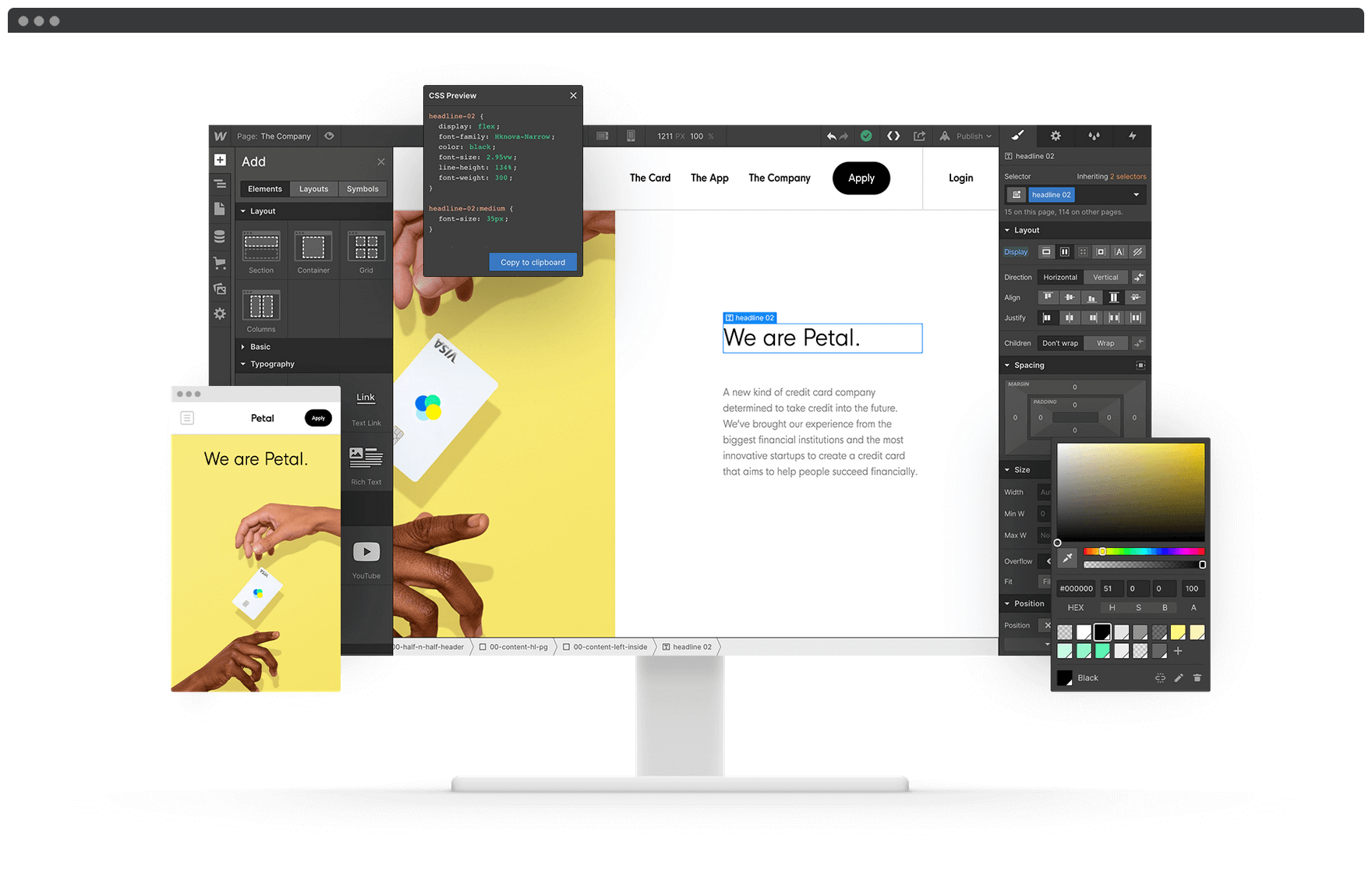 It's billed as a completely visual builder, which is going to appeal to non-coders. In fact, it's called a "No-Code Solution". However, you can dig into the soil and work with the underlying code if you wish – whatever it takes to create a production-ready website.
In our opinion, Webflow is going to appeal to some specific businesses and people:
Those with a graphic design background, but no coding knowledge.
Teams that need to create sites quickly, but still need a professional 'coded' look.
Companies with a decent budget in place for marketing and promotions, but not web development.
Given the target user and application, pricing is more expensive than other Squarespace alternatives. However, given that its great for eCommerce, business sites, and more, it could be a major part of your workflow if you need to create many pages rapidly.
In Summary
Choosing a platform for your website involves many small decisions that makes up the whole. You have to consider the features you require, the platform's ease of use, and of course, the cost. For many users, Squarespace fits the bill much of the time. However, it's not the only option.
This post has looked at a number of Squarespace alternatives to choose from. Let's summarize each platform.
Are you looking for a website platform, and if so, do any of these Squarespace alternatives fit the bill? Let us know in the comments section below!