You'll hear it said all the time: "The money is in the list."
To someone who doesn't know too much about online marketing and making a living from online work, this may raise a few eyebrows. However, the reason why so many seasoned online entrepreneurs swear by their email list is because they've personally experienced the power that is The List.
Building up a long email list of followers gives you an upper hand when laying the foundation of trust and authority in your given market. As your followers begin to trust you and as your email list grows, then the higher chances you have of succeeding when launching new products or services that you wish to sell for a profit.

As your list grows the higher your chances are of making more money. Thus the saying, "The money is in the list."
There are quite a few tried and true methods that lead to more sign-ups that eventually convert into paying customers. However, one of the first steps that you have to take on your site is to give your viewers the option to actually opt-in to your email list.
There are a few different ways to do this, but the most common method is to create an opt-in form via a WordPress plugin. There literally hundreds of plugins out there that have this feature and today we are going to look at one that is the cream of the crop. Enter Optin Forms.
Optin Forms Features
As far as opt-in plugins go, Optin Forms has a lot to offer. Not only do you have a few display options to choose from, but it also integrates with the most common email campaign services:
MadMimi
Aweber
Interspire
Email Marketer
All of the forms that are designed to use are easily customizable (more on this below) and there is even a shortcode option that you can use to display the forms throughout your site.
Though it's not a pop-up form plugin, the ability to design something unique and bright can certainly help boost signups on your site.
Getting Optin Forms Setup On Your WordPress Site
There are two ways that you can get this plugin on your site:
Go to the WordPress Plugin Repository, download the plugin, and then upload to your site
Go to the Plugins area in your WP Dashboard, search for the plugin, and then install and activate it directly within your site's dashboard
The latter is the simplest method, but the choice is entirely up to you.
After you have activated the Optin Forms plugin a new menu option marked "Optin Form" will appear. Clicking on that will take you to the plugin's setting area and where you will need to go in order to get the plugin up and running.
To start out, you will need to choose the email campaign service that you currently use and then fill in the required box(es) below that in order make the opt-in form work.

For example, if you use MailChimp, then you would select that in the drop down menu and then you would copy and paste the Form Action URL into the entry area below.
If you're confused by what it is that you need to enter in those areas, then clicking on the question mark icon will open a visual walk-through of how and what you need to do in order to gather the correct information.
Now that you've entered the correct information, save your changes and then go to the top area of the screen and click on the button that says Forms.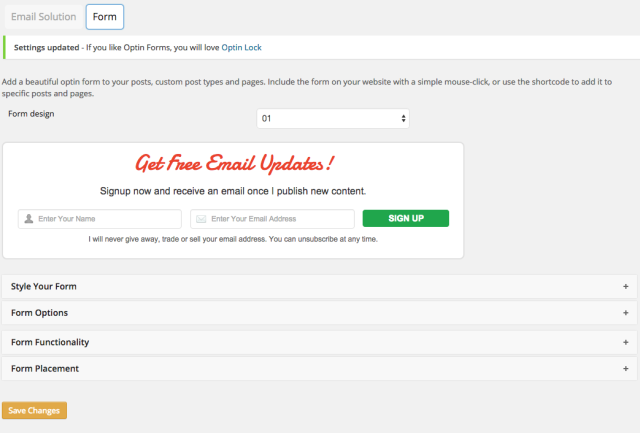 This is the area where you will define what your opt-in form will look like.
Optin Forms has 5 appealing options to choose from. Once you've chosen a design, you can move on to styling and customizing the form.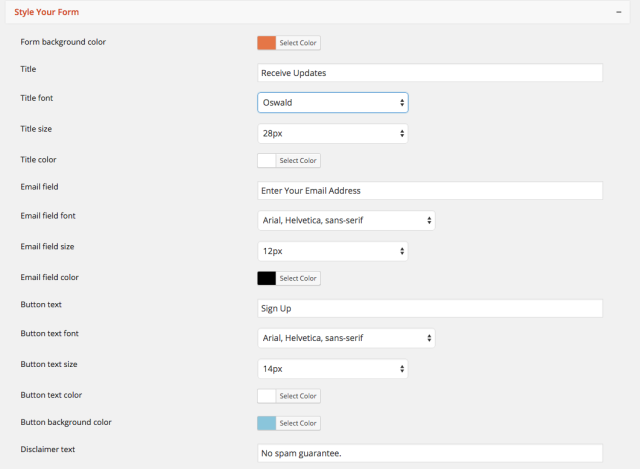 Each form has something different that can be changed or styled, however many of the options are similar:
Change the background color of your form
Customize the font, font size and font color of any given Text area on the form (including the wording inside the opt-in boxes)
Customize what is said within the Text areas
You can see a couple examples of how your change the look of the forms below.
All the changes you see here only took a minute or so to make and only a few clicks of the mouse which makes it one of the easier opt-in forms to customize.

Now you can move on to the Form Options. Here is where you can decide what is shown on the form and what isn't. Using these options you can
Hide the title
Hide the subtitle
Hide the name field
Hide the disclaimer
Customize the form further with your own CSS
These options expand the customizing options for Optin Forms. If you're handy with a bit of code, then you can make the form stand out even more with a bit of CSS which can be entered in the section available in this area. If you like the way your form looks as-is, then just leave this area be and move on.
There is an option called Form Functionality where you can choose if you want to open the form submission in a new window. If you don't want it to do that, then just leave the box unchecked.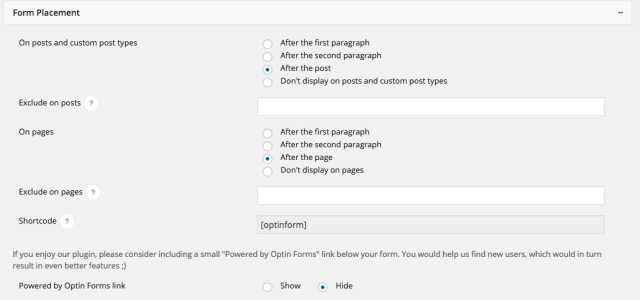 The final step in setting up the Optin Forms Plugins is to choose where and how you would like the form to be displayed. Thankfully, the plugin doesn't lock you into displaying the forms in only a couple of areas on your site. There are quite a few placement options to choose from:
On posts and custom post types
On pages
Via a shortcode for
The first 2 options let you choose to place the opt-in form (1) after the first paragraph, (2) after the second paragraph, (3) after the post or (4) don't display it in these areas at all. However, the shortcode gives you the flexibility to place the form anywhere on your site that has a defined text area.
With a free plugin as great at this one, it would also be a courtesy to check the box that shows a small link to the Optin Form plugin so that credit is given to the author and so that others can find and use the plugin just like you.
With that all said and done, you should now save your changes. Once you do that, you form will be all ready for collecting those precious email subscribers.
Wrapping It Up
I have tested out quite a few email opt-in forms plugins and this for something that is free, this plugin is rather impressive. I believe in the idea that design has an impact on user action, and being able to easily create and insert an appealing Call-to-action email form in your posts like you can with this plugin gives you an edge that is not always easy to come by.
If you've been looking for a free plugin that will help you collect email subscribers and that can flow with the look and feel of your site, then this is a plugin that I would recommend. In fact, after testing the plugin out for myself, it is one that would be at the top of my list for using recommending to anyone looking for a pleasant, functional and free opt-in option.
My verdict: 2 thumbs up!