Launching a real estate website on WordPress is surprisingly simple. You don't need to know any coding or have much technical knowledge besides basic web hosting. All you need is a few helpful real estate plugins to get started!
The real benefit of WordPress is the community. There are tons of great WordPress real estate themes you can setup with just a few clicks. But while these will make your site look pretty, you should think about the features on your website too.
That's where real estate plugins can help and I've singled out the 14 best realty plugins on the web. If you're putting up a real estate website on WordPress or editing an existing site then you'll probably find a couple plugins here that can help.
1. Toolset Real Estate
Toolset Real Estate (part of the bigger Toolset plugin) is an all-in-one real estate plugin designed to give you all the features you need to create a real estate website with ease.
With it, you can create custom post types, fields, and taxonomies, so all the information about available properties is readily seen by interested investors, renters, or buyers. Plus, you can display results in a list, grid, or even on a map for maximum engagement.
The search results are filterable for a better user experience, sliders are available for showcasing multiple property images, and there's even a featured listings option for highlighting new properties that are now available. And if you want to check it out for yourself, there's even a demo site for you to try.
Toolset also comes with an intuitive frontend form, so those that accept listings from others can easily display property information. And if you've turned your real estate website into a paid directory, trust that Toolset integrates seamlessly with WooCommerce, so you can accept payments of all kinds from people wanting to take advantage of your site's traffic numbers.
2. IMPress Listings

IMPress Listings was originally titled WP Listings but recently got a major revamp in version 2.0. This massively updated plugin supports custom post types for listings along with taxonomies for locations and current status items (sold, pending, etc).
IMPress Listings even has their own demo site where you can try out this plugin for free. It's not the perfect solution to all your problems but it will solve a lot of them.
By default the IMPress design fits into any theme and is fully responsive. You have full control over each listing with all the amenities and tidbits of information that most home buyers need to know.
A fully-featured map appears on each property page along with photo galleries for the properties. For a free plugin this thing is really the best of the best.
If you want to add fast realty features to your site then try the IMPress Listings plugin. I have a feeling you won't be disappointed.
3. WPL Real Estate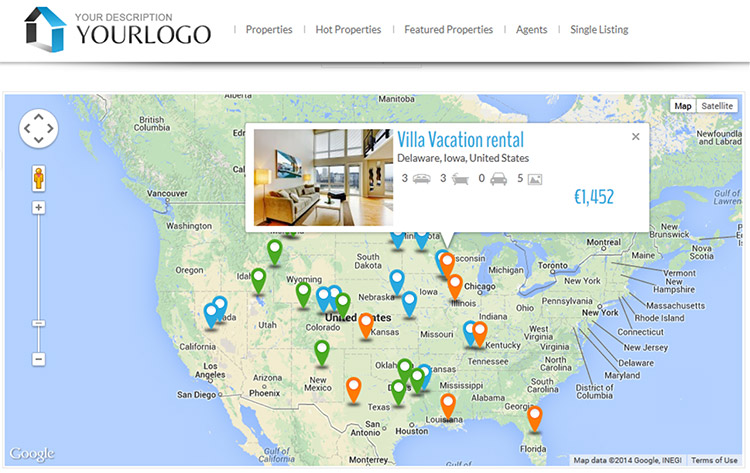 WPL Real Estate is yet another incredible plugin for managing property listings. It stands  for WordPress Property Listing, and it's one of the largest plugins in the WP plugin database for real estate agents.
You can run this on a personal real estate site for yourself, or on a larger agency site. Properties all support custom taxonomies so you can define how many beds/baths, total square feet, and which amenities are included (among other features).
Not to mention this WPL plugin supports its own custom search hook which means it runs through its own database. This leads to faster search results and even custom search pages depending if visitors are searching your listings or your website.
So what's the downside? This plugin is very detailed and might be a little too bulky for some people.
It does have a premium version and a main website covering further details on all the features. But you can tell from the free version this has a lot going on.
If you want something a little simpler I recommend sticking to IMPress Listings.
But agencies who want the best performance on database queries & user searches might consider using the WPL Real Estate plugin.
4. Essential Real Estate

If you don't want to deal with overly complex setups then check out Essential Real Estate. This plugin is totally free and supports a bunch of features beyond just property listings.
You'll be able to manage different agents within an agency, track stats, invoices, transactions, and even customer scheduling for tours. The listings work as custom post types so you can easily add new properties while also running a company blog on the side.
Also properties can be submitted by visitors or sellers. You can add a small form to accept user submissions and signups from potential buyers.
There's a bunch of user-focused features but here are the biggest ones:
Custom profiles with payment options
Custom filters based on location
Saved searches
Optional "premium" listings
Property bookmarking
Suffice to say this thing is a beast. It's really geared towards massive agencies but a single real estate agent could also try this on a personal site.
You can learn a bit more from this intro video which comes straight from the plugin developers.
5. WP-Property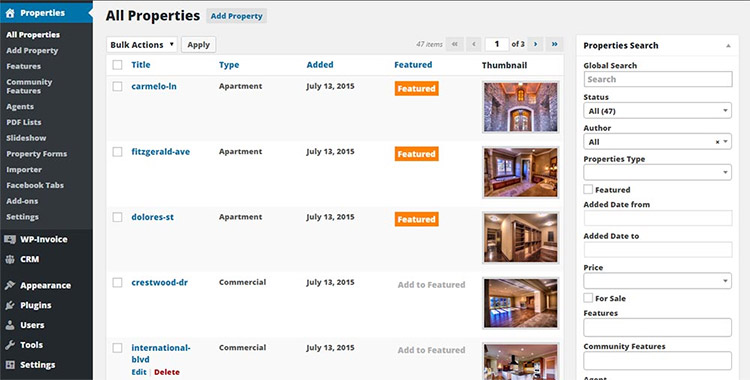 There's a lot to love about WP-Property besides the fact that it's free.
It supports all types of properties from rentals to large assets and even commercial items. But this also works as a general sales plugin so you can showcase pretty much anything that you're brokering.
This fits seamlessly into WordPress so there's absolutely zero code required. All the features are managed through the backend where you can change sales status, pricing, and even upcoming dates for tours.
You can start using this for free just to see what it offers and if it fits your needs. I think it's just as good as the other property plugins although this one's a bit smaller and less bloated.
But the dev team behind the plugin supports related add-ons if you're looking for more features.
6. Estatik

Estatik is perhaps the most definitive plugin for anyone expanding their real estate website. It's easy enough to manage from the backend and comes with plenty of listing features.
But the kicker is Estatik's gorgeous design which fits into any theme. You can basically run the default WordPress theme and still get this plugin working nicely.
It comes with photo galleries, Google maps features, social sharing, and even multi-language support. There really is no downside to using this plugin besides the amount of setup.
But with the free price tag I simply cannot imagine a better place to start. Especially if you don't want to pay for a real estate theme and want to use a plugin instead.
7. Gravity Forms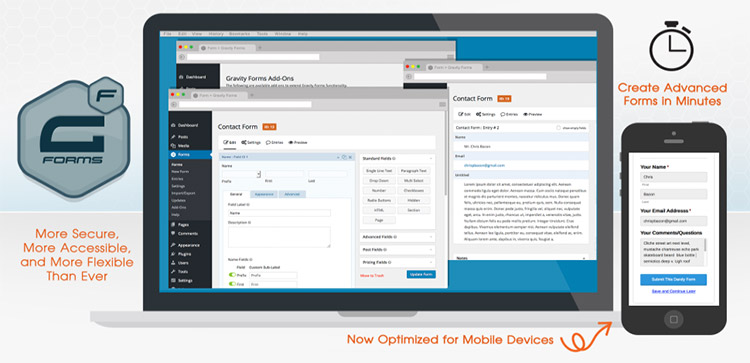 Every website needs a contact page. This is just best practices no matter what your site is or what size your audience.
But real estate agents might need more than a simple email contact form. Sometimes you'll want to create pages for buyers and sellers to support new properties, or to let potential buyers setup tours via email.
In my eyes the best plugin for WordPress forms is Gravity Forms.
It's widely regarded as the best resource for non-programmers because it works brilliantly without any tech knowledge. We actually have a detailed review of this plugin, so check that out to learn more.
8. SumoMe

There's a lot of money in email lists and real estate agents should start collecting emails ASAP. You can arrange emails into buyers & sellers or keep them all in one big email blast.
The key is to grab emails fast and use that list to promote new properties. You can do this with a simple sidebar widget or an email capture plugin like SumoMe. It runs through Sumo, which is a premium product but the WordPress plugin is free to use.
It's the best email capture resource you can use and I'm really pleased with their plugin.
To learn more check out our review of Sumo and the plugin itself.
9. Appointment Booking Calendar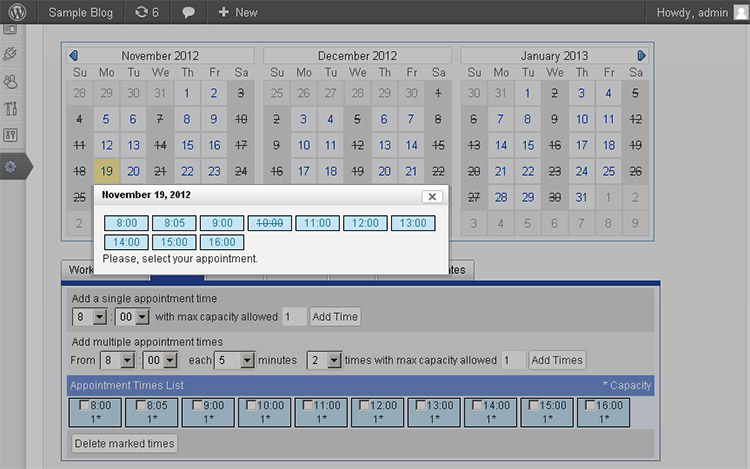 House tours are quite common in real estate. Your goal should be to encourage tours and get interested people to act fast.
With the Appointment Booking Calendar plugin you can take online bookings right from your website. This way you can set specific days, times, and individual properties all from your WordPress admin.
Visitors on the site can select from a predefined set of dates and choose whichever ones fit best. Then all the bookings are cataloged right in WordPress for easy use.
This is yet another free plugin and it's probably the best choice for scheduling tours on a budget.
10. Bookly

Another online booking plugin you might try is Bookly.
Again totally free and perfect for all types of house tours. Once installed you can choose which dates you're available for a tour. The signup form is fully responsive so it works in all the best WordPress real estate themes (free and paid).
Once customers sign up for a tour, they'll get an email notification along with an SMS message confirming the signup date. You can also set this notification for yourself too so it's one of the best methods to keep track of tours online.
11. WP Amortization Calculator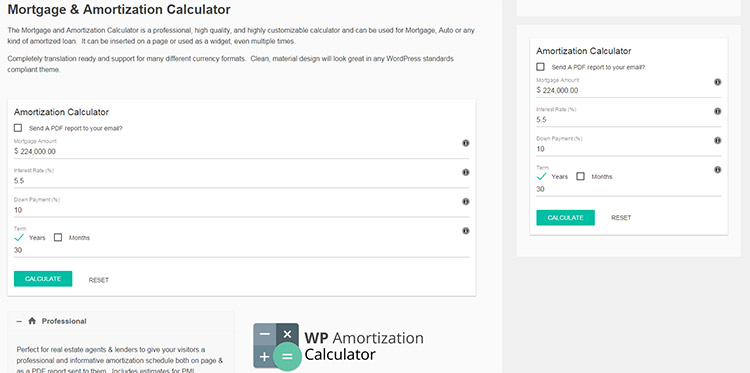 I won't say this is a staple for every real estate website. But it certainly is a nice addition if you want to add support for quick calculations.
The WP Amortization Calculator works by adding a custom calculator webapp onto any page of your site. This can be squeezed into the sidebar or into any main page section.
Users can quickly calculate rates for mortgages and figure out how much they'd need to put down for a reasonable monthly mortgage payment.
Though certainly not a requirement for real estate websites, it's definitely a useful plugin.
12. Auto ToS and Privacy Policy

Most websites need a Terms of Service (ToS) page along with a privacy policy. These can be standard boilerplates, but you're going to need something even for basic sites.
Auto ToS and Privacy Policy is my recommended plugin for this. It's completely free and automates a lot of the process.
Most websites use Google Analytics for tracking and this does require a ToS/privacy policy. So even the most basic WordPress websites benefit from this free plugin.
13. Email Subscribers & Newsletters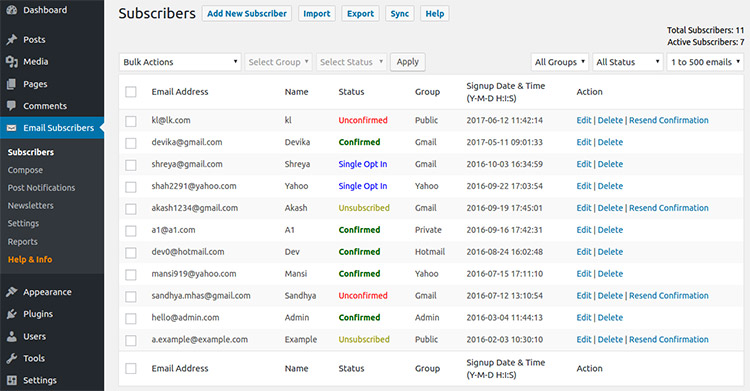 I mentioned the importance of list building earlier and Sumo is a nice way to grab leads. But if you want to store those leads locally you should try the Email Subscribers & Newsletters plugin.
Everything is managed from one central place in the WordPress dashboard. You control how many emails go out per month, who receives them, and how your list(s) are organized.
This does come with an opt-in box that you can add anywhere that's widgetized on your site (or into any page with shortcodes). But this is really a basic configuration so I mostly recommend this plugin as a list management tool rather than a lead generation tool.
14. MailPoet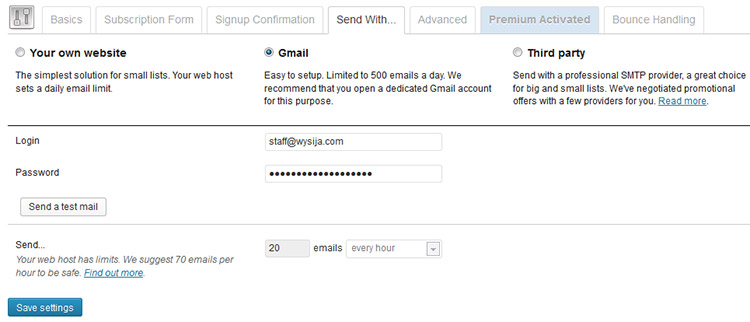 Another wildly popular email management solution is MailPoet. Again this comes totally free from the WP plugins directory and supports as many lists as you need.
The dev team just launched MailPoet 3 which updates a lot of the interface and supports better features like autoresponders. You can check out the live demo to see how this looks in a real WordPress setup.
But if you don't know anything about email marketing I really recommend using a different platform. There's nothing wrong with MailPoet, but it does come with a steep learning curve.
15. UPTOWN Real Estate Plugin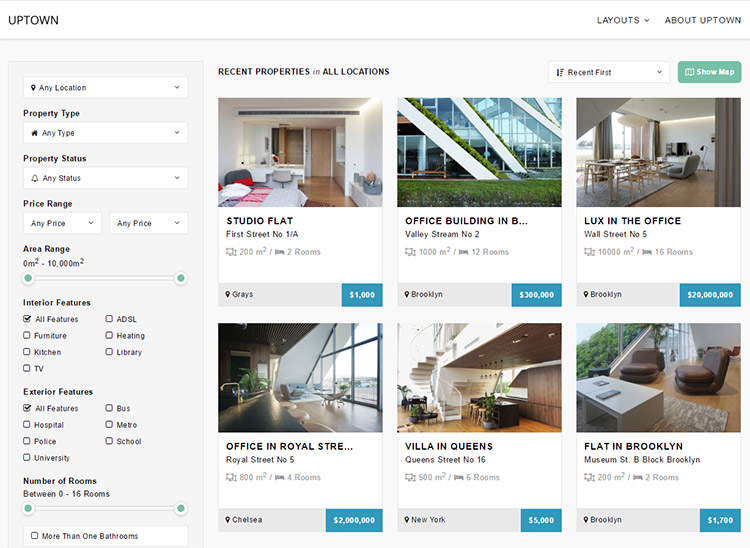 Last but certainly not least is the premium UPTOWN Real Estate Plugin.
This is truly the single all-in-one plugin that real estate webmasters want. It comes with incredible property listing designs that offer custom fields, maps, and filterable settings based on property features (size, number of rooms, location).
UPTOWN is a pricier option than other plugins but it's also designed to be a premier real estate agency toolkit. Check this out if you don't like any of the free alternatives and instead want a powerhouse plugin to handle all your real estate needs.
Wrapping Up
When it comes to WordPress plugins you'll often find that less is more. Too many plugins can slow down your site, which takes extra effort to fix.
But if you're launching a new realty website this post should have more than enough resources to get you started. Whether you want to list properties online or create online calendars for scheduling tours, there's a real estate WordPress plugin for all your needs.