While there are thousands of WordPress themes available, no theme will be the right fit for every project. Certain types of websites have very specific needs, and real estate websites are a perfect example.
If you're building a website for a realtor, a broker, or a directory of listings, you'll need a theme that has the features and functionality commonly used by websites within the industry. Thankfully, there are some outstanding themes that have been created especially with real estate in mind.
The Best Real Estate Themes
Here are our highest-rated themes for building amazing real estate websites powered by WordPress.
1. WPRealEsate
WPRealEstate was rebranded from Tesla Themes to more accurately emphasize the company's commitment to the real estate industry. While there are many strong real estate WordPress themes out there, this one stands out as our top choice.
First, it's critical to point out that WPRealEstate is available as both a theme and a plugin. The plugin allows you to display listings and agents using your existing theme. The WPRealEstate theme provides the same functionality, but also comes with 14 pre-made designs that make it easy to get a beautiful real estate website. You can get either the theme or the plugin, or both.
Key Features:
Create, manage, and display real estate listings
Allow visitors to search, browse, and filter the listings
Create listings manually or automatically through the MLS (beta)
Create, manage, and display profiles of realtors
Integrated maps
Regardless of what type of real estate website you're creating, WPRealEstate can handle it. Since the company is specifically focused on the industry, you can be confident that the theme/plugin will continue to be managed, improved, and supported.
Price: Starting at $99/year for three websites (includes theme and plugin)
2. Divi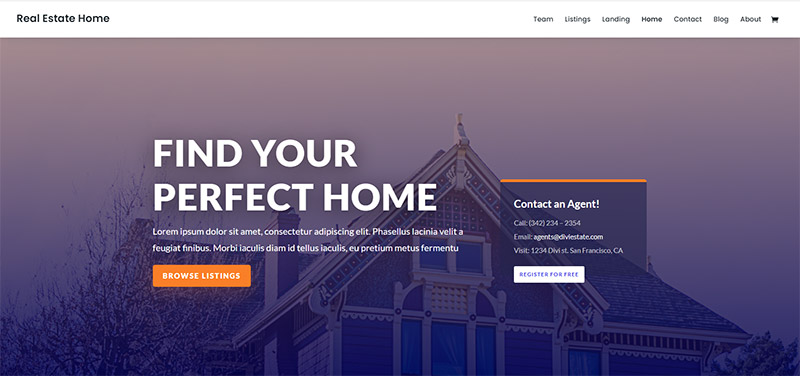 Divi, from Elegant Themes, is one of the most popular all-purpose WordPress themes in the world. One of the perks of Divi is that users are able to access hundreds of pre-designed templates that can be used for different purposes. There's one layout pack that includes seven different page templates for a real estate website (home, about, listings, team, contact, blog, and a landing page).
The property search and filtering options from Divi aren't as strong as what you'll find from many of the themes that were created specifically for real estate websites. However, the listings page template makes it quick and easy to set up a page showcasing multiple listings. Divi is a strong option for an individual real estate agent or a small team of agents, but not as ideal for a listings directory or real estate search engine.
Key Features:
7 pre-designed page template to create a full real estate website
Visual drag-and-drop page builder that provides endless customization options
Already available to anyone with an active Elegant Themes membership
Use on an unlimited number of websites, including client sites
👉 See our detailed Divi Theme review
Price: Starting at $89/year for unlimited websites (use our exclusive Elegant Themes Coupon to get 20% off)
3. Astra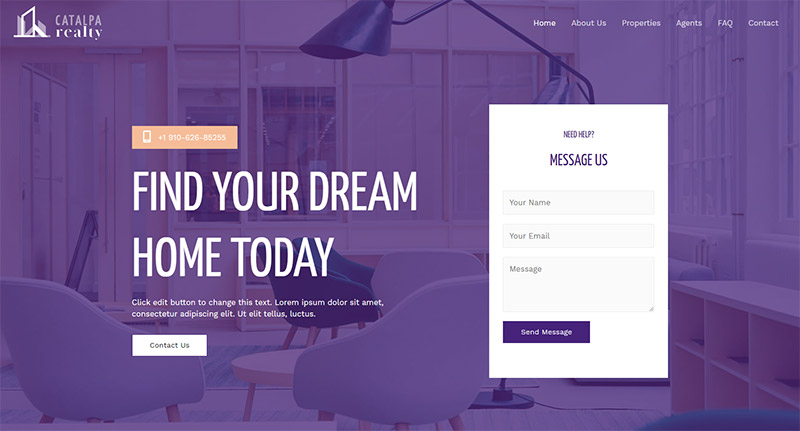 Like Divi, Astra is another popular multi-purpose WordPress theme that includes a pre-made design specifically for the real estate industry. Astra actually offers two different stater templates that would be outstanding options for real estate agents or small teams in the industry.
Astra provides outstanding design customization and flexibility, and it also works well with Elementor for unlimited potential. Also like Divi, Astra lacks some of the advanced searching and filtering capabilities, so it's not ideal for larger sites with lots of listings. However, it's an excellent option for smaller sites.
Key Features:
Very lightweight theme that loads fast and is built for performance
Multiple starter templates available for businesses in real estate and construction
All-purpose theme that can be used for all kinds of websites
Plenty of customization options through the theme customizer, plus the theme works well with Elementor, Beaver Builder, and Brizy
👉 See our detailed Astra Theme review
Price: Starting at $47/year for unlimited websites (limited free version also available)
4. Presence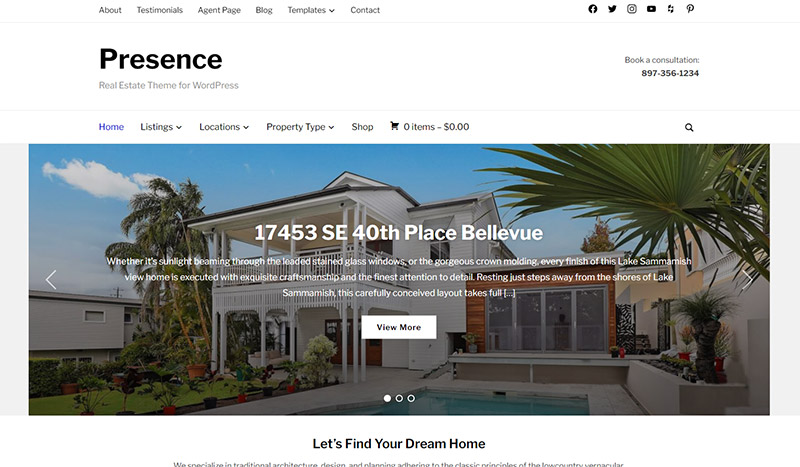 Presence is a multi-purpose theme from WPZOOM that comes with several different pre-designed demos, including one for a real estate website. You can create beautiful listing pages that showcase multiple photos, a map, agency info, and a description of the property.
The theme includes a handy search widget, so your visitors can easily find the listings most likely to interest them. You can also create a page for each agent that includes a photo, bio, links to social profiles, and highlights of current listings.
The search widget makes Presence more suitable for larger sites than Divi or Astra, but it's still more ideal for individual agents or small teams, as opposed to large listings portals.
Key features:
Multi-purpose theme that includes several pre-designed templates, including an option for real estate websites
Clean, professional design and layout
Page template for creating beautiful listings pages, plus IDX integration to insert MLS listings
Search widget that helps visitors find what they're looking for
Price: $79 for a single site license (use our exclusive WPZoom Coupon to get 15% off)
5. MyHome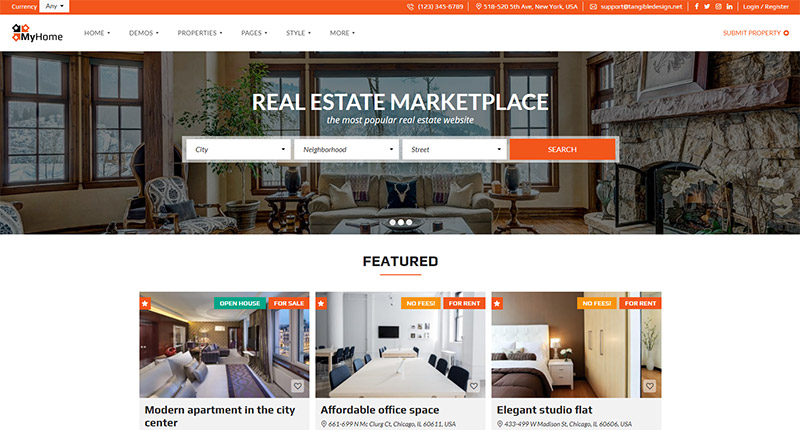 After looking at a few outstanding all-purpose themes, let's get back to focusing on themes created for real estate websites. MyHome is a highly-rated theme available at ThemeForest. There are six different demos to choose from, including options for marketplace and directory sites, as well as smaller sites for agents, teams, and real estate investors.
One of the main features is the IDX integration that makes it easy to create listings and synchronize properties. There are also some features that are perfect for larger websites, like searching by the map and dynamic searching (the search results appear instantly without a page refresh). You can also create custom property fields for listings, and visitors can search or filter based on those properties. With all of the filtering and searching options, it's one of the best themes for larger real estate websites.
Key Features:
Easy-to-use page builder that includes 120+ different blocks for your content
14 homepage elements that can be mixed and matched
Lots of design options, including different headers
Plenty of advanced searching and filtering options
Advanced submission forms
Price: $59 for a single site license
6. Houzez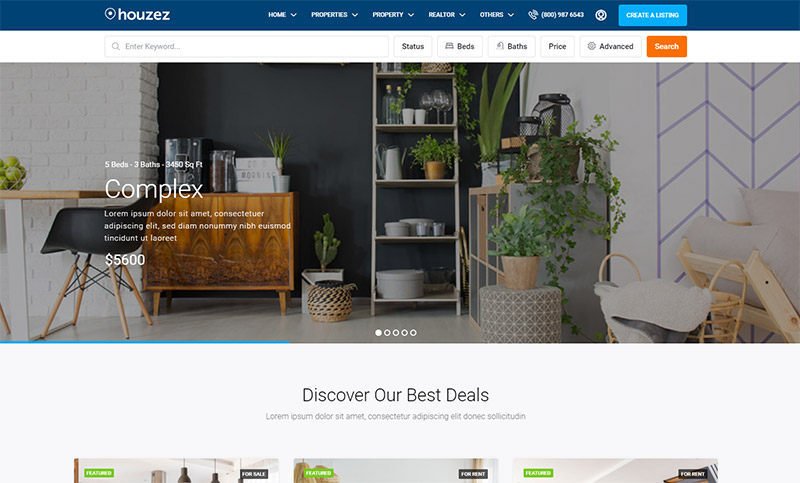 Houzez has been on the market since 2016, but it's been kept up-to-date and offers 20 different modern designs to choose from. There are demos for several different types of businesses within the industry, including single realtors, local agencies, and large hubs. As a result, this top-selling and highly-rated theme can be used for any type of real estate website.
The theme was made for compatibility with Elementor, including more than 30 widgets that allow you to easily add details to your listings. The drag-and-drop search builder allows you to create an advanced search engine customized to the specific needs of your site.
With lots of styling options, dynamic content, and control over all the details, you have the flexibility to create a fully customized site.
Key Features:
Advanced property management features
Custom search settings give you control to create specific search engines
20 pre-design templates to choose from, including different types of real estate websites
Built-in CRM
Live messaging system
Price: $69 for a single site license
7. Residence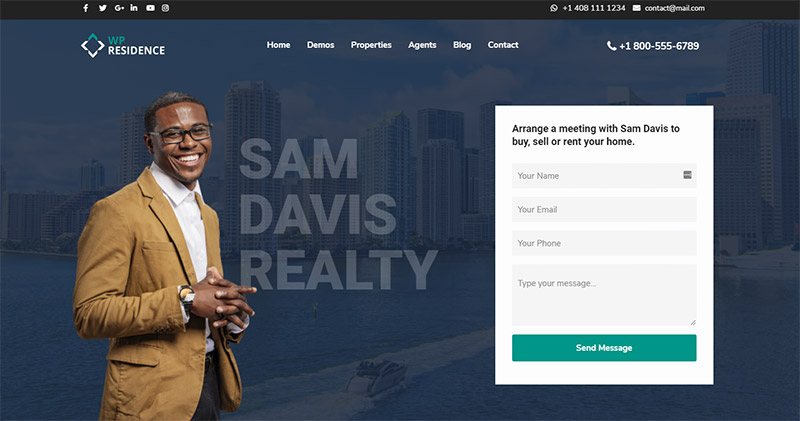 Residence includes 19 different pre-made demos. You can set up a website for an individual agent (like the screenshot above), a local agency, or a larger property search website. All of the demos are beautifully designed, making it easy to create a professional-looking site in no time.
With more than 400 theme options, you're in full control over the appearance and functionality of your site. There are also eight pre-built templates for pages that are compatible with Elementor. You can use Elementor to easily customize the pages as needed.
Key Features:
19 outstanding pre-designed demos to choose from
Unlimited flexibility and customization options
Advanced search settings and options
CRM for managing contacts that come in through form submissions
Zillow-like popup for property details when browing listings
Price: $59 for a single site license
8. WPEstate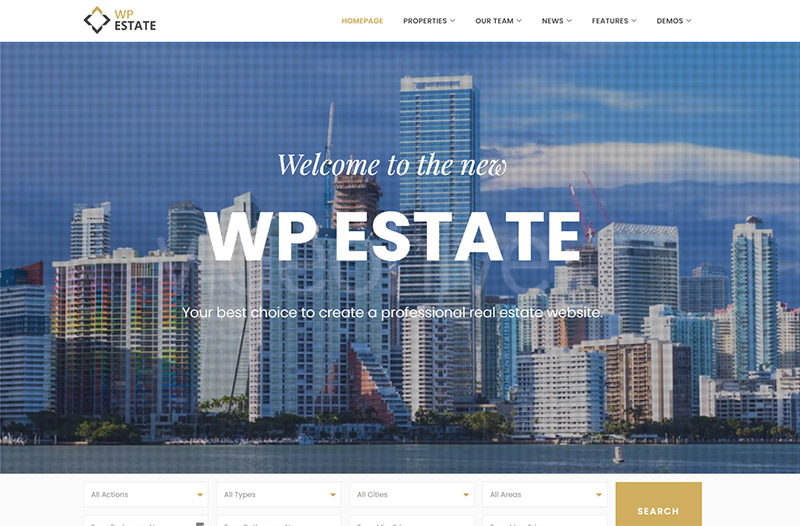 WPEstate has been around since 2013, but the theme is updated as needed and is still an excellent option for your real estate website. It's much more ideal for individual realtors and small teams or agencies than for large listing hubs.
There are four different demos that can be installed with a single click, making it as fast as possible to set up your site. You can choose the type of gallery you want for your property pages (slider, masonry, or full-width). It also integrates with Google Maps to display the listings on the map. There are more than 300 theme options that allow you to set up the site according to your needs.
Key Features:
Advanced search options, including your own custom fields
Display the property price on the pin on the map
Create and display lists of properties
Add virtual tours or video tours
Price: $49 for a single site license
9. Solus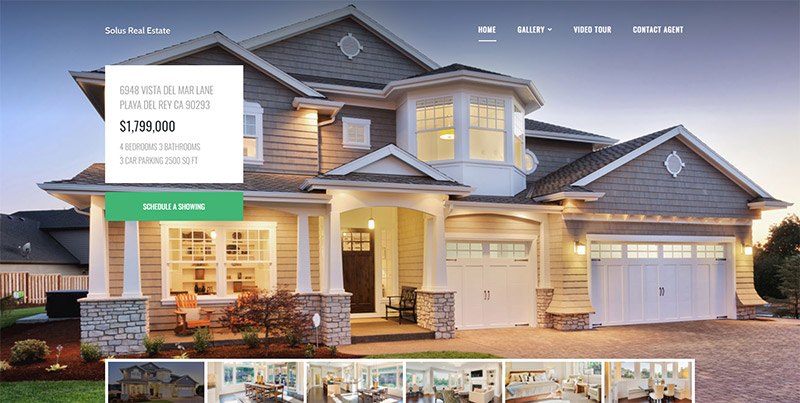 Solus is another theme that's been around for several years (launched in 2015), but the developers have done a great job of keeping it up-to-date. It's a single-property theme, so it's not as flexible as most of the others covered here. However, if you're looking to create a website for a specific property, Solus is a theme you should consider.
It features a drag-and-drop page builder that gives you control over the design, as well as the ability to create popups, maps, sliders, and more.
Key Features:
Single-property theme that's ideal for maximum exposure
Create customized sliders to display your beautiful photos
Unlimited colors and layout options with the drag-and-drop builder
Price: $59 for a single site license
10. Real Estate 7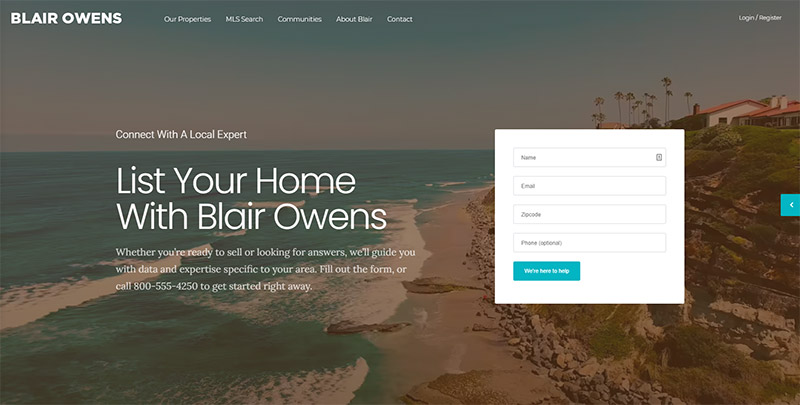 Real Estate 7 was first launched in 2015. Not only has the theme developer kept it up-to-date, but significant new features and details have been added. This year, more than 100 professionally designed Elementor blocks and pages were added, providing lots of beautiful designs to choose from.
This theme is best for realtors and small agencies looking to create a site that will showcase their listings. You'll love the selection of outstanding designs that make it easy to create a standout site.
The IDX integration makes it simple and convenient to get your listings live and on your site. The theme also comes with a CRM so you can manage the leads who contact you through the site.
Key Features:
Listing analytics allow you to see which listing people are viewing and what they're interested in
Users can save searches and set up email alerts
Visitors can draw on the map to designate the area for a search
Elementor integration, plus custom modules
Price: $59 for a single site license
11. Homeo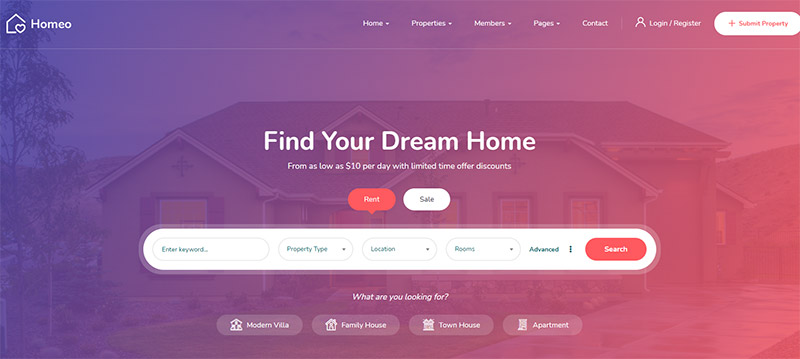 Homeo is one of the newer themes on the list. It may not be as well-known as some of the others, but it's certainly worthy of consideration. There are ten different home page designs to choose from, and all of them are very well designed.
This theme is ideal for agency websites or for larger listing sites. Users can submit a property listing from the front end of the site, without needing access to the dashboard.
Visitors can compare multiple properties, add the ones they like to a "favorites" list, and view nearby places powered by Yelp. As the site owner, you can choose from multiple listing layouts and pages for individual properties.
Key Features:
Beautiful, modern design
10 home page designs to choose from, plus multiple options for secondary pages
Elementor integration provides easy customization
Integration with three maps programs: Google Maps, Mapbox, and OpenStreetMap
Price: $55 for a single site license
12. HomePress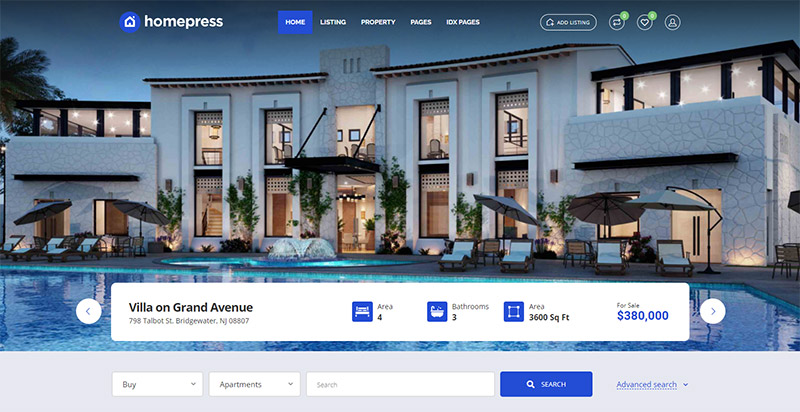 HomePress stands out with 18 beautiful pre-designed home pages to choose from, perfect for creating your own property search website. There's also a collection of property pages you can select from.
Visitors can save properties, compare listings, and even use a mortgage payment calculator to see what they can afford. Users can also get a quick view of a property through a popup with all the details.
Whether you're creating a site for a team or agency, or a large listing database, HomePress is an outstanding option.
Key Features:
Large selection of pre-made designs to choose from (home page and secondary pages)
The pre-designed templates are all modern and beautiful
Advanced search functionality with unlimited search fileds, autocomplete, and radius search.
Price: $35 for a single site license
13. RealHomes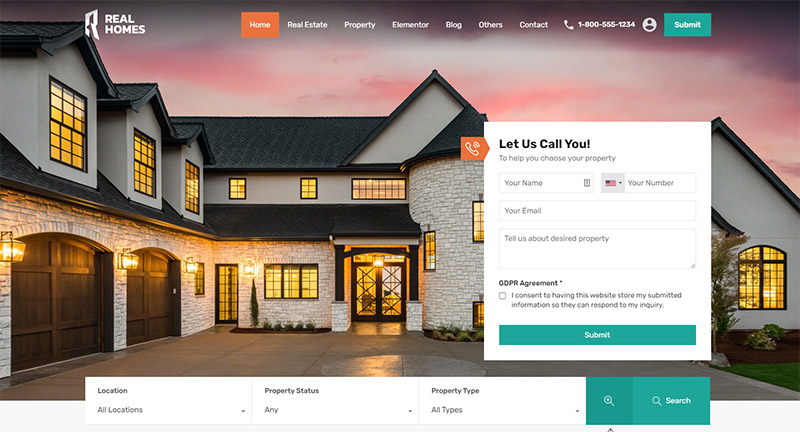 RealHomes is another theme that's been around for a long time (2013), but as one of the top-selling real estate themes, it's kept up-to-date with regular releases from the developer. It's a versatile theme that could be used for a single agency, a small team, vacation rentals, and larger listing sites.
There are several pre-designed templates, as well as header layouts that make it easy to customize. You'll also get several property page templates to choose from. With all of the options, plus Elementor integration, it's easy to create a customized site.
Adding listings to your site is simple with IDX integration. You can also include floor plans, other types of attachments (like PDFs), and create custom widgets.
Key Features:
Lots of design options to choose from (home page and secondary pages)
Plenty of customization options, including integration with Elementor
Visitors can compare properties and save their favorites
Versatile theme that can be used for several different types of websites
Price: $59 for a single site license
Final Thoughts
Real estate websites have very specific needs, and there are a few types of websites within the industry that have their own specific needs.
Whether you're creating a website for a single realtor, a website for an agency or team of agents, or a larger listing hub with powerful search capabilities, there are existing themes that make it easy.
Keep the specific needs of your site in mind and compare the themes on this list to see which ones would offer the best functionality.