If you've ever visited a website only to immediately start seeing that site's ads on Facebook, you've probably wondered how that site manages to target you so accurately. Don't worry – they aren't tracking you through some grand NSA conspiracy. Rather, they're using something called Facebook Pixel to track your movements on their site (and then retarget you later on).
And if you add Facebook Pixel to WordPress, you can get the same detailed analytics for your WordPress site.
Randy actually already outlined the basic way to install Facebook Pixel in WordPress. But in this post, I'm going to give you a tutorial using a free plugin called Pixel Caffeine.
In addition to helping you add the basic Facebook Pixel code to WordPress, Pixel Caffeine can also help you set up some additional advanced features that help you get the most from Facebook Pixel.
If you're looking for the easiest way to add and configure Facebook Pixel, I think Pixel Caffeine is it. Keep reading for a detailed Pixel Caffeine review and tutorial…
Why Should You Care About Adding Facebook Pixel to WordPress?
If you're already familiar with Facebook Pixel and just want the hands-on part, skip ahead.
Before I get into what Pixel Caffeine actually does, I think it's important to tell you a little bit more about what Facebook Pixel is and how it can help your site.
While not a perfect analogy, Facebook Pixel is a bit like Google Analytics…but for Facebook. That is, you add Facebook Pixel to your site (like the Google Analytics code) and it tracks the activity and behavior of everyone who visits your site and is logged into Facebook.
Ok…but if Google Analytics already gives you this data, what's the point of adding Facebook Pixel on top?
Because you can then use all of this data to retarget your site's visitors with Facebook ads. And you can also define custom conversion goals to better optimize your ads based on the actions Facebook visitors take on your site.
For example, with Facebook Pixel, you could create a Facebook ad audience composed entirely of people who visited one specific page on your website. Then, you can target that audience with ads or promoted posts that you already know they're interested in.
Whether you run a blog or an eCommerce store, this is pretty powerful functionality for connecting with your audience, right?
Does Everyone Need Facebook Pixel?
Not necessarily. If you don't think you will ever use Facebook ads, you won't really see any benefit from Facebook Pixel.
But if you are running Facebook ads, or if you think there's even an inkling of a chance that you'll use Facebook ads in the future, collecting this data will make your efforts much more successful.
Just to reiterate – even if you're not actively advertising now, you'll still be able to reference all of this data whenever you do decide to start running ads.
Pixel Caffeine Review: Add Facebook Pixel to WordPress
As I hinted at in the intro, Pixel Caffeine makes it stupid simple to add Facebook Pixel to your WordPress site. But it goes beyond just adding the tracking code (which isn't especially difficult to do manually). Pixel Caffeine also helps you:
Set up conversion tracking from inside your WordPress dashboard.
Create custom audiences based on WordPress fields, taxonomies, and more.
Automatically track conversions for popular eCommerce plugins (currently WooCommerce and Easy Digital Downloads).
Track advanced data like post type, login status, browser info, and more without needing to manually configure anything (just check a box and go!).
And want to know the best thing about Pixel Caffeine? It's 100% free! It's tough to beat that value proposition.
I'll start by showing you how easy it is to use the plugin to install the basic Facebook Pixel code on your WordPress site. Then, I'll get into some of those more advanced features.
How to Install Facebook Pixel in WordPress With Pixel Caffeine
Before you can use Pixel Caffeine, you need to create a new Facebook Pixel inside the Facebook Ads interface. Because this is done through Facebook, Pixel Caffeine can't help you with this part. But don't worry – it's super simple.
Get started by heading to the Facebook Pixel tab of your Facebook Ads Manager (click this link to go straight there). Then click Create a Pixel: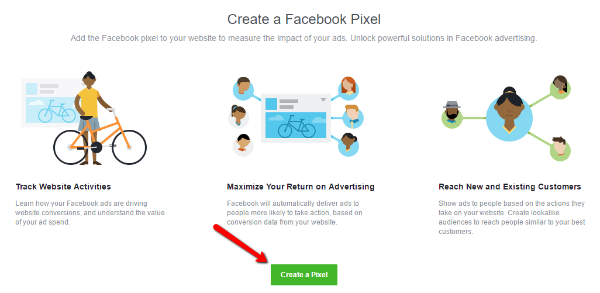 Give it a name and click Next: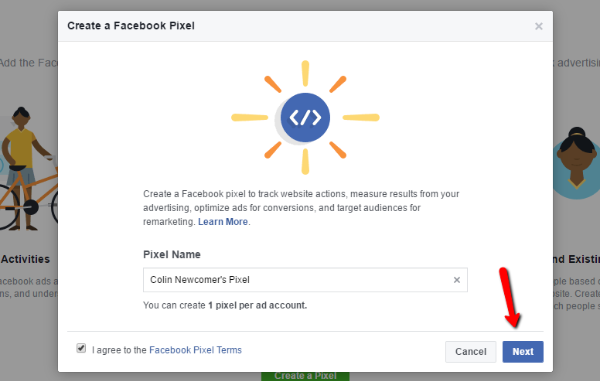 And that's it! Your pixel is created. Now, you can go ahead and install Pixel Caffeine to take care of the rest of the process.
Setting Up Your Facebook Pixel With Pixel Caffeine
Once you install and activate Pixel Caffeine, you'll get a new Pixel Caffeine tab in your dashboard sidebar.
When you click on it, you'll see a nice explainer video as well as a SET UP NOW button. Just give that a click: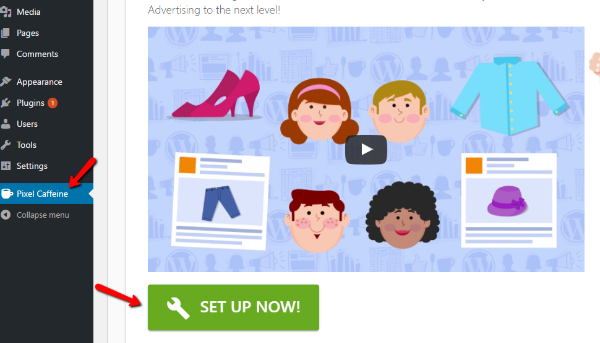 Then, Pixel Caffeine will prompt you to complete the Facebook Pixel Setup. You have two options:
Manual Setup – paste in your Pixel ID manually to have Pixel Caffeine add it to either your head or footer section.
Facebook Connect – Just connect your Facebook account and Pixel Caffeine takes care of the rest.
Because this review/tutorial is about finding the easiest way to add Facebook Pixel to WordPress, I'm going to show you the Facebook Connect method. So…go ahead and click Facebook Connect: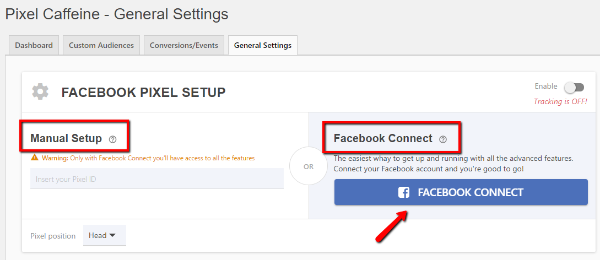 You'll see the normal Facebook authorization screen: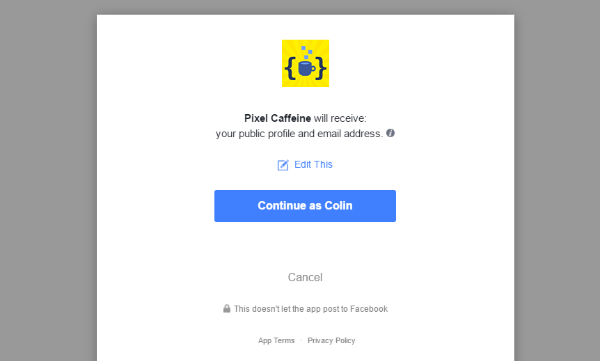 And when you click Continue, Pixel Caffeine will ask you to "manage your ads and access your Facebook ads and related stats".
If you're wary about giving Pixel Caffeine this added information, you can just use the manual method. But because Pixel Caffeine is developed by one of the biggest Facebook Ads management tools (Ad Espresso), I don't think you have very much to worry about.
Additionally, if you want access to the cool features I'll outline in the next sections, you'll need to use the Facebook Connect method so that Pixel Caffeine can build custom audiences and conversion goals for you.
If you're ok with the permissions, just click OK to continue: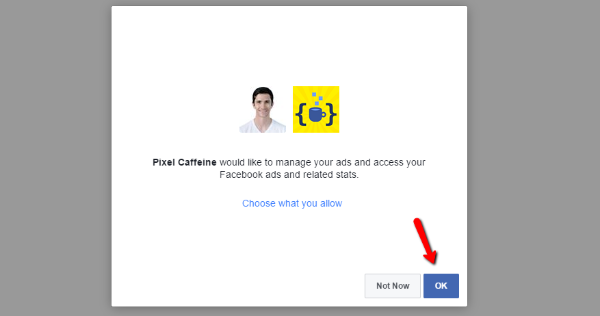 Now, you'll see your WordPress dashboard. Just select your Ad account and Pixel ID: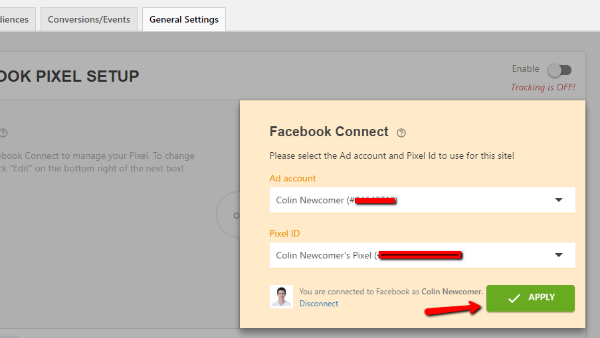 And that's it for installing the basic Facebook Pixel in WordPress! You should see confirmation in the Pixel Caffeine interface that your tracking is on: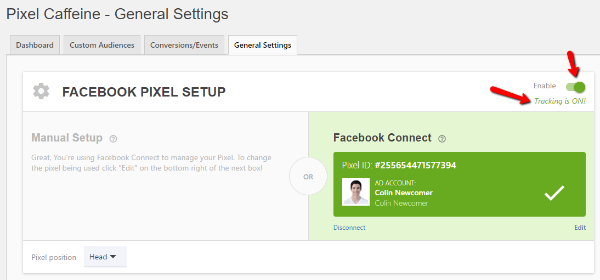 At this point, Facebook Pixel will start collecting data that you can use to improve your Facebook Ads. But we've only covered part of what Pixel Caffeine can help you with.
In the next sections, I'll get into Pixel Caffeine's Custom Audiences and Conversions features.
Creating a Facebook Pixel Custom Audience With Pixel Caffeine
Here's where Pixel Caffeine starts getting cool. Because Ad Espresso built Pixel Caffeine specifically for WordPress, Pixel Caffeine makes it incredibly simple to create custom audiences based on WordPress-specific content elements.
As I mentioned, you need to have used the Facebook Connect method of adding Facebook Pixel if you want this to work.
To get started, head to Pixel Caffeine → Custom Audiences. Fill in basic information like:
Name
Description
Retention (# of days)
URL to include
URL to exclude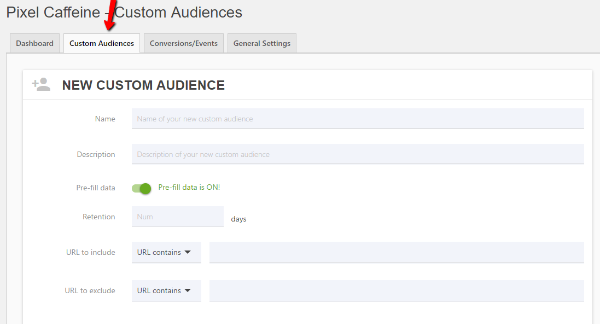 Then, scroll down to Special Filters and click Add New Filter. Here's where you can add filters based on specific WordPress data. For example, if you select the Users based on Blog Behaviour option, you can set up a filter for specific custom fields on your WordPress site: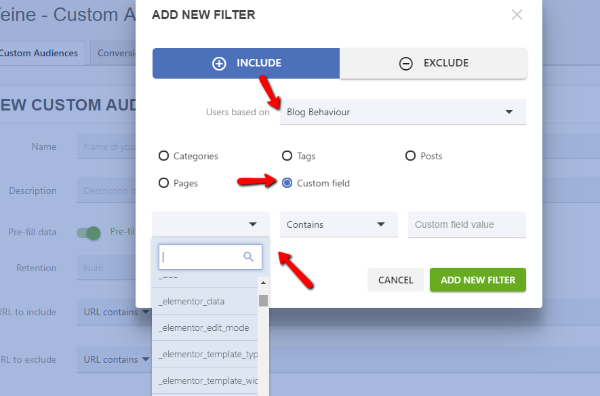 Or, if you're running WooCommerce or Easy Digital Downloads, you can select eCommerce Behaviour to filter people who, say, added an item to their cart:
For example, you could track all the people who added an item worth $75 or more to their cart. Or whatever else you'd like to do!
Whenever you're happy with your custom audience, click the Create Custom Audience button in the bottom right. Pixel Caffeine does everything for you.
You'll be able to manage all of your custom audiences directly from your WordPress dashboard. You'll also see them in your Facebook Ads account:

Automatic eCommerce Conversion Tracking
If you have WooCommerce or Easy Digital Downloads installed, Pixel Caffeine can automatically track a variety of conversion types for your store. You don't need to configure anything – just head to Pixel Caffeine → General Settings and check the boxes next to the conversion types you'd like Pixel Caffeine to track:

This functionality is super slick for eCommerce store owners.
Create Manual Conversion Goals With Pixel Caffeine
If you're not running an eCommerce store, or if you'd just like to create manual conversion goals, you can do that by going to Pixel Caffeine → Conversions/Events. Just fill out the form according to what you'd like to track and click the Create Tracking button: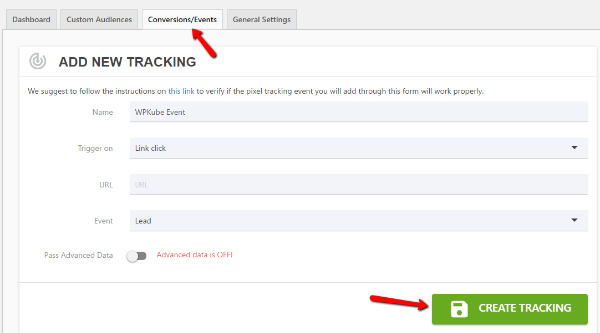 Like before, you can view all of your conversion goals directly from your dashboard:

Just be aware – Pixel Caffeine recommends that you use this tool to ensure that your conversion goals/events are properly firing.
Wrapping Things Up
If you're just using Pixel Caffeine to add the basic Facebook Pixel manually, it's still helpful…but you might as well just add the Facebook Pixel code directly to your site's header or footer manually if you can handle it.
The true benefit of Pixel Caffeine comes from using Facebook Connect to allow Pixel Caffeine to help you manage your custom audiences and conversion goals. If you're running an eCommerce store on WordPress, I don't think you'll find a simpler way to get Facebook Pixel tracking up and running.
Combine it with Google Analytics goals, and you'll have an excellent analytics setup in no time.
And even if you're not using WooCommerce or Easy Digital Downloads, it's still super helpful to be able to create custom audiences based on blog behavior from directly inside your dashboard.
Of course, Facebook Pixel isn't the only analytics tool you need. You should definitely still use Google Analytics for WordPress. And there are plenty of other WordPress analytics plugins to help you collect actionable data.
Put it all together and you'll have your very own WordPress big data system!