As far as WordPress theme shops go, MyThemeShop has a lot to offer — 99+ themes and 20 plugins at the time I'm writing this review. That's a respectable number by any measure and it's an indication of the value attached to their extended membership option, but more on that later.
There are many WordPress theme shops from which to pick your next theme, and navigating the themescape can be a challenging process, especially if you're new to WordPress. Even if you're a seasoned expert, the vast number of themes available in the marketplace, make it possible to spend hours or days in search of the perfect solution. By offering a wide variety of themes suitable for everything from eCommerce to blogging, to AdSense, all in one place, MyThemeShop makes the process just a little bit easier.
MyThemeShop Review
In this post, we'll cover some of the most important questions that arise when choosing a theme shop — things like selection, quality, ease of use, pricing, speed, support, and more.
In the interests of full disclosure, I have done some paid writing for MyThemeShop in the past, although I'm not doing so currently. They were great to work with and I'd expect the same feeling would arise as a result of being a customer.
Sometimes, looking for unsolicited comments from customers is the best way to find out what people really think. Here are a few comments I found internet from their over 300k strong user base:
I've been a MyThemeShop customer for a while and I have to tell you these themes are the best themes I've ever used on WordPress.
Finally bought Schema Theme and Applied on my blog. Its Rocking cool and awesome. Satisfied with speed and performance 🙂
What MyThemeShop Offers
MyThemeShop packs a lot of punch into their offering. It's one thing to sell great looking and functional themes — there are plenty of those available in other marketplaces. It's entirely another thing to provide a consistent product, ongoing support, and training to a large customer base.
Something that, at least from the outside, MyThemeShop appears to do well. I'll put their support to the test a little later, as well as reference some feedback from their customers.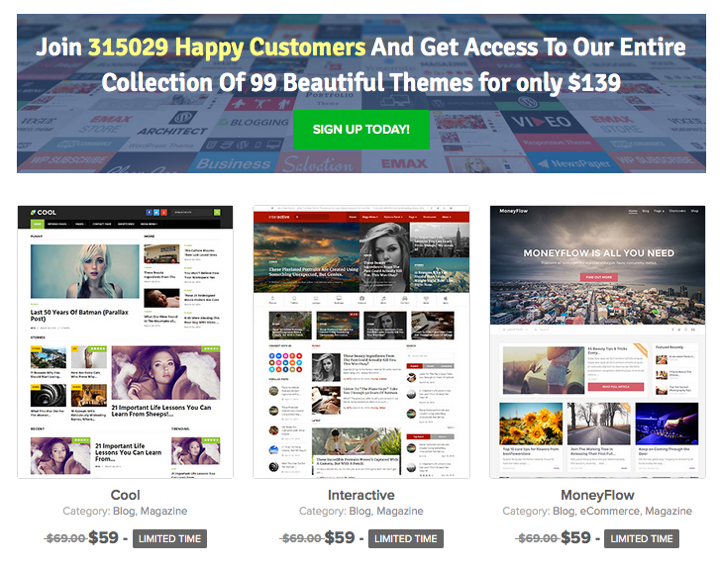 Most of the themes you'll find at MyThemeShop are targeted at four main categories:
Blog Themes
Business Themes
eCommerce Themes
Magazine Themes
There are plenty of options to pick from, and just because a theme falls under a specific classification does not mean it can't be adapted to meet a slightly different need.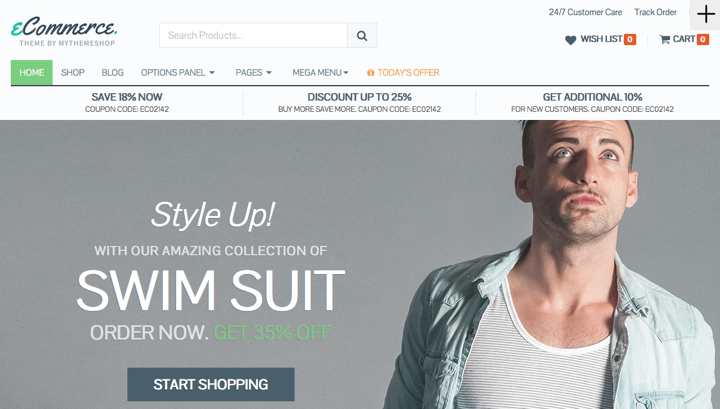 Primary Theme Features
Each theme comes with a variety of features right out of the box that makes installing, setting up, and using them a relatively straightforward process. Here are some of the things you can expect when you pick a theme from MyThemeShop:
An exceptional responsive design that will make sure your theme looks great on any device.
Shortcodes that include CTA buttons, columns, video embeds, tabs, toggles, Google Maps, and more.
A built-in options panel that allows for easy customization of your theme and the ability to import demo data with just a few clicks.
Developed using HTML5 & CSS3
Cross-browser compatibility
Clean and well-commented code that's optimized for fast loading times
Built in AdSense Management
24×7 premium support and an extensive library of narrated videos
Pricing
MyThemeShop has a simple pricing structure with just two options to pick from. All plans can be canceled or upgraded at any time.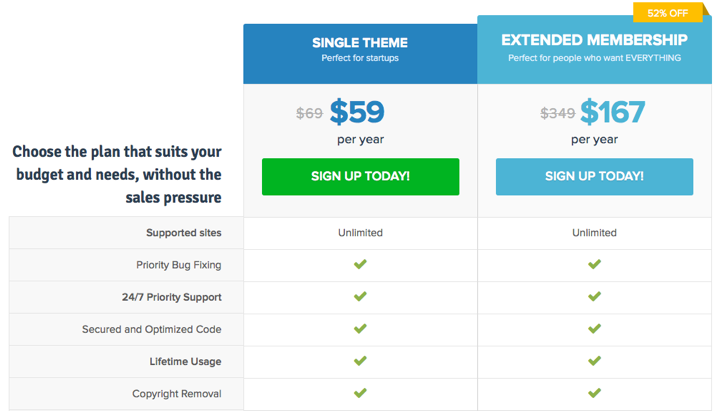 Single Theme License – $59/year
If you know you'll only need a single theme and none of the plugins, this is probably the best option for you. It's still a great value at $59/year — you'll still be able to use the theme on multiple sites, whether they are owned by you or not.
Extended Membership – $167/year
The extended membership plan gives you access to everything MyThemeShop offers including plugins, PSD files, and support for client projects. If you plan on purchasing more than one theme and a few plugins, this is clearly the better option.
Support Features
Support can be a the source of major bottlenecks for theme companies. They need to be able to accommodate the needs and skill levels of a wide variety of users. Obviously, some users require more help than others and MyThemeShop seems to do a good job of covering all the bases by providing more than one way to get your questions answered.

In addition to 24/7 support, you'll find an active forum which offers answers for both premium and free members plus an area where you can get your pre-sales question answered. You'll also find video tutorials in the forum for both Free and Premium users. The videos are well narrated and easy to follow – something that's not always easy to find in tutorial videos.
I posted two support tickets to see how long it would take to get a reply. The first one was a pre-sales question about licensing and support — it was answered in just 49 minutes.
The second was in relation to an error message that I received when trying to update the theme. At the time I was completing this post there was still no response. Note: Although it would have been nice to get confirmation, I believe the error message was a result of trying to update a premium theme supplied for review purposes using credentials from a free account.
The Theme Collection
With 119 Products in their store, it would be a tough to test them all. I had two themes to experiment with, and they were very consistent in their functionality. This should give you a reasonably accurate idea of what you can expect when choosing a theme from MyThemeShop.
SociallyViral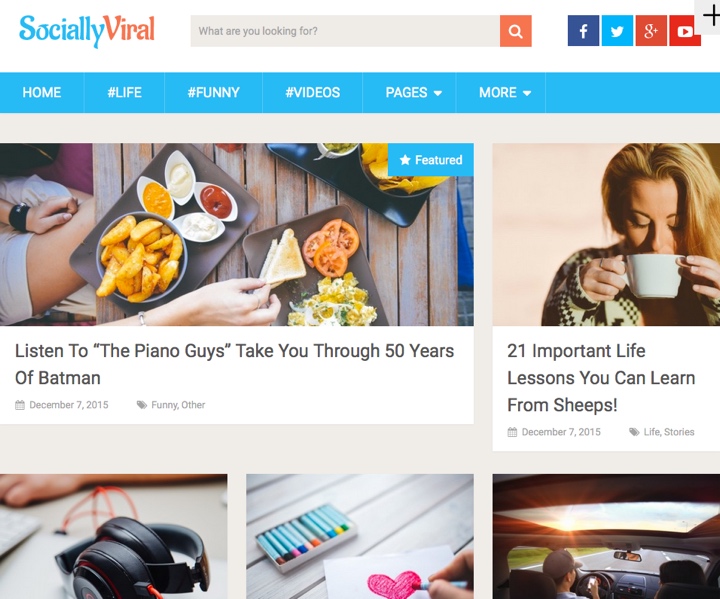 SociallyViral, available as a free and pro theme, emulates popular sites like ViralNova. It's a clean, great looking theme that focuses on featured images, bold headlines, and social sharing. It quick and easy to set-up and can be easily customized via the Theme Options Panel. That includes unlimited colors, multiple layout options, Google fonts, sidebar locations, footer widgets, ad management, and much more.
Getting the theme installed and running is a relatively painless process. You'll be prompted to install several plugin once the theme is activated which will add some key functionality, including the ability to update the theme to the latest version.
One of the features that MyThemeShop talks about across all their themes is speed. For that reason, I figured it would be a good idea to run a few tests. Considering this is an inexpensive shared hosting account, the results are respectable despite the initially poor overall performance scores. You'll see in the next series of test result how one simple change provided a dramatically different result. I always take these results with a grain of salt because there are a lot of extraneous factors. Test results can vary widely from one day to the next.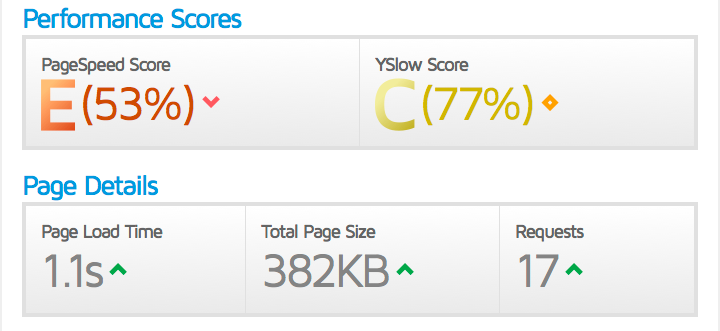 Here's what I can tell you from a real-world perspective. I've used more than a few slow themes over the years. In clicking through many pages and posts, I never felt that the theme was slow to load pages. Blazing fast? No. But certainly nothing I would ever complain about.
TruePixel
TruePixel is another viral layout theme designed to encourage social sharing. It's mobile responsive, has a clean layout, and come packed with tons of theme options, just like Socially Viral. You'll also find the usual list of custom MyThemeShop widgets for use in your sidebars, including a variety of preformatted ad widgets.
Once installed, TruePixel will also recommend that you install several plugin including MyThemeShop connect, WP Review, WP Short Code, WP Subscribe, and WP Tab Widget.
Again, I ran a few speed test for comparison sake and largely came to the same conclusion.There are no discernible signs of slowness when using this theme.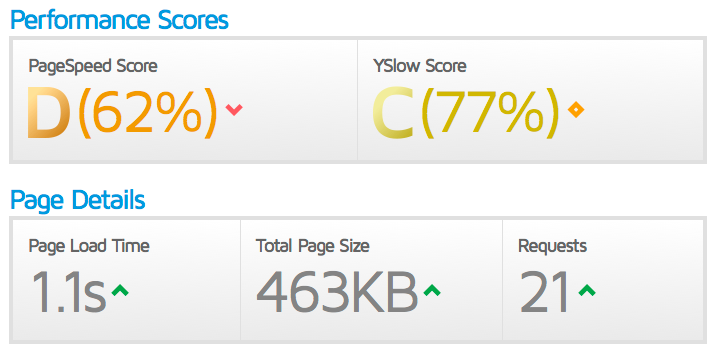 Just to demonstrate the importance of spending a little time tweaking your settings, the speed test below is the exact same theme tested one minute after the image you see above. The only difference is that CSS is minified in the result below. The point being, a little experimentation can go a long way towards improving performance.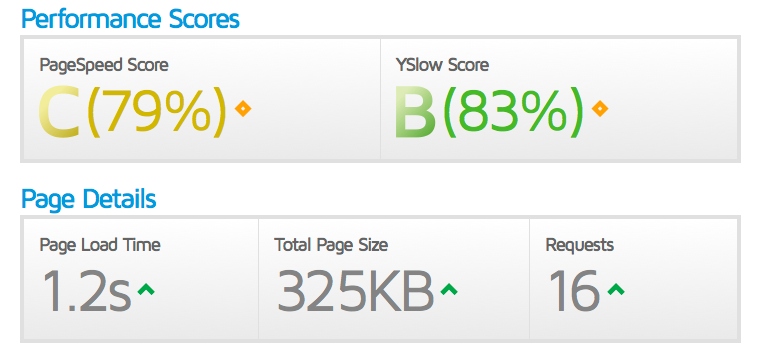 Ease of Use
Installation was a quick and easy for both themes and plugins — they installed without any problems and I was up and running in just a few minutes. As mentioned earlier, I did have an initial issue updating the themes. However after some digging around, I believe it's because I was supplied the Pro Version of each theme for this review and I was trying to update them using a free account. My bad.
All of the MyThemeShop themes use a custom options panel. As much as I've grown accustomed to using the default WordPress customizer, figuring out how the options panel works took no time at all. All of your theme customizations are conveniently located in one place. The are well labeled and easy to find. A few of the options included are:
General Settings – The ability to add a logo, favicon, and touch Icon.
Layout options can be adjusted in a variety of locations including the header, homepage, and single posts.
There are plenty of styling options available including unlimited color choices and typography.
Also included is the ability to create custom sidebars, manage ads, and adjust social sharing options.
Plugin Collection
MyThemeShop currently offers 20 plugins, both free and paid. Almost all of them provide unique and useful functionality, and at $29 for the premium versions, they are entirely affordable. A few of the most notable ones include:
Mega Menu – create highly customized menus to improve visitor engagement.
WP Reviews – simplify and organize your reviews.
Tab Widget – create easy to navigate tab widgets.
Testimonials – an easy way to display and manage testimonials submitted by users.
WP Notification Bar – a custom notification bar and alert plugin.
Time to Read – displays an estimated time to read.
My WP Backup Pro – easily backup your content and database to a variety of locations.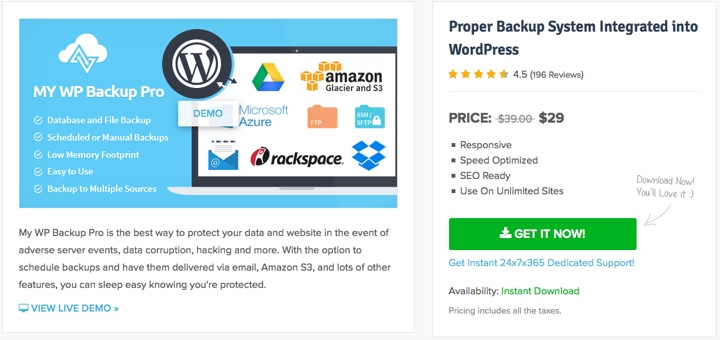 If you take the time to examine some of these plugins a little closer, you'll find there is some pretty good value available. For example, My WP Backup Pro provides a complete backup solution for just $29. The plugin offers scheduled and maintenance backups to a wide variety of services, including Google Drive, Amazon S3, DropBox and more. If you've ever read any of my posts on WordPress security, you'll know that regular backups should be at the top of your priority list.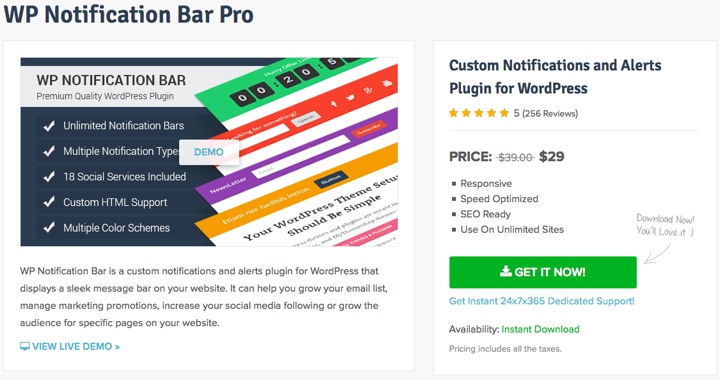 Another example of a useful plugin would be WP Notification Bar Pro. If you're familiar with Hello Bar, you'll know exactly what this plugin does. Promoting special offers, email option, social links, and countdowns are all possible with this easy to use plugin.
Keep in mind that all these plugins are available as part of the Extended Membership Option. They aren't necessarily something you'll need to purchase separately.
Final Thoughts
Clearly I didn't have time to test every one of the themes or plugins. But even within the confines of this short overview, I was left feeling positive about my overall experience. The themes are great, the support seems attentive, and there is plenty of selection and value to pick from — both in terms of themes and plugins. The themes and plugins
👉 Don't forget to use our exclusive MyThemeShop Coupon to get 35% OFF.
If you're looking for themes that are attractive, easy to navigate, SEO friendly, fast, and reasonably priced, you might find that MyThemeShop meets your needs. Both themes and plugins provide solid value and they are definitely worth taking a closer look at.