Considering using Brizy as your WordPress page builder of choice?
Brizy lets you create amazing designs and websites using a visual, drag-and-drop interface – zero code knowledge required. It fits in the same class as other popular page builder plugins such as Elementor, Beaver Builder, and Divi.
However, while the basic function is the same as those tools, Brizy does some things better than the competition…and some things worse, as well.
To learn the pros and cons of Brizy as a builder and decide whether it's right for you, you'll want to read our full Brizy review.
Here's everything that we'll cover in our Brizy review:
Brizy Review: A Quick Look at the Features

To kick off our Brizy review, let's briefly go over the key features that Brizy offers. I don't want to spend too long here because you can find all of this on the Brizy website, but I think it's useful to cover this stuff before digging into the hands-on sections.
The core of Brizy is its builder:
Visual, drag-and-drop design – design everything using a visual editor – no code knowledge required.
Inline editing approach – you can control most of your design using inline options instead of sidebars and popups. This is one of the best things about Brizy.
Responsive design – all of your designs are responsive by default and you get options to further control how your designs look on different devices.
Flexible builder elements – the free version includes 24 elements while the Pro version doubles that to 48.
Pre-built templates – get access to tons of page and section templates.
Form builder – create your own custom forms, even with the free version.
Marketing integrations – connect to other marketing tools like Mailchimp and HubSpot.
Conditional display – show/hide blocks based on different conditions, such as a user's device or logged-in status.
Here's a basic look at the Brizy builder: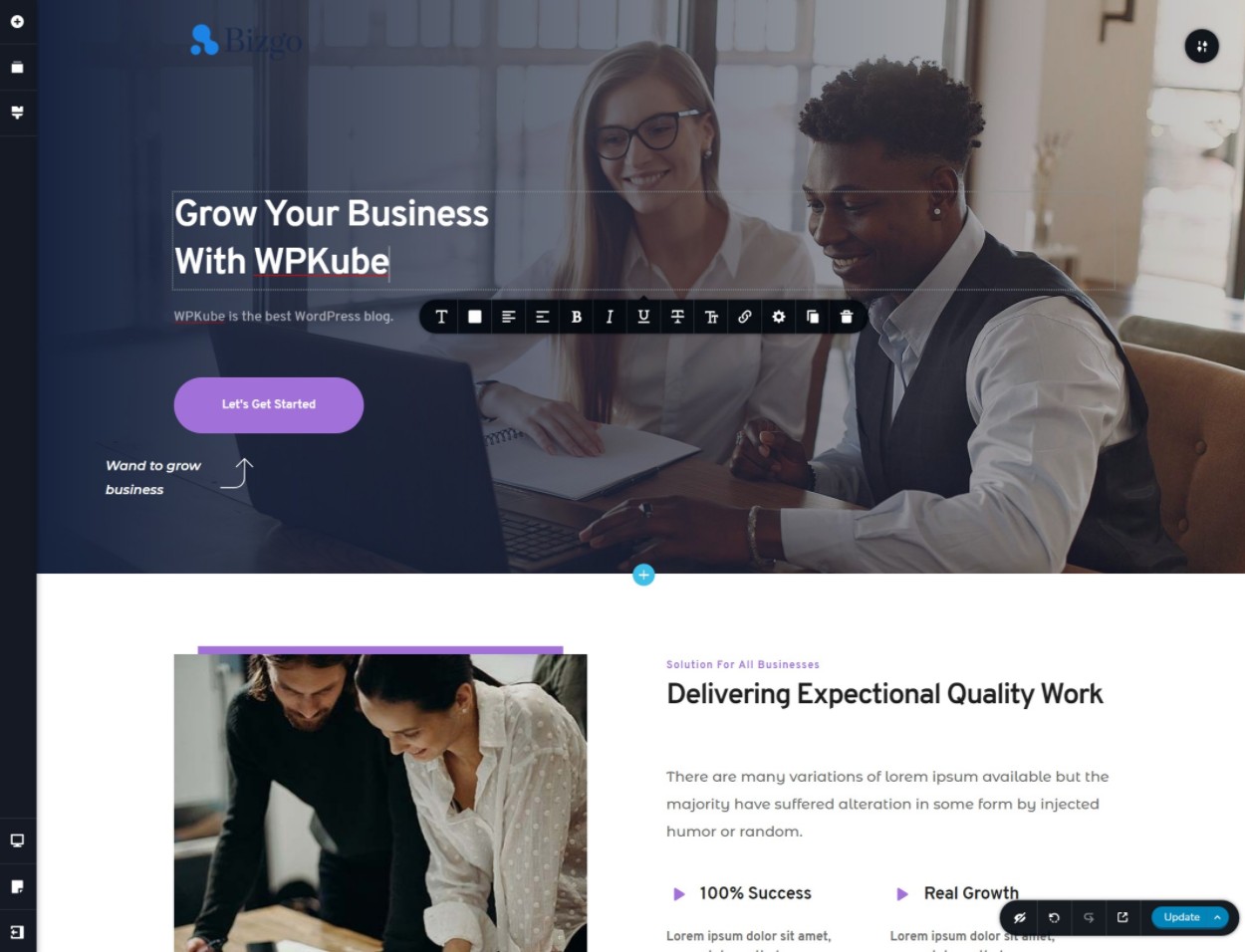 You can open more options by using the sidebar on the left. There are also a couple of other useful interface details that I'll showcase below: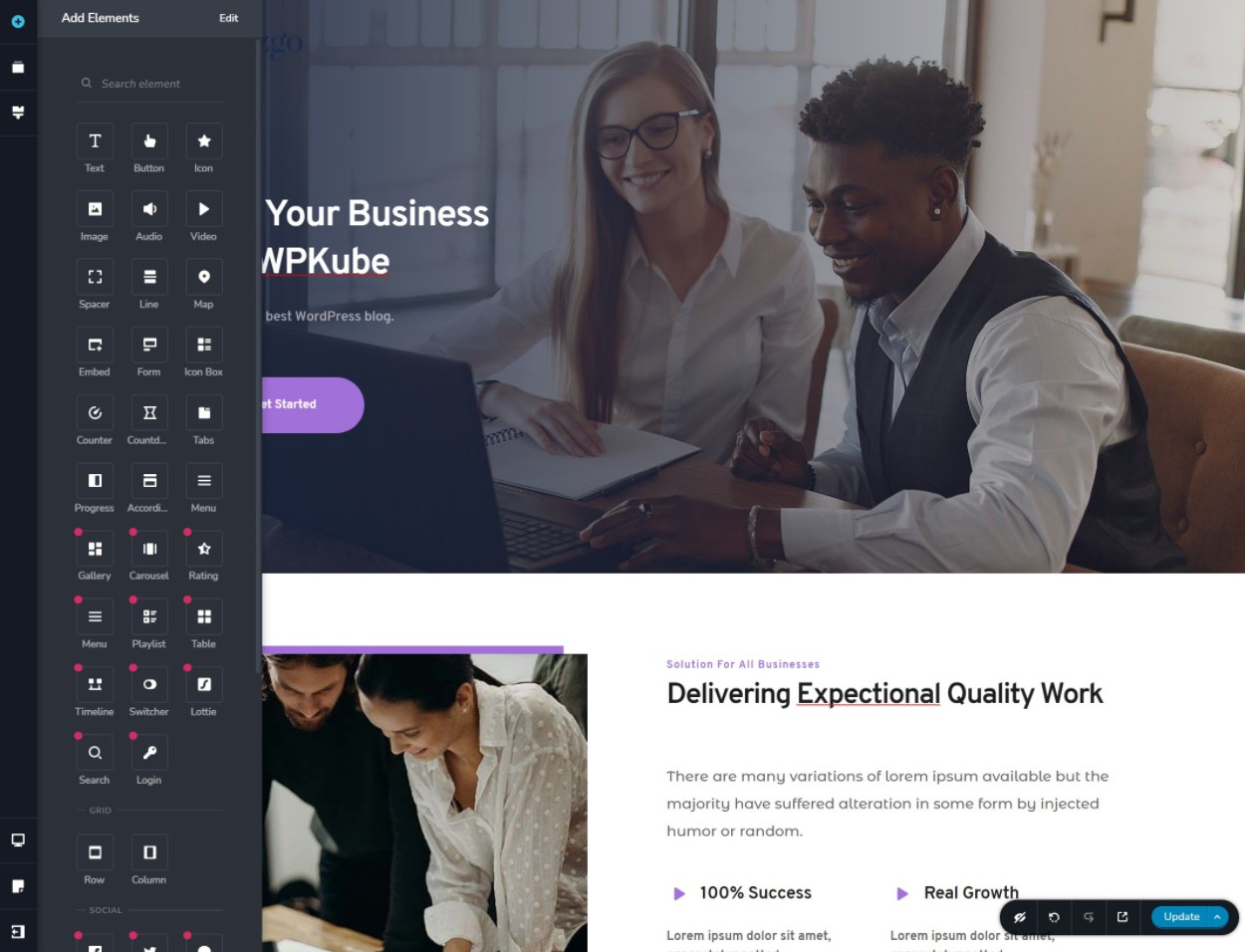 Brizy Pro also includes features to go beyond just designing individual pages and posts:
Theme builder – including support for WooCommerce
Dynamic content support – add data from custom fields to your designs and theme templates.
Popup builder – design popups using the visual builder and display them anywhere on your site.
Nine Standout Features in Brizy (AKA the Good Stuff)
Now that you have a basic understanding of what Brizy offers, let's dig into some of the standout features and high points.
1. The Inline Editing Experience Is Awesome
I mentioned above that Brizy's "inline editing experience" is something that sets it apart from other page builder plugins. Well, what the heck does that mean?
By inline editing experience, I mean the ability to customize your design without needing to resort to sidebars or popup settings areas.
Most page builders now let you edit text by just clicking and typing on the live preview, but you'll still need to use separate interfaces to manage the actual settings for your content elements.
With Brizy, it's different. You can access many key settings right from the design interface, which I think leads to a faster, more intuitive design experience.
For example, when you customize a button in Brizy, you'll get options right there to configure the size, border, icon, and so on: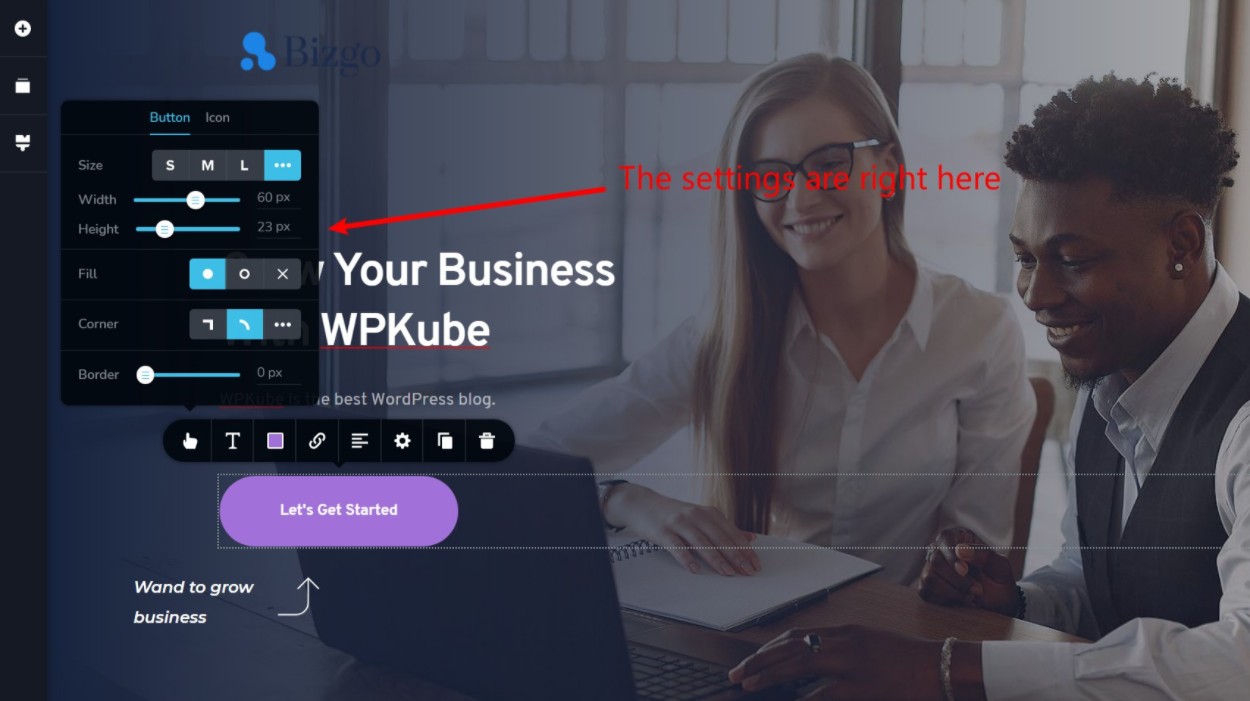 On the other hand, if you were working in Divi (or most other popular page builders), you have to use a popup/sidebar to customize a button's settings, which takes a little longer: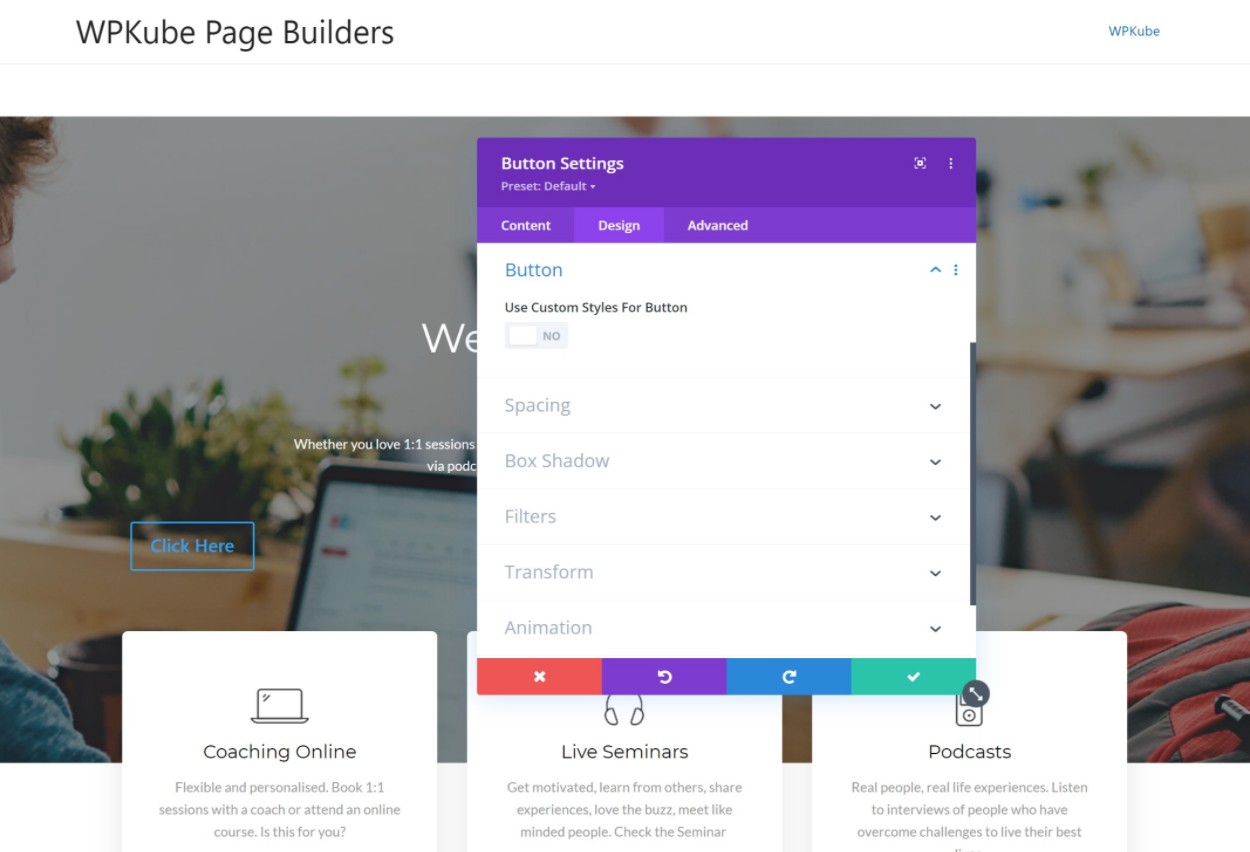 Now, I know this seems like a small thing. But I really do think this is one of the best features in Brizy as it makes it so easy to style your content elements.
If you're only building a few designs, that extra efficiency might not matter. But if you're going to be using your page builder a lot, these "small" differences can make you more productive and efficient.
2. You Get Useful Content Elements (Including a Form Builder)
To help you create your designs, Brizy includes 24 elements with the free version or 48 elements with Brizy Pro.
One of my favorite elements is the form builder, which can replace the need for a separate WordPress form plugin.
The most notable thing about this element is that you get the form builder even with the free version of Brizy, whereas most other page builders charge for form builders: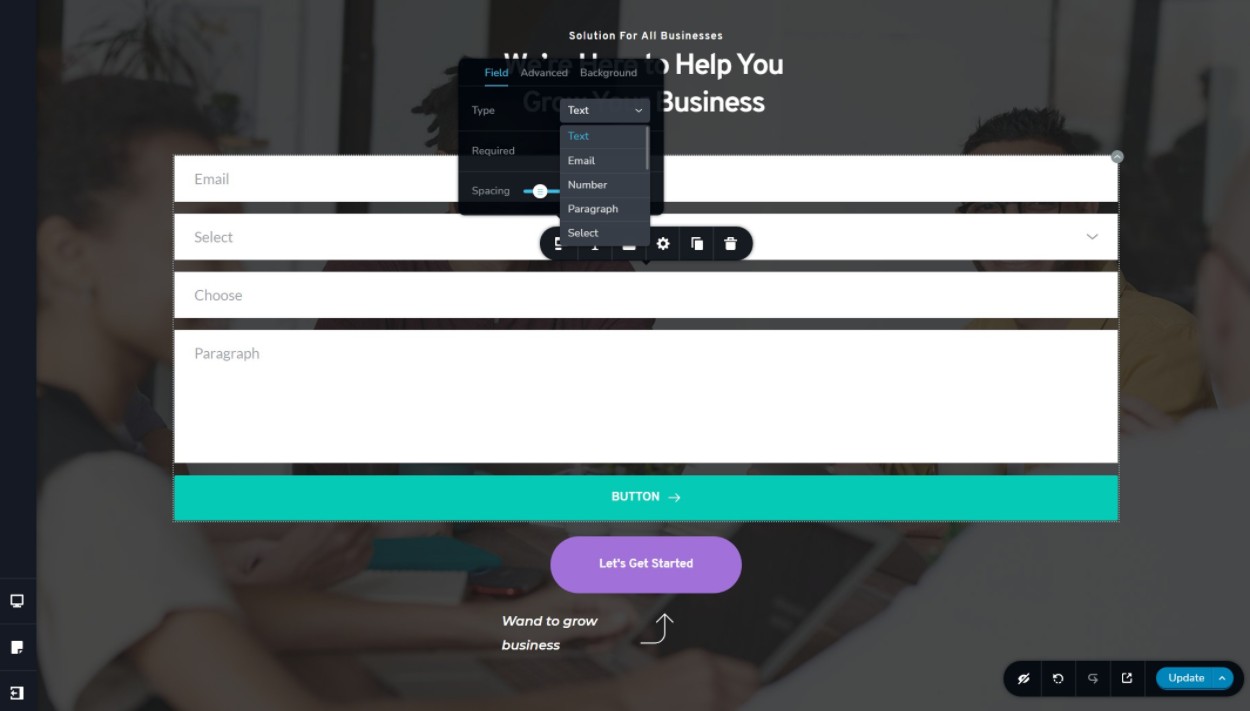 3. Brizy Integrates With Other Marketing Tools
Brizy integrates with a lot of popular marketing tools. If your tool isn't on the list, there's also a catch-all Zapier integration. Here's the full list:
Zapier
Mailchimp
HubSpot
Salesforce
Campaign Monitor
AWeber
MailerLite
SendGrid
Drip
Autopilot
You can easily connect the form element to any of these services: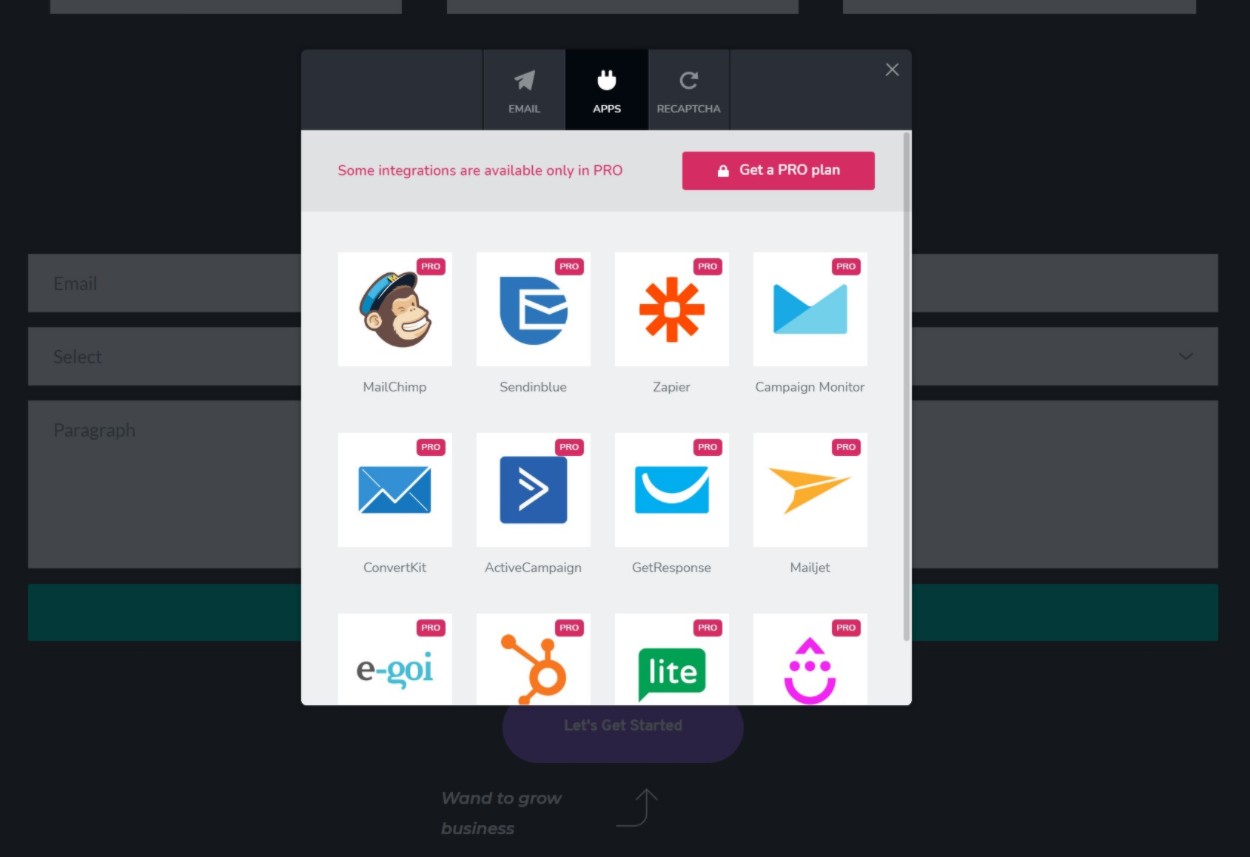 4. The Templates Look Great
While Brizy gives you the ability to create your designs from scratch, you might not need to because Brizy also includes a ton of pre-built templates. These templates come in two forms:
Blocks – templates for specific sections of a page.
Layouts – full-page templates.
Currently, you get 120+ layouts and 251+ blocks (available in both light and dark color schemes).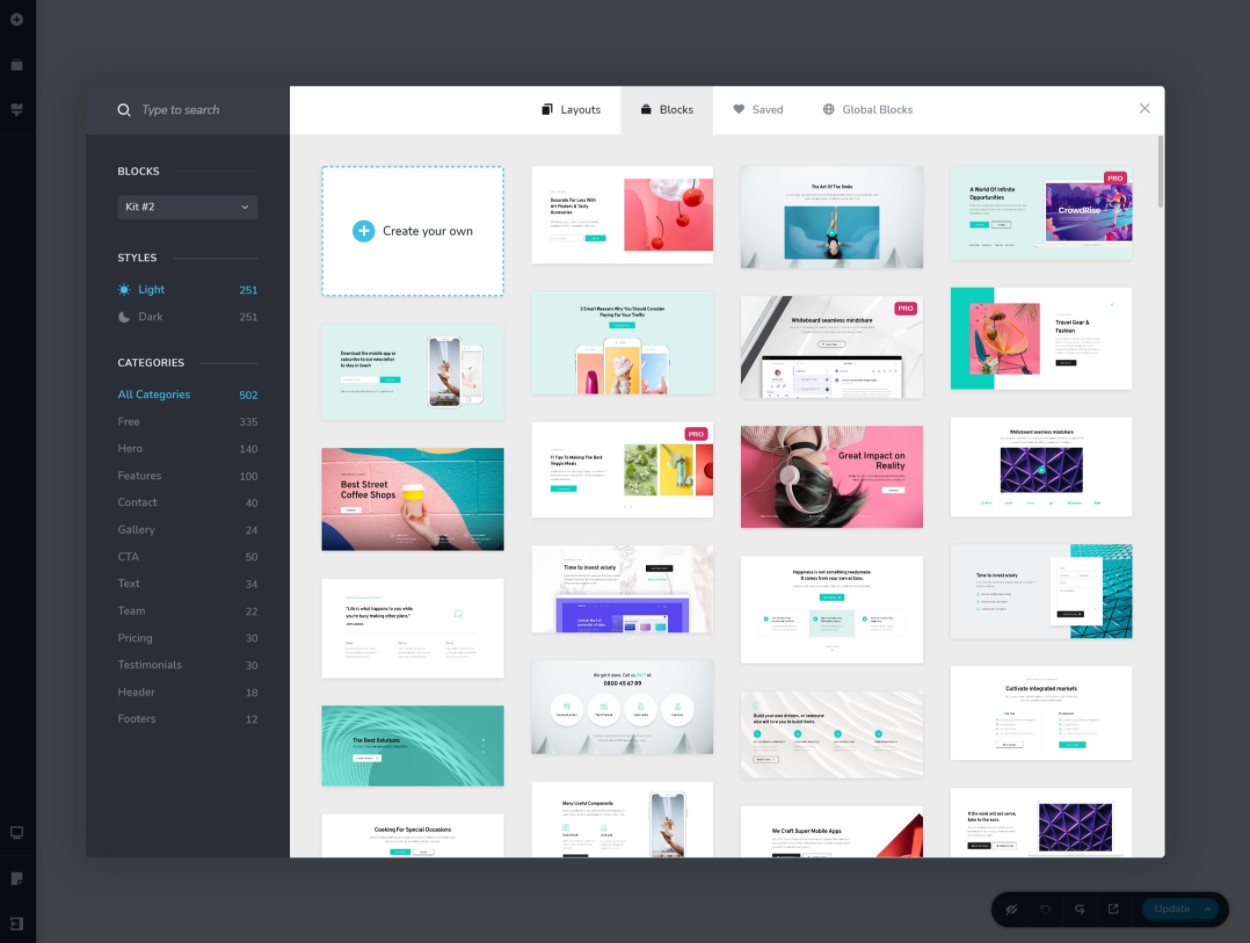 While the templates do look great, one downside is that the quantity doesn't match what you get with Elementor or Divi Builder.
5. Brizy Sync Lets You Access Your Custom Brizy Templates on Any Site
One really cool template-focused feature in Brizy is Brizy Sync. Essentially, this lets you save your own custom block and layout templates to Brizy's cloud. Then, you can access all of these templates on any WordPress site where you're using Brizy.
So you could create a template in "Site A", save the template to your Brizy account, and then use the template on "Site B", all without needing to manually import/export anything.
I'm not aware of any other page builder that offers this as a core feature, so this is a definite advantage of Brizy.
With that being said, there are third-party tools that can add a cloud template library to other builders, such as Assistant Pro (supports multiple builders) or WunderWP (Elementor).
6. You Get a Theme Builder (Including WooCommerce Support)
If you want to go beyond designing individual posts and pages, Brizy Pro also supports full theme building. This means that you can use Brizy's visual editor to design your site's:
Header
Footer
Single templates (the template that some/all of your blog posts or custom post types automatically use)
Archive templates (the pages that list your blog posts or other post types)
When you create these templates, you get conditions to control where you want to use them, such as only using a single template for a specific category of blog posts: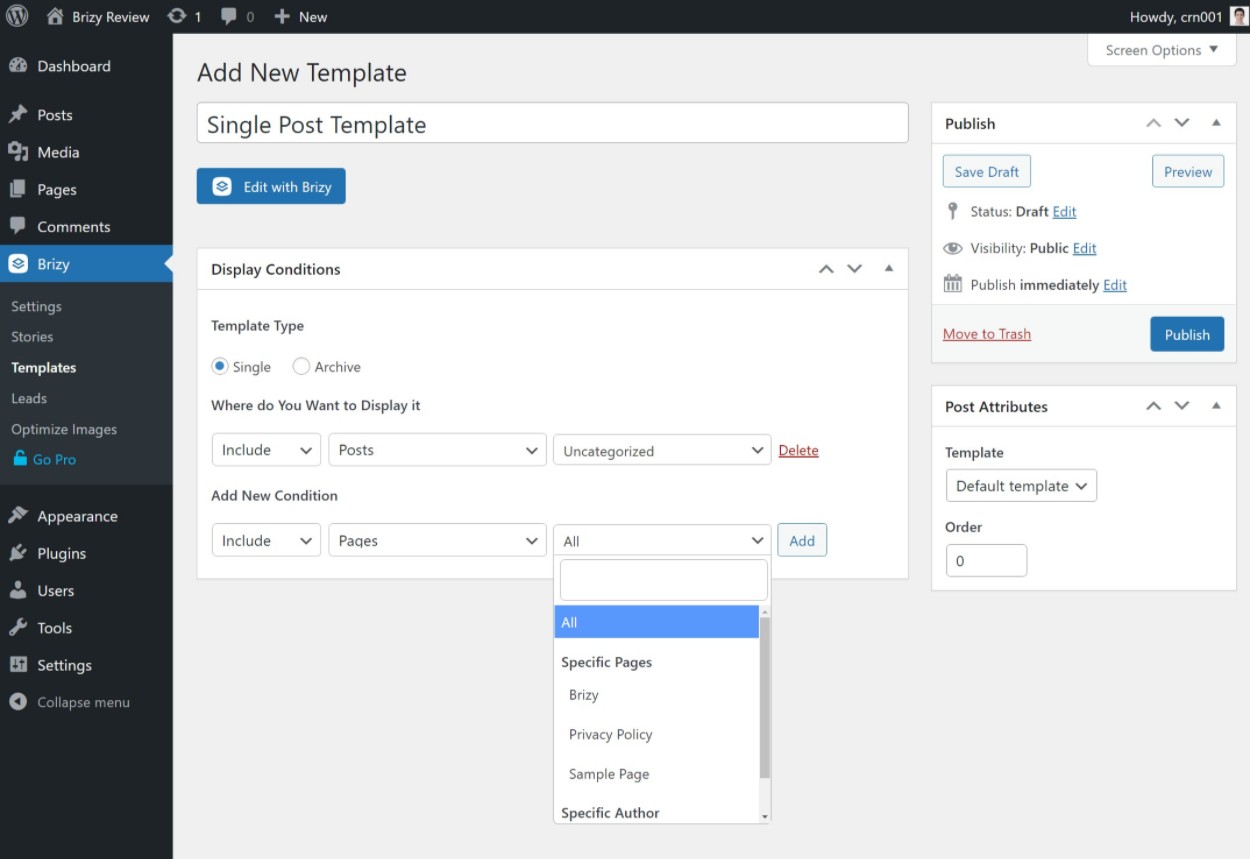 In the editor, you'll get special theme blocks to dynamically insert content.
Brizy also supports dynamic content from custom fields that you've added with plugins such as Advanced Custom Fields (ACF), Toolset, Pods, and Meta Box.
The way that Brizy's theme builder handles header and footer templates is a bit different from other page builders, but it's easy to use once you get the hang of it.
Instead of creating your headers and footers as standalone templates, you'll design them while editing a page design using the header or footer blocks. You can then use display conditions to control when to use each header/footer.
7. There's Built-In Mega Menu Support
One unique thing about Brizy's theme/header builder is that it includes built-in support for creating custom mega menus.
Most other page builders either:
Don't offer mega menu support.
Require you to use a third-party extension for mega menu support.
With Brizy, though, you can easily set up mega menus using the core visual builder.
8. You Get a Popup Builder
Another advantage of Brizy Pro is that it includes its own popup builder. With the popup builder, you can use Brizy's interface to design your own custom popups that you can trigger with the following conditions:
On page load
Time on page
Inactivity
Exit intent
Scroll depth
Click
Arriving from
As far as I'm aware, Elementor Pro is the only other major page builder plugin that offers a popup builder, so this is a definite advantage that Brizy has over other builders such as Beaver Builder and Divi.
9. You Can White-Label the Brizy Interface for Client Sites
If you're using Brizy to build websites for clients, you'll appreciate that Brizy's agency license gives you the option to white-label the Brizy interface to use your own branding. This can be helpful if you want to deliver a more branded website experience to your clients.
Elementor and Divi Builder notably do not offer white-labeling features.
Two Areas Where Brizy Could Improve (AKA the Bad Stuff)
While there's a lot to like about Brizy, there are also some areas where Brizy could be better. Let's go through them…
No Developer API – This Means No Third-Party Extensions
One major downside of Brizy is that it does not offer a developer API. This means that there is no third-party extension/add-on marketplace like you'd find with other page builders such as Elementor, Beaver Builder, Divi, and so on.
This is a definite bummer because third-party extensions can be really useful when you need more niche functionality.
For example, take Elementor. Elementor has a robust third-party marketplace where you can find hundreds of extensions to add new widgets, templates, and design functionality.
So while Elementor is already one of the most feature-rich page builders, these third-party add-ons put things on steroids and give you access to pretty much any feature you could imagine.
If Brizy can already do everything you need it to with the core features, this is a non-issue. But if you like having ultimate flexibility, this is one area where Brizy really lags behind other page builder plugins.
Limited Documentation – Not a Huge Deal, but Others are Better
In comparison to other page builder plugins, I think Brizy's documentation center is lacking. There's very little text documentation. Instead, you need to rely almost entirely on video documentation.
If you like video documentation, that's fine. However, I find text documentation easier in most cases.
Beyond that, Brizy's documentation just generally isn't as comprehensive as other page builders.
Here are links to various help centers so that you can see how they compare:
Brizy Performance vs Elementor & Others – About What You'd Expect
Whenever you use a page builder plugin, you're always going to be sacrificing at least some performance versus just using the native WordPress editor. For most people, this tradeoff is worth the improved design experience.
In terms of performance, I would say Brizy is pretty comparable to other popular page builder plugins like Elementor and Divi Builder and a bit heavier than alternatives such as Beaver Builder and Oxygen.
To demonstrate this, I created a simple design with the native block editor, Brizy, and some other popular page builder plugins. The design only includes a single button block to keep things fair – the key idea here is to just give you an idea of the basic "weight" of various page builders.
Note – this data includes the "weight" from my test site's theme, which is Astra:
| | | |
| --- | --- | --- |
| Builder | Page Size | HTTP Requests |
| Native Block Editor (Gutenberg) | 40 KB | 7 |
| Brizy | 143 KB | 14 |
| Elementor (w/ Speed Experiments) | 170 KB | 21 |
| Beaver Builder | 84 KB | 12 |
| Divi Builder | 149 KB | 13 |
Overall, you can see that Brizy isn't any worse than other popular page builders, but I also wouldn't call it especially lightweight. If you're really concerned about performance, you might prefer Beaver Builder (or Oxygen, which I didn't test because it's a full theme builder so it's harder to make a 1:1 comparison).
With that being said, you can still absolutely build fast-loading sites with Brizy as long as you're implementing WordPress performance best practices, so I don't think this should be a dealbreaker.
Brizy Pricing – It's Pretty Competitive
To kick things off, Brizy has a free version available at WordPress.org that's pretty generous with its functionality.
I would say it's one of the more functional free page builders out there, though I still think Elementor is a little more generous with its free functionality. As I mentioned earlier, one advantage of Brizy's free version is that it includes the form element, which Elementor's free version doesn't offer.
If you want access to many of the best features, though, you'll need to upgrade to Brizy Pro. Brizy Pro is what gets you access to…
All of the builder elements
All of the templates
Theme builder
Dynamic content support
Popup builder
Marketing integrations
There are three Brizy Pro plans. The main difference between them is the number of sites you can use Brizy Pro on. However, you need the highest-tier plan for white-labeling.
One nice thing about Brizy's pricing is that you have the option to pay for a one-year license or a lifetime license. If you're looking for a long-term tool, the lifetime option can offer a lot of value.
Here are your options:
Personal – one site. $49 for a one-year license or $149 for a lifetime license.
Freelancer – 100 sites. $99 for a one-year license or $299 for a lifetime license.
Agency – 500 sites plus white-labeling. $199 for a one-year license or $399 for a lifetime license.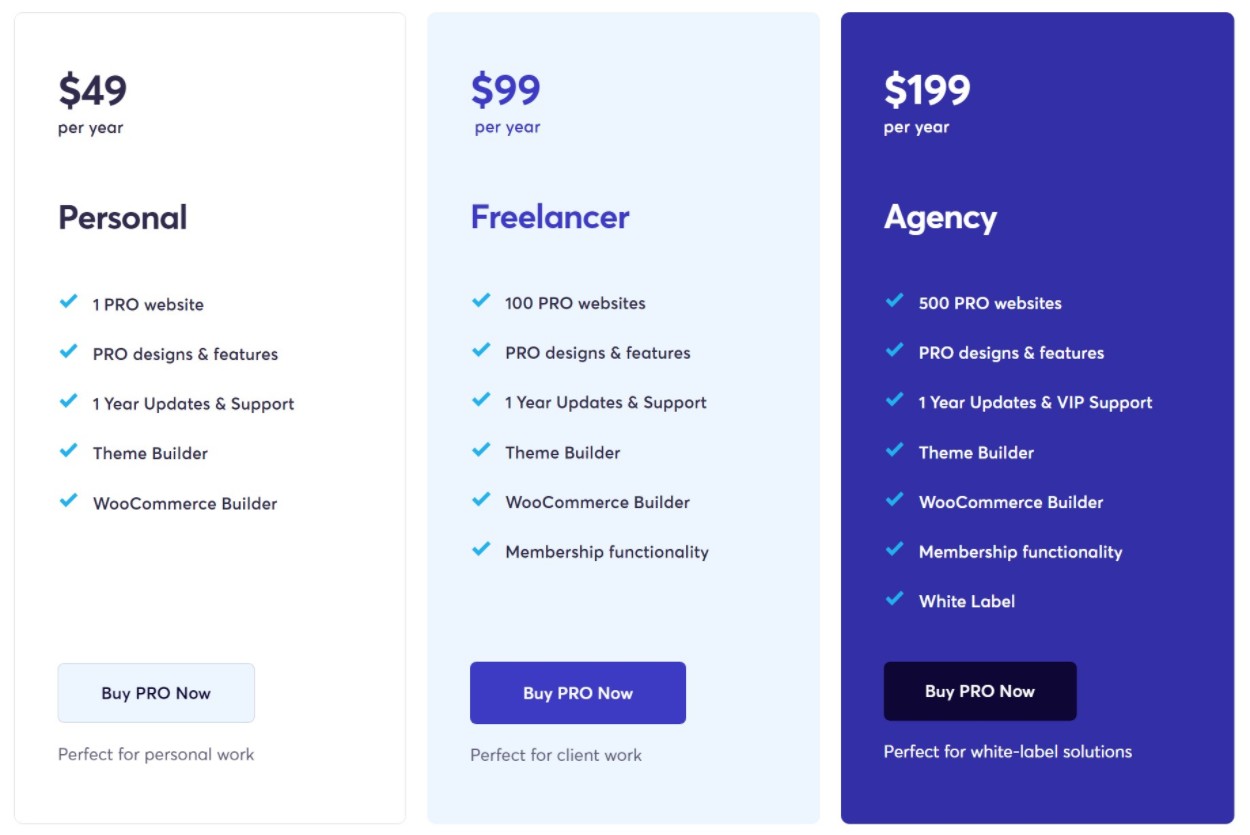 There are also separate pricing plans for the SaaS Brizy Cloud service.
I would say those prices offer pretty good value. For example, here's how Brizy vs Elementor prices compare, which is probably Brizy's most direct competitor:
| | | |
| --- | --- | --- |
| | Number of Sites | Price |
| Brizy Tier 1 | 1 | $49 |
| Elementor Tier 1 | 1 | $49 |
| Brizy Tier 2 | 100 | $99 |
| Elementor Tier 2 | 3 | $99 |
| Brizy Tier 3 | 500 | $199 |
| Elementor Tier 3 | 25 | $199 |
| Elementor Tier 4 | 100 | $499 |
| Elementor Tier 5 | 1,000 | $999 |
So while the prices are similar, Brizy has much higher website limits for the same price. Plus, Elementor doesn't offer a lifetime license like Brizy does.
Brizy vs Other Popular Page Builder Plugins
I've already compared Brizy vs some other popular page builders in the sections above, but let's zero-in on how Brizy compares to other popular page builder plugins.
For each comparison, I'll highlight the comparative advantages that each plugin has.
Brizy vs Elementor
Here are some quick thoughts on Brizy vs Elementor…
Brizy Advantages vs Elementor
Better interface (in my opinion)
Higher website limits for the same price
Lifetime license option
SaaS Brizy Cloud option
White labeling
Elementor Advantages vs Brizy
More intuitive theme builder (at least in my opinion)
More templates
Huge third-party extension marketplace, which gives you a lot more flexibility
More flexible popup builder
Bigger community (because it's more popular)
Brizy vs Beaver Builder
Here are some quick thoughts on Brizy vs Beaver Builder…
Brizy Advantages vs Beaver Builder
Better interface (in my opinion)
More design options
More flexible form builder
Global styling
Popup builder
Better templates
SaaS Brizy Cloud option
Much better free version
Lifetime license option
Beaver Builder Advantages vs Brizy
Better performance – more lightweight out of the box
More stable (less chance of encountering glitches or bugs)
Beaver Themer is more flexible than Brizy's theme builder
Third-party extension support
More generous pricing with unlimited site limits
40% renewal discount
Brizy vs Divi Builder
Here are some quick thoughts on Brizy vs Divi Builder…
Brizy Advantages vs Divi Builder
Better interface (in my opinion)
Popup builder
Free version
SaaS Brizy Cloud option
White labeling
Divi Builder Advantages vs Brizy
More intuitive theme builder (at least in my opinion)
Third-party extension support
Many more templates
More generous pricing with unlimited site limits
Comes in a theme and plugin version
Brizy Review FAQs
As we finish out our Brizy review, let's go over some common questions you might have about this plugin.
Is Brizy page builder free?
Brizy does have a free version at WordPress.org that gives you access to the core builder, but you'll need to pay for Brizy Pro to access all of the features and design elements.
Do you need a theme with Brizy?
It depends on how you build your site. If you're using Brizy to design individual posts and pages, you still need a theme. But if you use Brizy's theme builder, you can design every part of your site from scratch, which means you can completely replace your theme.
Can you use Brizy with WooCommerce?
Yes! Brizy works great with WooCommerce, and you can even use Brizy's theme builder to design your WooCommerce product page templates.
Which is better, Brizy or Elementor?
I think Brizy's interface/design experience is better than Elementor and Brizy is cheaper, but I think Elementor is a better all-around page builder plugin in pretty much every other area. That means it really just depends what you value the most.
Can you use Brizy and Elementor together?
You can technically use Brizy and Elementor together, but I really don't recommend it for performance reasons. It's much better to choose one builder and stick with it across your entire site.
What is Brizy Cloud?
Brizy Cloud is a SaaS hosted version of the Brizy builder. Instead of needing to create your own self-hosted WordPress install, you can just use Brizy to design pages/websites and not worry about hosting.
This can be great for simple websites or landing pages where you'll be using Brizy for everything. However, the downside is that you don't get access to the full flexibility of WordPress (e.g. you can't install your own themes and plugins).
Brizy Review: My Final Thoughts
Overall, I think that Brizy is definitely one of the best WordPress page builder plugins.
I love the way the Brizy team have approached the design experience and Brizy has one of my favorite interfaces of any page builder plugin.
It also includes all of the features that you'd expect from a top page builder plugin, including a theme builder and popup builder.
Other positives include a solid free version, a lifetime license option, and some unique cloud offerings with Brizy Sync (for templates) and the SaaS hosted Brizy Cloud service.
However, the downsides are that Brizy's performance could be a bit better* and Brizy doesn't have third-party extensions, which limits your flexibility as compared to other builders with large third-party extension marketplaces.
*Brizy is not any worse than the average page builder when it comes to performance. It's comparable to Elementor and Divi Builder, but heavier than Beaver Builder or Oxygen.
Additionally, while Brizy does include full theme building, I personally prefer the theme building features in other popular builders as they seem more flexible and intuitive to me.
If Brizy can do everything you need with its built-in features and you love the design experience (which I do), I think its positives outweigh its negatives for most people.
Just make sure to implement performance best practices to keep your site loading quickly. Using something like WP Rocket can help eliminate a lot of Brizy's weight by optimizing scripts and removing unnecessary CSS. You can learn more in our WP Rocket review.
If you're interested in some Brizy alternatives, the plugins that we discussed above are all great picks – Elementor (our review), Beaver Builder (our review), or Divi Builder (our review). I also think Oxygen is a good theme building alternative for advanced users.
Do you still have any questions about Brizy or our Brizy review? Let us know in the comments.