Running a site often means branding it properly. The idea is to reach every nook and cranny with your site's name, so that you're visible to potential customers. You can inch towards this goal by setting up an email address for your own domain name.
There are a surprising number of businesses that use third-party branding for email addresses, and this isn't the most optimal choice. The good news is it's not a hard task, and you can still use your favorite email client to boot.
In this post, we'll look at how to set up a dedicated email address for your domain. First, let's get into why this is a crucial element for your site.
Why You'd Want to Set Up a Dedicated Email Address for Your Domain
As we noted, branding is important for any site. You want potential visitors, readers, and customers to notice your branding wherever they see it. Lots of times, this is a visual element, such as a logo or specific stylistic aspect.

There's another element of your branding you may not have considered before: your email address. Think about the number of emails you send day to day, and what a johnsplumbing@gmail.com address says about you. In our opinion, it sends out the following messages:
You're not taking enough care in building your online presence.
You don't have well-rounded business sense, which tells a customer you may have neglected other areas of your business too.
You're positioning your email provider as the most important factor of your business. This might seem an extreme viewpoint, but it's one of the first things a user will see when you're contacting them.
You are making it harder for a user to find you, even if they don't know how to get in touch with you.
Let's give you a bit more insight into what we're talking about. In short, if your domain name doesn't feature in your email, it's a missed opportunity. It speaks for your vision as a business owner that you'll let Gmail, Outlook, Yahoo!, and others have prominent positioning in a primary branding area.
What's more, it doesn't make your email address unique to your business. Your email has an indirect air of being like other email addresses. On the whole, setting up an email address for your own website domain name is a way to make you stand out. It's an opportunity you should seize.
Hosting Your Emails (And Why Your Web Server Isn't the Best Choice)
There's an aspect of setting up a dedicated email address that warrants further discussion. Without custom branding, your emails will be hosted at one of the many different provides available. We've mentioned Google, Microsoft, and Yahoo!, and there are countless more.
When you switch to custom branding using your own website domain name, it would seem ideal to host emails on your server. After all, your site is hosted on the server, and if your emails end with the domain, they should too.
This, for all its base logic, isn't the best solution. Here's why:
While you could run this email through a more suitable Graphical User Interface (GUI), the other drawbacks don't make it viable.
Our advice is to use a dedicated provider for your email, and let them handle it. Your sanity and deliverability rates will thank you.
How to Choose the Right Username or Identity For Your Email Address
Before we get into the technical nature of setting up an email address for your own website domain name, let's give you some advice on choosing a suitable username. Of course, your domain name is set, so the username is where variety, uniqueness, and creativity come in.
You can set the username based on your business ethos. For example, if you're a serious and professional company, a simple info@mybusiness.com makes sense. In contrast, if you have a quirky element to how you present, hello@mybusiness.com would work.
Of course, these can be adapted based on your desires. For example, "hey", "contact", your name, and "inquiries" are all viable options.
Our advice is to keep things specific to a certain extent, and set up multiple email addresses for different tasks. For example, you could cover payments, support, sales, and more using dedicated emails.
With the advice we offer in the next section, you can route mail from each of these addresses to a central inbox, so there's no need for multiple accounts.
How to Set Up an Email Address for Your Own Website Domain Name
Next up, we'll get to the technical information on how to set up an email address for your own website domain name. Because there are myriad combinations of registrar, web host, and Content Delivery Network (CDN), we won't give you an exact process for one of them.
Instead, we'll offer the following steps:
Throughout, we'll highlight services that may be unique, or whether you may have a different experience with a certain combination of tools.
1. Set Up a New Email Address Using Your Domain
First off, you need to create an email address using your domain within your host, or with an email provider. With some hosts this is simple (or at least possible). With managed hosting providers such as Kinsta, WP Engine, and others, there's no way to create email accounts and addresses with them.
This is because of the security and performance aspects we discussed earlier. It's functionality some hosts stay away from, preferring to leave it to the experts.
cPanel
If you're with a host that uses cPanel (such as A2 Hosting, Bluehost, InMotion Hosting, and others), there's often a way to create email addresses from the dashboard.
You'll find this within the Email Accounts screen within cPanel:

This brings you to another screen that lets you create the email account. It's straightforward, and completes much like any other registration form: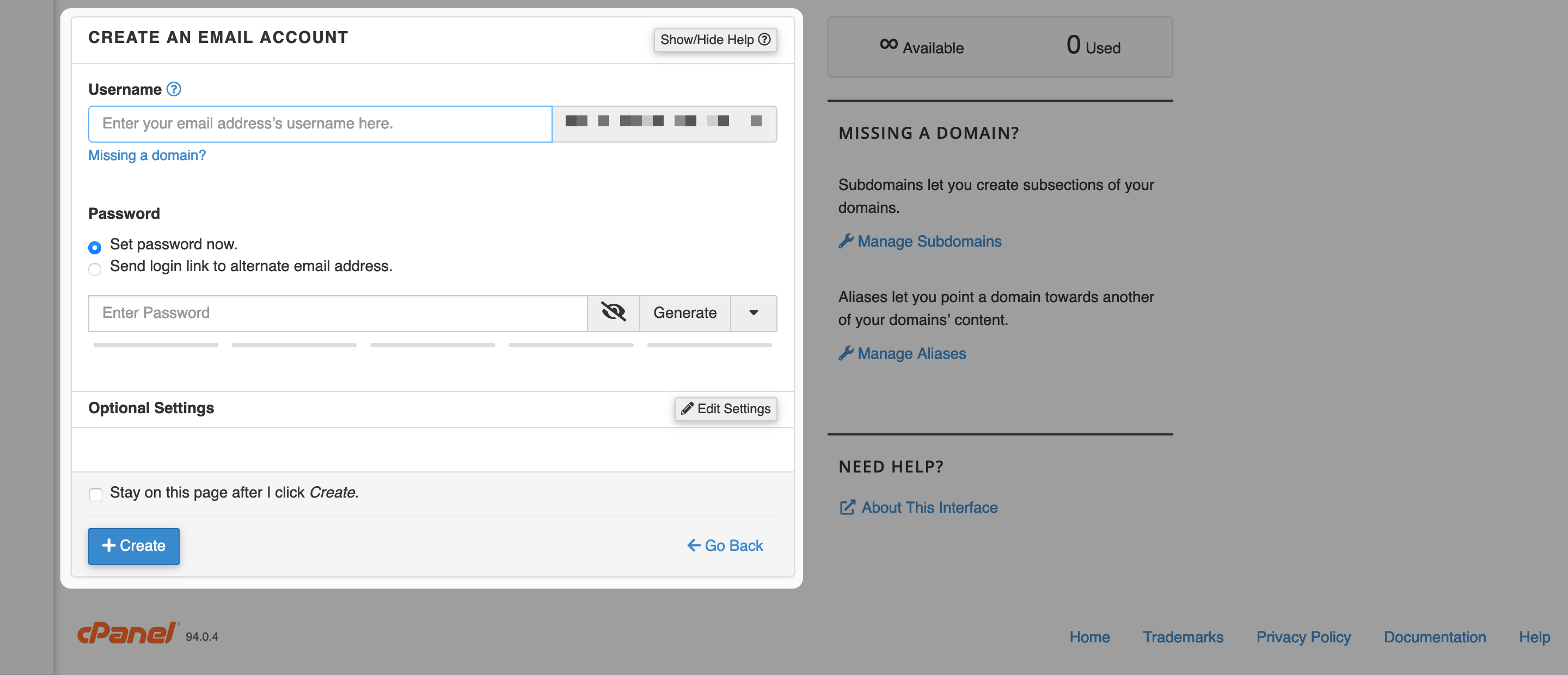 Once you save your changes, the email account will have been created. Though, you won't yet be able to send email to your new address. For that, you'll need to head to the next step.
Email Providers
To confuse matters, you can also set up your custom email with a dedicated email provider, which makes lots of sense seeing as you're using the platform. For example, a premium ProtonMail account lets you create email addresses from its Domains screen:

For a provider known for its ease of setup and use, Google Workforce has a convoluted process that involves:
Registering as a premium user.
Adding a code snippet to your website for verification purposes.
Creating new aliases for other email addresses.
Once you've created your email addresses and aliases, you need to make sure emails get to you. This involves working with your 'MX records'.
2. Change Your Mail Exchanger (MX) Records to Point to Your Domain Name
Getting email into your inbox involves a few moving parts:
A domain name hosted with a registrar.
Depending on your approach, your host may be involved.
Your email provider needs to know about your domain.
On top of this, you may also need to link a Content Delivery Network (CDN) and an email marketing platform to your email address too.
As we noted, this can become complex. In a nutshell, you need to work with the platform you registered your domain name to, and tell wherever your new email account was created. To do this, you'll use MX records.
The ins and outs of this (and other aspects such as 'CNAME' and 'A records') are beyond the scope of this article. Still, you don't need expert knowledge in order to use them.
Before we get into changing your MX records, we're offering the same caveat we mentioned earlier. There are a number of approaches you could take, so you'll need to discuss any specifics with your registrar and/or host.
Under normal circumstances, we've found a host to be more forthcoming with advice about setting up email, so try there first. Some hosts such as Kinsta even give you quick functionality to change Google-specific MX records, so it's worth carrying out some research.
When it comes to the process, you'll find it easier to start with your email account host. For cPanel users with Google accounts, there's a dedicated Google MX Wizard, with three steps to getting set up: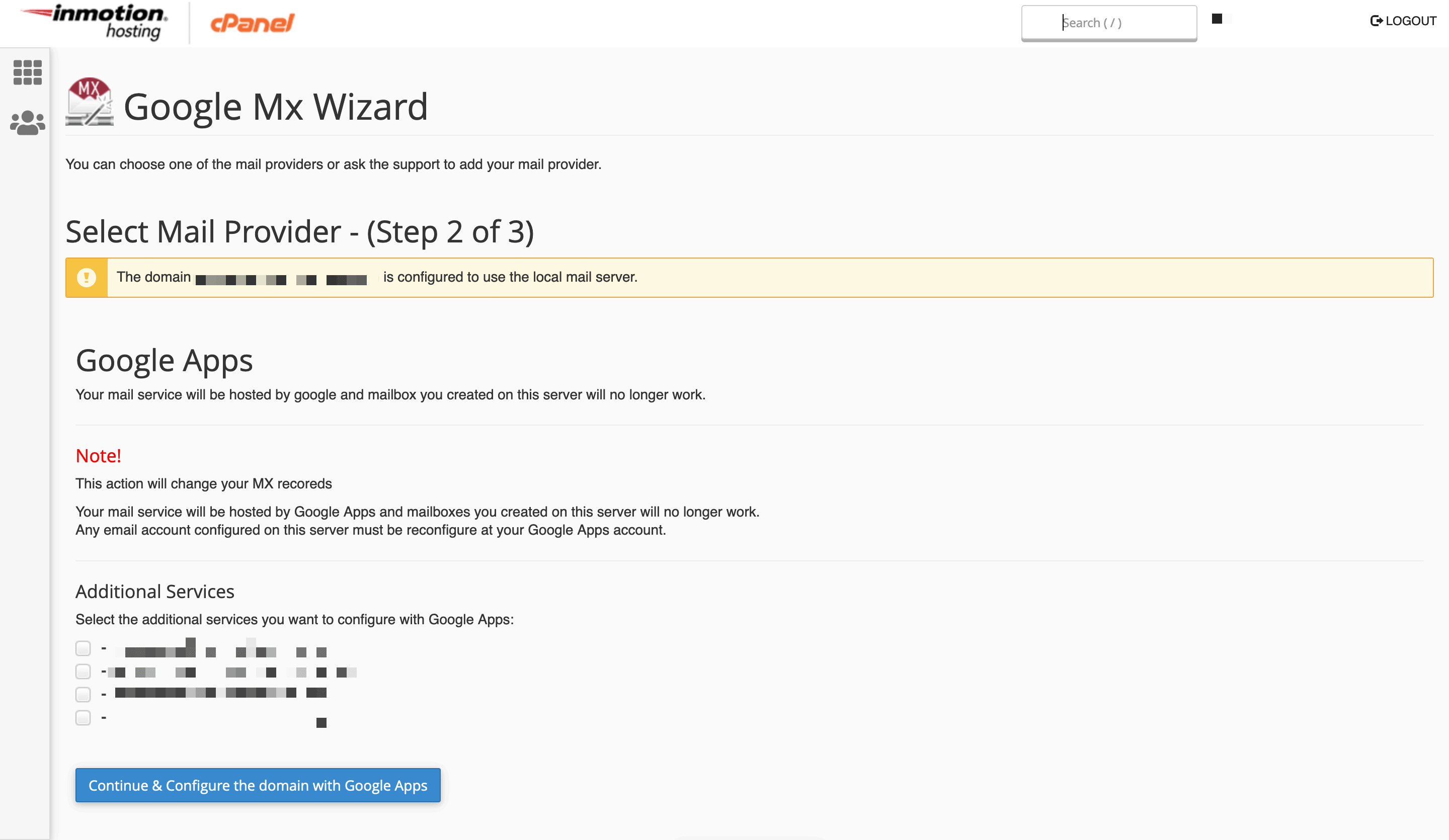 For other email providers, you'll want to use the cPanel Zone Editor to work with MX records:

In short, you take the MX records from your email provider, and enter them into either your domain registrar's control panel, or your web host's Domain Name Server (DNS) settings. Under most circumstances, your email provider will give you those details: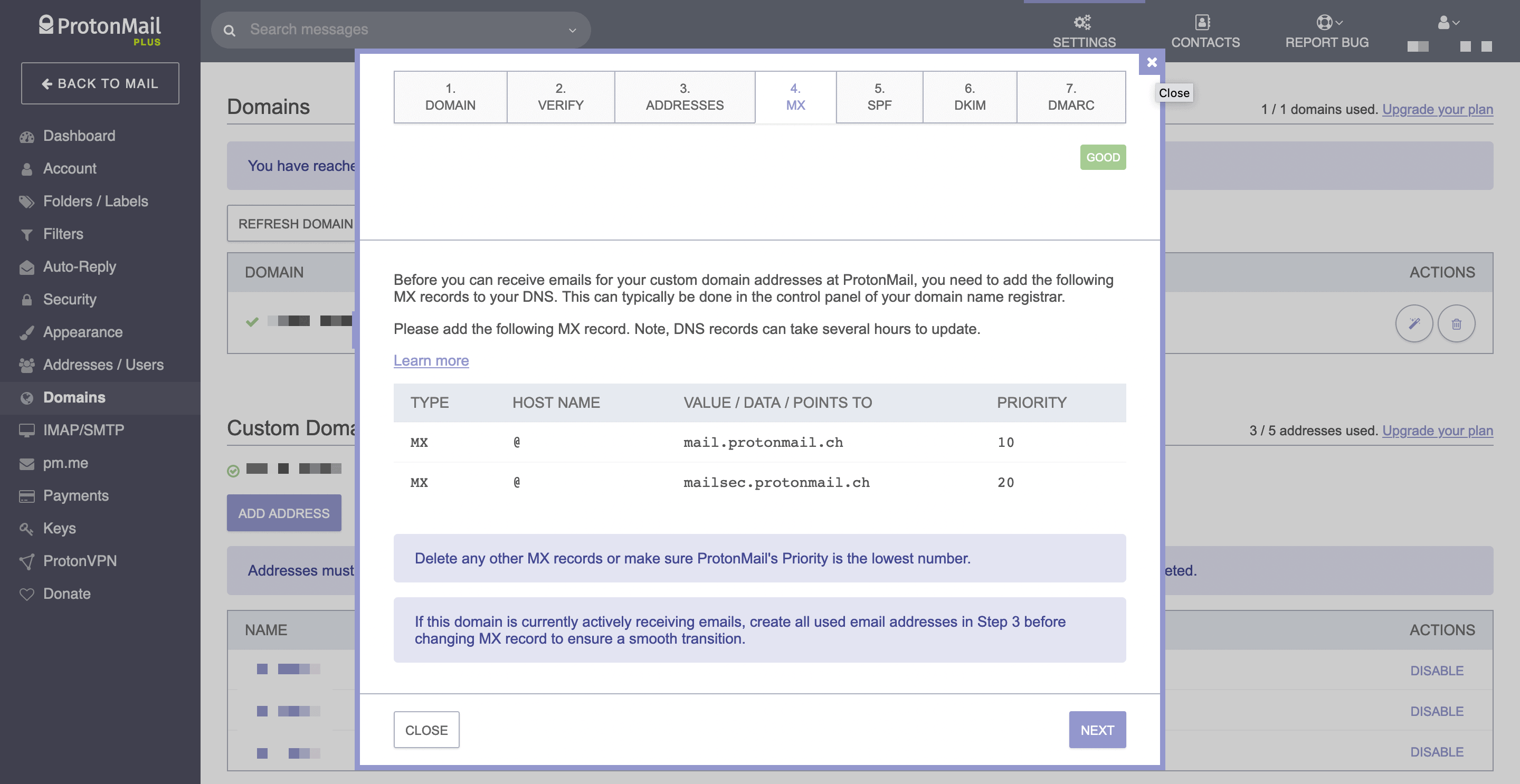 From there, head to your host and enter the details into the relevant fields:

Once you save your changes, you'll need to wait for everything to populate and connect. At this point, send yourself a test email. It could be that you still need to wait, and there will be some trial and error involved.
3. Connect to Your Chosen Email Client
Once you've created an email address and changed your MX records, that's most of the job complete. Though, you may not want to use your email provider's platform for managing email.
Depending on your setup, you'll also want to use a dedicated email client as a better-functioning front end for your inbox. A lot of times, this is going to be a personal preference, although in some cases you're restricted in what you can use.
For Google Workforce customers, there's a lot of choice. The native mail front end is functional and does the job well. Though, solutions such as Microsoft Outlook, Thunderbird, Airmail, and Front are all great depending on your needs: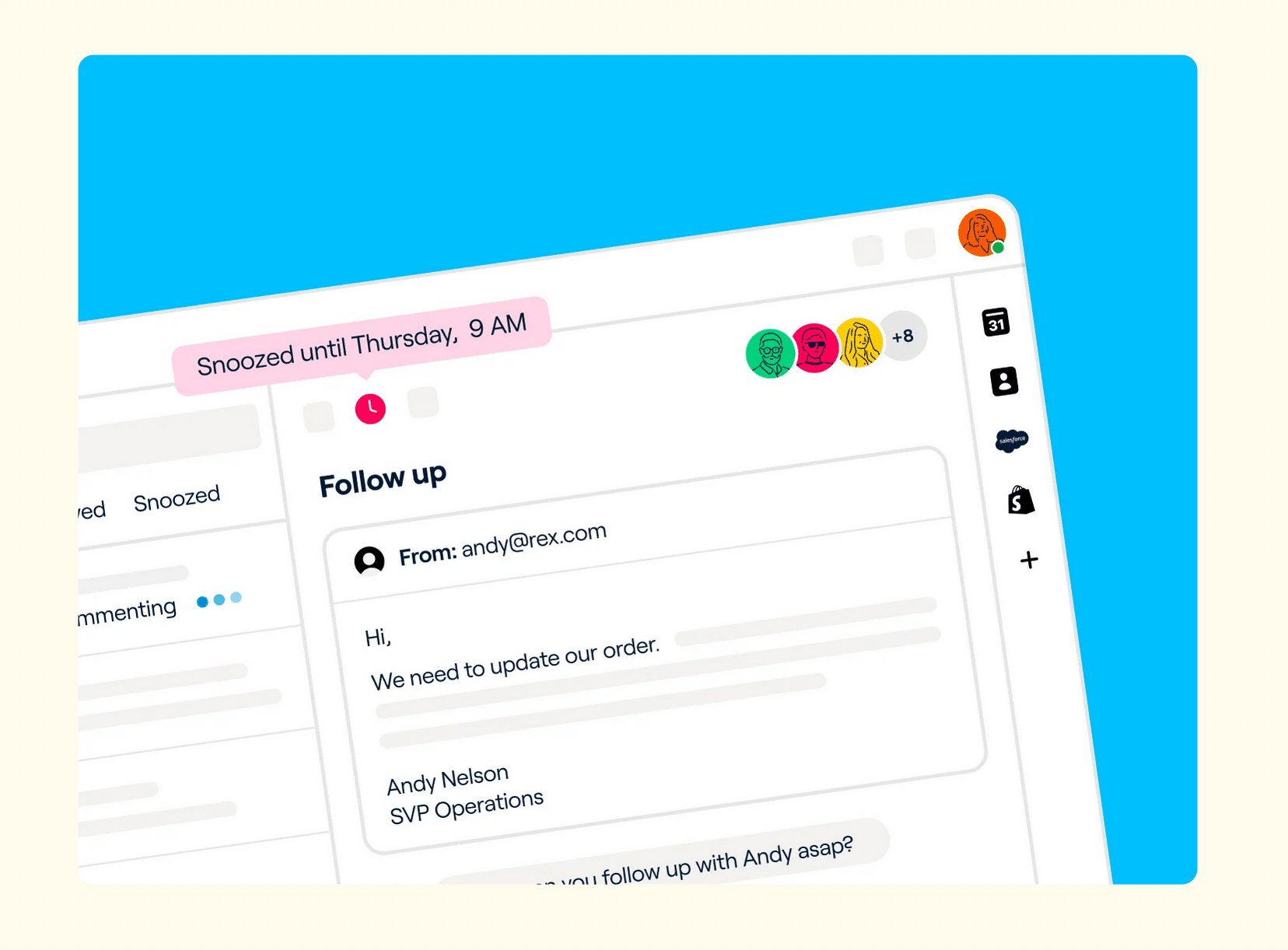 When it comes to connecting your emails and your front end client, you'll need to use another protocol – IMAP – and further settings. For this, you'll want to take a look at your email provider's documentation, as the specific settings and how to apply them vary between services.
Wrapping Up
Business is an exercise in branding yourself. Papering almost every part of your path with your site's name, logo, and color scheme makes sense if you want to win new business. Your email address is 'front-line infantry' when it comes to visibility and branding.
This post has looked at how set an email address for your domain name. here are the steps you'll need to take:
Set up the email address with your web host, domain registrar, or both. You could also do this direct with your email provider if it provides the option.
Edit your MX records in your web host, domain registrar, or CDN to make sure mail gets to you.
Connect to your email client of choice and grab a celebratory drink!
Do you use an unbranded email address, and if so, has this article made you think differently about it? Share your thoughts in the comments section below!