Courses provide a wonderful way for you to grow your business' revenue as well as your email list by providing value to your audience in a way that's instructive and easy to follow. You can do this by offering fully-fledged courses to potentially earn tens of thousands of dollars in revenue or by simply using a free mini course as a lead magnet to attract new subscribers for your email list.
No matter why you want to create a course, LearnPress can help you build it in WordPress. LearnPress is a free learning management system (LMS) plugin offered by ThimPress. It essentially allows you to turn your website, or at least part of your website, into an online school similar to Udemy, Teachable, and similar platforms. We're going to take a look at this plugin and go over the basics of using it.
How to Use LearnPress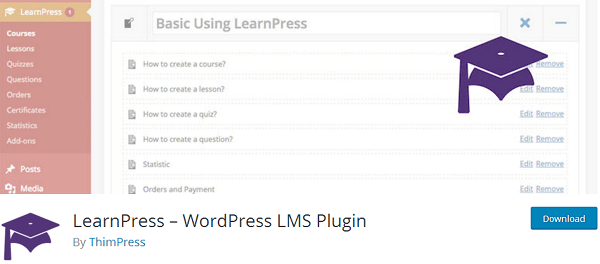 Let's go through the steps of learning how to use LearnPress, starting with the installation and configuration process.
Step 1: Installing & Configuring LearnPress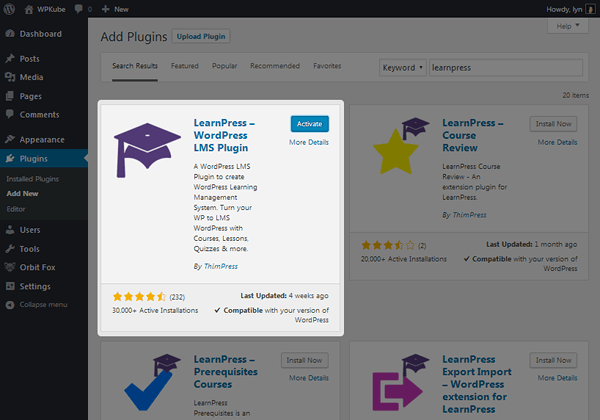 Like I said, LearnPress is available in the WordPress plugin repo, so simply search for it to install and activate it. You'll notice a number of additional LearnPress plugins here as well. These are all offered by ThimPress, and they act as free add-ons you can use to extend the functionality of your school.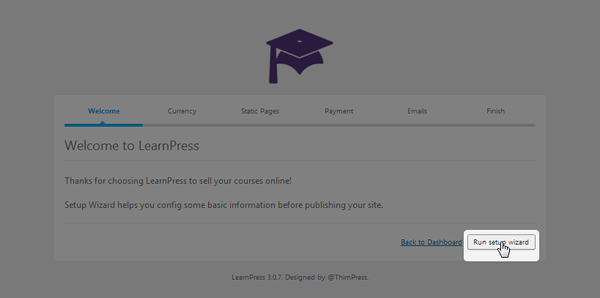 You'll be directed to the plugin's setup wizard upon activation. Click Run Setup Wizard and complete these steps. You can skip any step using the Skip to Next Step button in the bottom, left-hand corner:
Configure your currency settings based on the type of currency your prices will be available in and the way you want prices displayed.
Create the pages you'll need for your school. All of the pages the setup wizard wants you to create are optional. You should, however, create a Courses page and Checkout page at the very least. The Profile page can be useful for users (students) while the Become a Teacher page isn't needed unless you want to create a website similar to Udemy where you host courses for other instructors.
Enable PayPal and enter your PayPal email address if you'd like to use it as a payment method. ThimPress also offers premium add-ons for such additional payment gateways as Stripe, Authorize.net and 2Checkout.
Enable LearnPress' email system in the next step. This system helps you communicate with your students. Admittedly, email marketing is one of the biggest drawbacks of this plugin due to their lack of support for email marketing service providers. A workaround many LearnPress customers use is purchasing the Paid Memberships Pro add-on and integrating Paid Memberships Pro with their email marketing service provider.
Choose a finishing step. I chose to create a course so we can get straight to this point in the tutorial. Feel free to configure a few miscellaneous settings by going back to the dashboard.
Step 2: Creating a Course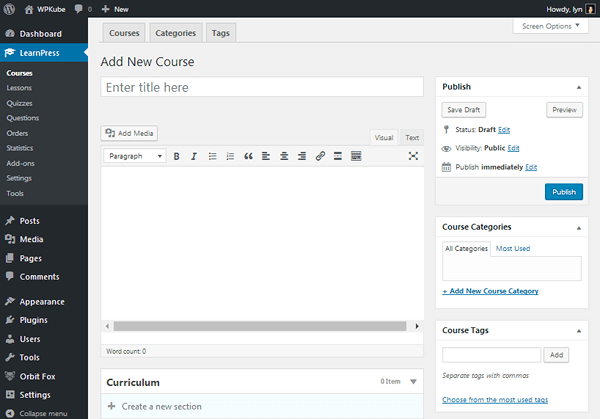 The first thing you'll notice is how similar, or practically identical, the LearnPress course editor is to the WordPress editor. This gives the tool an edge over platforms like Teachable and Udemy because it uses a UI you're already familiar with.
Start by giving your course a title and description just as you would if you were writing a blog post.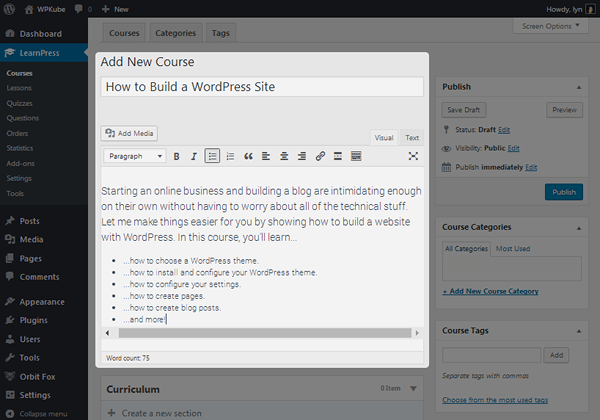 A few additional items that are similar to the way blog posts work are the Save as Draft/Publish features, which you can use to control the blog's status, and the taxonomies. You can build a structure in your school by assigning your courses to categories and assigning tags to courses. Here's a screenshot of how my course page looks using the Hestia theme: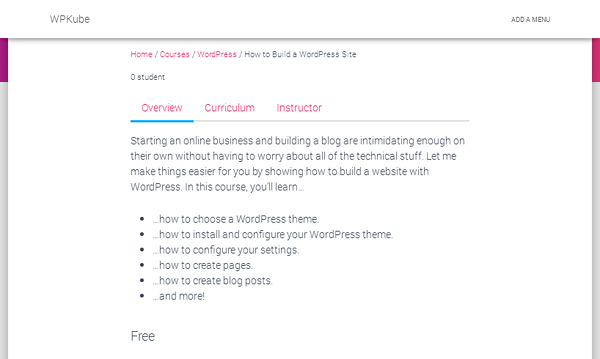 Let's go over how to add curriculum to your course.
Step 3: Creating Your First Lesson
You can break your course down into sections and split those sections up into lessons. Start by creating your first section, such as an introduction that welcomes students to the course and explains how to use the course software.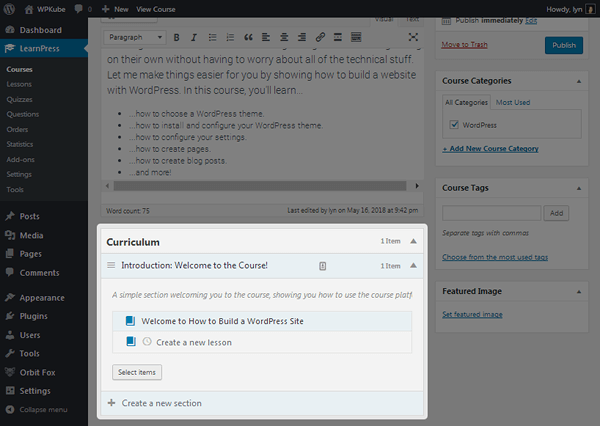 Be sure to give your section a description (the gray text in the screenshot above). One or two brief sentences will suffice. After that, you can start adding lessons to your section, which are the modules that have a blue book icon associated with them. You can make a lesson hidden, edit it or remove it entirely. Here's what the Edit screen for lessons looks like since this is where you'll be spending the majority of your time adding content to the course.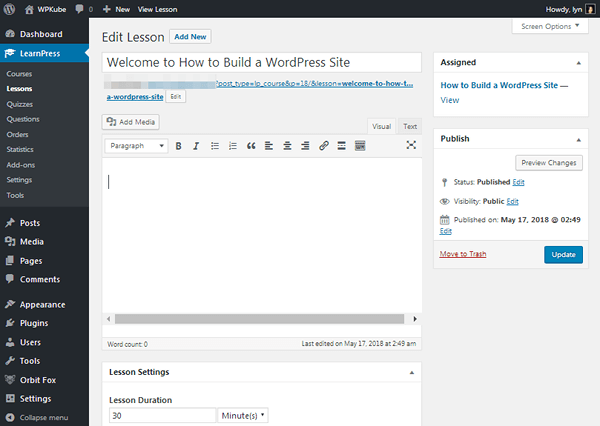 The preview function is an interesting feature. It allows users to view a lesson without needing to purchase or opt-in to a course. This is a sales technique used by many online instructors as it allows users to gain access to a free lesson, or "free sample" if you will, which may further encourage them to buy. It's great seeing such a feature offered in a free LMS tool.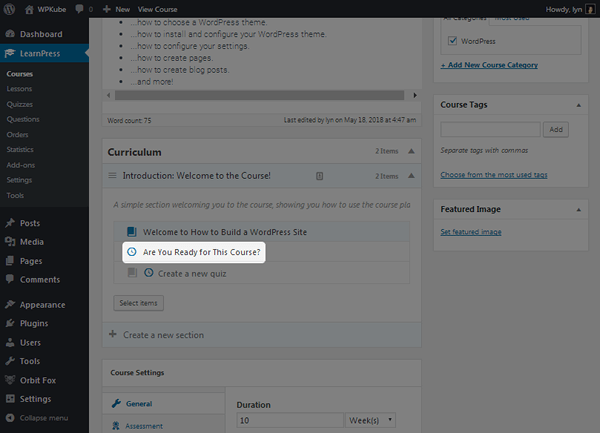 Alternatively, you can use the clock icon to add a quiz to your section, the Edit page of which has a number of different settings for you to configure. Elements include the typical WordPress editor you can use to add a description to your quiz, a module that allows you to add questions in True/False, Multiple Choice or Single Choice formats, and several settings that affect the way your student will interact with the quiz.
What Do Students See?
Again, I'm using the Hestia theme for these examples, so your course pages will look a little different. I've already shown you how the course sales page looks with this plugin, so let's change things up and look at the Courses page instead.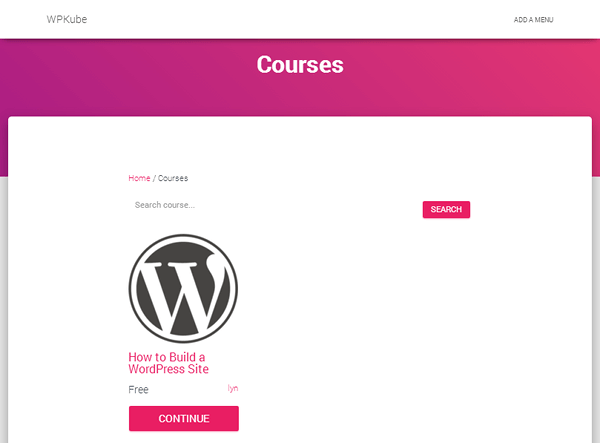 You can add a featured image to your course just as you can to a blog post. When you do, that image will be used to represent that particular course on your Courses page, which you can clearly see in the screenshot above. You'll also notice there's a search element visitors can use to find courses on specific topics easily. Lastly, you can see this page displays elements for your course's price, instructor and buy button, the latter of which, unfortunately, I did not see a setting that allows you to change.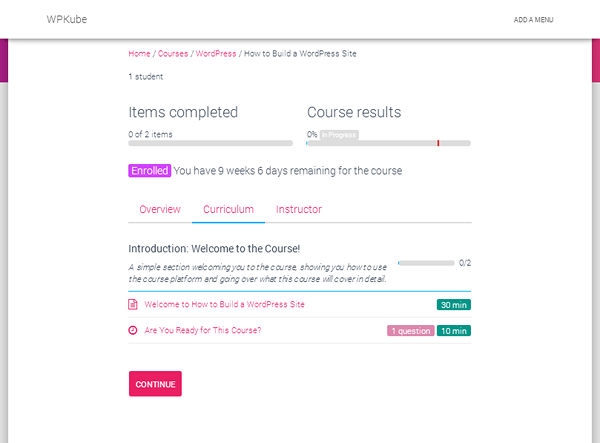 Here's what your student will see after they've enrolled. Again, your course will look different depending on the theme you use, the content you've added and the settings you've configured.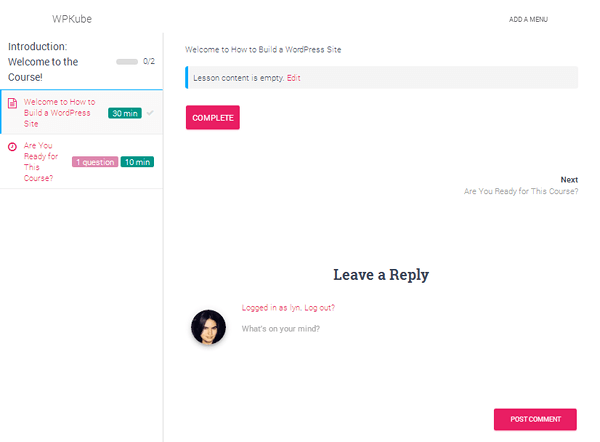 Here's the inside of the course, which doesn't look half bad with Hestia. Your students can mark lessons complete when they're ready to move on to the next section or post comments (if you have them enabled) in case they have questions. It may be more productive to create a forum, however, and fortunately, ThimPress offers a bbPress integration free of charge.
Premium Themes & Add-Ons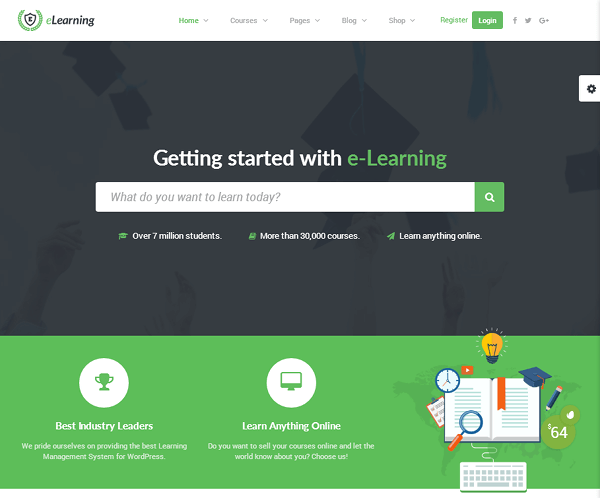 The LearnPress plugin itself is entirely free. There's no premium version of it. The closest thing that comes to a premium version of the plugin are the premium bundles it offers, which are available at $249.99. They either come with every add-on ThimPress offers for LearnPress or add-ons plus a premium theme. One important feature they come with is forum support at ThimPress.com.
The company offers 24 premium themes for LearnPress, some of which are multipurpose while others are designed for specific niches. Regular prices for themes are $129, but sales are available periodically. As for add-ons, a few free ones you can use include the ones previously mentioned, an integration with BuddyPress, a wishlist students can use to track the courses they want to buy at a later date, a "Coming Soon" feature and more.
Aside from integrations for various payment gateways, premium add-ons include a gradebook feature, a content-drip feature, support for WooCommerce and more.
Final Thoughts
LearnPress is a powerful plugin that comes with a lot of features free of charge. It provides an incredibly easy way to turn your website, or a subdomain/subdirectory on your website, into an online school. This is made even better by the fact that it uses the WordPress editor and metaboxes you're already familiar with, negating the need for you to learn an entirely new platform. Plus, your customers will likely feel more comfortable purchasing a course hosted on the same site that hosts your blog.
The only major drawbacks I can think of are the lack of support for email marketing service providers, the inability to change a few features (the buy button, for instance) as well as the lack of a proper premium version of the plugin. Add-ons and themes are great, but some customers would likely prefer to purchase a premium license that comes with premium support outside of WordPress.org.
If you're interested in LMS when it comes to WordPress, check out a few additional posts we've written in the past: