Do you want more email subscribers? Not just any old ones, but actual qualified subscribers who are genuinely interested in your emails.
Of course you do!
The key to growing your email list is using your existing content. If your content provides valuable information to your audience, why not use it to capture more emails?
And the best way of doing this is by using lead magnets known as content upgrades.
What is a Content Upgrade?
A content upgrade – or lead magnet – is a bribe that's found within your content. The beauty of this is your lead magnet will be content-relevant, making a reader much more likely to click on your link.
Having an optin offer that directly relates to what your audience is currently reading will work wonders for your conversion rate.
There are no hard and fast rules when it comes to content upgrades, but they should:
Upgrade or enhance your content. Your offer doesn't have to be better than your content, it just has to add value for it to be effective.
Be placed throughout your post. If you only place your offer at the very end of your post, you may be missing out on a lot of opportunities.
Clearly state what you want your reader to do. Keep it concise and on the shorter side.
Here's an example of a content upgrade. In a post about building a freelance writing portfolio, directly after listing a handful of sites that accept guest contributors, readers will find this: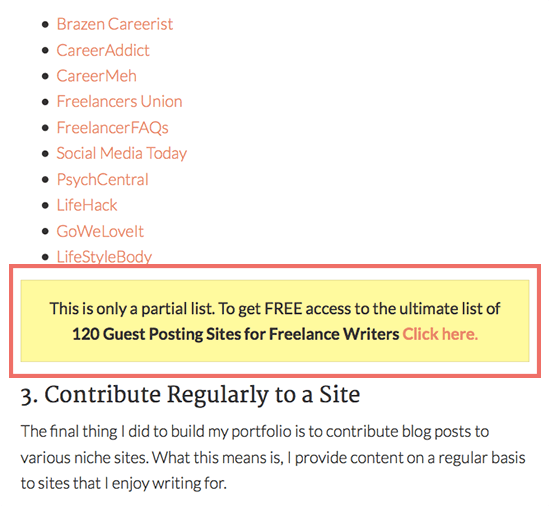 It's a given the reader is already interested in this content because they are reading the original blog post, and the offer is relevant. Also, providing a partial list on the blog post can elevate a reader's curiosity and make them want to get access to the complete list.
Placing this form in the middle of the post, rather than off in the sidebar, significantly increases the signup rate to your list. According to Brian Dean of Backlinko, it can turn your conversion rate from %.54 to %4.82.
How Do You Use a Content Upgrade?
You might have hundreds of blog posts on your site, so how do you pick which blog post to use a content upgrade on?
When choosing a blog post, make sure:
It gets a lot of traffic. Use Google Analytics to view which post yields the highest amount of traffic.
Your content upgrade adds more value to the original post. You may notice in the comments section visitors wanting more tips or a condensed version of the top tools you mentioned in your post. You could also expand on your post by giving visitors more of the same thing in an easy to view PDF.
Content upgrades like this are not hard to create. In fact, all they take is a WordPress plugin. Let's look at some of the best and what they offer.
Leads by SumoMe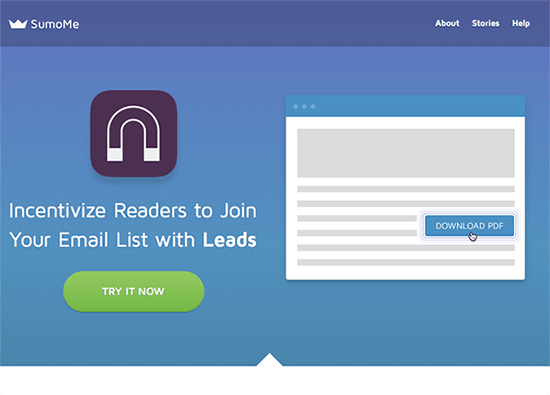 SumoMe is a company that puts out free and paid tools to help you grow your website traffic. From apps like list builders to heat maps, SumoMe has just about everything you may need.
But we're focusing on their Leads app today.
Leads did a comparison between placing your optin in the middle of your content and placing it on the sidebar, using Facebook as an example.
No one really pays much attention to the ads on the right-hand side of the page. Everyone focuses on the feed, so naturally, ads placed in the middle of the updates convert much better. This is what Leads does. It lets you create ads in the form of a content upgrade that will convert much better than any sidebar widget.
Leads makes it super easy to install a form anywhere in your content. By simply clicking a button, you can add an optin wherever you like.
They even allow you to copy and paste content and an image into their converter tool and turn it into a PDF for you. It's a super easy way to create and distribute an optin that gets results.
Features:
Creates and hosts PDFs for you. They can take your content and turn it into a PDF version for you.
One-click form installation. You can easily add a content upgrade on any page on your site.
One-click email integration. They also allow you to integrate your lead generator quickly with your current autoresponder. Email services they currently pair with include GetResponse, MailChimp, and more.
Pricing:
Leads by SumoMe offers four different payment levels starting with a free account for beginners. The Starter plan is $10/month and the Pro plan is $100/month. They also offer an unlimited plan for those who generate traffic in the millions.
OptinMonster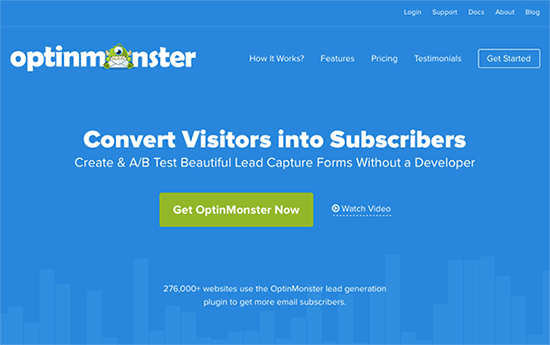 OptinMonster claims they have "everything you need to grow your email list." They use a 2-step optin that lets users join your list with just one click. All users have to do is click on a link or image and then fill out your optin form.
Created by the founder of the site WP Beginner and the creator of the plugin Soliloquy, OptinMonster really knows its way around a WordPress site.
Since its inception, OptinMonster has gone from a plugin to, recently, a SaaS application allowing you to manage all your forms from one location. This approach is not only compatible with WordPress sites, but it can also be used with sites using a CMS other than WordPress – or even static HTML sites.
Let's look at more of OptinMonster's features.
Features:
Allows you to create your own forms easily in minutes. They have a drag and drop builder to make it easy for you.
Helps you snag emails from visitors who are abandoning your site.
Offers page targeting based on your readers' behavior, bringing you even better results.
Allows you to split test your forms easily to see what works best.
Offers a mobile-specific add-on for those who want to increase their conversion rate with mobile viewers.
Pricing:
Pricing for OptinMonster starts at $49/year for those just starting out, up to $199/year for everything you may need to grow your website fast.
Thrive Leads
Thrive Themes offers a whole slew of themes and plugins geared toward helping your site convert visitors into subscribers. The Thrive Leads plugin is one of WP Kube's top picks for mailing list plugins.
Thrive Leads implements content upgrades in the form of WordPress shortcodes, but you can also create popups, sliding forms, sidebar widgets and more.
They provide many professional-looking templates that can be customized even more to your liking. Change up the font, colors, images, etc. to make your forms really stand out on your site.
Creating and customizing the forms is a breeze, and Thrive Leads make it even easier for you by sprinkling videos within their interface in case you need a little extra help.
Once your forms are created, you can pick which blog posts, pages, tags, etc. you want them displayed on. Here are some more great features of this plugin:
Features:
Uses a drag and drop editor anyone can use.
Offers split testing to help you see what's working and increase your conversions.
Gives users reports and insights of the most important metrics.
Offers more than just content upgrade optins. They also have popups, sliding forms, sidebar widgets and more.
Pricing:
Thrive Leads starts at $59 for a single site license. If you need the plugin for an unlimited number of sites, they offer that plan for $97.
Optin Lock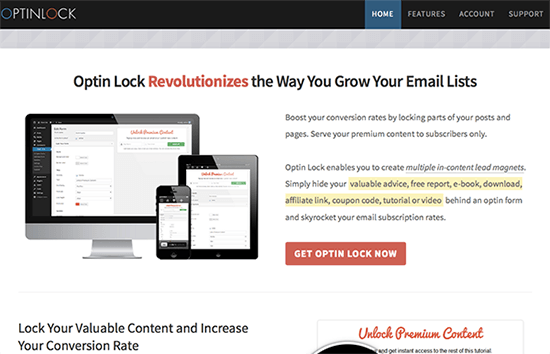 Optin Lock works a little different from the other content upgrades. It enables you to lock premium parts of your posts or pages and offer them only to those who subscribe. Sort of like an exclusive members only club for your website.
And there's no restriction on the type of content you can use this plugin to lock.
After registering your site, you can choose from any of Optin Lock's premade designs to start creating your locking form. You can customize these forms too, by changing up the colors, font, header, description, buttons and just about every aspect of the form.
Since the form uses a WordPress editor, you can also add images, audio or video if you choose to.
Features:
Gives you the unique ability to lock part of your content and offer it only to new email subscribers.
Still provides the option to create optin forms with locking.
Offers responsive designs that work well on mobile devices.
Gives users an unlimited number of campaigns.
Offers statistics to let you know how your campaigns are doing.
Pricing:
The basic account starts at $49 a year and is good for one website. If you need Optin Lock on multiple websites, the Plus Plan allows you 3 websites for $99 a year or the Pro Plan gives you unlimited websites for $199 a year.
LeadPages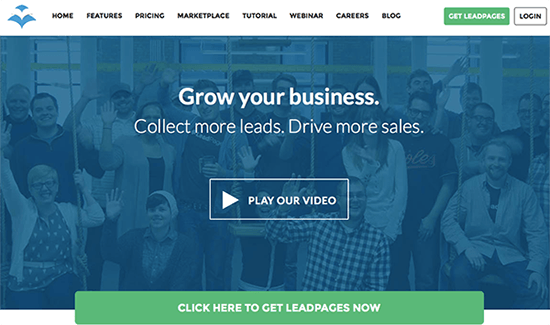 LeadPages is actually billed as the Internet's easiest landing page builder. It's a great solution for creating simple, yet super effective landing pages that actually convert.
But we're not talking about landing pages right now.
LeadPages also offers a product called LeadBoxes, a window that pops up when a reader clicks on a link, image or button. Here's some more info on this feature.
LeadBoxes can be customized to take readers to your email optin, making them the perfect tool for gathering email subscribers. Besides in-content boxes, you can also use this feature to create clickable popups, timed popups and exit popups.
Boxes are easy to create allowing you to quickly customize the font, background color, style, or text. There's also an option to integrate an analytics service of your choice for better tracking.
Features:
Easily installs anywhere you can use HTML.
Allows you to customize your popups to appear after a set amount of time.
Offers easy-to-use templates with drag and drop set up.
Comes with built-in
Can integrate with GoToWebinar to easily sign up subscribers to your webinar.
All plans come with 30-day money back guarantee.
Pricing:
Plans start at $37/month, with up to 40% off if you pay annually and an even heftier discount if you pay for 2 years at a time.
Picking a Plugin That's Right for You
You have quite a few options here, and each of them works well for what they do. To select a plugin, consider your own website's needs and what each plugin has to offer.
If you're looking for a hosted plugin, you can't go wrong with either OptinMontser or LeadPages. On the other hand, if you prefer something that you can host yourself, Optin Lock is strictly for a self-hosted WordPress install.
Go ahead and test your results, see what works and what doesn't, and make changes where necessary.
Over to you – which content upgrade is your number one choice for boosting your email list?