Getting your site's visitors to desire and buy your products and services is of course key to a successful business. As such, there are a lot of tools available to capture this 'passing trade'. One argument that crops up is whether you should opt for ClickFunnels vs Systeme. Both have vocal users and good functionality.
While price can be a prominent factor in your decision, it's not the be-all and end-all. How the apps 'feel' is just as important. Of course, no solution worth its salt would also go under-equipped to handle the needs of a strong sales funnel.
In this post, we're going to compare ClickFunnels vs Systeme to see which one deserves your money. We'll compare them across four key areas and help you choose the right funnel builder for you.
ClickFunnels vs Systeme: Introducing Both Solutions
Before we get into the head-to-head, lets give you some background on ClickFunnels and Systeme. They're 'sales funnel builders'. In other words, they let you develop and piece together a sales or marketing funnel from a centralized dashboard. This often uses landing pages, contact forms, and payment gateways to push users through the funnel.
Of course, a sales funnel is important for any site that sells products. Winning business follows a familiar pattern of targeting unqualified users, making them desire your products, and converting them into paying customers.
Businesses that can do this earn more money. As such, having a way to repeat a winning formula is the holy grail for any company. This leads lots of site owners to look into dedicated tools to help them. ClickFunnels vs Systeme is a popular comparison. Let's find out why.
Introducing ClickFunnels
First up, we have the arguable leader of marketing funnel builders, ClickFunnels. It's a giant in the field, and has a user base in the six-figure region:

It has a distinctive look – much like stock photography or even some aspects of WordPress, you'll know a sales funnel designed in the ClickFunnels way when you see it: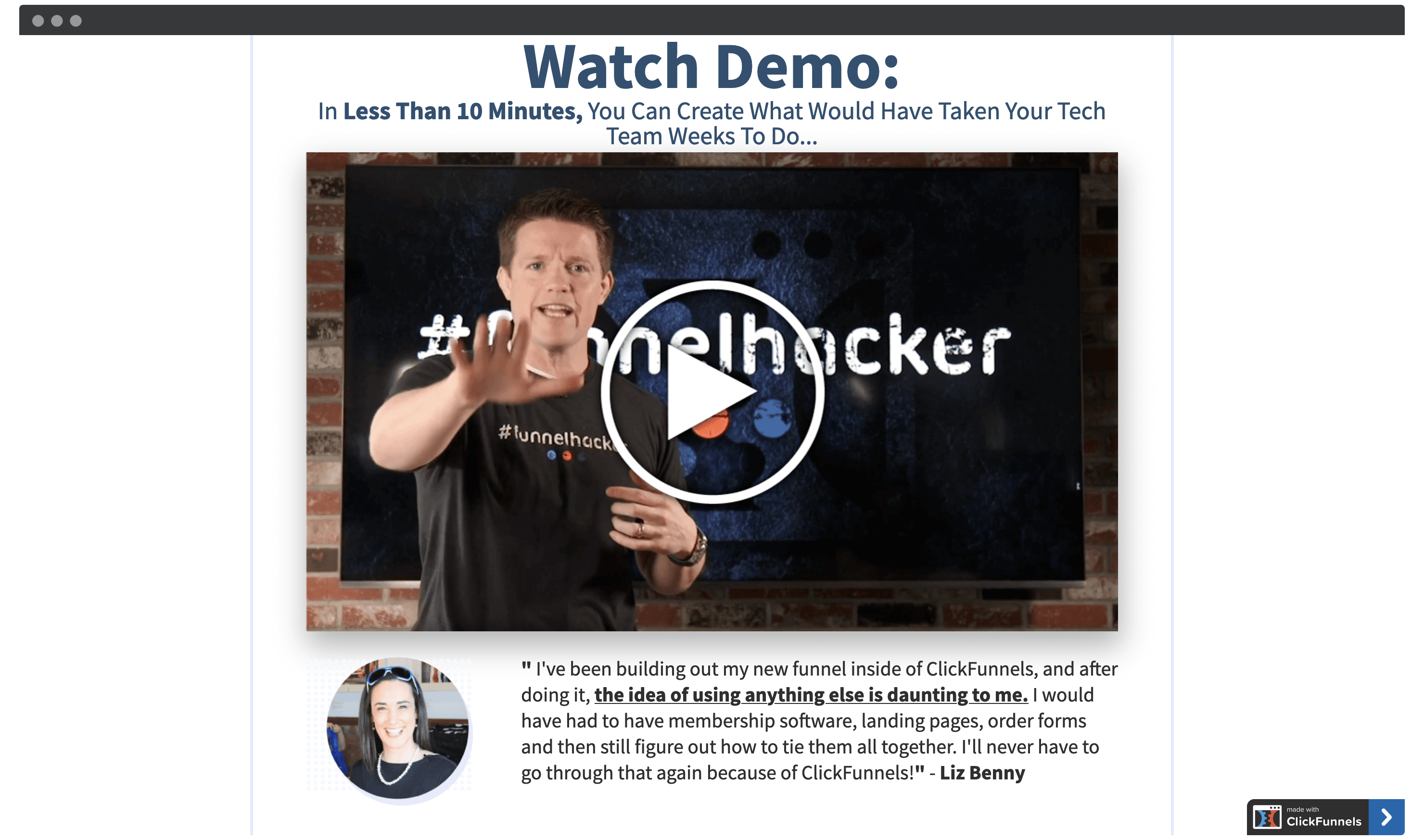 The website itself is full of lengthy copy at huge sizes, testimonial videos, explainer videos, and showcase videos of young 'pumped' entrepreneurs getting to work. Honestly? It all has the vibe of an infomercial, and it can be tiring to take in.
Still, it's a successful formula, and many site owners are using ClickFunnels successfully. This is in part down to what's 'in the box':
You can quickly build smart marketing funnels using the built-in Etison Editor.
On higher tiers there's a funnel builder designed to reconnect with users who 'leak' (i.e. leave) your funnel.
A way to set up and manage a robust affiliate program for your products or services.
There's plenty more to talk about, but we'll do this in more detail later. For now, let's take a look at Systeme.
Introducing Systeme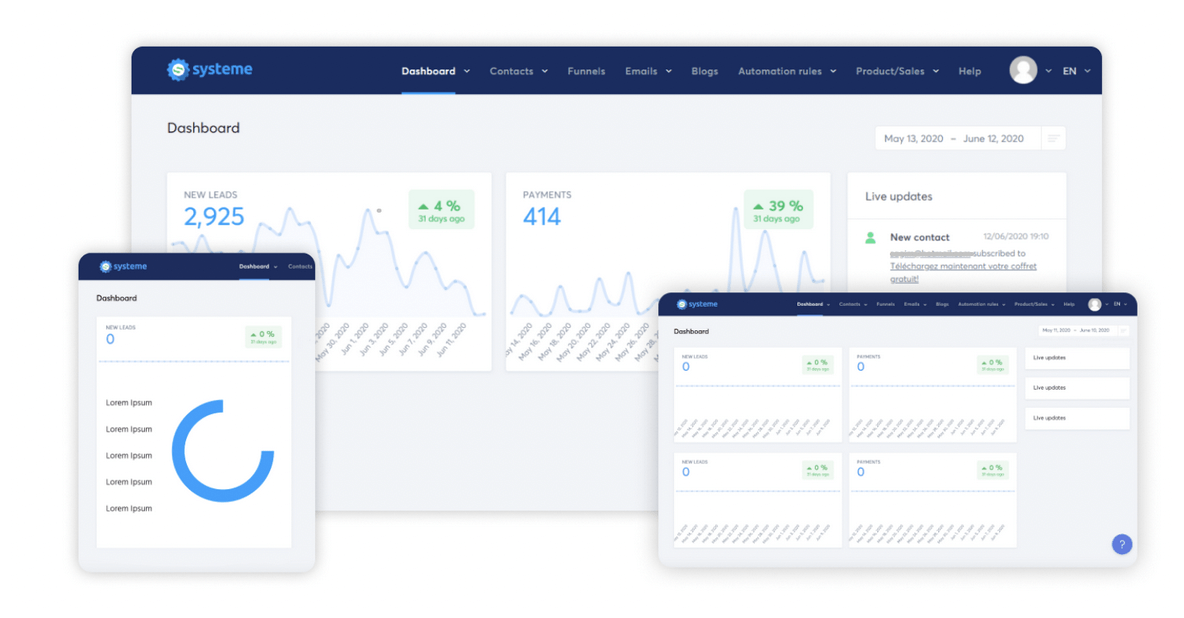 If you read the WPKube blog, you'll know we've reviewed the platform recently. It's a sales and marketing funnel builder, and comes with a boatload of features:
Robust contact management.
A drag-and-drop page builder for creating your landing pages.
A custom funnel builder, again using drag-and-drop functionality.
Content marketing tools to help you promote your business.
If you're sensing some similarities so far in this ClickFunnels vs Systeme review, you'd be right. Systeme notes ClickFunnels as its main competitor, and practically everything it offers is a response to a feature found in ClickFunnels.
Even so, it's wrong to consider Systeme to be a ClickFunnels 'wannabe'. Our earlier review pointed out a few areas where Systeme did a better job than ClickFunnels. To give you more details, keep reading!
ClickFunnels vs Systeme: A Head-to-Head Comparison (In 4 Key Areas)
Throughout the next few sections, we'll compare ClickFunnels vs Systeme on four areas we think are important:
Also, in order to test both solutions, we're going to open accounts with both. However, we're also going to pull from our previous Systeme review. It was originally conducted only a couple of weeks before this comparison, so the features are the same for the most part.
1. Ease of Use
To kick things off, let's talk about how straightforward it is to use both tools.
On first impressions, ClickFunnels has a good-looking dashboard. It's full of the things you'll want to see on a daily basis. For example, there are sales figures, statistics on your earnings, affiliate information, and more: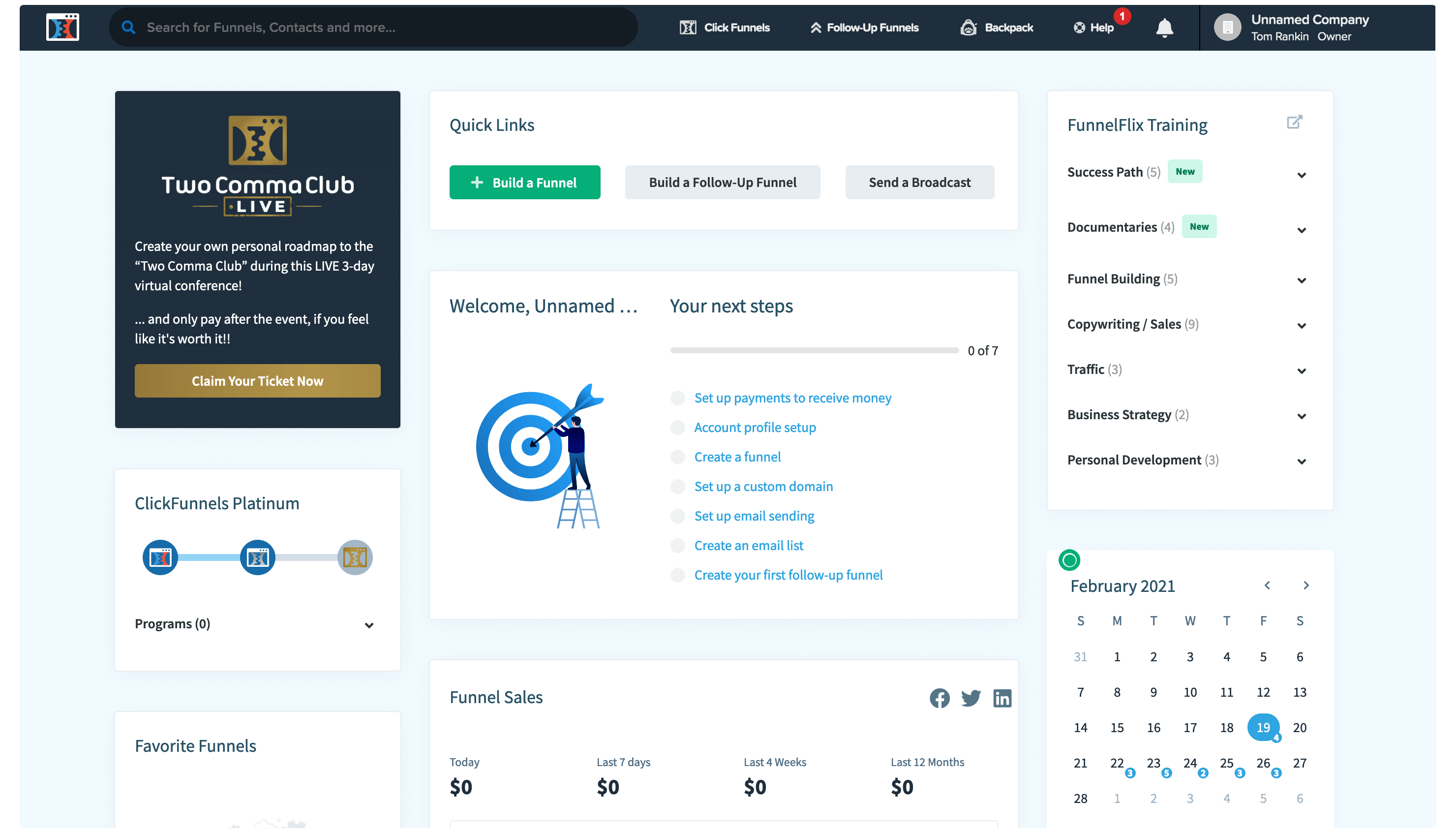 One thing that ClickFunnels has nailed is 'holding the hand' of the user as they use the platform. Front and center, you can see a bunch of quick links and checklists to help you take action: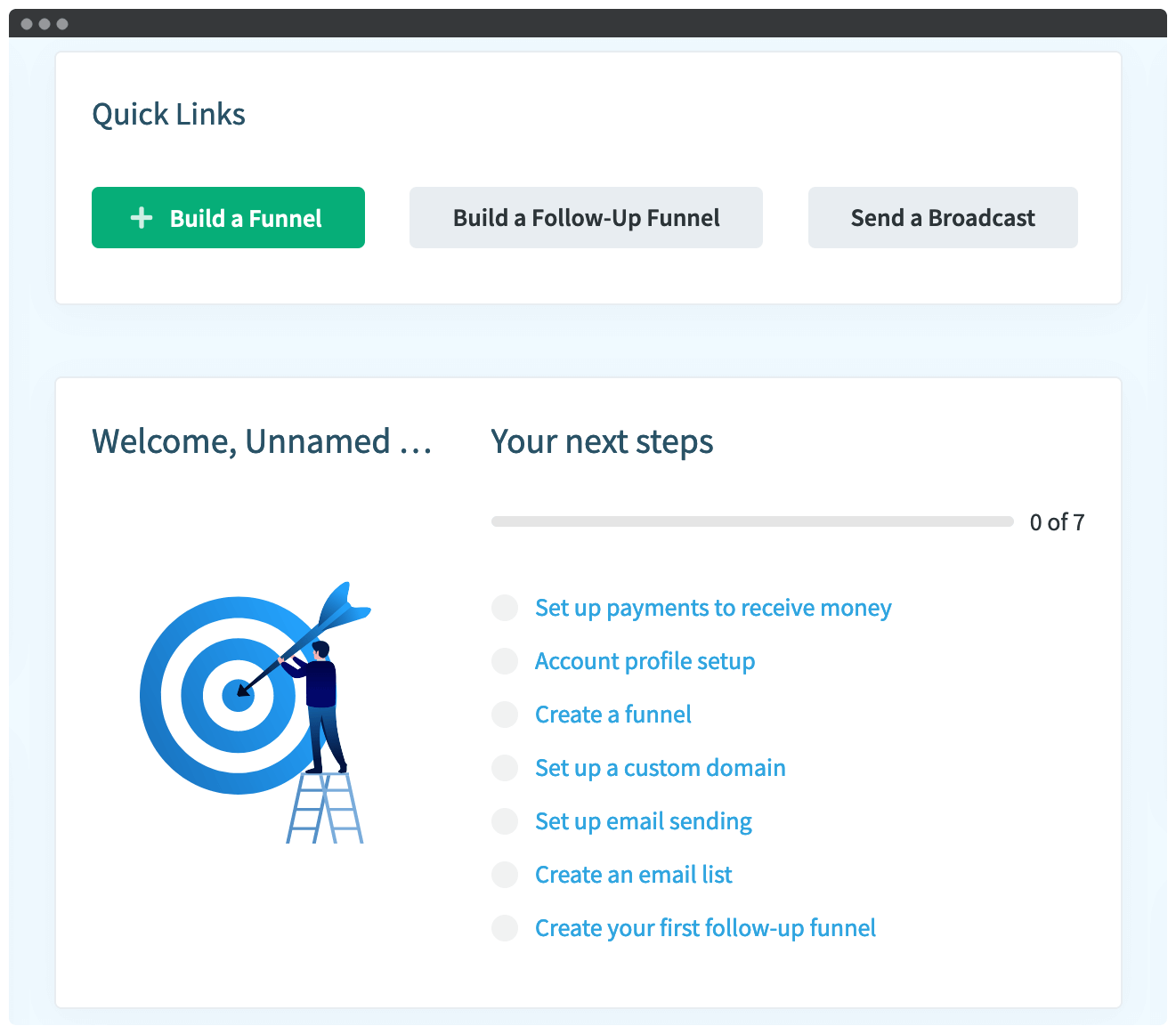 When you get into building a funnel, the process is clear and defined: Choose a goal, pick a type of funnel, and build it.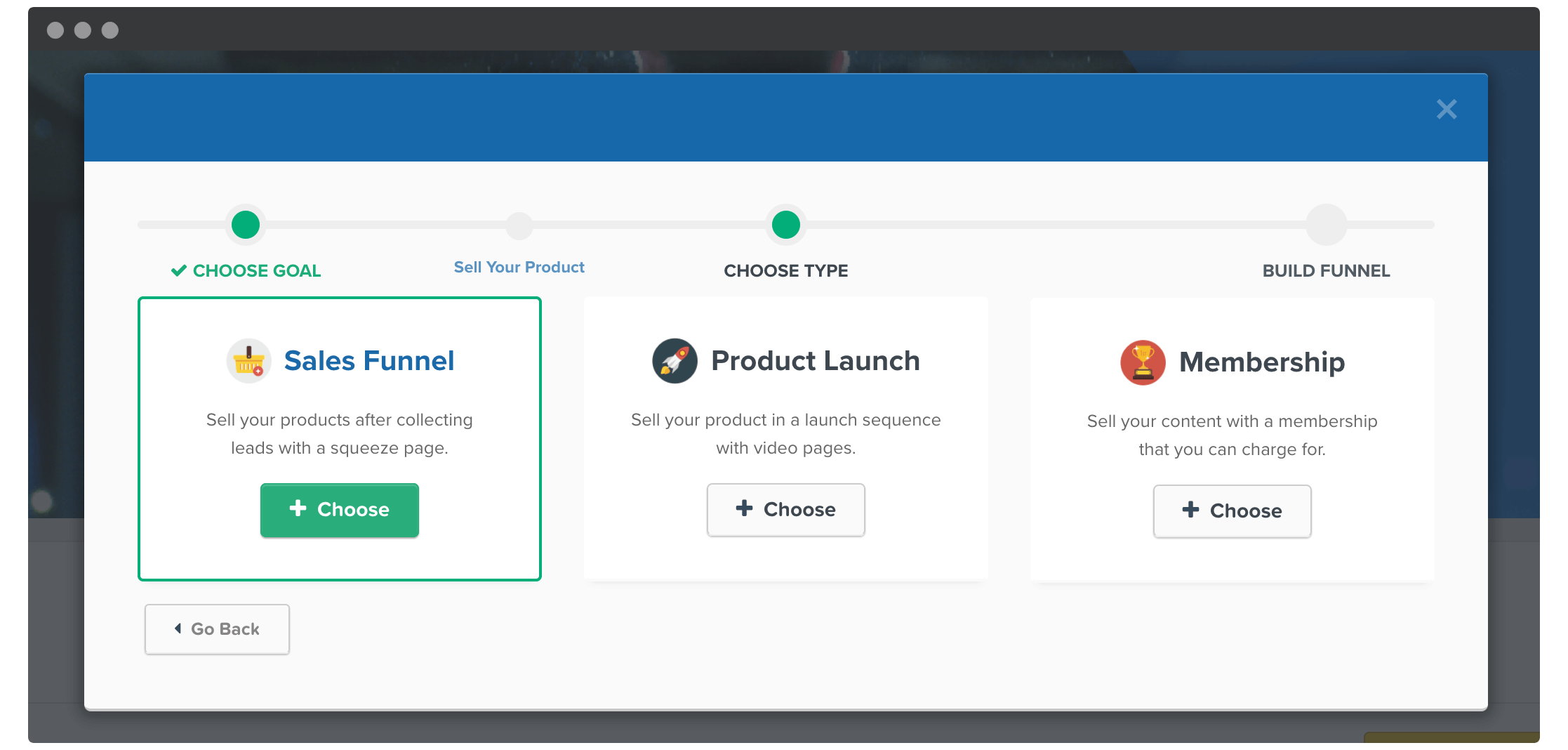 The funnel editor packs in a lot of features, but it's clearly laid out, and we like how there's launch checklist and a list of funnel steps in the sidebar: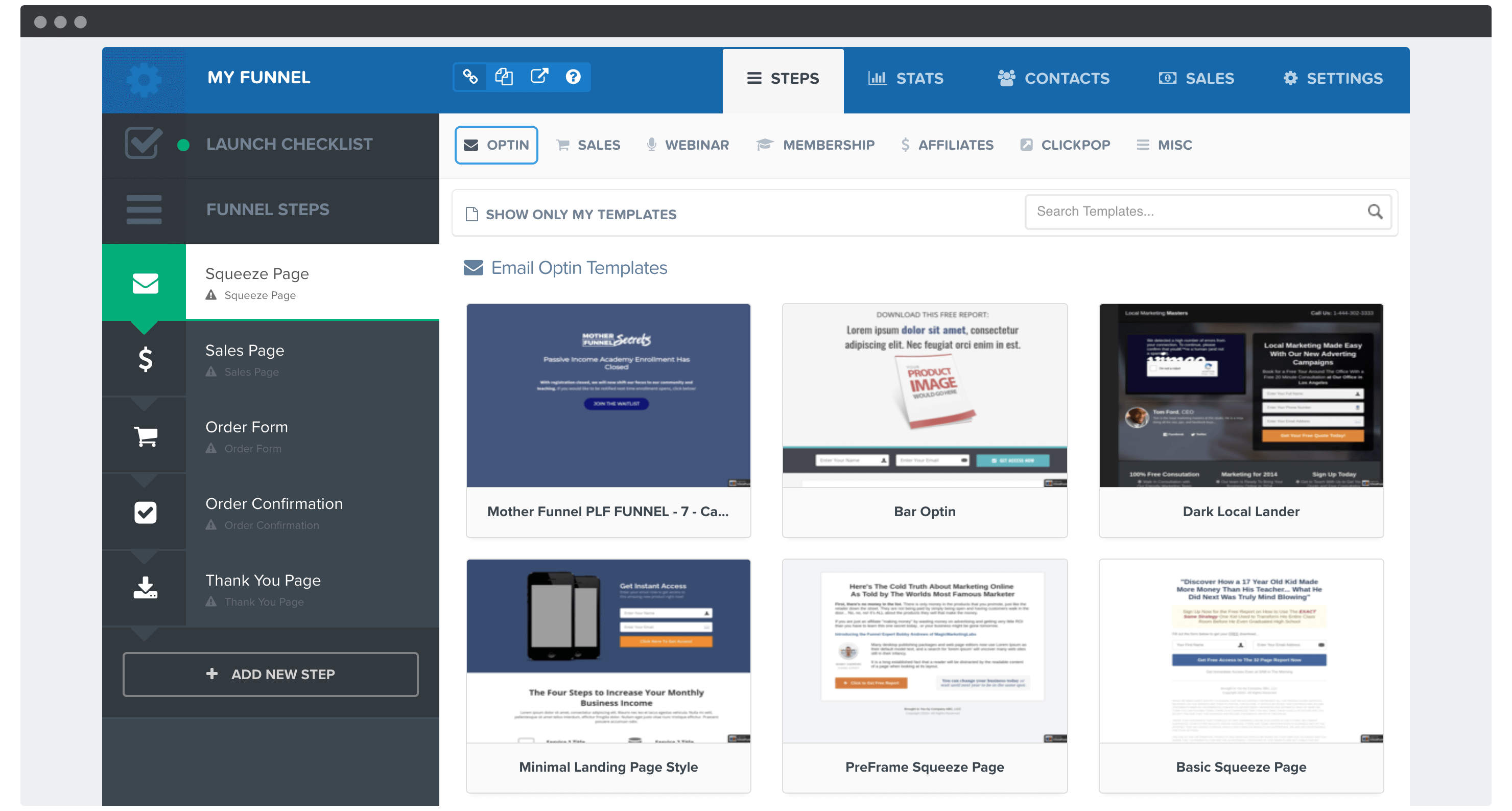 Of course, Systeme is obviously centered around building sales funnels too. As such, the process is simple to understand, and a breeze to use.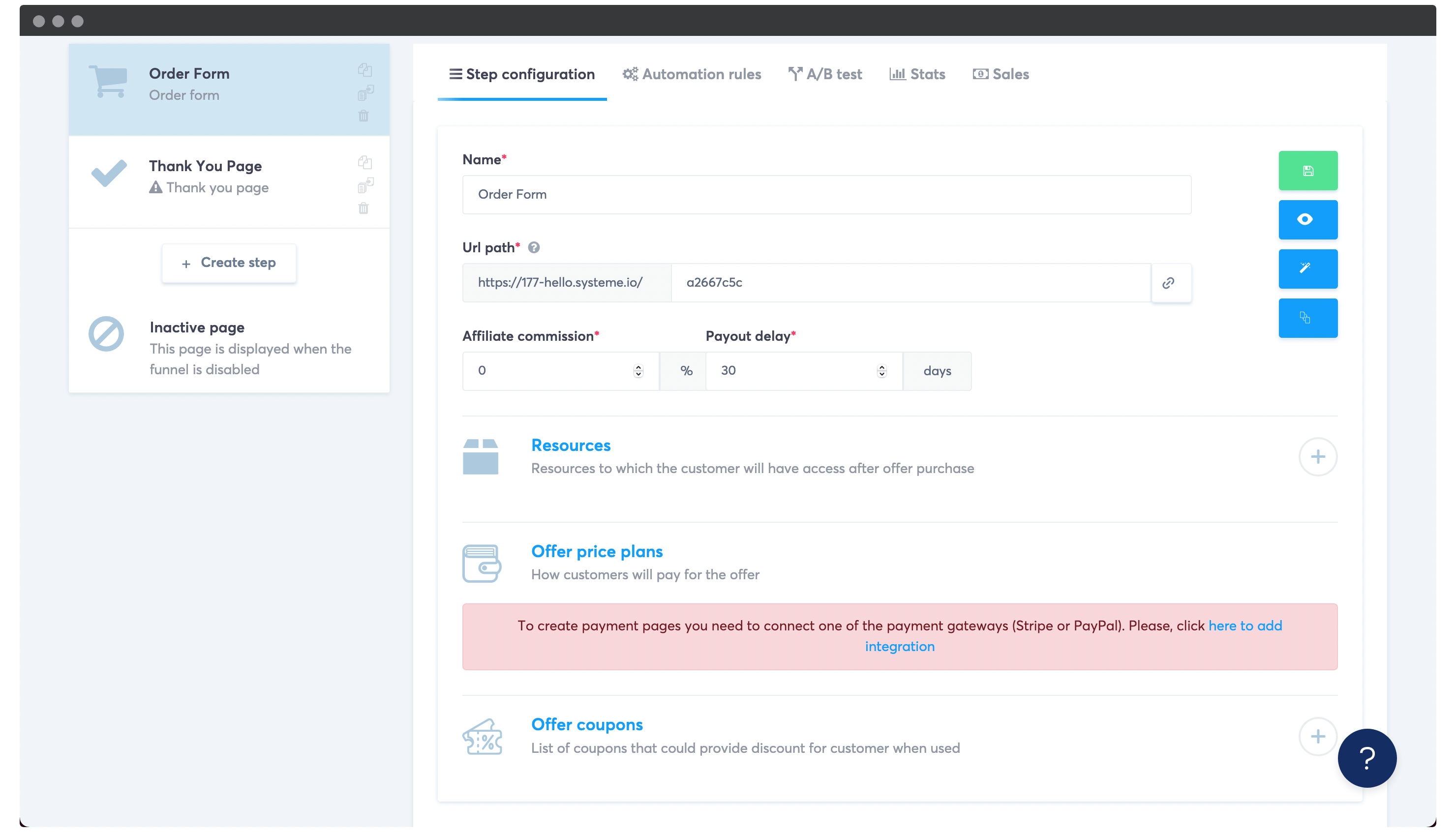 The User Interface (UI) is nice and clean, which means Systeme is nice-looking 'at-a-glance'. It feels as though you're given everything you need, and nothing more. In addition, you're not going to feel overwhelmed with the power at your fingertips.
If we're being picky, we'd say Systeme is a touch bare when it comes to the layout of each page. However, as we'll come onto, this is no indication of missing features.
Winner: ClickFunnels.
2. Depth of Features and Functionality
While we don't want to destroy the magic, building a sales funnel only has a certain number of steps. The whole package is more important, and ClickFunnels includes a lot out of the box.
The main offerings are the funnel builder, and the 'Follow Up Funnels'. This is billed as a way to reconnect with dropouts from 'leaky' funnels. In other words, you can market to users who didn't buy. The difference here is that there's less hand holding to get things set up: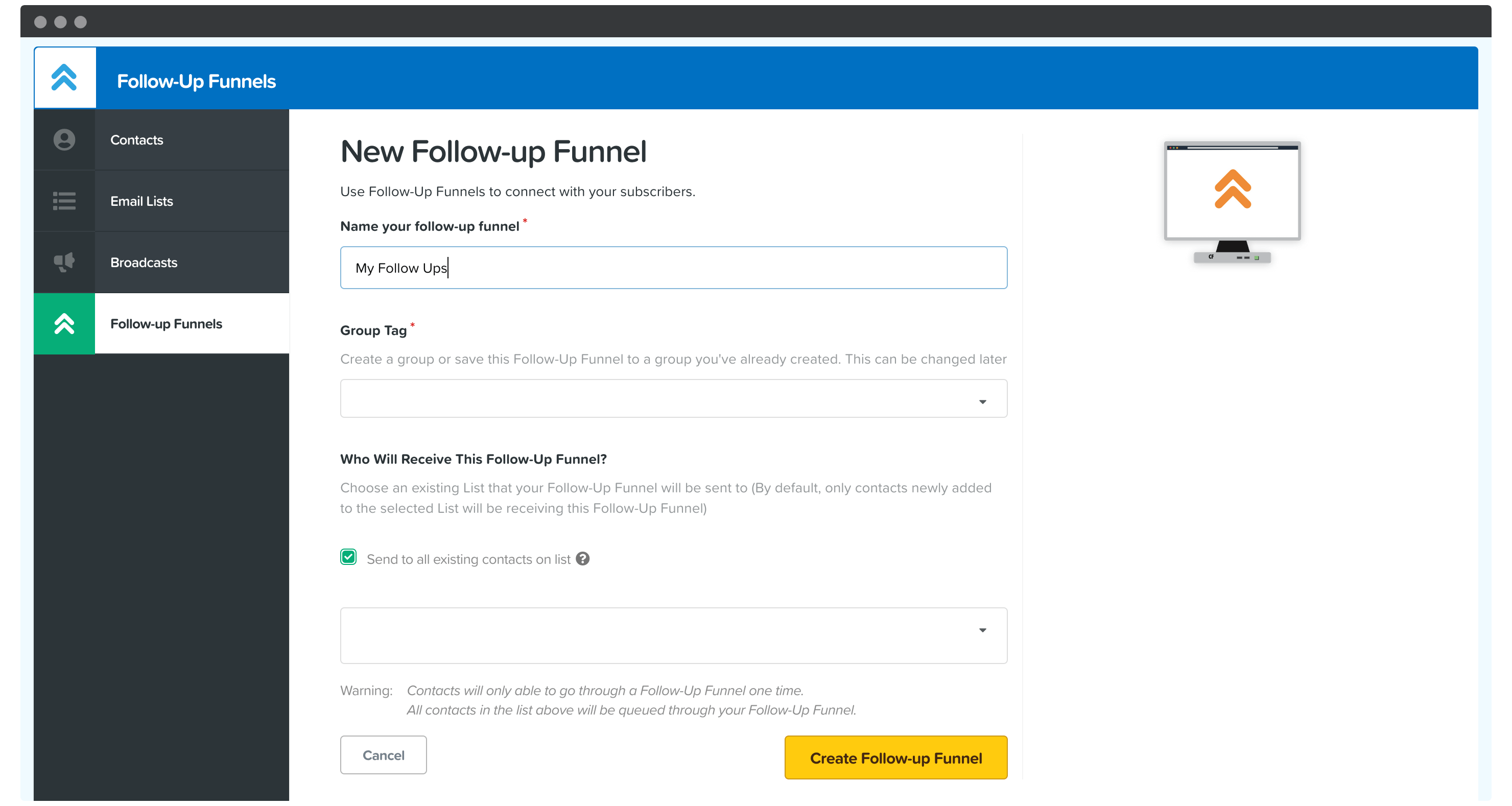 Though, there are a wealth of options for creating steps, along with a lot of integrations with various platforms: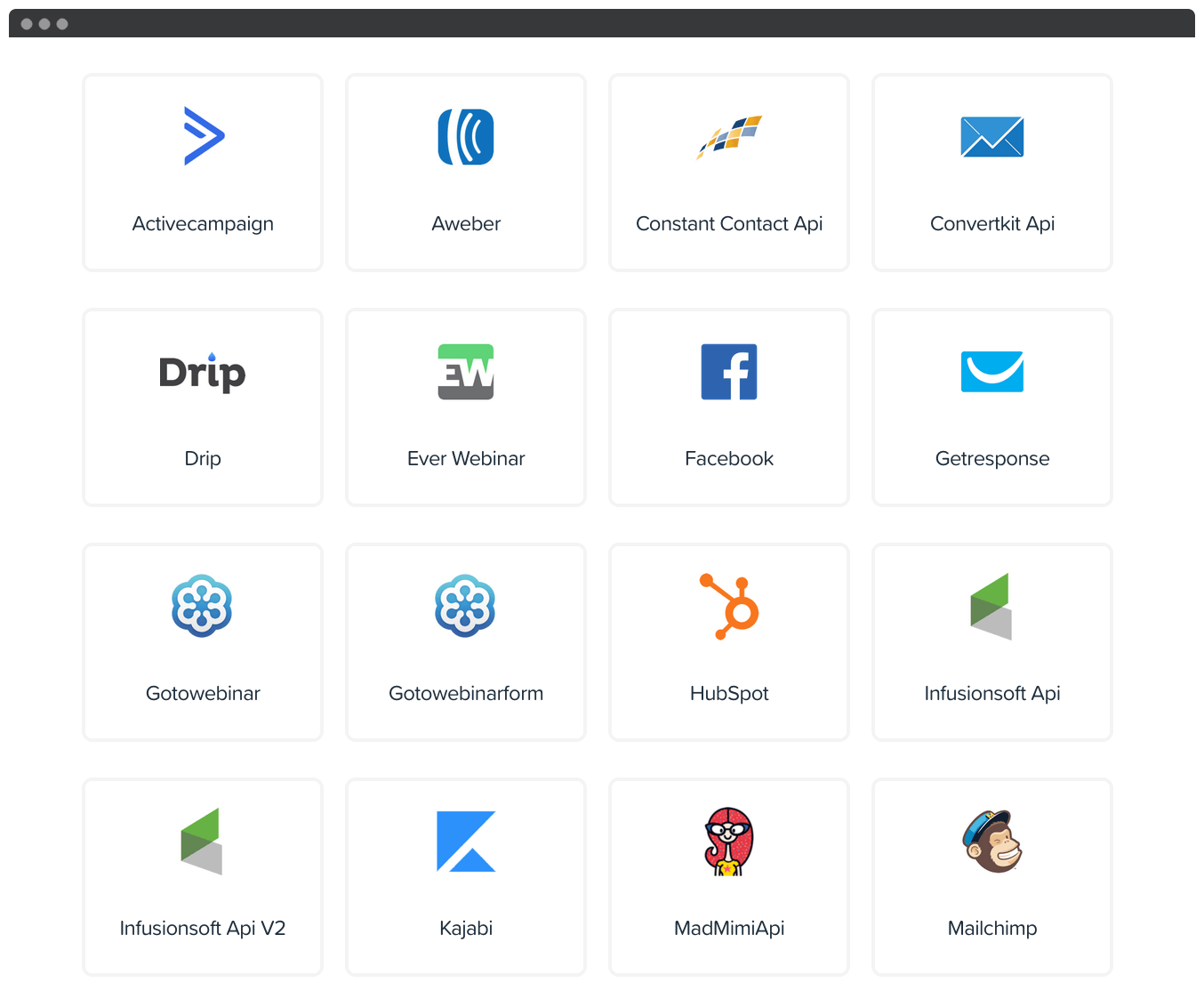 Systeme offers much the same as ClickFunnels when it comes to out of the box functionality:
You can create sales funnels and capture forms.
You're able to set up content marketing.
Customers can pay you for products and services.
Being honest, it's all standard fare, and there's nothing exciting to really pull you in. However, this makes it a functional tool, which is what it should be. Ultimately, the features speak for themselves, and this is a plus point.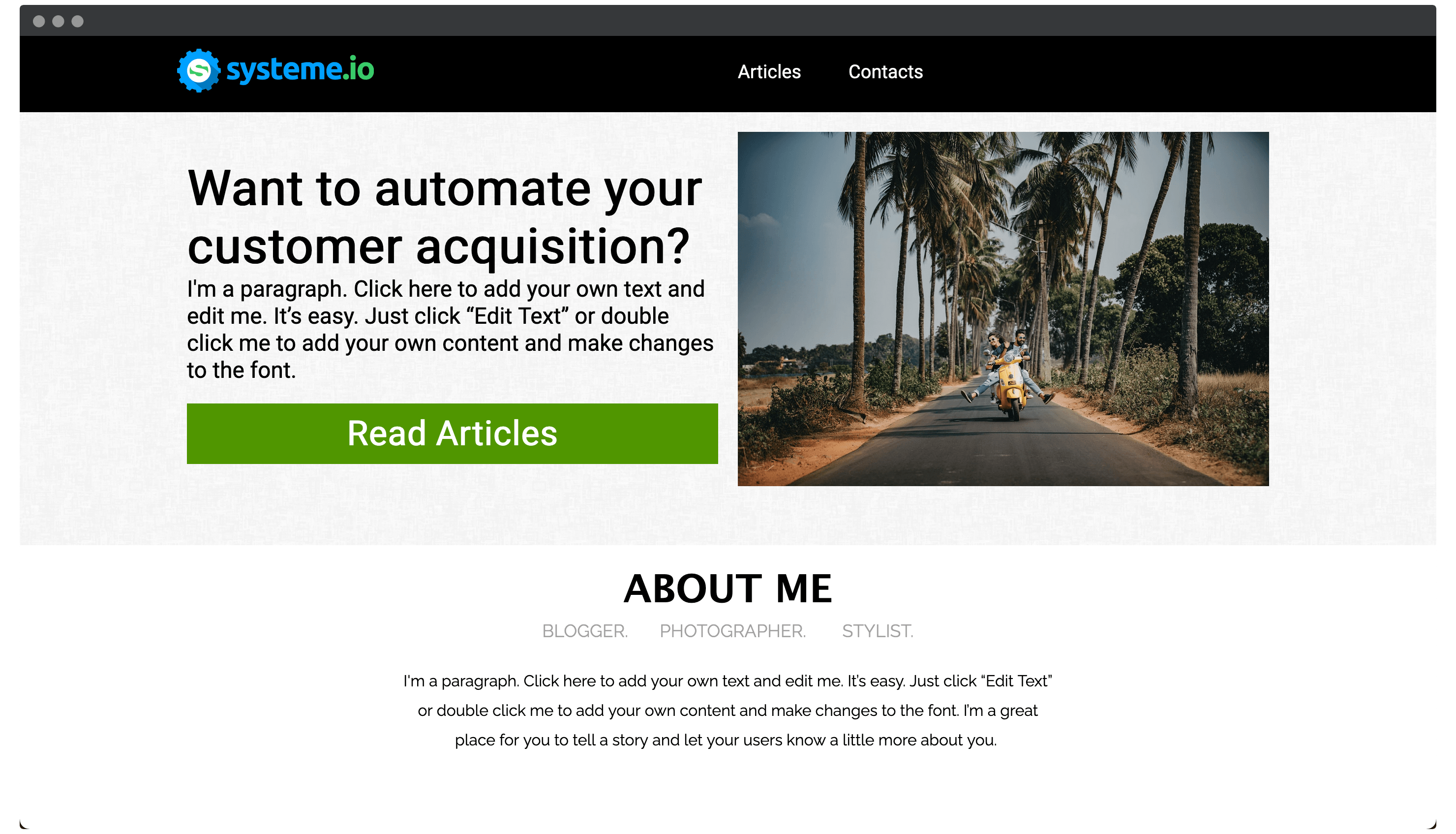 Unfortunately, website building and content marketing in Systeme isn't as great as its funnel building. We think that there are more modern and flexible solutions available, and the fantastic Content Management System (CMS) that WordPress has become has spoiled us.
It's hard to say who wins here. Both ClickFunnels and Systeme have a good number of essential features. However, ClickFunnels is great at walking you through the process, while Systeme offers slightly more when it comes to building a complete website.
Winner: Draw.
3. Support
We've already mentioned that ClickFunnels is good at hand holding. As such, it should be no surprise that its also good at giving you the help you'll need to build sales funnels.
ClickFunnels focuses on 'community'. Given this, you'll have access to the official Facebook group of 250,000 members, and a stacked knowledge base: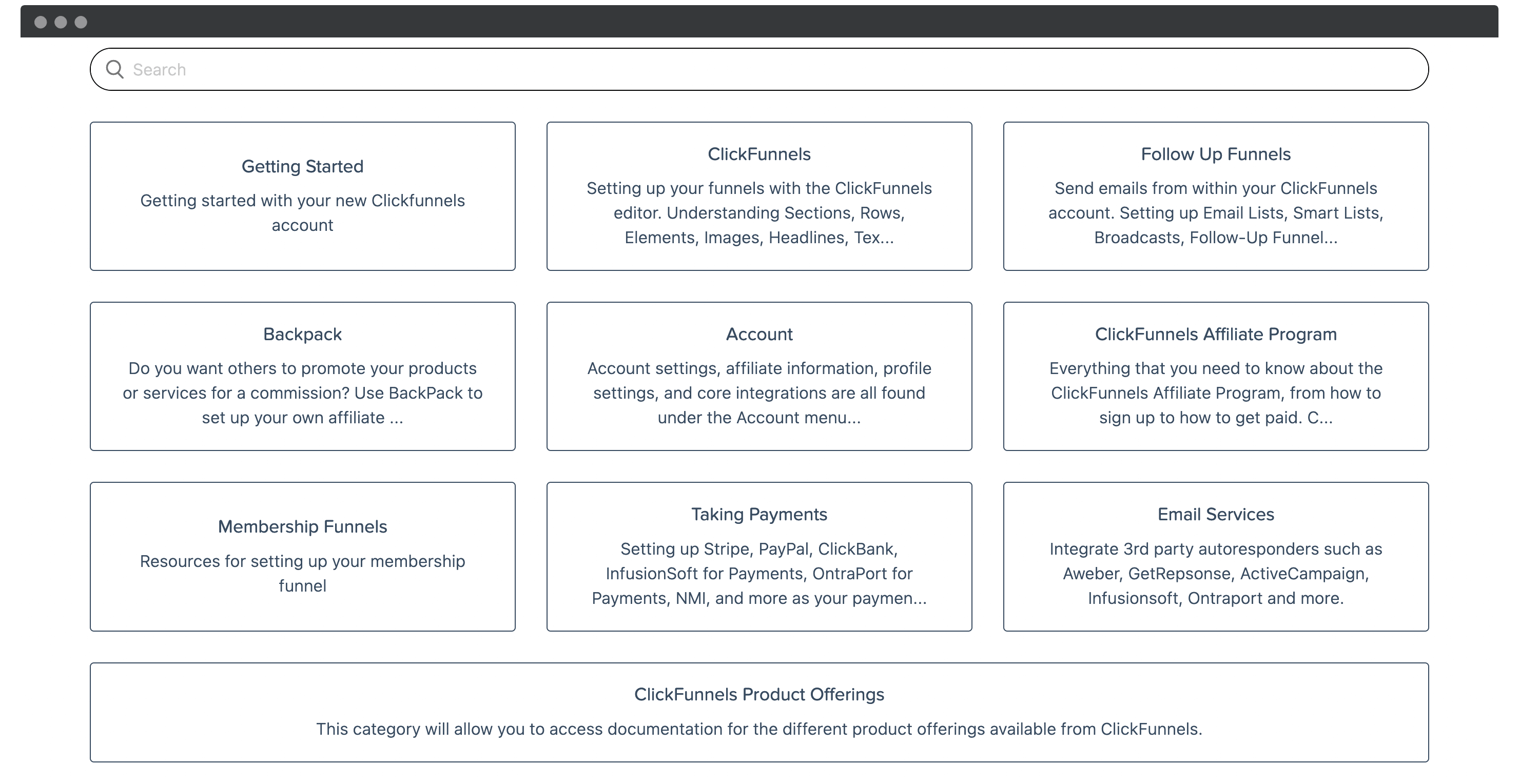 On top of this, there's the ClickFunnels podcast, a separate blog, and what's called FunnelFlix – a whole host of videos showing you how to run a successful online business: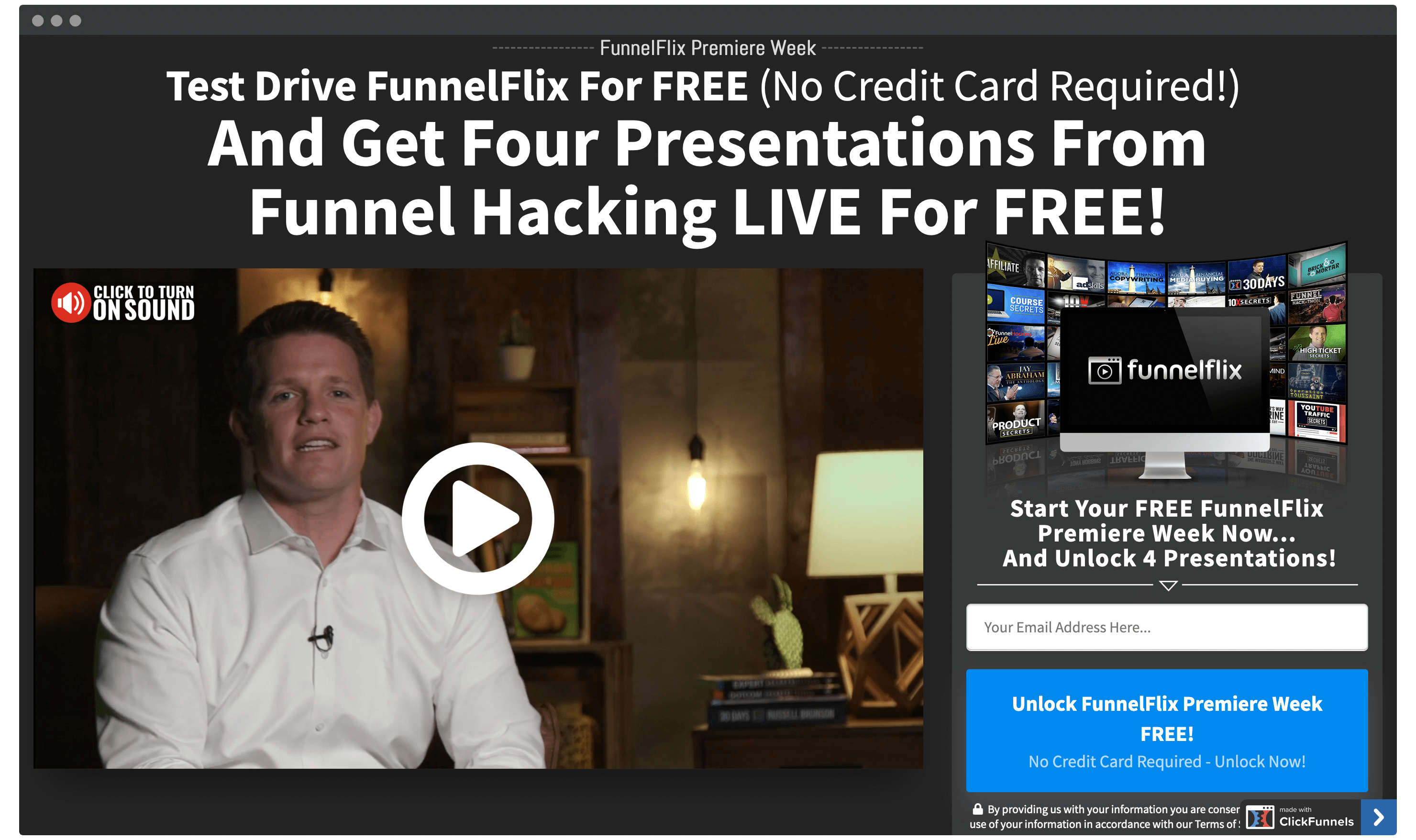 You'll even find some choice videos from the platform on your dashboard: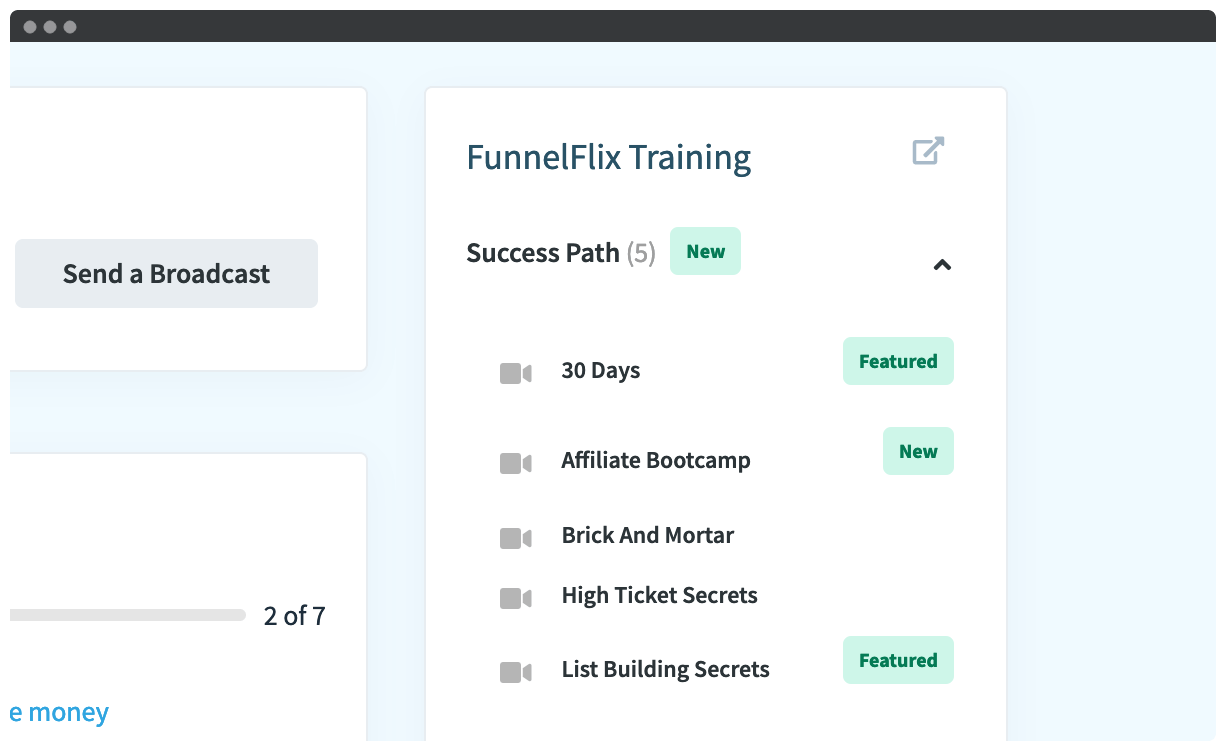 On the surface, Systeme comes across as a more 'homely' product. By which we mean that the developers seem to have more of a concern about you being successful. As such, it's disappointing to see that the support on offer isn't the best.
There are three channels available if you need it: email support, a knowledge base, and what's presented as an "online course" but is really a collection of short videos.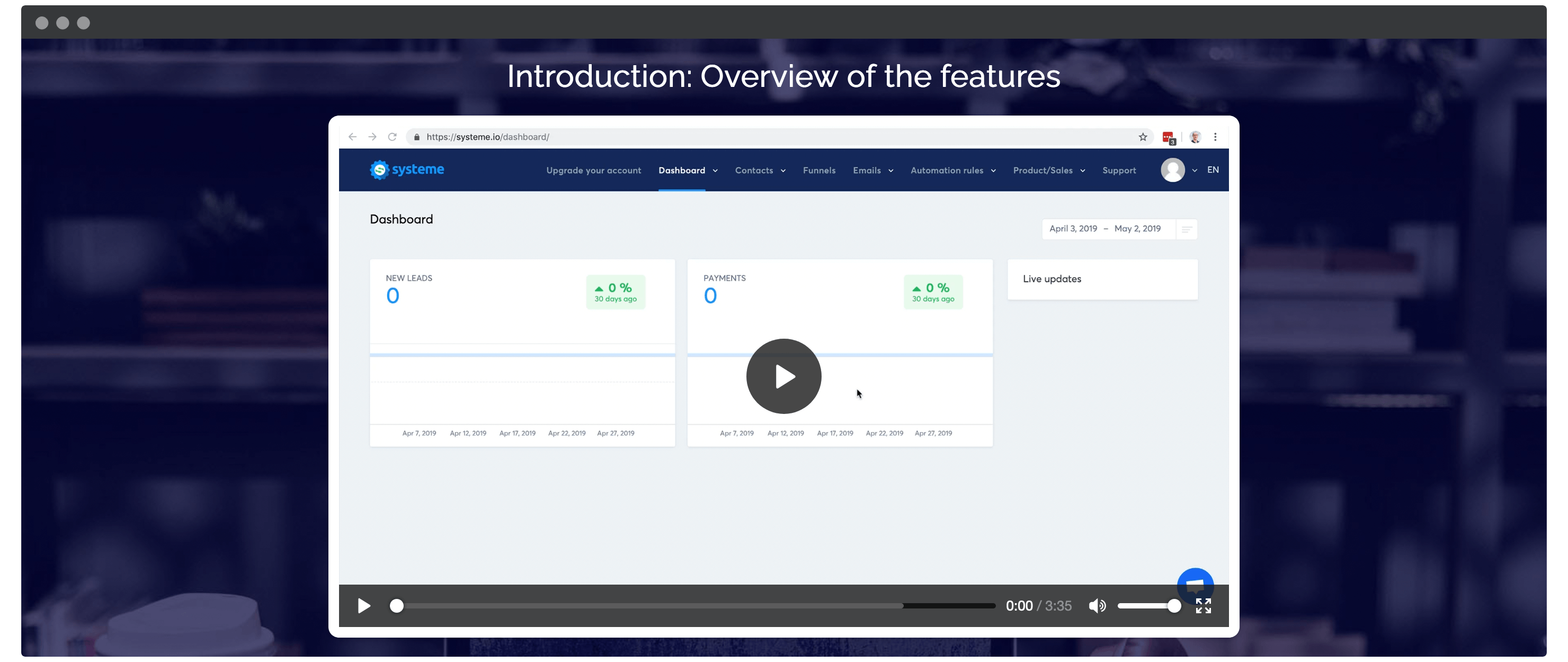 However, the knowledge base is packed with useful information. There's also a bot-powered live help button on every page that leads to specific knowledge base articles.
Overall, it's clear that ClickFunnels has your back. While Systeme is doing well, ClickFunnels offers so much content and support that success is squarely in your hands.
Winner: ClickFunnels
4. Pricing
For many, the battle between ClickFunnels vs Systeme is going to be about price. We suspect that many users who have switched from the former to the latter have used price as a big element of their dissatisfaction.
However, you can understand this frustration, because ClickFunnels is expensive. Its cheapest tier is $97 per month (around $1,200 per year), and is feature-restricted. The other two tiers jump the price up to $297 per month for the Platinum tier, and an eye-watering $2,497 per month for the invite-only Two Comma Club.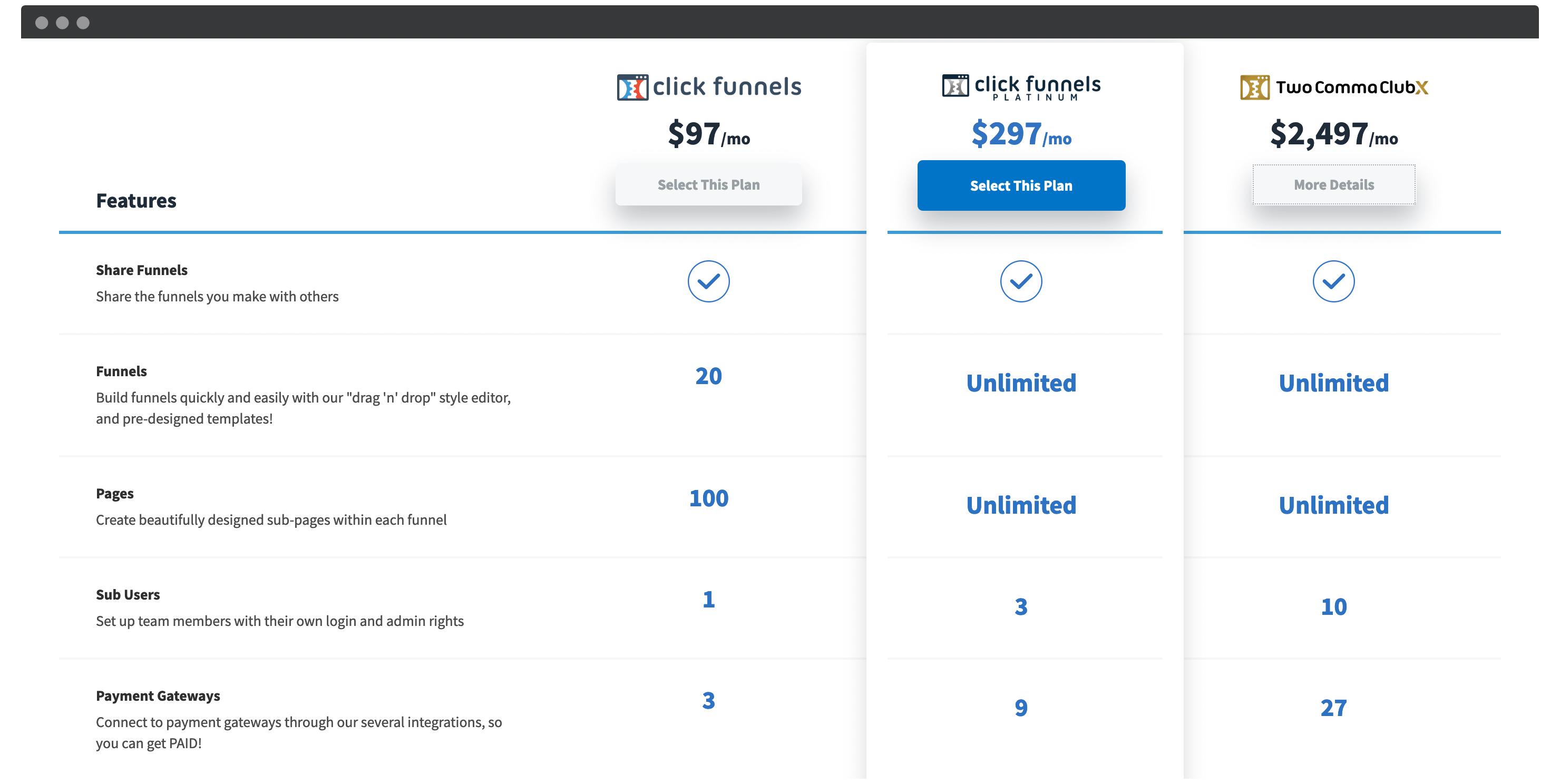 In contrast, Systeme has taped its hands and come out swinging. Its prices start at $27 per month, and rise to $97 per month at its highest. You'd suspect that this is done on purpose to compete on a direct basis, and it works.
What's more, if you compare Systeme's tiers, it looks like it gives you a lot more functionality for much less money: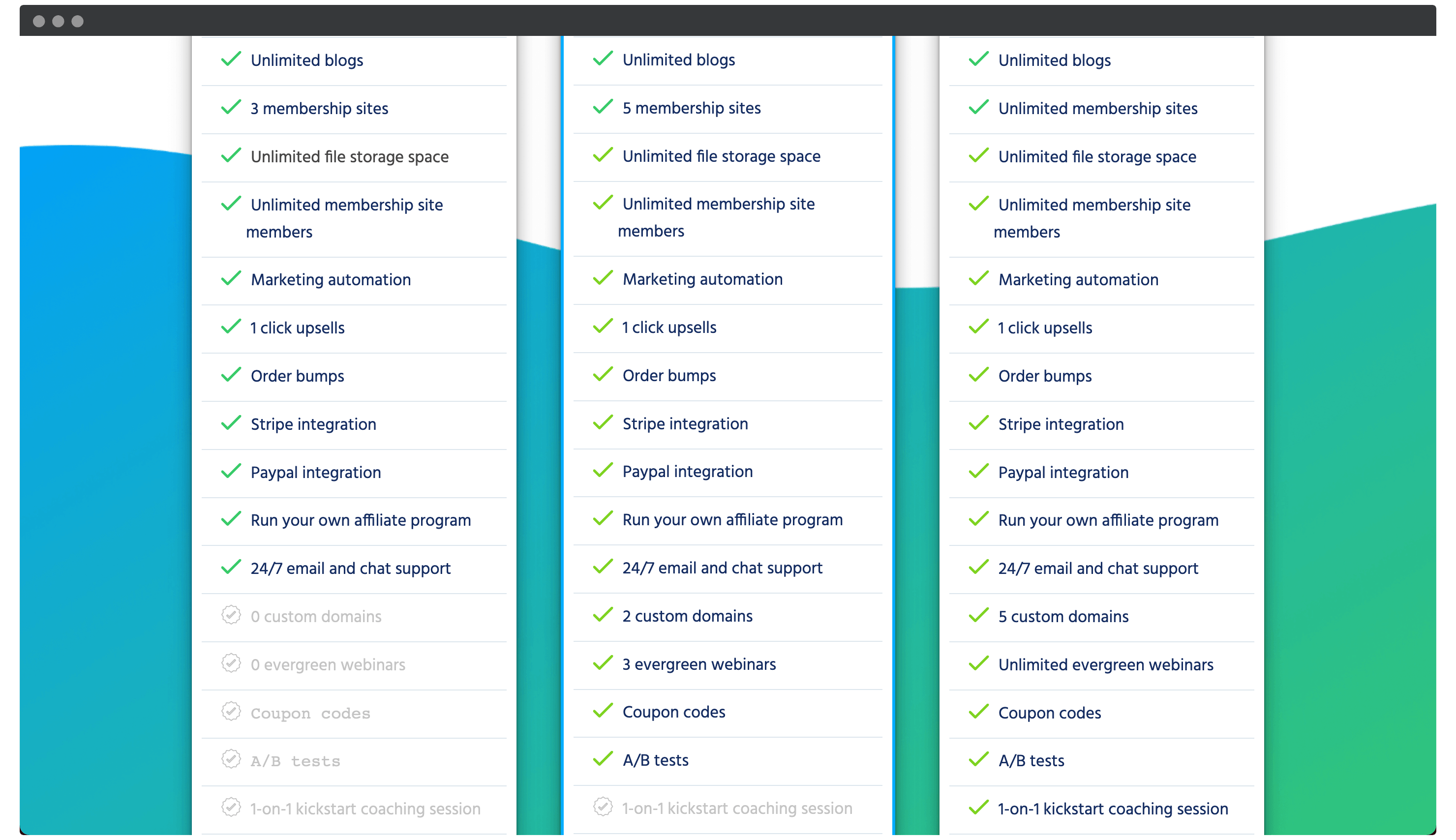 There's no real way to spin pricing any differently: ClickFunnels requires a huge budget to run, while Systeme is more friendly to your wallet. Maybe this is by design, but for most, we think ClickFunnels is going to be out of reach.
Winner: Systeme.
ClickFunnels vs Systeme: How to Choose the Right Funnel Builder
All in all, the decision isn't just about ClickFunnels vs Systeme, but about what your needs are. While on paper both tools work in broadly the same way, in the real world there is a difference.
In our view, if you're hoping to base your entire business around what ClickFunnels claims you can achieve, it's going to be a solid platform. On the flip side, Systeme also can boast about what it offers. For the pre-existing user base, they're tuned into Systeme, and turned off from ClickFunnels.
This shouldn't necessarily be a factor. Even so, Systeme is doing a lot right, and while it might fall down on a feature-by-feature basis, the whole package is tempting.
Finally, we said it in the previous Systeme review, but a WordPress-based setup is going to run cheaper than both ClickFunnels and Systeme across a calendar year. What's more, you'll get a greater return for your money, won't be locked into one ecosystem, and can take a 'modular' approach to building a marketing funnel.
In Summary
Building a sales funnel should be a serious project for any business-focused website. As such, choosing the right tool is an important decision. While there are lots of available solutions, many users consider ClickFunnels vs Systeme.
This is because they both offer similar benefits and drawbacks. However, where Systeme wins on price, ClickFunnels wins on functionality and trusted success.
Are you looking to buy a sales funnel builder, and if so, are you considering ClickFunnels vs Systeme? Let us know in the comments section below!