Searching for the best WordPress testimonials plugin to boost social trust on your website?
Displaying testimonials can be a great way to improve your site's conversions and just generally make visitors more likely to trust you.
While you could just manually add testimonials to your site, a dedicated WordPress testimonial plugin offers some big advantages when it comes to displaying your testimonials in stylish ways and collecting testimonials from your customers.
In this post, we've curated our picks for the eight best WordPress testimonial plugins – most of which offer a free version.
Keep reading to learn more about each plugin – starting with a quick comparison table.
8 Best WordPress Testimonial Plugins Compared
TL;DR: If you're in a rush, here's a quick comparison table of our picks for the best WordPress testimonial plugins – keep reading for a much more detailed look at each plugin.
1. Thrive Ovation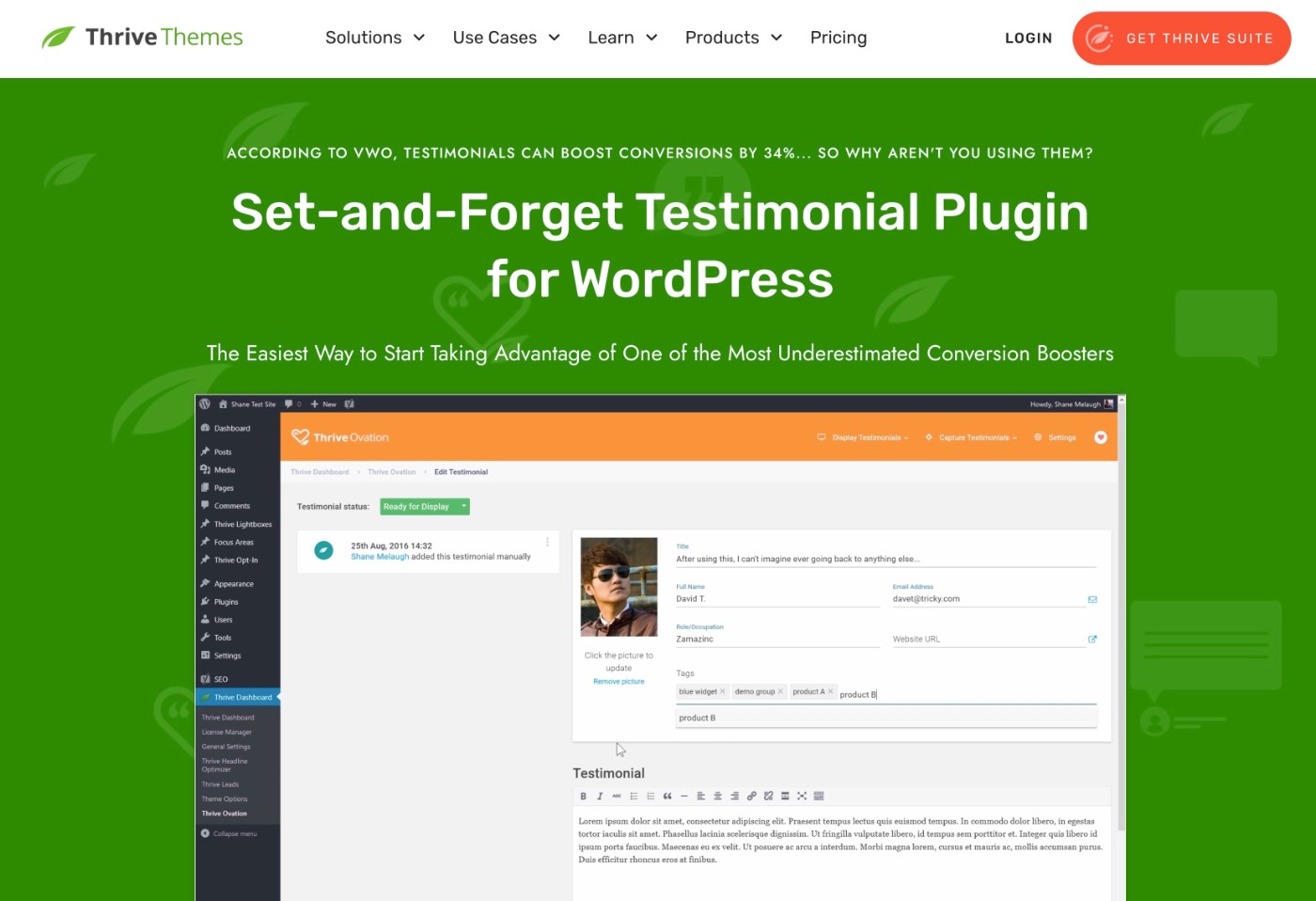 Thrive Ovation is a premium testimonial plugin from Thrive Themes that offers an end-to-end solution for testimonials, with features to…
Collect testimonials from your customers
Manage those testimonials in your WordPress dashboard
Display them anywhere on your site using stylish designs
While most other testimonial plugins offer frontend forms, Thrive Ovation stands out for the flexibility of its testimonial collection features.
To generate testimonials, you can…
Manually add them from your WordPress dashboard.
Create a dedicated form on your site to collect feedback from testimonials.
Send automated messages to your customers asking them for feedback (which they can provide via the form).
Convert regular WordPress comments into testimonials.
Import testimonials from third-party platforms like Twitter.
No matter where your testimonials come from, you'll be able to manage them from one central dashboard on your site. You can quickly see those that are waiting for approval, rejected, or without a photo. You can also add tags to easily sort and filter your testimonials.
Another feature that sets Thrive Ovation apart from other testimonial plugins is that you can automatically update your frontend testimonials as new testimonials come in.
To control the frontend design of your testimonials, you'll get access to a library of templates including grids and sliders. You can also easily customize these templates using the drag-and-drop Thrive Architect interface.
The standalone Thrive Ovation plugin costs $49 for the first year for use on a single site. After the first year, the license renews at $99 per year.
Or, you can get it as part of the all-inclusive Thrive Suite membership, which gets you access to all of the developer's themes and plugins and use on up to 5 sites. Thrive Suite costs $299 for the first year and $599 at renewal.
2. Strong Testimonials

Strong Testimonials is one of the most popular testimonial plugins at WordPress.org, and the developer also offers a premium version with more functionality.
Like Thrive Ovation, Strong Testimonials offers features to both help you collect and display testimonials on your site.
You can gather testimonials from your customers using dedicated collection forms. The Pro version also lets you add custom fields to the forms and create multiple unique testimonial collection forms.
Or, the Pro version also lets you import testimonials from this-party platforms such as Facebook, Google My Business, Yelp, and more. It also integrates with WooCommerce to let you collect reviews there.
You can manage all of your testimonials from your WordPress dashboard. Then, you can display them anywhere on your site using a shortcode, widget, or PHP function.
To control the frontend display of your testimonials, you can choose from a variety of prebuilt layouts including lists, grids, sliders, and more.
If you want access to the premium features, the paid version starts at just $29 and ranges up to $69 for access to all premium features.
Visit Strong Testimonials (free version)
3. Easy Testimonials

Easy Testimonials is a popular plugin that comes in both free and pro versions and is very easy to use. You can embed testimonials in a page or post with a dedicated block or shortcode, or in a sidebar as a sliding or fading widget.
Each testimonial can include a photo and a rating and the plugin uses JSON-LD-compliant markup so the testimonials appear properly in Google search results.
The free version of the plugin offers four different layouts and you can also customize everything using your own custom CSS.
The pro version of the plugin has several useful additional features including:
Over 75 professionally designed themes
Choice of font styles and colors
Multiple forms to collect testimonials from your website with spam protection
New testimonial email notifications
Advanced transitions including scrolling, tiling, and flipping
Testimonial carousel widget
If you want the premium features, Easy Testimonials Pro starts at $99 for use on a single site.
Visit Easy Testimonials (free plugin)
4. Testimonials Showcase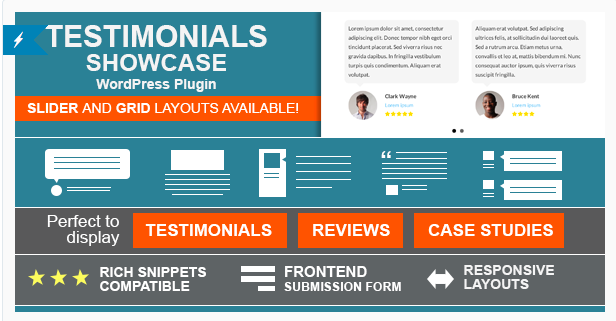 This premium plugin produces some very nice-looking testimonials that you can display as either a grid or a slider. There are five built-in theme options, all with a clean design that should work well on most sites.
The plugin also offers a frontend submission form to collect testimonials from website visitors. All fields and text are customizable.
The plugin is compatible with Gravatar, and with rich snippets, allowing you to display star ratings in Google search results.
To display testimonials on your site, you can use a shortcode or a widget. The included visual shortcode editor makes it easy to see how your testimonials will look as you change different settings.
The plugin costs just $19, which includes lifetime updates and 6 months of developer support.
5. WP Customer Reviews

This free plugin allows you to set up a specific page on your website for collecting customer testimonials and displays them in a simple and attractive way that is compatible with the Schema.org microformat so they are also search-engine friendly.
You can also modify the CSS as needed to style the testimonials to your requirements.
The form is totally customizable, so you can choose which fields to include, and has built-in spam protection. Custom fields are also supported.
You can add testimonials anywhere on your site using shortcodes and widgets
In addition to displaying testimonials, there's also a shortcode that lets you embed a testimonial collection form.
The WP Customer Reviews plugin is currently 100% free and available at WordPress.org.
Visit WP Customer Reviews (free plugin)
6. Testimonial Slider

Despite the name, Testimonial Slider offers four different free layouts for your testimonials, including two different slider layouts and two different grid layouts.
If you upgrade to the premium version, you'll get even more layout options, with a whopping 30+ different layouts to choose from, including isotype layouts and a video layout for video testimonials.
The premium version of Testimonial Slider also lets you create a frontend testimonial form so that your happy customers can share their feedback right on your site.
Some other notable features in Testimonial Slider include the following:
Shortcode generator to help you customize your portfolio display.
Drag-and-drop testimonial ordering.
Option to filter testimonials, e.g. only displaying testimonials for a certain employee or department.
Ajax pagination to load more testimonials without reloading the page (paid version only).
There's a free version of Testimonial Slider that should work for simple use cases. If you want the premium layout options, the frontend testimonial submission form, and other advanced features, the paid version starts at just $24 for use on a single site.
Testimonial Slider (WordPress.org) Testimonial Slider Pro
7. Testimonials Widget

Testimonials Widget allows you to insert testimonials into your site via shortcode, sidebar widget, or a PHP function.
Testimonials Widget also uses the Review schema, which helps you get those eye-catching star rating rich results in Google's search engine listing pages.
The plugin adds your testimonials as a custom post type and you can edit a number of settings such as the fields included in each testimonial.
The default CSS is very basic and designed to fit in with any theme. You won't get any fancy custom themes or designs to choose from here, but you can use your own custom CSS to style the testimonials however you wish.
Other features include:
Carousel, fade, and slide transitions
Responsive image or video slideshow
Ability to filter slideshow content by category or tag.
Caching
Excerpts
Read more links
User submitted testimonials
This plugin is not quite as easy to use as some other options and doesn't have lots of preset styles for you to choose from but for anyone with basic knowledge of widgets and CSS, it is totally customizable and offers a lot of flexibility.
While Testimonials Widget used to offer a premium version, the developer has since merged all of the premium features into the core plugin and it is now 100% free.
8. Real Testimonials

Finally, we have Real Testimonials, another WordPress testimonial plugin that can help you both collect testimonials from your customers and display those testimonials on your site (though you need the premium version for the frontend testimonial form).
To start, Real Testimonials lets you display unlimited testimonials in various grid or slider layouts. You can also customize which information to display, including the reviewer name, star rating, and so on.
If you're showing star ratings, the plugin can also add the proper structured data to help you get rich results in Google Search.
With the premium version, Real Testimonials adds over 100+ new features including the following:
Drag-and-drop testimonial form builder.
Option to fully customize all of the fields on your testimonial form.
Video testimonial support, including lightbox functionality.
Require admin approval for new testimonials.
More layout options, including Ajax pagination.
While the free version of Real Testimonials is functional enough, most of the best features are only available in the premium version.
Real Testimonials Pro starts at $49 for use on a single site and access to all features.
Visit Real Testimonials (free version) Visit Real Testimonials Pro
Which Is the Best WordPress Testimonial Plugin?
Choosing the best testimonial plugin for your site will depend on your specific needs and use case.
For example, if you're just looking for a plugin to display a few existing client testimonials, any one of the free plugins on this list should work fine. You should mostly make your choice based on the available layout options.
On the other hand, if you're looking for a tool to both help you collect and display testimonials, you'll likely want to pay for one of the premium options with more robust functionality.
While all of these plugins do support frontend testimonial submissions, the plugins with the most robust support for testimonial collection are Thrive Ovation, Strong Testimonials, and Real Testimonials.
If you want the ability to import testimonials from third-party review platforms like Twitter, Google, and Yelp, you'll probably want to narrow your search down even further to Thrive Ovation or Strong Testimonials Pro.
WordPress Testimonial Plugin FAQs
To finish out our list, here's a few common questions about WordPress testimonials plugins.
How do I add a testimonial in WordPress?
While you could add your testimonial directly to the WordPress editor, using a dedicated WordPress testimonial plugin will give you more control over the layout of your testimonial section and help you more easily manage your testimonials.
How do I create a testimonial in Elementor?
Most WordPress testimonial plugins let you embed your testimonial section using a shortcode. To create a testimonial in Elementor, you can add this shortcode to Elementor's Shortcode widget.
Which is the best free testimonial plugin?
If you're searching for the best free WordPress testimonial plugin, you might want to start your search with the free version of Strong Testimonials because it has an all-around strong feature list.
Which is the best plugin for collecting testimonials?
If you want a tool to help you collect testimonials from your customers, we recommend using Thrive Ovation or Strong Testimonials Pro as both plugins let you solicit testimonials from your customers and also import testimonials from third-party platforms.
Do you still have any questions about choosing the best WordPress testimonial plugin for your website? Let us know in the comments!