Testimonials are essential for many different types of businesses, whether you're selling a product or a service.
Featuring customer reviews prominently on your site will help new visitors to build trust in your brand through the power of social proof, and can increase conversion rates by some impressive amounts. This is demonstrated in several real-world case studies:
It's not enough to hide your testimonials away on a separate page! You need to show them off. WikiJob experienced a 34% increase in conversion rate simply by moving their testimonials to the top of the page. This is where testimonial plugins can help, by making it easy to display your reviews and testimonials in an eye-catching way.
Some plugins also take away the work that comes from you contacting previous customers for their testimonials by collecting them automatically from social media, or via a form on your site. This is an easy way to improve the efficiency of your workflow and save time that can be spent on other areas of your business.
1. Thrive Ovation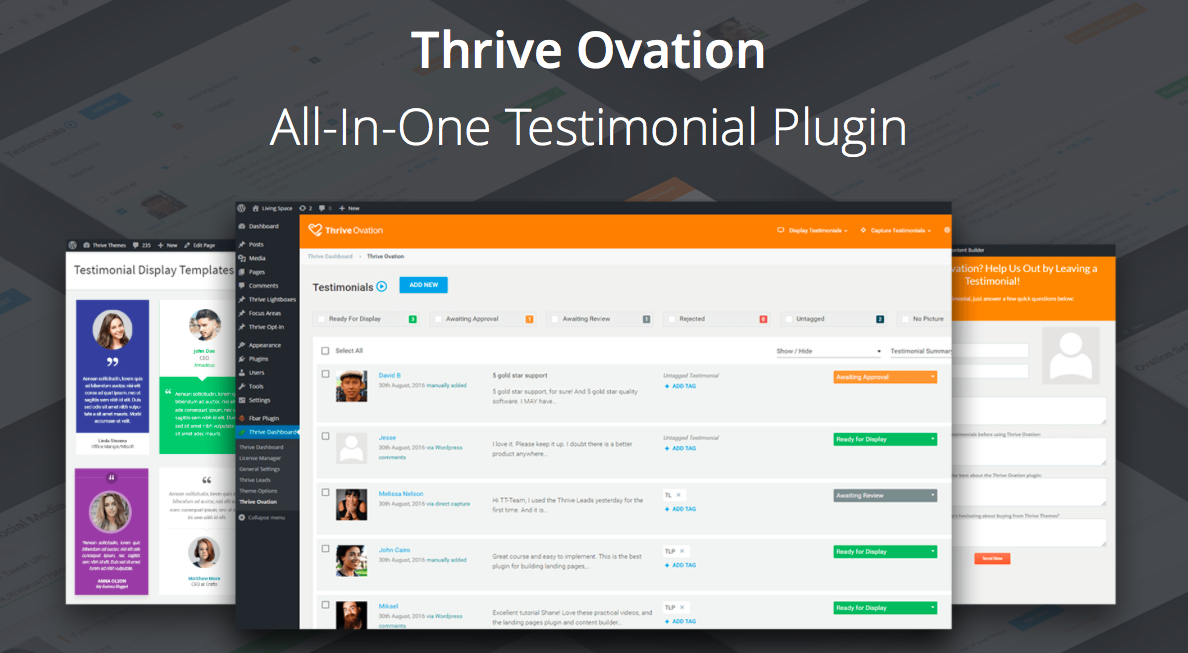 This premium plugin from Thrive Themes aims to be the ultimate all-in-one testimonial plugin, and it does a pretty good job with an easy-to-use interface, lots of customization options, and advanced functionality.
One unique feature about this plugin is that it gives you the ability to convert your normal WordPress comments into testimonials, at the click of a button. As well as the comment itself, the plugin will also pull in the name and user image.
Testimonials from social media can also be imported using Thrive Ovation's integration with Facebook and Twitter.
A form to collect testimonials from your website is of course another feature of this plugin. It's taken one step further with the ability to send automated messages to your customers asking for feedback.
Testimonials from all sources can be managed from a central dashboard with an at-a-glance view that allows you to see those that are waiting for approval, rejected, or without a photo. You can also add tags to easily sort and filter your testimonials.
Another feature that sets Thrive Ovation apart from other testimonial plugins is that the testimonials generated can be dynamically updated with the most up-to-date testimonials.
A library of templates including grids and sliders is included. These can also be customized further using the Thrive Content Builder. Here is a sample of some of the available templates: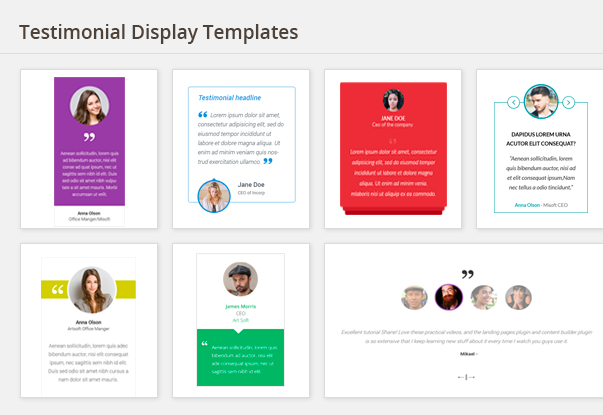 Once you're happy with your testimonial, it can be inserted via shortcode or using the Thrive Content Builder wherever you wish on your site.
Price: Thrive Ovation is available as part of the Thrive Suite Membership and costs $90 / quarter. The membership also includes Thrive Leads, Thrive Architect, Thrive Comments, and other Thrive plugins. You can also choose yearly plan, which costs $228 and ends up being a bit cheaper.
Download Thrive Ovation premium plugin
2. Easy Testimonials

Easy Testimonials is a popular plugin that comes in both free and pro versions and is very easy to use. Testimonials can either be embedded in a page or post with a shortcode, or in a sidebar as a sliding or fading widget.
Each testimonial can include a photo and a rating and the plugin uses JSON-LD-compliant markup so the testimonials appear properly in Google search results. This is the technology that allows your star rating to appear directly in your Google search listing and can make a big difference to how many people choose to click through to your site
Four different themes are included with the free version and you can also use your own custom CSS to create your own styling. Here is an example of one of the free themes: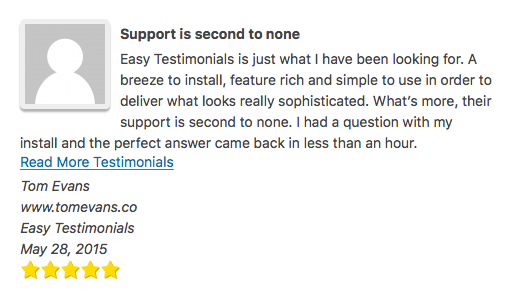 The pro version of the plugin has several useful additional features including:
Over 75 professionally designed themes
Choice of font styles and colors
Multiple forms to collect testimonials from your website with spam protection
New testimonial email notifications
Advanced transitions including scrolling, tiling, and flipping
Testimonial carousel widget
A sample of a testimonial styled with one of the pro themes looks like this:

A pro license for the plugin costs $59 for a single site, $179 for up to 5 sites, and $199 for unlimited sites.
Download Easy Testimonials free plugin
3. Testimonials Widget

Testimonials Widget allows you to insert testimonials into your site via shortcode or sidebar widget. Testimonials widget also uses the Review schema, that displays a star rating next to your website search listing. There are also widgets included for displaying testimonial archives, categories, and tag cloud.
Testimonials are added as a custom post type and there are a number of settings that can be edited such as the fields included in each testimonial, and whether quotes, videos.
The default CSS is very basic and designed to fit in with any theme. You won't get any fancy custom themes or designs to choose from here, but you can use your own custom CSS to style the testimonials however you wish.
A testimonial produced by this widget with basic styling looks like this:

Other features include:
Carousel, fade, and slide transitions
Responsive image or video slideshow
Ability to filter slideshow content by category or tag.
The premium version includes some additional features including:
Caching
Excerpts
Read more links
User submitted testimonials
This plugin is not quite as easy to use as some other options and doesn't have lots of preset styles for you to choose from but for anyone with basic knowledge of widgets and CSS, it is totally customizable and can be used in a very flexible way.
The price for the premium plugin ranges from $29.99 for a single site to $239.99 for unlimited sites.
Download Testimonials Widget free version
4. Testimonials Showcase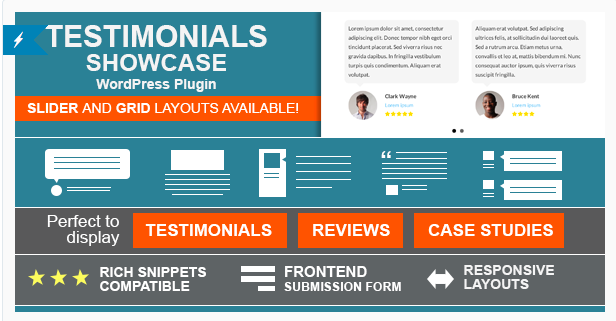 This premium plugin produces some very nice looking testimonials that can be displayed as either a grid or a slider. There are five built-in theme options, all with a clean design that should work well on most sites.
A frontend submission form is also included to collect testimonials from website visitors. All fields and text are customizable.
The plugin is compatible with Gravatar, and with rich snippets, allowing you to display star ratings in Google search results.
Testimonials can be inserted either as a widget, or by inserting a shortcode. The included visual shortcode editor makes it easy to see how your testimonials will look as you change different settings.
One example of testimonials produced by this plugin looks like this: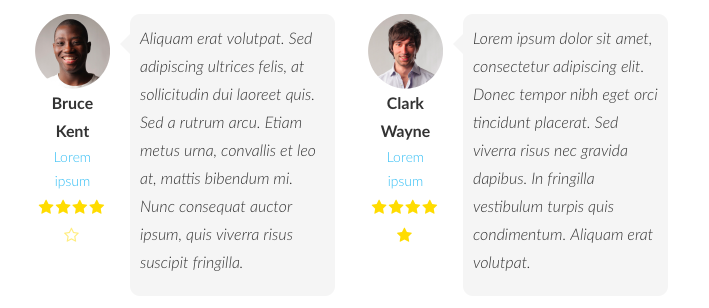 The plugin costs $16, including 6 months of developer support.
Download Testimonials Showcase premium plugin
5. WP Customer Reviews

This free plugin allows you to setup a specific page on your website for collecting customer testimonials and displays them in a simple and attractive way that is compatible with the Schema.org microformat so they are also search-engine friendly. CSS can be modified to style the testimonials to your requirements.
The form is totally customizable, so you can choose which fields to include, and has built-in spam protection. Custom fields are also supported.
Testimonials can be inserted into any post or page, or as a widget, with the use of shortcodes.
A testimonials page produced by this plugin, with the default CSS, looks like this: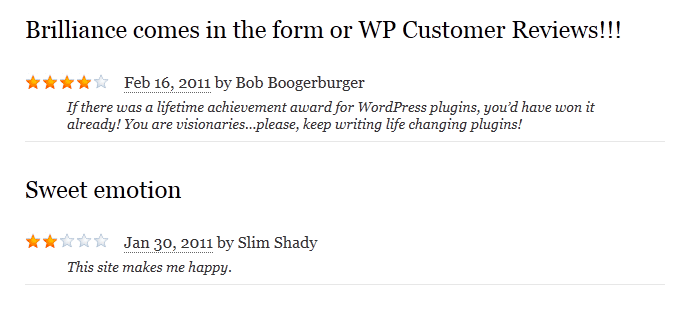 This plugin is one of the few free options that includes a form for collecting testimonials. A pro version is also in the works that will have extra features such as social media integration, images, and a range of widget options.
Download WP Customer Reviews free plugin
6. Testimonial Rotator

This free plugin provides a simple way to manage and display testimonials on your site by the use of custom post types and "rotators", which allow you to group different sets of testimonials together.
Two theme options are included and you can choose between a variety of different transition effects. Additional premium themes are also available from the developer's website for $19 each for use on a single site. You can also create your own custom theme and full instructions for this are available.
A testimonial created with the basic theme looks like this:
Testimonials can be displayed either as a widget, with a selection of display settings, or as a shortcode controlled with different attributes.
There is currently no option with this plugin to collect testimonials, however you can do this using Gravity Forms.
The other shortcoming of this plugin is that testimonials can only be displayed as sliders and not as a grid or simply listed on the page. However if a testimonials slider is what you're looking for, it's a good, free, option.
Download Testimonial Rotator free plugin
7. Strong Testimonials

Strong Testimonials is a free plugin with a selection of basic and clean templates to choose from and a fully customizable testimonial submission form.
It's very easy to use, so great for beginners and non-technical WordPress users, but it still offers pretty advanced functionality that will be sufficient for most users.
Testimonials can be displayed as a list (with optional pagination), standard grid, except with 'read more' link, masonry grid, or slideshow with transition effects, and star ratings, images, and videos can be included. Custom CSS is also possible to completely customize the look of the testimonials to your preferences.
An example of a testimonial created with Strong Testimonials looks like this:

You can insert testimonials into your site by using shortcodes that are created automatically for you through the use of a simple editor.
This is a very nice, clean, customizable, and easy-to-use free plugin that will be suitable for many different users.
Download Strong Testimonials free plugin
8. Handsome Testimonials

If you're looking for a testimonial plugin that's easy to use and creates great-looking testimonials that are easy to customize without using CSS, Handsome Testimonials could be the plugin you're looking for.
This plugin is available as both a free and a paid version. The free version includes a visual testimonial generator and customizer with live preview, and testimonials can be added to your site via a widget.
The pro version adds extra features including:
Auto-rotating testimonials
Categories
Star ratings
Frontend submission form
Full customer support.
The built-in customizer makes it really easy to create your own custom testimonials and there are almost an infinite number of design options. You can easily create something like this sample without using CSS: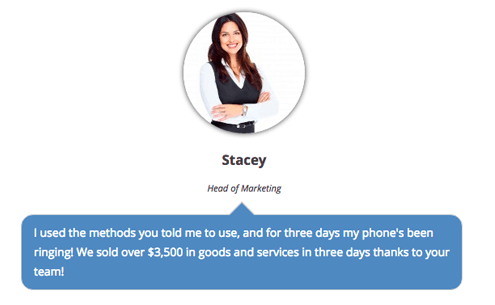 The pro version costs $39 for a personal license for a single site, $79 for a small business license for up to 5 sites and $129 for a developer license for use on unlimited sites.
Download Handsome Testimonials free plugin
Which Testimonials Plugin Should You Choose?
It can be overwhelming trying to choose between different plugins, especially when they seem to offer such similar functionality.
There are dozens of testimonials plugins out there (I've selected just a few for this article) and they all have their advantages and disadvantages – there's no "one best" that will suit everyone.
If you're looking for a free plugin, Strong Testimonials is a good all-rounder that is easy to use, produces nice-looking testimonials, and comes with that all-important testimonial collection form without having to cough up for the premium version
When you're comparing different free plugins, it's definitely worth installing two or three and spending a few minutes exploring them in person. You're sure to get a feel of what will fit your workflow and personal preferences best.
Premium plugins are not necessary for everyone and there's often a free alternative that offers much of the same functionality. However pro plugins do come with additional developer support which can be very helpful if you struggle with the technical aspects of your website.
However, Thrive Ovation is hard to beat in terms of functionality and it's a definite winner when it comes to testimonial collection. The ability to import testimonials from WordPress comments and social media alone should save enough of your time to make it worth the price tag (which is very reasonable in comparison to some of the other premium plugins). It's a definite winner if you're serious about using social proof to improve your conversion rate.
If you're interested in learning about how to increase your conversion rate in other ways, you might like to check out our article with the Top 10 WordPress Plugins for Creating Landing Pages That Convert.