Running a cooking or food website can be fun (and tasty) – but you'll need to employ Search Engine Optimization (SEO.) Recipes within Search Engine Results Pages (SERPs) use 'structured data.'
Schema.org is the most common, and some WordPress plugins present your content to the search bots in that format. With our Recipe Card Blocks coupon code, you'll have one of the best plugins for the job, all for a lower price than is typical.
Shortly, we'll show you how to use your Recipe Card Blocks coupon code courtesy of WPKube. First though, let's look over the plugin's feature set.
What Recipe Card Blocks Offers
The main focus of Recipe Card Blocks is its reliance on Schema.org data. We talk about this format in our article on FAQ schemas, but the same information applies to recipes too. The dedicated 'Schema markup' that Recipe Card Blocks applies will help search engine crawlers and bots display your recipes on the results page itself.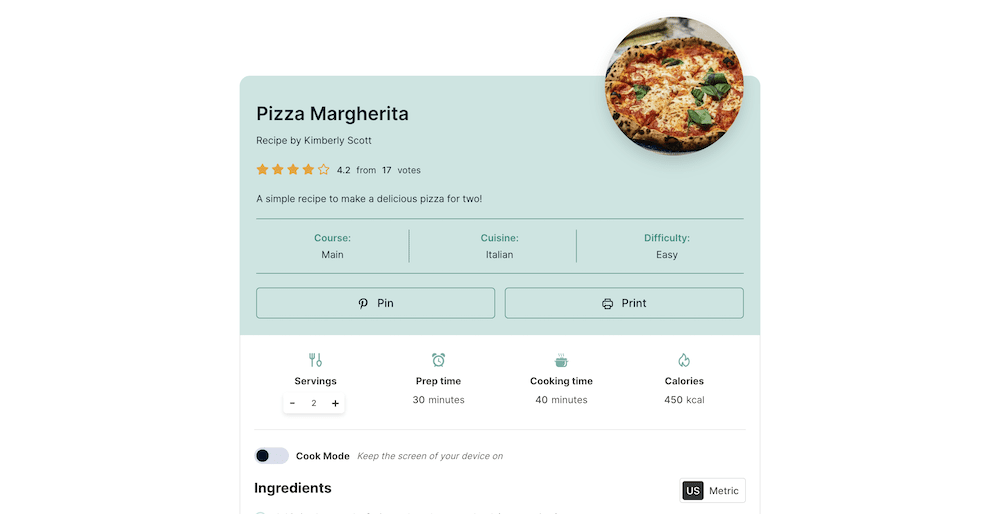 What's more, you have plenty of ways to customize those recipe cards on your site too. The plugin comes with a raft of cool features and functionality:
You get a multitude of styles for your on-site recipes cards.
You're able to customize the look of any card to match your own branding.
There are ratings options for users too – five-star ratings can give your recipes a mark of quality.
If you want to embed a video into your cards, you can do so.
You'll also have a way to add a list of utensils, along with the ability to list nutritional information too.
There's plenty more that we can't cover here, otherwise we'd run out of room! However, Recipe Card Blocks is a premium plugin – let's look at the pricing next.
How Much Recipe Card Blocks Costs
While there are three tiers on offer, there isn't much difference with regards to feature differences. This means you'll only pay more if you require a greater number of site licenses.
Here's a quick rundown of what you'll get:
Starter. A single-site license will cost $59 per year. Also note that you won't be able to convert the units you enter from US to metric.
Professional. On this plan, you can convert units, get priority support, and run Recipe Card Blocks on up to three sites.
Business. This plan is similar to the Professional tier, but includes licenses for five sites.
We like the idea of giving users unit conversion functionality, because this can expand your user base and scope. Regardless of the tier you purchase, you'll need to know how to use your Recipe Card Blocks coupon code. Let's look at this next.
How to Use Your Recipe Card Blocks Coupon Code
The first step is to get to the Recipe Card Blocks website. You'll want to do so using our dedicated link. This will bring you to the plugin's home page, where you'll want to click either the View Pricing or Buy Now buttons: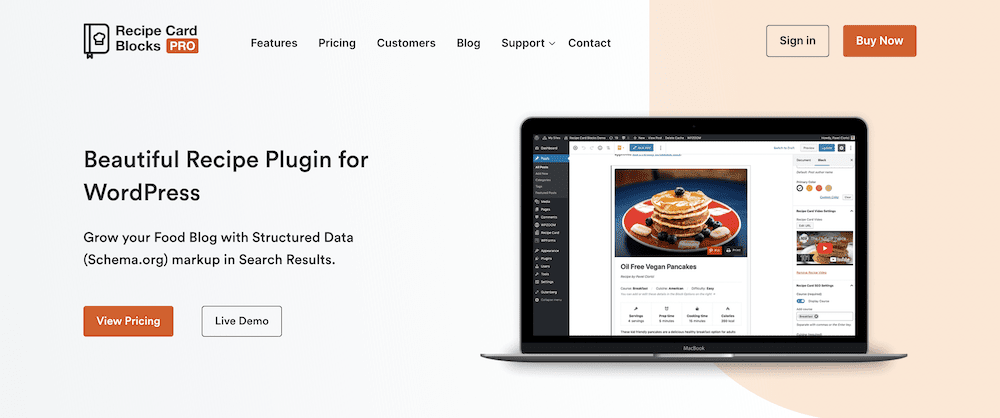 Next, you'll come to a pricing screen, where you should click the Buy Now button for your chosen tier:
At this point, you'll need to go through the checkout process.
Before you click ahead, make sure you open up the Have a discount code? menu, and and add your exclusive Recipe Card Blocks coupon code: RCBDEV45. Once you click Apply, you'll see 15 percent come off of the total price!
From here, you can complete the checkout process as normal and begin to use your plugin!
Frequently Asked Questions (FAQs)
Once you can apply your coupon, you'll be able to save. However, this might not be the end of your questions. Next, we'll look at some of the most common questions we hear about using your Recipe Card Blocks coupon.
How Can I Access Support for Recipe Card Blocks?
Recipe Card Blocks comes with a full cache of documentation, tutorials, and more. You'll access technical support through help desk tickets – higher plans get priority support.
Is There a Way to Upgrade My Purchase to a Higher-Tiered Plan?
If you make a purchase within 30 days and want to upgrade it, you can contact the Recipe Card Blocks team who will give you a custom discount price.
Does Recipe Card Blocks Work with Every WordPress Theme?
Yes! Recipe Card Blocks works with any and every WordPress theme. What's more, there are direct integrations with Elementor too!
Will This Recipe Card Blocks Coupon Ever Expire?
WPKube doesn't like to offer short-term deals. While we can't guarantee that a coupon code will finish, the plan is to offer this Recipe Card Blocks coupon for a long time to come!
Is There a Refund Policy or Money-Back Guarantee With Recipe Card Blocks?
Recipe Card Blocks offers a full discount, with no questions asked. You'll need to contact the team within 14 days of purchase to qualify.
Sieve a Massive 15 Percent Off Using WPKube's Recipe Card Blocks Coupon!
Food blogs and cooking websites have to have a simple and fuss-free way to share recipes with visitors. What's more, you'll need each one to abide by your SEO strategy. Recipe Card Blocks is a WordPress plugin that lets you present your recipes using structured Schema.org data in search results. Even better, you can get a discount on the price.
All you'll have to do is head to our dedicated link, enter your Recipe Card Blocks coupon code (RCBDEV45) at checkout, and save 15 percent off of the full cost!