Looking to save money on managed hosting from Nexcess?
With our exclusive Nexcess coupon code, you can save 40% on any hosting package from Nexcess.
Nexcess is a subsidiary of Liquid Web that offers managed hosting plans for WordPress, WooCommerce, Magento, and other platforms.
In addition to quality infrastructure, one of the defining characteristics of Nexcess is the unique tools it builds into its plans. For example, if you're using the managed WooCommerce hosting, you'll get access to tons of premium WooCommerce plugins, themes, and services to help make your store a success.
With our discount code, you'll not only get all those goodies, but you'll also only need to pay 60% of the retail price!
How Much Does Nexcess Cost?
Nexcess' prices depend on the exact plan that you're looking at and what platform you want to host.
In general, the WordPress and WooCommerce plans are the cheapest options and start at $19 per month for the cheapest tier with a jump to $79 per month on the second tier.
Of course, if you use our exclusive Nexcess coupon code, you'll save 40% which puts those prices at $11.40 and $47.40, respectively.
How to Apply the Nexcess Coupon Code
To apply the Nexcess discount code, you'll need to wait until the end of the purchase process, which can be a little tricky. To make it easier for you to get your discount, you can follow our detailed tutorial below.
To begin, go to Nexcess and choose the plan that you're interested in to launch the checkout process.
On the first page, you'll need to register for a Nexcess account by entering your details and a password:
On the next page, choose the data center that you want to use for your hosting and give it a nickname to help you remember this plan: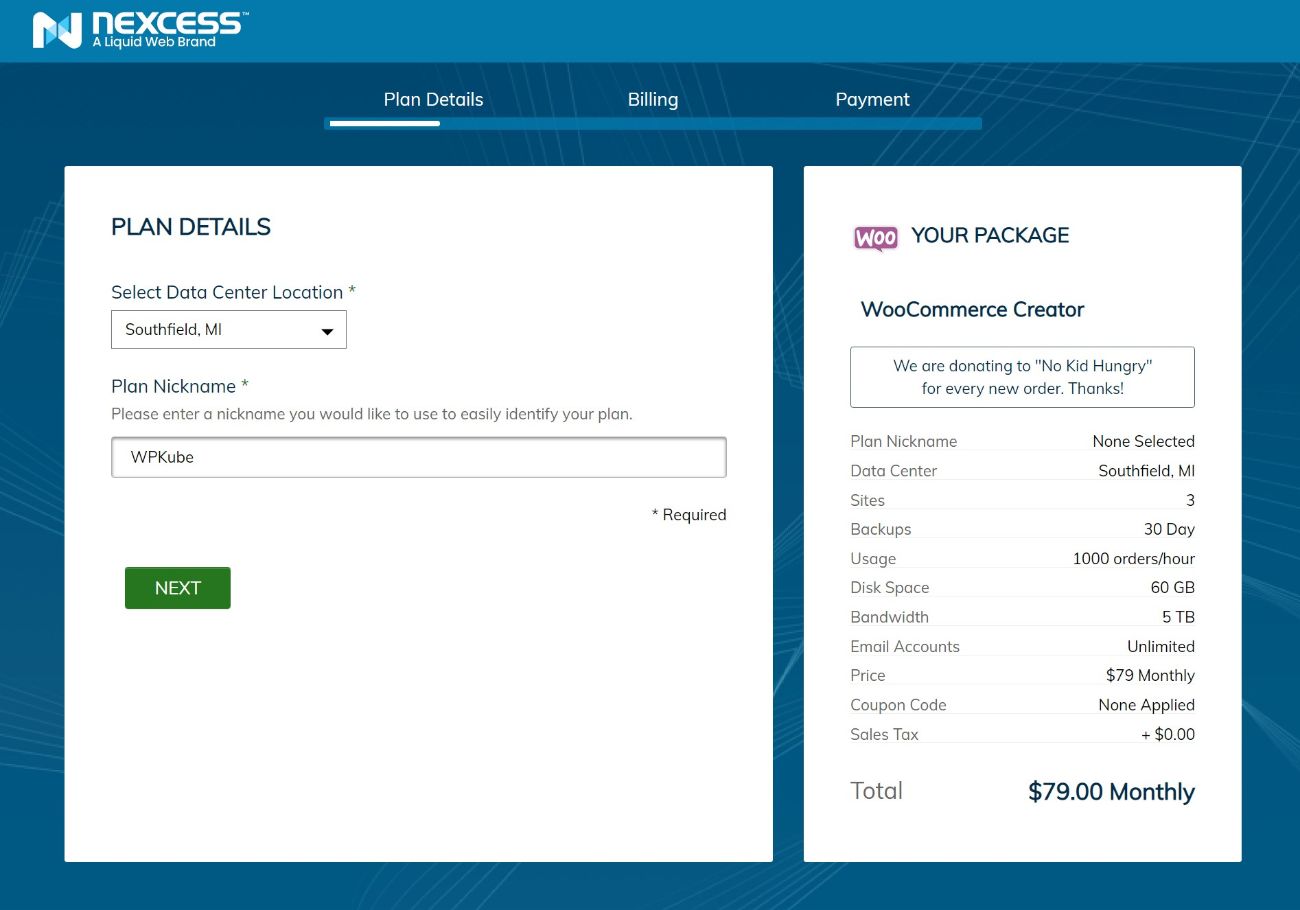 Next, you'll need to enter your billing contact information: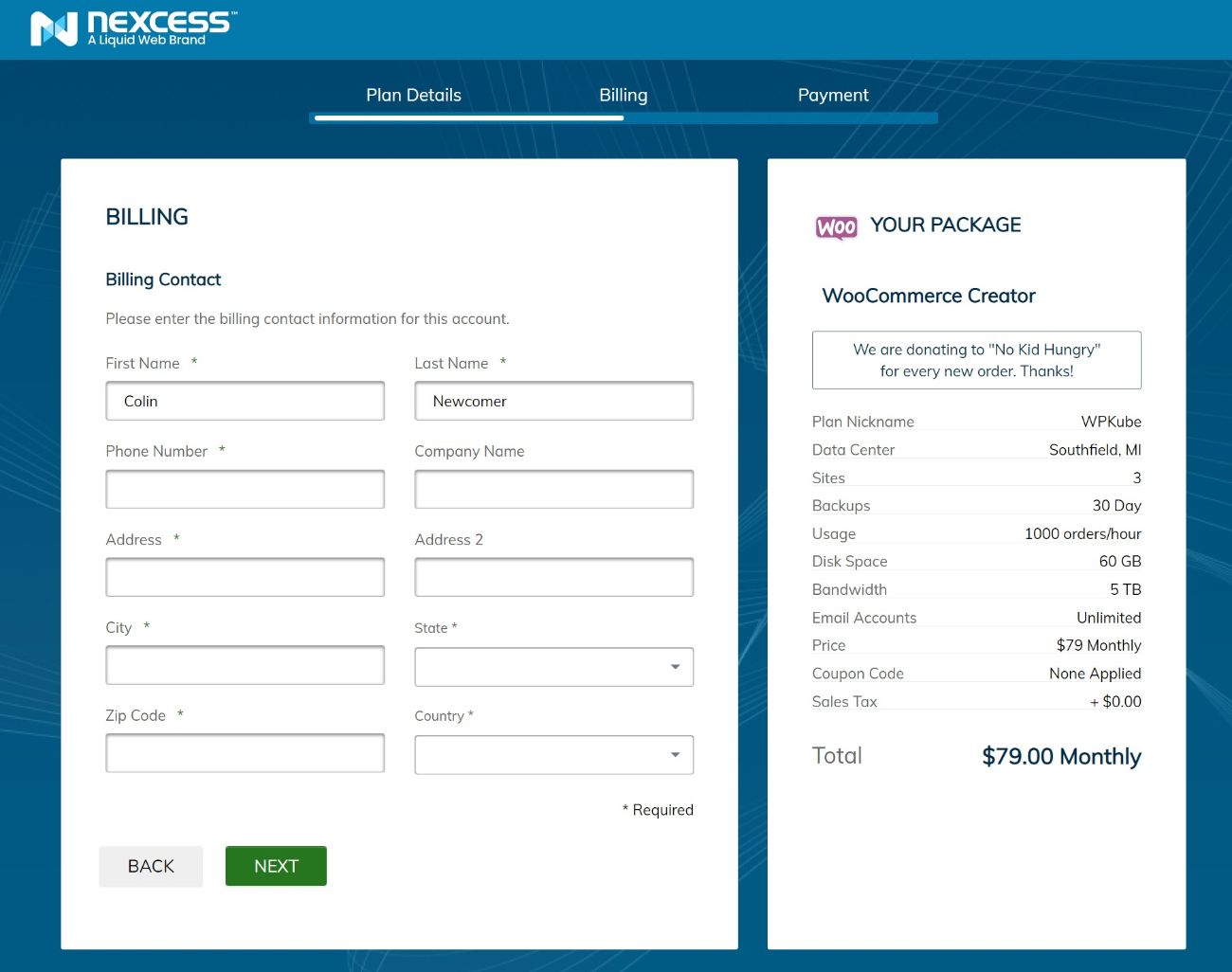 Then, you'll be prompted to enter your credit card information, which is also where you can apply the coupon code. Enter KUBE40 in the Coupon Code box and click Apply: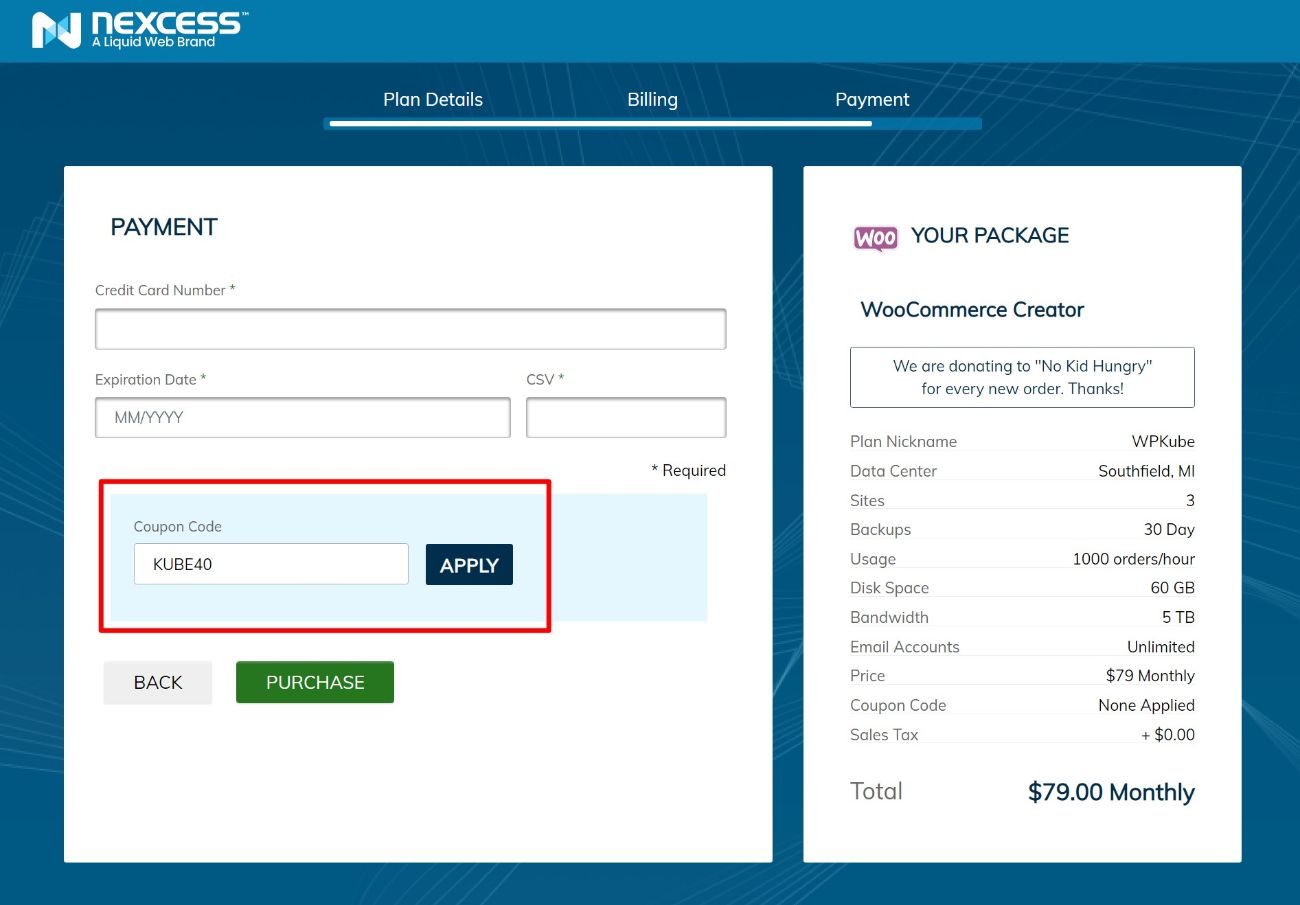 You should then see a success message. Your 40% discount will also be applied in the sidebar summary and you should see the total amount drop by 40%. You can enter your credit information and click Purchase to finish the process.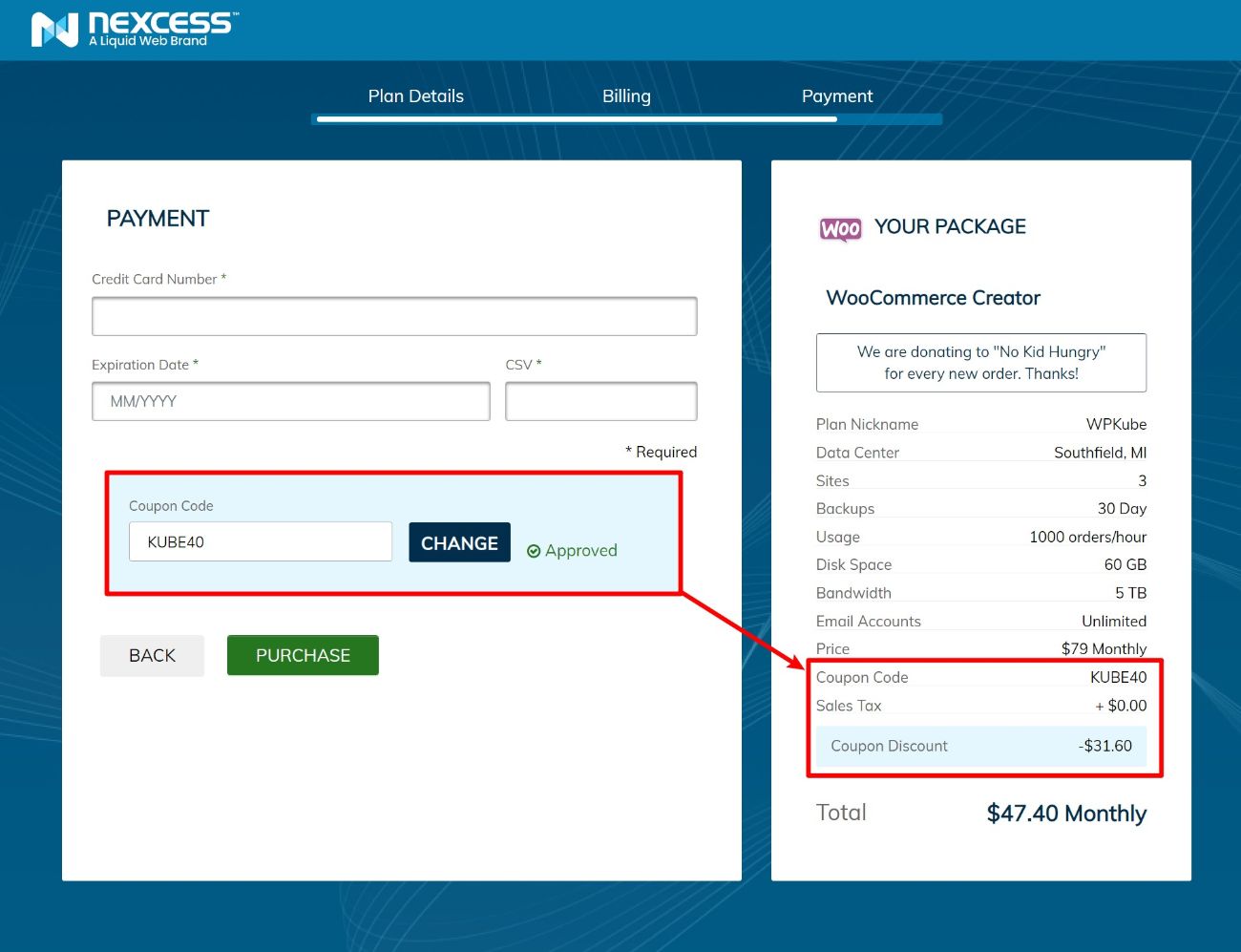 Nexcess Coupon FAQ
How much can the Nexcess coupon save you?
You can save 40% on any Nexcess plan.
Can I try Nexcess for free?
No, Nexcess doesn't offer a free trial.
Does Nexcess offer a money-back guarantee?
Yes – if you cancel within the first 30 days, you can claim a 100% refund on your Nexcess plan.
How is Nexcess connected to Liquid Web?
Nexcess is a subsidiary of Liquid Web. In addition to the Nexcess website, Liquid Web also markets Nexcess plans via the Liquid Web site.
Save On Nexcess Web Hosting Today
If you're looking for managed hosting for WordPress, WooCommerce, Magento, or other platforms, then Nexcess is one of the top providers out there.
Nexcess' prices are already competitive with similar options in the managed hosting space, but with our exclusive 40% off Nexcess coupon code, you can save even more and get a great deal on hosting for your website.