Searching for the best WooCommerce cart abandonment plugins to try to recover some of the ~70% percent of abandoned carts at your store?
Cart abandonment is a huge problem for eCommerce stores because it means you're missing out on potential sales and revenue.
While you'll never be able to recover every single abandoned cart, the right tool can help you recover at least a portion of those carts, which can make huge improvements to your bottom line. For example, if your cart abandonment rate is 70% and you recover 5% of those abandoned carts, you just boosted your orders by a whopping 12%!
To help you achieve those improvements, I've collected and compared the seven best WooCommerce cart abandonment plugins:
Five of these plugins have free versions, while the other two only have premium versions.
Four are focused specifically on WooCommerce abandoned cart emails.
Three are more general-purpose WooCommerce marketing tools that also offer strong abandoned cart recovery features.
Let's dig in!
WooCommerce Cart Abandonment FAQs
Before we get to the plugins, let's quickly run over some frequently asked questions about WooCommerce abandoned cart recovery. Or, you can skip straight to the plugins.
What is cart abandonment in WooCommerce?
WooCommerce cart abandonment is when a shopper adds one or more items to their cart but then doesn't complete the checkout process and finalize their purchase.
With cart recovery functionality, you can send these shoppers emails or other communications to encourage them to finish their orders.
Does WooCommerce have abandoned cart recovery functionality?
WooCommerce doesn't offer a core feature to recover abandoned carts, but you can easily add cart abandonment functionality with the plugins or services from this post.
Can you send WooCommerce cart abandonment emails if a shopper isn't registered?
In order to send cart abandonment emails, you obviously need to have a shopper's email address, which can be tough for anonymous shoppers. To fix this problem, many of the plugins below let you display forms or popups after a user adds the item to their cart so that you can capture their email even before they registered.
Typically, you'll offer some incentive (like a coupon) to encourage the shopper to enter their email.
Seven Best WooCommerce Cart Abandonment Plugins for WordPress Users
Here are our picks for the best plugins, in no particular order…

WooCommerce Cart Abandonment Recovery is a 100% free cart recovery plugin from the CartFlows team, which is co-owned by some of the same people behind the massively popular Astra theme.
It's the most popular WooCommerce cart abandonment plugin at WordPress.org by a good margin, though part of that is because it comes bundled with the Astra theme's importable WooCommerce demo sites.
The plugin works like this:
It captures users' emails on the checkout page.
If a user doesn't complete their purchase within 15 minutes, it starts sending a series of abandoned cart reminder emails (which you can customize).
If a shopper clicks the link in those emails, it will take them straight to checkout with the items that they had in their carts.
Overall, it's fairly simple, but it gets the job done and it's 100% free, so there's nothing to complain about!
Key Features
Send one or more emails in a sequence.
Customize email content using the Classic TinyMCE editor. It's not a visual builder, but it makes it easy to customize the text content.
Statistics dashboard to track abandoned/recovered carts and revenue.
Option to generate a unique coupon code as an incentive for shoppers to complete their orders.
Pricing
WooCommerce Cart Abandonment Recovery is 100% free, which makes this a great one if you're on a tight budget.
It will work with any WooCommerce store – you do not need to be using CartFlows to use this tool.
Get WooCommerce Cart Abandonment Recovery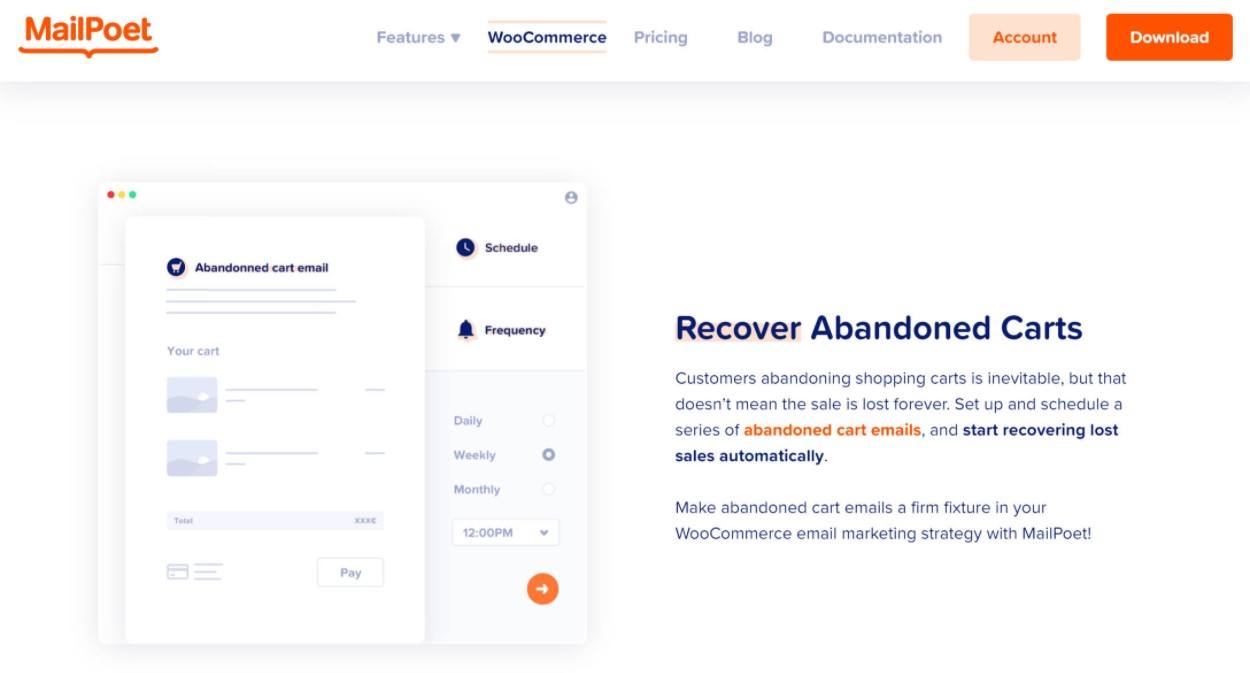 MailPoet is a full-service email marketing solution that's a native WordPress plugin. Unlike SaaS email marketing tools, MailPoet lets you do everything without leaving your WordPress dashboard. It also includes its own email sending service to make sure emails make it to your shoppers' inboxes.
What makes it a great solution for WooCommerce cart abandonment is that it builds in a lot of WooCommerce-specific statistics and automations, including the ability to automatically send WooCommerce abandoned cart emails.
In fact, MailPoet's WooCommerce integration is so good that it was actually acquired by WooCommerce (via Automattic) in late 2020. So at the time that you're reading this, MailPoet is owned by WooCommerce.
Overall, if you're interested in a full-service WooCommerce email marketing solution that can handle abandoned carts and more, MailPoet is a great option.
Key Features
Full WooCommerce email marketing solution.
Built-in tool to send one or more abandoned cart reminder emails.
Pre-built abandoned cart email templates plus a visual, drag-and-drop email builder for additional customizations.
Detailed analytics so that you can track exactly how many carts and revenue you're able to recover.
Works for other eCommerce marketing emails, such as post-purchase follow-up emails.
Pricing
MailPoet has a free plan that should work for small stores. On the free plan, you can access all features and send unlimited emails (via MailPoet's dedicated sending service) to up to 1,000 subscribers/shoppers.
Once your email list grows past 1,000 subscribers, the paid plans start at $13 per month and go up based on how many subscribers you have. All the paid plans also allow unlimited emails.

CartBounty helps you save abandoned carts by saving WooCommerce checkout field data even before a shopper submits the order. Or, you can display exit-intent popups to capture unregistered users' information.
Once you've logged some abandoned carts, you can send one or more reminders to customers to encourage them to continue their orders.
To send emails, you get two options. First, you can send them directly from your WordPress site (make sure to use an SMTP plugin and a dedicated sending service if you go this route). Second, the premium version lets you send your emails using ActiveCampaign, GetResponse, or Mailchimp.
Key Features
Live shopping cart monitoring – you can track users as soon as they add an item to their carts.
Send one or more abandoned cart emails using your WordPress mailing method (free) or via ActiveCampaign, GetResponse, or Mailchimp (paid).
Show an exit-intent popup to capture anonymous users' emails before they check out. The free version includes one style while the Pro version adds more popup styles.
Log users' contact details on the cart page as soon as they enter them.
Automatically generate coupon codes to incentivize purchases (paid).
Search abandoned carts (paid).
Remember user input to restore both shoppers' cart items and any data they've entered on checkout. This helps reduce friction.
Analytics to track email open/click rates and recovered carts.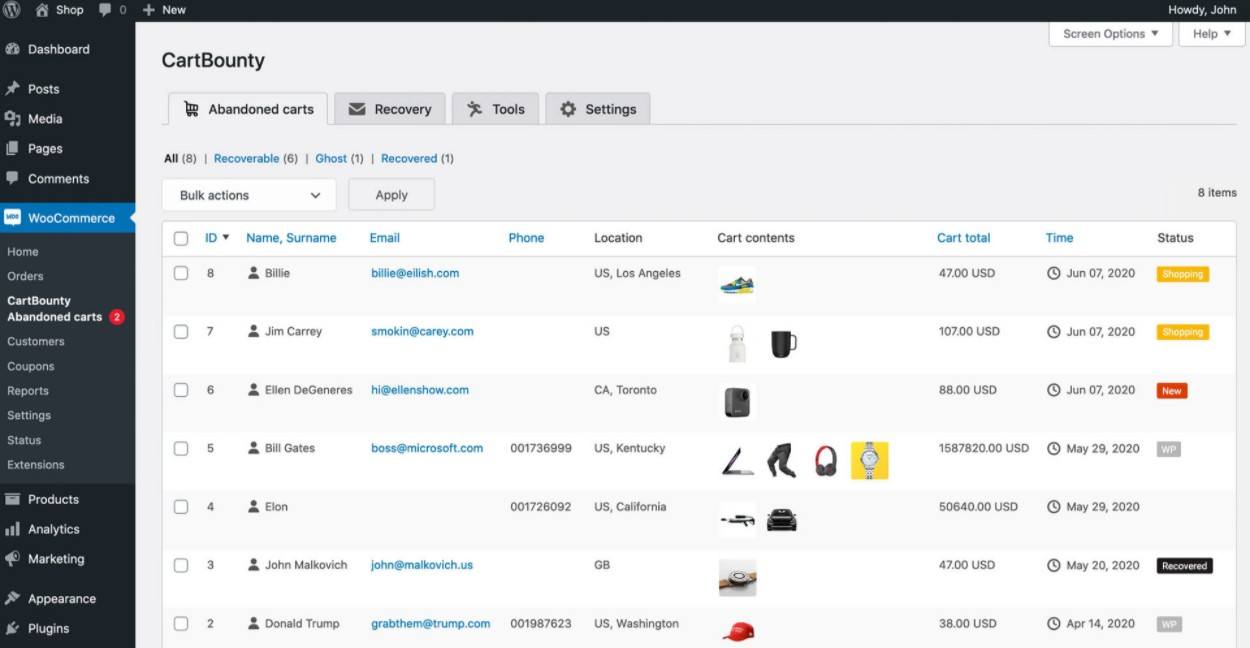 Pricing
CartBounty has a functional free version at WordPress.org that lets you send emails using your WordPress mail server. If you use an SMTP plugin and a free sending service, you can still achieve good deliverability with this setup.
The free version is pretty generous with its functionality, so it might be all you need.
If you do need the Pro features, paid plans start at $70 for use on a single site.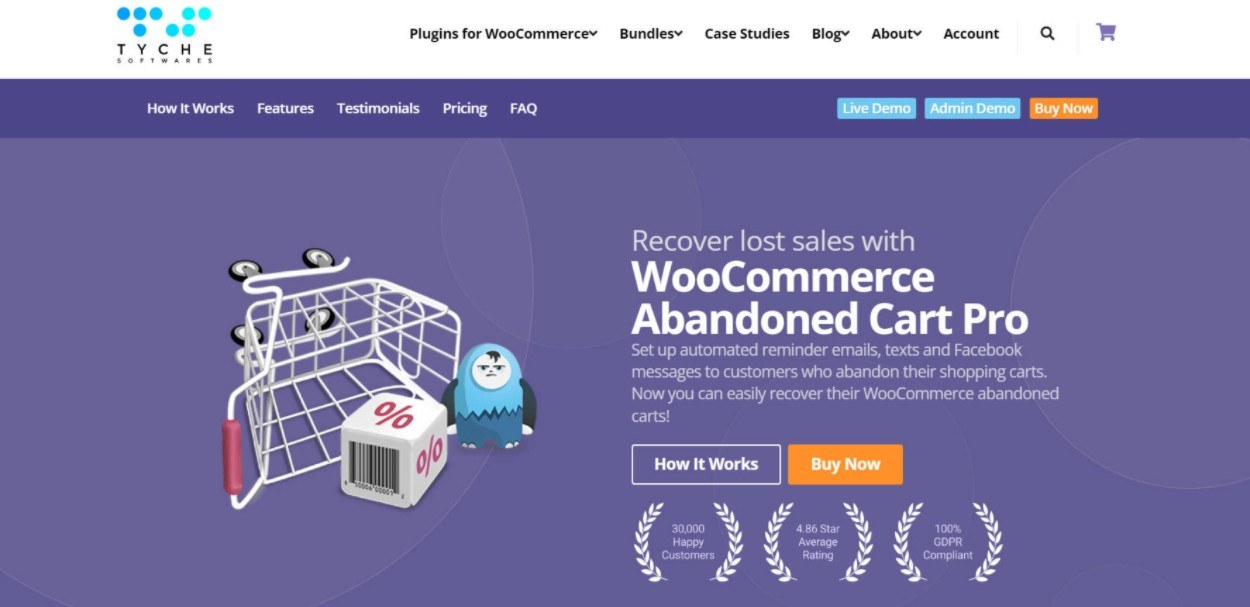 WooCommerce Abandoned Cart Pro is a premium cart abandonment plugin from Tyche Software.
One of the unique things about this plugin is that it lets you send abandoned cart reminders by more than just email. While you can certainly send emails, the plugin also lets you send reminders via Facebook or SMS message.
Depending on your customer profile, these mobile recovery methods could be more effective than relying on emails alone.
Beyond that, it includes all of the key features you'd expect in a WooCommerce abandoned cart recovery plugin such as popups to collect anonymous shoppers' contact details.
Key Features
Send abandoned cart reminders via email, Facebook messages, or SMS messages (via Twilio).
Create automatic sequences for the different contact methods.
Three pre-built workflows and 12 different pre-built email templates.
Exit-intent popup to capture a user's email address even if they don't initiate checkout.
Generate unique coupon codes to incentivize shoppers to return.
View detailed statistics to track email engagement, coupon redemption rates, and abandoned cart recovery details.
Pricing
WooCommerce Abandoned Cart Pro starts at $119 for use on a single store
There is a limited free version of the plugin at WordPress.org called Abandoned Cart Lite for WooCommerce, but I didn't focus on it because most of the unique features require the Pro version.
Get WooCommerce Abandoned Cart Pro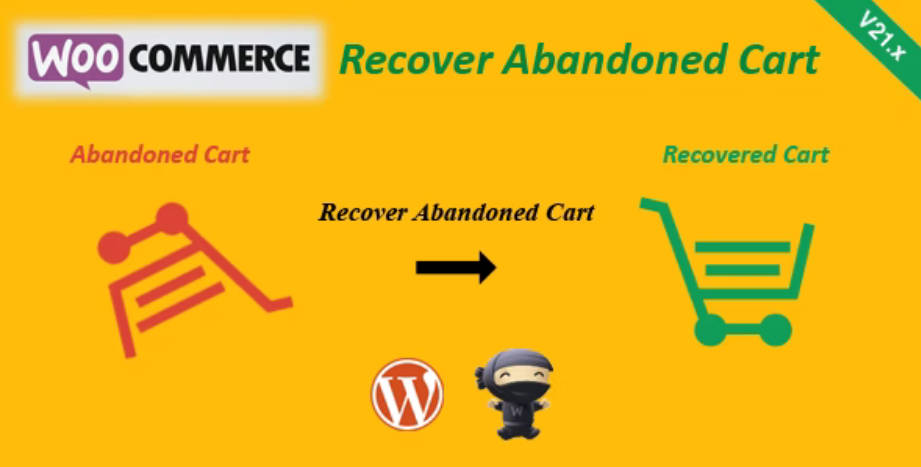 WooCommerce Recover Abandoned Cart is the most popular abandoned cart plugin at Envato's CodeCanyon marketplace, where it has over 4,700 sales and an excellent 4.70-star rating.
It doesn't have any standout features, but it's got everything you'd expect, is well-maintained, and offers good value since you get lifetime updates for your purchase, rather than just a one-year license like a lot of other plugins offer.
Key Features
Send one or more abandoned cart emails in a custom sequence.
Capture guest shoppers' emails using a popup.
Option to generate and include unique coupon codes. You can also limit the coupon usage and automatically expire it if someone makes a purchase.
Easy cart recovery for shoppers to continue their orders.
Option to mark previously failed orders as abandoned.
Pricing
WooCommerce Recover Abandoned Cart costs $49 for use on a single site, which gets you six months of support and lifetime updates (standard Envato licensing).
Get WooCommerce Recover Abandoned Cart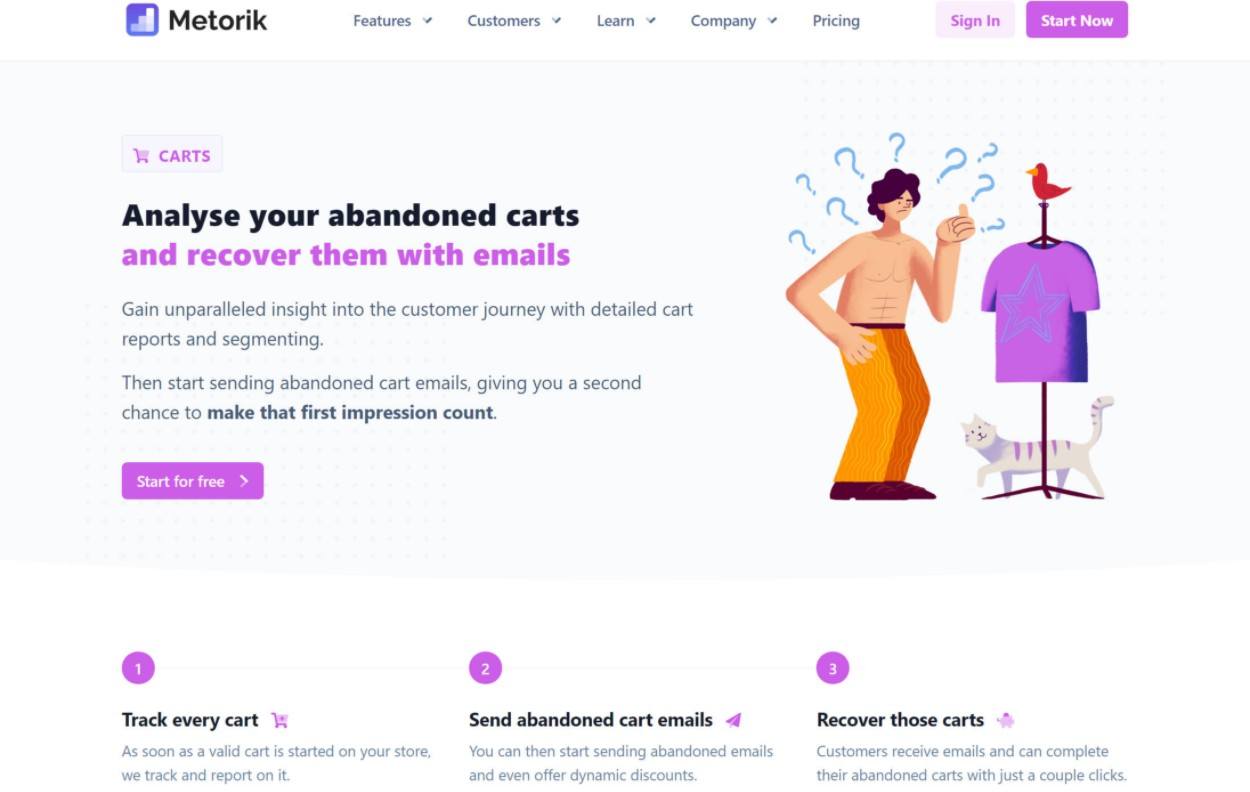 Metorik is a full-service reporting and marketing automation tool for WooCommerce.
That means it does a lot more than just recover abandoned carts, which could be a pro or a con depending on what you're looking for.
Metorik comes from a founder who formerly worked at WooCommerce, so the Metorik team has inside knowledge about the needs of WooCommerce stores.
It started as a reporting and segmentation tool, which is still its core competency. But it's since expanded into offering marketing and email automation tools, including a very well-done abandoned cart feature.
You can track every single cart on your site in real-time. These stats go a lot deeper than most plugins and you can see specific details like the most abandoned items and so on.
Then, you can send emails to win back these abandoned carts, including creating special coupon codes. In keeping with Metorik's reporting roots, you also get very detailed statistics about all of the carts that you recover.
Key Features
Detailed WooCommerce reporting tool.
View all carts in real-time, including abandoned carts.
Send one or more cart recovery emails.
View detailed analytics, including details such as the most abandoned items.
Create dynamic WooCommerce coupon codes to incentivize return purchases.
Tons of other useful features beyond WooCommerce abandoned cart recovery.
Pricing
Metorik is priced based on the number of orders your store has per month, plus a flat add-on fee to add abandoned cart emails. Plans start at $75 per month for up to 500 orders per month.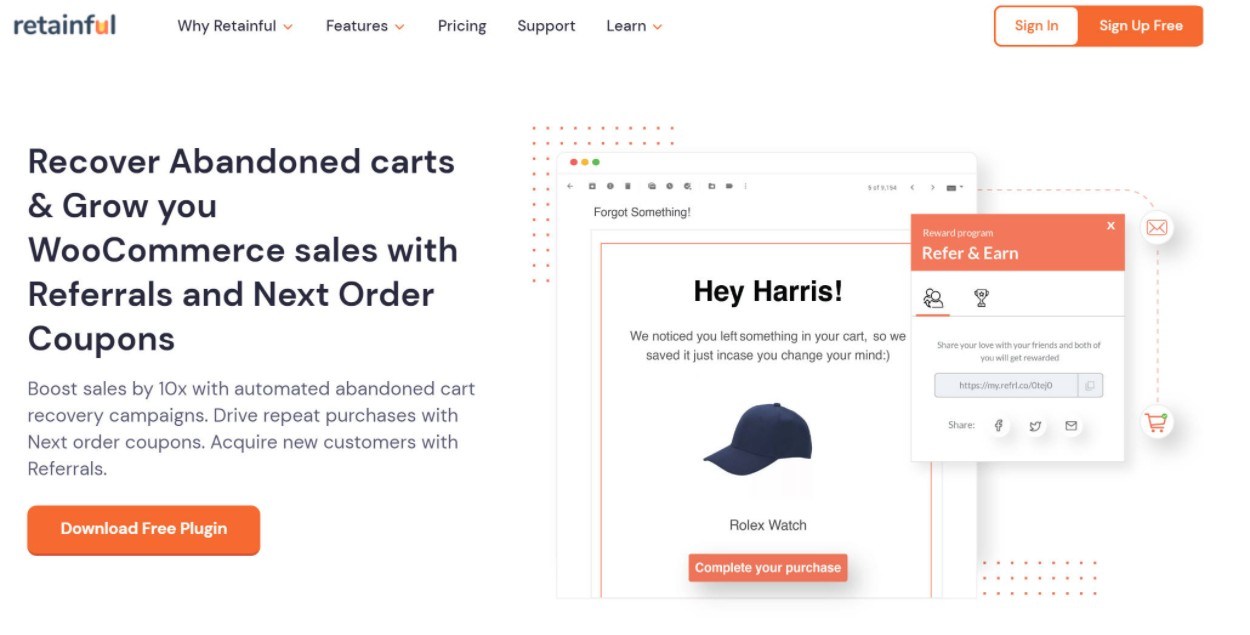 Retainful is a SaaS abandoned cart recovery and email marketing service that pairs well with WooCommerce thanks to its dedicated integration plugin.
With the WooCommerce plugin, you also get access to useful tools like popups and checkout countdown timers to boost urgency.
Overall, while it is a SaaS tool that also works with Shopify, it feels very much like a native WooCommerce plugin.
Key Features
Send multiple abandoned cart emails.
Track abandoned carts in real-time.
Generate unique coupons.
Add to cart email capture popups – give people a special coupon if they provide their emails when they add an item to their carts.
Exit-intent popups to give you another chance to prevent abandonment.
Checkout countdown timers to add urgency – offer a special discount if shoppers complete their purchase before the timer expires.
Pricing
Retainful is free for up to 300 contacts, but that plan doesn't include the special WooCommerce plugin for popups and countdown timers.
The paid plans start at $19 per month for up to 2,000 contacts.
Which Is the Best Abandoned Cart Plugin for WooCommerce?
Now for the important question – which is the best WooCommerce abandoned cart recovery plugin for your specific WooCommerce store?
Well, I think that depends in large part on your budget and your specific feature needs.
Let's start with the best free abandoned cart WooCommerce plugins. In terms of free options, I'd recommend these two:
WooCommerce Cart Abandonment Recovery – this plugin is 100% free, comes from an established team, and offers all of the core features that you need for basic cart recovery emails. Is it as feature-rich as some other plugins? No – for example, there's no popup to try to capture the emails of anonymous shoppers. However, it does the basic stuff well and there's no price, which is tough to argue with.
CartBounty – while CartBounty does have a premium version, the free version is surprisingly feature-rich and includes features like an exit-intent popup to capture shopper details. If you want that functionality, this could be a better option.
If you're willing to pay for a premium plugin, here are some good options:
CartBounty – the premium version of CartBounty builds on the free version with even more useful features.
WooCommerce Abandoned Cart Pro – the most unique thing about this plugin is that you can also send abandoned cart reminders via Facebook messages or SMS.
WooCommerce Recover Abandoned Cart – a popular option at Envato's CodeCanyon. There are no standout features but it's highly rated and the fact that you get lifetime updates offers a lot of value.
Finally, if you're looking for more of a general-purpose WooCommerce email marketing tool that can do WooCommerce cart abandonment emails and other types of emails, I'd recommend the following:
MailPoet – acquired by WooCommerce. Lets you design abandoned cart emails using a visual builder and track their effectiveness. Also lets you run your entire WooCommerce email marketing efforts without leaving WordPress.
Metorik – an all-around useful toolkit for WooCommerce stores from a former WooCommerce employee. Can handle abandoned carts plus detailed reporting and lots more.
Retainful – while it does focus primarily on abandoned cart emails, it also has a few other tricks up its sleeves such as next order coupons.
For some other tools to improve your store, check out our collections of the best WooCommerce plugins, best WooCommerce themes, and best WooCommerce hosting.
Do you still have any questions about the best WooCommerce cart abandonment plugins? Let us know in the comments.